Get ready for the most utterly outrageous truck camper restoration story you have ever heard.  It all starts with a breakdown.  Then everyone falls through, falls out, and it rains.  And that's just the beginning.

In 1973, Ford Motor Company and Starcraft RV partnered to develop and manufacture the American Road, a truck camper decades ahead of its time.
44 years after the debut, the American Road remains a unique and compelling statement in truck camper history.  From its smart floor plan, to the fiberglass shell construction, to the use of basement holding tanks, the American Road design could be considered competitive with the non-slide truck campers in production today.
Unfortunately, the timing of the American Road launch coincided with the 1973-1974 oil embargo and crisis, the 1973-1974 stock market crash, and the resulting high inflation and 9-percent unemployment.
Requiring a fuel thirsty one-ton truck and priced at the very top of the truck camper market, the American Road was not successful in this environment.  By most estimates, less than 1,000 were built and the American Road was cancelled in 1974.  Many truck camper and RV manufacturers followed.
Looking back, the American Road represents something of a pinnacle of 70s truck camper design.  In the wake of the 70s recession, the major RV manufacturers turned away from truck campers and focused on trailers and motorhomes.  Along with Avion, Amerigo, and Alaskan, the American Road needs to be recognized for its ground breaking influence.
Tony Tabacchi fell in love with the American Road as a teenager.  When he and his wife, Michelle, decided to get into camping, he recalled the sleek fiberglass vision of the American Road, and decided to track one down.  At long last, he would have an American Road truck camper and match it to his dad's 1973 Ford F350 Super Camper Special.  What a perfect dream.
Well, that's not exactly how things went down.  After everything that happened, it's amazing that Tony and Michelle survived the experience, much less completed the project.  Prepare yourself for what has to be one of the most insane truck camper restorations stories ever told.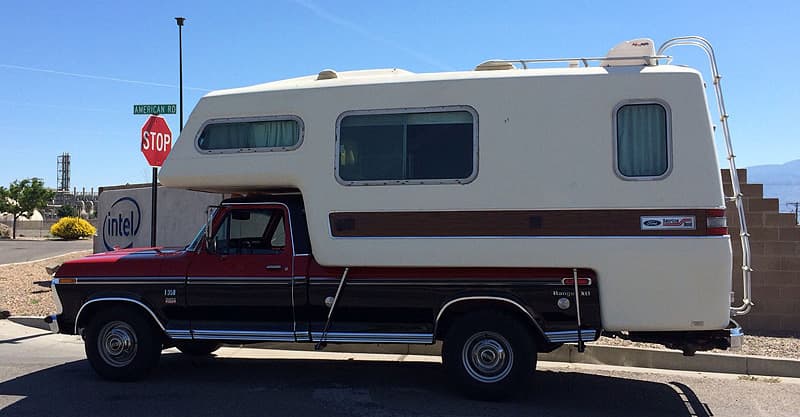 Above: Tony and Michelle's restored American Road camper on American Road
TCM: How did you become interested in truck campers and Ford's American Road?
Tony: My dad special ordered a 1973 Ford F350 brand new when I was 14 years old.  We had a Travel Queen truck camper at the time.
Back then, I often looked at dealer brochures of the Ford American Road truck campers.  I remember thinking they were very cool looking and that stuck in my head all these years.  Even today, nothing looks like a Ford American Road.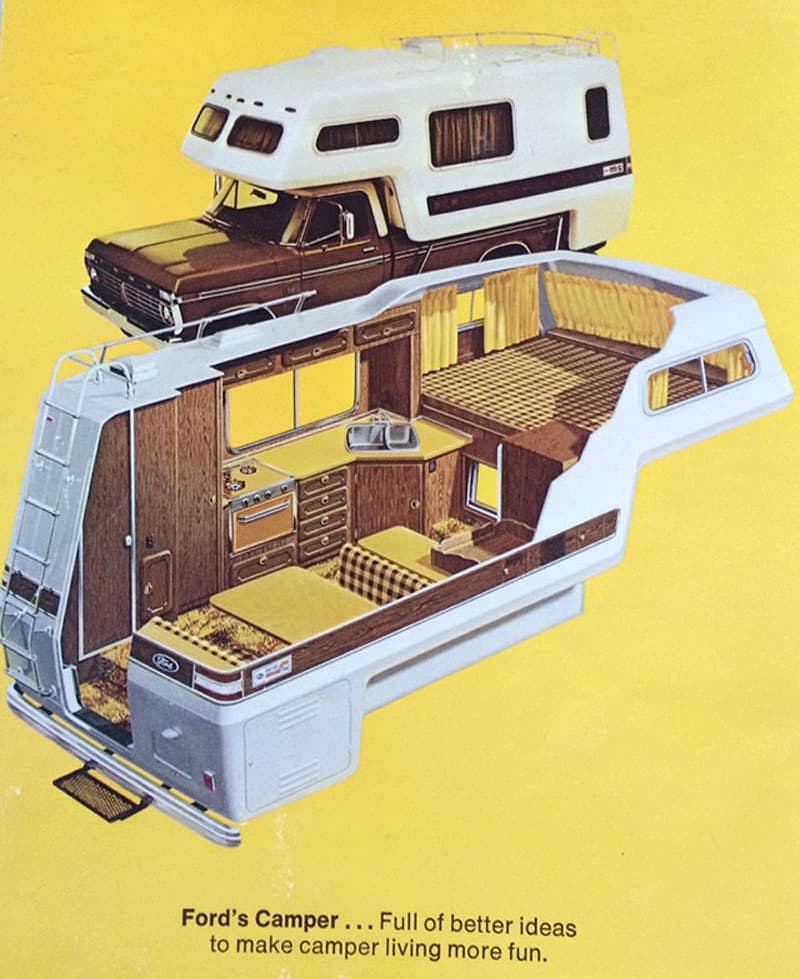 Above: An advertisement for Starcraft and Ford's American Road truck camper
Starcraft manufactured the American Road campers as a joint venture with Ford Motor Company.  They were specifically made to pair with the Ford F350 Camper Special.  The American Road features Ford branded automotive glass and a few other items are Ford branded.
TCM: How did you end up restoring an American Road?
Tony: We actually started with a pop-up camper.  I wanted something vintage to pull behind our 1972 Ford station wagon and found an older Apache pop-up in Ann Arbor, Michigan.  Because I don't do anything the easy way, I drove to Ann Arbor to get it.
Once I got it home, I realized that I couldn't easily crank the roof up and down because of my bad shoulders.  We camped in it once or twice, but the set up was too much work.