Thirty-five truck campers gather among the cacti at Inks Lake State Park for the first annual Texas Truck Camper Rally.  Mark our words, this rally will be legendary.

Angela and I were having dinner with PJ and Richard Buerger of Princess Craft Campers last September when PJ popped a big question.
"Do you think a truck camper rally would work in Texas?"
Without hesitation, we replied, "Heck yeah!"
That evening we talked with Richard and PJ as they fleshed out their vision for what would be the first annual Texas Truck Camper Rally.  By the time we were done our conversation, we were so excited about the rally we signed up to go.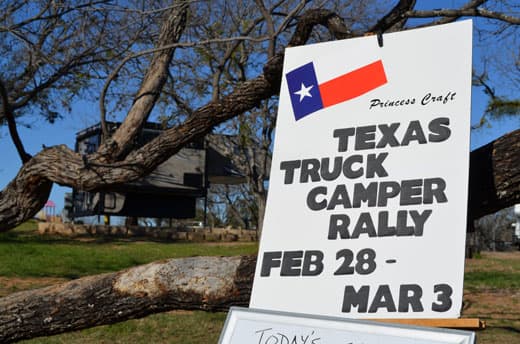 Fast forward five months.  We arrived at Inks Lake State Park on Thursday, February 28th to find the park already brimming with truck campers from all over Texas, Louisiana, New Mexico, and Arkansas.  Some campers had come from as far away as Florida and North Carolina.
There were truck campers everywhere and it didn't take long for my long standing, "Why Truck Camper People Rock" theory to prove correct, once again.
Gordon's Theory of Why Truck Camper People Rock:
Relative to most other forms of RVs, truck campers are fairly compact.  This means that people who do not get along with each other do not purchase truck campers as they would be forced to be close together.  The go anywhere, camp anywhere, tow anything versatility of truck campers also attracts more active, outgoing, and adventurous people who enjoy the outdoors.  Add it all up and truck campers automatically filter out folks who don't get along with others and attract friendly outgoing and generally fun-as-all-get-out people.  In short, truck camper people rock.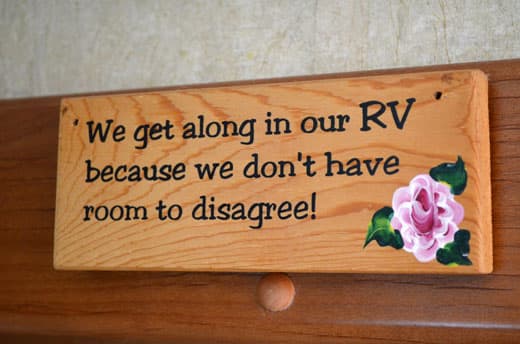 Above: A sign in Al and Mary Alice's truck camper.  How true!
We love walking around a rally and seeing all of the different truck camper rigs.  The Texas Truck Camper Rally was full of truck campers from Lance, Northstar, Northern Lite, Eagle Cap, Arctic Fox, Palomino, and Chalet from one end of the campground to the other.  Every campsite looked like a page out of a truck camper catalog ready for our cameras to capture.
That evening we met lots of fellow truck campers and ate ourselves silly at the meet and greet dessert social.  If we attended one of these every night, we truly would need a bigger camper.
Before we turned in, PJ addressed the rally and gave us a preview of the fun to come.  The excitement in the air was tangible and everyone was ready to have a good time.
FRIDAY
The next morning I ventured out before sunrise to photograph the campers in the pre-dawn light.  Inks Lake State Park features a stunning campground in Central Texas Hill Country.  The truck campers were surrounded in a landscape of cedar and oak woodlands, pear cacti, yuccas, and pink granite.  We were not in Pennsylvania anymore.
For anyone who wants to visit Inks Lake State Park, the park promotes many activities including lake swimming, hiking, boating, scuba diving, and fishing for bass, crappie, and catfish.  The generously spaced campsites had electric for $22 per night, plus $5 per person per night.  After our visit, we can highly recommended Inks Lake State Park and hope to return and further explore the park and its activities.
I'm thinking there must have been a very favorable Inks Lake State Park review in a popular bird magazine because the park was simply covered in birds.