Thirty-five truck campers gather among the cacti at Inks Lake State Park for the first annual Texas Truck Camper Rally.  Mark our words, this rally will be legendary.

Angela and I were having dinner with PJ and Richard Buerger of Princess Craft Campers last September when PJ popped a big question.
"Do you think a truck camper rally would work in Texas?"
Without hesitation, we replied, "Heck yeah!"
That evening we talked with Richard and PJ as they fleshed out their vision for what would be the first annual Texas Truck Camper Rally.  By the time we were done our conversation, we were so excited about the rally we signed up to go.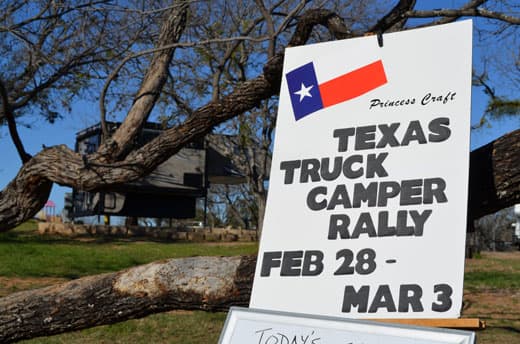 Fast forward five months.  We arrived at Inks Lake State Park on Thursday, February 28th to find the park already brimming with truck campers from all over Texas, Louisiana, New Mexico, and Arkansas.  Some campers had come from as far away as Florida and North Carolina.
There were truck campers everywhere and it didn't take long for my long standing, "Why Truck Camper People Rock" theory to prove correct, once again.
Gordon's Theory of Why Truck Camper People Rock:
Relative to most other forms of RVs, truck campers are fairly compact.  This means that people who do not get along with each other do not purchase truck campers as they would be forced to be close together.  The go anywhere, camp anywhere, tow anything versatility of truck campers also attracts more active, outgoing, and adventurous people who enjoy the outdoors.  Add it all up and truck campers automatically filter out folks who don't get along with others and attract friendly outgoing and generally fun-as-all-get-out people.  In short, truck camper people rock.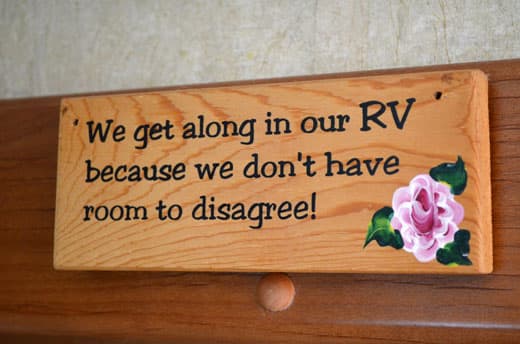 Above: A sign in Al and Mary Alice's truck camper.  How true!
We love walking around a rally and seeing all of the different truck camper rigs.  The Texas Truck Camper Rally was full of truck campers from Lance, Northstar, Northern Lite, Eagle Cap, Arctic Fox, Palomino, and Chalet from one end of the campground to the other.  Every campsite looked like a page out of a truck camper catalog ready for our cameras to capture.
That evening we met lots of fellow truck campers and ate ourselves silly at the meet and greet dessert social.  If we attended one of these every night, we truly would need a bigger camper.
Before we turned in, PJ addressed the rally and gave us a preview of the fun to come.  The excitement in the air was tangible and everyone was ready to have a good time.
FRIDAY
The next morning I ventured out before sunrise to photograph the campers in the pre-dawn light.  Inks Lake State Park features a stunning campground in Central Texas Hill Country.  The truck campers were surrounded in a landscape of cedar and oak woodlands, pear cacti, yuccas, and pink granite.  We were not in Pennsylvania anymore.
For anyone who wants to visit Inks Lake State Park, the park promotes many activities including lake swimming, hiking, boating, scuba diving, and fishing for bass, crappie, and catfish.  The generously spaced campsites had electric for $22 per night, plus $5 per person per night.  After our visit, we can highly recommended Inks Lake State Park and hope to return and further explore the park and its activities.
I'm thinking there must have been a very favorable Inks Lake State Park review in a popular bird magazine because the park was simply covered in birds.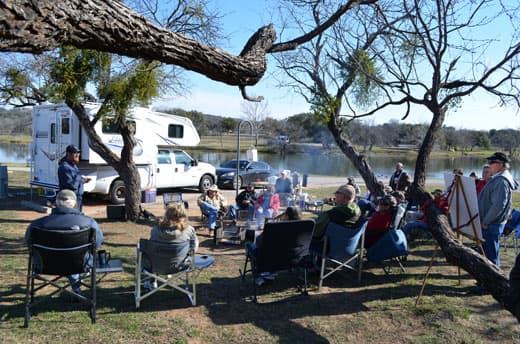 As the sun rose, rally attendees began to emerge for coffee and Kent Lawson's Tech Talk.  About two minutes into Kent's seminar, I wished we had set up a camcorder to record his presentation.  Within a half hour, Kent had explained exactly how to check and maintain truck camper seals from top to bottom.  In the following half hour, he had covered many of the maintenance issues and solutions for RV air conditioners.  One of these days we'll have to get Kent on the record for Truck Camper Magazine.  He really knows his stuff.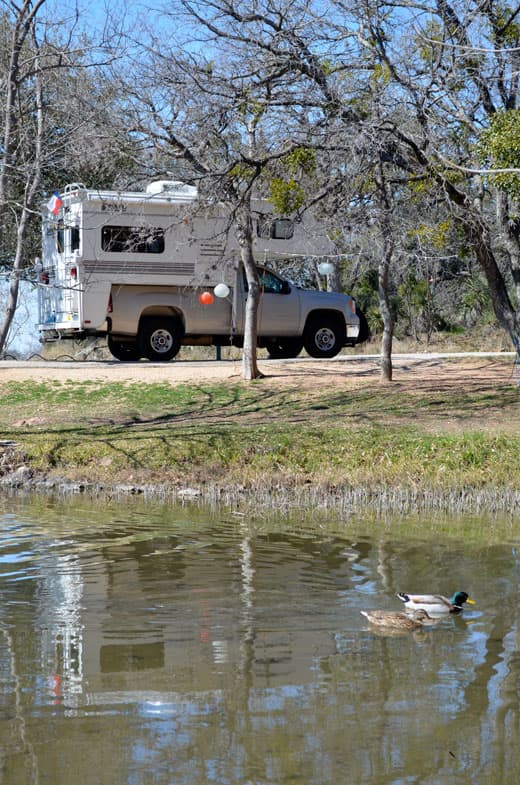 The only "folks" who didn't enjoy Kent's seminar were a gaggle of geese and a flush of ducks who persistently squawked and quacked no matter what Kent said.  Their behavior was truly fowl.  I know, cheep cheep humor.
On both Friday and Saturday rally goers could sign up for a twenty minute time slot to show their truck camper.  These, "open houses" are always a huge hit and a really fun way to see real truck campers on real trucks with real modifications and real personal decorations.
Al and Mary Alice Moge's 2012 Chalet TS116 triple-slide was a big hit during the Friday open house tours with many commenting on the "dance floor" in the middle of the camper.  At one point we counted no less than eleven people in the camper talking, laughing, and having a good time.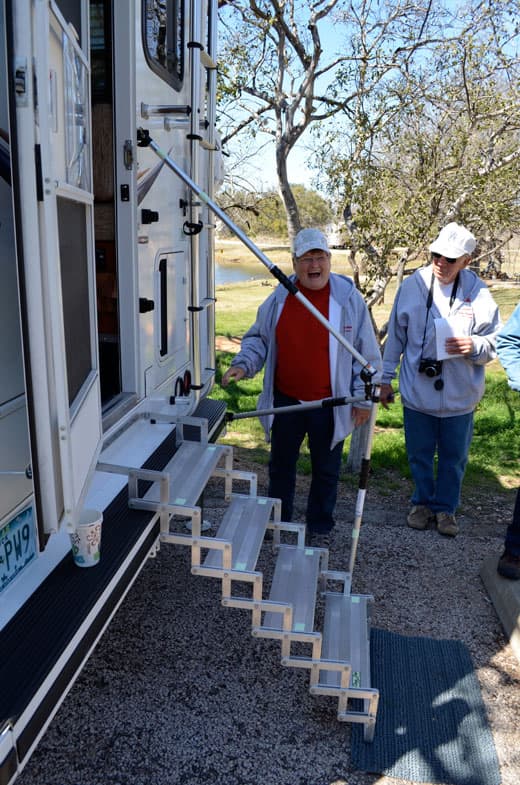 Above: Dorothy and Eldor Elsen admire Torklift GlowSteps and GlowGuide
It's becoming increasingly common that potential truck camper owners stop by the truck camper rallies to see the different truck and camper rigs and talk to those of us already in the truck camping lifestyle and community.  Some of these folks are camping in their current motorhome or towable while others pitch a tent, reserve a cabin, or just visit for the day.
After a day or two with the community, these future truck camper owners have a new understanding of what truck camping is all about, and have enjoyed the opportunity to see and compare different truck camper brands and floor plans side-by-side.
Dorothy and Eldor Eisen came to the rally expressly for this purpose.  They were camping in their Class A motorhome and eager to see everyone's campers and learn as much as possible about truck campers and truck camping.  It won't be long before they're truck campers!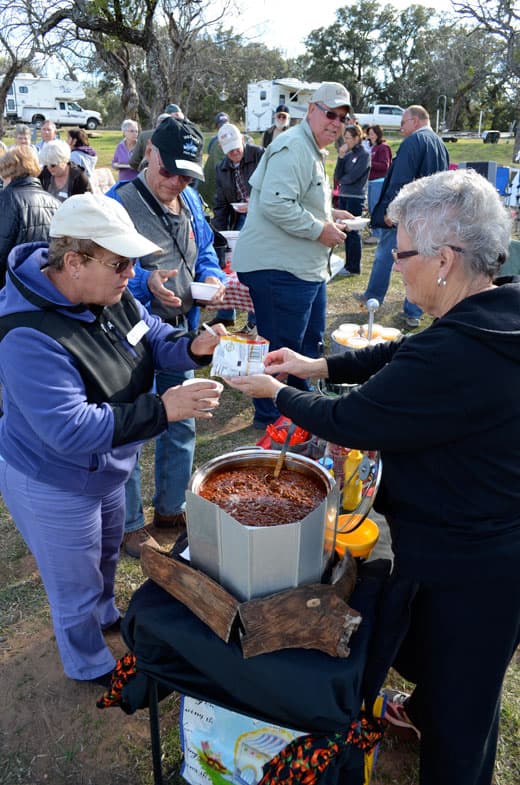 Being from Pennsylvania, we weren't too sure how the chili cook off was going to go.  Now we eat chili in the northeast, but it's evidently a cultural phenomenon in Texas.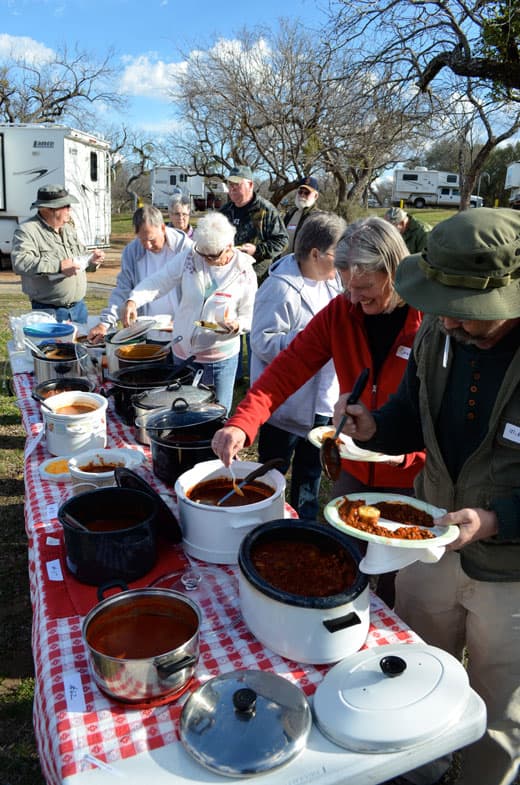 Never before have we seen, and tasted, so many different kinds of chili.  There was all-meat chili, white chili, mild chili, spicy chili, and chili I don't even know how to describe, but it was all good.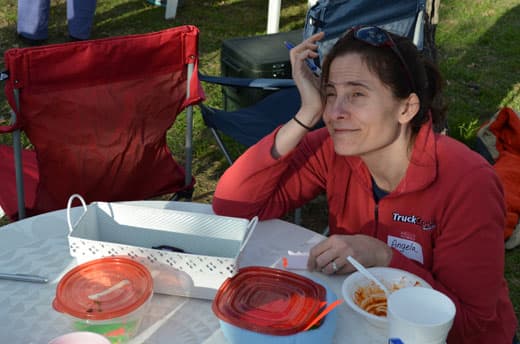 After trying what had to be a about twenty types of chili, it was time to vote for the best.  Everyone got one vote, which was quite difficult to decide.
Angela had already cast her chili vote, but I needed a picture.  I said, "Pretend your thinking real hard about which chili to vote for".  Convincing, isn't she?
The chili cook off winners from left to right: First Place was Garren Lain, Second Place was Jim Woods, and Third Place was Chip Cartwright.
When the voting was completed, PJ and Cheryl disappeared into a truck camper to tally the votes.  When they emerged, PJ announced a three-way tie.  To settle the tie, PJ picked three people, none of whom had entered the contest, to break the tie.  This impromptu, "chili electoral college" went to work sampling the tied chili and choosing first place, second place, and third place winners.  There would be no disputing the results in a supreme chili court.  This ruling was final.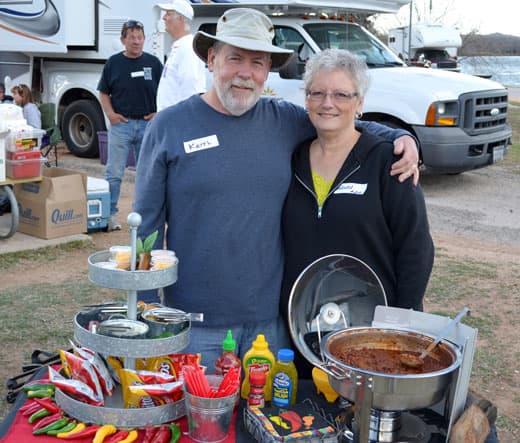 Keith and Wanda Webb introduced us to Frido Pies.  Take a single serving bag of Fridos, cut it open on its side, pour in chili, cheese, sour cream, and jalapenos, and eat.  The Webb's chili was awesome and their presentation was even better.
You can only imagine all the jokes about all the beans and chili we were eating that evening.  I kept thinking of the scene in Blazing Saddles with the cowboys and baked beans.  Good thing truck campers have good sound insulation.
SATURDAY
Saturday morning started with more coffee and another excellent Tech Talk with Kent.  For his second Tech Talk, Kent addressed battery and refrigerator maintenance among other topics.  While many of the discussed topics are covered in our Tech section, the questions from the audience confirmed that we need to do more technical and maintenance articles in Truck Camper Magazine.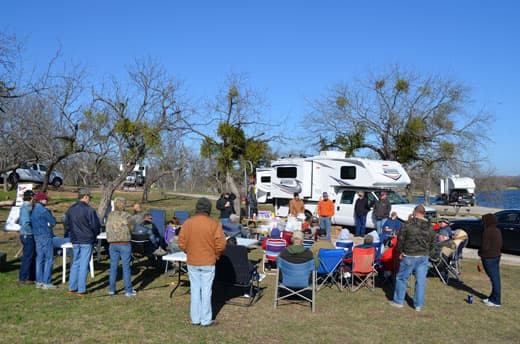 Following the Tech Talk, Kent walked around the campground and made house calls to answer rig-specific questions and investigate and repair minor truck camper issues, all free of charge from Princess Craft.
The response to the camper open house tours was so positive on Friday that another round was scheduled for Saturday.  It may seem silly, but it's a lot of fun to visit someone else's truck camper.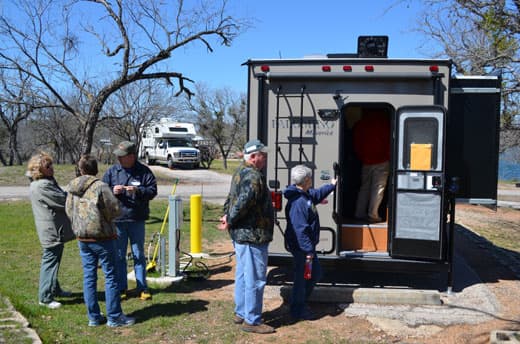 Since our 2013 Lance 855-S wouldn't fit in our luggage, we borrowed a truck and camper from Princess Craft for the rally.  PJ showed us her inventory and said, "What would you like?"  This was a little bit like the scene in the original Karate Kid when Mr. Miyagi asked Daniel to choose a car for his birthday, except without the, "wax on, wax off".  After a quick deliberation, we chose a 2013 Palomino 2910.  Thank you PJ.
Late Saturday morning, we introduced our new Texas friends to what we call a rally review.  A rally review is when we ask everyone at a truck camper rally to give us their direct feedback on a specific truck camper and then we publish that feedback as a rally review of that camper.  Look for the Texas rally review of the 2013 Palomino 2910 in the next few weeks.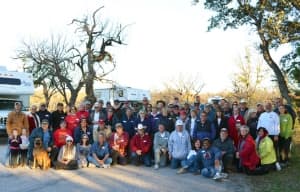 Click to enlarge the group photo.
When it was finally time to take the group photograph, I stood up on a picnic table and did my best to direct everyone to the selected picture site.  Remarkably, the entire rally followed me up a hill, lined up, and (almost) completely behaved themselves.  A few shutters latter, we had captured history.
Dinner on Saturday was a barbecue by none other than the Lawson Outlaws.  It seems that Kent Lawson can not only fix just about any issue you can imagine on a truck camper, but he and his dad can also fix a delicious "low and slow" Texas-style barbecue complete with potato salad and sweet tea.
The Lawson barbecue was so delicious that it's rumored to be banned in the other 49 states for being just too darn tasty.  At least that was our best theory as to why Kent and his dad are the Lawson Outlaws.  That was some seriously good barbecue!
Before anyone else even realized there was a line to get in, Richard and PJ's daughters grabbed some plates and made a b-line for the grub.  There was no stopping them.
Did you know that it's illegal in Texas for an individual or a for-profit business to hold a raffle?  I can practically hear the Northeast Truck Camping Jamboree crying out, "What!  No raffles?"  That's right, no raffles aloud in these parts.
That said, it's just not right to have a truck camper rally without prizes.  None of us really need any more stuff, but gosh darn it we sure like winning more stuff.  To answer this basic truck camper need, the rally held a free door prize give away.
Free tickets were distributed to the rally participants who then placed the tickets into red cups corresponding to the prizes they hoped to win.  The free door prizes included Princess Craft shirts, party lights, Torklift and Chalet hats, a step stool, and other camping and RV gear.  Once all the tickets had been dropped, a random ticket was pulled from each cup and "Yee-Ha!" we had ourselves another door prize winner.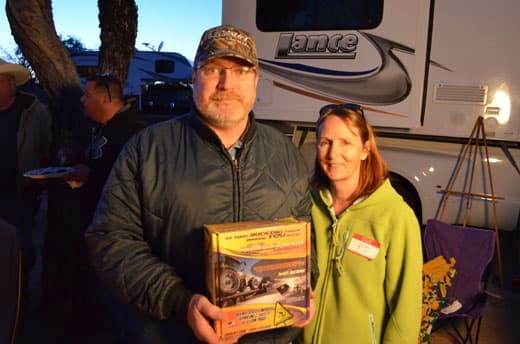 Jon Swanson was very excited to win the grand-pooh-bah prize of the night, a Torklift StableLoad system donated to the rally by Torklift International.  Now that's a very nice prize!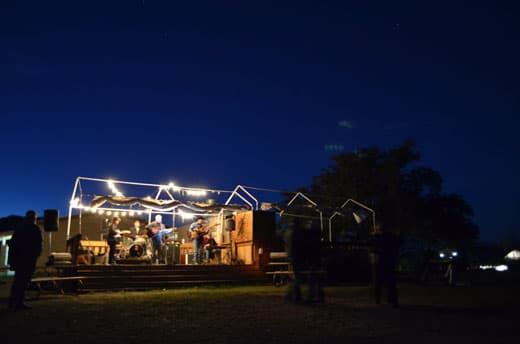 After the door prize drawings, the sun dropped below the horizon, the temperatures began to fall, and the Austin band, Six Sons of a Gun, started playing.
I'm not one for dancing, but Angela finally got me to try the Texas two-step.  Being creative, and uncoordinated, I managed to improvise what I like to call the Texas-step-on-Angela's-foot step.  Hey, I tried.
PJ was also successful at cajoling Richard, another reluctant dancer, to dance under the stars.  Putting us all to shame with their dancing skills were Chip and Daisy Cartwright who met about a year ago on a dance floor during a Virginia Tech Reunion.
SUNDAY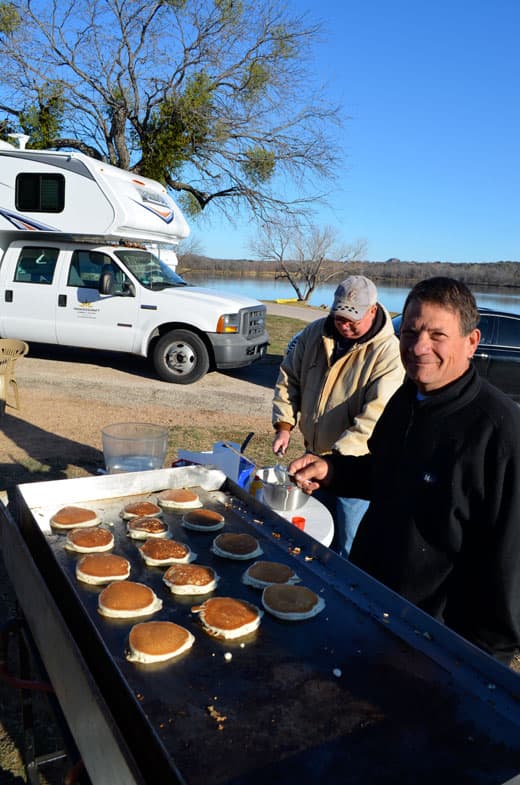 At 8:00am Sunday morning, Princess Craft treated the whole rally to a pancakes and sausage breakfast.  Red Beers and Randy Baden made some of the best pancakes we've ever had, and they made them Texas big.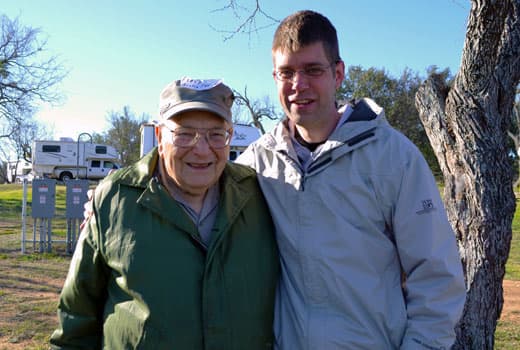 Above: Meeting Floyd was the highlight of the Texas Truck Camper Rally for me.  Just wait until you see the incredible modifications Floyd has made to his Arctic Fox truck camper in an upcoming story.  Thank you Floyd!
After breakfast, the rally began to break camp with truck campers heading out one by one.  It's always a bitter-sweet moment at a rally as you watch new friends depart not knowing when you'll see them again.  As I like to say, "We'll see you down the road".  The amazing thing is, we often do.  Let the road magic happen.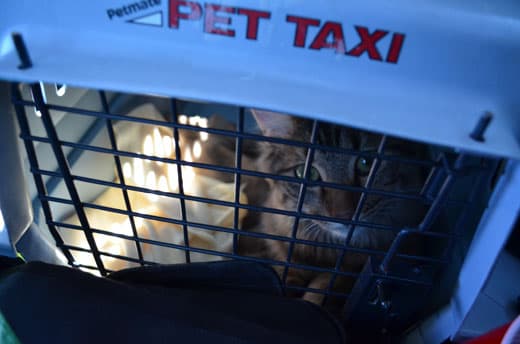 Finally it was time for Angela and I to fly home.  Jackie Buerger drove us to the Austin airport with her Tabby kitten, Bear.  Bear spent the entire car ride looking at me with a this, "aren't I cute" face, and then batting at me through his carrier.  Naturally, I batted back.
Mark my words, the first annual Texas Truck Camper Rally will be legendary.  There is no doubt in my mind that there will be a second annual Texas Truck Camper Rally, and many, many more.  Texas is officially truck camper rally territory now.
We look forward to seeing our new friends in Texas again.  Y'all take care now.  We already miss you guys.