Depending on the race, you pay an entry fee anywhere from $25 to $150. Even if I won every night I wouldn't make my money back. This hobby is a money pit any way you look at it. The tires alone are a lot of money. But, it's better than going to a bar or doing nothing.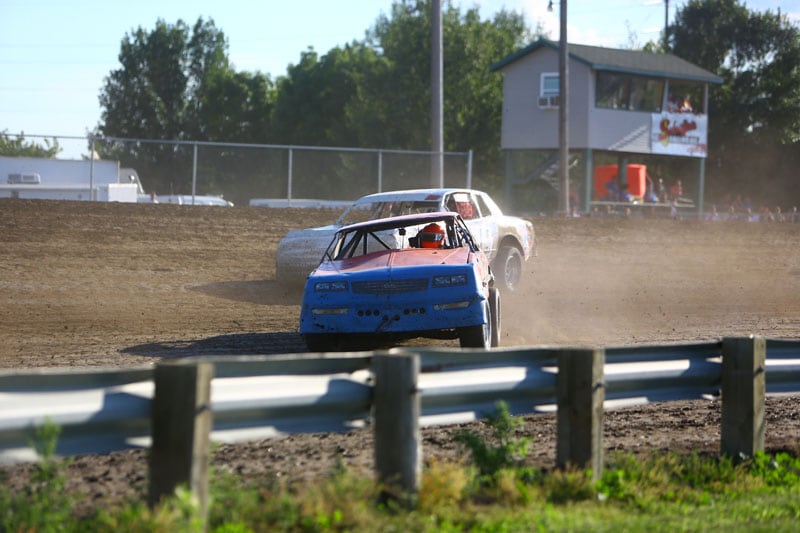 Do you race locally, or do you have to travel to race?
AJ: Most of the time I race at a local track once a week. This summer we did something different and participated in the Dakota Modified Classic Tour where we went to six race tracks in six days. We don't do that often.
Brenda: Capri Camper was a sponsor on our car this year. They helped us so that we could go on the tours.
With the Dakota Modified Classic Tour, we traveled with fellow racers to a different track every day. Since it's a tour, they have a schedule of the tracks and times. Being on the tour, we were able to see the same people and make friends.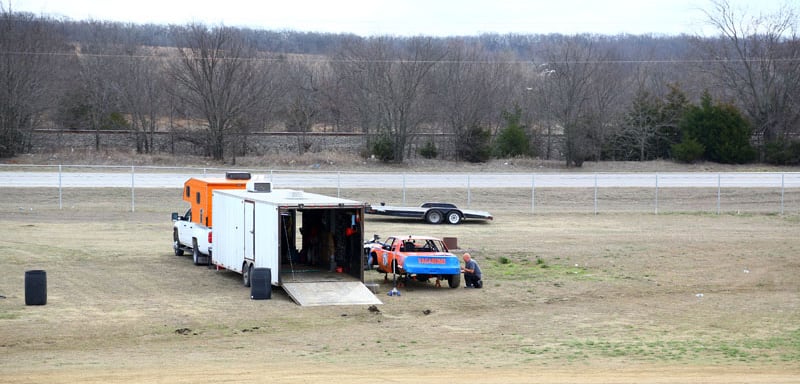 Above: In the pits at Southern Oklahoma Speedway in Ardmore, Oklahoma

That sounds like fun. Racing every day at a different track sounds challenging. What do you do if there's a repair needed on your race car?
AJ: If something happened with my car at the previous day's race, I would need to fix it before the race started.
Where are these races promoted?
Brenda: The races are posted on social media. Racing magazines also advertise the races. The public is invited to attend.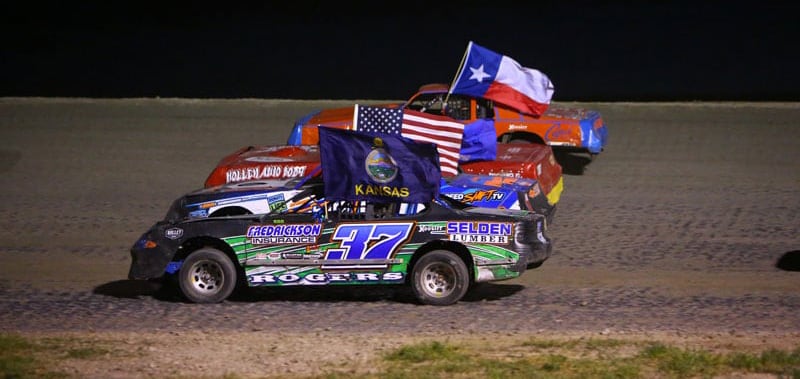 You sent a photo with the drivers holding flags. What's going on there?
Brenda: Weather permitting on the tours, they give all the drivers a flag representing their home state. Then they parade around four wide as a salute to the fans.
AJ: At 6:00pm they give us a practice run. At 7:00pm the race starts. Several cars make it through to the next round and some don't.
The last chance races are at 8:30pm. Then the next hour would be the feature race with the top 24 cars. At about midnight we are done for the day.
What's a last chance race?
AJ: Each race has eight cars. Sometimes there are as many as 65 cars that are racing at each event. Of the eight cars in each race, three go on to the feature race right away. The 4th to 9th place cars for each race go to a last chance race. The winners of the last chance races go to feature. The idea is the fastest 24 cars go to the feature race.