AJ and Brenda Dancer take their 2018 GMC 3500, 2017 Capri Camper, enclosed trailer, and IMCA stock car to race tracks.  Ladies and gentlemen, get ready to camp at the race track.

AJ and Brenda Dancer race IMCA stock cars. This means hauling a large enclosed trailer to race tracks, and sometimes camping overnight.  To achieve this objective, the Dancers have tried a number of trailers and motorhomes.  They even had a Class A.  In the end, none of these RV types gave them the versatility or ease of ownership they wanted.
Then they discovered Capri Campers.  Simple, lightweight, and 100-percent custom built, a Capri Camper presented the opportunity to have exactly what they needed, and safely tow their car trailer.  No more compromises – and they even liked the retro style!  The Dancers had found the right tool for the job.
Which, as you're about to read, is actually a very expensive hobby.  Before interviewing AJ and Brenda, we knew very little about the IMCA stock car racing scene.  Now we're excited to camp at a track and watch them race.  Now only if we could talk IMCA into racing truck camper rigs.  That would be a real show!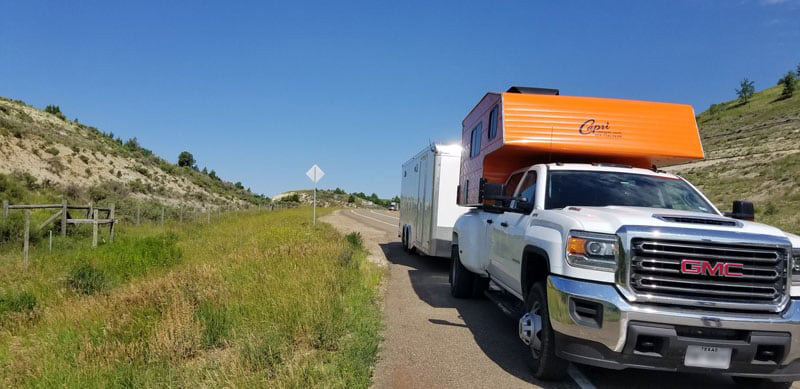 How did you get into stock car racing?
AJ: My dad raced when I was younger. When I was 15 I started working on my own car. I have been racing ever since.  My current car is an IMCA stock car. IMCA stock car racers typically run 1978 to 1988 General Motors cars. GM cars from that era are really common and popular in racing.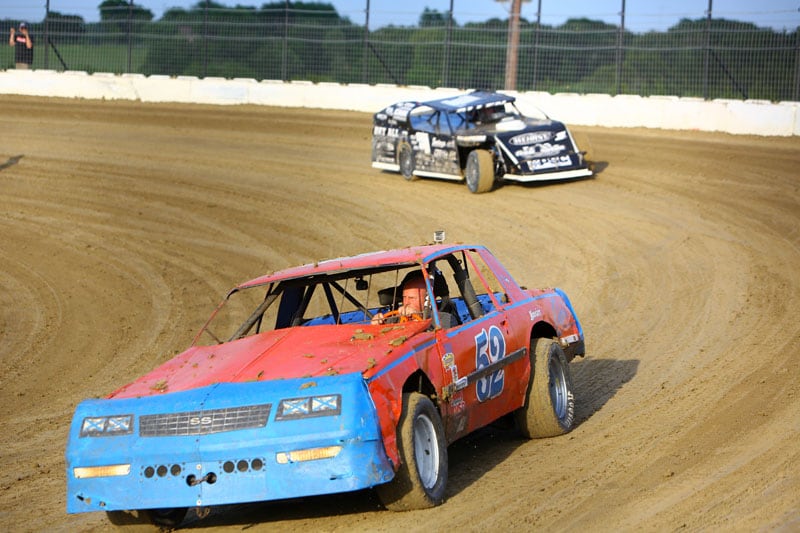 My stock car used to be a street car. I built it into a race car including modifications to the engine, front and rear suspension, brakes, and chassis. I am currently building another stock car for next year. IMCA stock cars allow Novas, but no one runs them. So I'm going to do it.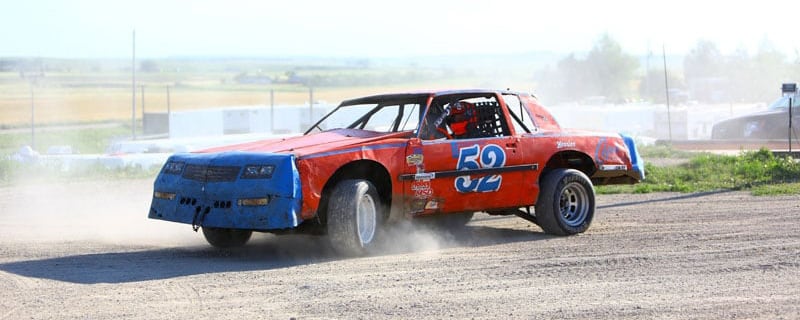 I also have an Enduro car, which is for endurance races. There are no rules with those races with about 300 laps, which is long. A normal car race is 15 to 20 laps.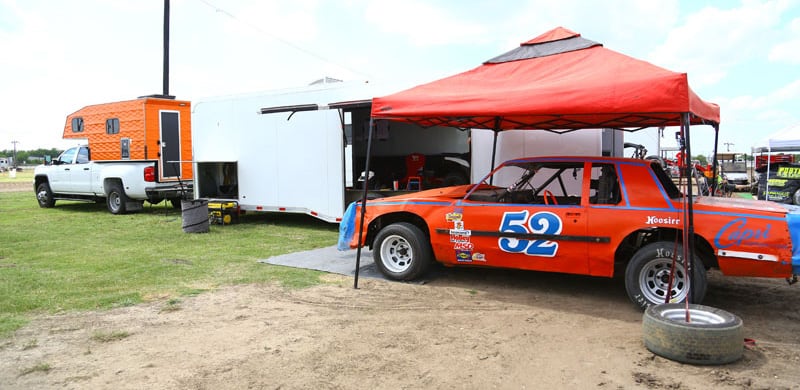 Above: AJ and Brenda's racecar under a canopy at Heart-O-Texas Speedway
You mentioned IMCA. Could you explain what the IMCA is and how you got into it? How long have you participated in these events?
Brenda: IMCA stands for International Motorsports Contest Association. As an organization, the IMCA has been around for over 100 years. Basically, if a dirt track is IMCA sanctioned, whatever IMCA classes of cars they run have to run by the same set of IMCA rules.
For the last five years we have been a part of the IMCA. This past July we participated in the IMCA Dakota Modified Classic Tour. At the end of May we did the IMCA Red River Modified Tour.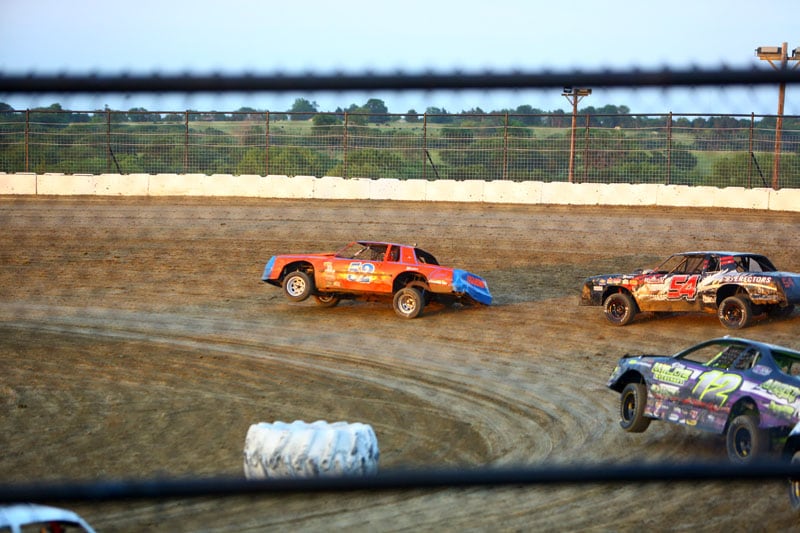 Is this a hobby, or something you do professionally?
AJ: We both have regular jobs. There is no way I could make enough money racing.
Depending on the race, you pay an entry fee anywhere from $25 to $150. Even if I won every night I wouldn't make my money back. This hobby is a money pit any way you look at it. The tires alone are a lot of money. But, it's better than going to a bar or doing nothing.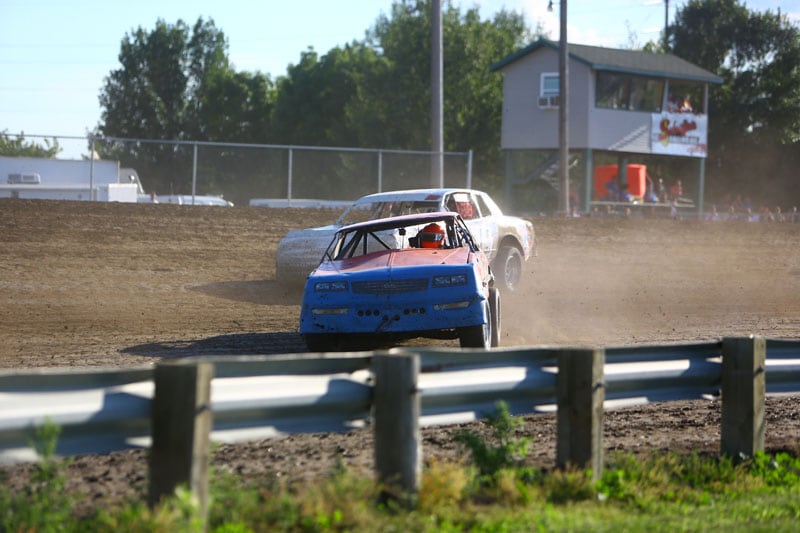 Do you race locally, or do you have to travel to race?
AJ: Most of the time I race at a local track once a week. This summer we did something different and participated in the Dakota Modified Classic Tour where we went to six race tracks in six days. We don't do that often.
Brenda: Capri Camper was a sponsor on our car this year. They helped us so that we could go on the tours.
With the Dakota Modified Classic Tour, we traveled with fellow racers to a different track every day. Since it's a tour, they have a schedule of the tracks and times. Being on the tour, we were able to see the same people and make friends.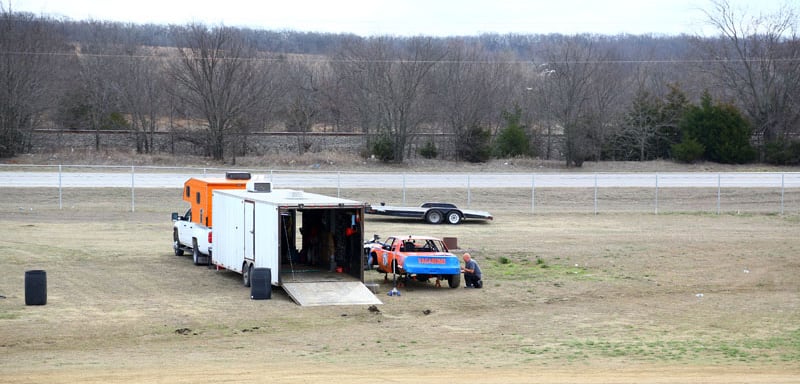 Above: In the pits at Southern Oklahoma Speedway in Ardmore, Oklahoma

That sounds like fun. Racing every day at a different track sounds challenging. What do you do if there's a repair needed on your race car?
AJ: If something happened with my car at the previous day's race, I would need to fix it before the race started.
Where are these races promoted?
Brenda: The races are posted on social media. Racing magazines also advertise the races. The public is invited to attend.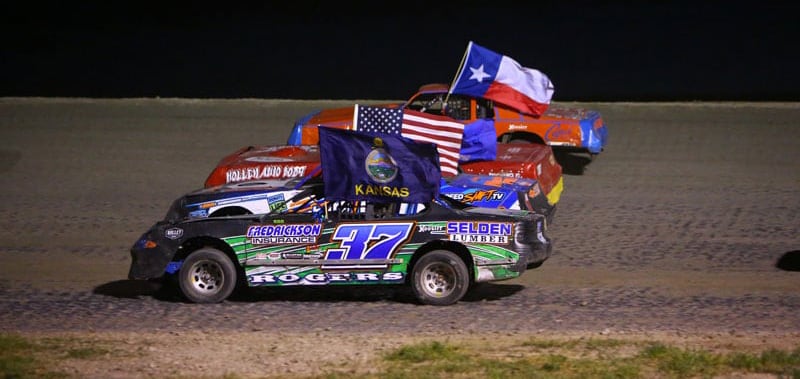 You sent a photo with the drivers holding flags. What's going on there?
Brenda: Weather permitting on the tours, they give all the drivers a flag representing their home state. Then they parade around four wide as a salute to the fans.
AJ: At 6:00pm they give us a practice run. At 7:00pm the race starts. Several cars make it through to the next round and some don't.
The last chance races are at 8:30pm. Then the next hour would be the feature race with the top 24 cars. At about midnight we are done for the day.
What's a last chance race?
AJ: Each race has eight cars. Sometimes there are as many as 65 cars that are racing at each event. Of the eight cars in each race, three go on to the feature race right away. The 4th to 9th place cars for each race go to a last chance race. The winners of the last chance races go to feature. The idea is the fastest 24 cars go to the feature race.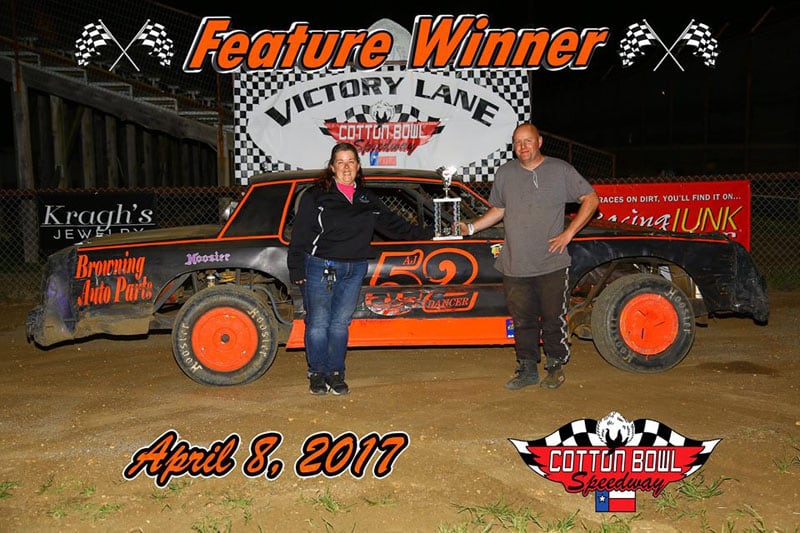 Have you won any races?
AJ: Over the years I've won quite a few. I have seven or eight championships and about 100 feature wins.

That's impressive! How has your Capri Camper helped with your racing lifestyle? What amenities does it have?
AJ: Previously, we had everything from half-ton trucks with trailers all the way up to Class A motorhomes pulling big trailers with multiple cars. Both were a pain.
With a truck and car hauler, we had to unload everything, and we didn't have a place to get out of the sun. A big RV is nice, but it's expensive to fix. We also couldn't use it for anything else.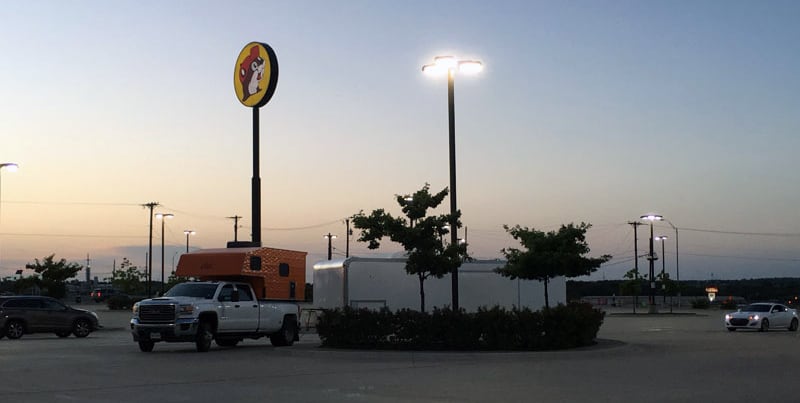 Brenda: Now we have our one-ton truck, Capri Camper, and car trailer. We are much smaller than the big rigs. We can fit in parking places and maneuver into gas stations. It's so much nicer.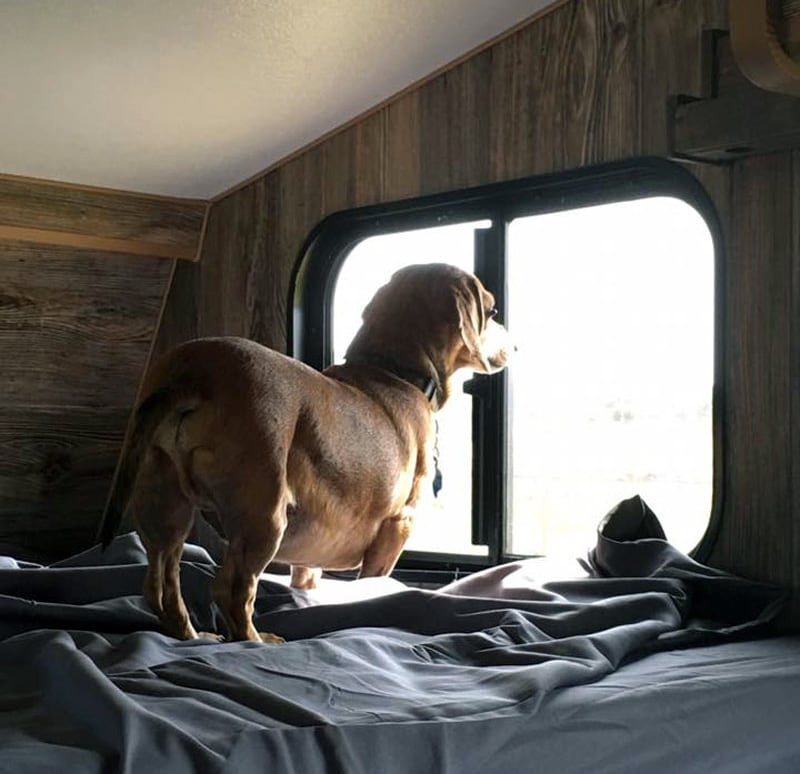 Above: Pit Stop, their dog, checking out the view at the 281 Speedway in Stephenville, Texas
Our camper keeps us cool in the heat and it allows us to get out of the weather. We really like the versatility of our smaller rig, and the fact that we can take the camper off.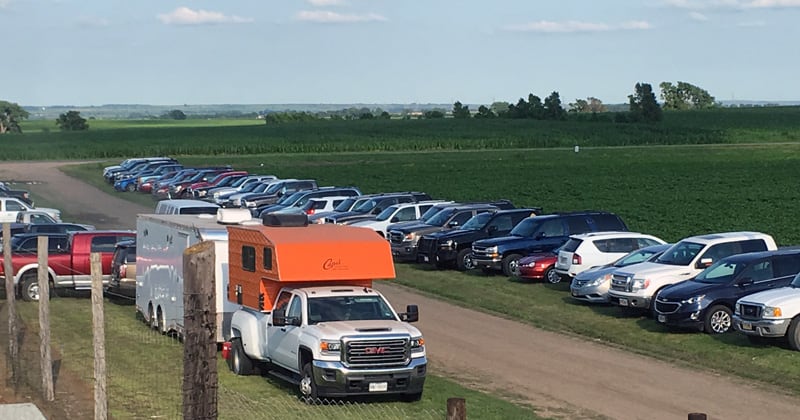 Above: Camping at Wagner Speedway in Wagner, South Dakota
Can you camp at the race tracks for free?
AJ: Almost every track allows us to camp for free. The tours expect people to stay because they know we're not going home between races. The local shows are different. For those, we call ahead. We have even seen fans camp at the tracks.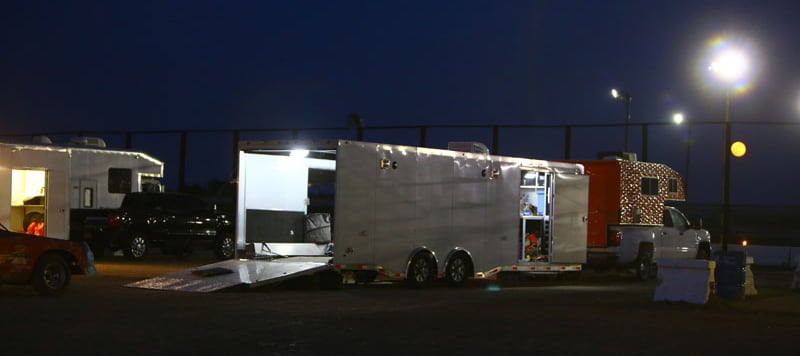 Above: The Devils Bowl Speedway camping area
Tell us about some the tracks you visit.
Brenda: The most famous half mile track in Texas is the Devils Bowl Speedway. It is located in Mesquite, Texas, just outside of Dallas.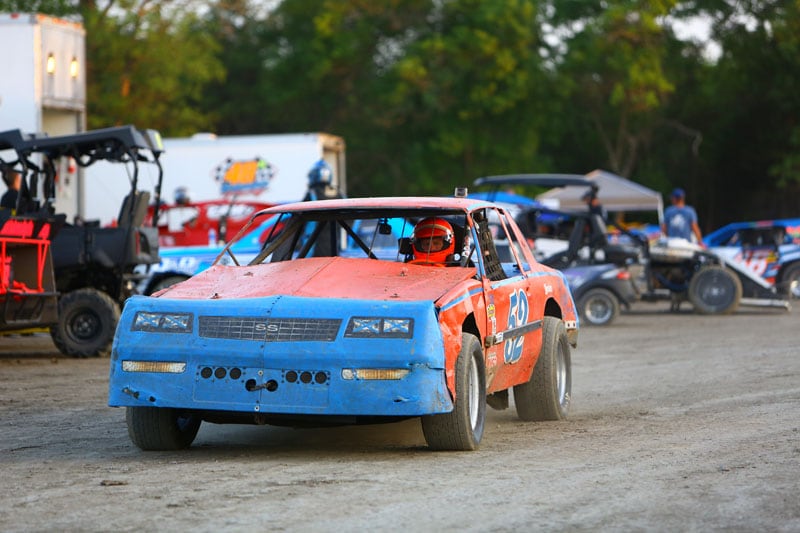 We also race at the Grayson County Speedway (above) in Bells, Texas, which is north of Fort Worth.  That track is what's called a tight quarter bullring. We found the only shade tree you could park under when we got there.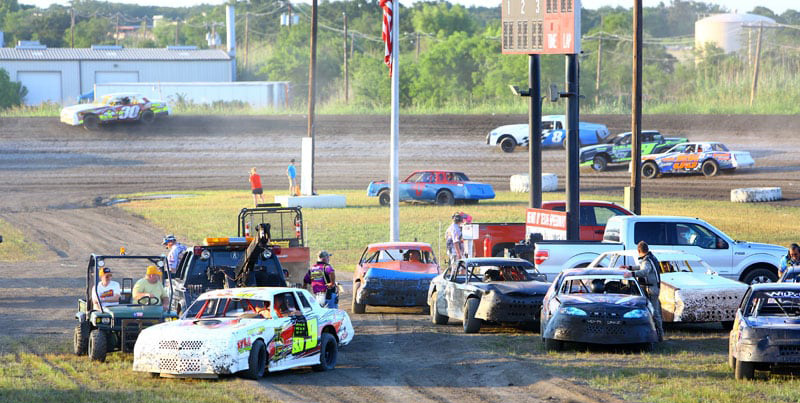 In Texas we also go to the Heart O' Texas Speedway (above) in Elm Mott – just north of Waco.  I believe this track has been around since the 1960s.  There's also Kennedale Speedway Park in Kennedale, Texas between Fort Worth and Dallas.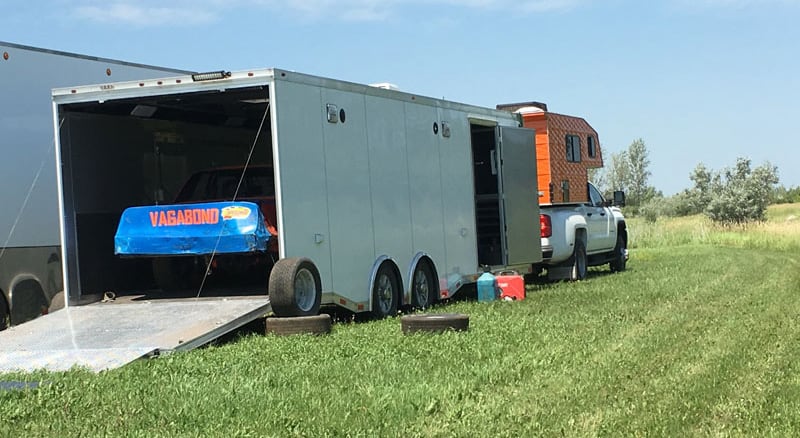 Jamestown Speedway was the first stop on the tour in Jamestown, North Dakota.
Nodak Speedway in North Dakota is also where they hold their state fair.  The day after our race there, they were taking down part of the track for the fair. Then had to put it back up for a race two weeks later.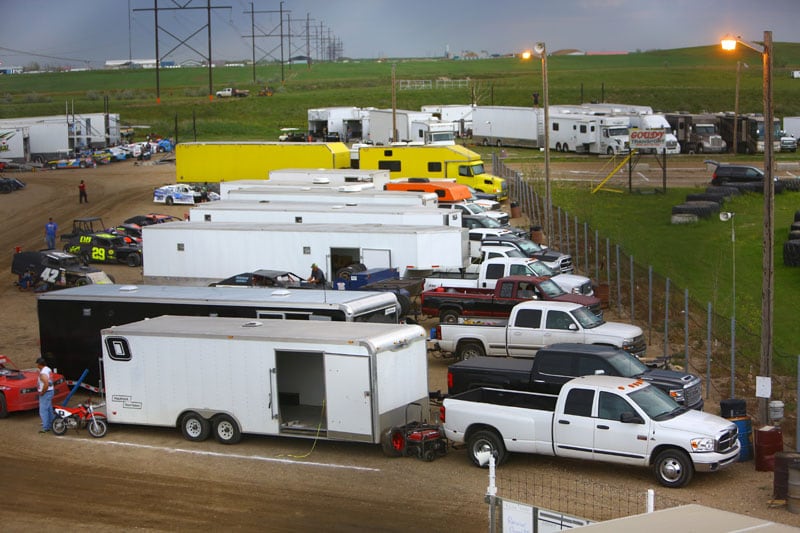 Above: Can you spot their orange Capri at Estevan Motor Speedway?
Estevan Motor Speedway in Saskatchewan, Canada was the third stop on our summer tour.  We had to cross the border and had no issues going into Canada or returning to the United States.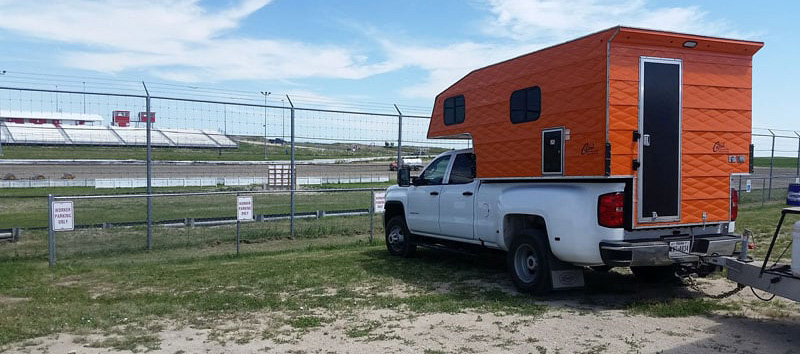 Southwest Speedway was the fifth stop on the tour in Dickinson, North Dakota.

Dacotah Speedway in Mandan was the final night of the tour.  We were considered a small hauler, so we got to park in the infield (see above).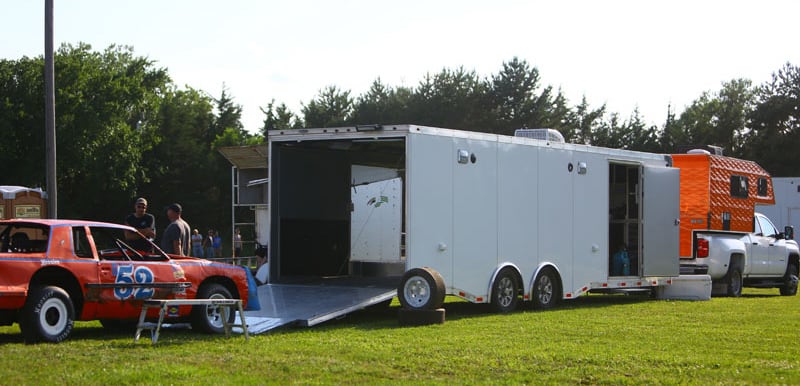 Boone County Raceway was the track we raced at in Nebraska on the way to North Dakota to start the tour.  Above is our camping spot there.
Are there other race car drivers with truck campers?
Brenda: Yes, a couple of guys have truck campers. After admiring their rigs, we started looking for a camper that was light enough to allow us to also pull a full-sized enclosed trailer.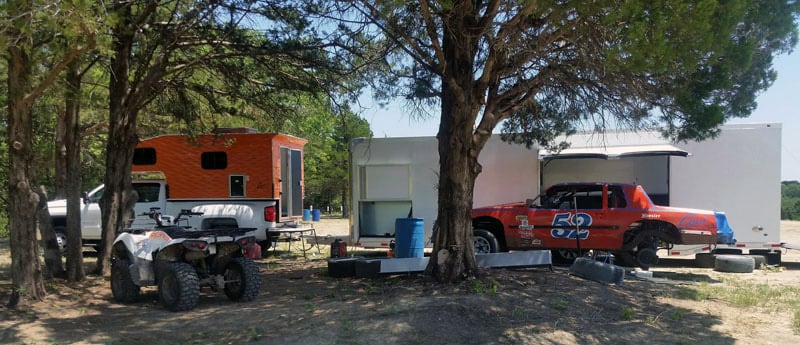 Most truck campers were extremely heavy with a lot of extras we did not want. Capri Campers are fairly light to start with and they will custom build what you want. We also liked Capri's retro style compared to other truck campers.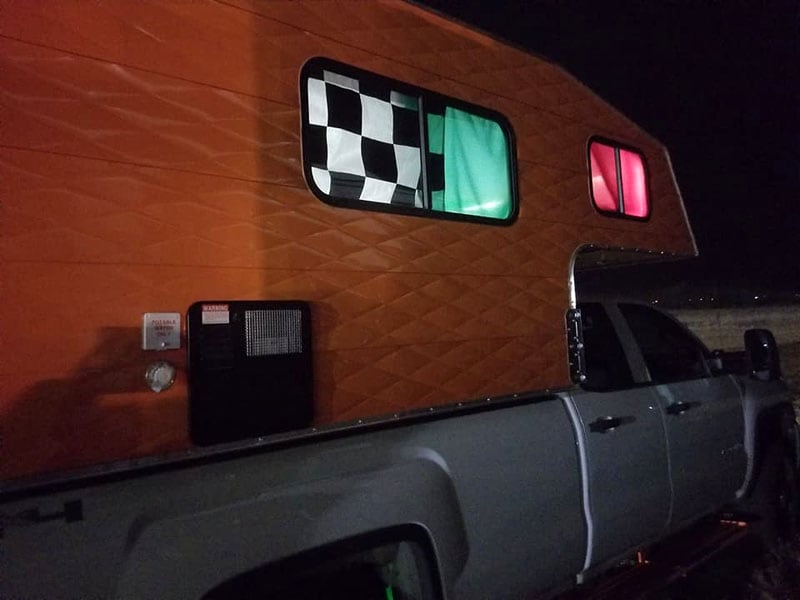 Above: Check out the custom curtains they made for their Capri Camper
We pull a 28-foot Haulmark enclosed trailer. The trailer is easily towed with our Capri Camper set-up. The trailer holds our race car, ATV, and all our spare parts.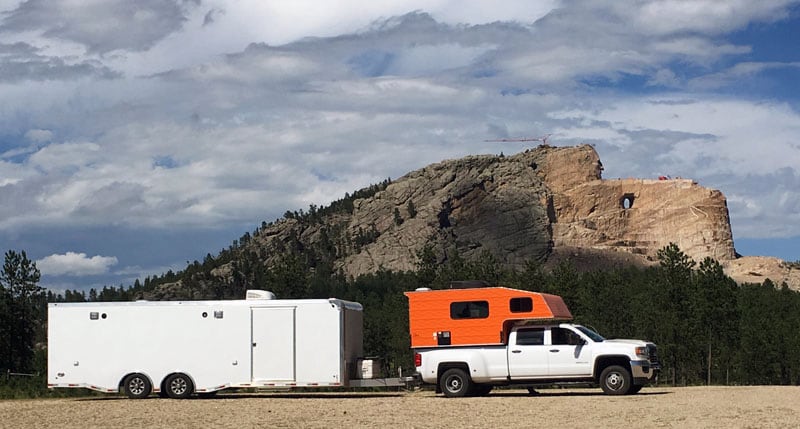 We can't end your interview without asking about the color of your Capri Camper. Why orange?
Brenda: When we custom ordered our Capri, we chose a bright orange exterior – similar to our race car color. The orange color makes us stand out. Besides, we never forget where we parked. All of our race cars have been orange.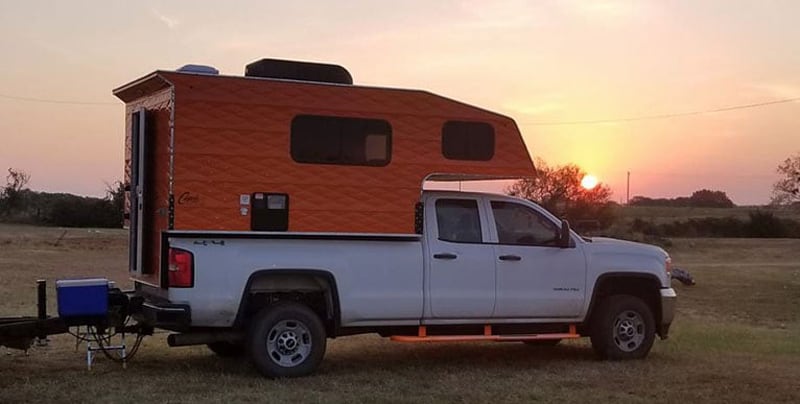 There's certainly no losing your rig with that color! Do you ever go to campgrounds?
AJ: Normally we don't stay at RV parks because we are staying at the racetrack. We have stayed at rest stops and Walmart parking lots.
We don't normally stay at campgrounds. Most campground owners don't seem to like our setup with a race car trailer.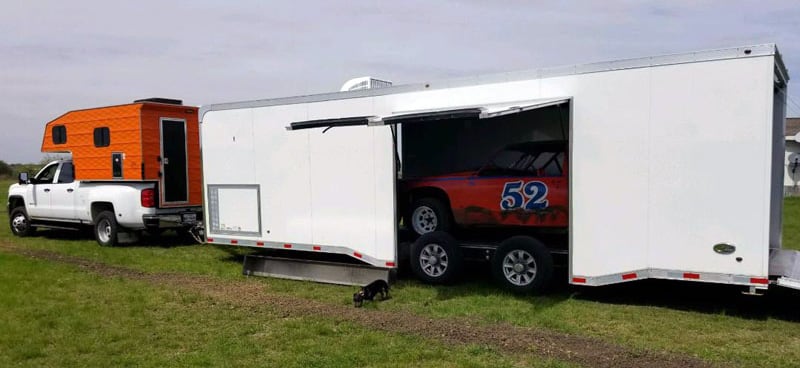 We would be excited to meet you guys on the road.
AJ: Our Capri camper is easier to own, drive, and maneuver than any other type of RV we've ever had. We love the freedom of our truck camper. It's the best choice for us.
AJ and Brenda's Rig Information
Truck: 2018 GMC 3500, Crew Cab, 4×4, dually, long bed
Camper: 2017 Capri Camper Retreat
Tie-Downs/Turnbuckles: Bolts through bed
Suspension: None
For more information about Capri Campers, visit their website at capricamper.com.  Click here for a free Capri Camper brochure.