Truck Camper Magazine readers reveal their all-time favorite truck camping roads in the United States and Canada.  Destinations are great, but these incredible roads are often better.  Let's roll.

When we make our truck camping plans for the year, we mainly focus on the destinations; where we are going during the day, and camping that night.  The roads that connect these locations are often overlooked as merely the driving lines between Point A and Point B.  What a mistake.
When we talk about some of the best experiences we've ever had while truck camping, we always talk about the roads.  Curvy cliff-side Route 101 along the California coast.  Impossibly twisty and terrifying Moki Dugway in Arizona.  Island hopping to Key West down Route 1.  There are so many amazing roads coast-to-coast.  Why do we overlook them?
Clearly we need to challenge our focus on destinations and concentrate more on the roads we travel.  In the past we have stumbled upon amazing roads and not given them the proper time or attention.  We need to go back and treat these roads as the feature attractions, and enjoy every mile.
To discover the absolute best roads for truck camping, we asked Truck Camper Magazine readers to pick their favorite truck camping roads ever.  If they could only pick one road as their all-time favorite truck camping road, which road would it be?
The reader recommended roads take us throughout the United States and Canada, and down some of the most scenic and spectacular roads these two great countries have to offer.  Grab your bucket list and a pen.  These awesome roads are destinations.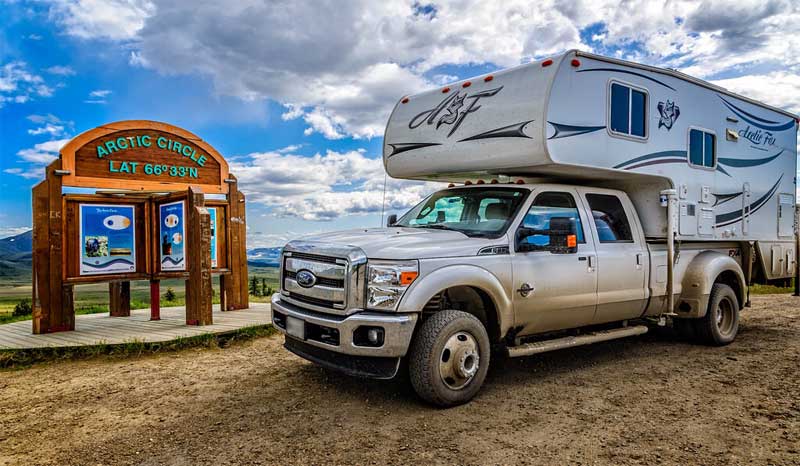 "The Dempster Highway from Dawson City to the Arctic Circle was my favorite truck camping road ever.  It wasn't even on our planed route, but folks we talked to in the Yukon and Dawson City convinced us to go.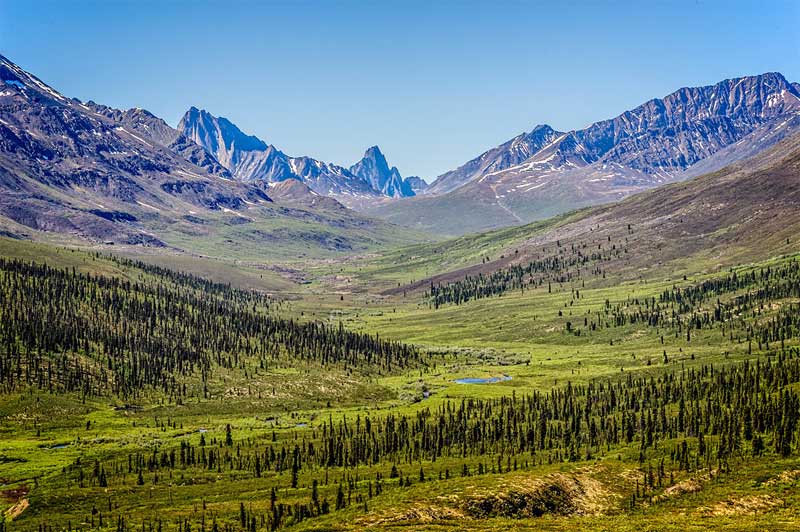 The expansive views, the quiet, and the complete lack of man outside of the road itself was amazing.  There is one place to stop for fuel along the way, which was the most expensive fuel we have ever bought.  You had best not pass that fuel refill!" – Brett Binns, 2014 Ford F350, 2014 Arctic Fox 1150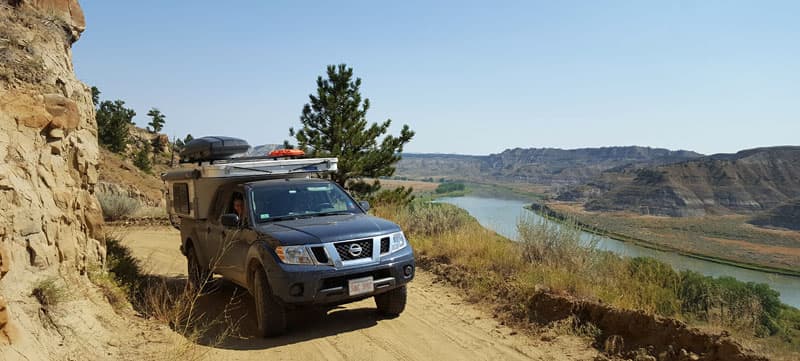 "Missouri Breaks Back Country Byway in Montana." – Joshua Shenker, 2016 Nissan Frontier, 2016 Four Wheel Camper Fleet

"Teton Pass going from Idaho to Jackson, Wyoming.  It's steep with 20 mile per hour curves.  But, what views!" – Jerry Bonneau, 1995 Ford F350, 2002 Lance 1061
"My favorite truck camping road ever is the Beartooth Highway in Wyoming and Montana." – Joan Berger, 2001 Dodge Ram 2500, 2014 Northstar Laredo
"Other than the roads you mentioned, the Going-to-the-Sun Road in Glacier National Park is pretty spectacular.  However, it's probably best done in a pop-up camper." – Charles Phy, 2011 Dodge 5500, 2010 Eagle Cap 1160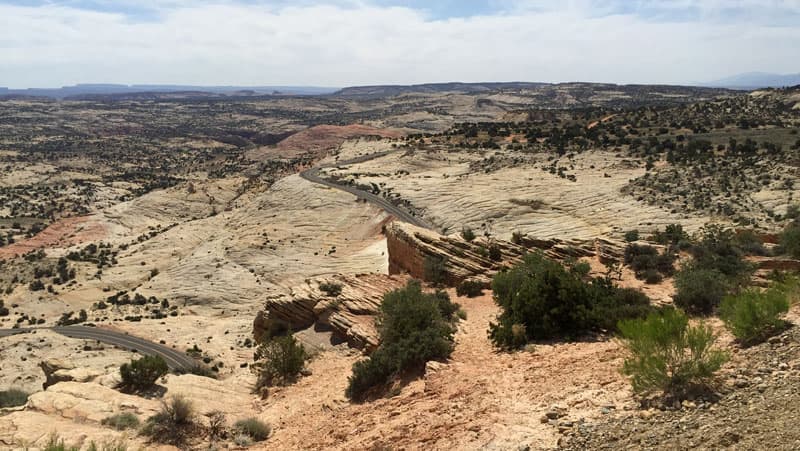 "Utah Highway 12 from Boulder to Bryce Canyon is one of our favorite truck camping roads.  It follows a high ridge with steep drop-offs so the views over the eroded desert landscapes are amazing.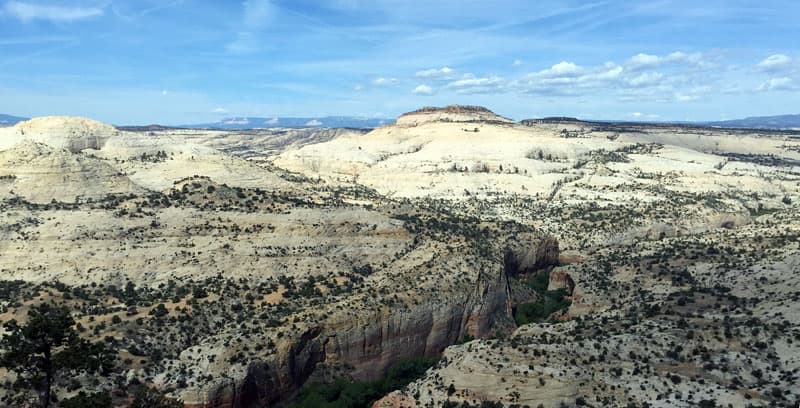 Most of the route is in Grand Staircase Escalante National Monument." – Laurel Wilson, 2018 Ford F350, 2016 Four Wheel Granby Shell
"Our favorite truck camping road ever is the Coquihalla Highway (The Coq, pronounced "coke") between Hope and Kamloops in British Columbia.  Located along the Canadian Cascades, the Coq opened in the mid-1980s for better access to the Expo in Vancouver.
We covered it with our Ford F250 and Bigfoot truck camper within days of its opening.  The views were spectacular.  The snow was still on the ground.  And little creeks carried the melt off beside the road.  Nothing but a toll booth about half way interrupted our views.  There were no signs, no buildings, nothing.  Ten years ago it became toll free. The summit is just above 4,000-feet.
Highway 120 over the Tioga Pass / Sierra in Yosemite National Park is by far our favorite truck camping road in the United States.  Its summit is nearly 10,000-feet and the views across will fill your camera's media card.  The Eastern Sierra is a different California." – Joe Sesto, 2015 Silverado 3500, 2015 Bigfoot 2500 10.6e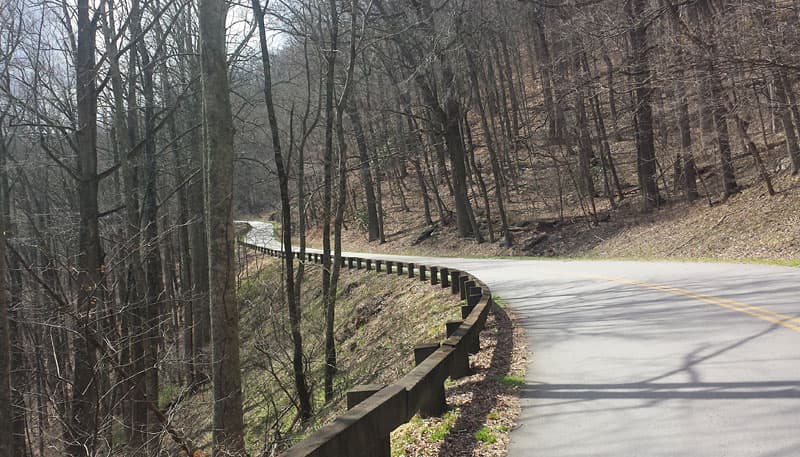 "Our favorite truck camping road ever is the Blue Ridge Parkway.  It's an engineering marvel and is very well maintained.  It passes through three states with hundreds scenic overlooks, giving changing views around every turn.  There are many points of interest such as great mountain towns, breweries, fishing and other unlimited outdoor activities.  There are stops at fabulous hiking trails, waterfalls, and camping opportunities.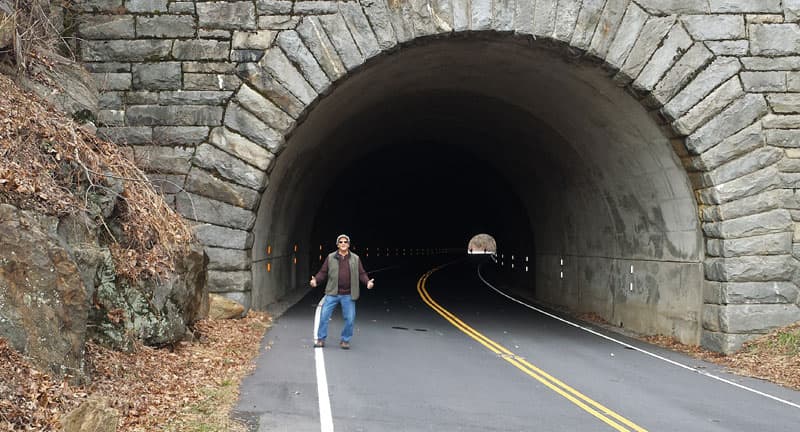 It winds its way through geological features such as caves, forests and very mountain high peaks, including the highest peak east of the Mississippi, Mount Mitchell.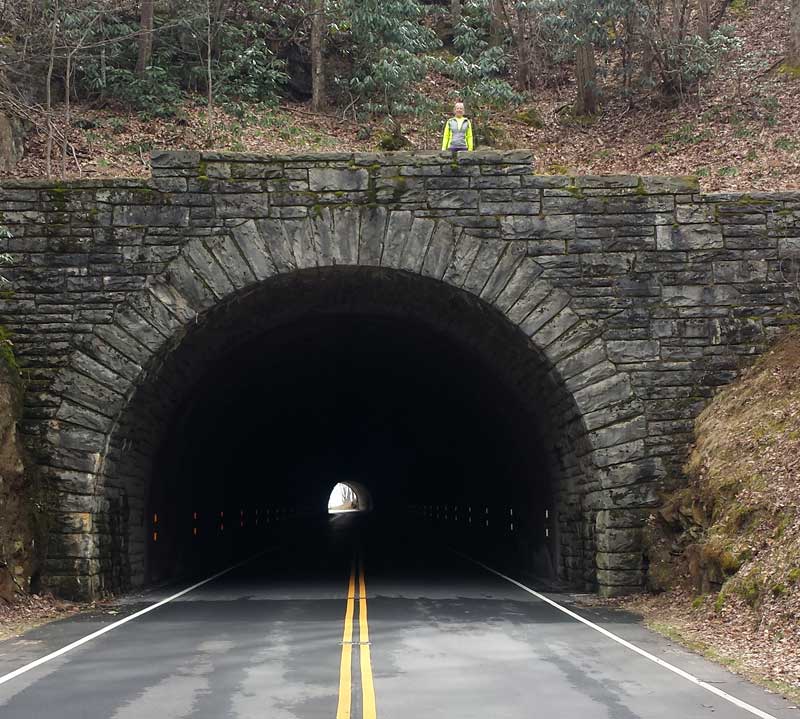 We travel it often and even use it as an alternate route to gain access locally here in the Asheville area." – Tony Polvino, 2016 Ford F-150, 2016 Travel Lite 770RS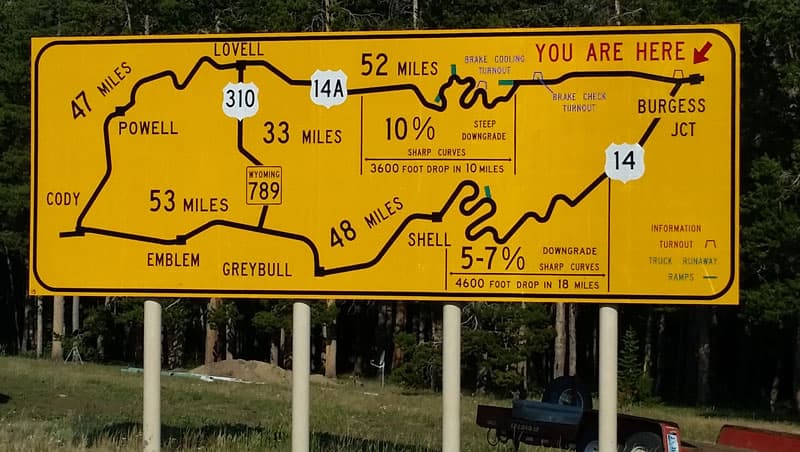 "Our favorite truck camper road ever is Alternate Highway 14 through the Bighorn Mountains of Wyoming.  The views are spectacular and, while you're up on the top, there are lots of nice and cheap places to boondock.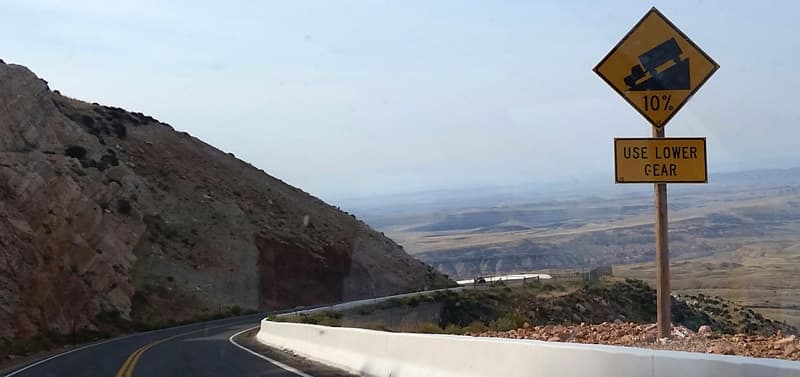 We have often seen moose in our favorite campground, which is Bald Mountain.  The road down to Lovell, Wyoming is steeper than a cow's face – 10-percent grade for 13-miles.  Use your lowest gear instead of your brakes!" – Jim and Joan Thompson, 2011 GMC 3500, 2013 Lance 1191
"My favorite truck camping road ever is Colorado's U.S Route 550 between Silverton and Ouray; the Million Dollar Highway.  I have driven this road numerous times and even camped on top when the road was under construction.
My second favorite truck camping road is up the Mogollon Rim road in Arizona.  One camping trip was from Kingston, New Mexico (Highway 152) to Silver City, and then north on Highway 211 to US 180 in Eager, Arizona, and then Highway 260." – Harry Palmer, 2008 Dodge Ram 2500, 2008 Lance 915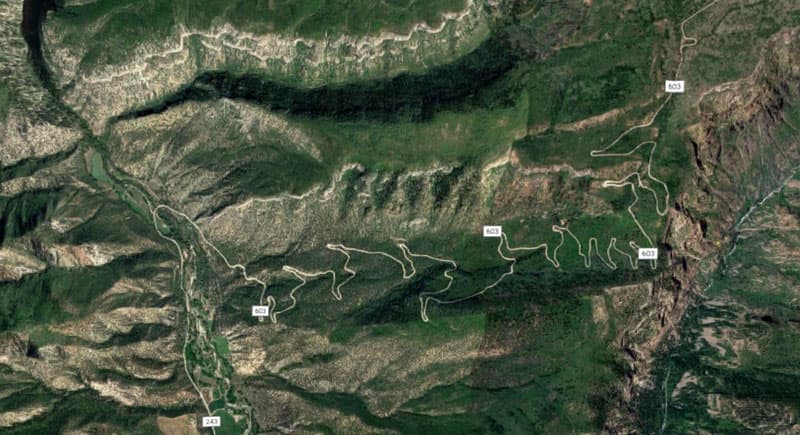 "My favorite truck camping road ever is Forest Road 603 north of New Castle, Colorado.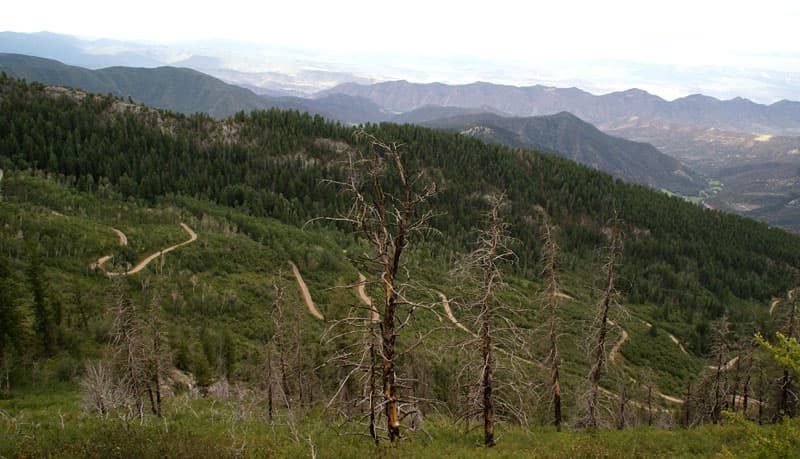 It's a very safe forest road with lots of switchbacks climbing to the Flat Tops area." – Rick Johnson, 2004 Ford F350, 2007 Lance 1181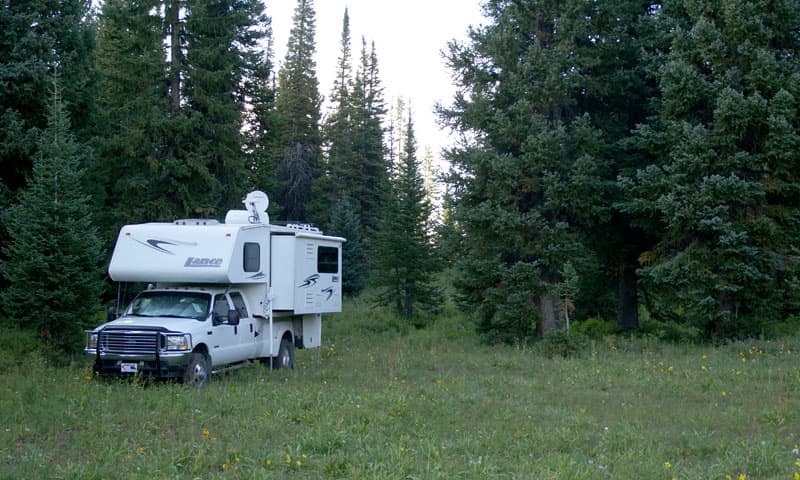 "The Blue Ridge Parkway is my favorite truck camping road ever.  I drove the entire length during October and stayed at four different campgrounds.  There's plenty of great views and good food along the way.
All of the tunnels on the parkway are rounded.  The center heights are all 18-feet or more, but the sides are lower.  In a hard side truck camper, you need to stay toward the middle of the road.   You can get tunnel heights from this NPS website.  If you have any doubts, contact a park ranger." – Randall Bunce, 2017 Ford F350, 2002 SunLite Skyhawk SB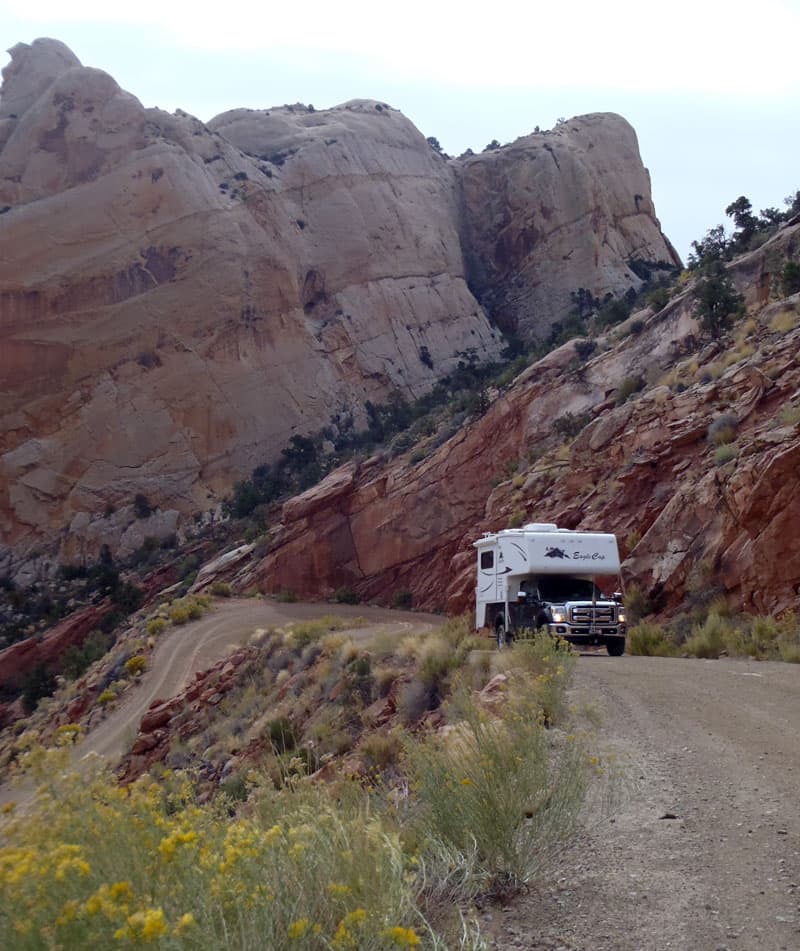 "Our all-time favorite truck camping road ever is the Burr Trail.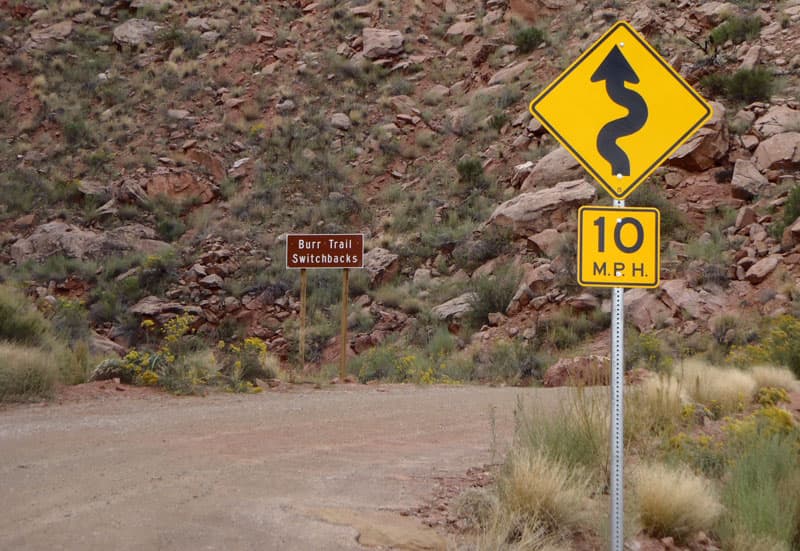 The Burr Trail and the Waterpocket Fold are at the south end of Capitol Reef National Park and Grand Staircase Escalante National Monument.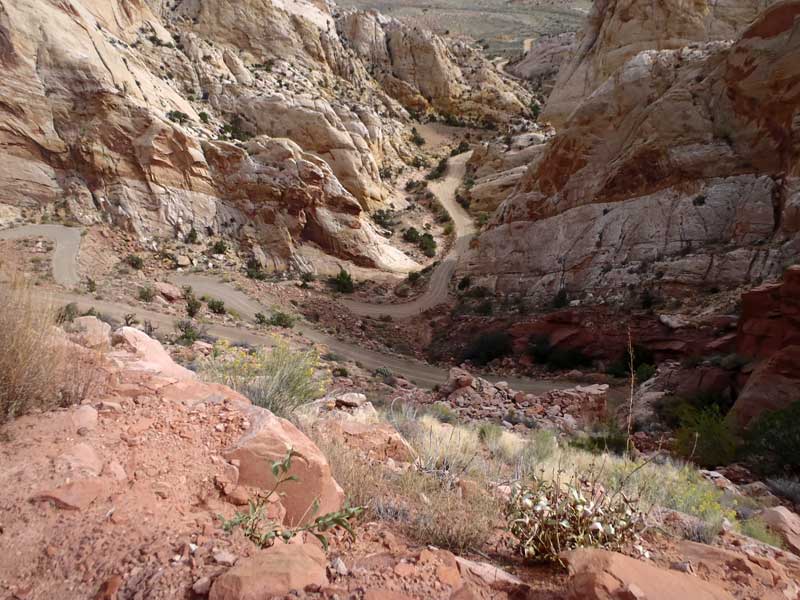 Another favorite is the Moki Dugway near the Valley of the Gods." – Gary Gadwa, 2012 Ford F350, 2010 Eagle Cap 950
"For us, it's the Seward Highway in Alaska." – Shellie Barnes, 2017 Ford F250, 2017 Palomino SS-550
"Highway 1 from Washington to California." – Gregory Missman, Ford F-450, Lance 1181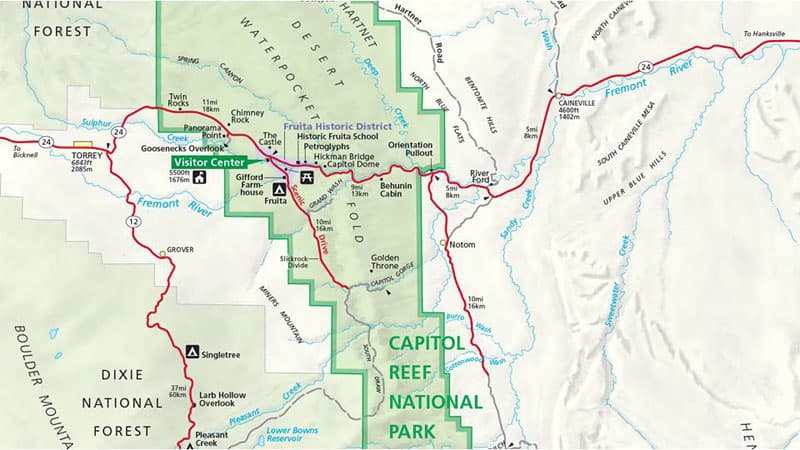 "After driving our truck camper to all 49 contiguous United States, my favorite truck camping road has to be Utah's Scenic Route 24.  We drove this road traveling east to west to arrive at Capitol Reef National Park and Fruita Campground.
What makes this road special is the scenery.  As we drove the road, I remember saying to my wife that it seemed like, "something time had forgotten."
Around every corner is a completely different mountainous or hilly scene unfolding as you drive.  The mountains began in stark gray colors and ended in the beautiful orange-brown that Utah is so famous for.  I often wondered if it looks like scenery from the moon, or another planet!  I couldn't possibly count the times that I said, "Spectacular!  Just spectacular!" – Charles Coushaine, 2001 Ford F350, 2012 Chalet DS116RB
"My favorite truck camping road ever is the Magruder Corridor Scenic Drive.  It's 122.5 miles between Darby, Montana and Elk City, Idaho.  This trail separates two different Wilderness Areas totaling 3.4 million acres.  Google describes it as, "one of the wildest roads in the United States".
When you enter this road, don't be in a hurry.  It can be driven in eight to ten hours of continuous driving, but why go if that's all you wish to do?  Stay awhile and enjoy.  There are no services, so you're on your own. Happy truck camping!" – Bob Lick, 2003 Dodge 3500, 1993 Alpenlite 11-foot SK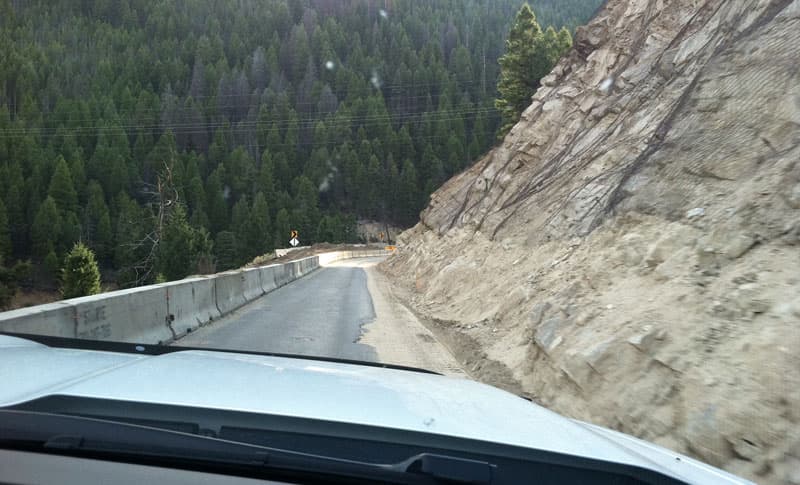 "My favorite truck camping road ever starts from Montana Highway 43 into Idaho.  Then I take 93 over Chief Joseph Pass down into Salmon and then to Stanley, Idaho.   Next I go west on Highway 21 (not for the faint of heart) and onto Highway 56 into Boise.  It's narrow and twisting with beautiful views.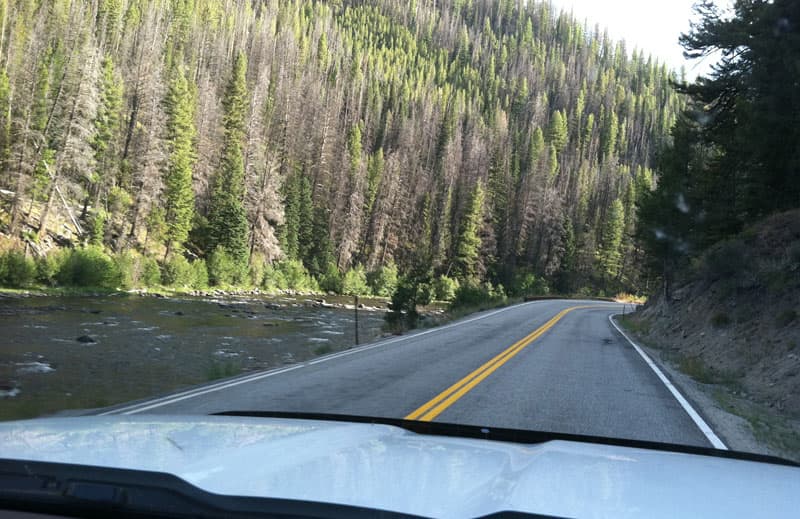 As a former OTR driver, I hauled loads to and from all 48 and Canada.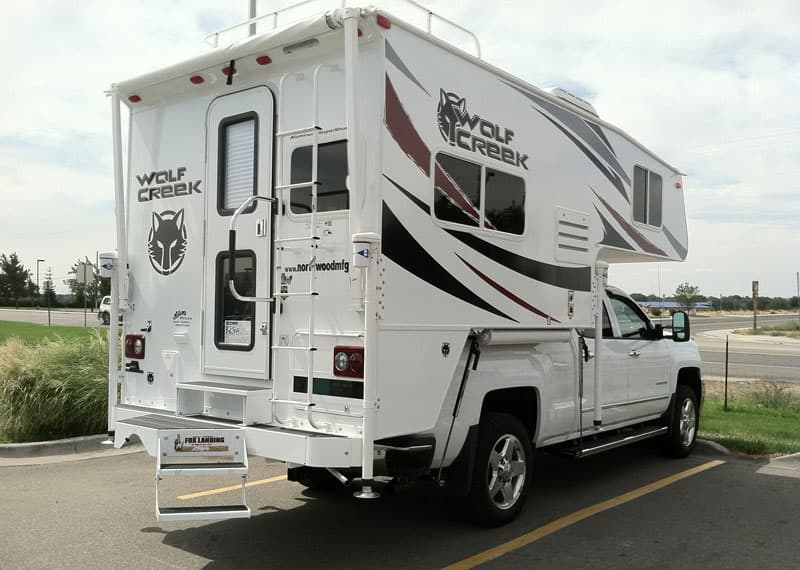 I love the truck camper.  It's the only way to get into the less traveled parts!" – Lindsay Little, 2015 Chevy 2500, 2015 Wolf Creek 850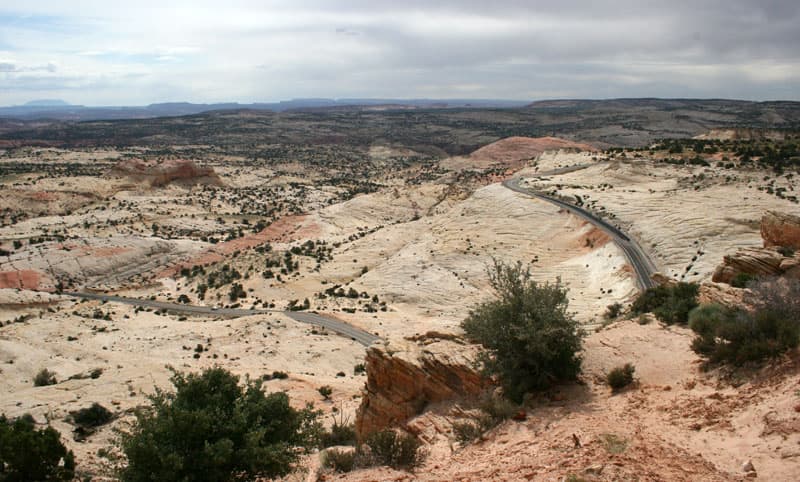 "Scenic Byway 12 in Utah." – Bruce Allison, 2017 Ram 3500, 2012 Adventurer 910 FBS
"Top of the World Highway from Tok, Alaska to Dawson, Canada.  The road is rough, which just makes you slow down and enjoy it.  There is spectacular scenery." – Darrell Watson, 2012 Ram 2500, 2007 Lance

"Our favorite truck camping road ever is the section of Route 66 between Ludlow and Essex, California.  When we find ourselves traveling east-bound on Interstate 40. we like to detour at Ludlow and get a taste of the old road.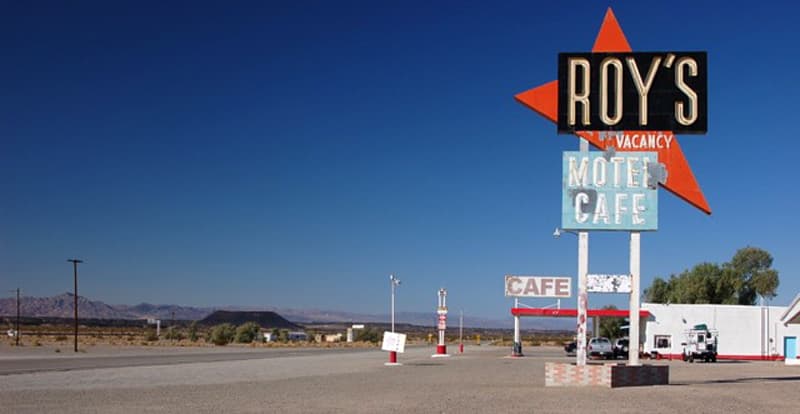 Many people enjoy driving the, "Main Street of America".  This particular part of Route 66 is especially interesting.  There are wide open desert views with remote campsites on public land, a volcanic cinder cone you can climb, and lava fields.

Roy's Cafe and gas station in Amboy are the highlights of this particular section.  Watch for classic cars traveling on this part of the National Trails Highway, which is also known as Route 66.  The classic cars usually stop at Roy's for a photo op." – Cliff and Susie Kellogg, 2006 Chevy 2500, 1999 Apache pop-up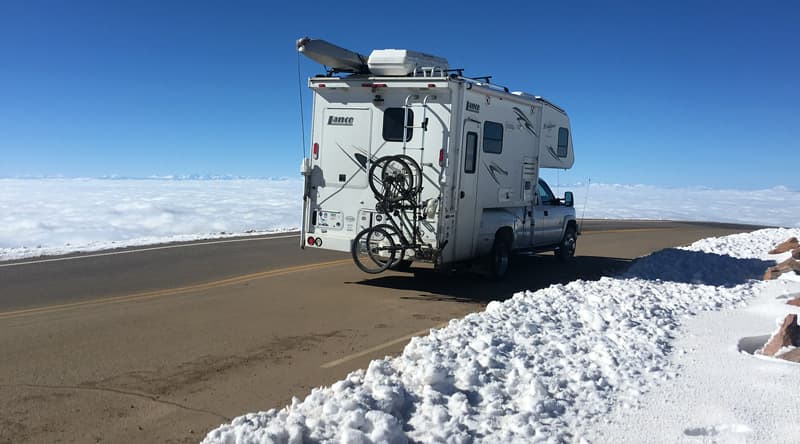 "We drove 20,000 miles around North America.  One of the highlights of our trip was taking on Pike's Peak.  I was worried about the engine overheating and whether we would have trouble pulling the 19-mile grade.
As we climbed, we came to blind turns that appeared to disappear into oblivion.  Cindi would shutter when she looked out her passenger's side window at the the steep drop-off a few feet away.  Our Duramax diesel pulled the long grade with no problems.  Staying at the low speed limit helped keep the engine overheating in check, though the engine really wanted to stretch its legs a little more.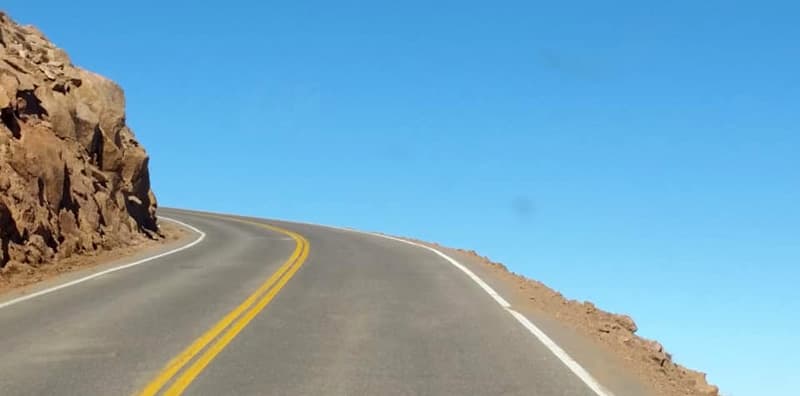 We stopped at pull-outs along the way to bask in the breathtaking views.  Below us the cloud deck stretched to the horizon in all directions.  Off in the distant west we could see the tops of the Rocky Mountains peeking above the clouds.  As we climbed to the 14,000+ foot high top, the temperature steadily dropped to well below freezing.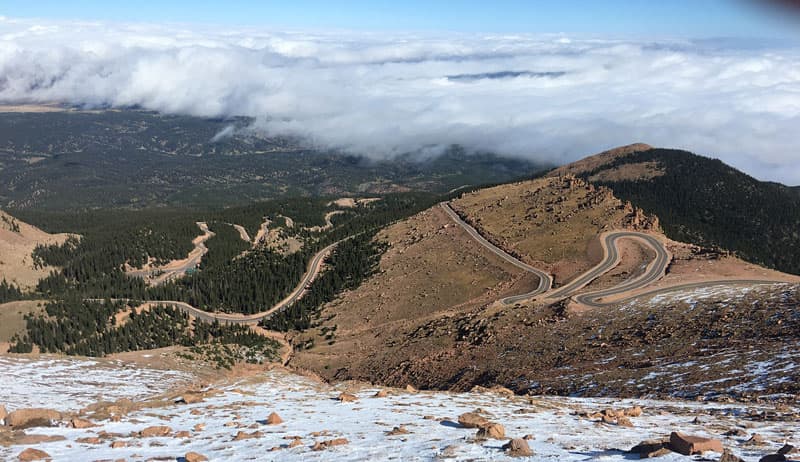 We parked at the top and were met with a strong, cold wind, which made walking a little hazardous since there was ice covering the parking lot.  We conquered the mountain in our truck camper with no mishaps and were left with the memory of an unsurpassed view." – Jim and Cindi Goodrich, 2006 Chevy 3500, Lance 1191
"I read about the Beartooth Highway on the Good Sam Truck Camper Forum and added it to our bucket list.  Then last spring we made a point of exploring it on our way back from Canada.  It's our favorite truck camping road ever and the ideal approach to the northeast entrance to Yellowstone National Park." – Neil Mullen, 2016 Ram 2500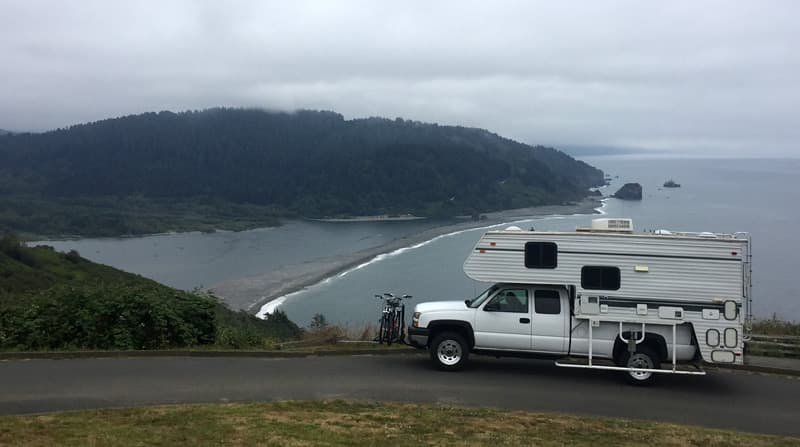 "From California to Washington, the 101 has so many things to do along the way.

You can't help but stop every few miles to see something interesting.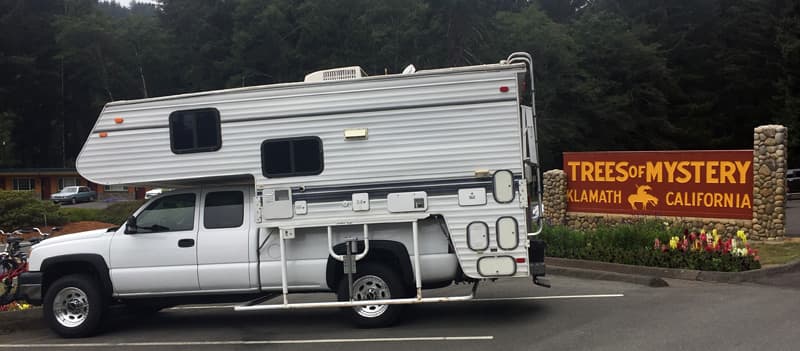 From Paul Bunyan, to Bigfoot, to baby tigers, to a sloth sanctuary and tree house resorts.  You could spend a year on the 101." – Marc Cuslidge, 2006 Chevy 3500, 1994 Weekender 1010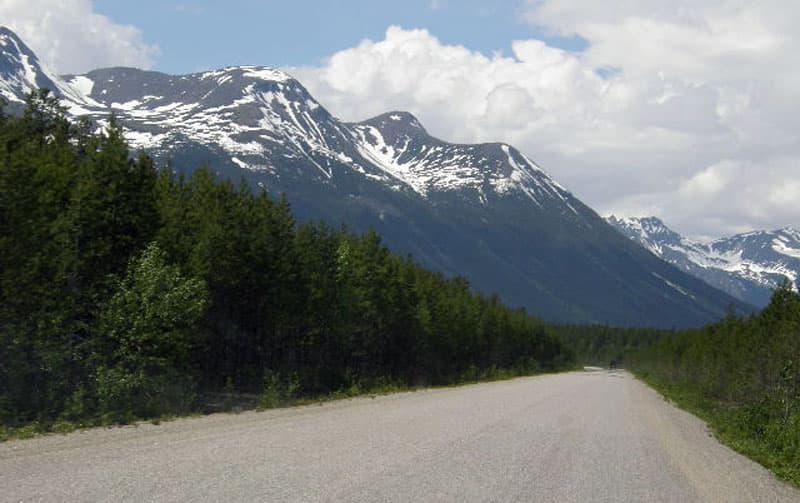 "My favorite truck camping road ever has to be the Cassiar Highway in British Columbia.  It is one of the most isolated 450-mile stretches of road we've ever been on.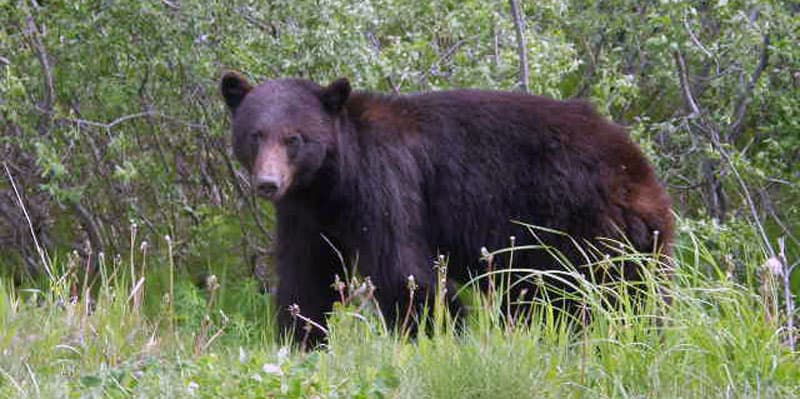 Four years ago we saw a grand total of 17 other vehicles on the entire road.  Wildlife on the other hand is very abundant.  We saw brown and black bear, moose, and bison.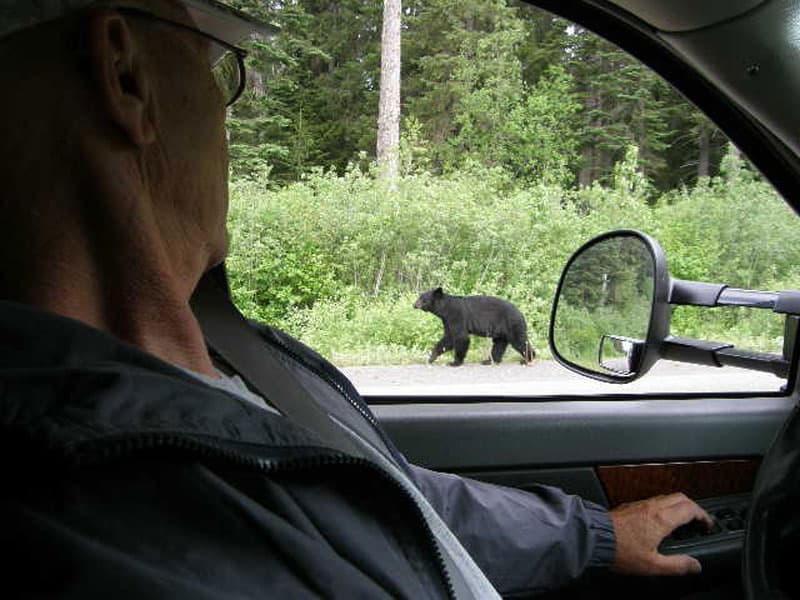 There are only two fuel stops with no electricity, though they were working on the northern end for a little power.   There were no houses, no side roads, no mailboxes, and no people.  There was nothing but beautiful mountains, streams and critters!
Oh yes, there were a few frost heaves too, so it's not a place to put the hammer down." – Pete Clark, 2017 Ram 5500, 2017 Northern Lite 10-2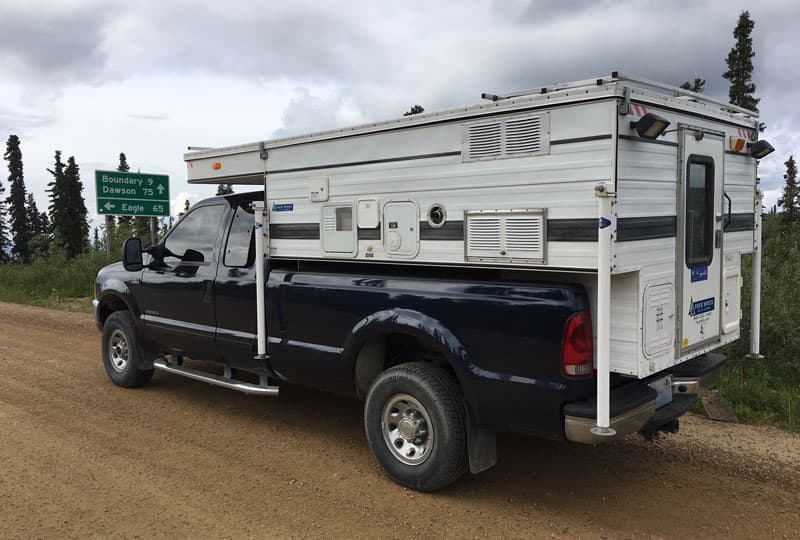 "My favorite truck camping road ever is the Top of the World Highway from roughly Tok, Alaska to Dawson City, Yukon." – Brian Boardman, 2001 Ford F250, Four Wheel Camper Keystone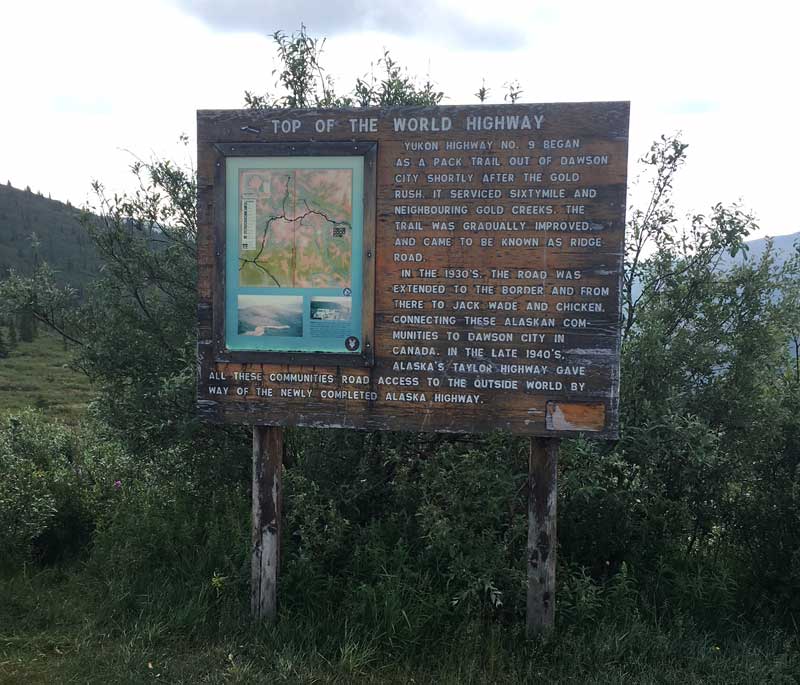 "My favorite truck camping road ever is the Alaska Highway from Toad River to Liard.  The winding road through the Muncho Lake area is beautiful and there are a few campgrounds that put you right on the water.
Another favorite truck camping road is the Top of the World Highway from Dawson City, Yukon to Chicken, Alaska.  The dirt and gravel highway along the mountain peaks provides awesome views.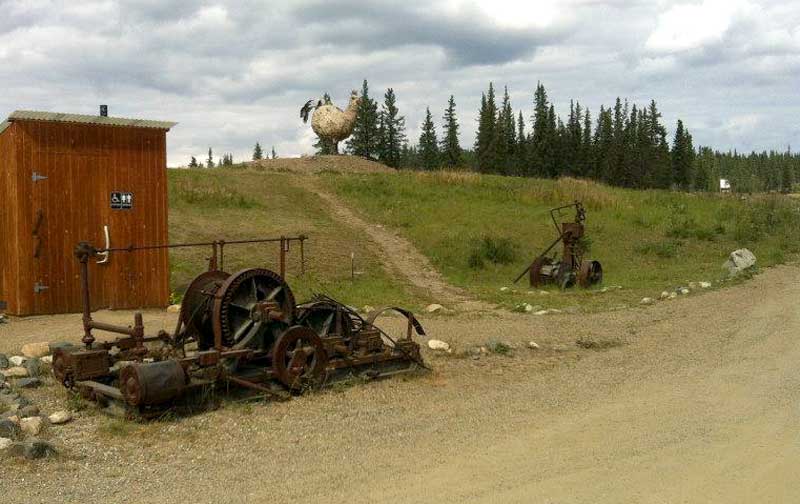 The travel down the mountain to Chicken provides opportunities to see the northern most border crossing and gold panners along the creeks.  Hazards include the dirt and mud, along with fast traveling tour buses.  Dawson City does not have the most hospitable campgrounds.  Most are a little more than gravel parking lots.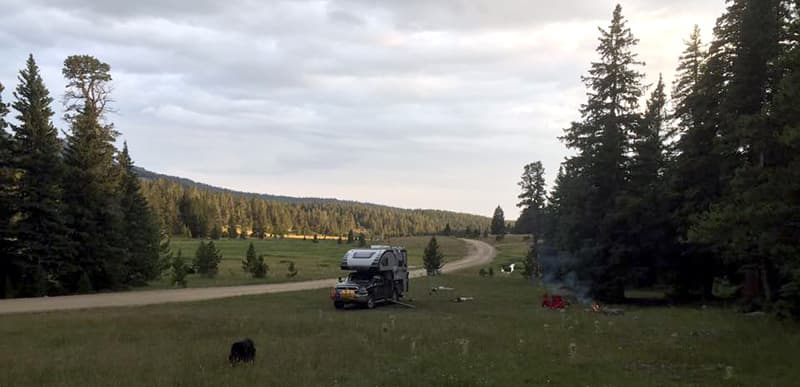 Finally, US-14 between Shell and Dayton, Wyoming is a favorite truck camping road.  This stretch through the Bighorn National Forest is the ultimate trip for truck campers who boondock." – Jack Reall, 2016 Dodge Ram 3500, 2016 Cirrus 820
"Please don't ask me to choose just one favorite truck camping road.  I live in the flattest place in North America.  Utah's Highway 12 and Washington's North Cascade Highway are both favorites.  Another favorite drive is Canada's Icefield Parkway through Banff and Jasper National Parks, then turn west and drive through Yoho Park.  Another is US-191 South from Bozeman along the Gallatin River to West Yellowstone. " – Philip Tron, 2009 Chevy 3500, 2012 Lance 1050
"By far my favorite is the Moki Dugway!" – Joe O'Brien, 2001 Dodge Ram 2500, 2002 Northstar Laredo
"I really like running US-1 from Massachusetts to Bar Harbor, Maine.  US-1 runs along the coast and you can see the Atlantic most of the way.  There are lots of things to see, places to eat, shopping for the ladies, and LL Bean for the guys." – RJ Bickford, 2007 Dodge 2500, 2003 Palomino Maverick 1000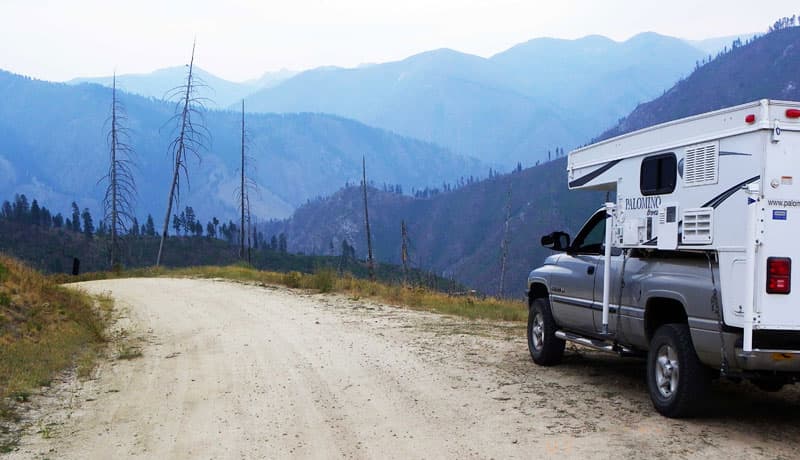 "Our favorite truck camping road in our five short years of truck camping is a forest service road in central Idaho.  It's a loop trip from McCall, Idaho through the towns of Warren, Big Creek and Yellow Pine.
The total distance is about 160 miles. There is no cell service most of the way.  The scenery is incredible.  There are two high passes including one at 8,600 feet.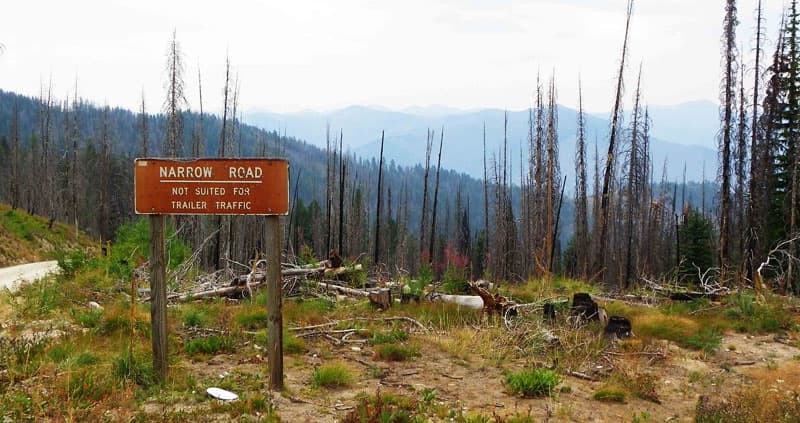 To find this road, head north from McCall on the Warren Wagon road (NF-21) to the not quite ghost town of Warren.  Then go over two high passes to Big Creek on NF-340.  Camp on the Salmon River.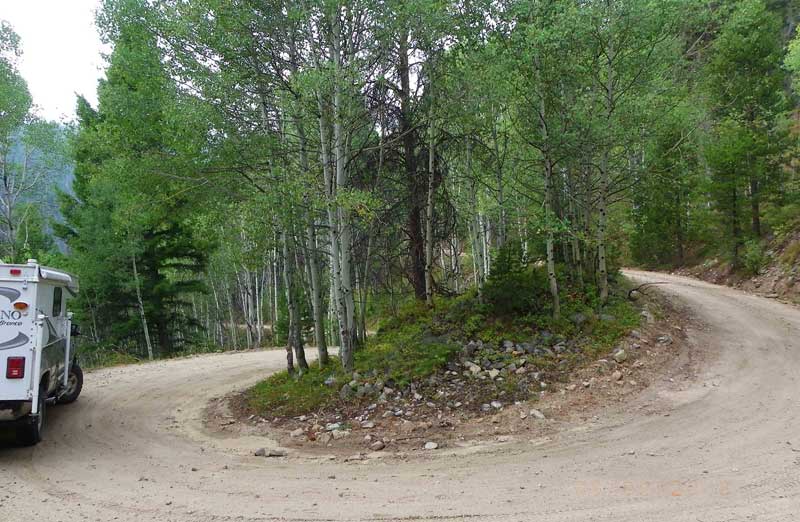 The next day, go to Yellow Pine.  One place to see is Burgdorf Hot Springs on a short spur off the main road.  There's a great natural hot water swimming pool and camping." – Brian and Chris Hagen, 2004 Ram 2500, 2014 Palomino 1251 Backpack
"My favorite truck camping road ever is the White Rim Road, also known as the White Rim Trail in Canyonlands National Park; Island in the Sky region.
The White Rim Road provides a great challenge to a hard side camper and the truck that carries it.  Not all sizes of campers or trucks can circumnavigate this road.
We've driven the White Rim Road five different times, but have only fully circumnavigated it twice due to weather and flooding.  I have a five part series on YouTube showing the first time we went all the way around." – Alex Blasingame, 2007 Ford 250, 2002 Lance 815
"We have many favorite truck camping roads, but one that stands apart from those Gordon, Angela, and Harley have already traveled (Million Dollar Highway and Utah SR261 are great) is Highway 212 from Cooke City to Red Lodge, Montana.
Going uphill, your truck will need a good cooling system.  Going downhill, your truck will need good brakes.  An exhaust brake is a good idea if your truck is diesel powered.
This is the only place on earth I have seen a sign that says, "Staying on roadway is recommended".  It brought a smile as it was a few thousand feet to the bottom of the canyon at that point.
We have always wanted to stay at Beartooth Lake Campground, but it has been too early or too late in the season when we're traveling through." – Les Brush, 2002 Dodge 2500, 2007 S&S 8.5FBSC
"We have seen a lot of good paths, but our favorite truck camping road ever (at least for today) is the International Selkirk Loop.  There is a great ferry ride, lots of good people, fabulous mountain scenery, golf, restaurants and good camping." – Tom Scholtens, 2010 Silverado 2500HD, 2013 Bigfoot 25c10.4
"Highway 1 from Cambria-Carmel." – Mark Bertuccelli, 2007 Chevy 2500HD, 2009 Lance 835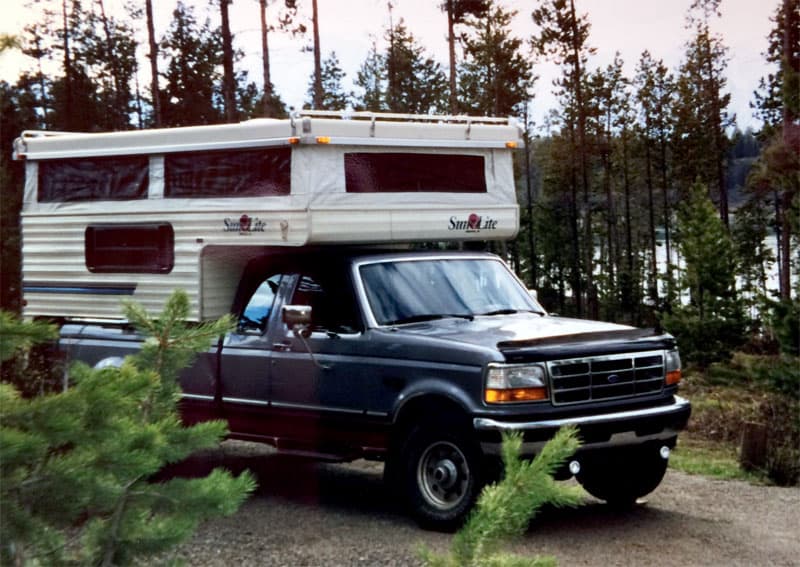 "The Oh My God Road is a wide dirt road with switchbacks that goes from Idaho Springs, Colorado to Central City, Colorado over the mountain tops.  I found the road in my Readers Digest travel book.  Many locals have no idea The Oh My God Road exists.
We stopped at a ranger's office to get advice and they questioned what we were driving.  We had four-wheel drive and, at that time, a pop-up truck camper.  They advised us road conditions could get slippery in rain or snow.  We were fortunate to have dry conditions.
We found the Oh My God Road off a back street by someone's back yard.  Sure enough there was a homemade sign saying "OMG Road" with a small arrow.   We started our venture up a steep hill with a switchback and our first words were, "Oh My God!"
We also enjoyed Utah's State Road 12.  The east end is SR-24 near Torrey.  The west end is US-89 near Panguitch.  We also like Mount Evans Road, the Million Dollar Highway, Rocky Mountain National Park, and Route 6 in Colorado." – Connie Spertzel, 2018 Ford, 2009 Lance 835
"My favorite road to date is the road through Hells Canyon in Oregon.  Leaving Idaho we climbed abut 3000 feet and drove across a high dessert to the edge of Hells Canyon and then down into the canyon through a very long series of switchbacks.  At times the three RVs would be a few hundred feet apart and the road was so that you were looking over the top of the one in front of you.
At the bottom of the grade was a trading post that had the best ice cream.  That prepares you for the trip through the canyon.  The road and the stream made the entire floor of the canyon.  I ended the day in Enterprise, Oregon." – George Hughes, 2010 Ford F350, 2004 Arctic Fox 990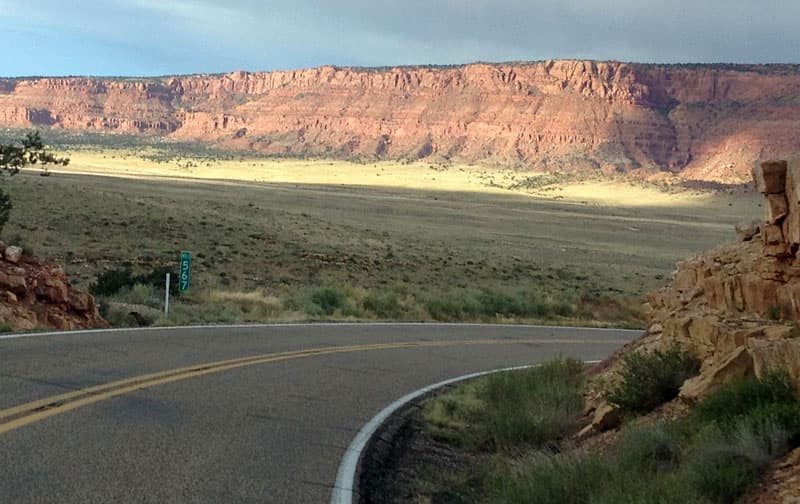 "Our favorite road is US Alt 89 between Highway 67 and Page, Arizona.  Leaving the North Rim of Grand Canyon National Park we turned east on Alt 89.  It had been raining off and on all day. The road is two lanes, paved, twisty and curvy, heading down into the valley below Vermillion Cliffs National Monument.  As we came around a curve the sun came out shining on the rocky cliff walls.  The view was amazing!  The road continues through the valley with beautiful views of the cliffs.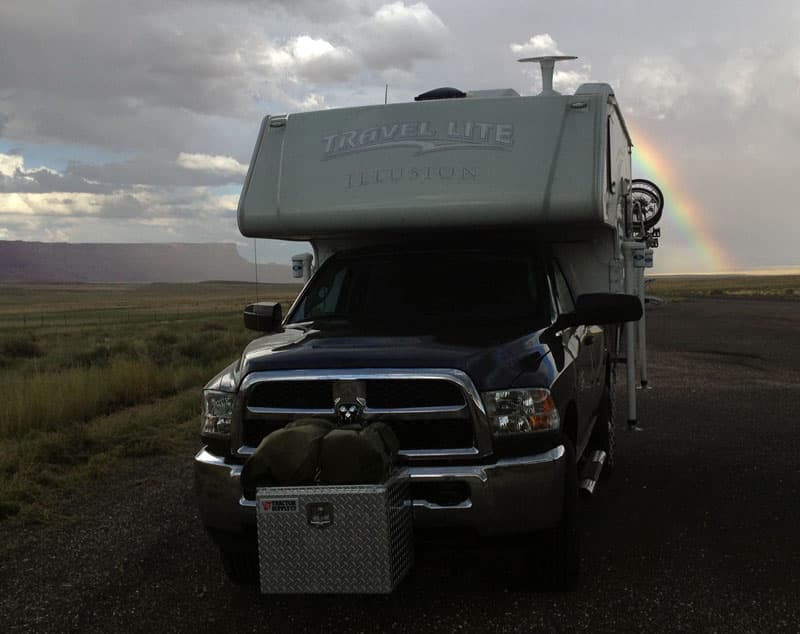 It started raining again and we were treated to beautiful rainbows all the way to Page, Arizona." – Janet and Jim Manis, 2014 Ram 2500, 2015 Travel Lite 960R