Catch up with TCM Stars Barbara Linsley, Jim Davis, Bertram and Kare Furman, Sylvie and Jake Mathis, Jack and Joann Purdy, and many more.

This summer has been especially busy for our TCM STARS as they chase their wildest truck camping dreams from coast to coast.  As you're about to see, the trips have been bigger and more interesting than ever.  We are always inspired by what our fellow truck campers are doing and can't wait to try out a few of their recommended camping spots.  Thanks to all the TCM STARS who sent in their reports.
For part two of our Summer 2011 catching ups, we hear from Roger and Charlotte Baxter, Rich and Gladys Janssen, Sylvie and Jake Mathis, Jack and Joann Purdy, Bertram and Kare Furman, Dave, Diane, Shane, and Gabrielle MacQuaid, Jim Davis, Dr. Byron Thomas and Billie DeWilde, Sally Stomberg, Greg Gaskill, Kathy Lordier, Barbara Linsley, Don and Geneda Schwanke, Gary and Hazel Birenkott, Anne and Joe Brown, Jerry and Paula Gale, and Paul and Terry Beddows.  The limos are pulling up.  The flash bulbs are ready.  Here's another wave of TCM STARS!
Roger and Charlotte Baxter
Roger and Charlotte Baxter: Pop Up To Alaska
There was no way to top our Alaska/Yukon trip last summer, so we settled for a two month, sixteen state loop visiting family and friends this past spring.  From Oregon we headed south to Joshua Tree National Park as the lakes were still frozen in Minnesota.  We enjoyed three days of hiking and driving as many back roads as we could.  We found this fixer upper truck by the old mill.  Then on to Quartzite for a quick visit and, while we there, we discovered the Pipeline road that starts south of town and loops south of the New Water Mountains about thirty miles before joining Interstate 10.  It's a very remote road.  We only saw three jeeps in a convoy along the route.
Back to family and friends, we made it as far south as Dallas, Texas and as far east as Indiana.  The weather was warming so we headed up to Minnesota.  We got snowed on once, but we were able to help the cousins get the pontoon boat in the lake for the season.  We find that our Minnesota cousins have a weird sense of cold.  One year Sherry said, "It hasn't been too bad of a winter because it never got below freezing".  When we reminded her Cliff was out ice fishing on the lake she sputtered and said, "Oh, I meant zero".
On the way home we spent time in Custer State Park, South Dakota, viewing the buffalo and other wildlife along the back roads.  We saw lots of new born calves.   Then we went down to Ft Lupton, Colorado and a stopped at Hallmark for a very minor adjustment.  Bill Ward and the crew are top notch people.
Since then we've camped in Central Oregon. Next week we'll be in the Rogue National Forest close to Crater Lake before we go for a few days on the Central Coast.  Life is good.
Rich and Gladys Janssen
Rich and Gladys Janssen: Stitching An American Dream
We left home two months ago and by the time we get back to Dallas, Texas we will have covered around 14,000 miles this year.  We started out this trip by going to California to see family and friends.  From there we traveled north along the eastern side of the Sierra Nevada Mountain Range and hoped to go into Yosemite but the roads were closed because of too much snow.  Consequently we drove farther north until we could head west toward San Francisco.  It's challenging to drive straight through the city to get to the Golden Gate Bridge, but we made it.  After walking across the Golden Gate Bridge we continued up the coast on Route 101 until we entered the Redwood National Forest.  It's amazing to still see trees that big and be fortunate enough to camp among the behemoths.  After a couple of nights among the giant trees,  we continued up the coast into Oregon.  Oregon's Pacific coastline is among the most beautiful scenery in the country.  We stopped at various very interesting light houses before heading toward McMinnville, Oregon where you will find a great museum display of the old plane called the Spruce Goose of Howard Hughes fame.
From Oregon we are heading across the northern United States to the Upper Michigan area.  We plan on stopping at Mt. Rushmore en route.  From there we head back to Dallas via Chicago where my wife is having her fiftieth high school reunion this year.  We have shared the Truck Camper Magazine site with numerous RVers along the way so hopefully many more people will now be taking advantage of your great site and the good information you provide.
Sylvie and Jake Mathis
Sylvie Mathis: Doing More and Spending Less in a Truck Camper
It all started while in Washington State, on July 28, 2010.  We decided to purchase our first sailboat.  By October 23, s/v Hob Nob was in our life.  Because it's towable, our truck camper life has somewhat changed.  Our first long trip was to the Florida Keys.  In May we found a summer camp for our boat and our truck camper.
From the Everglades National Park at Flamingo, we sailed to Key West and back.  Keeping our truck camper running while we were on the water was easy since we have two solar panels.
We are temporally changing from our normal summer going northwest to going to our local lake and sailing all directions.  We found a small sailing club that had a slip perfect for Hob Nob but no electric campsite for our truck camper.  Here in Texas the temperatures are in the hundreds for months, so we need electricity.  We found a friend on the Club grounds that allows us to occupy his driveway with our camper from Monday to Thursday, with electricity.  He visits the lake house during the weekend only.  We like that because we are only few hundred feet from Hob Nob and use our truck camper as our home away from home.
Jack and Joann Purdy
Jack Purdy: Thirty-Five Years, One Truck, One Camper
June started off by entering Torklift International's Treasure Hunt.  Joann and I traveled to Mojave National Preserve and I was the first to identify it as a mystery camping destination.  Later to escape the heat of the desert, I took the camper to Tehachapi Mountain Park and we enjoyed pleasant days and cool nights.  When the July clues for Torklift's Treasure Hunt were posted I identified one of the mystery camping locations as Yosemite National Park, so we went there and also won that destination!
We have been planning a trip up California's "Inland Passage," Route 395.  We plan on boondocking and staying in National Forest campgrounds.  We are hoping it will work out this Summer or Fall.
Bertram and Kare Furman
Bertram Furman: Anza Borrego Desert Adventures
For our latest trip, we left our desert camping for Yosemite National Park in California to see waterfalls and trees.  We heard this year's waterfall flow was the highest since 1997 with a snowpack that was 178% above normal!  We had to go.  We did not have a campground reservation, so we left San Diego at 8 pm to drive the eight hours to Yosemite.  We arrived at 4 am, to join people already in line, waiting for a chance for a site.  We were third in line and got a campsite.  We stayed the night in Yosemite, North Pines campground in a beautiful site surrounded by tall conifers near the Merced river.  The next day we hiked to Vernal Falls, taking the Mist trail up and the John Muir trail back down.  All the water falls in the park were crazy big.  Above is a video of Vernal Falls with an amazing amount of water flow.  The weather was perfect and we had a great trip.
Dave, Diane, Shane, and Gabrielle MacQuaid   
Dave MacQuaid: An Amerigo Camper Restoration
My family and I have been enjoying our camper since the maiden voyage in April 2010 at Mid-Atlantic Truck Camper Rally.  We finished up 2010 at Lake in Wood Campground Resort here in Pennsylvania.  We really like this campground and it's only an hour drive from our home.  I found out that I needed more storage space, so I constructed some outside boxes over the winter.  These have worked out great storing the cords, hoses, and leveling blocks.  We also purchased a screened canopy instead of an awning to enjoy the outdoors.  In June we went to Jim Thorpe, Pennsylvania for the Great Willy's Picnic.  My brother brought his rig and we also had our father come along.  It was great having our dad there since he started the truck camper fever in our family.  He enjoyed coming along and showing us some of our family ancestry in the area.  When our kids finished school we had a short weekend back at Lake in wood.  Mid-July we stayed at Bethpage Resort in Virginia.  We had a nice hot week there and enjoyed the pool complex every day.  I finished the cable wiring in the camper and added a flat screen television for those hot nights we wanted to stay in the air conditioned camper and watch movies.  The next trip will be in August to Niagara Falls with both families again.  So far the Amerigo is performing perfectly and gets some looks and inquiries where ever we go.
Jim Davis
Jim Davis: Preserving the Desert Light
Eighteen months into the degenerate truck camper lifestyle and I'm pretty much sold.  Judging by the amount of keeper images this year alone from my truck camper trips, I'm very happy.  There's something about stumbling back to my rig well after dark knowing that I can switch on some lights, cook a reasonably healthy dinner, and get out of the wind, cold, and bugs.  Then I get back up in four hours to another pre-dawn espresso fueled start.  I am enjoying it all.  I'm still managing to squeeze in an old school backpacking trip out of the truck canopy just to keep it real.  But, I see my truck camper being a permanent part of my kit.  The Palomino got through one of the roughest roads I've encountered.  It came through with flying colors although I may think about beefing up my tie-downs.
My annual New Year's Desert cruise was another test with the supplemental catalytic heater being invaluable for maintaining quiet comfort.  It brought the camper up to comfort level in a hurry.  IT was five below the first night.  I had a predawn photo opportunity at a steaming hot-springs which was pretty special.  Coming back to the camper to warm toes, fingers, and face was truly a nice touch.  Yeah, I know I'm really getting soft.
The Oregon Desert is special and is deserving of additional protection and wilderness designation.  I'm just glad I can get out there regardless of the transport and help to show off its beauty.
Dr. Byron Thomas and Billie DeWilde
Dr. Byron Thomas: The Big Tow Prescription
Well we have continued our journey as National Park junkies. Since our last posting with you we've visited Banff and Jasper National Parks in British Columbia, Canada, Crater Lake in Oregon, Mt Lassen Volcano, Yosemite, Kings Canyon, Sequoia, and Death Valley.  Our truck camper is running great.  We have a little over 70,000 miles on the truck and 60,000 miles on the Alpenlite 1150 Sante Fe while it's been on the truck.  We've also just returned from The Rally in Redmond Oregon.  Our truck camper continues to draw attention and we're proud to let folks know how well it works.
While on the Ice Field Parkway in British Columbia we met fellow truck camper travelers Manfred and Christa from Austria.  We were as fascinated with their European truck camper as they with ours.  Christa's comment was, "Wow, look at all the room you have and a shower, too".  Make sure to visit their website named travelmaniac.jimdo.com.  You will be amazed where they've been on the planet with their current truck camper and previous models.
And, yes we're still pulling our boat to the waters of the West.
Sally Stomberg
Ladies' Week Part 3: Sally Stomberg's Pastime Passion
A majority of our spare time this past year has been spent finishing up our second home in North Central Washington, so the camper hasn't gotten much use.  We did the NATCOA Fall Colors Caravan through the North Cascades last October and their Spring Rally near Bellingham, Washington this past April.
The most fun we had was an eight day trip at Christmas up and down Highway 101 along the Oregon Coast.  We started in Astoria and drove down to the California border and then back up.  We experienced weather from sunny skies to high winds, rain, hail, and snow.  I loved just about every minute of it.  New Year's Eve was spent in Charleston sitting around a campfire in full rain gear.  Living in the Pacific Northwest, we don't let a little rain spoil our fun.
The entire Oregon coastline is accessible to the public with numerous spots to park your camper and explore.  If you are a fan of lighthouses or bridges, you will not be disappointed either.  Winter was a great time of year to visit because there were plenty of campsites available in the outstanding state parks.
We also got to experience the peak migration period of the gray whales from the Arctic Circle to their winter grounds off the coast of Baja, California.  We didn't see any whales, but the volunteers at the whale watching stations were very friendly and informative.
There was so much to see and do that eight days really wasn't enough.  I am glad of the time we had and look forward to doing it again.
Greg Gaskill
Greg Gaskill: Travel Lite With Llamas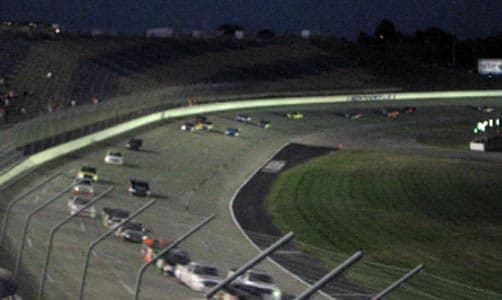 Our travels last year were very limited.  We did however make one trip south to a NASCAR and an Indy car race.  Both were the same weekend down at the Kentucky Speedway.  It was only a few hours away for us, and with a farm name like Checkered Flag Fibers, you knew we had to go.
We found a campground across the river, in Indiana, from the speedway.  We were only about twenty minutes from the track.  The campground was down the road from Vevay, Indiana.  We didn't know anything about the town, but in between the races we looked around.  It turns out that the area has quite a few vineyards and wine making is a Vevay specialty.  Who knew?  Who knew there was a place called Vevay?  It was a fun weekend.
On the llama front, we are planning to get on the road next year.  To that end, we've bred two of our girls hoping for some future blue ribbon winners.  I saw pictures of Pooh and Paige in your gallery, so I thought I'd include a picture of Paparazzi.  She was born to Pooh and Paige's mom, Sonny, in the spring and so far has been a lot of fun.  We call her Poppy for short.  Pooh is also pregnant and is due to deliver early this fall.  So, we have higher hopes for next year.
Kathy Lordier
Ladies' Week Part 1: Kathy Lordier Lets the Dogs Out
2011 has been an exciting year because in March I got back into horse ownership when I bought a four year old Half Arabian, Blu.  I'm now showing along side my best friend.  After using my truck camper for a few years going to shows with her, we're now using it while both of us show our horses.  My camper has truly become my horse show home base.
Weekends usually find me at the ranch now with my camper parked next to the barn.  And since summer is show season I'm also traveling around California with the camper.  I've even started a blog, www.thehorseandhound.blogspot.com about my experiences.
But, there are other things than horses.  My husband and I just got back from our annual trip to Idaho as well as a week at Clear Lake in California.  And Ken continues to play baseball.  So, while we aren't camping we're still plenty busy and the camper is getting lots of use!
Barbara Linsley
Barbara Linsley: Dreams On the Oregon Trail
This seems to be a summer of weather.  On my April trip south, I was in major thunderstorms with threats of tornadoes.  I followed the path of the tornadoes into North Carolina where I found the campground I had intended to use was no more.
My week long memory trip to New England had wonderful weather, but in the meantime, my car was in being repaired after suffering over $4,500 in hail damage.  While in Maine, I went out to Popham Beach, a place we used to visit as children.  I stayed at the same campground where our dog got sprayed by a skunk thirty years ago and walked down the beach to the restaurant where I had a wonderful seafood dinner, just as Mom, Chris, Dave and I did years ago.
I'm now in Colorado at a friend's house, waiting out some of the storms and floods that have been pounding this area, before heading up into the mountains.  I'll be exploring some of the passes and campgrounds recommended by another Truck Camper Magazine contributor.
From there, I'll go through Wyoming, Yellowstone, Devil's Tower, across South Dakota, Minnesota (maybe their state parks will be open by the time I get there), and on to Michigan's UP, which is one of my favorite places.
Don and Geneda Schwanke
Don Schwanke: Fifth to Camper in Ten
Well, my story is not too interesting I fear.  Ill health and age finally caught up to us, and we had to end a lifetime of RV travel and fun at age 73.  I advertised the Host for sale and it was bought by a couple who was selling their house and fifth wheel, and going full time in the Host!  That of course made me happy.  They are TCM people as well, so if you print this, they will recognize themselves!  We had grown to love our truck camper so very much.  It was comforting to deliver it to someone who could enjoy it as much as we had, border to border, coast to coast more than once.
I could not bear to sell my truck however.  l cannot justify keeping it actually, but it has served us so well, and still runs like a brand new one, so is has assumed second car duties and hauls an occasional load of garden supplies.
Gary and Hazel Birenkott
Gary Birenkott: Rally On!
Here we are half way into 2011 and we're off camping.  We put on our annual NW Spring Rally in a Whatcom County Park group site at Silver Lake.  It was a very large camp area with covered area and fire pits.  It was a little wet and cold, but we still had a dozen campers enjoy the rally.
Memorial Holiday we headed out to Sunbanks Resort on Banks Lake.  We had a campsite on the lake with lots of trees.  We had iffy weather this spring.  During some of our goof-off time we drove up to Grand Coulee Dam and took the third powerhouse tour.  It's a very impressive structure.
Eastern Washington finally got its hot summer weather just as we started our fourth of July vacation at Mardon Resort on Potholes Reservoir.  The lake water was getting warm for swimming.
Anne and Joe Brown
Ladies' Week Part 1: Anne Brown Takes the Wheel
April, 2011 saw us trading our Host Rainier for a Chalet DSRB (double slide rear bath), mainly for the extra outside storage and the side entry ease to the bath.  So where do you head to try it out? W hy Alaska via a lot of the USA.  We started off at Assateague, meeting up with North East truck camper friends who didn't know we had traded.  That was a fun surprise.
From there to the great Mid-Atlantic Truck Camper Rally and a long weekend showing almost everyone there the Chalet.  We never start off with a hard and fast travel route, preferring to wander at will.  We stopped  at Xtreme Campers in High Point, North Carolina for a rear view camera and SuperSprings install and then headed west. We enjoy stopping in Corp of Engineers parks and did so as often as possible.
Easter was our introduction to the winds of Kansas, stopping at my daughter's for a visit.  The back roads through Kansas into Oklahoma and Texas and into New Mexico were a constant fight to keep up speed and not drain the diesel tank. W ind warnings in the 60 miles per hour range were common.
One of our goals in traveling is to visit as many of the geological wonders of North America as possible.  This time we walked Meteor Crater near Winslow, Arizona, Sunset Crater National Monument near Flagstaff, Arizona, and Craters of the Moon National Monument near Arco, Idaho.  Mount Hood in Washington was spectacular as was a return visit and camp at Bryce Canyon National Park where we met up with Ted and Cheryl White from New Hampshire.
We visited both Chalet and Torklift, getting to meet the teams that put our rig together.  Between the two companies we stopped in Astoria at the Columbia River Gorge Maritime Museum; a must see if you are out that way.  Unfortunately Joe's mom's health became such that Alaska was put off and we headed home.  On the return, Custer State park was a mandatory stop to see the wildlife up close.  We thought the winds were high as we camped in Ogallala but nothing like outrunning a tornado on I-80 the next day near Kent, Nebraska.
The photos are blurred because it was pedal to the metal time to get past it before it hit us.  We did with no damage but I still break out in a sweat thinking about it.
Since we've been back we've attended two NorthEast Truck Camper gatherings and learned even more places in the world to go see.  A quick trip up to Coobscook State Park near Lubec, Maine and over the border to St. Andrews, New Brunswick was about as picture perfect as possible. You don't have to travel 5,000 miles to enjoy the world close to you.
We hope to keep camping until someone rips our driver's licenses away!  We can hire a driver right?
Jerry and Paula Gale
Jerry and Paula Gale: Tales of Fun, Funny, and Fantastico
Greetings fellow truck camper peeps!
When we received the request for the "Catching Up" article, we were busy preparing for the arrival of none other than NATCOA friends we met six years ago at our very first truck camper rally in the Okanagan Valley, British Columbia.  From that rally on, our lives have been constantly enriched with friendships made with other truck camper folks we have met in Canada, the USA, and Mexico.  Last year was no exception.
September 2010 saw us hosting the long-awaited Taste of Nova Scotia Tour.  Since that caravan has already been written about in TCM, we shall move on!
After four winters in Mexico, we decided to change things up this year and instead headed for the southern USA to explore new territory.  Our major destinations included: In Georgia – Savannah, in Florida – The Keys (where we stayed for one month and connected with two couples from the NE truck camping group and two couples we met from our previous winters in Mexico), Tamiami Trail, Forgotten Coast, Destin, High Springs, and St. Augustine.  In Louisiana – New Orleans, Lafayette area (where we visited and enjoyed sightseeing with our NATCOA friends and hosts), Breaux Bridge (Cajun country at its finest), and Grand Isle.  We also made a trek out to The Outer Banks, North Carolina and from there capped off our wonderful travels at the Mid-Atlantic Truck Camper Rally in Virginia.  Since arriving home, we have had two short, but fun trips with the camper to rendezvous with friends.
As always, we look forward to our truck camping friends and adventures in the year ahead.  Bring it on!
Paul and Terry Beddows
THE MEXICO DARE: Truth and Truck Camping South of the Border
Terry and I spend a fair bit of time doing short haul trips in the summer around the northwest in our Snowriver camper.  We also now spend four to five months per year in our truck camper in Mexico.  I am still involved with NATCOA, but have offloaded some of my duties as it is hard to devote as much time when I snowbird each year.  My new passion is promoting RV travel in Mexico.  Apart from the recent article in Truck Camper Magazine, I have just had an article published this month in RV Snowbirds Magazine, a magazine for retired Canadian RVers.  I also have another article coming up in another magazine later this summer.  I still try to attend every NATCOA event that I can in this area and I hope to attend a Lance Owners event or two since I am also a life member of that organization.