As a former law enforcement officer, I can easily share that there are rules for everything.  There are local law enforcement entities conducting checks and enforcing rules, almost no matter where you plan to stealth camp.
Please consider the following rules when making decisions on where to stealth camp.
1. Do not stealth camp on private property without written permission from the property owner.  Some property owners (residential and business) will grant this permission if you simply ask, but do ask permission before staying the night.  There are exceptions and, as your stealth skills improve, you will find empty lots are good opportunities.
2. Most municipalities prohibit parking a motor vehicle in one spot for more than 72 hours before being considered abandoned and subject to removal.  Keep your selected stealth camping location within this period.
3. Motor vehicles must be properly registered and valid at any time they are parked or operated on a highway and/or roadway.  Make sure your vehicle registration is current and easily visible, without effort, by a passing enforcement authority.
4. For a motor vehicle to be properly parked, it should not be more than 12-inches from the edge of the roadway, pavement edge, edge marking, and or curbing.  The front of the vehicle must be parked facing the direction of the traffic flow, and not less than 15-feet from a driveway, fire hydrant, traffic control device, or the corner of a street as it intersects with another.
5. Be aware that local authorities can create additional rules and ordinances including enforcement of RV use on streets and private property.
Preparing a Truck Camper Rig for Stealth Camping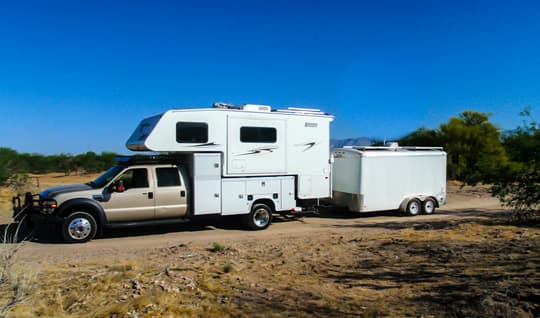 Above: Stealth camping in an open space area near a popular Air Museum in Arizona.  This site was found by checking on satellite maps.
The truck camper you choose has a strong impact on your ability to stealth camp.  The way you use your camper, and prepare your camper, also has a considerable impact on the balance towards successful stealth camping.
Here are some specifics to keep in mind when selecting and preparing a truck camper rig for stealth camping:
1. If stealth camping is a priority, I strongly recommend a non-slide truck camper, or a slide-out camper that can be entered and fully-used with the slide-out(s) in.  For example, my Lance 1191 model (now discontinued) can be fully used with the slide-out in.  This is very important for stealth camping if you are planning on stealth camping often.
2. It is also important to be able to enter and exit the camper with the entry steps retracted, or be able to retract the steps once inside.  Just remember that the steps are retracted when you go to exit the camper!  I have done this a couple of times.
3. The interior of the camper should have window coverings sufficient to block as much of the interior lighting possible.  Pay particular attention to sky lights.
4. One should have their belongings organized and activities completed, or curtailed, prior to arriving at a stealth camping  location.  For example, have your meals and any shopping completed and put away before entering your stealth camping location.
5. Once in the chosen stealth camping location, minimize anything that generates light and sound including interior lighting, radio, television use, loud talking, door slamming, as well as loud diesel engine sounds.
Selecting Stealth Camping Locations
Once you become familiar with the rules and regulations and have prepared your vehicle for stealth camping, finding a stealth camping location is probably your next challenge.
The following are some of the steps I use in finding stealth camping locations: