Retired law enforcement officer Bryan Appleby shares his extensive experience with stealth camping in a large truck camper rig.  No Walmart or Cracker Barrel stores necessary.

When I hear about folks talking about stealth camping, my first thoughts go to the stealth aircraft of our nation's military, not in an RV.  But, if I can successfully stealth camp for two weeks in my 48-foot long truck camper and trailer, in a historic bungalow neighborhood in a large Pacific Northwest city, so can you.
How can this be possible?  Well, I have been living full-time in a truck camper for almost six years.  In that time I have stealth camped with my truck camper and trailer set-up on many occasions, and in many different locations.  Putting this another way, I have learned how to confidently, and easily, hide a large truck camper and trailer, in plain sight.  With a few suggestions below, so could you!
This is not sleight of hand, just common sense, good planning, and experience.  In this article I'll share with you all of the above in hopes that you too can enjoy the many benefits of stealth camping.  No Walmart?  No driveway?  No campground?  No problem!  Let's go stealth camping.
Why I Stealth Camp
There are many available overnight parking spots, for RVs, including big box stores like Walmart and restaurants like Cracker Barrel.  These types of businesses are often excellent choices for a secure and available overnight parking and dry camping.  From my own observations, these are very popular with many traveling in their RVs.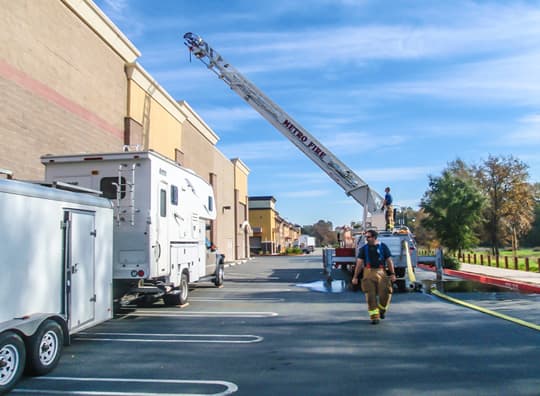 Above: Surprise awakening as the local fire department trains at my overnight alternate parking, near some big box stores
However, these choices often come with night time noise, traffic, and people.  Worse, it's not uncommon for a semi-truck to pull in next to your camper, late at night, with their engine and/or refrigerator cooling equipment operating through the night.  This can be very disturbing for many that were otherwise looking for a good night's sleep.  This is one the many reasons why I stealth camp, but it's not the most important reason.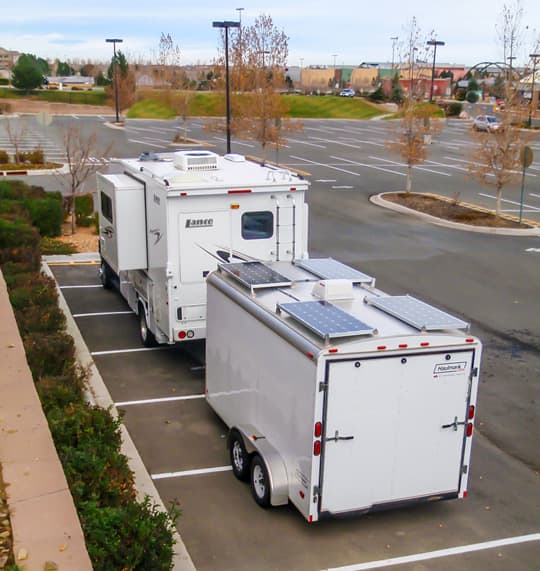 Above: Stealth camping next to a retirement home complex might be more quiet than big box store parking lots
I recently visited my son in the Pacific Northwest.  He lives in a location without a driveway and on a street with a steep hill.  The closest RV Park/campground to his home is over forty-five minutes away.  There are no local Walmart or big box stores nearby because it's a turn of the century community.  If there were, overnight parking would be prohibited.  This is where you draw upon your stealth camping skills!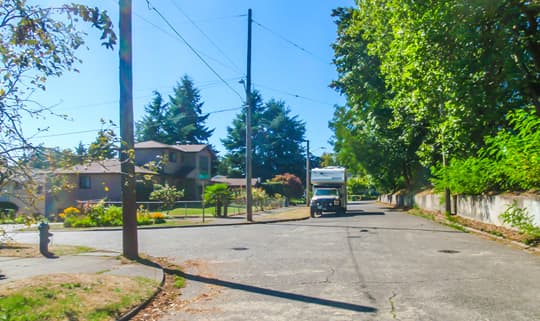 Above: This stealth camping location has a city park on one side and the residential homes across the street.  By utilizing the side of the property and parking far enough from the intersection and driveway, it makes this a good choice.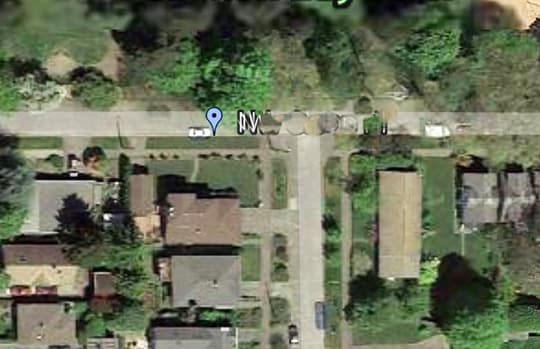 Above: When met with the challenge of visiting family and/or friends, one sometimes needs to find a location to stealth camp for a few nights.  By checking the nearby streets on Google Maps one is often rewarded with a good location to park and stealth camp.
While the majority of my truck camping time is spent well outside of populated areas boondocking, there are times when I want to visit friends and family within their residential communities.  Like in the aforementioned example, sometimes these friends and family have accommodations that work with my rig, but not always.  Since I live full-time in my truck camper rig, and enjoy visiting family, the solution is to stealth camp.
Fortunately, stealth camping opportunities abound everywhere I travel.  Before we get to those opportunities, there are some rules and regulations one should become aware of.
Overnight Parking Law Enforcement Tips