Nick Rukvina and his dog Boomer share their life-saving snake training experiences.  Every dog owner who travels with their four-legged friends should read this article.

In January of 2011, Angela and I flew to Denver, Colorado to work the annual Denver Sportsman Show.  We had never attended an RV show in Denver, and we were very interested to meet our Colorado readers, learn about their truck camping lifestyle, and listen to their feedback about Truck Camper Magazine.
During the show, we stood in the Hallmark RV, Phoenix Custom Campers, Four Wheel Camper, and Five Star RV booths and answered questions about truck campers.  RV shows are always an excellent opportunity to tune into the questions newbies and truck camper owners have, and get ideas for future articles.
Maybe an hour into the first morning of the show, the unmistakable yelp of a terrified dog echoed throughout the expo hall.  It was a quick yelp, and then it stopped.  I thought maybe someone had stepped on the dog's tail and went back to my conversations.
A few minutes later, there was another yelp, this time from a different dog.  Ten minutes later, another dog yelped.  Honestly, it started freaking me out to hear all these poor dogs yelping, but no one else at the show seemed to notice.
That's when I asked Bill Ward, President of Hallmark RV, what was going on.  "Snake training," he said.  "Folks bring their dogs to the show and allow a venom-free rattlesnake bite them to train the dogs not to approach snakes.  Those are the yelps you're hearing."
I was completely horrified.  I may be a cat owner, but I love dogs too.  How could folks purposefully walk their poor pooches up to a big nasty rattlesnake and let the snake bite their dogs?
"It is serious business in Colorado," Bill explained, noticing my increasingly uncomfortable demeanor with every yelp.  "Folks loose their dogs to rattlesnakes out here.  The training helps the dogs know to be afraid of snakes, and keep their distance."
I have told that story many times to my East Coast friends and family.  Every time, they react as I originally did – with horror.  Over the years I have come to understand and even appreciate this seemingly barbaric practice.  The simple fact is that snake training may be the only way to prevent a fatal snake encounter for your beloved pet.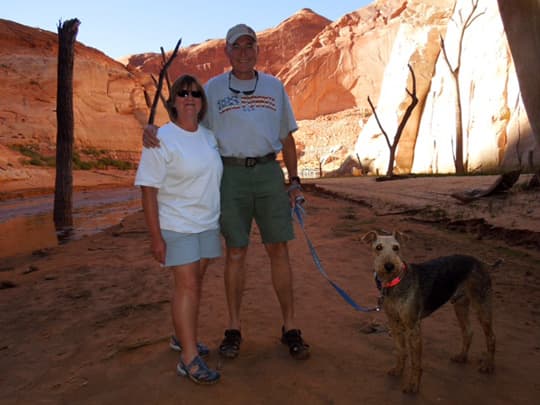 Above: Marcia, Nick, and Boomer at Lake Powell in Arizona
A couple months ago, TCM reader and Northstar truck camper owner Nick Rukvina sent us an article about his first hand experiences taking Boomer, his Airedale Terrier, through snake training.  I said to Angela, "This isn't really a truck camper story, but how many of our reader friends go truck camping with their dogs?"  She said, "At least half."  That's when we realized this story was not only relevant for Truck Camper Magazine, but important.
Thank you for submitting your story Nick.  And thank Boomer for us too.
Snake School for Traveling Dogs
by Nick Rukvina
I hate snakes!  There, I said it.  I figure if Indiana Jones can hate snakes, then so can I.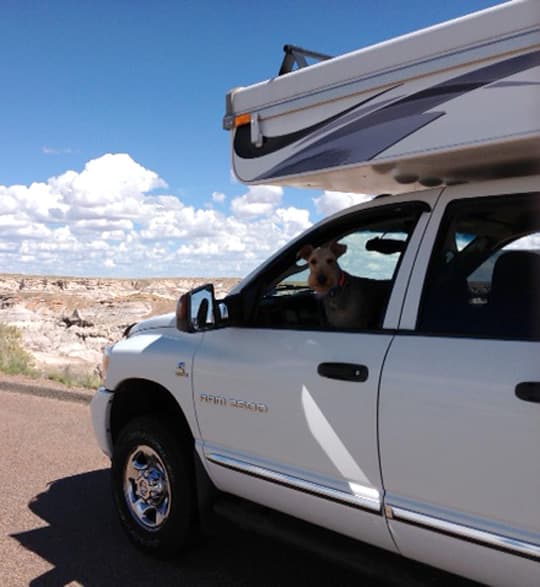 Above: Boomer in the driver's seat of his 2006 Dodge Ram 3500 and 2012 Noorthstar TC650
Our travels in our Northstar 650 TC often takes us into the snake infested habitats of the West and Southwest.  When I'm walking out in nature and a camouflaged critter moves, so do I – straight up!  I have hang time that can be measured in minutes!  LeBron James has nothing on me.
Yes, I know – snakes have their place in the grand scheme of things.  They keep vermin under control.  They aren't slimy.  Some even think they're cuddly.  And we are invading their habitat.  But something on a visceral level simply repulses me when I see one.