Nick Rukvina and his dog Boomer share their life-saving snake training experiences.  Every dog owner who travels with their four-legged friends should read this article.

In January of 2011, Angela and I flew to Denver, Colorado to work the annual Denver Sportsman Show.  We had never attended an RV show in Denver, and we were very interested to meet our Colorado readers, learn about their truck camping lifestyle, and listen to their feedback about Truck Camper Magazine.
During the show, we stood in the Hallmark RV, Phoenix Custom Campers, Four Wheel Camper, and Five Star RV booths and answered questions about truck campers.  RV shows are always an excellent opportunity to tune into the questions newbies and truck camper owners have, and get ideas for future articles.
Maybe an hour into the first morning of the show, the unmistakable yelp of a terrified dog echoed throughout the expo hall.  It was a quick yelp, and then it stopped.  I thought maybe someone had stepped on the dog's tail and went back to my conversations.
A few minutes later, there was another yelp, this time from a different dog.  Ten minutes later, another dog yelped.  Honestly, it started freaking me out to hear all these poor dogs yelping, but no one else at the show seemed to notice.
That's when I asked Bill Ward, President of Hallmark RV, what was going on.  "Snake training," he said.  "Folks bring their dogs to the show and allow a venom-free rattlesnake bite them to train the dogs not to approach snakes.  Those are the yelps you're hearing."
I was completely horrified.  I may be a cat owner, but I love dogs too.  How could folks purposefully walk their poor pooches up to a big nasty rattlesnake and let the snake bite their dogs?
"It is serious business in Colorado," Bill explained, noticing my increasingly uncomfortable demeanor with every yelp.  "Folks loose their dogs to rattlesnakes out here.  The training helps the dogs know to be afraid of snakes, and keep their distance."
I have told that story many times to my East Coast friends and family.  Every time, they react as I originally did – with horror.  Over the years I have come to understand and even appreciate this seemingly barbaric practice.  The simple fact is that snake training may be the only way to prevent a fatal snake encounter for your beloved pet.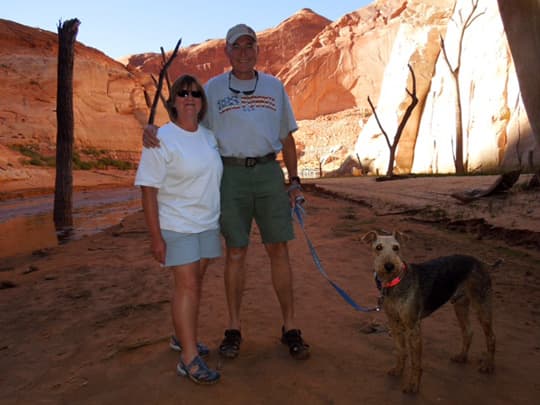 Above: Marcia, Nick, and Boomer at Lake Powell in Arizona
A couple months ago, TCM reader and Northstar truck camper owner Nick Rukvina sent us an article about his first hand experiences taking Boomer, his Airedale Terrier, through snake training.  I said to Angela, "This isn't really a truck camper story, but how many of our reader friends go truck camping with their dogs?"  She said, "At least half."  That's when we realized this story was not only relevant for Truck Camper Magazine, but important.
Thank you for submitting your story Nick.  And thank Boomer for us too.
Snake School for Traveling Dogs
by Nick Rukvina
I hate snakes!  There, I said it.  I figure if Indiana Jones can hate snakes, then so can I.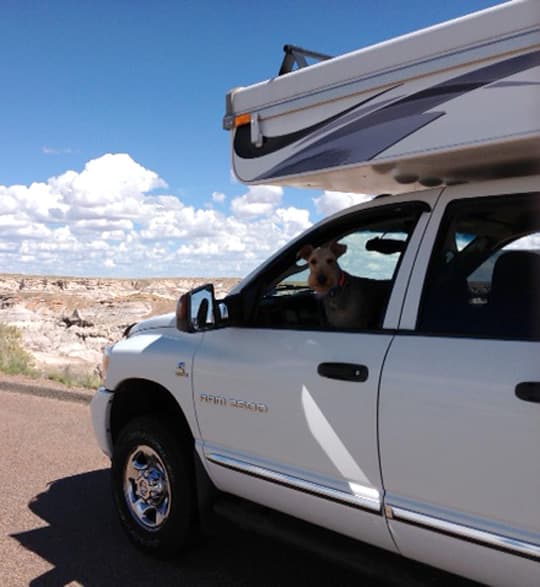 Above: Boomer in the driver's seat of his 2006 Dodge Ram 3500 and 2012 Noorthstar TC650
Our travels in our Northstar 650 TC often takes us into the snake infested habitats of the West and Southwest.  When I'm walking out in nature and a camouflaged critter moves, so do I – straight up!  I have hang time that can be measured in minutes!  LeBron James has nothing on me.
Yes, I know – snakes have their place in the grand scheme of things.  They keep vermin under control.  They aren't slimy.  Some even think they're cuddly.  And we are invading their habitat.  But something on a visceral level simply repulses me when I see one.
We are often told that snakes avoid us at all costs, but I have encountered both a Diamondback and a Copperhead (the latter in the last month, by the way) who apparently hadn't read the latest snake playbook on encounters with humans.  Both aggressively came at me.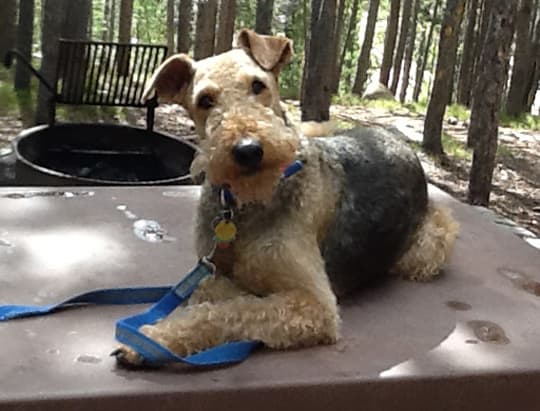 Above: Boomer, Nick and Marcia's Airedale Terrier
Overall, I would rather avoid snakes, especially when we are traveling with Boomer, our Airedale Terrier, and Belle, our young Golden Retriever.  The question is, how do you avoid snakes when you have two naturally curious dogs?
Upon voicing my concerns, a friend of mine, who lives to California and teaches at Gunsite Academy in Arizona, suggested that I run Boomer through snake aversion training.  She had already taken her miniature Dachshund, Peabody, through the training.

Above: On the road in Cody, Wyoming headed to Boomer's training
Knowing that Boomer and I would be spending some time at Gunsite in May, and that my family would be truck camping and boating in Lake Powell in September – both which are decidedly snake infested areas – it was time to get my buddy trained to avoid snakes.
On my way to Gunsite, I made a detour to Tucson for Boomer's safe introduction to poisonous snakes.  The day before his appointment, I discovered that untrained dogs that are unfamiliar with snakes can pay dearly for that lack of knowledge.
Upon arriving at a campground on the outskirts of Tucson – one of those that has great pictures online and good reviews on All Stays, but makes you wonder if the reviews were written by 47 of their closest relatives – I spotted what looked like an overflow lot that was also used to park big rigs.
"Great" I thought, "A good place to run Boomer off lead if it ever cools off tonight."
Fortunately, the campground owner advised me to keep Boomer out of that area.  Just two days before, a camper was letting her Boxer run there, only to stick its inquisitive snout into a hole where it was bitten on the nose by a rattlesnake.  The dog died later that night.
Those of us who have dogs know both the joy that fills our hearts, lives, and yes, even our campers from their presence.  Many of us, unfortunately, also know the void that we feel with their passing. I can't imagine what it would feel like to start a camping trip with a treasured pet and have to return without our trusting companion.  With that in mind, I was glad that Boomer was to get his training the next day.
Arriving at the training facility out in the desert the next morning, I told the trainer about my usual reaction to snakes.  He just laughed and told me that I would be fine.  Actually, he was right, I didn't levitate as usual.  He noted that he occasionally has had clients who have broken out in hives when seeing a snake.
Boomer's first introduction to snakes was when I was instructed to walk him, on a lead, up to a towel upon which a number of snakes had a slumber party the night before.
Coming from downwind, Boomer was interested in the new smell, but also somewhat cautious.  After allowing him to sniff the towel, the trainer gave him an electronic jolt from the training collar that he was wearing.  With a yelp and a jump, Boomer got the idea.
I should note that Boomer had experienced the zap from a collar before, both from the Invisible Fence surrounding our yard, and when I used one to dissuade him from chasing deer when we hunt birds together back home in Ohio.
The next step was experiencing an actual rattlesnake, defanged, of course.  The snake was under an overturned bucket.  When the trainer flipped over the bucket to expose the snake, I was instructed to walk my buddy toward the coiled snake, once again on a lead.
Boomer was interested, but cautious, once again.  When he got within about five feet he received yet another jolt from the color, which caused yet another jump and yelp.  He showed that he understood the lesson by literally dragging me back to the truck camper.
Now that both smell and sight of the snake had been discouraged, it was time to add sound to the lesson.  This time a number of snakes were in a wire cage and we approached from a direction where Boomer could neither see not smell the reptiles, although he could hear them.  Surprisingly, the snakes where rather quiet and the trainer had to prod them into rattling.  A third jolt of the day and I was dragged back to the truck camper once again.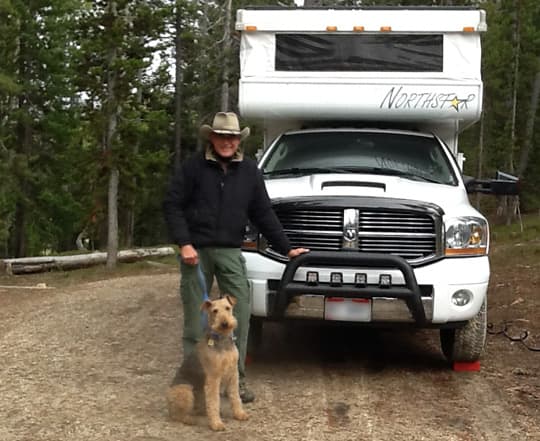 Above: Boomer and Nick in Arizona
The trainer noted that my dog was an apt student and would not need a follow-up lesson that is included in the fee of $80.  While some have thought the price was high for a fifteen minute lesson, I don't.  He was giving us his knowledge, experience and ability to deal with the snakes that we were learning to avoid.  Sounds like a deal to me, especially if it saves the life of my constant companion.
Now, does it work in the real world?  You bet!  Later that night I was watching the video that I had shot of the training and Boomer panicked when he heard the rattling on my iPhone.  Sorry, buddy!
Above: Boomer and Nick headed into Utah after Boomer passed his training course – click to enlarge
As planned, we headed west to Lake Powell in September.  We were in our Northstar truck camper and towing Valkyrie, our C-Dory 22 boat.
Above: Fishing and boating at Lake Powell in Arizona – click to enlarge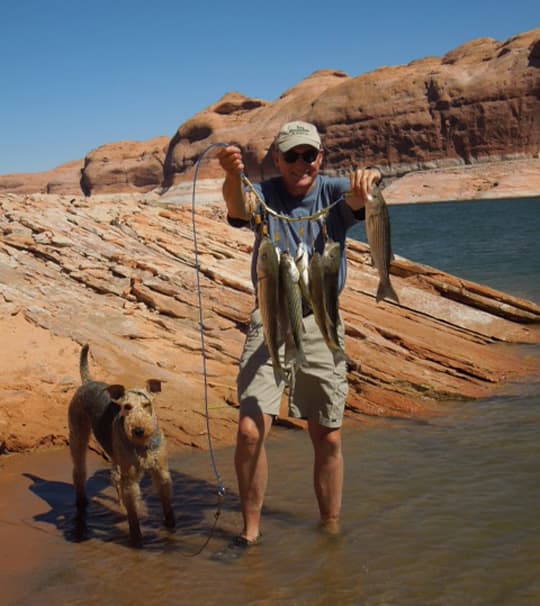 Above: Boomer and Nick fishing in Arizona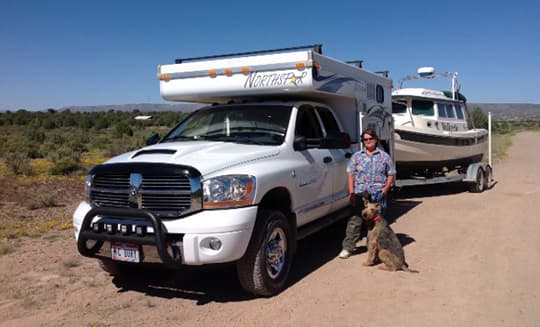 Above: Towing Valkyrie, their C-Dory 22 boat
On the way, we stopped near the Petrified Forest in Arizona for the night and spent a few hours hiking that barren, but beautiful, landscape.  At one point, Boomer reacted violently to a snake near our trail, using his great nose to help us avoid danger as well.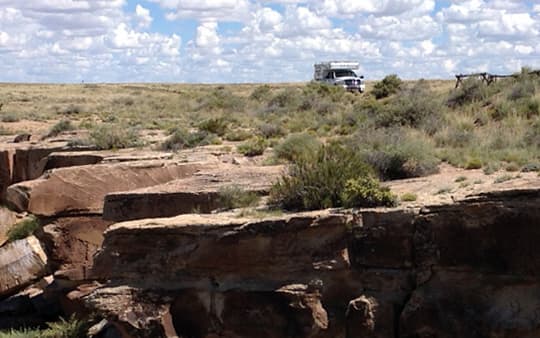 Above: Petrified Forest in Arizona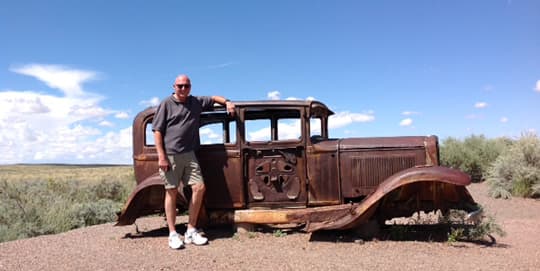 Above: Nick's new truck, the desert of Arizona
In April of this year, we used our truck camper rig in the way that pleases us the most.  We pointed our truck in a southernly direction, started driving, and returned home about a month later.  Along the way, we stopped at many state parks, toured Mammoth Cave, drove the Great River Road along the Big Muddy in Arkansas, ate a 4,000 calorie deep fried fish and frog leg lunch on my birthday, visited friends in Louisiana and Florida, and spent some time with Marcia's folks in the Low Country of South Carolina.  On this last stop, Boomer's snake aversion training kicked in again.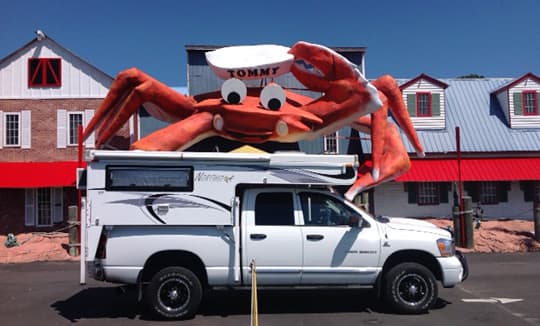 Above: Visiting Myrtle Beach, South Carolina
Boomer and I were walking through the yard to get the paper from the mailbox one morning when Boomer alerted to a Copperhead coiled ten feet in front of us, followed by the snake moving aggressively toward us.  Of course, we immediately retreated and avoided the situation.  I later killed the snake due to other pets and children who typically played in the area.
Finally, in June of this year, we headed back to Wyoming's Bighorn National Forest for some true back country exploration and trout fishing.  Upper Medicine Lodge Lake is about twenty-five miles from the nearest paved road. For part of the trek out, I was in four wheel drive low.  On the way, we had towed our Polaris 500 UTV on a small trailer, with our canoe on top of the UTV.  We left our trailer at a campground and Marcia drove the Polaris while I followed in the truck.  We were way back in God's country for two weeks.
We were supposed to be above the "snake line", which guidebooks will tell you is about 7,600 feet.  We were at 9,300 feet.  While taking a sunset walk one evening, Boomer reacted, by scent this time, to a coiled rattlesnake twenty-five yards ahead on the trail.  Once again, it seems that not all snakes have read the guidebooks.  Or maybe it left its altimeter at home.  If either of our two dogs, my wife, or myself had been bitten that evening, we were a very, very long way from medical help.
Obviously, I am a big believer in the effectiveness of snake aversion training based on my own experience, and truly believe that it has probably saved Boomer from injury or death.  Also, in all three cases where he responded, it might also have kept us from having been bitten as well.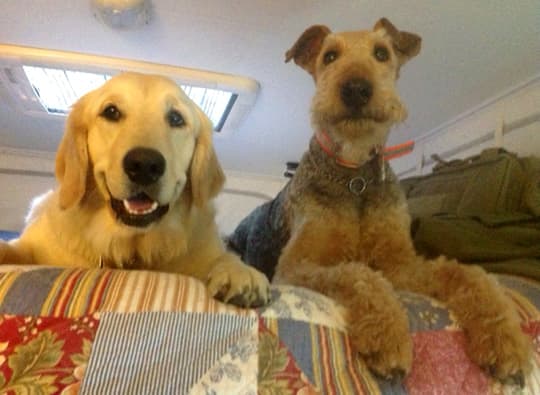 Above: Belle and Boomer in the Northstar 650 TC
Next year, we will head back to Arizona and Lake Powell.  On the way out we will detour, once again, through Tucson to visit the snake trainer.  It is time for Belle to go to school too.