From his Capri truck camper, Blake Shipman captures the action at the Monster Energy AMA Supercross, Amsoil Arenacross, High Lifter's ATV Mud Nationals, ESPN's X Games, and more.  It's time to put your helmet on, and get some air.

In world of video production, the expression "run and gun" refers to the art of handheld video capture for action oriented events.  For example, in 2013 we literally chased truck campers around the Overland Expo West Landrover course to video that event.  We literally ran, shot video, ran, shot video, and so on.  That's run and gun.
Taking this concept to an entirely new level is professional video producer Blake Shipman.  Since his early teens, Blake has been capturing the world of motorized sports and producing videos to promote the vibrant industry and community.  His break into the business came after a covert video shoot turned into a job offer that would change his life forever.
Today Blake travels the continent in his Capri truck camper following some of the most successful Freestyle Motorcross, Supercross, BMX, and ATV racing events in the world.  His incredible videos rack up thousands of views on YouTube and are seen on television all over the world.
For Blake, this is all a dream come true.  For the rest of us, it's a remarkable entrepreneurial story of hard work, determination, and some good old fashioned truck camping.  Up the dunes, or down to business, Blake's story will inspire.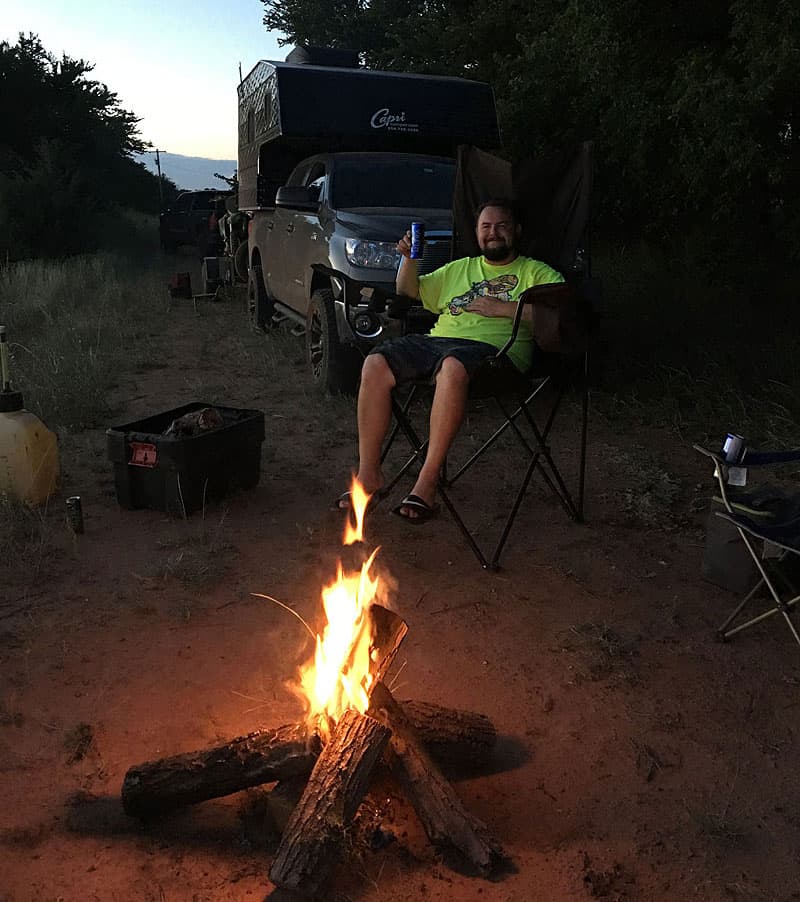 Above: Blake Shipman camping with his Capri camper
TCM: Tell us about your camping experiences and lifestyle over the years.
Blake: As a kid, my dad took us to Little Sahara State Park in northwest Oklahoma to camp ride ATVs.  Little Sahara State Park is about 1,500 acres of sand, which sounds small until you're on top of the dunes.
We started out in tents and small tow-behind campers.  Then dad upgraded to an enclosed trailer.  The trailer had oil stains from machine maintenance, but it was still awesome.
While my days of camping go way back, my days of truck camping have been more recent.  My Capri has roughly 7,000 miles on it since I picked it up this summer.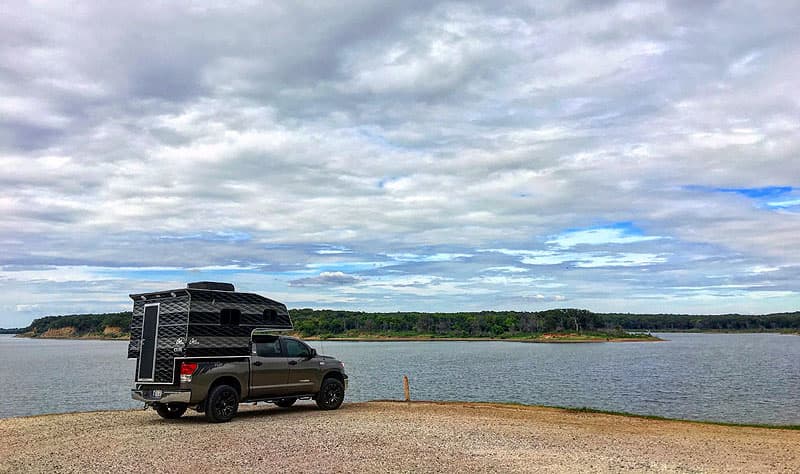 Above: Blake's Capri at Lake Texoma, Newberry Creek Marina, Oklahoma
TCM: What attracted you to a Capri?
Blake: The simplicity of the unit, and ease of use.  For travel, I am a logistical person.  The last thing I need is a lot of set up to get things to work.
Where most people go for an illustrious big space look, I like the compact layout of the Capri.  It's a tiny camper, but its smaller size makes it more intuitive.  I don't have to lug around a big camper, and it doesn't hang off the bed of my truck.  Plus, the vintage look is great.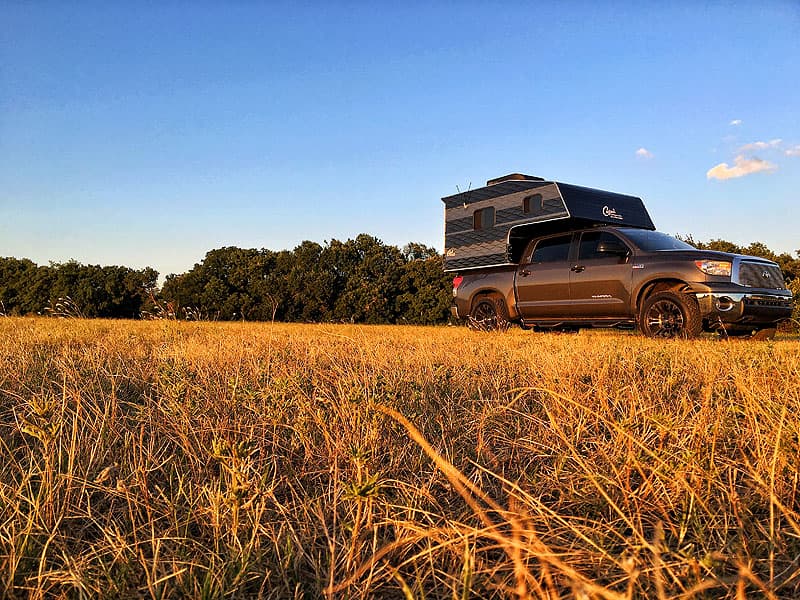 TCM: Your Capri is a short bed model.  What amenities do you have in your camper?
Blake: I have a microwave, refrigerator, and sink.  My water heater works on propane.  I have an exterior shower, television, Blu-ray player, exterior speakers, and a dinette that makes into a bed.  There's pretty good storage under the bed and a 30 gallon fresh water holding tank.  I didn't get a stove, but I might get one in my next Capri.