Mark: When we were in Florida we were in a marina where we put the boat in the water. We were washing the boat off before taking the camper away, and this manatee came over.  We dropped the hose over to the water on a slow trickle.  The manatee tried to drink from the hose.  My kids were shaking his flippers and rubbing his belly.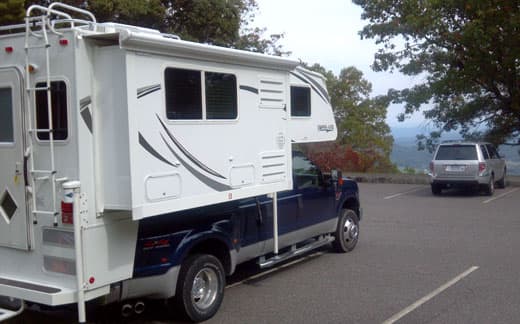 Above: Lunch on the Blue Ridge Parkway
TCM: So, what's next for you?
Mark: Our intention is to camp and sail all four corners of the United States and check out our bucket list of America's largest lakes.  We haven't decided which corner we'll visit next.
Truck: 2008 Ford F-350, crew cab, dual rear wheel, long bed, 4×4, diesel
Camper: 2012 Travel Lite 1000 SLRX Ultra
Jacks: Rieco-Titan electric jacks
Tie-downs/Turnbuckles: Happijac
Suspension: N/A
Gear: Beefed up the hitch and extender for a twenty-five foot Catalina sailboat
Do you tow a boat behind your truck camper and go to amazing places?  If you do, please share your story.