Cindy and Mark Hanna tow a twenty-five foot Catalina sailboat behind their 2012 Travel Lite 1000 SLRX Ultra truck camper.  Look out lakes of America!  Here come the Hannas.

Truck campers are nothing if they're not a solution.  Like the Swiss Army knife of RVs, the truck camper is often the right tool for what interesting and adventurous people want to do.
Want to tow something?  A truck camper can do that.  Want to go off-road and off-the-grid?  A truck camper can do that.  Need to fit into tight spaces and urban settings?  A truck camper can do that.  Want to haul a twenty-five foot Catalina sailboat?  A truck camper can do that too.  Meet Cindy and Mark Hanna.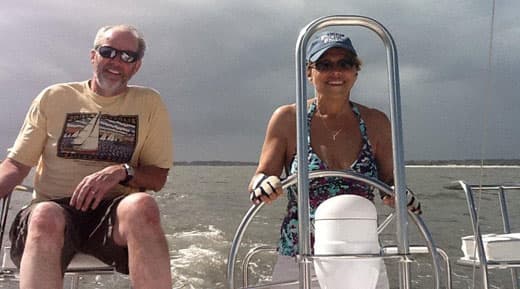 Above: Cindy and Mark sailing Pensacola Bay
TCM: How did you get into truck camping?
Mark: My wife, Cindy, and I deliberately affected our children with our strong since of adventure.  During the childhood span of my three kids, Erica, Austin, and Chelsey, we went tent camping in the Appalachians, on a National Park quest in our conversion van, and sailing around the Florida Keys and the Bahamas.
That was more than thirty years ago.  Our kids have all gone out to make a living for themselves.  Cindy and I have settled in Raleigh, North Carolina, free to pick up where we left off, and roam the country.
We ended up getting a truck camper out of necessity.  I wanted to tow a sailboat and knew it would be difficult to tow with anything other than a truck camper.  The electric jacks allow us to leave our camper at the campsite and use the truck to get groceries or launch the sailboat.  Now we enjoy exploring the more serene parks and coves across America.  Once in a while our kids, or grandkids, arrange to come along.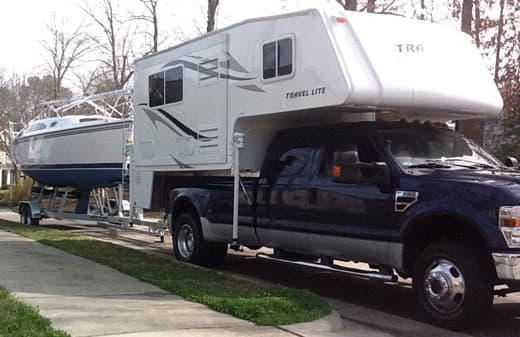 TCM: Sounds like you've created a wonderful lifestyle.  Tell us about your truck camper rig and sailboat.
Mark: At the end of 2011, we figured out what we wanted and bought the truck and a boat.  The following February we got the Travel Lite 1000 SLRX Ultra.
We just purchased our sailboat about a year and a half ago.  The sailboat is a twenty-five foot Catalina designed for trailering and easy raising and lowering of its mast.  Like the truck camper, it is also self-sufficient with comfortable beds, fresh water storage, and a nice galley for cooking a hot meal.
We got our truck camper from A&M Services.  There're on the highway between our house and the lakes so we drive by them all the time.  I had never thought in my wildest dreams that I'd have a diesel pickup truck and a camper.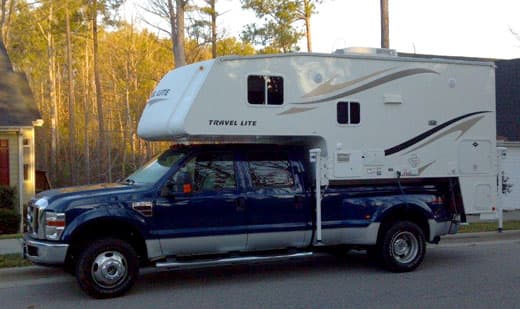 TCM: How did you decide to get the Travel Lite 1000 SLRX Ultra?
Mark: I enjoyed Gordon's video on YouTube.  That did a lot to convince me that Travel Lite was what I was looking for.  I can see him in the video pointing to center of gravity sticker on the camper.  I hadn't seen that kind of information anywhere else.
We started this whole thing when I was about to retire.  We were going to get a sailboat and sail the Caribbean, but when my wife, Cindy, developed health issues, that changed everything.  With my wife needing dialysis, we couldn't sail the Caribbean.  So we thought, "How about we sail the United States by towing the boat behind in a truck camper?"  Our rig allows us to have that lifestyle.
Cindy needs a clean, dry, and comfortable environment.  We were looking for something that offered those comforts.  It came down to a truck camper and getting a truck hardy enough to haul it.  Both the camper and the boat are equipped for her dialysis.