Cindy and Mark Hanna tow a twenty-five foot Catalina sailboat behind their 2012 Travel Lite 1000 SLRX Ultra truck camper.  Look out lakes of America!  Here come the Hannas.

Truck campers are nothing if they're not a solution.  Like the Swiss Army knife of RVs, the truck camper is often the right tool for what interesting and adventurous people want to do.
Want to tow something?  A truck camper can do that.  Want to go off-road and off-the-grid?  A truck camper can do that.  Need to fit into tight spaces and urban settings?  A truck camper can do that.  Want to haul a twenty-five foot Catalina sailboat?  A truck camper can do that too.  Meet Cindy and Mark Hanna.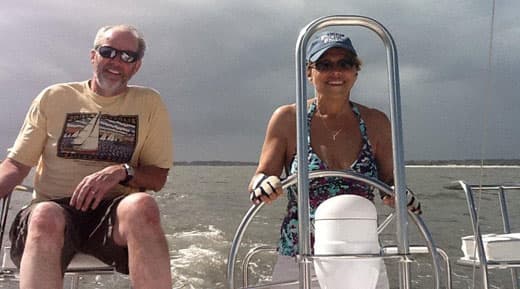 Above: Cindy and Mark sailing Pensacola Bay
TCM: How did you get into truck camping?
Mark: My wife, Cindy, and I deliberately affected our children with our strong since of adventure.  During the childhood span of my three kids, Erica, Austin, and Chelsey, we went tent camping in the Appalachians, on a National Park quest in our conversion van, and sailing around the Florida Keys and the Bahamas.
That was more than thirty years ago.  Our kids have all gone out to make a living for themselves.  Cindy and I have settled in Raleigh, North Carolina, free to pick up where we left off, and roam the country.
We ended up getting a truck camper out of necessity.  I wanted to tow a sailboat and knew it would be difficult to tow with anything other than a truck camper.  The electric jacks allow us to leave our camper at the campsite and use the truck to get groceries or launch the sailboat.  Now we enjoy exploring the more serene parks and coves across America.  Once in a while our kids, or grandkids, arrange to come along.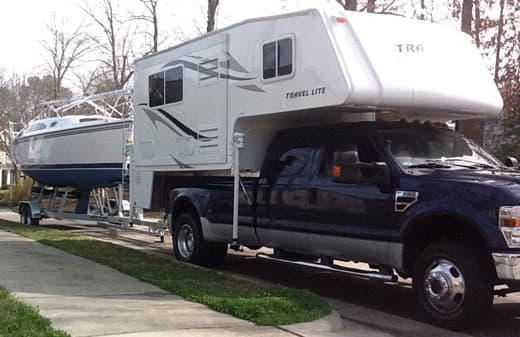 TCM: Sounds like you've created a wonderful lifestyle.  Tell us about your truck camper rig and sailboat.
Mark: At the end of 2011, we figured out what we wanted and bought the truck and a boat.  The following February we got the Travel Lite 1000 SLRX Ultra.
We just purchased our sailboat about a year and a half ago.  The sailboat is a twenty-five foot Catalina designed for trailering and easy raising and lowering of its mast.  Like the truck camper, it is also self-sufficient with comfortable beds, fresh water storage, and a nice galley for cooking a hot meal.
We got our truck camper from A&M Services.  There're on the highway between our house and the lakes so we drive by them all the time.  I had never thought in my wildest dreams that I'd have a diesel pickup truck and a camper.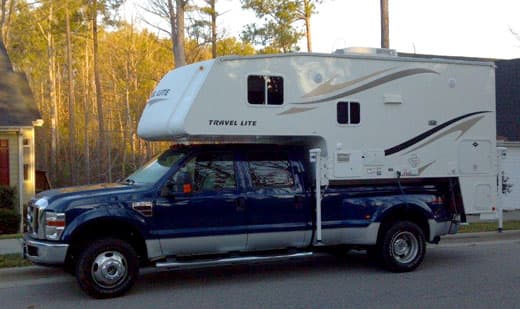 TCM: How did you decide to get the Travel Lite 1000 SLRX Ultra?
Mark: I enjoyed Gordon's video on YouTube.  That did a lot to convince me that Travel Lite was what I was looking for.  I can see him in the video pointing to center of gravity sticker on the camper.  I hadn't seen that kind of information anywhere else.
We started this whole thing when I was about to retire.  We were going to get a sailboat and sail the Caribbean, but when my wife, Cindy, developed health issues, that changed everything.  With my wife needing dialysis, we couldn't sail the Caribbean.  So we thought, "How about we sail the United States by towing the boat behind in a truck camper?"  Our rig allows us to have that lifestyle.
Cindy needs a clean, dry, and comfortable environment.  We were looking for something that offered those comforts.  It came down to a truck camper and getting a truck hardy enough to haul it.  Both the camper and the boat are equipped for her dialysis.
The Travel Lite with the full-wall slide-out was the best bang for the buck and it has all the comforts of home.  It makes any ocean or lake side campsite a very comfortable harbor.  The truck we selected is a 2008 Ford F-350 diesel, dually.  We bought a dual rear wheel truck because we wanted something that could easily manage the load.  We found a great deal on the truck and saved a little money by buying it used with low mileage.
With this rig, I've got ten wheels on the ground.  I remember thinking, "How did I get into this?"  It's worth it.  I have peace of mind that the truck carries the camper well.
Above: Preparing for their maiden voyage to Florida last winter
TCM: What's it like to tow the sailboat behind the truck camper rig?
Mark: I grew up on a farm, so I am used to towing things.  I attribute the ease of towing to the F-350 dually.  I wanted the rig to be low maintenance and for the truck to be able to handle long hauls.  I also wanted the rig to be able to stop easily.  That's why I got the truck I did.  It has the ability to tow and control the load.  I have driven it to Florida and back in very windy conditions.  It's handled beautifully.
Our friends call us, "trailer-sailors" because we haul our sailboat from one harbor to the next.  The advantage of moving a sailboat at highway speeds is like legs versus roots, and we really enjoy the trek and dramatic changes in scenery.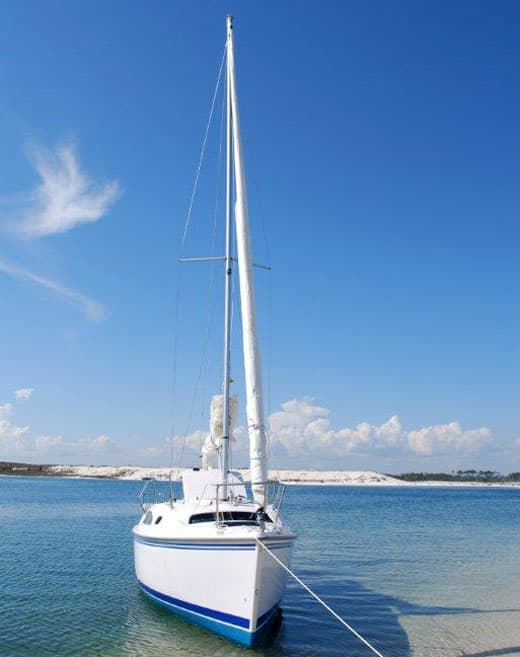 Above: Anchored for island picnicking with two pounds of fresh steamed gulf shrimp and ice cold drinks
TCM: Where do you like to go truck camping?
Mark: After buying our truck camper at A&M Services, the first place we went was around Mayport, Florida which is near Jacksonville.  We stayed at Little Talbot Island State Park.  We stayed there for a week after we got the camper and then drove out to the panhandle of Florida to Big Lagoon State Park.  That's around Pensacola, Florida.  We stayed there for a week.  We had the boat with us and were trying that out too.
Living on a sailboat is a lot like living on the camper.  With a boat, once you're out there, you're out there.  You have to take your water and your groceries with you.  You have generators for electricity, but you still have to plan and prepare for the excursion in order to relax and enjoy the outdoors around you.
We like to sail to places like Fort Jefferson off the Florida Keys, which is a seventy mile sail.  We also sail on two large lakes north of our house, Kerr Lake and Lake Gaston.  Those lakes are great for three day weekends.  There are at least eight state parks just north of us.  Sometimes we take the sailboat, and sometimes we don't.
These little sailing trips prepared us for working with the camper.  Now, with the camper and the boat, it's almost like having two boats.  Whether we're in a state park or on a lake, it's the same sort of mindset; enjoy the time while we're out there.
TCM: What's your truck camping lifestyle like?  Is it all about sailing?
Mark: We don't always take the sailboat with us.  Sometimes it's nice just to sit around a campfire and enjoy the wilderness.  We've really come to love our camper because we spend less time setting up and more time around the campfire, hiking, or sailing.  And as I mentioned earlier, it's a warm dry lodge when the weather turns bad.
I remember late last Fall eating lunch and looking out over a sweet little mountain lake as a mass of thunder heads bore down on us.  My wife and I were warm and dry with a ham sandwich in one hand and our favorite beverage in the other.  Meanwhile the show across the lake was spectacular.  Our old tent just wouldn't have offered that deal.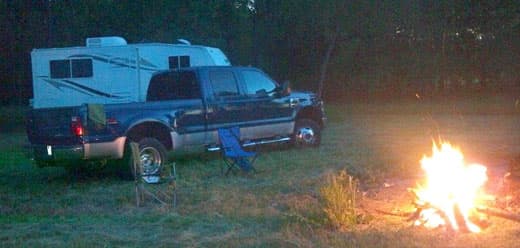 Above: Visiting the old homestead in northern Illinois
TCM: So, when you go sailing do you just keep your camper at the marina and leave for a few days?
Mark: It's versatile.  I can stay in either the camper or the sailboat.  We'll get to a state park and unload the camper at the campsite.  In the camper we have electric and water and can stay on the lake.  We're normally setup so that we're looking out the window across the lake.
Then we'll put the boat in the water, and bring the boat around and anchor it near the campsite.  We can go out for a night or two in the sailboat, or bring it back and anchor it and stay in the camper.  If we have the kids or friends with us, the kids can sleep in the boat and we stay in the camper.
It wouldn't take much to have correctly guessed that my wife and I are retired, well, semi-retired.  That's afforded us the time over the past year to camp and sail Florida's Atlantic side and the panhandle region.  We've also made several visits to a nearby Lake Kerr and several of its eight surrounding state parks.
Most recently we took the camper to a weeklong family reunion in the foothills of the Smokey Mountains.  I think we were more comfortable than the folks staying in the rental cottages.

Above: Boo out for a walk at Little Talbot State Park, Florida
TCM: Tell us about your cat, Boo.  Does she like to travel?
Mark: Yes, she does.  From the time she was a kitten, Boo has traveled with us.  Boo prefers to be with us and hangs out with people all the time.  She likes to be within ear shot of us.
Camping wise, she prefers to stay in the camper.  We can leave the door open and she'll stay in.  If she's out of the camper, she's on the leash because I don't know if something will scare her off.  She has her litter box and food in the camper, so she's happy.  If we go somewhere, walking or driving, we'll take her with us.
TCM: Our cat, Harley goes truck camping too, but we've never been able to walk him on a leash.  Let's just say he's a real drag.  What's the trick?
Mark: The trick to getting Boo to walk on a leash is that we had her wear the harness around the house all the time.  It was an annoyance to her at first, but after a week or two she was used to it.  I wasn't trying to take her for a walk when we were at a campground.  She'd take us for a walk, on the leash, in the campsite.  Now, she'll do a mile hike with us; yowling and complaining about it the whole time.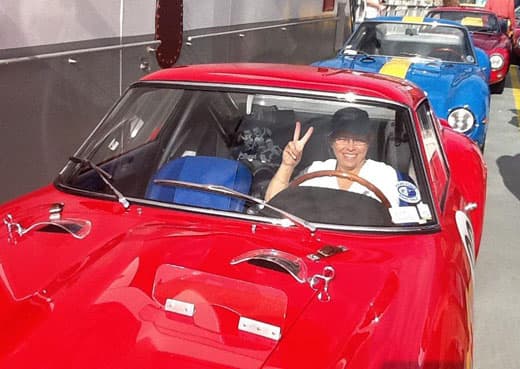 Above: Cindy trying on a vintage Porsche as they cross the St. John's river by ferry
TCM: That's hysterical.  I saw the picture of Cindy in the car.  How is that related to truck camping?
Mark: When we heading to Little Talbott Island we put the truck, camper, and boat on ferry across the St. John's River.  When we got there, there was a parking lot to get on the ferry with all these sports cars.  They have an annual race at the navy base in Mayport, Florida.  We were on ferry boat with all these race cars.
The one Cindy is in is a three million dollar car.  These folks go to the rally once a year.  Cindy has never met a stranger, so she was going around talking with folks and getting invited to check out their cars.  They were interested in our truck camper rig, too.
You never know where you are going to run into your next friends on the road.  A truck camper seems to attract friends.  The people we've shown that picture to tell us we were lucky because it was a great car.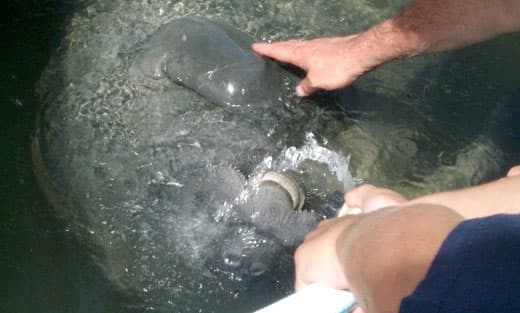 Above: Manatees love fresh water and often come by while they're washing the boat
TCM: What about the manatee?  You saw that while truck camping?
Mark: When we were in Florida we were in a marina where we put the boat in the water. We were washing the boat off before taking the camper away, and this manatee came over.  We dropped the hose over to the water on a slow trickle.  The manatee tried to drink from the hose.  My kids were shaking his flippers and rubbing his belly.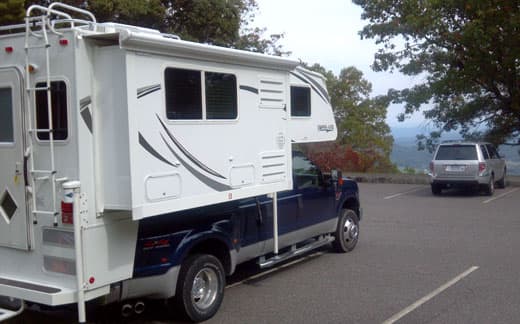 Above: Lunch on the Blue Ridge Parkway
TCM: So, what's next for you?
Mark: Our intention is to camp and sail all four corners of the United States and check out our bucket list of America's largest lakes.  We haven't decided which corner we'll visit next.
Truck: 2008 Ford F-350, crew cab, dual rear wheel, long bed, 4×4, diesel
Camper: 2012 Travel Lite 1000 SLRX Ultra
Jacks: Rieco-Titan electric jacks
Tie-downs/Turnbuckles: Happijac
Suspension: N/A
Gear: Beefed up the hitch and extender for a twenty-five foot Catalina sailboat
Do you tow a boat behind your truck camper and go to amazing places?  If you do, please share your story.