Professional Rodeo Cowboy, Bradley Harter, is on the road in his Capri truck camper over 200 nights and 90,000 miles a year.  Climb on, strap in, and wait for the chute to open…

In the time it takes you to read the first couple sentences of this article, a professional Rodeo Cowboy has risked tremendous pain, serious injury, or worse.
If they can endure the punishing bucks of a furious bronco, and hang on for the full eight second duration, they earn points.  Score highly enough and work enough rodeos, a Rodeo Cowboy can win enough prize money to make a good living.
Does that sound nuts?  Well, let's put a few things into perspective.
Many of us commute to work every day, risking all-too-common distracted and/or aggressive drivers, and passing car accidents.  Then we sit in a chair and work eight hours a day, not exercising, and probably not eating as well as we should.  Then we put our hard earned money into the public casino known as the stock market.
Does that sound nuts?  It should!
Here's the kicker; many Rodeo Cowboys travel in truck campers, criss-crossing the United States and Canada year-round, and racking up the kind of miles normally associated with long-haul truckers.  They're often accompanied by their fellow Rodeo Cowboy buddies, and enjoy roadside attractions and National Parks along the way.
Maybe we all would be better off riding wild bucking broncos.
Of course most of us wouldn't last eight-tenths of a second on a real rodeo bronco, and would likely require immediate medical assistance, and possibly the professional services of a coroner.  There are better ways to shake up your life.
To paint the full picture of what it's really like to be a truck camping, cross-country traveling, bronco riding professional Rodeo Cowboy, we talked to Bradley Harter.  Not only has Bradley lived the life, but he's made it work as he chases his dream of being a world champion Rodeo Cowboy.  Something tells me he's about to have a few more fans.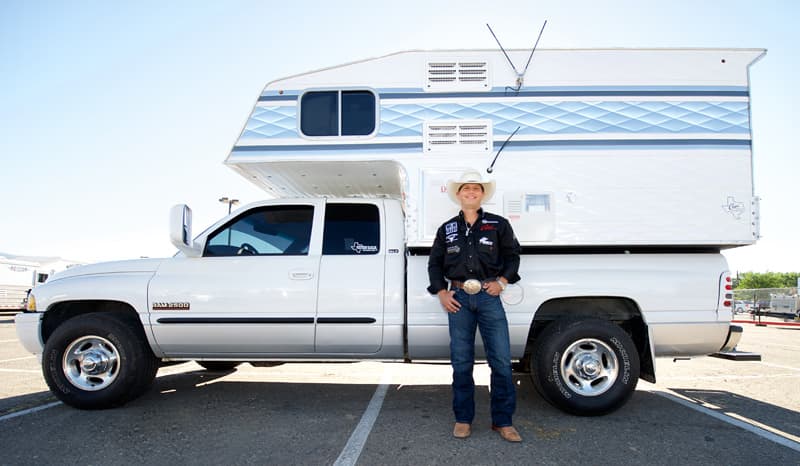 Above: Bradley Harter and his 2015 Capri Retreat
TCM: Before we get to your rodeo career, tell us how you got into truck camping.
Bradley: I was a senior in high school and I was traveling to high school rodeos and amateur rodeos.  Every week I was traveling somewhere.  I was not making enough money to stay at a hotel, so I would sleep anywhere in my pickup truck to make it work.
For my graduation present my parents bought me Capri Camper.  They knew I'd be doing the college rodeo circuit, and I'd be traveling every week.  I was so excited that I moved into the front yard in my camper.
That camper had two beds, a shower, and a television, so my buddies and I could run around Texas, Louisiana, and Oklahoma.  It was a good fit and it grew from there.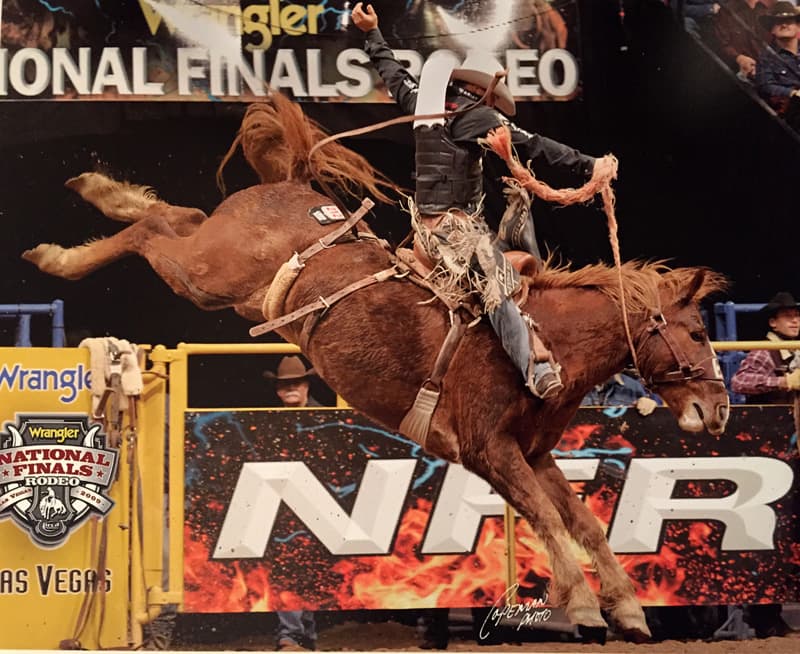 Above: Bradley on a horse called Red Man at the National Finals Rodeo in Las Vegas
TCM: There's a long history with rodeo cowboys using Capri Campers.  Why is a Capri a good fit for the rodeo cowboy?