Russ and Donna Miller play sweet music together and chase their dreams one gig at at time. Their tour bus of choice? A truck camper of course! … … … … … …


Above photo of Russ and Donna was taken by Sinclair Hamilton
We're always asking the truck camper manufacturers, gear companies, and dealers to tell us about the interesting truck camper owners they meet. When we were at the RV and Camping Show in Hershey, Pennsylvania last September, Outdoor Express RV told us about a couple who travels in a Lance Camper and plays live music at campgrounds, rallies, and other events. Immediately we knew we had a Truck Camper Magazine story.
Russ and Donna Miller are living their dream. For these two troubadours, the dream was to play live music and enjoy the freedom of the open road. And what better way to go anywhere and play anything than in a truck camper with a stage in tow? Please put your hands together and welcome Russ and Donna Miller, the Take Two Variety Band. Hit it Take Two!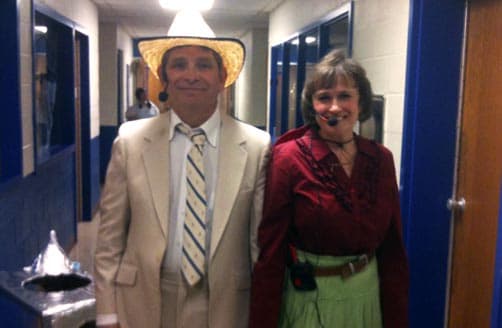 TCM: How did you get started as traveling musicians?

Russ: My wife and I played music years ago. We actually met playing music. Early on in our relationship and marriage we had a four piece band.
Later we became parents and as school teachers we didn't have as much time for playing music. Then we got the opportunity to play in a contemporary Christian band at our church and I said, "Honey, can we do this?". That was great fun.
When I retired, I began dreaming of how we could start a band together and make it work on the road. We started with a lawn trailer as a stage and decided it was fine, but if it rained we were in trouble. We eventually had a trailer built that was the same dimensions as the lawn trailer. The new trailer makes into a stage big enough for two and it carries our equipment when we're traveling. When we arrive, we just open our trailer up and play. It makes on-location performing much easier.
When you get into playing live music and want to make it cost effective, you need to think about where you are going to play. As campers we explored the possibility of playing in campgrounds. We didn't want to play in bars anymore. Those days are behind us.
Donna: I've always played music in public since I was sixteen years old. This seemed like a natural progression of events. Time goes fast. We love music and we have always liked to travel and go places. It kind of meshed and things fell into place.
TCM: How did you decide on a truck camper?
Russ: Before our current Lance, we had a Skyline camper, a different Lance camper, and pull behind travel trailers. We went through the typical steps. As the kids grew up, we had a thirty-foot pull behind. Now it's just the two of us so the pick up camper works well. We can pull our stage and the rig goes over real well in the campgrounds. It's really a retirement dream come true.
Donna: On our older Skyline camper, we had to hand crank the jacks. That was a pain. We learned about the Lance camper with the remote control jacks. They're fantastic.
When we had our first truck camper, my mom and dad had a motorhome. That's when we went to Montana, through Glacier National Park. There was a parking lot near the entrance. We parked mom and dad's motorhome, took the camper off in the lot and kept it there while everyone piled into the crew cab and made trip through Glacier. There's a restriction on height and length, so we just took the truck camper off, got in our truck and went. We went sightseeing to Highway to the Sun road.

TCM: What's it like to travel and work together all the time?
Donna: It works out well. We have the same interests.
We have a generator in our new camper. It's really convenient especially if we need it to power our music equipment.
This past Fourth of July we had four bookings in three states within a forty-eight hour period. I don't think we could do this without the truck camper.
Russ: We wouldn't be without a generator in our situation. With it we can have air conditioning. The summers here in the east can be hot, so to be able to set up and have a place to cool down before you go play is nice.
The internet makes things so convenient for us. As we travel we can acquire bookings online. And we find we can maintain constant communication with family and friends.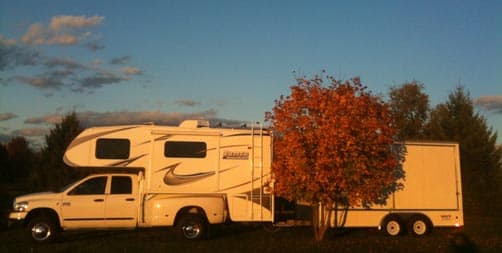 TCM: You recently bought a new truck and camper. Why did you upgrade?
Donna: In the new Lance campers, the slide-out is bigger. You have a lot more floor space from the dining table to the kitchen area. The bathroom is even a little bigger. This one even has more head room above the bed.
Russ: The truck we had previously was a heavy duty truck, but it didn't have the payload capacity for our new camper. I just have to say thank you for the discussion I had with Gordon. We discussed the importance of payload and that our new camper was considerably bigger and heavier than our old one.
At your advice, we got into the nitty gritty on our truck payload what the new camper weighed. We drove our rig across the scales and it was not just pushing the limits of our old truck, it was exceeding the limits to potentially dangerous levels.
When we're on the road, we're not only carrying the truck camper and ourselves, but also a lifetime of accumulated music and audio equipment that we need to play. We want to be safe and have a good time. Most importantly, we do not want to hurt ourselves or others. After running our rig across the scales, we got our new dually truck. We love it and feel very safe now.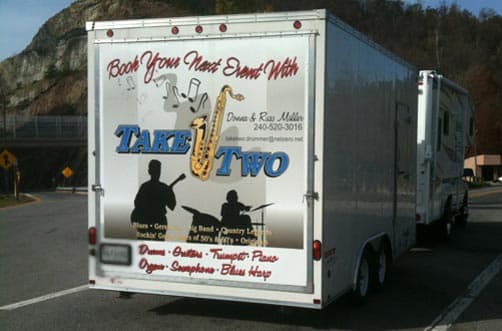 TCM: Are you full time on the road?
Russ: We're on the road quite a bit in the summer months. We live in western Maryland. Last season started in April going to North Carolina. We were playing about once a week and sometimes twice a week. Our outdoor season ended October 30th. Eventually we want to do play in the South during the winter season. That all remains to be seen.
TCM: Do you go home between gigs?

Russ: Yes. We're mainly in Maryland, West Virginia, Pennsylvania, Virginia, North Carolina, and Delaware. We swing back home because we have a teenage boy at home. During the winter season, we play indoor gigs, such as banquets for civic organizations, Christmas parties, anniversary parties, birthday parties, and dances.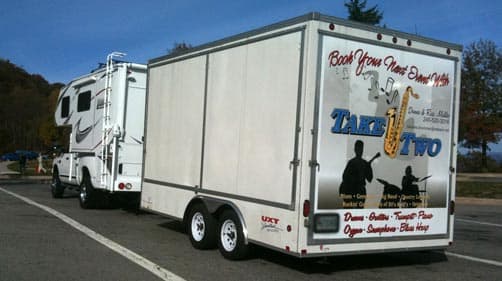 TCM: Have you made any modifications to your new rig?
Donna: We haven't had the new Lance that long, so we haven't had to make adjustments.
Russ: In our new Lance, I really like the external storage place in the back. It's an area designed to hang tools, but I use it to store our power cords. That space is ideal for our operation.
Our new Lance is a side entrance layout, which is really nice. If we book an engagement and it's a pull-in circumstance, we don't have to step across a hitch to get into the camper. A side entrance was a determining factor for us.
People walk up to our camper and stage and say, "What a great idea!" We get compliments on our ingenuity.
Donna: When a campground wants us to play parallel to the pavilion, we can stay next to pavilion instead of in a traditional camping spot. It's really convenient for us to have our camper right there.
On October 30th, a couple from Florida stopped by and wanted to see our camper. They asked us lots of questions about our truck camper and I think we sold them on getting a truck camper. We also have friends who go horse back riding. They found a used truck camper. People say, "I wish I could travel like that".
TCM: Are you able to make a living from playing live?
Donna: It's supplemental income. We are retired school teachers, and it's a fun way to supplement our income. We operate it as a business and pay our taxes.
TCM: Tell us about the venues you play. Where can our readers see you perform?
Donna: I think we have twenty places booked for next summer. We'll have those dates and locations on our Take Two Variety Band facebook page.
Russ: We also play small town festivals. They have a family atmosphere. We play a variety of music. We have played at campgrounds and enjoy entertaining the kids. As teachers we know how to get the kids involved. For example, we'll play the Chicken Dance and, for Mustang Sally, we let the kids play inflatable guitars and then let them keep them as a souvenir.
TCM: I bet they love that! How would you describe your music?
Donna: We do big band, country standards, blues, 50s and 60s, some classic rock, patriotic, Christmas, and even originals written by Russ. Russ plays so many different instruments so it doesn't all sound alike. The different instrumentation adds color to our music.
Russ: As a musician, you have to focus on a demographic. With us, we are pretty free. We can play Yankee Doodle Dandy to the Rolling Stones. We're always pulling up to a broad age range. We can play varied styles, which I like. We have free reign.
TCM: What instruments do you play, Russ?

Russ: Trumpet, guitar, keyboard, fugal horn, soprano sax, blues harps, tenor sax, and we both sing. Donna plays the drums.
We have CDs, and we're on YouTube, Facebook, and our own website. You can go to cdbaby.com or Google "Take Two Variety band, Russ and Donna Miller". You'll see our personal compositions there.
TCM: What's next? What's your vision for Take Two?
Russ: We're here! We're doing what we want to do. It's one of those circumstances. We've got our camper and equipment of our dreams.
People are having fun with us and we make friends everywhere we go. We've played for two Good Sam Clubs for their Samborees. I want to play for as many of those as I can because they're fun.
Donna: We're having a blast. We've met so many people at the campgrounds.
TCM: It sounds like you guys are just out there loving life. I sure hope we get to see you play live sometime. Please keep in touch.
Russ and Donna: Thank you. And we will.
RUSS AND DONNA MI
LLER'S TRUCK CAMPER RIG
Truck: 2007 Dodge Ram 3500, crew cab, dually, long bed, 4×2, diesel
Camper: 2011 Lance 1191
Tie-downs and Turnbuckles: Happijac
Suspension Enhancements:
Firestone Air Bags, Torklift SuperHitch extension

Gear: 16 foot custom stage trailer built by United Trailer, Reese stablilzer bars