Russ and Donna Miller play sweet music together and chase their dreams one gig at at time. Their tour bus of choice? A truck camper of course! … … … … … …


Above photo of Russ and Donna was taken by Sinclair Hamilton
We're always asking the truck camper manufacturers, gear companies, and dealers to tell us about the interesting truck camper owners they meet. When we were at the RV and Camping Show in Hershey, Pennsylvania last September, Outdoor Express RV told us about a couple who travels in a Lance Camper and plays live music at campgrounds, rallies, and other events. Immediately we knew we had a Truck Camper Magazine story.
Russ and Donna Miller are living their dream. For these two troubadours, the dream was to play live music and enjoy the freedom of the open road. And what better way to go anywhere and play anything than in a truck camper with a stage in tow? Please put your hands together and welcome Russ and Donna Miller, the Take Two Variety Band. Hit it Take Two!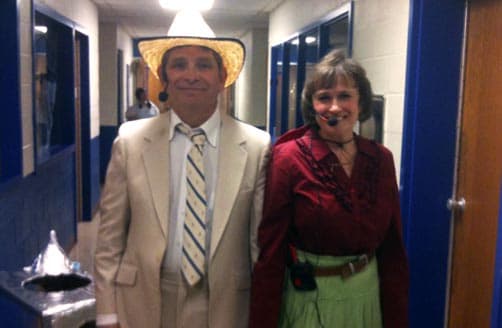 TCM: How did you get started as traveling musicians?

Russ: My wife and I played music years ago. We actually met playing music. Early on in our relationship and marriage we had a four piece band.
Later we became parents and as school teachers we didn't have as much time for playing music. Then we got the opportunity to play in a contemporary Christian band at our church and I said, "Honey, can we do this?". That was great fun.
When I retired, I began dreaming of how we could start a band together and make it work on the road. We started with a lawn trailer as a stage and decided it was fine, but if it rained we were in trouble. We eventually had a trailer built that was the same dimensions as the lawn trailer. The new trailer makes into a stage big enough for two and it carries our equipment when we're traveling. When we arrive, we just open our trailer up and play. It makes on-location performing much easier.
When you get into playing live music and want to make it cost effective, you need to think about where you are going to play. As campers we explored the possibility of playing in campgrounds. We didn't want to play in bars anymore. Those days are behind us.
Donna: I've always played music in public since I was sixteen years old. This seemed like a natural progression of events. Time goes fast. We love music and we have always liked to travel and go places. It kind of meshed and things fell into place.
TCM: How did you decide on a truck camper?
Russ: Before our current Lance, we had a Skyline camper, a different Lance camper, and pull behind travel trailers. We went through the typical steps. As the kids grew up, we had a thirty-foot pull behind. Now it's just the two of us so the pick up camper works well. We can pull our stage and the rig goes over real well in the campgrounds. It's really a retirement dream come true.
Donna: On our older Skyline camper, we had to hand crank the jacks. That was a pain. We learned about the Lance camper with the remote control jacks. They're fantastic.
When we had our first truck camper, my mom and dad had a motorhome. That's when we went to Montana, through Glacier National Park. There was a parking lot near the entrance. We parked mom and dad's motorhome, took the camper off in the lot and kept it there while everyone piled into the crew cab and made trip through Glacier. There's a restriction on height and length, so we just took the truck camper off, got in our truck and went. We went sightseeing to Highway to the Sun road.

TCM: What's it like to travel and work together all the time?
Donna: It works out well. We have the same interests.
We have a generator in our new camper. It's really convenient especially if we need it to power our music equipment.
This past Fourth of July we had four bookings in three states within a forty-eight hour period. I don't think we could do this without the truck camper.
Russ: We wouldn't be without a generator in our situation. With it we can have air conditioning. The summers here in the east can be hot, so to be able to set up and have a place to cool down before you go play is nice.