Gary: We had recently returned from the trip and the truck and camper was sitting in the driveway. 
Rose: Someone from down the street lost control of his pick-up and backed up into our camper with tremendous speed.  He hit our camper dead on and destroyed it.  He actually pushed the whole rig into a telephone pole that broke on top of our camper.  There were live wires hanging over the camper with two propane tanks and gasoline in the truck.  The firemen told us that if the live wires had touched our camper the whole thing would have gone up.
A passenger in the truck that hit ours was taken to the hospital.  Gary was inside the house.  I was away.  We didn't lose power until the electric company came to turn it off at the pole.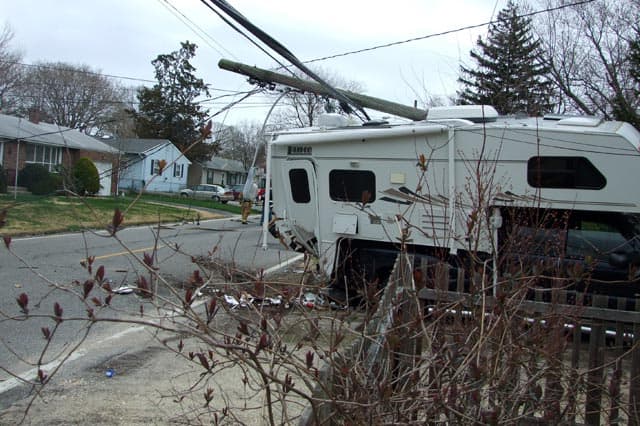 The truck camper was ruined and no one from either insurance company said they could fix it.  Lucky for us, we had extra insurance on it.  The Lance 1161 was great and had a slide-out, dry bath, and a generator that we didn't get to use.  It was spotless and really nice.
When we got the insurance check, we debated pocketing the check.  Eventually we decided to buy another camper.  That's when we met you both at Truck Camper Warehouse in New Hampshire.  We saw the Lance 950 that Bill Penney had on the lot which was a left over brand new.  It's a great camper for us.
Above: Enjoying their new Lance 950 during last summer's camping trip.

TCM: That's a tough story with a happy ending.  I can only imagine your reaction when you heard the crash and saw your camper with a telephone pole on it.  Where do you like to camp on the East Coast?
Gary: One of my favorite camping destinations is Ohiopyle State Park, in southwest Pennsylvania.  White water rapids run through it, and they have hiking and bike trails that go from Pittsburgh south to Washington DC.
We also like Assateague National Seashore in Maryland where you can camp out on the beach.  We didn't camp with our truck camper, but you can.  There's a campground we enjoy in Lewes, Delaware called Cape Henlopen State Park.  You get off the ferry, turn left, and you're there in a beautiful state park with lots to do on the beach.
Above: Beech Fork State Park, West Virginia – for most of their trip, the Kindons stayed at state or national parks and they said that this was one of the best
Rose: Delaware has a lot of nice state parks and so does New York.  One of my favorites on the East Coast is Acadia National Park in Maine.  It's just gorgeous.
Gary: I also like the White Mountains in New Hampshire.  Another nice place in the Fall is Cape Cod.  It's beautiful, but you don't want to be there for the summer crowds.
Above: Photos from Rose and Gary Kindon's 2011 trip out west with their Lance 950
TCM: Is there anything you'd like to add to your interview?
Rose: Renting a truck and camper was the experience we needed before we bought our truck and camper.  Renting and then buying was a great experience and really helped us to make the right choices.  I found what I liked and disliked.  For example, I found that I didn't like the east-west sleeping arrangement in some campers.  By renting, you can experience what you need and don't need in a camper.  Renting gave us a good background before we bought.  I highly recommend it.
TCM: I wish we had more opportunities to rent truck campers in the lower-48, but renting truck campers in Western Canada and Alaska is an excellent suggestion.  We may do that ourselves one of these days.  Thank you Rose and Gary.
Rose and Gary: You're welcome.
Truck: 2005 Chevy Silverado 3500, extended cab, dually, long bed, 4×2, gas
Camper: 2007 Lance 950
Tie-downs and Turnbuckles: Happijac
Suspension Enhancements: Airbags
Gear: N/A