Rose: The rental places provided linens, pots, and pans.  All we brought was our clothing.  The rental experience was turn key.  Unfortunately, the company in California that we rented from no longer rents truck campers.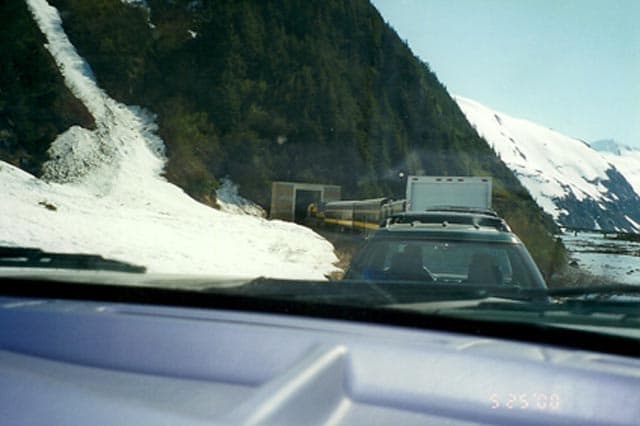 Above: On the way to Whittier, Alaska, there was a train tunnel the Kindons put their rig on
TCM: There is practically nowhere in the United States outside of Alaska where you can rent a truck camper.  That's something I've been bugging the industry about for years.  I saw in your pictures where you took your rental camper on a train.  I have never heard of that before.  And you stayed in your camper?  I've been on a ferry with our truck camper before, but never on a train.  What was that experience like?
Gary: That was on our first truck camper rental adventure in Alaska.  We were going from Kenai to Valdez and we had to get on a ferry in Whittier to cross over Prince Edward Sound.  To get to Whittier, there's a tunnel and the only way to get through at that time was to put your vehicle on the train.  There was even a Greyhound bus atop another flatbed car.
That was the last week they were taking vehicles by train.  Because of the money Alaska had received from the oil spill, they completed a highway through the tunnel for vehicles to drive through.
Rose: We were on a flatbed train car in a dark tunnel going through the mountain.
Gary: It was amazing!
Rose: We then took a ferry from Whittier to Valdez.  On our trip to Canada, I think we took four or five ferries from the mainland to Vancouver Island and back.  This past summer we went on the Cape May ferry.  When you're traveling by ferry, they are going to charge you by the length of your vehicle.  With a truck camper you are more compact than a trailer, so you pay less on the ferries than longer motorhomes and towables.
Above: Renting a truck camper and traveling to Vancouver Island

TCM: On your third fly in and rent a truck camper adventure, you went to Vancouver Island.  What was Vancouver Island like?  We've never been there.
Rose: Gorgeous!
Gary: It's worth the trip.  Best of all, Victoria is a very quaint, British town.  It's really nice with old time hotels.  The thing I liked the most of all was Butchart Gardens.  It's unbelievable!  It's one woman who made it.  Her husband owned a quarry.  The quarry was used up and she turned the whole thing into a garden.
Then we went over to Pacific Rim National Park, which is on the edge of Vancouver Island on the Pacific side.  It's not very built up, but they have fishing villages and whale watch trips available.  We were going from one end of the island to the other, and stopped in the middle to see a black bear and two cubs who we happened to cross paths with.
Rose: For that trip, we flew to Vancouver, picked up the camper on Gibson Island, and went to Vancouver Island.  From there we went north on Vancouver Island, traveled back to the mainland on the ferry, and returned to the main coast.  We stay in campgrounds all the time.  We don't necessarily need all of the amenities, so we usually stay at a state park, national park, or provincial park.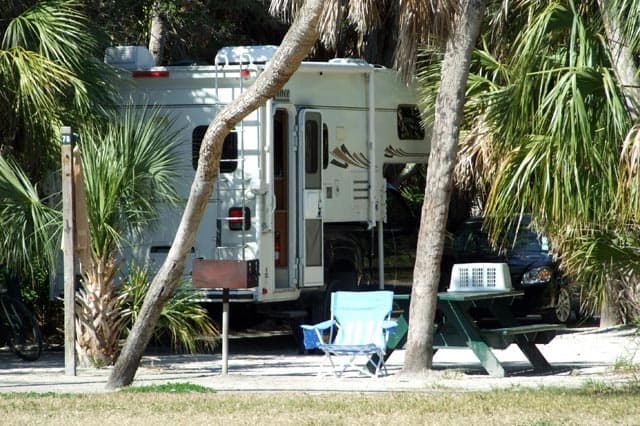 Above: Fort De Soto Park, a county park near St. Petersburg, Florida
TCM: When we met you, you had lost your first truck camper to a terrible accident and were shopping for a new one.  How did that happen?
Rose: After renting three truck campers, we finally bought our used Lance 1161 as I was reaching retirement.  I think we might have taken it out for a day or two in the summer with the idea that we would be traveling as much as possible once I retired.  In February of 2010, I retired and we went to Florida and came back in March.