Light the campfire and break out the cast iron Dutch Ovens.  It's time to cook like the cowboys do.  Just don't burn your biscuits!

If there's anything that truck campers love more than truck camping, it's food.  We may fight like cats and dogs when it comes to this truck brand or that, but can all immediately agree about food.  Anyone who has ever attended a truck camper rally can attest to this first hand.  The all-you-can-eat feeding frenzies at these events are legendary.
Speaking of truck camping and food, perhaps no other couple has married our two most favorite topics better than Rodger and Arlene Brill.  These two Dutch Oven connoisseurs travel coast-to-coast cooking everything from biscuits to cobblers to scalloped potatoes to pork barbecue with Jack Daniels whiskey sauce.  And if that's not enough, they often give away free samples where they're camping.  Is it any wonder that they probably have more friends than all of us combined?  We should all just go camp where they do and eat ourselves silly.  I'm in.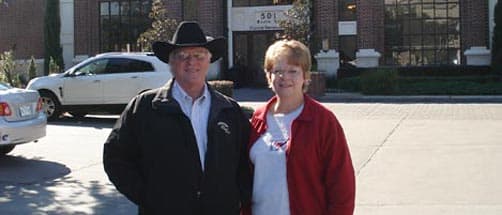 TCM: You have seemingly owned just about every type of RV possible.  How did you finally end up with a truck camper?
Rodger: My wife and I have been camping for forty-four years.  We started in a tent, which lasted for a weekend.  Next was a 1955 Chevy short bed pick-up with a homemade top, followed with a single wheel pull tandem, then a Class C motorhome, a Class A motorhome, fifth wheel, and now a slide-in pick-up camper.  A lot of experience led us to settle on our slide-in camper.
While camping with our a pull behind, we could never keep our refrigerator door closed.  It would always pop loose while traveling.  On one weekend trip, my wife had cooked a big roast.  When we stopped for a break and opened the camper door we found the roast on the floor looking at us.  This doesn't happen with our camper.
Another memorable experience was in our motorhome in Ten Sleep, Wyoming.  We made a wrong turn and the road turned to dirt.  Suddenly, a rain storm popped up and, before we knew what had happened, we were stuck.  We would never have been stuck with our pickup camper.  We can confirm to all the reasons outlined by Gordon White in his article of the advantages of a truck camper.
Our fifth wheel is great if we want to sit in a campground for a month, but that's not for us.  We love traveling across our great United States.  In order to go where we want and stop where we want to stop, we only way is with a slide-in pick-up camper.  We've had a blast!
TCM: Tell us about how you discovered that a truck camper would be a better fit.
Arlene: It was in 2007 when we went out west.  There's a picture we sent you in the Redwood forest.  That's our old pick-up camper.  We bought the camper in 2007 for that trip.
Rodger: That was a trial for us because we had a big fifth wheel at home.  We said, "Let's try a pick-up camper".  Then, in 2010, we made another trip.  We found a very nice camper, got ready to go, and fuel prices went through the roof.  Do we use our gas truck or diesel?  Which would be cheaper?
We had 2008 GMC truck and used that because we thought that gas would be cheaper on our cross country trip.  We went to California, up the coast, back down through the Columbia River Gorge, and then through Idaho, Wyoming, and Utah.
During that trip, we fell in love with the pick-up camper.  Arlene said, "I want one with a slide".  That's when we started researching and fell in love with the Arctic Fox.  We lucked out and found a 2006 Arctic Fox in Mississippi on eBay.  We picked it up, toured the Gulf, went to New Orleans, and have had fun with our camper ever since.
When we got home, we listed our fifth wheel and sold it.  We also sold our older pick-up camper.
TCM: What is Dutch Oven cooking exactly?
Rodger: Angela, it's the way the pioneers cooked when they were migrating to the West.  It's something that's been held on to by a number of different people across the country.  It's basic cooking from scratch.
The cattle drive of years ago is a thing of the past and Chuck Wagon cooking never bit the dust.  It is still alive and well with lots of competitions, reenactments, and shows for tourists.  Wagon cooks pride themselves on their ability to use simple and plain ingredients to prepare memorable dishes cooked outdoors on wood fires, using heavy cast iron implements even for baking.
I've been fortunate to be able to go on fishing trips in Alaska, Wyoming, and Montana.  We will go horseback riding in the wilderness and stay on a river and camp.  The guys will cook in Dutch Oven iron pots.