Rick Johnson boondocks from Alaska to Dinosaur, plans everything ahead, let's the trip take him, and modifies everything to suit his needs.  Even his water is modified.

Angela always makes detailed plans for every trip we take.  We'll drive this road to see this attraction and then camp here or there.  Then something happens when the rubber meets the pavement, or dirt.  Everything goes out the window.  We both get a bad case of shiny object syndrome and, "Hey, what's that over there", we turn, and go see.
It's like the hysterical talking dog named Dug in Pixar's movie, Up.  We're going along per our carefully laid out plan and, "SQUIRREL!" – off we go chasing something.  That's a big part of the freedom a truck camper provides.  See a squirrel?  You can do more than point.  You can chase it.
Hopefully Rick Johnson is reading this introduction with a smile on his face.  After interviewing him for Truck Camper Magazine, we realized we weren't the only ones who planned ahead, and then saw squirrels.  Okay, Rick doesn't sound nearly as distractible as we are, but he definitely lets the trip take him, squirrel, or not.
Perhaps there's something to this distractibility and truck camper owners.  Or maybe it's just that we're all very adventurous and interested in a great number of things.  That reminds me of a story when… SQUIRREL!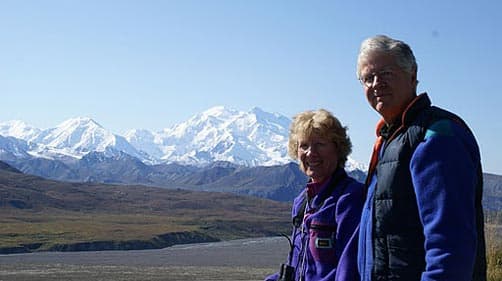 ABOVE: Alice and Rick Johnson with Mt. McKinley on a rare cloudless day in Alaska
TCM: You have told us that you are a planner, but, once you get out on the road, you let the trip take you.  How does that work?
Rick: As former backpackers, our view of camping is not going to an RV park.  We grew up in Colorado with Forest Service campgrounds, so we have those kinds of destinations in mind.  Our goal with retirement is to visit all of the National Parks and National Monuments.
When I plan our trips, I look at the destination and make a checklist of what to do, where to stay, and where the boondocking possibilities are along the way.  We have every Delorme map from the Rockies on west.  That's the kind of planning I do before we head out.  Then, we get in the truck, follow the approximate route, and see what happens.  The trip takes over and tells us where we're able to camp.
TCM: Sounds like a good balance between planning and allowing for unexpected opportunities.  How do you find boondocking spots?
Rick: Pretty much camping anywhere in a National Forest is okay for boondocking.  There are well marked roads going in.  You can also buy a forest service map at a ranger district station.  That will give you a good idea of the forest maintained roads.  We ask the ranger if there are any roads we shouldn't attempt.  We also supplement the forest service maps with the Delorme maps.
There's so much public land in the West where you can boondock.  A truck camper is just perfect.  Once we had a truck camper we knew that we had the means to have everything with us.  Our object is to get far away from the highway to camp overnight.
There are a few National Forests in Wyoming and Montana where they prefer you boondock.  It's less maintenance than a formal campground would require.  They are finding that most people are responsible and pick up after themselves and leave the place as they found it.
On one of our Colorado trips, we were headed south, coming out of the Gunnison area, and southeast into the Rio Grande National Forest.  We went on a road that went deep into the forest to a Forest service campground.  As we were going in, we noticed lots of areas where people had boondocked.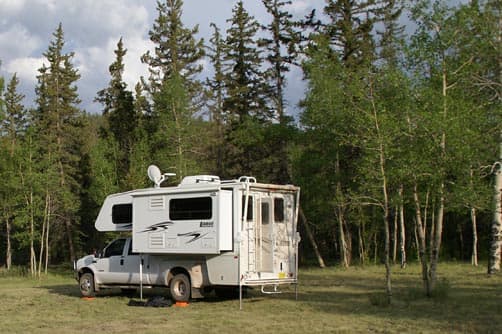 ABOVE: Boondocking spot on the edge of the forest that Rick and Alice found
The three campsites at the forest campground didn't appeal to us, so we turned around and found a boondocking spot on our own.  We found a big meadow on the edge of forest with campfire rings from previous campers.  That part of Colorado isn't crowded.  It's just beautiful.  That's the kind of boondocking we like.
ABOVE: Manti La Sal National Forest and Pumpkin enjoying the camper
TCM: Are there any other specific places you would recommend for boondocking?
Rick: Manti-LaSal National Forest, south of Canyonlands, is pretty nice.  It's at 10,000 feet in elevation.  There's quite a large flat area for it being that high.  There's another forest north of the Grand Staircase called Fish Lake National Forest.  It's a large forest and it's difficult to get in, but we camped near Fish Lake itself.
The Kailbab National Forest approaching the north rim of the Grand Canyon is huge.  The rim is at 7,500 feet and goes up into the forest to 8,000 feet.  It's a good alternative to barren rocky camping in the park.
From experience, I have found that the mind begins to wear if all you see is rock and more rock.  In Utah, you can break it up by going to the forest to see trees, deer, and elk.  Then you can go back and see the formations at Canyonlands, Grand Staircase-Escalante, and the Grand Canyon, for example.
ABOVE: The North Rim of the Grand Canyon
TCM: We love Utah.  In fact, we have talked with people who have traveled all over the world and they too cite Utah as one of the best places to explore on Earth.
Rick: I would agree.  Last fall we went across southern Utah and to the northern rim of the Grand Canyon.  We also went to Canyonlands, Goblin Valley State Park, and the Grand Staircase of the Escalante.  They were the major stops along the way.
During September, campgrounds are normally pretty empty.  On the north rim of Grand Canyon, we didn't realize how busy that campground would be.  We had to camp in the National Forest and then made reservations at the campground.
LEFT TO RIGHT: Rick's jeep in Imogene Pass, Tincup Pass, and Hurricane Pass in Colorado
I brought my Jeep to Utah and had a lot of use in Manti-LaSal National Forest and Canyonlands.  At Fish Lake there is a good Jeep road.  You can see 180 degrees and you are 1,000 feet above the lake looking down on it.  Also Kodachrome State Park near the Grand Staircase of the Escalante is another place where a Jeep is a wonderful tool.
TCM: In an email to us, you described how you like to find the, "perfect campsite."  What is a perfect campsite and how do you find them?
Rick: When we want to camp in a forest service campground, we first drive through the campground to see what's available.  We like to be closer to the restroom facilities, if we use them, or far from other people because of noise.  We also like to be far from people with off-road vehicles because the vehicles make noise.  We try to be near running water if possible or amongst the trees if possible.  A lot of the forest campgrounds are near a stream with the sound of water rushing by, and that gives us some isolation.
We are so darn picky.  We have to pick what we think is the best spot available.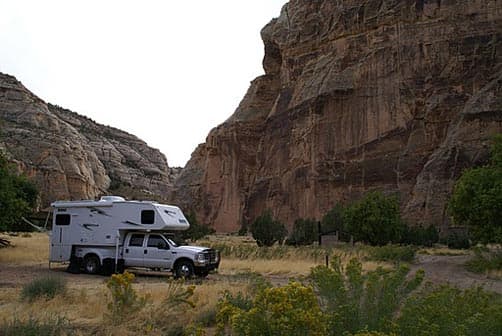 ABOVE: Rick's rig at Echo Park in Dinosaur National Monument
TCM: We usually just settle for something level.  Tell us about how you took the TCM calendar winning picture in 2007.
Rick: I took that picture in Echo Park in Dinosaur National Monument.  At the ranger station, I pointed at my Lance and asked if it was possible.  The female ranger at the desk said yes, you can probably do that.  There were steep roads and I have four wheel drive.  She said it wasn't too bumpy.  It actually wasn't as much of a challenge as I thought it would be.
In Dinosaur National Park, they had some rain and had improved roads with a fresh coat of gravel.  The short portion of 17% grade wasn't an issue with four wheel drive low.  I never got to white knuckles.  The picture in the 2008 Truck Camper Magazine Calendar, we were one of only two campsites being used in the campground that night.  It was fall and we were way off the beaten track.  It was quite a few miles from the ranger station to Echo Park.
TCM: Do you use a GPS when you're off-road?
Rick: Yes, I have a Garmin GPS with the topo map choices for the western US.  It's very helpful as far a GPS goes.  There have been very few places I've gone with my truck camper that were not on the Garmin.  I also go to store.usgs.gov and click on the map locater.  Click in until you get to the state, then the part of state you want, and then go to the topographical map tool.  I use the seven and a half minutes by seven and a half minutes size maps.  It's the highest resolution map available in print or electronically.  I use the latter since it's free.  It just requires time and patience to download..
I went to Utah on the website and loaded all the topo maps for everything south of Route I-70.  I now have a lot of maps and it took hours sitting at home at night to get them.  For Utah, I have over 250 maps.  The nice thing about those topographic maps is that you can see where the level areas are for boondocking or an area where we can pull off on the side of the road and look over into the canyons.  That's good boondocking.
The topographic maps are also good for indicating hiking trails.  A lot of planning goes into our trips ahead of time.  When we're there, all we need to do is look at a forest map I've purchased or a topo map I've downloaded to see where to hike and camp.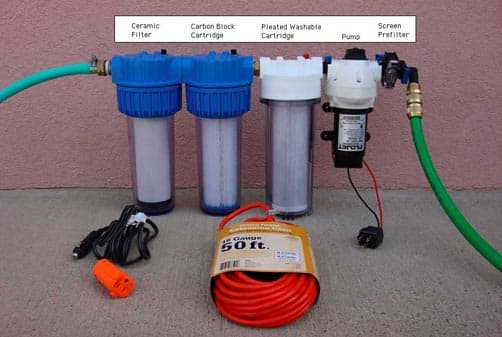 TCM: Let's talk about your truck and camper modifications.  Tell us about your water purification system and what you did to install it.
Rick: We didn't like the noisy installed water pump.  I did some research and got a better pump.  It's actually from the same manufacturer, Shurflo, but much quieter.  I did some research and got the water filters from a Canadian company.  I ordered the filters and set up the camper pump so that I could siphon water from the hose to get it through the three filter system.  First, it gets the rocks out, then the carbon block filter is for taste and odor, and finally the ceramic pathogen filter.  I wired the Flojet pump and twelve volt plug so that the fifty foot cord could go in between with all the polarities correct.  It's a peace of mind setup, and I've only had to use it one time, so far. I carry it in my long basement drawer in my Lance 1181 with the hoses in the wing compartment.
Having the water filter allows us to pump water from a source in the field, like a stream.  I have a hose for that purpose.  It pumps about one and a half gallons per minute.
My clean hose can go into my fresh water tank.  Backpackers will have a hand pump for fresh water.  The setup I have is a much bigger version that will allow me to pump water through.  I wanted more water while out boondocking.  It cost me about five hundred dollars.  It was not cheap, but it works.
TCM: What is the rear seat platform and how does it help?
Rick: When we were planning our trip to Alaska, we knew we would have to take a lot of stuff.  That's when I asked myself, "What if I can take the rear truck seats out and have an area where we can put gear?"  It looked to be a relatively simple procedure.  In my Ford truck, there's a space beneath the seats and the seats take up a lot of room.  So I started imagining getting a platform in there.  I removed the seats and made supports that were custom to the contour of that area.
Once you put stuff on the platform, you don't want to lift the lid, so I have pull out drawer that is under the lid of the platform on each side.  I put the lid in with a piano hinge so it can be opened up if I need to.  I keep things like my auto jack underneath the lid.  It's nice have a flat surface from door to door to put standard large plastic storage boxes.
For Alaska, we had large storage bins and a Coleman cooler.  We would take out some frozen ice from the freezer in the morning and have lunch and drinks right in the back.  We didn't have to stop if we didn't want to, and we could get to stuff while we were driving.  It did a good job to and from Alaska, and it was much more accessible.  Shortly after Alaska, we acquired our dog, Pumpkin, so now we have a bed there behind the driver.  It's much better than when the Ford truck seats were in the back.  If you want to see the step-by-step install, check out my post on the rear storage area in my truck on the LOA forum.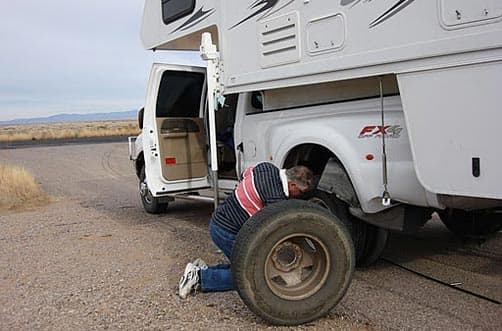 TCM: You also had an issue with access to your spare tire.  How did you resolve that problem?
Rick:  With our Lance 1181 mounted on the truck, there was no way to get to our spare tire crank the way the tire was mounted under the truck.   On the forums I saw that the tube that takes the crank on single rear wheel Ford truck can be reoriented and rotated to point to the wheel fenders.  I looked at my dually and said, "I think I can do this."
I got underneath the truck and looked at some of the components and oriented the tube under the passenger's side rear wheel.  This way, when I need to change a tire, I do not have to do anything with the camper.  I can get the crank handles and all that in there and lower the tire.
Before this, it was an hour proposition to change the tire.  Now I can do it in fifteen minutes.  It's peace of mind.  I have made the modification, but haven't had to use it.  I thought there might be a time where I couldn't raise the camper up off the truck, so I made this change. 
Other modifications I have made include a rearview mirror mount for my rear camera monitor, a cabinet to replace part of my wrap around dinette sofa for maps, etc., and a king size memory foam mattress.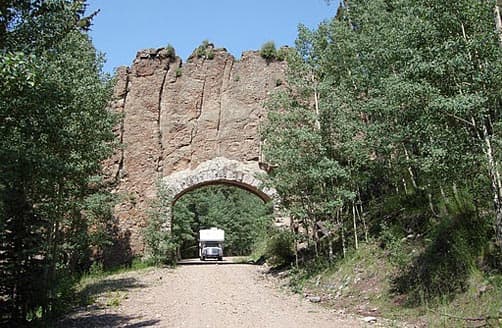 ABOVE: Spanish Peaks, Colorado
TCM: You mention the web forums as a valuable source of information.  What forums do you follow?
Rick: I have enjoyed the online truck camper forums from the very beginning and have tried to contribute as much as possible.  When I'm home, I read the NATCOA forum, the Lance Owners of America forum, and RV.net everyday.  I also read Truck Camper Magazine whenever you send out an Email Alert.  The trip reports from Whazoo and SeldomSeenSmith have been a great inspiration for me and led to our Utah and Grand Canyon excursion last fall.
On the forums, I have asked questions and received good advice.  As I build up expertise, I give back and support other forum readers and truck camping newbies.  Offering support for the newbies on the forums can be very rewarding.  When you asked for newbie advice from TCM readers, I participated to share my advice on purchasing a camper and putting a rig together.  I really like to support these things when I can.  I also help supervise the Truck Camper Ads website to keep non-truck camper ads from showing up there.
TCM: Thank you Rick.  I know our readers will enjoy the boondocking advice and your modifications.  I know we did.
Rick: You're welcome.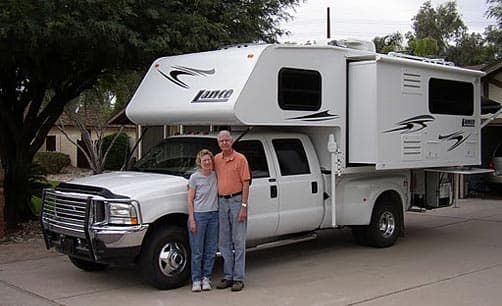 RICK AND ALICE JOHNSON'S TRUCK CAMPER RIG
Truck: 2004 Ford F350

, crew cab, dually, long bed, 4×4, diesel
Camper: 2005 Lance 1181 with every option

Tie-downs and Turnbuckles: Happijac
Suspension Enhancements:
Airlift Air Bags

Gear: N/A