Rick Johnson boondocks from Alaska to Dinosaur, plans everything ahead, let's the trip take him, and modifies everything to suit his needs.  Even his water is modified.

Angela always makes detailed plans for every trip we take.  We'll drive this road to see this attraction and then camp here or there.  Then something happens when the rubber meets the pavement, or dirt.  Everything goes out the window.  We both get a bad case of shiny object syndrome and, "Hey, what's that over there", we turn, and go see.
It's like the hysterical talking dog named Dug in Pixar's movie, Up.  We're going along per our carefully laid out plan and, "SQUIRREL!" – off we go chasing something.  That's a big part of the freedom a truck camper provides.  See a squirrel?  You can do more than point.  You can chase it.
Hopefully Rick Johnson is reading this introduction with a smile on his face.  After interviewing him for Truck Camper Magazine, we realized we weren't the only ones who planned ahead, and then saw squirrels.  Okay, Rick doesn't sound nearly as distractible as we are, but he definitely lets the trip take him, squirrel, or not.
Perhaps there's something to this distractibility and truck camper owners.  Or maybe it's just that we're all very adventurous and interested in a great number of things.  That reminds me of a story when… SQUIRREL!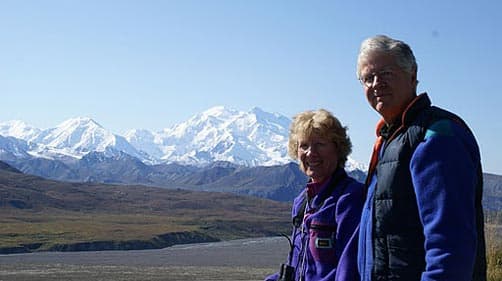 ABOVE: Alice and Rick Johnson with Mt. McKinley on a rare cloudless day in Alaska
TCM: You have told us that you are a planner, but, once you get out on the road, you let the trip take you.  How does that work?
Rick: As former backpackers, our view of camping is not going to an RV park.  We grew up in Colorado with Forest Service campgrounds, so we have those kinds of destinations in mind.  Our goal with retirement is to visit all of the National Parks and National Monuments.
When I plan our trips, I look at the destination and make a checklist of what to do, where to stay, and where the boondocking possibilities are along the way.  We have every Delorme map from the Rockies on west.  That's the kind of planning I do before we head out.  Then, we get in the truck, follow the approximate route, and see what happens.  The trip takes over and tells us where we're able to camp.
TCM: Sounds like a good balance between planning and allowing for unexpected opportunities.  How do you find boondocking spots?
Rick: Pretty much camping anywhere in a National Forest is okay for boondocking.  There are well marked roads going in.  You can also buy a forest service map at a ranger district station.  That will give you a good idea of the forest maintained roads.  We ask the ranger if there are any roads we shouldn't attempt.  We also supplement the forest service maps with the Delorme maps.
There's so much public land in the West where you can boondock.  A truck camper is just perfect.  Once we had a truck camper we knew that we had the means to have everything with us.  Our object is to get far away from the highway to camp overnight.
There are a few National Forests in Wyoming and Montana where they prefer you boondock.  It's less maintenance than a formal campground would require.  They are finding that most people are responsible and pick up after themselves and leave the place as they found it.
On one of our Colorado trips, we were headed south, coming out of the Gunnison area, and southeast into the Rio Grande National Forest.  We went on a road that went deep into the forest to a Forest service campground.  As we were going in, we noticed lots of areas where people had boondocked.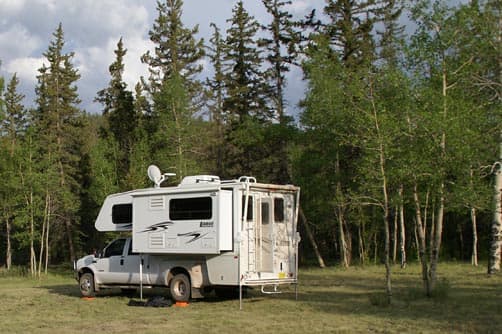 ABOVE: Boondocking spot on the edge of the forest that Rick and Alice found
The three campsites at the forest campground didn't appeal to us, so we turned around and found a boondocking spot on our own.  We found a big meadow on the edge of forest with campfire rings from previous campers.  That part of Colorado isn't crowded.  It's just beautiful.  That's the kind of boondocking we like.