Richard Raymond and Celine Allen won the 2013 Torklift International Treasure Hunt grand prize; an all-expenses paid East Coast adventure in a 2014 Northstar 8.5 Arrow U.

How lucky is Candice Boutillier of Torklift International that she gets to call someone every year and say, "You won the Torklift International Treasure Hunt!  You're going on an all-expenses paid truck camping trip!"  How fun would that be?
Of course it would be even more fun to be on the receiving end of that phone call.  Richard Raymond and Celine Allen had just that experience this past May.  They didn't believe it at first.  At one point they nearly dismissed the call as a joke, but they had won the 2013 Torklift International Treasure Hunt.
Richard and Celine had never been to the East Coast and were thrilled at the opportunity to enjoy a free truck camping adventure in a new place.  To find out how they won the contest, and what happened during their adventure, we gave them a phone call of our own.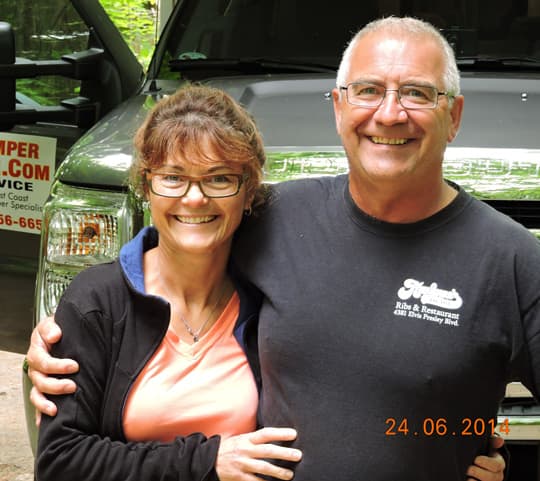 Above: Celine Allen and Richard Raymond, winners of the Torklift International Treasure Hunt
TCM: How did you win the Torklift International Treasure Hunt contest?
Richard: Last Fall we had our annual Jamboree in Quebec.  Our director, France Lanouette, told us about the Torklift International Treasure Hunt contest and presented us with the clues.  The grand prize was a one week vacation with a truck camper.  France told us that everything would be provided during the trip.
We followed the instructions, decoded the clue, and emailed our photo entry to Torklift.  That entry ended up winning the contest.
TCM: How did you find out you won?
Richard: It was the first week of May and we had just gotten back from snowbirding in Florida.  I received a phone call from Washington State at 6:30pm.  The voice on the other side of the phone said, "I'm Candice from Torklift International.  You have won a trip to tour the East Coast."
I said, "Are you sure?"  I knew the drawing was supposed to be April 1st and the winner was Sue Jurf.  Unfortunately, she couldn't take the vacation.  Candice said, "Do you have a week spare in June?"  I told her, "We have the time."
After two weeks went by, I emailed our Jamboree leader, France, and said, "Maybe it was a joke".  France said, "If it was Candice from Torklift, it is true".  I asked France for Candice's email address and emailed her.  A few minutes later, Candice replied and confirmed that we had won the Treasure Hunt.
The contest had us picking up a 2014 Northstar 8.5 Arrow U and truck at Truck Camper Warehouse in New Hampshire.  For the contest, Bill Penney bought a brand new 2014 Ford F350, short bed, diesel, king cab, four-wheel drive truck.  Then he installed Torklift tie-downs, Torklift turnbuckles, and Torklift StableLoads.  To accommodate the truck delivery and build time, we rescheduled the trip a couple of times before setting June 22nd as our start date.
TCM: How was the Treasure Hunt trip planned?
Richard: Torklift arranged for the plane tickets and sent us money for supplies, campsites, and fuel.  Candice told us that we could design our own itinerary of where we wanted to go.
As truck campers, we go here, or there.  We don't usually make plans.  Plus, I was unfamiliar with the East Coast.  With that in mind, I contacted Candice and said, "I will pick up the truck and camper and let you know where we go, and what we do".  She said, "No problem".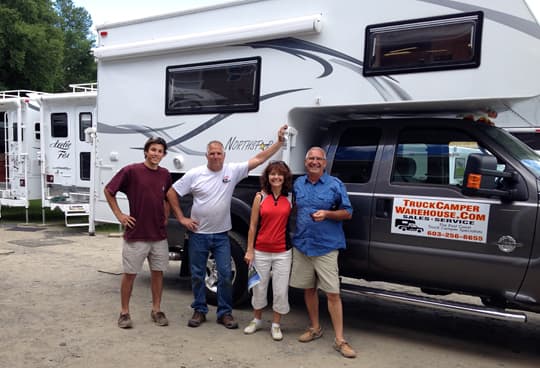 Above Left to Right: Ryan Penney, Bill Penney, Celine Allen, and Richard Raymond at Truck Camper Warehouse
TCM: We will have destinations and routes in mind, but we generally don't make plans either.  Tell us about the first day of your adventure.
Richard: On Sunday, June 22nd, we got up at 4:00am and flew to Hartford, Connecticut.  We were picked up at the airport by Ryan Penney, Bill's son.  Ryan came to the airport with the truck and camper and took us back to Truck Camper Warehouse.
When we got there, Bill Penney told us, "The camper you are about to use is the camper Angela and Gordon from Truck Camper Magazine used as a demo camper for a year".  So, we used your Northstar 8.5 Arrow U camper.  It was very clean.  In fact, my wife, Celine, went into the camper and said, "It's like having a brand new camper".
Bill also showed us the main difference between the Northstar and our current Palomino truck camper; the cassette toilet system.  He explained that the cassette system is not connected to a black tank.  He showed us the cassette, and told us how to empty it.  It took us a few minutes to learn the differences between the Northstar and our current Palomino, but then we were fine.
Bill offered to let us stay at Truck Camper Warehouse for the night, but we had a truck full of fuel and a nice camper, so we went on our way.  Our first stop was Walmart where we used the Torklift money to buy what we needed for the week; food, sheets, towels, plates, cutlery, a wine bottle opener, coffee pot, and other necessities.  Then, we set out in the Northstar rig for the week.  When we returned home we left all that stuff in the camper.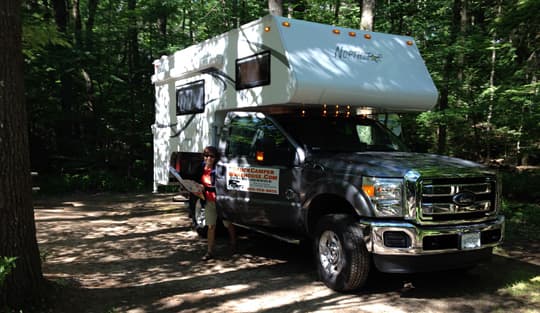 Above: Swanzey Lake, New Hampshire
TCM: Where did you camp that night?
Richard: We went to Swanzey Lake southeast of West Chesterfield and just south of Keene in New Hampshire.  By the time we unpacked and settled in at the campground, it was 5:00pm.
The next morning we headed northeast to meet truck camping friends.  They came from Quebec and drove through Vermont.  We met them in Littleton, which is in the northwest part of New Hampshire in the White Mountains.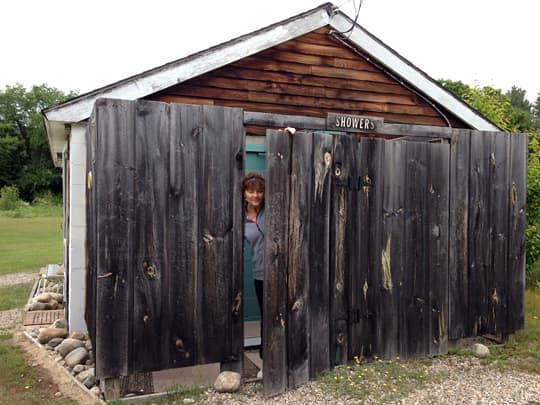 Above: The rustic campsite's shower facilities in Woodstock
From there we went to Woodstock, which was a rustic campsite.  They had all the usual campground services, but there was no roof in the shower.  That was funny.  Overall, Woodstock was a nice and quiet campground.  There was a stream near our camper.
The next day we stopped at many spots to enjoy the scenery and walking trails near Woodstock.  At that time of the year, all the leaves are green.  It was breathtaking.  For our second night we stayed at Woodstock again.
Then we went to Mount Washington, which was the highlight of the trip.  We felt like kids.  We had heard about Mount Washington for quite some time and were really excited to go there.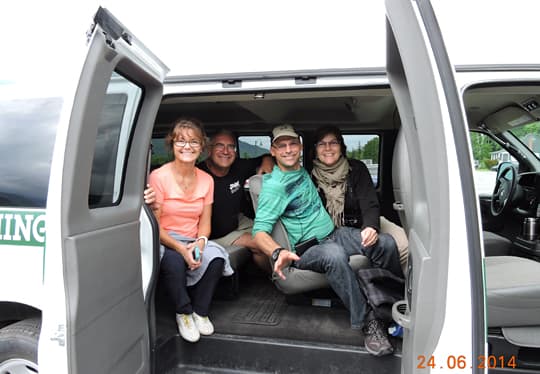 Above: The van that took Celine, Richard, Mario, and Carmen to the top of Mt Washington
At first we thought we could go up the mountain with the truck camper, but they didn't allow anything bigger than a van go up the mountain.  With their recommendation, we went with a guide in a van.
I don't think I would have driven up that mountain in a small car.  Half way up the mountain there was fog, rain, cold, and then wind.  At the top we couldn't see anything but the road in front of us.  I was thankful to have a driver who knew that road and drove it four times a day.  I'm a private airplane pilot, so I'm okay with being in the clouds, but driving is not like flying.  There are no curbs in the air.
Above: Celine and Richard at the top of Mt. Washington – click to enlarge
The top of Mount Washington was windy, cold, and foggy.  We were told that wind speeds up to 200 miles per hour are not uncommon.  The average wind at the top is 100 miles per hour.  The day we were up there it was probably 50 to 60 miles per hour.  We walked from the museum to the old hotel on the mountain top.
We saw pictures and videos in the museum of what you can see on a clear day.  I would go back, but I would choose the day carefully.   That was quite an experience.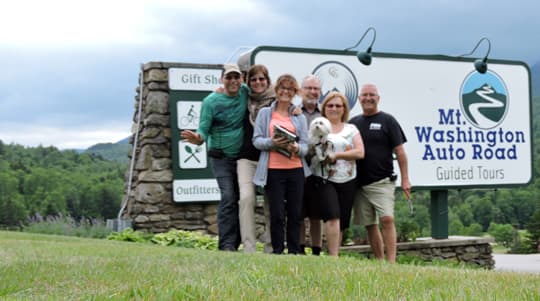 Above: An unexpected meet-up with truck camper friends at Mt. Washington
On the way back down from the mountain top, we saw a truck camper coming up.  The guard had held them at the gate because no vehicle larger than a passenger van was allowed to go to the top.  They were friends of ours.  I asked our driver to stop.  He lowered his window but, with the painted glass on the van, they could not see us inside.  The driver asked our friends to follow the van, so they followed us.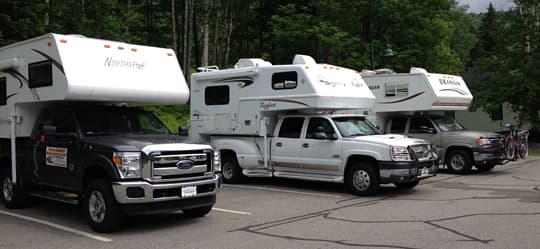 Above: Richard and Celine ran into another truck camper friend while at Mt. Washington
Our friends didn't know that we were on the Torklift Treasure Hunt trip.  It was lucky that we met them there.  We left Mount Washington with three campers.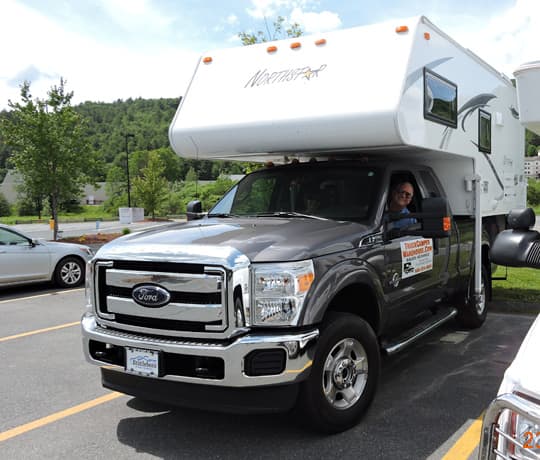 Above: Stopping to get groceries on the road
From there we went to Camping World so that our friend could get something for his camper and then drove to Conway for the night.
Above: Old Orchard Beach, Maine – click to enlarge
The next day we went to Old Orchard Beach in Maine, which was a two to three hour drive from Conway.  I had never been there, but I had heard about it.  People in Quebec and Montreal go on vacation there.  From where we live, we go to a beach in Ontario which is a seven hour drive, since Old Orchard is twelve to thirteen hours away.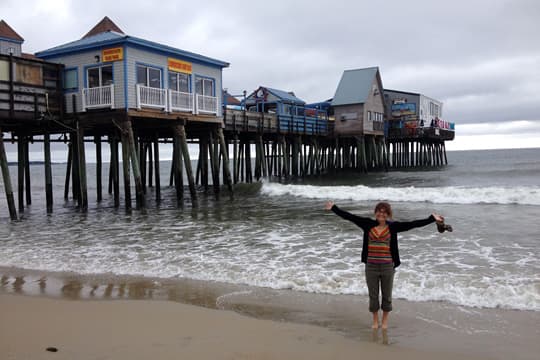 Above: Celine in the very cold water at Old Orchard Beach, Maine
When we got there we took some selfies and then Celine went to put her toes in the ocean.  She said, "It's not cold.  It's very cold!"
From there we went to Hid'n Pines Campground, which was about fifteen minutes walking distance from the beach.  It was a nice walk.  When came back there was a thunderstorm.  That was June 25th, which was my birthday.  We had cake and wine inside our friend's camper.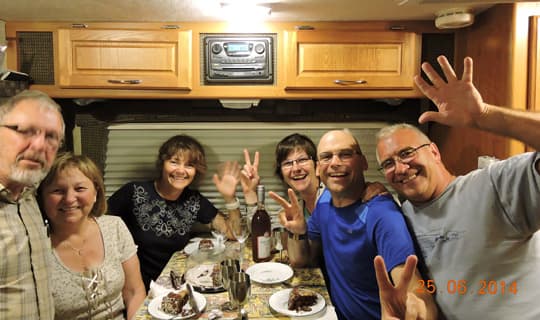 Above: Richard's birthday celebration
TCM: That sounds like a great way to spend your birthday.
Richard: It was nice to spend time with our friends and a great gift for my birthday.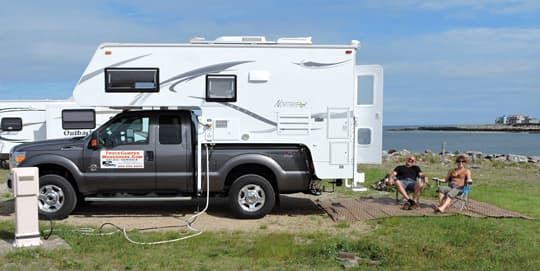 Above: Relaxing at Hampton Beach, New Hampshire
TCM: What was your next destination?
Richard: Hampton Beach in New Hampshire.  We took our time and visited different places along the way.  We stopped in almost every city to see things.  The trip from Old Orchard to Hampton Beach took us all day.  When we got to Hampton Beach it was 4:00pm.
We had met Karen, the Manager of Hampton Beach State Park, when we were down in Florida.  She found out that we won the contest, and asked us to visit her during the trip.  She told us that the campground was usually full, but she could put us in the overflow area.
When we arrived, Karen told us that we were lucky because there were two side-by-side spots open on the shore.  She said that normally that didn't happen, and that people usually reserve those spots a year ahead of time.
The beach at Hampton Beach State Park is one of the nicest beaches I've ever seen.  It was rocky on the shore, but you go about 500 feet on the left side, turn around, and find five miles of walkable beaches.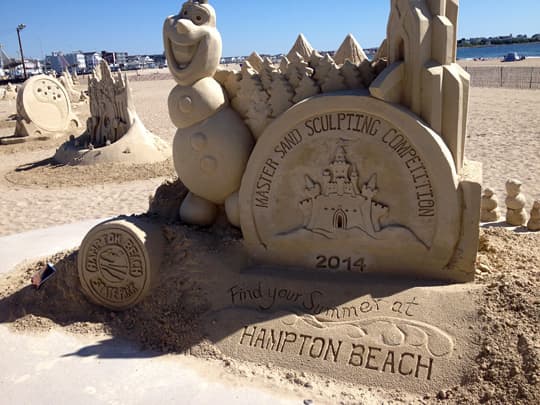 Above: The sand castle contest at Hampton Beach State Park, New Hampshire
There was a sand castle contest going on when we were there.  It's amazing to see what people can do with sand.  We were in awe, our jaws dropped open.  I don't think I can put two buckets of sand together.  These sand creations were six to seven feet high.  They were awesome!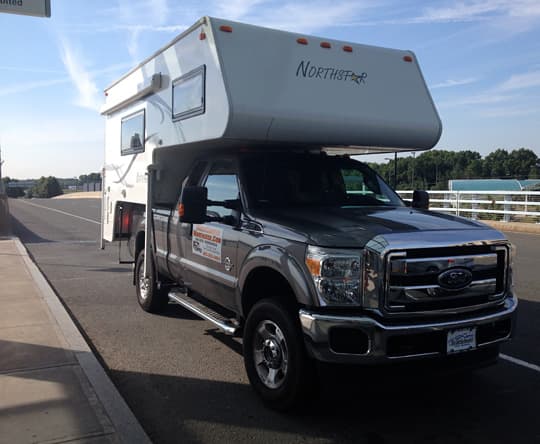 Above: Being dropped off at the airport
We got back to Truck Camper Warehouse in West Chesterfield on Saturday afternoon to give back the Northstar and truck.  For the last night we stayed in the camper behind Truck Camper Warehouse.  We had to go to the airport early in the morning.  Since it was an international flight, Bill got us there at 9:00am for a 10:45am flight.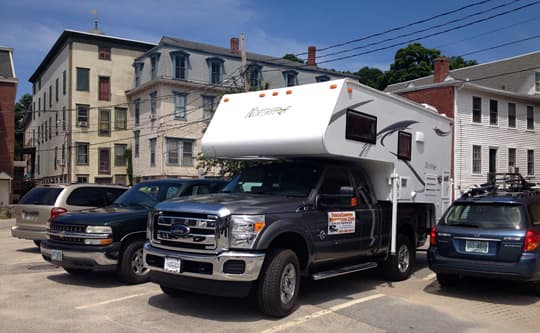 Above: Peterborough, where they found a spot between cars in a parking lot
TCM: What were your impressions of the Northstar and Ford F350 rig?
Richard: With the one ton truck and the Northstar camper, we hardly knew the camper was on the truck.  If you see the picture in Peterborough, we had a spot between cars in the parking lot.  That is something I can't do with my dually.  That truck and camper is definitely more narrow than our rig.
With the Northstar 8.5 being so short, I could park where a pickup truck parks.  There were no problems.  We drove into a small town and parked in town to get crepes from a French restaurant.  We got in and asked for a menu.  The waitress was talking with her mother in French.  I told her that we were from Quebec and that we speak French.  It was funny; like having breakfast in Paris.  Being able to park in the town made going to the French restaurant a lot easier.
I decided to bring my GPS with me.  I have one for RVs and truckers, and had the height of my Palomino programmed into the GPS.  The Northstar is much lower in height.  The Palomino is 12'6".  One time my GPS told me I couldn't go somewhere because the bridge was lower than 12'6".  With the Northstar, I went under the bridge with no problems at all.  I should have asked Bill about the height before we left.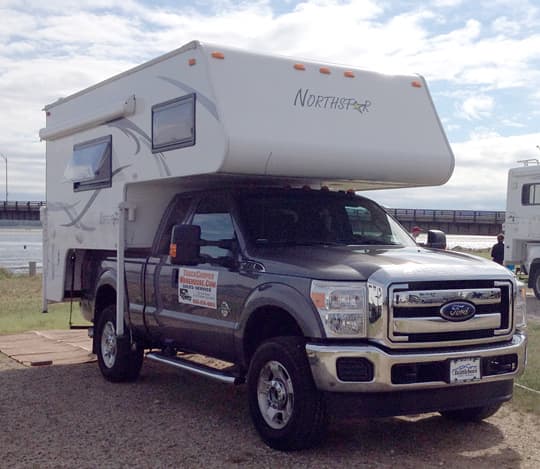 Above: The 2014 Ford F350 and 2014 Northstar 8.5 Arrow U
TCM: You were probably around 11', which is where our rig was at the air conditioner.
Richard: We've had the Palomino Winter Creek for four years, so we're used to more space inside the camper.  In the Northstar, every time one of us got up, the other had to sit to let them pass.  We weren't used to that.  But, let me tell you, that Northstar looked like a brand new camper.  I was amazed when Bill said that you had used it.  It looked so good.
I really liked the big window in the dinette area and the way the shade and the screen go up and down in the Dometic windows.  I would like to have a big window like that in my camper.  It makes the camper feel roomier than it is.
TCM: What were your impressions of the Torklift Fastguns?
Richard: With my Palomino rig, I have to untwist the turnbuckle to get to the fuel tank.  With the Torklift Fastguns, I just removed the Fastgun, put it on the side, filled the tank, and then put it back.  No twisting.  No clicking.  It's fast and safe.
After that experience, I told my wife, "That's my next gift, four Torklift Fastguns".  I loved them.  I knew I wanted Torklift Fastguns but, now that I've used them, I am sure of it.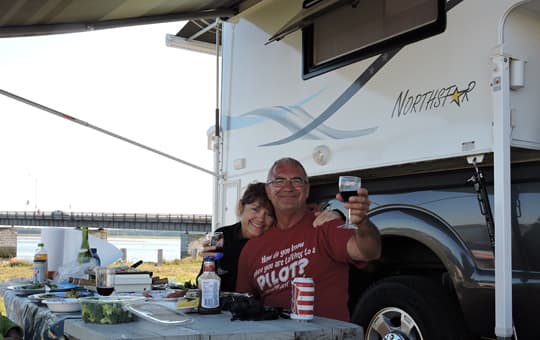 Above: Celine and Richard at Hampton Beach State Park, New Hampshire
TCM: It sounds like you had a fun adventure.
Richard: It was a really nice prize from Torklift, Northstar, and Truck Camper Warehouse.  We got to tour a little of the East Coast, and we had never been to New Hampshire.  We loved Old Orchard and Mount Washington.  Bill Penney is a great guy, and Ryan, his son, is so funny.
It was a great experience.  We had lots of fun and have lots of memories.
Truck: 2014 Ford F350, short bed, king cab, 4×4, diesel
Camper: 2014 Northstar 8.5 Arrow U
Tie-downs/Turnbuckles: Torklift FastGuns
Suspension: Torklift StableLoads