Richard Raymond and Celine Allen won the 2013 Torklift International Treasure Hunt grand prize; an all-expenses paid East Coast adventure in a 2014 Northstar 8.5 Arrow U.

How lucky is Candice Boutillier of Torklift International that she gets to call someone every year and say, "You won the Torklift International Treasure Hunt!  You're going on an all-expenses paid truck camping trip!"  How fun would that be?
Of course it would be even more fun to be on the receiving end of that phone call.  Richard Raymond and Celine Allen had just that experience this past May.  They didn't believe it at first.  At one point they nearly dismissed the call as a joke, but they had won the 2013 Torklift International Treasure Hunt.
Richard and Celine had never been to the East Coast and were thrilled at the opportunity to enjoy a free truck camping adventure in a new place.  To find out how they won the contest, and what happened during their adventure, we gave them a phone call of our own.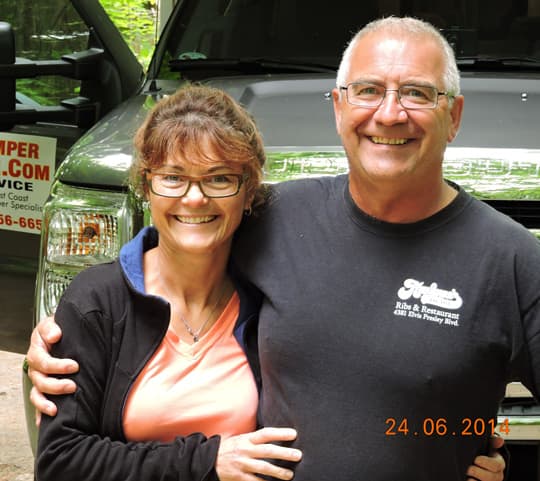 Above: Celine Allen and Richard Raymond, winners of the Torklift International Treasure Hunt
TCM: How did you win the Torklift International Treasure Hunt contest?
Richard: Last Fall we had our annual Jamboree in Quebec.  Our director, France Lanouette, told us about the Torklift International Treasure Hunt contest and presented us with the clues.  The grand prize was a one week vacation with a truck camper.  France told us that everything would be provided during the trip.
We followed the instructions, decoded the clue, and emailed our photo entry to Torklift.  That entry ended up winning the contest.
TCM: How did you find out you won?
Richard: It was the first week of May and we had just gotten back from snowbirding in Florida.  I received a phone call from Washington State at 6:30pm.  The voice on the other side of the phone said, "I'm Candice from Torklift International.  You have won a trip to tour the East Coast."
I said, "Are you sure?"  I knew the drawing was supposed to be April 1st and the winner was Sue Jurf.  Unfortunately, she couldn't take the vacation.  Candice said, "Do you have a week spare in June?"  I told her, "We have the time."
After two weeks went by, I emailed our Jamboree leader, France, and said, "Maybe it was a joke".  France said, "If it was Candice from Torklift, it is true".  I asked France for Candice's email address and emailed her.  A few minutes later, Candice replied and confirmed that we had won the Treasure Hunt.
The contest had us picking up a 2014 Northstar 8.5 Arrow U and truck at Truck Camper Warehouse in New Hampshire.  For the contest, Bill Penney bought a brand new 2014 Ford F350, short bed, diesel, king cab, four-wheel drive truck.  Then he installed Torklift tie-downs, Torklift turnbuckles, and Torklift StableLoads.  To accommodate the truck delivery and build time, we rescheduled the trip a couple of times before setting June 22nd as our start date.
TCM: How was the Treasure Hunt trip planned?
Richard: Torklift arranged for the plane tickets and sent us money for supplies, campsites, and fuel.  Candice told us that we could design our own itinerary of where we wanted to go.
As truck campers, we go here, or there.  We don't usually make plans.  Plus, I was unfamiliar with the East Coast.  With that in mind, I contacted Candice and said, "I will pick up the truck and camper and let you know where we go, and what we do".  She said, "No problem".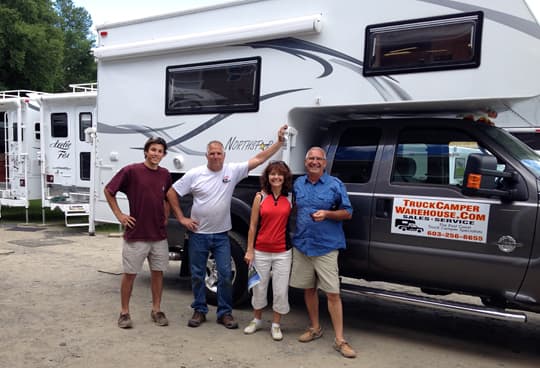 Above Left to Right: Ryan Penney, Bill Penney, Celine Allen, and Richard Raymond at Truck Camper Warehouse