CBC Ski and Outdoor Reporter Paul Karchut ventures out in his Arctic Fox 990 truck camper to experience everything the Calgary outdoors, and his radio listeners, can throw at him.

What better way to cover the latest Calgary area ski conditions, or discover what real folks do in the Canadian outdoors, than in a truck camper?
Four wheel drive to tackle snowy mountain passes?  Check.
Four season insulation and propane heat?  Check.
A comfortable base camp to eat, sleep, and work?  Check.
It's a wonder that more field reporters aren't using truck campers.  Think of it this way; would you rather take a "news van" or a "news truck camper" into an area about to be hit by a hurricane?  How about areas affected by flooding, or forest fires, or tornadoes?
Give me the go anywhere, camp anywhere, fully self contained capabilities and comfort of a truck camper any time.  Besides, how many news vans have holding tanks, refrigerators, queen sized beds, and full bathrooms?  Not too many.
All of this is old news to CBC Ski and Outdoor Reporter, Paul Karchut.  With his GMC 3500HD and Arctic Fox 990, Paul plows through winter conditions and ventures off the beaten path for his weekly CBC ski and outdoor reports.  Paul has even reported live on CBC radio from his truck camper.
Move over news van.  Make way for the news truck camper! 
Above: Paul and Devon's 2003 GMC 3500HD and 2005 Arctic Fox 990.  Paul wanted a four season camper for snowy days like this one at Rogers Pass, British Columbia.
TCM: How did you get into truck camping?
Paul: My first vehicle ever at the age of seventeen was a VW Westfalia.  At that time in my life I was a full time ski bum and used to get around everywhere with the Westfalia.  I traveled all across North America.  I loved it.  It wasn't particularly warm, it broke down all the time, and cost a fortune to keep it going.  So, eventually I got rid of it.
After selling the VW I thought to myself, "One of these days my dream is to get a proper camper van".  As life progressed, that dream was pushed off my radar screen, but it was always in the back of my mind.
When Devon and I first met, she laughed at the idea of traveling in a camper van.  We had both been tent campers and gone on years and years of backcountry camping trips.  I was slowly warming her up to the idea.
We were on Vancouver Island last August and kept seeing truck campers.  Driving into Nitinat Lake, a wake boarding and wind surfing Mecca, all we saw were truck campers on the backroads.  We thought, "That's the way to do it because then we can have a truck and take the camper off when we don't want it.  And if the truck dies, you still have camper."  Of course you know all this.  You write about it.
By October we had our own truck and camper.
TCM: So your dream finally became reality, only with a truck camper.  Tell us about how you went about choosing your truck and camper.
Paul: We went to a couple of camper dealers in Alberta and started asking them about what we needed to look for.  We wanted a camper primarily for skiing in the winter.  Specifically, we enjoy backcountry skiing and resort skiing.  One particular dealer said, "We don't sell them, but you want an Arctic Fox camper because they are true four season campers."
Arctic Fox truck campers looked amazing, but they were way above our price point.  We are young and not loaded or anything.  An Arctic Fox was exactly what we wanted, but there's no way we could afford a new one.  So, we kept an eye out on used campers.
Eventually we found an on older guy in Cochrane selling his Arctic Fox for $14,000.  It was great deal!  He just used it to go from his summer home in Canada to his winter home in Phoenix and slept in it like five days a year.  It was in mint condition.  We were thrilled and bought it.  We just got married a couple of months ago and our camper made it into numerous wedding speeches.  It's a huge part of our lives now.

TCM: That's a great story.  Congratulations!  We actually found you through your radio show.  How did you get involved in radio journalism?
Paul: I'm twenty-nine years old.  When I was in my late teens and early twenties I was a sponsored skier and got to travel the world jumping off cliffs and skiing powder.  I did that for a number of years, which was a wonderful way to travel, but I was physically hurting myself as well.  Eventually I had to dial it back.
I wanted to go to school for journalism.  While I was in school, I worked as a casual employee for the Canadian Broadcasting Corporation (Canada's equivalent to the BBC or NPR).  Once I was out of school, I was offered a job in Calgary as an Associate Producer on their morning show.
CBC wanted me to bring personal content and ideas for our listeners, so I came up with the ideas for the Ski Report in the winter and the Outdoor Report in the summer.

In the winter I do a lot of skiing and have a team of ski bums around western Canada to help me with the reports.  I'll ask them about the conditions, and then I'll talk about their reports on the air.  It's the real deal from real skiers out in the field.
We're just about to start our sixth season.
For the Outdoor Report in the summer, every weekend a listener tells me favorite mountain bike ride or trip they've been on.  I go with them and they share the experience with me.  Then we talk about it on the air, why they love it, how they found it, and then we'll go into my experience.
The camper plays a crucial role in both the Ski and Outdoor Reports.  It's my cabin on wheels for the weekend, every weekend.  Since we got the camper last October, I've probably slept seventy-five nights in it.  It acts as base camp for all of my adventures.  It's even become like a character on the Outdoor and Ski reports.
The camper is always being used for our broadcast and our show.  We do a big Food Bank Drive that raises about $1,000,000 for the food bank here in Calgary.  My Arctic Fox has become the mobile donation center.
We also don't have a kitchen at the CBC.  It's a hot plate.  We were having a corn taste-off today.  Everyone brags about having the best. So we had a blind taste test.  I brought the camper, and boiled three pots of water.  Then, a professional chef came and tasted the corn and gave his opinion.
TCM: We do our own version of corny reporting for Truck Camper Magazine.  It really seems like the truck camper is a critical part of your journalism.
Paul: Now that we have it, I don't know what we'd do without it.  I used to drive two hours into the mountains on Saturday and then drive back Sunday.  Now I can go Friday night and watch a movie, make dinner, and sleep in.  I'm where I need to be Saturday morning.  It's really made for a more relaxing and better weekend.  It's a cabin for us.

TCM: Are you able to report from your camper while in the mountains?
Paul: I come back to the studio to do the Ski Reports, but we have broadcast from the camper.  Like I said earlier, the food bank drive and the corn cooking were broadcast from our Arctic Fox.  We have a team of people who work on the program.  I'm one character of many on the show.
We use simple equipment from a company called Comrex which allows us to use a wireless data signal, like an iPhone or Blackberry, to send a studio quality signal from the truck camper.  There's a microphone that connects into the Comrex equipment so we can do an interview from wherever there's a data signal.
I go out every weekend in the camper and ski at a couple of places.  My broadcast doesn't come on until Thursday, and winter conditions can change quickly, so I rely heavily on my ski bum reporters.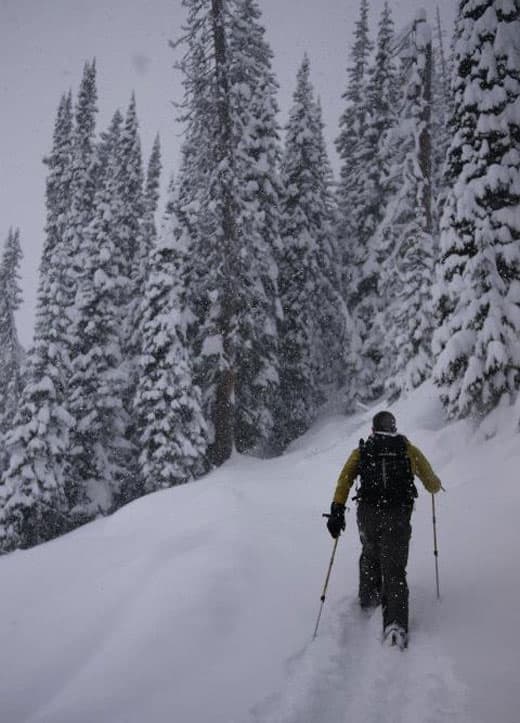 Above: Cam Deller, a regular Arctic Fox passenger, skinning through knee deep powder in Rogers Pass, British Columbia
TCM: How many ski bums do you have?
Paul: I have about forty people that I call.  I also go out on the weekend and get a general sense of how the snow pack is doing.  Then I talk to our listeners about what to expect for the coming weekend.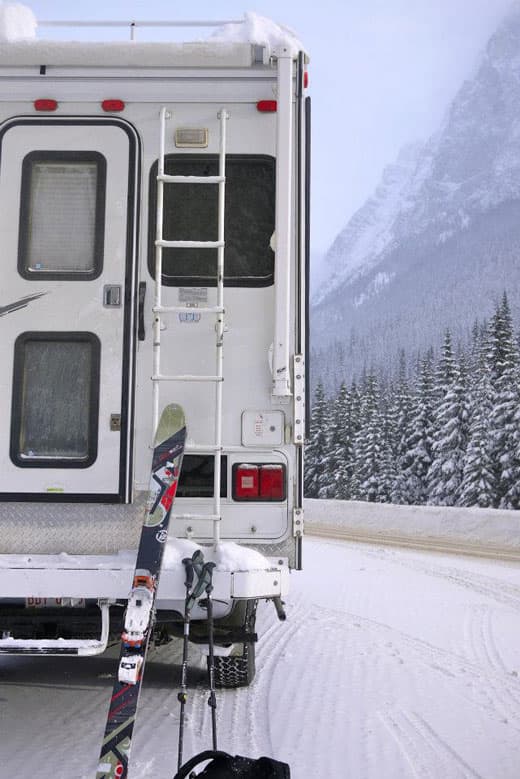 Above: Returning to Frank, the Camper, after a great powder run in Rogers Pass, British Columbia
TCM: How is it winter camping in your Arctic Fox?
Paul: It's amazing.  We have slept out in -25 degrees Celsius in that camper.  We had the furnace on and were walking around in t-shirts.  It was dumping snow outside all night.  The next morning, I clicked into my skis on the back step of the camper and I was off to the races.  It's an amazing way to travel around in backcountry areas to do ski reports.
Above: Mount Cain ski resort, where campers fill the parking lot! Near Port McNeill, Vancouver Island, British Columbia
TCM: Where do you camp overnight during these experiences?
Paul: People pay a lot of money to stay at the ski lodges, but we generally stay in the ski resort parking lots.  I've found some sweet spots.
When I bought my camper, it had two regular 12 volt batteries that were shot because they were frozen.  It was October, so I was able to get some glass mat AGM batteries for 60% off.  Now I have a massive 12 volt battery and we run off of that.  When I need to, I'll run the generator.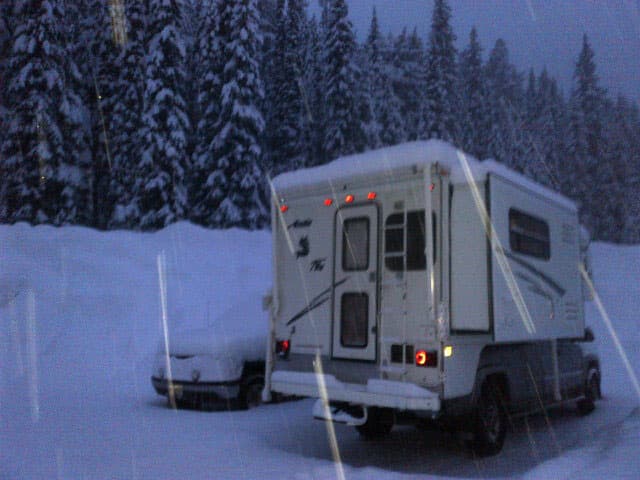 Above: Snowy morning in Rogers Pass, British Columbia
TCM: How does your truck and camper handle the winter driving to reach the ski resorts and other places you need to reach for your reporting
Paul: We spend so much time in ice and snow that we absolutely needed a four wheel drive truck.  With the truck camper loaded we have a lot of weight in the back of the truck, so I rarely have to put the truck in four wheel drive.  The rig handles like a tractor.  We can just plow through most winter road conditions.
Having four wheel drive has gotten me out of a couple of situations, like when the roads are ice skating rinks, or when there's a white out.  You name it, I've gotten into it.
Rogers Pass is often shut down for days because of avalanche risks.  One night there was a huge blizzard, and we were going from Rogers Pass to Kicking Horse Ski Resort.  The road was so bad I couldn't believe it was still open.  When we got to Kicking Horse, the road was closed within twenty minutes of us arriving.  The truck camper got through just fine.  I didn't drive very fast, but the rig still handled better than I expected it to.
TCM: Tell us about your Outdoor Report and some of the other things you report on using your truck camper.
Paul: I try to cover a good cross section of what's available to Calgarians in the outdoors.  The one stipulation for the Outdoor Reports is they are about human powered adventure, like mountain biking, trail running, hiking, dragon boating, etc.
Sometimes I have long days.  The truck camper allows me to be at the trailhead and well rested for what our readers have signed me up for.  They'll contact me and say, "Here's my favorite hike", or "I own the fastest production sailboat, come out with me".  I base my entire broadcast for the summer on what listeners tell me to do.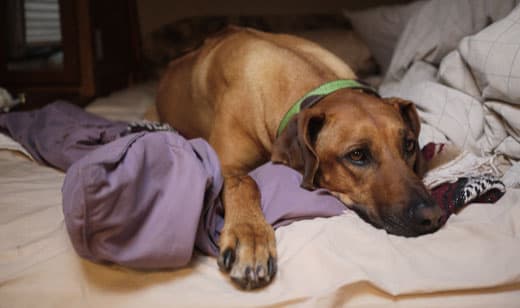 Above: Comox relaxing in the Arctic Fox
TCM: Do your wife, dog, and cat come with you on your work trips?
Paul: Most of the time Devon and Comox, our dog, comes with me.  Comox is a glacial valley on Vancouver Island.  Our cat stays home.  He doesn't like car trips.  We give him food for a few days and we're off.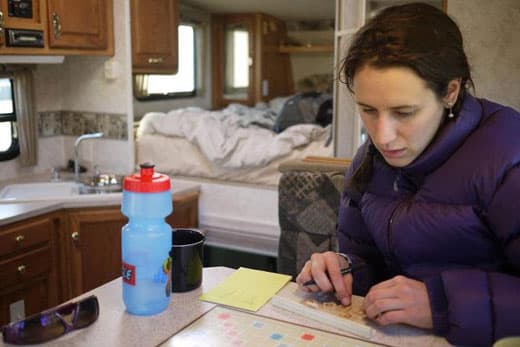 Above: Devon playing a little Scrabble before hitting the slopes
TCM: Our truck camping cat, Harley, would never stand for that.  Tell us about your truck camper lifestyle outside of work.
Paul: We use our camper all the time for other things.  Our friends just got married in Canmore.  We parked in the hall parking lot and, once we partied, we made our way to the camper and slept there for the night.
Last Christmas, we drove the camper out to the coast.  Our family had a houseful of people and we stayed in the camper.
July 28th we got married and a whole bunch of people from out of town came in for the wedding.  Our truck camper became an impromptu guest room.  People were actually fighting about who would stay the truck camper.
TCM: What's next for you and your truck camping lifestyle?
Paul: Devon and I are talking about trying for a kid in the near future. We'll make the Fox a big part of our kid's life.  We fully intend to keep camping in it.  We'll still do the same stuff, but with a little one.  That's what we hope the future holds.
PAUL AND DEVON KARCHUT'S TRUCK CAMPER RIG
Truck: 2003 GMC 3500HD, extended cab, single rear wheel, long bed, 4×4, diesel
Camper: 2005 Arctic Fox 990
Tie-downs and Turnbuckles: Custom
Suspension Enhancements: Firestone airbags, Bilstein shocks, Two extra leaf springs, rear stabilizer bar
Gear: Turned the bathroom into gear closet that is now a muddy boot area and five pairs of skis fit in that area