My wife loves it when we go biking on the Rails to Trails.  We enjoy our bike trips.  And when we come back hot and exhausted, we have our refrigerator, so we can cook lunch, get a cold drink, and go back out if we want.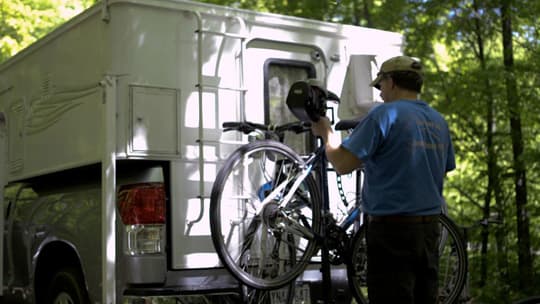 Above: Marian, Jack, and their kids like to go bike riding while truck camping
TCM: So, what's next?
Jack: In July we are taking a trip in Vermont for a three to four day bike trip.  Then we'll travel to Bar Harbor, Maine.  We are taking the truck camper with our bike racks on the front and back.  The five of us are all going truck camping together.
TCM: That's a lot of folks in a pop-up truck camper.
Jack: It will be great!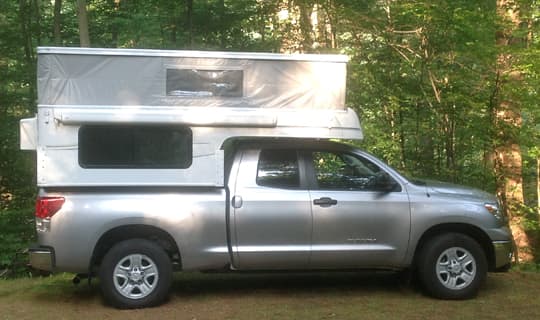 Above: Jack's Toyota Tundra and Phoenix Pulse in Red Bridge, near Kane, Pennsylvania
TCM: What kind of fuel mileage are you getting?
Jack: On my trip to Virginia, I was getting 17.2 miles per gallon with my Toyota Tundra and Phoenix Custom Camper.  I  have the smaller V8 gas engine.  My truck is good with gas mileage and has excellent power.  Gas mileage is really important to me with the price of fuel.
My truck and camper are actually better than I envisioned them to be.  It's a nice looking streamlined rig.  People stop me just to look at it.  At an art show last year, I had people stop me.  They weren't interested the show.  They just wanted to see inside the camper.  They had never seen anything like it.
I'm trying to take good care of it because I want the camper to last a long time.  If something happened to it, I'd definitely get another.
Truck: 2012 Toyota Tundra, extended cab, short bed, single rear wheel, 4×4, gas
Camper: 2012 Phoenix PULSE
Tie-downs/Turnbuckles: Phoenix's tie-downs/turnbuckles
Suspension: Firestone airbags, summer tire and a studded winter tire
Gear: A carrier tray that goes on the hitch for cargo, when at shows Jack hauls a utility trailer for art supplies