TCM: What subjects do you paint while truck camping?
Jack: I just got back from Virginia.  I was out spring turkey hunting.  The rules are that you only hunt until noon.  So, after noon, I was out painting Plein Airs.
I mostly paint Plein Air landscapes on location.  I photograph a lot of wildlife, but a lot of the wildlife I paint is added at my home studio.  I paint the landscape and then bring the animals in.  It's like putting a puzzle together.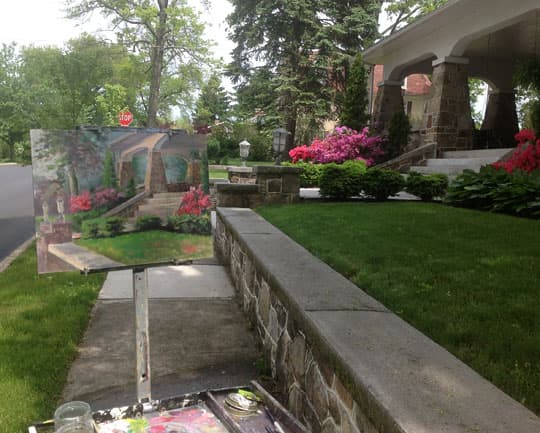 Above: Plein Air painting in Camp Hill, Pennsylvania
I painted a house at a Plein Air painting conference with fifty other artists in downtown Camp Hill, Pennsylvania.  That area has some of the most beautiful homes dressed with gardens and flowers.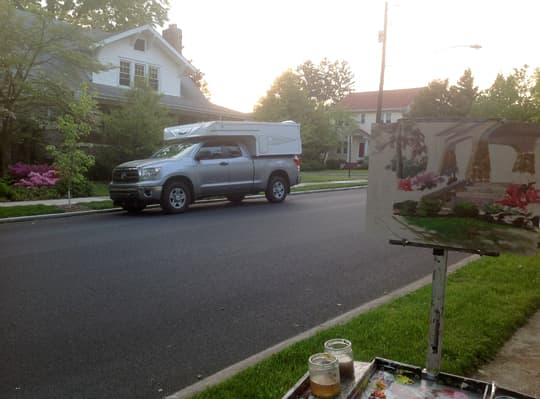 Above: Jack's camper wasn't in the way and didn't seem out of place on the street
The cool thing was that the camper didn't seem out of place on the street.  It doesn't look like a big RV or bus on the road.  It fits in because it's so small and blends in.
Above: Jack using his roof to paint from a different perspective
TCM: So you use your roof as a platform to paint?
Jack: If I'm painting vistas and want a different angle, it's nice to be able to get on the roof and paint from that perspective.  Robby made me a pair of styrofoam and wood "snow shoes" that allow me to be on the roof without damaging the camper.  With his solution, the easel legs can be mounted on the roof without damaging the roof.  Being able to paint from the roof was very important to me.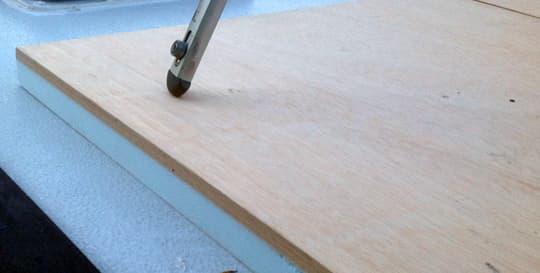 Above: The wood and styrofoam platform that Robby customized for Jack's tripod
The hardest thing about painting outdoors is finding the spot, and chasing the sunlight.  In the morning I try to drive around and find good areas.  Then I'll come back the next morning and paint with the same light.  But, sometimes I like to be spontaneous.   Sometimes I spend more time finding a spot than painting.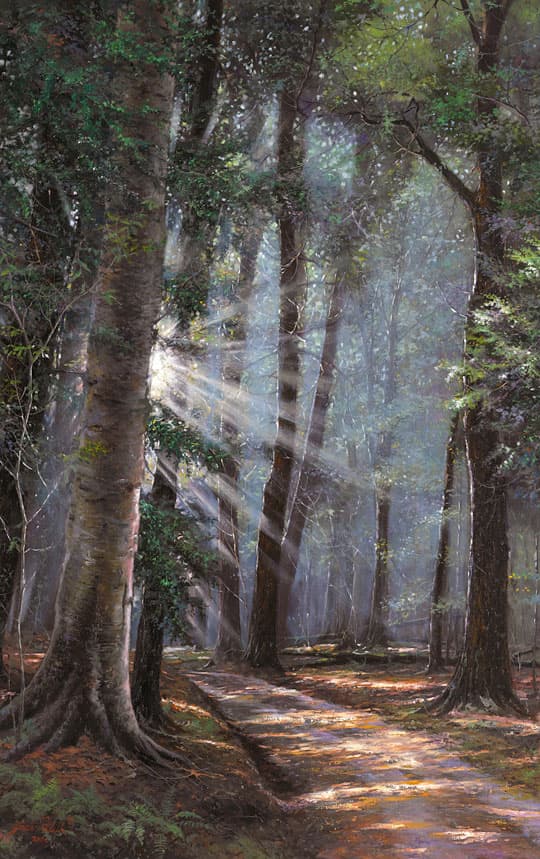 Above: Jack's painting from Cook Forest, Pennsylvania along the Fire Trail
TCM: How long does it take to paint your paintings?
Jack: The larger paintings I paint in my studio take between a week and a month.  The Plein Air paintings take one to three hours.  Those are 9×12 or 8×10, and no bigger than 12×16.  The more you can do in the field, the more insight you can bring home to the studio to work from.