I also love the design with the shower and cassette toilet.  I can even reach the shower nozzle from outside; though the back door and screen.  When we had sand on us, I just pulled the shower nozzle and hose from inside and washed the sand off.  It's like having an inside and outside shower in one.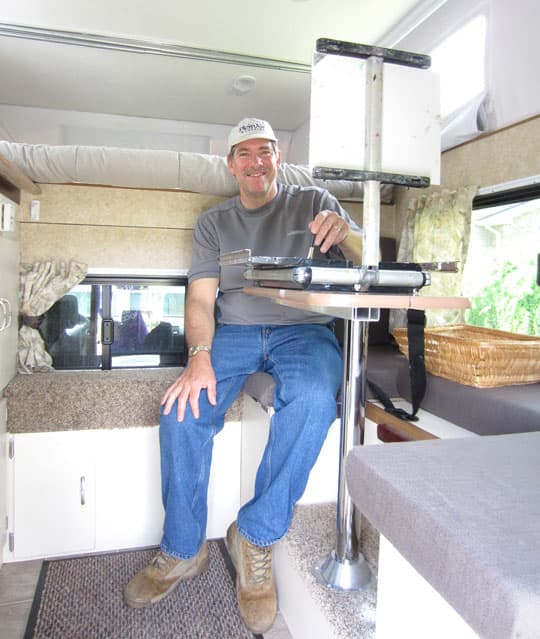 Above: Jack likes to touch up his field studies inside his camper
The table was a little small, so I had a friend who builds tables make me one.  I do my field studies outside, but like to touch them up inside the camper.
The first year I got the camper, I drained the water tank and cleared the lines for winter, but overlooked the on demand water heater tank.  After the winter I fired it up, and had water shooting out of the on demand water heater.  I didn't know I had to do it.  Robby just shipped me one.  That's a feather in his cap.  He wants me to be happy about my camper.  I put it in and it works fine.  This past fall I knew to run the antifreeze.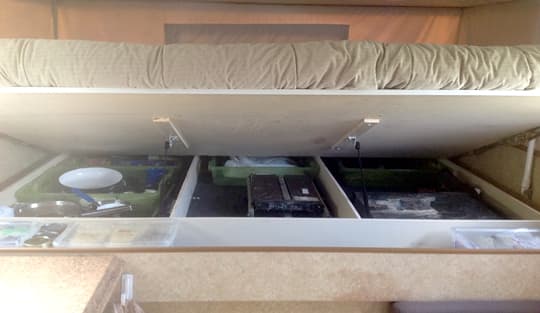 TCM: Why is a truck camper the best solution for your painting?
Jack: A truck camper is the perfect package for an artist.  Under the queen size bed, there is storage with compartments.  I have spots for my painting box, tripod, and canvas.  I can also bring extra clothing in there.  The spot underneath the bed is perfect.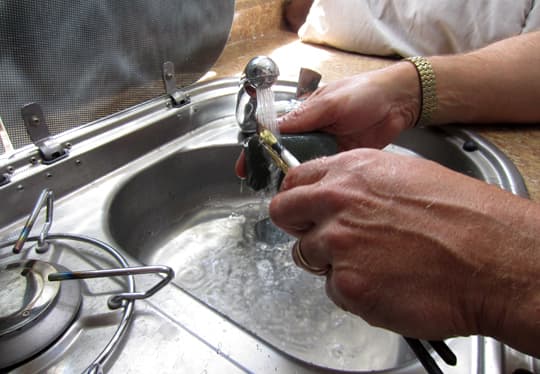 Above: Washing brushes in the sink
The sink is great because it's large enough to wash brushes.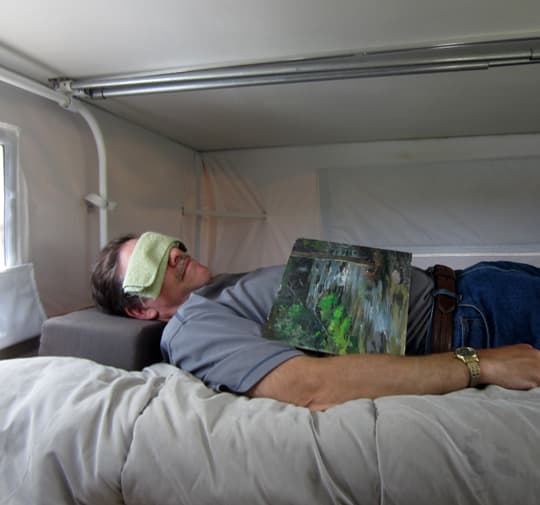 Above: Jack resting his eyes after painting outdoors
Artists put a lot of strain on their eyes painting outdoors.  It's nice to put a washcloth over your eyes, lay on the bed for a half hour, and then you're ready to go again.  You don't have that opportunity that when you're traveling in a car.  With my camper, I can take a break in between paintings.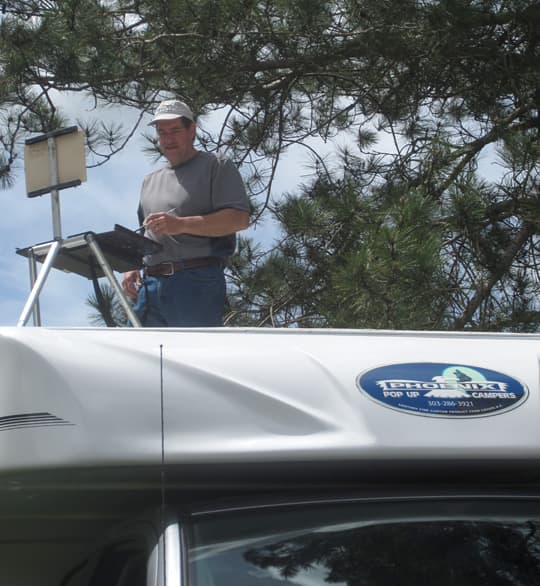 Above: Plein Air paintings are done on the road to capture the colors in the scene Jack is painting
TCM: Tell us about how you paint on the road.
Jack:  I do Plein Air paintings on the road, which is french for open air painting.   I use the Plein Air paintings as a tool and then come into my studio and do the larger paintings.
Your eyes see better than a camera.  My color notes in the Plein Air paintings are for the larger paintings I do in the studio.  I could photograph the scene I want to paint, but the color temperatures in a photograph are different than the actual place I'm capturing.
An example is when you are on vacation.  You will see some beautiful scenes, like sunsets.  You'll look at your pictures, and realize that it looked better when you were there.  Your eye is a better camera.  When people see my paintings I want them to feel like they can walk into them.