Artist and outdoorsman, Jack Paluh, perches his easel on the roof of his Phoenix Custom Camper and paints the outdoors.  He's also something of a truck camping magician.

Making a living as an artist can be a serious challenge.  While society rarely questions the value of pilots, programmers, plumbers, and parole officers, good luck if you're a painter.  Unless you're very good, and willing to work your proverbial tail off, being a professional artist is usually the stuff of hopes and dreams.
Meet Jack Paluh.  Not only is Jack living the dream of being a professional painter, but he happens to do it from his Phoenix Custom Camper.  Whether painting from the perspective of his pop-up camper roof, or camping at an art show, Jack sees his camper as a powerful tool for his passion, and profession.
Other than being an artist and an outdoorsman, Jack is also something of a truck camping magician.  For example, Jack managed to dry camp in Harrisburg, Pennsylvania for a sub-freezing week this past January.  Most of us wouldn't try that feat in a four-season hard side, much less a pop-up, but Jack pulled off this impressive feat with just one battery.  That's right folks, one battery.
Another feat of daring Jack describes is taking his family of five truck camping.  Five people in a pop-up?  Perhaps Jack's more of a dare devil than a magician.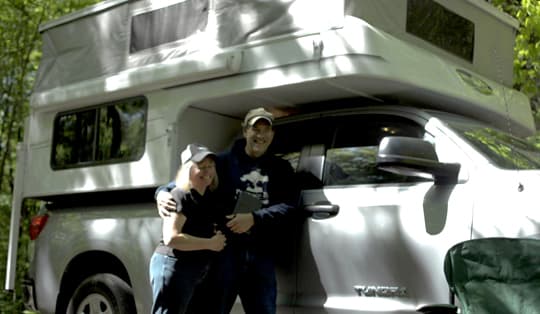 Above: Marian and Jack Paluh and their Phoenix PULSE camper
TCM: How did you get into truck camping?
Jack: This is my first truck camper.  My wife was a little skeptical about getting it, but she goes along with me if I feel strongly about something.  I never physically saw a Phoenix Custom Camper before I got mine.  I went on what I saw on the internet, read reviews, and read forums.  I asked people the pros and cons.
I bought my camper sight unseen.  That seemed a little crazy because I live in Pennsylvania and Phoenix Campers are built in Colorado.  To not see something I put a deposit on made me nervous, so I was biting my nails.
When I saw my camper, my mouth dropped.  I was very impressed.  It's hand made, not factory made.  And it's nice quality.  The thing about Robby is that he likes a challenge.  To everything I asked he said, "Yeah, I can do that".  There wasn't anything he couldn't do.  He's an artist himself, and I like that about him.
TCM: What did you specify for your custom build?
Jack: I wanted a compact and fully self-contained unit.  I have air conditioner, an awning, LED lights, heater, refrigerator, and a solar panel.  The solar panel really works.  It is constantly trickle charging my AGM battery.
I have older children, and they still like to go camping with us.  My youngest is still at home, but the older ones are on their own.  I was thinking, "Should I get a twenty-five to thirty foot travel trailer?"  I couldn't see hauling a big trailer.  Travel trailer owners tend to stay in one place for extended periods.  I like to venture out and be in a different spot every day.  I like to paint different scenes every day.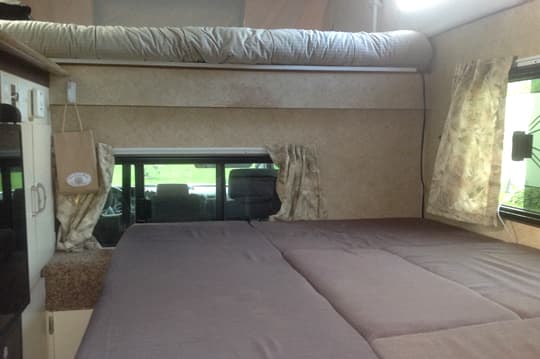 Above: The extender for the lower bed allows for a bigger bed in the main area of Jack's camper
My little Phoenix can fit five people.  Robby made an extender for the lower bed, and the dinette goes to a single bed.  It's hard to believe.  We can bring a tent along, if we need more sleeping space.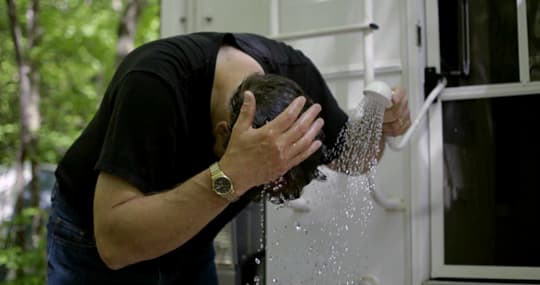 Above: Using the inside shower as an outside shower