Artist and outdoorsman, Jack Paluh, perches his easel on the roof of his Phoenix Custom Camper and paints the outdoors.  He's also something of a truck camping magician.

Making a living as an artist can be a serious challenge.  While society rarely questions the value of pilots, programmers, plumbers, and parole officers, good luck if you're a painter.  Unless you're very good, and willing to work your proverbial tail off, being a professional artist is usually the stuff of hopes and dreams.
Meet Jack Paluh.  Not only is Jack living the dream of being a professional painter, but he happens to do it from his Phoenix Custom Camper.  Whether painting from the perspective of his pop-up camper roof, or camping at an art show, Jack sees his camper as a powerful tool for his passion, and profession.
Other than being an artist and an outdoorsman, Jack is also something of a truck camping magician.  For example, Jack managed to dry camp in Harrisburg, Pennsylvania for a sub-freezing week this past January.  Most of us wouldn't try that feat in a four-season hard side, much less a pop-up, but Jack pulled off this impressive feat with just one battery.  That's right folks, one battery.
Another feat of daring Jack describes is taking his family of five truck camping.  Five people in a pop-up?  Perhaps Jack's more of a dare devil than a magician.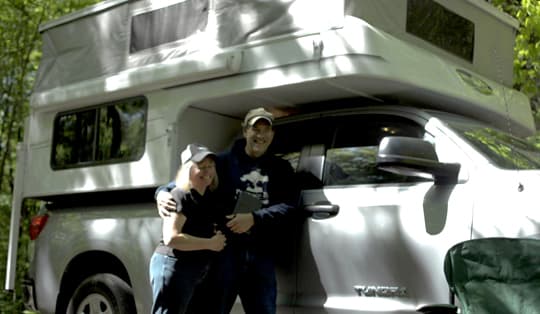 Above: Marian and Jack Paluh and their Phoenix PULSE camper
TCM: How did you get into truck camping?
Jack: This is my first truck camper.  My wife was a little skeptical about getting it, but she goes along with me if I feel strongly about something.  I never physically saw a Phoenix Custom Camper before I got mine.  I went on what I saw on the internet, read reviews, and read forums.  I asked people the pros and cons.
I bought my camper sight unseen.  That seemed a little crazy because I live in Pennsylvania and Phoenix Campers are built in Colorado.  To not see something I put a deposit on made me nervous, so I was biting my nails.
When I saw my camper, my mouth dropped.  I was very impressed.  It's hand made, not factory made.  And it's nice quality.  The thing about Robby is that he likes a challenge.  To everything I asked he said, "Yeah, I can do that".  There wasn't anything he couldn't do.  He's an artist himself, and I like that about him.
TCM: What did you specify for your custom build?
Jack: I wanted a compact and fully self-contained unit.  I have air conditioner, an awning, LED lights, heater, refrigerator, and a solar panel.  The solar panel really works.  It is constantly trickle charging my AGM battery.
I have older children, and they still like to go camping with us.  My youngest is still at home, but the older ones are on their own.  I was thinking, "Should I get a twenty-five to thirty foot travel trailer?"  I couldn't see hauling a big trailer.  Travel trailer owners tend to stay in one place for extended periods.  I like to venture out and be in a different spot every day.  I like to paint different scenes every day.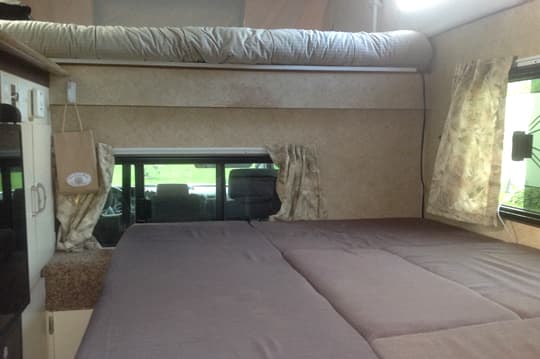 Above: The extender for the lower bed allows for a bigger bed in the main area of Jack's camper
My little Phoenix can fit five people.  Robby made an extender for the lower bed, and the dinette goes to a single bed.  It's hard to believe.  We can bring a tent along, if we need more sleeping space.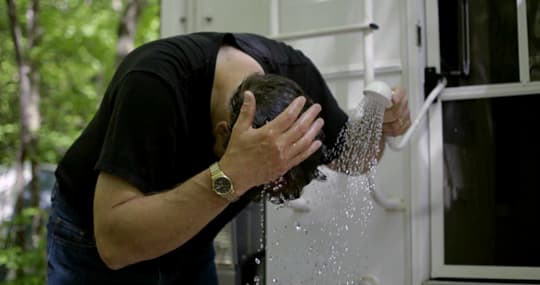 Above: Using the inside shower as an outside shower
I also love the design with the shower and cassette toilet.  I can even reach the shower nozzle from outside; though the back door and screen.  When we had sand on us, I just pulled the shower nozzle and hose from inside and washed the sand off.  It's like having an inside and outside shower in one.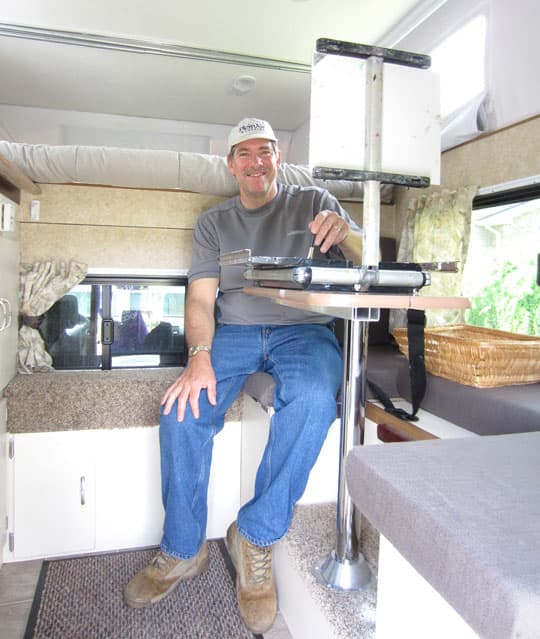 Above: Jack likes to touch up his field studies inside his camper
The table was a little small, so I had a friend who builds tables make me one.  I do my field studies outside, but like to touch them up inside the camper.
The first year I got the camper, I drained the water tank and cleared the lines for winter, but overlooked the on demand water heater tank.  After the winter I fired it up, and had water shooting out of the on demand water heater.  I didn't know I had to do it.  Robby just shipped me one.  That's a feather in his cap.  He wants me to be happy about my camper.  I put it in and it works fine.  This past fall I knew to run the antifreeze.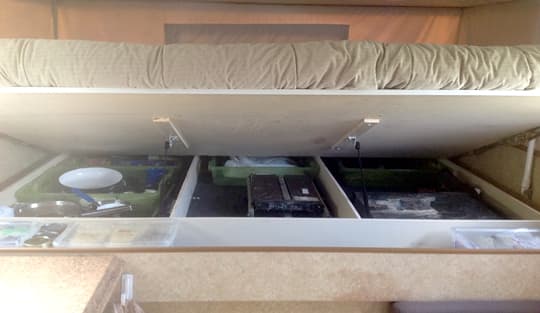 TCM: Why is a truck camper the best solution for your painting?
Jack: A truck camper is the perfect package for an artist.  Under the queen size bed, there is storage with compartments.  I have spots for my painting box, tripod, and canvas.  I can also bring extra clothing in there.  The spot underneath the bed is perfect.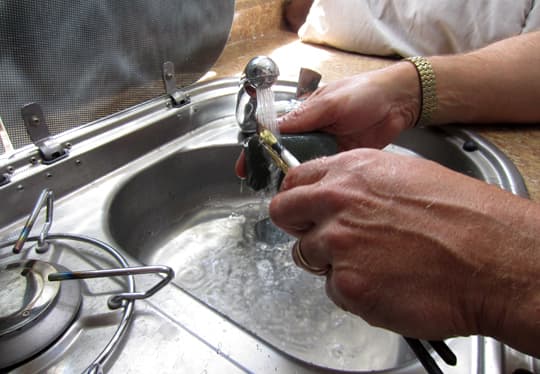 Above: Washing brushes in the sink
The sink is great because it's large enough to wash brushes.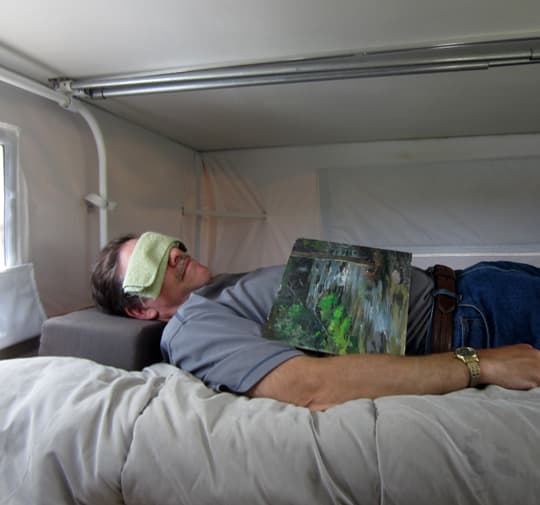 Above: Jack resting his eyes after painting outdoors
Artists put a lot of strain on their eyes painting outdoors.  It's nice to put a washcloth over your eyes, lay on the bed for a half hour, and then you're ready to go again.  You don't have that opportunity that when you're traveling in a car.  With my camper, I can take a break in between paintings.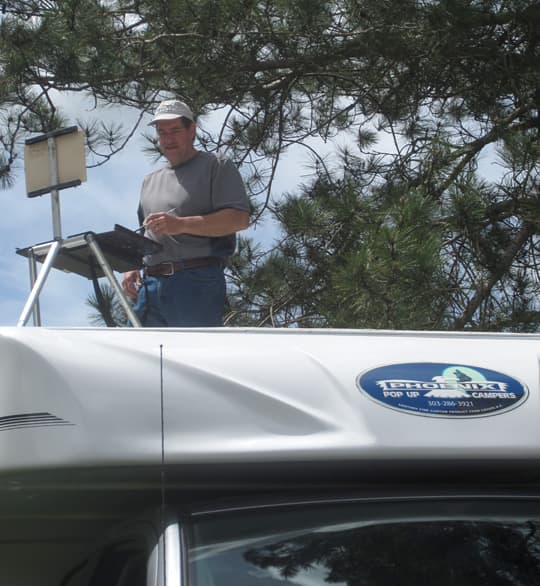 Above: Plein Air paintings are done on the road to capture the colors in the scene Jack is painting
TCM: Tell us about how you paint on the road.
Jack:  I do Plein Air paintings on the road, which is french for open air painting.   I use the Plein Air paintings as a tool and then come into my studio and do the larger paintings.
Your eyes see better than a camera.  My color notes in the Plein Air paintings are for the larger paintings I do in the studio.  I could photograph the scene I want to paint, but the color temperatures in a photograph are different than the actual place I'm capturing.
An example is when you are on vacation.  You will see some beautiful scenes, like sunsets.  You'll look at your pictures, and realize that it looked better when you were there.  Your eye is a better camera.  When people see my paintings I want them to feel like they can walk into them.
TCM: What subjects do you paint while truck camping?
Jack: I just got back from Virginia.  I was out spring turkey hunting.  The rules are that you only hunt until noon.  So, after noon, I was out painting Plein Airs.
I mostly paint Plein Air landscapes on location.  I photograph a lot of wildlife, but a lot of the wildlife I paint is added at my home studio.  I paint the landscape and then bring the animals in.  It's like putting a puzzle together.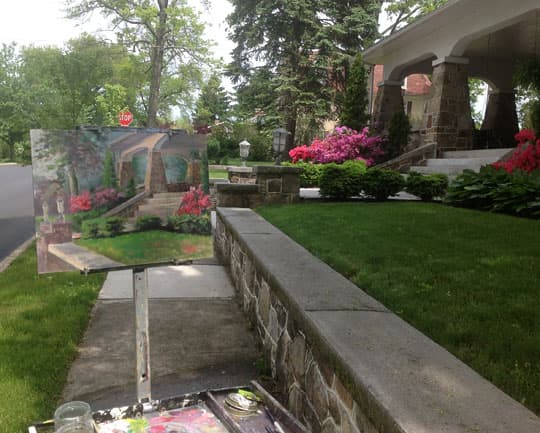 Above: Plein Air painting in Camp Hill, Pennsylvania
I painted a house at a Plein Air painting conference with fifty other artists in downtown Camp Hill, Pennsylvania.  That area has some of the most beautiful homes dressed with gardens and flowers.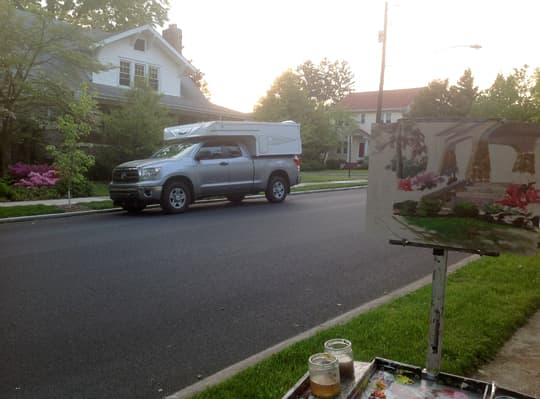 Above: Jack's camper wasn't in the way and didn't seem out of place on the street
The cool thing was that the camper didn't seem out of place on the street.  It doesn't look like a big RV or bus on the road.  It fits in because it's so small and blends in.
Above: Jack using his roof to paint from a different perspective
TCM: So you use your roof as a platform to paint?
Jack: If I'm painting vistas and want a different angle, it's nice to be able to get on the roof and paint from that perspective.  Robby made me a pair of styrofoam and wood "snow shoes" that allow me to be on the roof without damaging the camper.  With his solution, the easel legs can be mounted on the roof without damaging the roof.  Being able to paint from the roof was very important to me.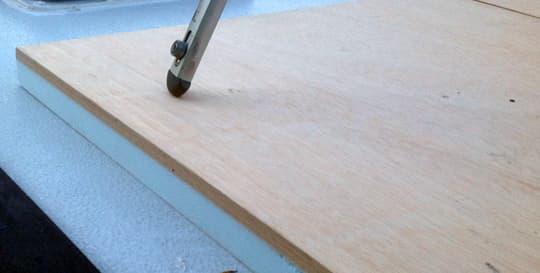 Above: The wood and styrofoam platform that Robby customized for Jack's tripod
The hardest thing about painting outdoors is finding the spot, and chasing the sunlight.  In the morning I try to drive around and find good areas.  Then I'll come back the next morning and paint with the same light.  But, sometimes I like to be spontaneous.   Sometimes I spend more time finding a spot than painting.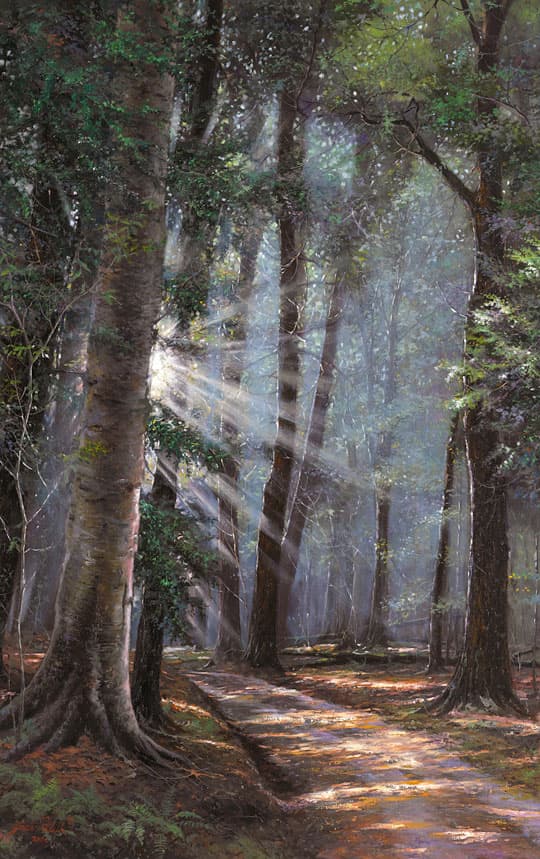 Above: Jack's painting from Cook Forest, Pennsylvania along the Fire Trail
TCM: How long does it take to paint your paintings?
Jack: The larger paintings I paint in my studio take between a week and a month.  The Plein Air paintings take one to three hours.  Those are 9×12 or 8×10, and no bigger than 12×16.  The more you can do in the field, the more insight you can bring home to the studio to work from.
Once I'm back in the studio, I pull out a large canvas up to four feet by five feet.  I use the Plein Air painting as the reference.  Then, I'll paint it in a bigger format as a major painting.  With the Plein Air, my color notes are already done.  The Plein Air paintings are my reference points.
I was painting in Arizona a few years ago and would have loved to have the camper back then.  The camper has awnings that I could have been underneath to help avoid the swarming black flies.  When I finished the painting, it was full of black flies.  If I had been under an awning I don't think there would have been as many, because black flies don't like shadowed areas.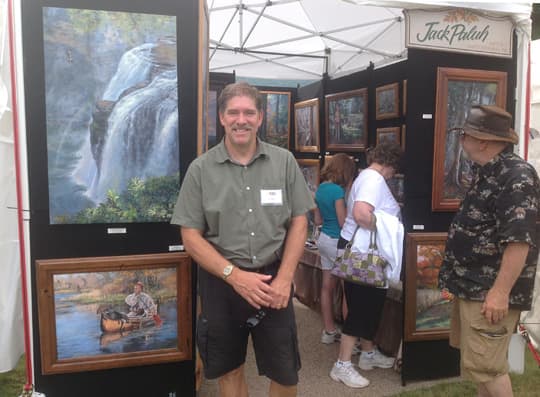 Above: Having the camper at the art shows makes it easier because his bathroom and refrigerator are close by
TCM: Tell us about using your truck camper for working art shows.
Jack: I wish the camper was shown in the picture I sent you.  It was directly behind the tent where I was displaying my paintings.  It's nice to have all the conveniences of home in my camper when I work shows.  When I work shows myself, it's nice to use the restroom in the camper.  Some of the Porta Johns are three blocks away and you've got to leave your tent.  It's nice to have the bathroom and refrigerator right next to the tent.
At most shows I am allowed to park my rig near my art display, which means I can watch my display at night.  It's a good feeling that I'm right there and that I don't have to worry about it.
By having my camper, I've already saved about $3,000 in just one year in hotel bills.  There are some times I have to get hotel rooms because my wife likes ten minute showers instead of quick showers.  But, with how much I'm using it, the camper will pay for itself in no time at all.
Last year I went to the Pennsylvania Farm Show in Harrisburg and it was freezing.  The low temperatures were -2 to -5 Fahrenheit.  In my camper I have a 19,000 BTU furnace.  With it running I could keep the camper 68 to 70 degrees inside.  After the show at night, I was in my pajamas watching football.  It was so nice.  That insulated pop-top really keeps the camper warm.  I was really surprised.  I was in there twelve nights during the show.
TCM: That's extraordinary.  Were you plugged in or dry camping?
Jack: I was dry camping.  However, when I went inside the show during the day, I had an electrical outlet.  So, I took the battery out of the camper each day, wheeled it into the show, and hooked it up to my battery charger.  Each night I had a full charge.
The AGM battery I have is conveniently located right under the dinette seat.  All I had to do was put the terminals on and it worked fine.  The solar panel works but, with that extremely cold weather, I wanted a full charge.  I saved probably about $1,100 dollars that week in hotel bills.
TCM: Where can people see examples of your work?
Jack: By appointment here at my home studio.  I also go to about twenty-four shows a year in Pennsylvania, New York, and Ohio.  I have a listing of the shows where I will be displaying at on my website, www.jackpaluh.com.
I like getting out to the shows to talk to people.  I've been in this business thirty-five years.  I see tremendous interest, but the markets have changed.  Years ago I had 100 galleries carrying my work.  Now I have to get out and show off my paintings.  It's a lot of shows to work.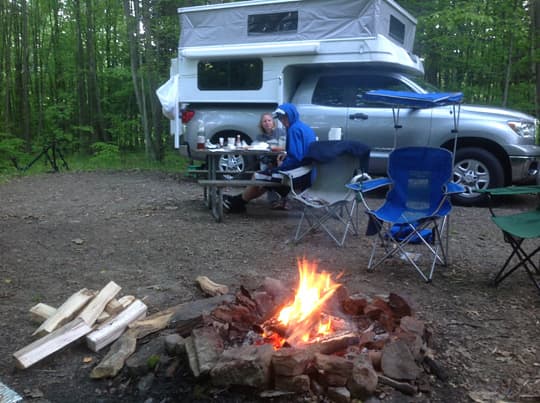 Above Marian and Jack camping in Red House, Allegany Forest, New York
TCM: Do you enjoy your truck camper for activities other than painting and working art shows?
Jack: We like the outdoors.  Since we got the camper, my wife has started to like camping.  For my birthday we went camping with my sons to Red House in the Allegheny Mountains.  I just love the evening campfires when we listen to birds and it's quiet.  We'll have coffee and tea.
It's great to get away, unwind, and get out of the stress of business.  I like to break it up, re-charge, and not always work.  I like just enjoying the outdoors.
My wife loves it when we go biking on the Rails to Trails.  We enjoy our bike trips.  And when we come back hot and exhausted, we have our refrigerator, so we can cook lunch, get a cold drink, and go back out if we want.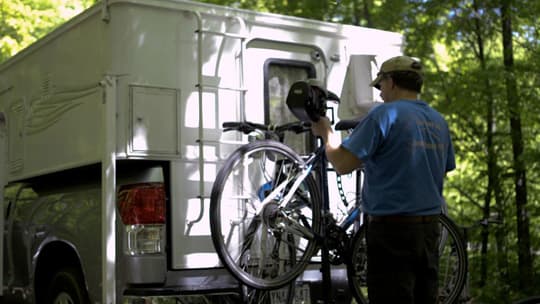 Above: Marian, Jack, and their kids like to go bike riding while truck camping
TCM: So, what's next?
Jack: In July we are taking a trip in Vermont for a three to four day bike trip.  Then we'll travel to Bar Harbor, Maine.  We are taking the truck camper with our bike racks on the front and back.  The five of us are all going truck camping together.
TCM: That's a lot of folks in a pop-up truck camper.
Jack: It will be great!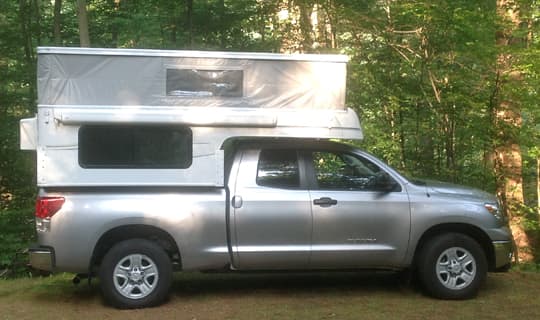 Above: Jack's Toyota Tundra and Phoenix Pulse in Red Bridge, near Kane, Pennsylvania
TCM: What kind of fuel mileage are you getting?
Jack: On my trip to Virginia, I was getting 17.2 miles per gallon with my Toyota Tundra and Phoenix Custom Camper.  I  have the smaller V8 gas engine.  My truck is good with gas mileage and has excellent power.  Gas mileage is really important to me with the price of fuel.
My truck and camper are actually better than I envisioned them to be.  It's a nice looking streamlined rig.  People stop me just to look at it.  At an art show last year, I had people stop me.  They weren't interested the show.  They just wanted to see inside the camper.  They had never seen anything like it.
I'm trying to take good care of it because I want the camper to last a long time.  If something happened to it, I'd definitely get another.
Truck: 2012 Toyota Tundra, extended cab, short bed, single rear wheel, 4×4, gas
Camper: 2012 Phoenix PULSE
Tie-downs/Turnbuckles: Phoenix's tie-downs/turnbuckles
Suspension: Firestone airbags, summer tire and a studded winter tire
Gear: A carrier tray that goes on the hitch for cargo, when at shows Jack hauls a utility trailer for art supplies