Down a twisty mountain side logging route deep in the cold Canadian wilderness we find Orian Hartviksen and her husband camping for free in their Northern Lite 8-11.

In her interview with Truck Camper Magazine, Orian Hartviksen describes camping overnight in their Northern Lite 8-11 in temperatures as low as -15 degrees Celsius.  At first blush that sounded very cold, but when we converted -15 degrees Celsius to Fahrenheit, we almost fell out of our chairs; 5 degrees Fahrenheit!  We haven't experienced 5 degrees Fahrenheit in any situation, much less attempted to camp overnight in a truck camper in such frigid conditions.
The fact that the Hartviksens are able to camp comfortably in their Northern Lite 8-11 in temperatures that insanely cold is a real testament to the insulation properties of Northern Lite truck campers, and the bravery (or foolishness) of the Hartviksens.  Naturally we expect Orian and her husband burned their fare share of propane to survive these bitter temps, but it's still an impressive feat.  What's equally impressive is that their Ford diesel started up the next morning.
To kick off Ladies Week 2012, Orian shares her truck camping story, from how her and her husband became  truck campers, to their daring off-road and off-the-grid journeys down Canadian logging routes.  For two folks that only started truck camping two years ago, they sure jumped into the deep end quickly.
Put everything away.  Close all the windows and vents.  Pull up the rear step and check the turnbuckles.  Orian is about to put the truck into four wheel drive and take us past the pavement to where things get interesting.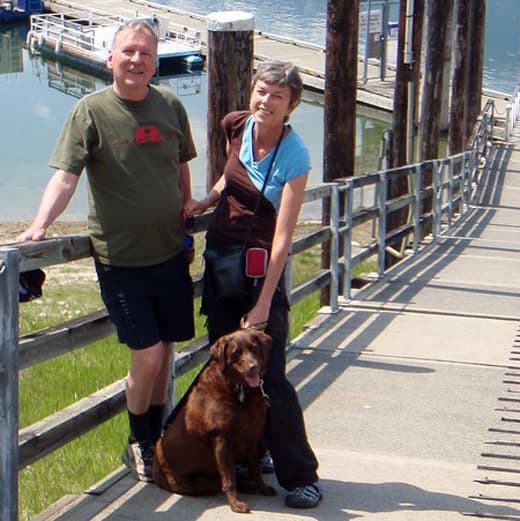 Above: Alf, Orian, and Poppy Hartviksen in Upper Arrow Lake, British Columbia
TCM: Tell us how you got into camping.
Orian: We spent many summers boating with our family and on our own on the west coast between Vancouver island and the mainland when we lived in Vancouver.  We also did a la little tent camping with our kids when they were young.
In 2003, we moved to the Okanagan and ended up with a bunch of friends who went camping.  I was also involved in dragon boating and would camp at dragon boat festivals.  We were tenting on the ground and I would wake up sore and cold.  We're too old for that, so we decided we were going to get something more comfortable.
We started off with no idea of what we wanted.  Having mountains to the east and west of us, we wanted something rugged so we could to get into the mountains and the boondocking forestry campsites.  We are not fans of big RV parks.
First we looked at Class B motorhomes, but the ceilings were too low for us.  I'm just under six feet tall and my husband is over six feet tall.  We also have a seventy pound chocolate lab that needs more floor space than the Class Bs offer.
For a time we were all over the map trying to decide what we might get.  Then my son, who's really into trucks, suggested we look into truck campers.
We spent months looking at different truck campers to find just the right fit for our particular needs.  We wanted a truck camper that would fit on a short box truck.  We needed it to be roomy enough for tall people, with a big bed, and a big refrigerator.  And we definitely wanted the camper to be within our truck's stated payload.
By the time we were done our research, we had learned all about truck and camper matching, loading, and a myriad of other useful information.  We were able to custom order both our truck and camper new, and configured as desired.  As a result of our extensive research, we wouldn't change a thing about our original purchase two years later.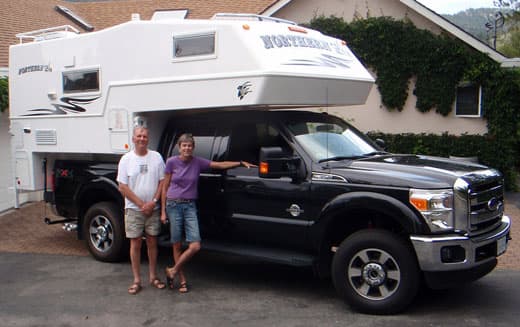 TCM: After all that research, which truck camper did you eventually purchase?
Orian: We bought a Northern Lite 8-11.  Not only did we hear good things about Northern Lite, but we found good reviews of their campers as well.  Lucky for us, Northern Lite is just an hour and a half from where we live.  We went on a tour of the factory and saw how they are made.  Keith Donkin, General Manager of Northern Lite, gave us the tour.  As boaters, we appreciate the benefits of the molded fiberglass shell construction.  The Northern Lite has everything we wanted and it's made really well too!    
TCM: It's great that you were able to choose your camper first.  We always recommend that people choose their truck campers first, then calculate what that camper will weigh with their desired options, fully wet, with tie-downs, turnbuckles, likely suspension enhancement products, people weight, and cargo.  Once you have that total weight, you can purchase a truck with at least that much payload, preferably more.  How did you go about finding a suitable truck?