David: We keep log books day by day when we travel.  We have always done that.  Our first entry was on July 19th, 2008 when we purchased the Hallmark.
Where do you like to go while you're on the road?  And what do you enjoy doing?
David: We really enjoy fly fishing when we go to Montana.  I lived in Montana as a kid and fondly remember fishing a lot.  Some of our favorite places to camp in Montana include the north fork of the Flat Head River, the Upper Madison River, and the Yellowstone River.  We also like the Smith River, but it's hard to get on.  Some of these rivers require a permit that limits the number of people on the river per day.  The Smith River, in particular, is hard to get a permit.
In all honesty, we've been camping for so long that we tend to repeat visit our favorite spots.  In Oregon this past summer, we went to the John Day River and camped in a few new places.  Before that, we hadn't explored Oregon much.
One of our favorite rivers is the North Fork of the Flathead which runs along the west boundary of Glacier National Park in Montana.  It is a three or four day float, so we pay someone to shuttle our truck camper to the take out, about fifty miles down stream.

Above: Camping on BLM land south of Cody, Wyoming
You call your camper the "Tin Tent".  Where did that name come from?
David: Years and years ago, when people were sleeping in a truck shell, they called it camping in a tin tent.  It's just an old expression from years gone by.
"Our Milner fits our short bed truck perfectly.  It has been a good decision for us."
Of course your camper is made from fiberglass so it could also be called a 'fiber tent' or maybe a 'glass tent'.  Is there anything you would like to add to your interview?
David: To keep the weight down, our camper does not have a bathroom.  On many of our river trips, we are required to bring a porta potty with us.  I don't want to fool around with black water or finding a place to hook-up.  From years of camping, I've learned that you get used to the feeling of being a little dirty.  That doesn't bother us much.
What's important is that the camper doesn't stick out past the truck bed.  Our Milner fits our short bed truck perfectly.  It's been a good decision for us.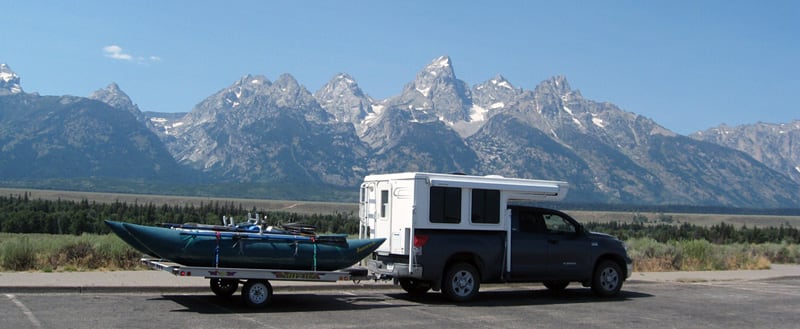 Above: Cruising through Grand Teton National Park, Wyoming
It's nearly impossible to stay as clean as we are accustomed to at home while traveling, no matter what camper you have.  Thanks for the interview, David.
You're welcome.
David and Molly Niven's Rig
Truck: 2008 Toyota Tundra, crew cab, single rear wheel, short bed, 4×4, gas
Camper: 2008 Hallmark Milner
Tie-downs and Turnbuckles: Chain turnbuckles
Suspension Enhancements:Air Bags
Gear: N/A