David: My wife, Molly, plays the cello.  Normally I'm not playing, but I have been known to play a guitar on the river.  We always bring a cello or baritone ukulele.  Molly has a good cello and has another cello she calls her river cello.  That's in a hard case and some plastic bags to keep it dry.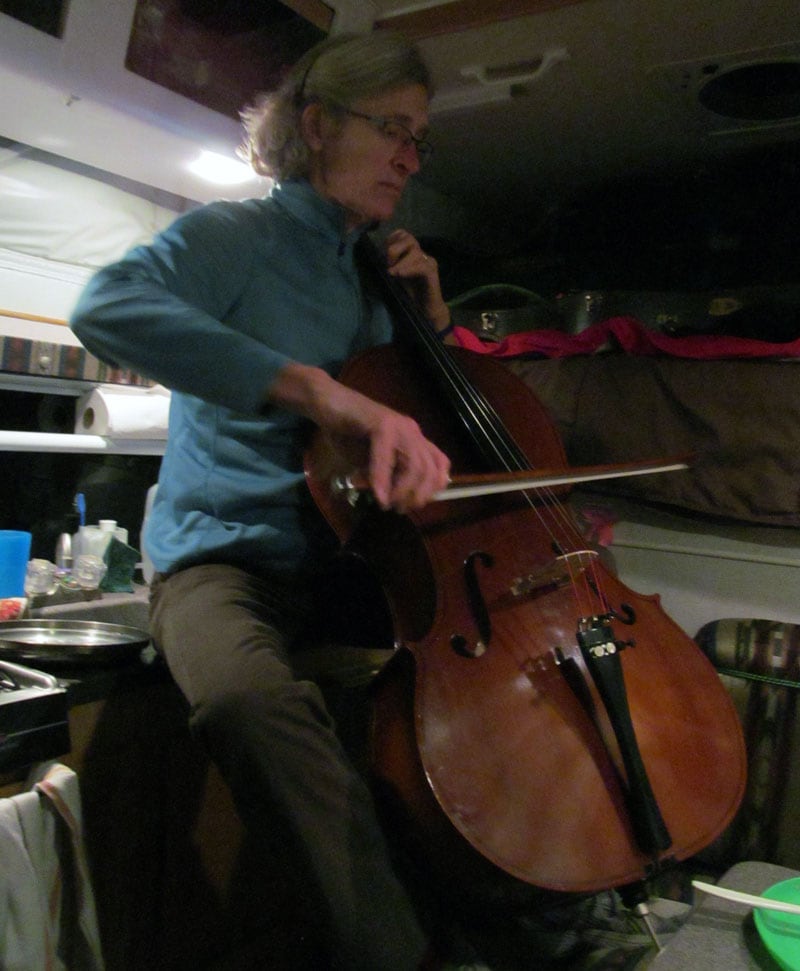 Above: Hot seat on the sink!  Molly figures out how to play the cello inside the Hallmark Millner with full range of motion, Trinidad State Park, Colorado
Molly is always striving to be better, so she's always practicing.  She has fun playing celtic music and it's nice to hear that out in the wilderness.  She started the cello three years ago.  Molly is a retired vocal music teacher and has always played piano.  She has also played guitar since she was a kid back in the old folk music days.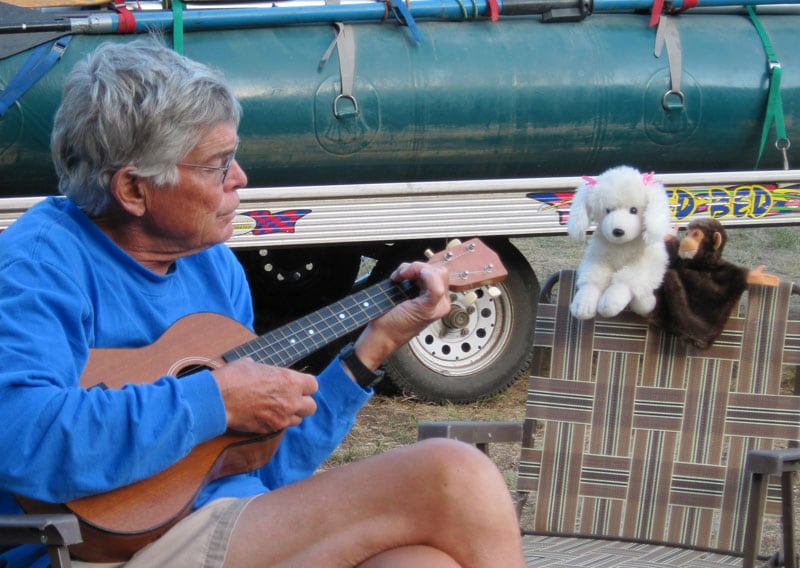 Above: David's evening serenade with the baritone ukulele on the North Fork of the Flathead River west of Glacier National Park
Occasionally people will listen in at a campground, but many times we're not in a campground.  That's one of the advantages of the truck camper.  We can go on forest service land or on a BLM road and find a place to camp.  We get the camper level and spend the night.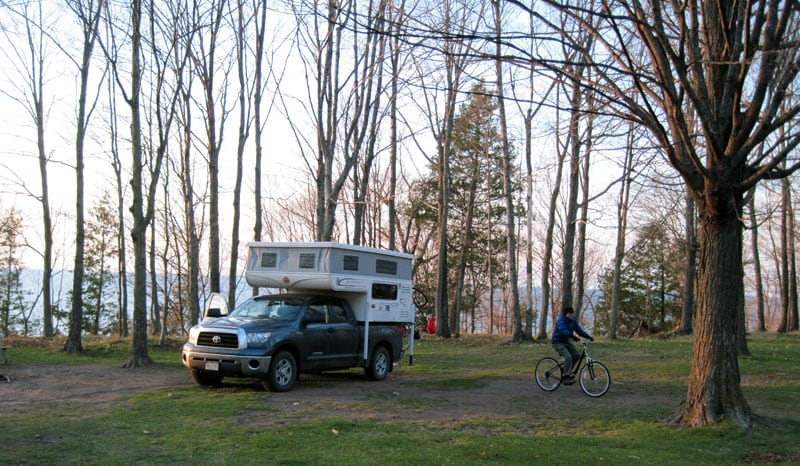 Above: National Forest Campground, Lake Superior, Michigan
Perhaps we should add, "Play Anywhere" to our tagline.  I like it.  Tell us about your trip back east.
David: Our longest trip was our trip to the southeast about two years ago.  We left around the beginning of October and got back in mid-November.  We started here in Colorado and traveled through Kansas, Oklahoma, Arkansas, Mississippi, Tennessee, Georgia, and then up the East Coast.
We went to Savannah, Charleston, and Wilmington, North Carolina and then drove across the Chesapeake Bay Bridge-Tunnel.  Then we went on to Annapolis, Maryland, Gettysburg, Pennsylvania, and eventually ended up on Long Island where our niece was married.  At that point I had to fly back to Colorado to teach, but Molly and her brother drove to New York, Pennsylvania, and the states coming back here to Colorado.
I lived in Texas when I worked for an oil company but never toured the South.  The fall is a good time to be there because the weather is delightful.  It was not hot.  I have an interest in the Civil War, and had never been to any battlefields.  We called the trip the Civil Wargasm.
"It was an overpowering experience. With the silence, the low afternoon sun, and the autumn leaves, it was breathtaking."
That's funny.  Which battlegrounds did you visit?
David: The first battlefield we visited, and the most mind boggling, was Shiloh.  It was a beautiful autumn afternoon, and no one was there.  All the fields were surrounded by cannons and historical markers indicating who had marched and who attacked whom.
Visiting Shiloh actually almost made us cry.  It was an overpowering experience.  In the heat of the summer, with hundreds of other people, it might have been different.  With the silence, the low afternoon sun, and the autumn leaves, it was breathtaking.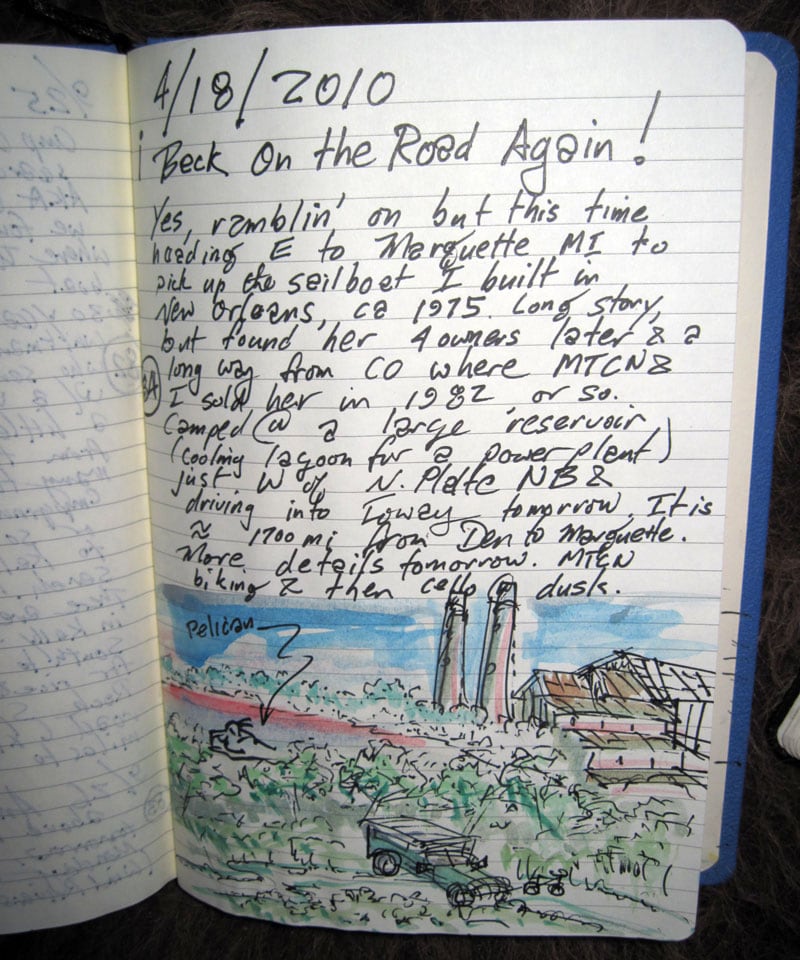 Above: David and Molly's log book of their adventures with their Hallmark
When did you start keeping a log book for your adventures?