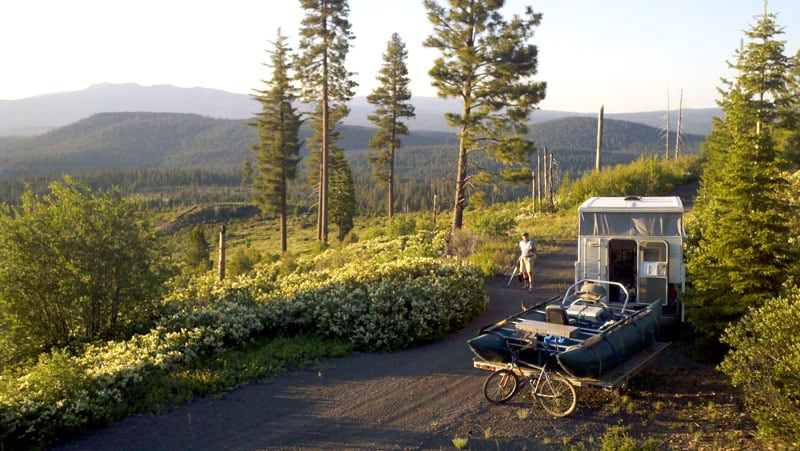 Above: Camping on National Forest land in southeast Oregon
What made you choose a Hallmark?
David: The quality and finish of our camper is really superior.  When it pops up, the soft wall panels are double thick with a layer of insulation.  It can't stop the really cold weather, but it certainly helps.  Hallmark campers also have great windows with a lot of light.
We live west of Golden, Colorado, about an hour and a half from Hallmark.  Whenever we've had something we wanted to address on the camper, we've stopped by the factory and Hallmark has helped us right away.  The level of support is phenomenal.
One example of us just stopping by was when one of the airbags on our truck had a valve that was bad.  They fixed that.  Another time we had weather stripping along the top of the camper and, with high wind conditions in the winter, it came loose.  They replaced it for us.  All of this was at no charge.  They won't let you pay them.
We had a minor problem on the road in Montana.  We called Hallmark and they helped us over the phone.  We went to a nearby ACE hardware store and were able to fix the problem in half an hour.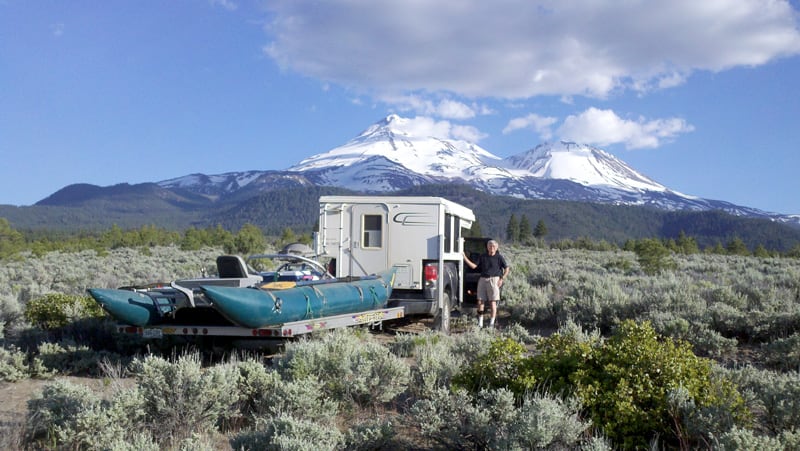 Above: Their Milner with their cataraft in tow on BLM north of Mt Shasta
Tell us about what you tow.
David: We have a raft trailer and put bikes on the raft.  Our boat is called a cataraft, like a catamaran.  It has two tubes, like pontoons that are held together by the rowing frame.  These big pontoons are sixteen feet long and two feet in diameter with an aluminum rowing frame.
We go to Oregon and Montana in the summer with our cataraft.  We've been on many of the major rivers in the west, which are the popular white water rivers in the states.  There are published white water rafting guides and more websites than you can count.  We used to actually take groups of family and friends.  Typically now it's just the two of us, and sometimes another couple.  We don't cater to big groups anymore.
There's a white water classification system that tells you the degree of difficulty of a river.   Class II and Class III are sort of intermediate, which means exciting and fun. Many of the rivers have pools and then drop through another rapid followed by pools and then drops through successive rapids.  That's normally the type of thing we do.  We have done more difficult rivers.
Molly also has an inflatable kayak.  These are suitable for white water if the water is not too cold and the weather is favorable.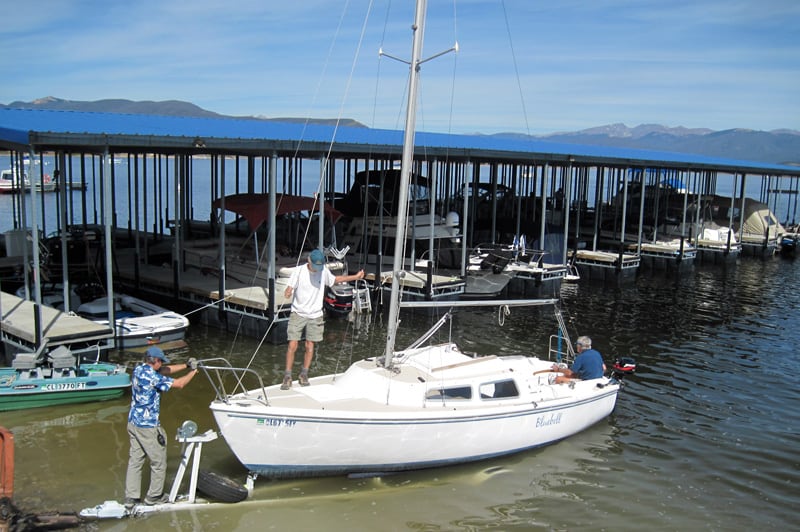 Above: Launching The Bluebell, their new thirty year old 22′ Catalina sailboat, on Lake Granby, Colorado
We also have a sailboat that we tow.  Last summer the sailboat was on Lake Granby in Colorado.  It stays there on the water and we stay in the camper.  We sail during the day and return to the camper in the evening, and then we sail again the next day.
"She has fun playing celtic music and it is nice to hear that out in the wilderness."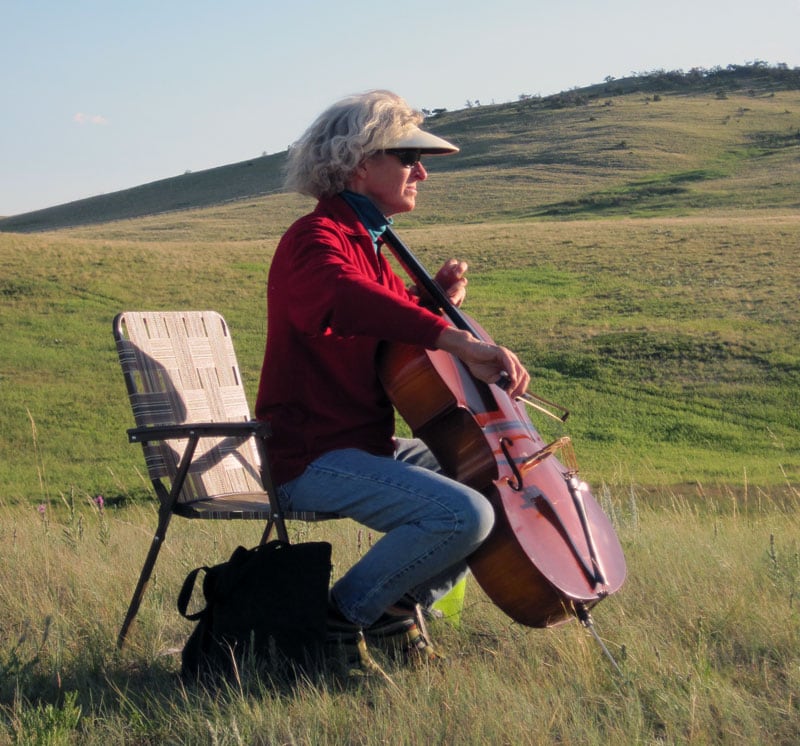 That sounds fantastic.  I see you both play musical instruments while you're on the road.  What instruments do you play?