Tom and Heidi Baldacci had never been RVing, never been to California, never been to a National Park, and had never been truck camping… until now.

When you leave home for a five month trip there are a few things that you're going to miss.  Friends and family are always at the top of our list followed by our shower, washer, and dryer.  Anyone who has been truck camping longer than a week should know exactly what we mean.
About five months before we left on our current five month trip, we met Tom and Heidi Baldacci and immediately hit it off as good friends.  For Angela and I, Tom and Heidi were a welcome breath of fresh air and we enjoyed every opportunity we could find to hang out with them.
When we told Tom and Heidi about our upcoming trip, they were bummed that we were leaving for so long, and intensely curious about our truck camping lifestyle.  Naturally we showed them our truck and camper and that only made them more curious.  Then it occurred to us;  why not invite Tom and Heidi to fly out and join us for a short adventure with our Adventurer so they could experience the truck camping lifestyle first hand.  Why not?
Tom and Heidi work full-time and the next possible vacation opportunity they had available was mid-June.  We were scheduled to be at Four Wheel Campers in Sacramento, California at that time and called Tom Hanagan, President of Four Wheel Campers, for a favor.  We asked Tom if we could borrow a truck and Four Wheel Camper for Angela and I to use while Tom and Heidi followed in our Adventurer.  Of course we would also write an article about what it's like to go from a fully self-contained hard side camper to a simple Four Wheel pop-up.  Tom jumped at the opportunity and the trip was on.
This is the story of what happened when Tom and Heidi flew from Baltimore, Maryland to Sacramento, California and embarked on a whirlwind eight day truck camping tour that included Napa Valley, San Francisco, the California coast, Sequoia National Park, and Kings Canyon National Park.  As we said in the teaser, they had never been RVing, never been to California, never been to a National Park, and had never been truck camping.  This was truly a total newbie adventure.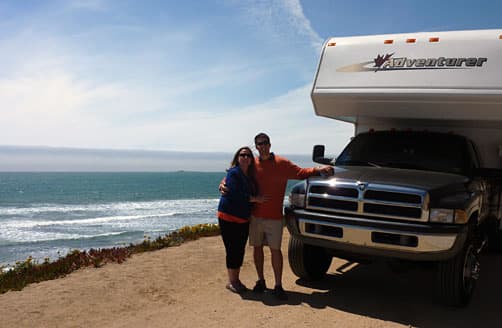 Above: Tom and Heidi Baldacci with our 1998 Dodge 3500 and 2010 Adventurer 90FWS on the California Coast
Tom: We didn't really know what truck campers were until we met Gordon and Angela.  Maybe we saw them in passing, but didn't really distinguish them from a motorhome or fifth wheel.  We assumed they were the same animal.
Heidi: Up until this trip, we had never been to California.  We were excited to just be able to see some amazing National Parks.  We wanted the freedom to travel, see new things, and experience new places.  Hearing Gordon and Angela talk about some of the adventures they've had was really what pulled me into saying, "Yeah, let's do that."
Tom: Before we left home the overall question we heard from friends and family was, "What's a truck camper?".  We had to explain what it was and how it was different from the other RVs.  Our families thought it was cool to go traveling in your vehicle, and not be limited by a big camper.
Heidi: My sister said, "Wait, you're going to go camping?".  Then I explained truck camping and she asked if she could come.  She didn't realize that we wouldn't be roughing it.  Another interesting thing that happened was that I put up a sign up at work to ask people to cover for me for on call hours.  I had at least two or three people asking what truck camping was.  One lady asked if we'd literally be sleeping in the truck itself.
Tom: Before we left we had a couple of questions and concerns.  We were concerned about space.   We were concerned about driving the truck and the maneuverability.  We didn't know if sleeping would be comfortable or what it would be like to shower in the back of a truck.  We didn't know how much we were going to have to deal with the mechanics of it.  It was more so questions about what it was going to be like and how it was all going to work.  We were unsure of the experience.
Arriving in Sacramento
Heidi: We landed in the Sacramento airport where Gordon and Angela picked us up and took us to our camper.  The first day we were excited.  We felt like we literally put our stuff in the camper and it fit.  We were comfortable, excited, and ready to go.  Gordon and Angela made things painless and super easy for us.  We didn't need to think about it, and we were saying, "Alright, let's go!"
Napa Valley
Heidi: Obviously we wanted to go to the Baldacci vineyards because of our surname and family relationship.  Two or three years ago I ordered wine for everyone on the Baldacci side of the family, so we knew about the vineyards.  Since we were going to be in California we thought it would be neat to see the winery and to see if we could make a family connection on that side of the country.
The day in Napa was our first day on the road in the camper.  I was just in awe as I was video taping.  Angela was driving and we were going through the small towns, seeing the vineyards, and driving through the Avenue of the Elms.  I was excited that we were in Napa Valley and in California.  It was just settling in for me.
San Francisco
Heidi: We left the campers in parking lot number three in Sausalito while we toured around San Francisco.  The ferry over to the city was fun even though it was windy.  Walking on the hilly streets and Lombard street, our calves were burning.