Tom and Heidi Baldacci had never been RVing, never been to California, never been to a National Park, and had never been truck camping… until now.

When you leave home for a five month trip there are a few things that you're going to miss.  Friends and family are always at the top of our list followed by our shower, washer, and dryer.  Anyone who has been truck camping longer than a week should know exactly what we mean.
About five months before we left on our current five month trip, we met Tom and Heidi Baldacci and immediately hit it off as good friends.  For Angela and I, Tom and Heidi were a welcome breath of fresh air and we enjoyed every opportunity we could find to hang out with them.
When we told Tom and Heidi about our upcoming trip, they were bummed that we were leaving for so long, and intensely curious about our truck camping lifestyle.  Naturally we showed them our truck and camper and that only made them more curious.  Then it occurred to us;  why not invite Tom and Heidi to fly out and join us for a short adventure with our Adventurer so they could experience the truck camping lifestyle first hand.  Why not?
Tom and Heidi work full-time and the next possible vacation opportunity they had available was mid-June.  We were scheduled to be at Four Wheel Campers in Sacramento, California at that time and called Tom Hanagan, President of Four Wheel Campers, for a favor.  We asked Tom if we could borrow a truck and Four Wheel Camper for Angela and I to use while Tom and Heidi followed in our Adventurer.  Of course we would also write an article about what it's like to go from a fully self-contained hard side camper to a simple Four Wheel pop-up.  Tom jumped at the opportunity and the trip was on.
This is the story of what happened when Tom and Heidi flew from Baltimore, Maryland to Sacramento, California and embarked on a whirlwind eight day truck camping tour that included Napa Valley, San Francisco, the California coast, Sequoia National Park, and Kings Canyon National Park.  As we said in the teaser, they had never been RVing, never been to California, never been to a National Park, and had never been truck camping.  This was truly a total newbie adventure.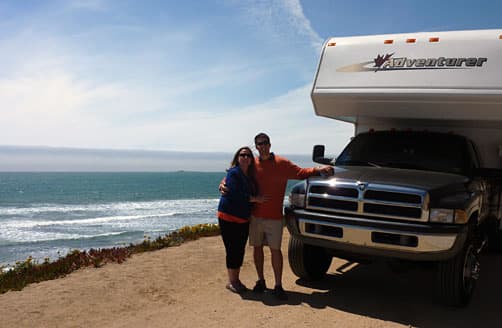 Above: Tom and Heidi Baldacci with our 1998 Dodge 3500 and 2010 Adventurer 90FWS on the California Coast
Tom: We didn't really know what truck campers were until we met Gordon and Angela.  Maybe we saw them in passing, but didn't really distinguish them from a motorhome or fifth wheel.  We assumed they were the same animal.
Heidi: Up until this trip, we had never been to California.  We were excited to just be able to see some amazing National Parks.  We wanted the freedom to travel, see new things, and experience new places.  Hearing Gordon and Angela talk about some of the adventures they've had was really what pulled me into saying, "Yeah, let's do that."
Tom: Before we left home the overall question we heard from friends and family was, "What's a truck camper?".  We had to explain what it was and how it was different from the other RVs.  Our families thought it was cool to go traveling in your vehicle, and not be limited by a big camper.
Heidi: My sister said, "Wait, you're going to go camping?".  Then I explained truck camping and she asked if she could come.  She didn't realize that we wouldn't be roughing it.  Another interesting thing that happened was that I put up a sign up at work to ask people to cover for me for on call hours.  I had at least two or three people asking what truck camping was.  One lady asked if we'd literally be sleeping in the truck itself.
Tom: Before we left we had a couple of questions and concerns.  We were concerned about space.   We were concerned about driving the truck and the maneuverability.  We didn't know if sleeping would be comfortable or what it would be like to shower in the back of a truck.  We didn't know how much we were going to have to deal with the mechanics of it.  It was more so questions about what it was going to be like and how it was all going to work.  We were unsure of the experience.
Arriving in Sacramento
Heidi: We landed in the Sacramento airport where Gordon and Angela picked us up and took us to our camper.  The first day we were excited.  We felt like we literally put our stuff in the camper and it fit.  We were comfortable, excited, and ready to go.  Gordon and Angela made things painless and super easy for us.  We didn't need to think about it, and we were saying, "Alright, let's go!"
Napa Valley
Heidi: Obviously we wanted to go to the Baldacci vineyards because of our surname and family relationship.  Two or three years ago I ordered wine for everyone on the Baldacci side of the family, so we knew about the vineyards.  Since we were going to be in California we thought it would be neat to see the winery and to see if we could make a family connection on that side of the country.
The day in Napa was our first day on the road in the camper.  I was just in awe as I was video taping.  Angela was driving and we were going through the small towns, seeing the vineyards, and driving through the Avenue of the Elms.  I was excited that we were in Napa Valley and in California.  It was just settling in for me.
San Francisco
Heidi: We left the campers in parking lot number three in Sausalito while we toured around San Francisco.  The ferry over to the city was fun even though it was windy.  Walking on the hilly streets and Lombard street, our calves were burning.
Tom: The trolley rides were incredible.  Even just seeing them operate was exciting.  The architecture of the houses was amazing!  San Francisco is an exciting city!  There's so much to do and so much to see.
Heidi: The great thing we realized that day was that we didn't need to worry about what time we had to be back.  We didn't have to check in or check out.  We set our own schedule and could adjust it.  Everything was on our own timeline.  In the beginning of the day, we got lost, but eventually figured out where the parking lot was.  We got on the ferry, and it was no big deal.
The Coast Drive
Tom: Waking up in the parking lot in Sausalito was a highlight.  It was such a different experience since we had never slept in a parking lot before.  Driving south on Route 1 we were in total awe of the mountains.  We have seen the Atlantic Ocean, but the Pacific is different.  It seeps into the mountains.  It's breathtaking!
Heidi: When we when started the coast drive, I was a little bit nervous because it was so steep and close to the edge.  I was focused on my fear, but then the experience of the winding road and the view was too exhilarating to not stay focused on the beauty.  It was amazing!  I'd do it again.
That night we parked in a turn-off on the coast.  We were a bit worried about sleeping on the coast since we had fleeting thoughts about earthquakes.  It turned out to be one of the favorite things that we did.  Who gets to say that they literally slept on the edge of the country?  The spontaneity of it was cool; it was dark, we pulled over, and we stayed.  Just being able to do that because of the amenities in the camper was awesome.
Continuing down the Coast
Heidi: We loved Julia Pfeiffer Burns State Park.  It's a hidden gem!  I just kept thinking that there are so many cars driving by that didn't know what was there.  It felt like a special place that not that many people know about it.  The waterfall, the ocean, the foundation of the house, all represented the whole idea of the trip.  We got to experience things that not everyone gets to see.  You can easily go about your life and not see things in front of you if you don't take the time to do it.  Just take some time, walk the path, and see it.
Tom: The elephant seals were nice because it wasn't like we were at a zoo.  They were in their natural habitat coming right out of the ocean.  We also saw some overly friendly squirrels.  This day was also the first day reality hit us and we realized that some things might go wrong on a trip.  We got really close to running out of fuel, which was a little scary.
Heidi: Then, we went over to Hearst castle, but the tours were sold out for the day.  Luckily, we had the opportunity to choose and change our itinerary.  Even though it was an obstacle, we just moved on to the next thing because we were able to change our plans easily.
KOA and Sequoia National Park
Tom: At that point in the trip, the KOA was like the Trump Hotel.  We got to take a shower at the campground.  Actually not showering in a real shower for a couple of days wasn't as bad as I had anticipated.  Up until then we showered in the camper.
Heidi: I really liked the KOA because it was like a little community.  They even had pizza delivery that came to our camper.  While we were at the KOA, I didn't have a hair dryer but I discovered that using the hand dryer in the bathroom to blow dry my hair worked just as well.
Tom: Then we drove to Sequoia and got held up in construction for about thirty to forty-five minutes.  It was lunch time, so we ate lunch in the camper while waiting in line.  Gordon was able to cook on the stove and made us hot sandwich wraps, while the other people were waiting in their cars for the construction line.  We felt special!
Driving into Sequoia we were in awe again.  Just thinking about how large the park actually is and sacred it is.  We noticed how well the park was taken care of.  I remember seeing a ranger taking a couple of pinecones from a kid.  That's good to see how treasured it all is.
Heidi: I liked when we started seeing larger trees here and there.  I remember the anticipation while we were driving, knowing something is coming.  Then, we saw the huge Sequoias.
Tom: Seeing a bear in Crescent Meadow was awesome.  It was beautiful!  I loved it!  It wasn't like going to your local park.  It was the real deal.  I remember the mule deer just sitting there allowing us to take photos.  You feel a mutual respect for the animals.  There's a real peacefulness to the park.
Heidi: Our first campfire was a lot of fun.  Hanging out that night was really special and I was glad the four of us were doing this together.  The amazing thing was the atmosphere of the campground.  We just went over and asked someone for foil and not batting an eyelash they gave us some.  We made hot dogs and hamburgers and it was great.
Sequoia and Kings Canyon Trails
Heidi: Not one area of the park was prettier than another.  It was all so breathtaking.  We've been to National Monuments in the past, but never to a National Park.
While we were there, we bought the national park passport books.  There, I was committing to myself to travel more.  This is just one of so many places in our own country that we would like to visit.  Now, we're a part of something; a group of people who can truly appreciate nature.
Tom: My favorite trail was the Grant Tree trail with all those huge, huge trees.  That trail had the most intimidating Sequoias in that area.  There was also open ground, so you could stand fifty feet back and enjoy them.  If anyone could see one trail in Kings Canyon, I would say to do that one because it was awesome.  You can't describe the Sequoias in words or show them through photos.
Driving into Kings Canyon
Heidi: We really loved Kings Canyon!  It was really beautiful.  After an hour-long drive and a drastic change in elevation, we finally got down into the canyon with the river and the waterfalls.  I was like, this is our country, really?  The accessibility to these things, was really awesome.
908 miles, 8 days, 37 truck campers later
Heidi: The whole trip had so much variety.  We went to the vineyards, the city, saw the coast, the ocean, drove the Sierra Nevadas, and went into a canyon.
Our truck camper was incredibly comfortable.  During the trip it felt like we were in a mini apartment.  We had everything that we needed.  In the camper we liked how quickly the water heated up, loved the air conditioner, being able to watch the movie, Labyrinth on the television.  We slept great in the camper.  It was actually better than at home.  Showering was also surprisingly easy.  I remember I was concerned it was going to be tight.  We also thought we would run out of water more than we did.  The space was also impressive.  It's amazing how much stuff we had in that camper for all of us.  The refrigerator was never ending.   Even after we went grocery shopping, we could fit it all.
By the end of the trip, we learned how to use the truck camper.  I remember that first day when I tried to wash my hands no water came out.  I asked Angela and realized that I didn't flip the switch for the pump.  By the end of the week, I instantly knew how to use things and what to do before we started driving.  We made sure everything was turned off, that the cabinets were shut, the antenna was down.  It all became natural.   People don't have to feel intimidated.  It's real easy to adapt to a truck camper.
Tom: We learned that due to limited storage you may only have a small number of pots, pans, and dishes so as you dirty the dishes you have to wash them.  This was especially true with four people sharing dishes.   We also learned how to dump the grey and black tanks and that you need to pay attention to the availability of diesel stations.  There wasn't a diesel station down Route 1 from Monteray to Cambria.  Now we know.  I noticed how not being parked on level ground makes a difference.  When we weren't level we had to be cautious of things falling out of the cabinets as you opened them.   The toilet seat also hit us in the back a few times.  Those are things we noticed.
Heidi: There was one night on the coast that we forgot to turn off the water pump.  We were laying there and heard a noise.  Instantly, I jumped up and knew what it was.  I turned it off and got back into bed.  I realized I was getting to know the camper because I was able to identify the sound so quickly.  Really, there was no system in the camper that was difficult.
Tom: Another thing that I like about a truck camper is that you can use a pick-up truck when you want to, put a RV in the back, and go camping.  It's the best of both worlds.  Right now, we have the tent and the gear to go tent camping, but we felt more secure with the truck camper and thought we could be more adventurous.
Going truck camping, we were able to get to California and not worry about hotels.   That's been the primary way we've traveled.  We would research the trip, book a hotel, and get a flight.  We realized by traveling this way that it's not like there's one place in each town.  We had options.  This is a much more freeing type of vacation.  No matter what other type of vacation you plan, there's always a limit.  With the camper we could change our itinerary and have more spontaneity.
Heidi: Even though I'm now home, I notice and pay more attention to things like bridges, underpasses, and clearance signs.  I also look to see whether or not places have RV parking or fuel stations that offer diesel.  That's kind of weird because we don't need it.  We're also pointing out truck campers as we drive down the road.  This trip has made us more aware in a good way.  When we got home, we did appreciate the ever present running water, electricity, and heat.  But, we also realize the load we have on the environment.
We left California wanting a truck camper.  In fact when we got home we went on your website and started looking more in depth at them.  I really enjoyed it and look forward to doing this again.  I can't wait! I loved it!
Freedom is the word, because you have more choice and more flexibility, and the camper makes that happen.  I just wonder why we didn't do this sooner.  This trip made me feel like the rest of the country is accessible.
You can talk all day about the incredible feeling of freedom a truck camper gives you when you travel, but one has to experience that freedom to truly understand it.  After the trip, it was this feeling of freedom that seemed to have the strongest effect on Tom and Heidi.  The experience of going where you want to go and camping where you want to camp.  The experience of being able to change plans on the fly.  The freedom of having everything you need with you all the time.  If you're reading this as a newbie looking to get into truck camping, that's what it's all about.  That's why people buy and own truck campers.  And maybe, just maybe, Tom and Heidi will join us as truck camper owners and continue their pursuit of new adventure and total freedom.