In his 31 year old Bigfoot, David Taylor loves taking on rough roads and rougher weather – all in pursuit of outdoor fun and photography.  How he makes his living from his camper is something you won't believe.  Get ready for take off!

For whatever reason, some folks naturally go in the opposite direction of everybody else.  If the entire group is walking out of a room, they walk in.  If everyone is pointing down, they look up.  By doing the obverse of the crowd, they often see what others are missing, and enjoy the solitude of the path deserted.
In the late fall, when fellow Oregonians are winterizing their RVs, David Taylor's truck camping season is just beginning.  As everyone goes back to work and school, David is heading out.  When the days are getting shorter, he's camping longer.  If a rotating storm chases everyone indoors, he drives into the eye.  Camping on a sunny day in June?  No thanks!  David prefers a blizzard – in February.
David's lifestyle begins to make perfect sense when you learn his story.  His craving for winter weather is fueled by his love for dramatic outdoor photography.  His desire to go the opposite way is charged by a fiercely independent spirit.  His passion for the Go Anywhere, Camp Anywhere capabilities of truck camping?  It's practically destiny.
Of course not just any truck and camper would complete this unique picture – oh no.  David has assembled one of the most interesting vintage truck and camper set-ups we've ever seen; a 1982 Chevrolet K20 and 1987 Bigfoot M-8 Deluxe.
Does the truck and camper make the man?  Probably not, but it's certainly a good fit in David's case.  Get ready to meet David Taylor.  I hope you have your winter coats on.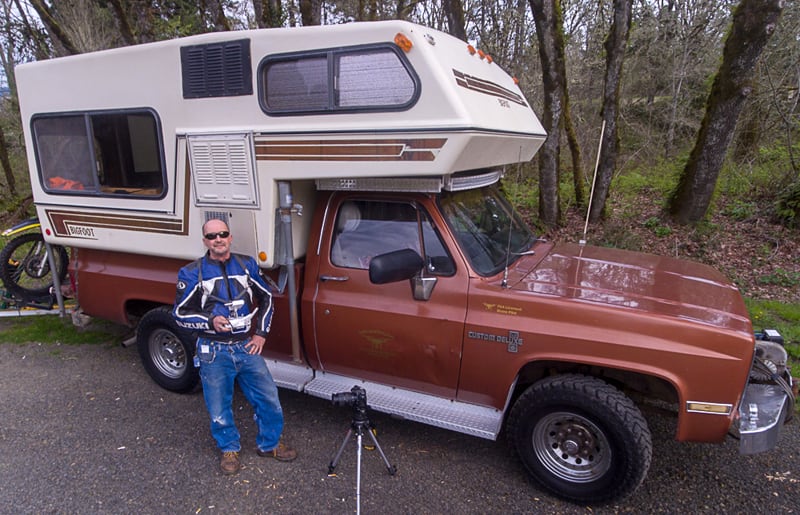 Tell us the story of how you were first introduced to truck campers and camping.
When I was ten years old, my family borrowed my grandfather's F350 and truck camper to travel to Alaska. We drove the camper to Victoria, British Columbia, put it on a ferry, and made the journey north.
My best memories of that trip were the giant salmon berries and seeing an eagle catch a fish from a stream and then struggle to take flight.
On our way back, US Border security stopped my family and, for some reason, thought my parents had kidnapped my sisters. My mom had cleaned out her purse before we left and had no family pictures, except for a couple shots of me. I was not in question, but my sisters were not included in any of the photos.
That resulted in eight hours of sweating before they let us go. I think the border patrol agents saw the stress my mother was going through as my father prepared to return to Oregon to retrieve the birth certificates from the safety deposit box. This was before the information superhighway, so we could not get that information readily.
We made it out of there, visiting Seattle's Space Needle and then returning home. Traveling with my family in the truck camper sparked my love for being on the road.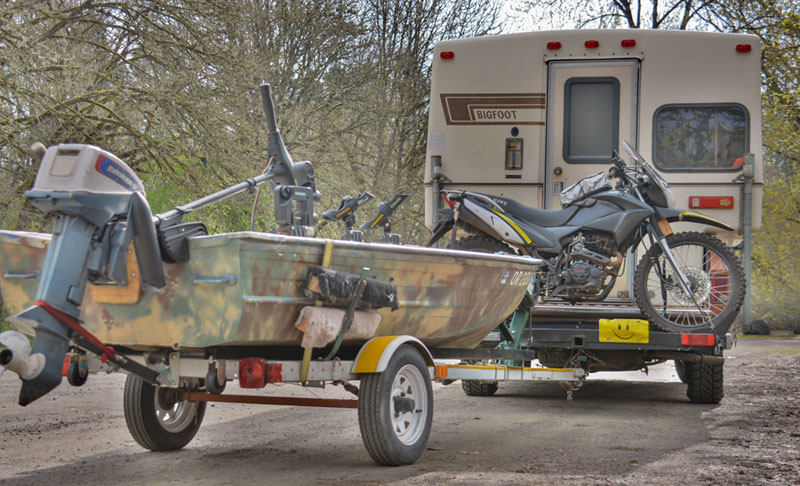 That's quite a story! We once had our cat's food confiscated by US border patrol agents in SWAT gear, but that pales to alleged kidnapping. How did you to choose your truck camper?
My dad purchased the truck I have now from my Uncle Rodney. It had been his personal truck for his fire road building business. The truck had 100,000 miles on it and was in awesome condition.
My father never got to drive the truck. I would drive him to work and then go to school. Then I'd pick him up after school and spent all afternoon rebuilding the motor.
It remained my father's truck until it passed to my mother when he passed in 2006. I purchased the truck from my mom in 2013 and replaced everything. I love having a vehicle that I am able to do all the mechanical work on.
When I became disabled in 2013, I knew I wanted an off-road adventure mobile. I did a lot of research into different camper types. I wanted something that would fit the capacity of my truck, allow me to tow my boat, and carry my dual sport motorcycle.
I decided that I wanted a Bigfoot because I know that it would last forever without leaking. It took over a year to find one that I could afford. My Bigfoot C-8 was manufactured in April of 1987 – when I was still in high school – and it is just five years newer than my truck. The truck and camper work well together.
Three years ago I purchased the Bigfoot sight unseen in an eBay auction. The camper was located about four hours from my home. I drove down and brought it home. It was in excellent condition, and there was no damage other than some exterior pin striping that needed to be redone. I waxed the exterior fiberglass and applied new pin stripping over the old lines. Then I remodeled the interior to better suit my needs.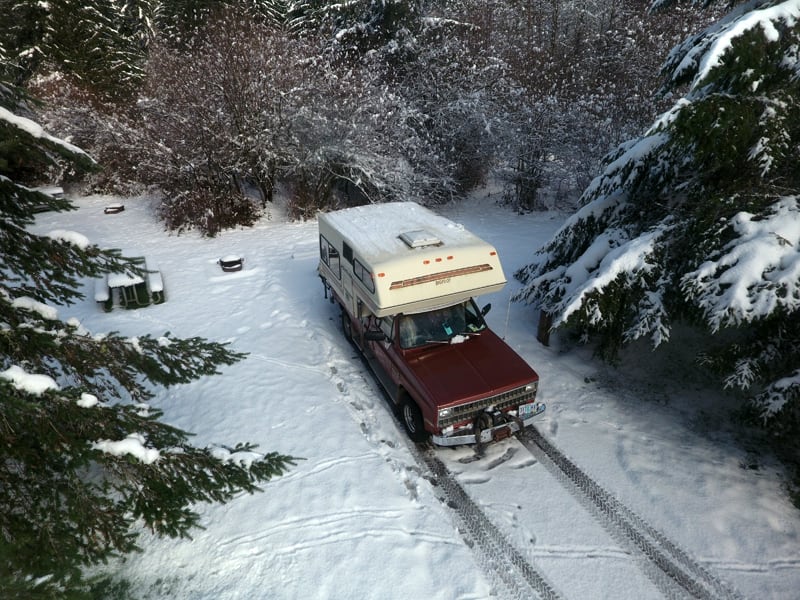 It looks like the only thing on your roof is the cabover vent. Is that right?
Yes, I only have a crank open roof vent. It's the required emergency exit. All the other vents go out the sides of the camper.
The older couple who had it before me took good care of the unit. They had put a new refrigerator in, but everything else was stock from the factory.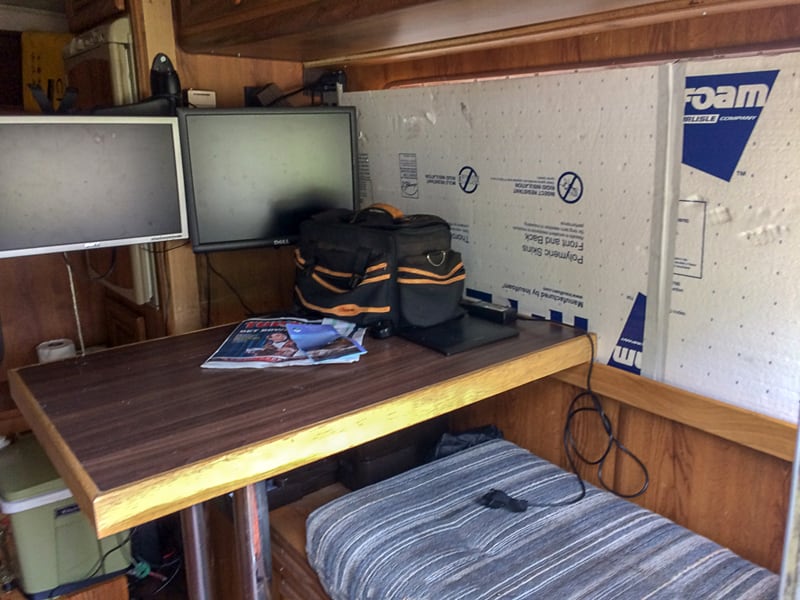 You said you remodeled the interior, what did you do?
The original dinette took up three-quarters of the floor space. I couldn't get into the kitchen without turning sideways. So, I decided to make it a more open concept with office space.
The dinette does not turn into a sleeper any more. The new layout is designed around my work on the road. I bring along a printer, two high definition monitors, a mobile hot spot, a GPS locator, a VHF radio, and – of course – two coffee pots.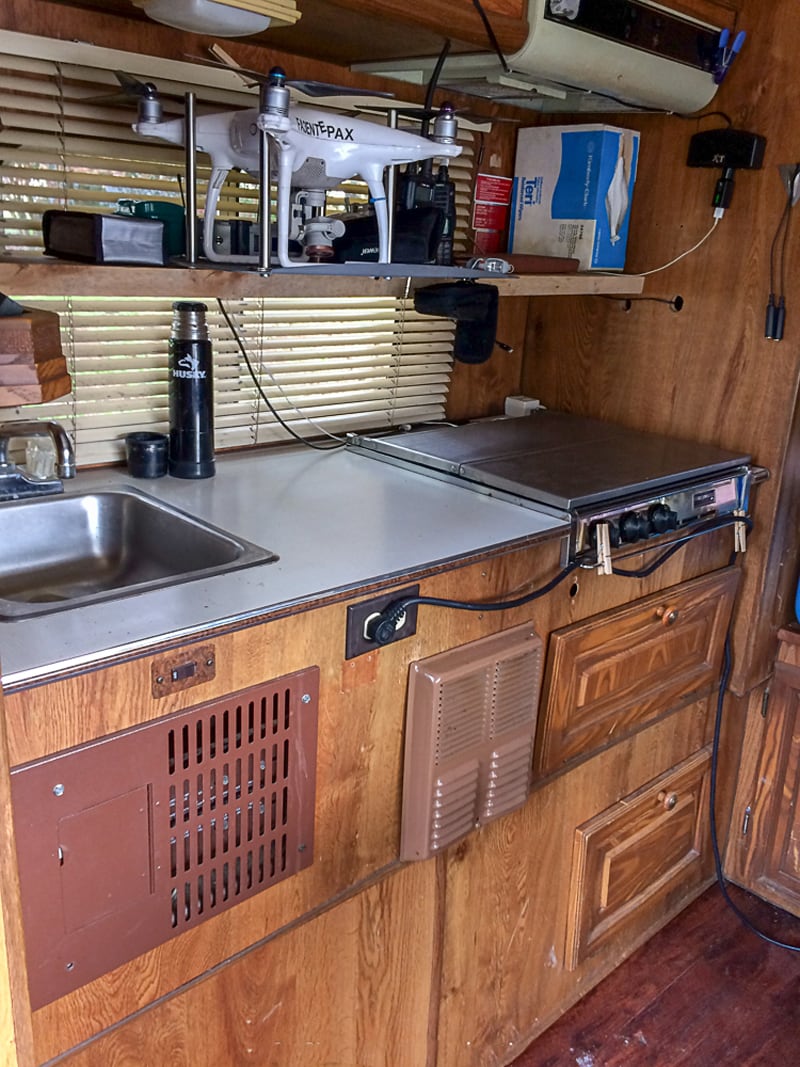 I also built a kitchen-area shelf for my drone. The shelf goes all the way across. My drone has long round steel pegs. The camper would literally have to go upside down before it came down as I drive down the road.
Having the drone on the shelf all the time keeps it flight ready. I don't have to constantly assemble it. It also keeps it acclimated to the outside temperatures.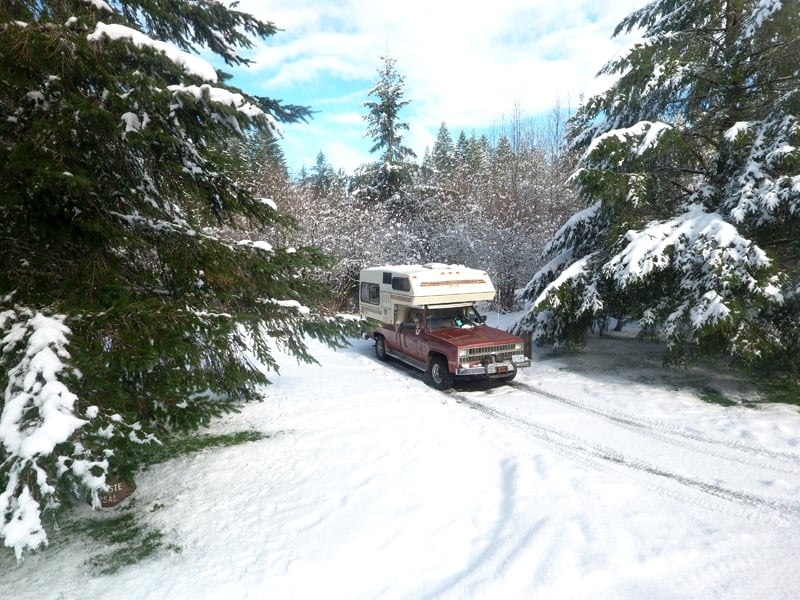 How do you use your camper year round and in cold weather?
When I decided I wanted an RV, I knew I didn't want to be a summer-only RVer. I prefer to be out camping when the children are in school. I also love cold, wet, rainy, and snowy weather.
With winter camping in mind, I quickly concluded that Bigfoot was the best option. I wanted something that could survive the coldest temperatures and the roughest terrain. I only needed the basics; a place to sleep, a place to eat, and a place to work. It needed to fit in my truck and be light enough to allow me to install my DualSport 250 on the rear. I also pull a little 12-foot aluminum boat when I really feel like getting away.
I like having my home with me all the time. I even drive it to church on Sunday. It goes to the store with me to get groceries. It doesn't come off the truck.
Living in Oregon, people winterize their RV systems against the freezing cold. It's a time honored tradition to cover your RV with waterproof tarps, ropes, and weights. Then, it sits until spring. That was not what I wanted.
Plus, as a photographer, bad weather makes for more dramatic photographs. My Bigfoot camper is perfect for being outdoors without having to sleep outdoors.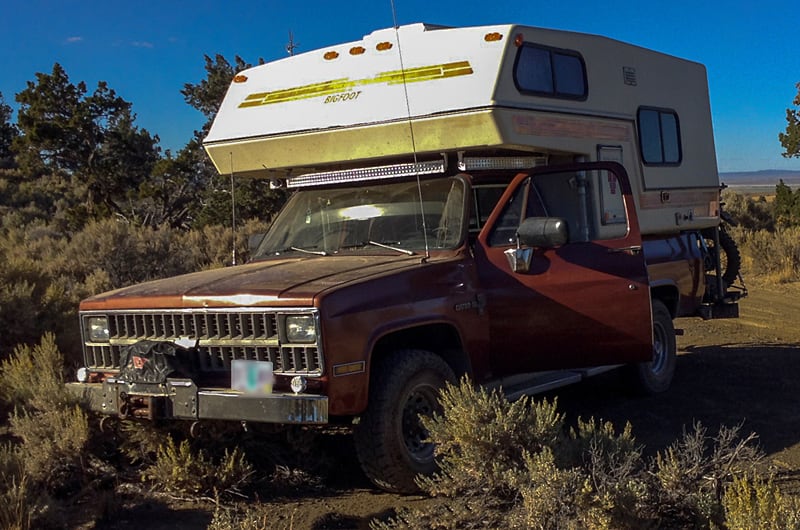 What do you mean when you say, "roughest terrain"?
I like the OHV roads in Oregon which are 4×4 roads. Those are places you don't take most RVs or heavier truck campers. I try not to get myself stuck because I'm alone 99-percent of time.
I took my Bigfoot to the top of Black Hills with 50-mph wind gusts. It took six hours to travel six miles to the top. Then I turned around, turned on the Halo exterior lighting system, and crawled back down the steep and rough road – in the dark.
When I arrived back in Christmas Valley, people said I was a crazy fool for even trying such a thing. What fun would life be without adventure?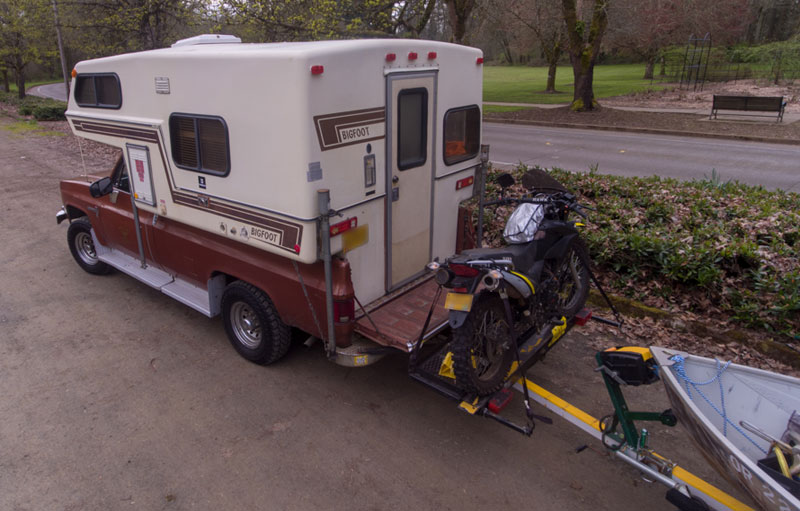 True, but that does sound a little nutty. How do you tow your motorcycle?
I fabricated a custom motorcycle rack that carries a 250CC dual sport motorcycle. The rack also carries extra fuel, firewood, and a generator.
I tow a small 12-foot aluminum boat that I use as a way to explore with my camera and drone. I have a motorcycle and camper to explore on land, the boat to explore on water, and a Phantom 4 drone to explore the air. All I am missing is a space ship.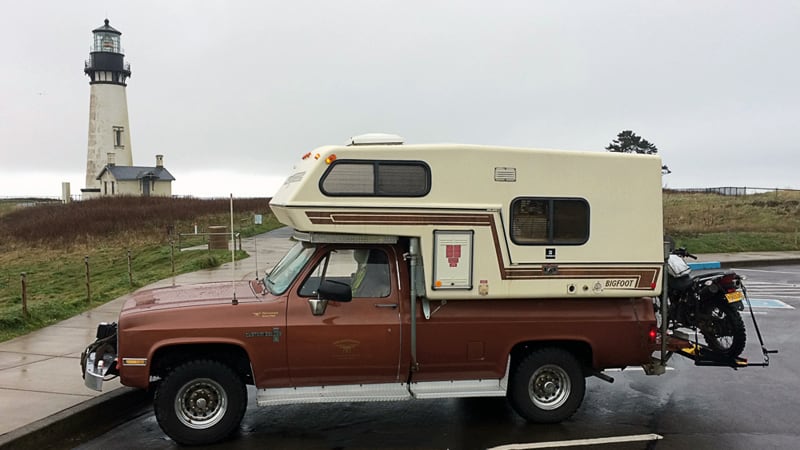 That would be impressive; a space camper. Other than the main living area layout, have you modified the Bigfoot for your needs?
To extend my off-grid capabilities, I have installed additional batteries. One is for the truck and its accessories. The other three batteries are isolated and can be combined – if needed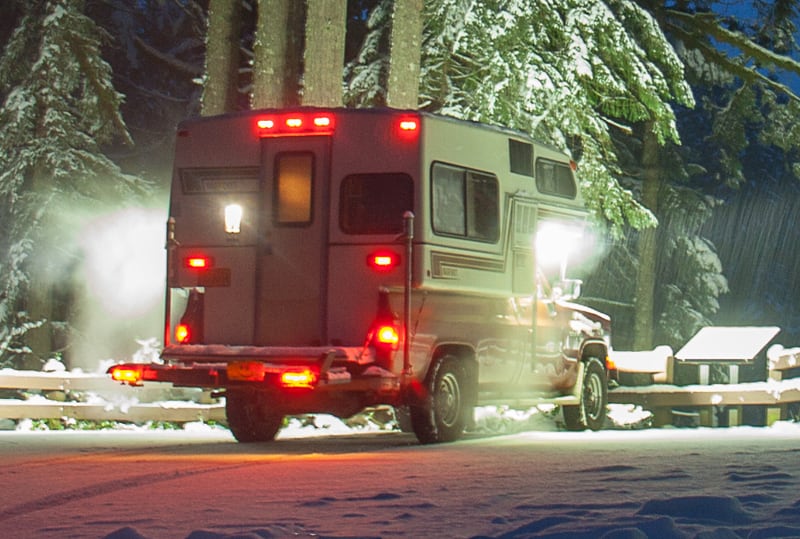 Above: David's Halo lighting upgrade at Silver Falls State Park in Oregon.
The truck itself has two batteries; one for the engine and heater, the other for the 8,000 pound Warn winch on the bumper. The winch came with the truck from the factory.
The camper has a small space for one battery. The only things that run off the camper's batteries are the LED lights, water pump, and furnace.
I have a fourth battery in the wheel well of the truck. That is exclusively for my Halo lighting system. I have three light bars on each side and another light facing forward. All of the lights are mounted to the camper providing over 24 hours of continuous illumination in the dark. I prefer to be out when there isn't anyone around, so I'm not bothering anyone with all the lights.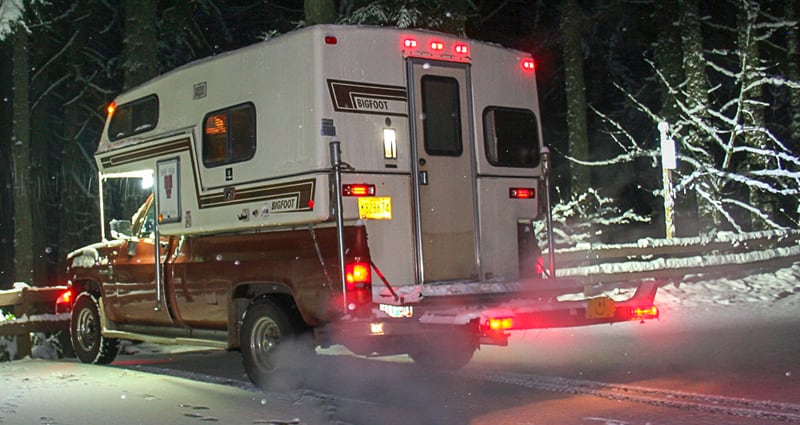 Above: David's Halo lighting system has a dedicated deep cycle battery. He uses the lighting to see while driving off-road, and for night photography.
Is that how you were able to get the photo of the truck in the dark?
There was a cold front coming through with a snow storm, so I took off for the mountain top. I was waiting for the waterfall to freeze so that I could get pictures of the frozen waterfall. Photography is far more interesting in bad weather than good weather.
It was almost May when the storm came through. When I got to the state park, I was the only person there except for a ranger.
The picture was taken at 4:00am from the trail head. There was 6-inches of snow on the ground when I parked the camper. By foot, it would have been an eight mile round trip hike to get to the waterfall. I'm not old, but I am too old for an eight mile hike at 4:00am.
I sat in the camper, made coffee, and got my drone ready. Thirty minutes before sunrise I started flying. Within two minutes I was looking down at the waterfall. I never had to leave the parking lot.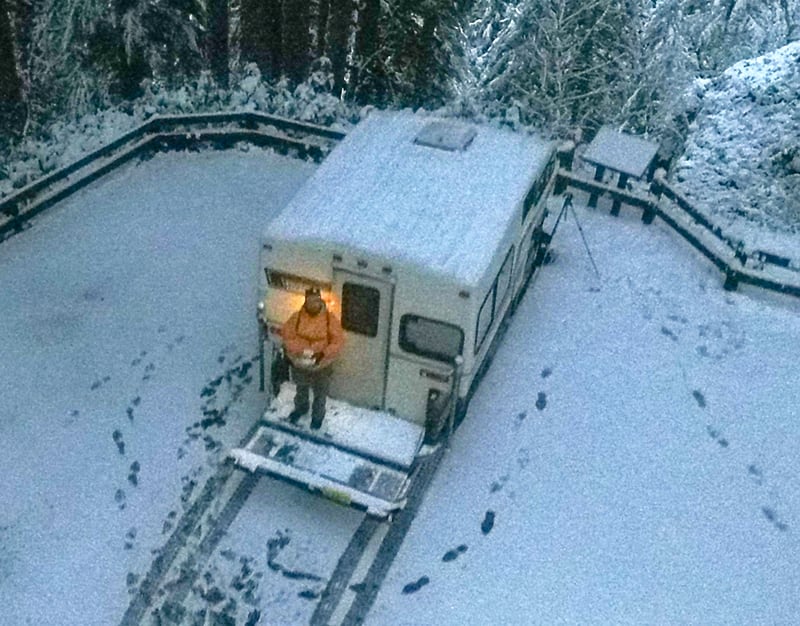 That's cheating! Okay, it my not be cheating, but you're supposed to suffer for your art. Besides, I thought drone regulations limited your travel to a mile or so.
The hike I described was up, down, and all-around. The actual distance in a direct line was only about a half-mile from where I was parked.
From where I was, I could see the drone when it was hovering over the waterfall. By regulation, you need to have visual line of site at all times.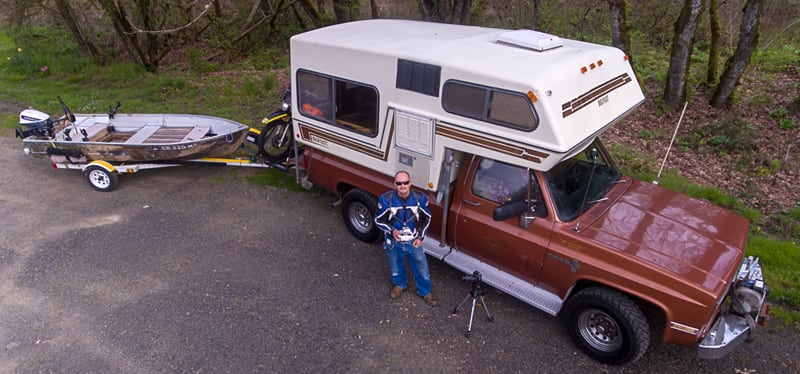 How did you get into drones?
About two years ago my worship minister asked if I wanted to fly his drone. It took me about two minutes to get hooked. I went home and ordered one.
I spent a year taking online courses to get a commercial drone license. That allows me to sell drone photography and services. When I started it was a new market for the industry. Now, it's something that everyone is doing.
I used to be a land surveyor. If a company needed to know the volume of a dirt pile, I would use a survey instrument and take measurements. It could take days to do small areas. Now I am doing that with drone.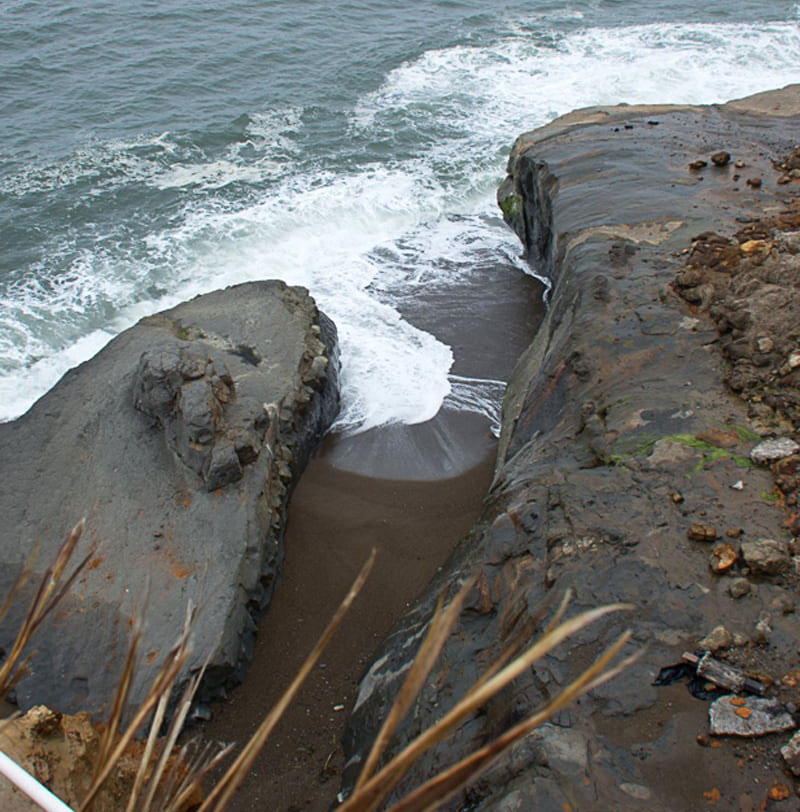 How can you measure the volume of something with a drone?
It's called photogrammetry. Photogrammetry overlaps photos to make 3D models. The process has been used for 70 to 80 years, but you needed an airplane with an expensive camera. What used to cost $6,000 dollars now can be done for a couple hundred dollars. Photogrammetry with a drone is my specialty.
How does photogrammetry work?
I upload drone imagery to a system on the cloud and it generates the same pictures I used to capture as a surveyor. Now I can do a job that would have taken weeks on the ground in just eight hours.
I also do roof inspections, crop inspections, and solar inspections. And I take photos and videos to sell on stock photo sites like Shutterstock and Adobe Stoke.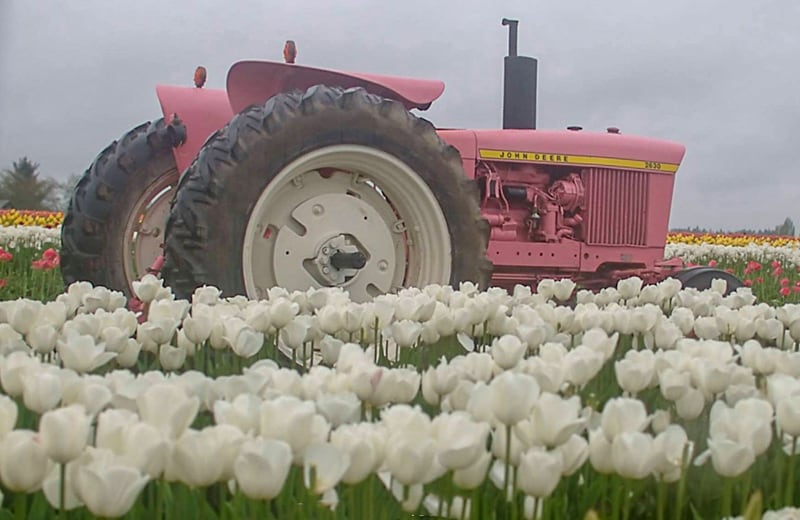 For example, I went for fun to the Wooden Show Tulip Festival in Oregon. There are hundreds of different species and colors. I was able to spend a day in the fields in the pouring rain playing with my new camera. I also saw many different tulip variations that I did not even know existed. Then, I posted those photos for sale on the stock photo sites.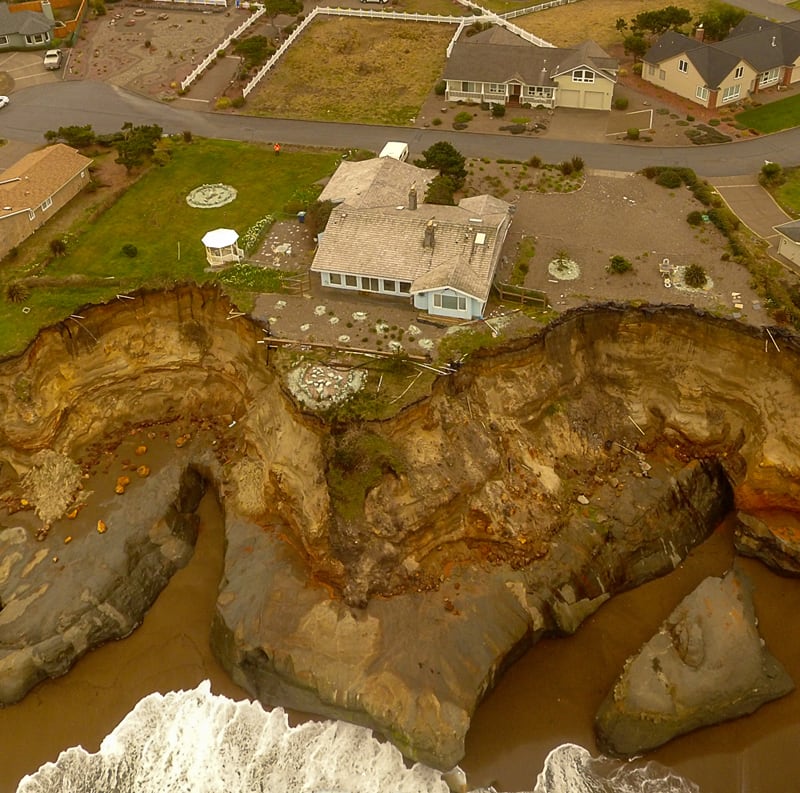 You also took photographs of someone's house after a mudslide. How did that situation come about?
It was a Sunday night at 8:00pm and the phone rang. It was a man in California who owned an ocean front property. It was tax season and he wanted to file a capitol loss on the property. He had lost $700,000 in damages and couldn't safely live in the house anymore.
He needed evidence to give the IRS on why he was claiming a loss and hired me to take 200 drone photos. I was able to get close up and far away photos. He submitted the photos to the IRS to show capitol loss for his taxes. I was able to stand on the street where it was safe and fly over the cliff with the drone.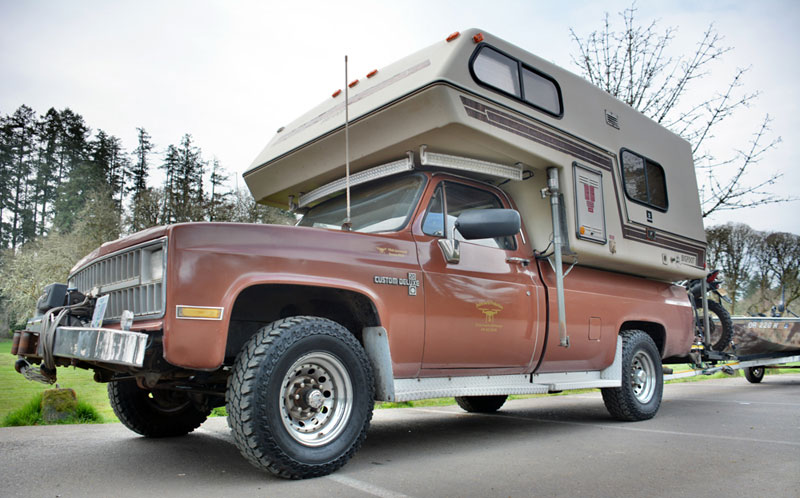 That's heartbreaking, and a great use of drone photography. Is there anything else you'd like to share about your truck camping lifestyle?
Some might consider my 1982 Chevrolet K20 and 1987 Bigfoot M-8 Deluxe to be antiques. It's definitely a combination that turns heads everywhere I travel. The rig is truly one of a kind. I plan on getting another 30 years out of them both. So if you think you need a new truck and camper, you might consider what you can do with the oldies, but goodies.
David Taylor's Truck Camper Rig
Truck: 1982 Chevrolet K20, single cab, 4×4, single rear wheel, gas, long bed
Camper: 1987 Bigfoot M-8 Deluxe
Tie-Downs and Turnbuckles: Chain and steel turnbuckles
Suspension: Rear air shocks