In his 31 year old Bigfoot, David Taylor loves taking on rough roads and rougher weather – all in pursuit of outdoor fun and photography.  How he makes his living from his camper is something you won't believe.  Get ready for take off!

For whatever reason, some folks naturally go in the opposite direction of everybody else.  If the entire group is walking out of a room, they walk in.  If everyone is pointing down, they look up.  By doing the obverse of the crowd, they often see what others are missing, and enjoy the solitude of the path deserted.
In the late fall, when fellow Oregonians are winterizing their RVs, David Taylor's truck camping season is just beginning.  As everyone goes back to work and school, David is heading out.  When the days are getting shorter, he's camping longer.  If a rotating storm chases everyone indoors, he drives into the eye.  Camping on a sunny day in June?  No thanks!  David prefers a blizzard – in February.
David's lifestyle begins to make perfect sense when you learn his story.  His craving for winter weather is fueled by his love for dramatic outdoor photography.  His desire to go the opposite way is charged by a fiercely independent spirit.  His passion for the Go Anywhere, Camp Anywhere capabilities of truck camping?  It's practically destiny.
Of course not just any truck and camper would complete this unique picture – oh no.  David has assembled one of the most interesting vintage truck and camper set-ups we've ever seen; a 1982 Chevrolet K20 and 1987 Bigfoot M-8 Deluxe.
Does the truck and camper make the man?  Probably not, but it's certainly a good fit in David's case.  Get ready to meet David Taylor.  I hope you have your winter coats on.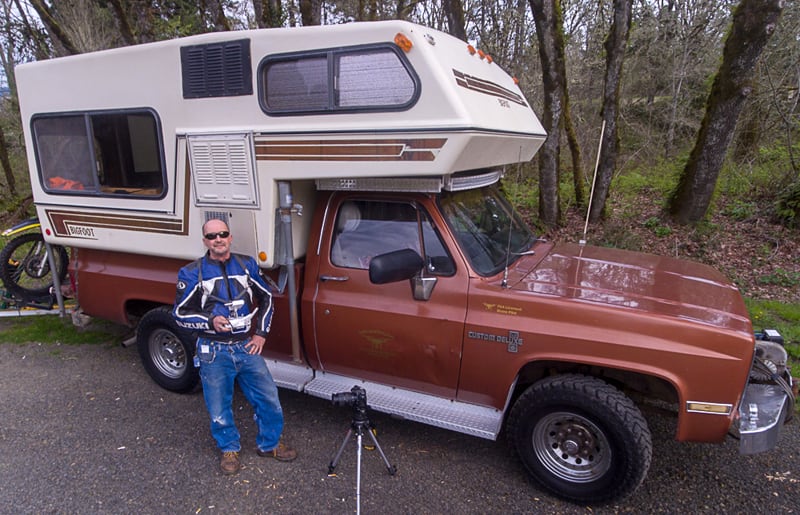 Tell us the story of how you were first introduced to truck campers and camping.
When I was ten years old, my family borrowed my grandfather's F350 and truck camper to travel to Alaska. We drove the camper to Victoria, British Columbia, put it on a ferry, and made the journey north.
My best memories of that trip were the giant salmon berries and seeing an eagle catch a fish from a stream and then struggle to take flight.
On our way back, US Border security stopped my family and, for some reason, thought my parents had kidnapped my sisters. My mom had cleaned out her purse before we left and had no family pictures, except for a couple shots of me. I was not in question, but my sisters were not included in any of the photos.
That resulted in eight hours of sweating before they let us go. I think the border patrol agents saw the stress my mother was going through as my father prepared to return to Oregon to retrieve the birth certificates from the safety deposit box. This was before the information superhighway, so we could not get that information readily.
We made it out of there, visiting Seattle's Space Needle and then returning home. Traveling with my family in the truck camper sparked my love for being on the road.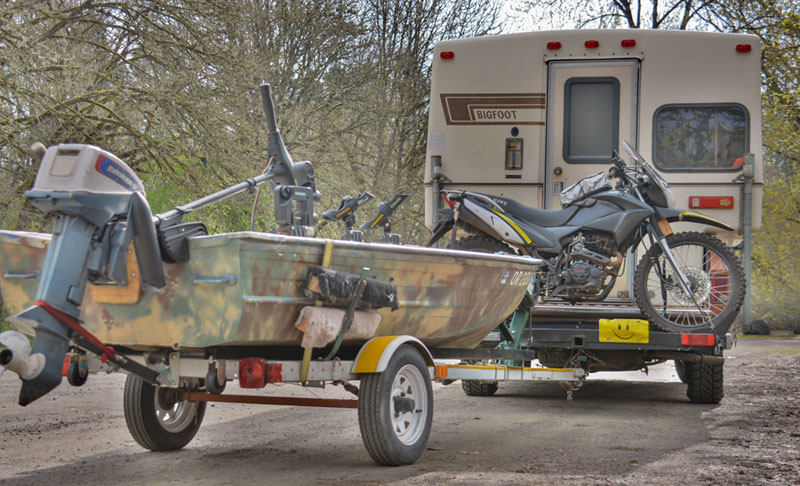 That's quite a story! We once had our cat's food confiscated by US border patrol agents in SWAT gear, but that pales to alleged kidnapping. How did you to choose your truck camper?
My dad purchased the truck I have now from my Uncle Rodney. It had been his personal truck for his fire road building business. The truck had 100,000 miles on it and was in awesome condition.
My father never got to drive the truck. I would drive him to work and then go to school. Then I'd pick him up after school and spent all afternoon rebuilding the motor.
It remained my father's truck until it passed to my mother when he passed in 2006. I purchased the truck from my mom in 2013 and replaced everything. I love having a vehicle that I am able to do all the mechanical work on.
When I became disabled in 2013, I knew I wanted an off-road adventure mobile. I did a lot of research into different camper types. I wanted something that would fit the capacity of my truck, allow me to tow my boat, and carry my dual sport motorcycle.