If there's one take away from Natty and Trey's incredible story, it's this; you can't run away from real life.  Nor can you allow that fact to stop you from pursuing your dreams.

Natty and Trey's story is not our typical light hearted and fun truck camping story.  For better and for worse, unexpected things have happened to Natty and Trey since they sold Natty's house and most of their possessions to hit the road full-time with their dog, Joey in a Chalet TS116 triple slide.  There's been sheer joy, and heart breaking tragedies.
In all honesty, some of what Natty and Trey have experienced would have challenged our desire to continue truck camping.  To their credit, they have pushed through and renewed their focus to travel, explore, and live their lives to the fullest.  We were deeply inspired by their story.
On a much less serious note, Natty completely cracks us up.  Her perspective on the camper and trip is well documented in her "Natty-Cam" videos and their wonderful blog, nattyntrey.blogspot.com.  She's often coffee-snarfing funny.  You've been warned.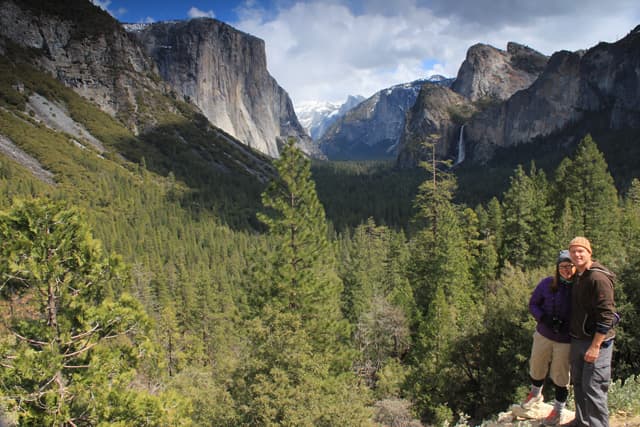 Above: Natty and Trey in Yosemite National Park, California
TCM: How did you get into truck camping?
Trey: I went with a truck camper because of the ability to demount the camper from the truck.  I am not a fan of trailering.  I wanted our rig to be as short as possible so I could turn around and back up easy.  I also wanted a four-wheel drive vehicle with high clearance so we can take it into remote areas.  Before this trip, neither one of us had any experience RVing.  Both of us grew up in big cities on the East Coast.
TCM: As total newbies to RVing, what was your first RV experience like?
Trey: Driving the truck without the camper was the first part of our experience.  We quickly realized that the truck suspension was very stiff so it could handle the weight of a truck camper.  I've driven big vehicles before, but not on a regular basis.
Natalie: We could feel every little pothole and crack in the ground.  It was like the princess and the pea.
TCM: You're younger than most truck camper owners.  How are you doing this trip?
Trey: Back in 2000, I was married and my wife was diagnosed with Leukemia.  She fought it for a couple of years, and passed away in 2002.  After that, I threw myself into my work.  I worked sixty to seventy hours a week.  I am a Home Health Physical Therapist in Washington State.  I was the only physical therapist for two counties that did home health, so I took all the work they could give me.  I was being paid by the visit, so the more visits, the more money I would make.  I saved everything I could for three years, and invested everything.  That's what we're living on now.
Natalie: I also saved for about a year.  We started talking about this trip a few years ago and decided last year that we were going to do this.
Trey: We wanted to get out of Olympia.  We were tired of the rain and bad weather.  Part of the plan is to travel for at least a year and go places we wanted to see, and part is to scope out a new place to settle down.  Natalie had a house in Washington that we sold.  We thought about renting it, but didn't.  Our house is the camper right now.  One day Natalie started listing things for sale on Craigslist.  I came home and she said, "We've got to do this because we're selling everything".
Natalie: The first week the living room furniture and and bedroom furniture sold.
Trey: Then we had a yard sale and got rid of most everything we owned.
TCM: How did your friends and family react to this idea of selling almost everything and hitting the road?
Natalie: All of our friends were excited.  They knew it was going to happen someday.  On the other hand, our family thinks we're out to lunch.  They think we need to continue working and keep up with the Joneses.  They worry about us.