If there's one take away from Natty and Trey's incredible story, it's this; you can't run away from real life.  Nor can you allow that fact to stop you from pursuing your dreams.

Natty and Trey's story is not our typical light hearted and fun truck camping story.  For better and for worse, unexpected things have happened to Natty and Trey since they sold Natty's house and most of their possessions to hit the road full-time with their dog, Joey in a Chalet TS116 triple slide.  There's been sheer joy, and heart breaking tragedies.
In all honesty, some of what Natty and Trey have experienced would have challenged our desire to continue truck camping.  To their credit, they have pushed through and renewed their focus to travel, explore, and live their lives to the fullest.  We were deeply inspired by their story.
On a much less serious note, Natty completely cracks us up.  Her perspective on the camper and trip is well documented in her "Natty-Cam" videos and their wonderful blog, nattyntrey.blogspot.com.  She's often coffee-snarfing funny.  You've been warned.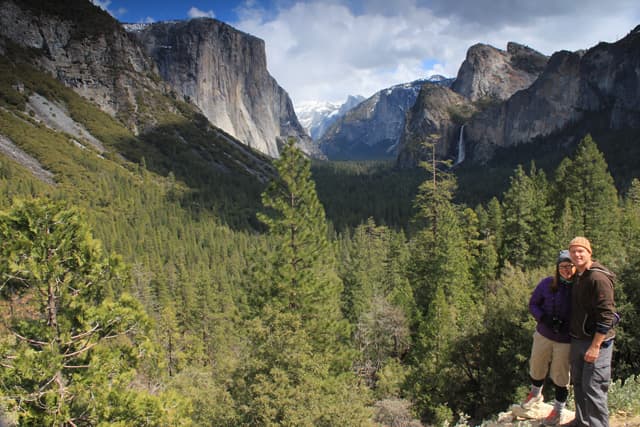 Above: Natty and Trey in Yosemite National Park, California
TCM: How did you get into truck camping?
Trey: I went with a truck camper because of the ability to demount the camper from the truck.  I am not a fan of trailering.  I wanted our rig to be as short as possible so I could turn around and back up easy.  I also wanted a four-wheel drive vehicle with high clearance so we can take it into remote areas.  Before this trip, neither one of us had any experience RVing.  Both of us grew up in big cities on the East Coast.
TCM: As total newbies to RVing, what was your first RV experience like?
Trey: Driving the truck without the camper was the first part of our experience.  We quickly realized that the truck suspension was very stiff so it could handle the weight of a truck camper.  I've driven big vehicles before, but not on a regular basis.
Natalie: We could feel every little pothole and crack in the ground.  It was like the princess and the pea.
TCM: You're younger than most truck camper owners.  How are you doing this trip?
Trey: Back in 2000, I was married and my wife was diagnosed with Leukemia.  She fought it for a couple of years, and passed away in 2002.  After that, I threw myself into my work.  I worked sixty to seventy hours a week.  I am a Home Health Physical Therapist in Washington State.  I was the only physical therapist for two counties that did home health, so I took all the work they could give me.  I was being paid by the visit, so the more visits, the more money I would make.  I saved everything I could for three years, and invested everything.  That's what we're living on now.
Natalie: I also saved for about a year.  We started talking about this trip a few years ago and decided last year that we were going to do this.
Trey: We wanted to get out of Olympia.  We were tired of the rain and bad weather.  Part of the plan is to travel for at least a year and go places we wanted to see, and part is to scope out a new place to settle down.  Natalie had a house in Washington that we sold.  We thought about renting it, but didn't.  Our house is the camper right now.  One day Natalie started listing things for sale on Craigslist.  I came home and she said, "We've got to do this because we're selling everything".
Natalie: The first week the living room furniture and and bedroom furniture sold.
Trey: Then we had a yard sale and got rid of most everything we owned.
TCM: How did your friends and family react to this idea of selling almost everything and hitting the road?
Natalie: All of our friends were excited.  They knew it was going to happen someday.  On the other hand, our family thinks we're out to lunch.  They think we need to continue working and keep up with the Joneses.  They worry about us.
Above: Pictures of Natty and Trey on the California coast

TCM: Our friends and family were both excited and worried about us when we went on our first cross-country trip.  I bet a lot of our readers get that response, at any age.  Tell us about how you planned the trip prior to leaving.
Natalie: I'm the planner.  Trey didn't want to do any planning at all.  He said, "I want to go where the wind takes us".  There's good and bad to both approaches.  Planning is a good thing, but when you plan something and it doesn't go as planned, it adds an element of stress.  Then again, there have been plenty of times when we didn't make plans, and things happen that are stressful too.  Life follows you on the road.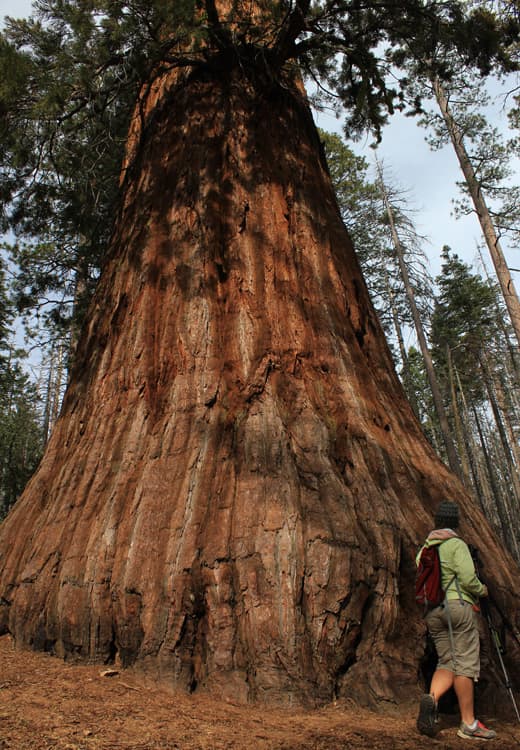 Above: Mariposa Grove, Yosemite National Park, California
TCM: From reading your blog, you originally planned to be on the road for one year.  It's been a year.  What's your plan now?
Trey: Once we reached our one year anniversary in our camper, we decided to go for another year and see what happens from there.  We are finally getting used to the camper.  Now we know how to work everything, we're getting used to boondocking and being on the road in general.
I probably need to get a contract job this fall because my license requires that I have a number of hours to keep my license.  It might be a great thing and I could get jobs easily for a few months.  We can keep traveling and I can do a few contract jobs a year which would be enough to supplement our income.  That's where we stand right now.
TCM: What's it like to live full-time in a truck camper?
Natalie: There was something very liberating about getting rid of all our stuff.  When we moved into the camper, it was kind of weird in the beginning.  There were some nights we were bored and antsy.  We just figured out how to use the television antenna in February.  We relied on cable for entertainment if we were hooked up somewhere.  The adjustment was slowing down our pace.
Trey: In the beginning, I felt out of sorts.  Maybe the best way to describe it is that I didn't feel as grounded, literally and figuratively.  Now that we've lived in it a year, I find I have plenty of space.
Trey: We've been erratic with our schedule thus far.  We do dry camp occasionally.  Lately we've signed up with Thousand Trails.  It's a camping zone thing.  We paid $400 for the year and they have RV campgrounds we can go to.  We're signed up for the Southwest and Northwest regions.  You can stay at any of their campgrounds for like three dollars a night, so we frequent some of those.  We dry camped more when we first started out.
Natalie: We've come to the conclusion that we prefer hooking up at a campground.  We are social people and enjoy being around other people.  When we're hooked up we have neighbors.
Up in Canada we boondocked in an overflow parking lot from the winter Olympics.  After about a week I remember looking at Trey and saying we need to meet some people.  We pulled into the parking lot after a day of biking and there was a bonfire and party going on.  A guy came over to our camper and asked us to join the party.  He ended up being a big part of our trip.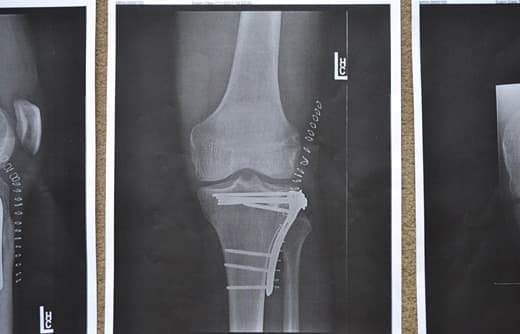 Above: X-Ray of Trey's broken leg
When Trey broke his leg mountain biking and had to have surgery, he watched our bikes and camper while Trey was getting better.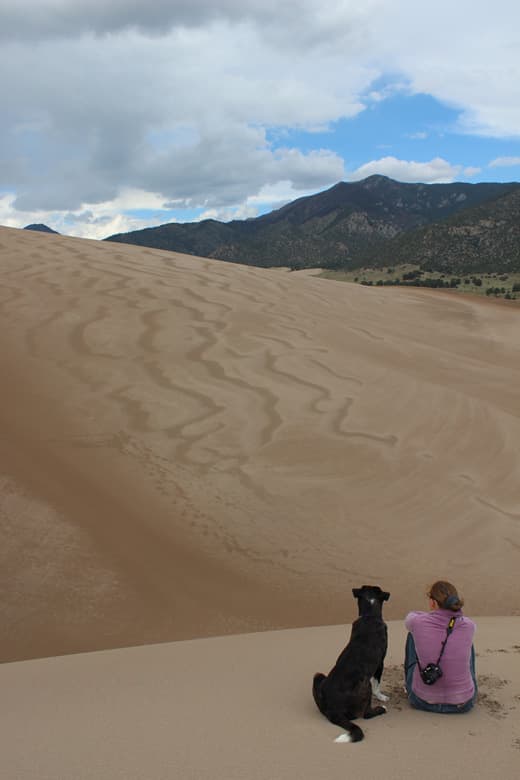 Above: Great Sand Dunes National Park, Colorado
TCM: How are you determining where to go next?
Trey: I've been into outdoor photography and hiking for a long time now.  I have read a lot of National Geographic type books and magazines.  I'll make a mental note of places  I want to find.
Natalie: He has a phenomenal memory.  We will drive through a town and he will say, "This is the town that has this thing that we need to see."  He read that ten years ago in a magazine and he'll find it in that town.
Trey: I have a good memory for landscapes.  That's how we searched out some of these places that I've always wanted to see.  I have read a lot of online articles and things like that to find destinations.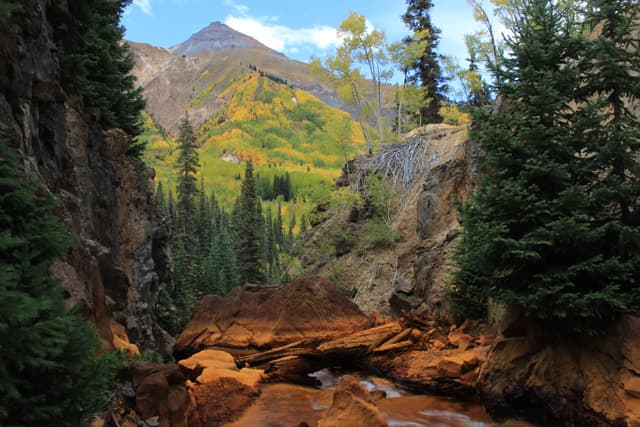 Above: Ironton Creek, Colorado
TCM: Tell us about the picture at Ironton Creek.
Natalie: Ironton Creek is in southern Colorado.  That picture was taken off the side of the road.  We were driving and saw this orange river and said, "What was that?"  We parked the camper, hiked down, and found out that it was from mining.  It wasn't down that far.
Trey: It was the main road from Silverton to Ouray, on the Million Dollar Highway.  We were going north, and it's closer to the Ouray side.  You start to descend towards Ouray, and it's off on the right side of the vehicle.
Above: The Bisti Badlands, Northwest, New Mexico

TCM: Tell us about some of your favorite places that you've traveled to and would recommend to others.
Natalie: The Bisti Badlands in northwest New Mexico just south of Farmington has been one of coolest places I've ever seen.  I was shocked by lack of people and the lack of Americans.  We met mostly foreigners there.  It's in the middle of nowhere but it's worth the drive.  We boondocked right there and spent four or five days.
Above: Southwestern Colorado 
I also liked southern Colorado and Sedona, Arizona.  We saw tons of people in Colorado and it's a destination for campers.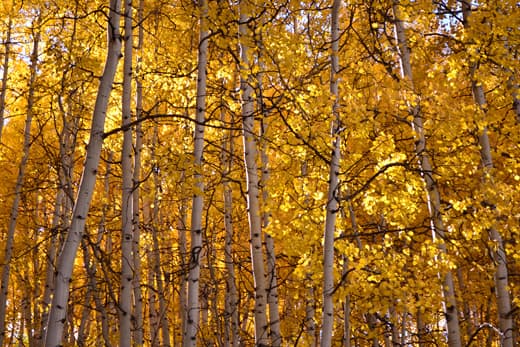 Above: Southern Colorado in the fall, when the Aspens are turning, is just phenomenal.

TCM: Tell us about your first week when Trey saved the lives of two drowning victims near Brookings, Oregon after the earthquake and resulting tsunami in Japan.
Natalie: That happened on our third morning in the camper.  We found a beautiful spot on the beach.  We parked and were really excited about this spot.  We were looking forward to the next morning, having breakfast and strolling on the beach.  At 4:00am in the morning, a sheriff pounded on the door, woke us up, and told us an earthquake hit Japan.  He told us to go to higher ground, so we drove ten minutes up the road.
When we woke up in the morning and we were still alive we figured everything was okay.  He told us the tsunami after effects would hit Oregon at 7:00am and it was 9:00am.  The high to low tide was going in three minute intervals.  It was really fast, but we weren't thinking these were tsunami surges.
Then this car with four people inside pulled up.  They came out on the beach.  Trey and I noticed the tide coming in and going back.  Two people walked behind one of the sea stacks and their friends came towards us.  We told them their friends were going to get wet.
Then the waves came up and took those two people who we were talking to out into the ocean.  Trey was sprinting alongside them and yelling at them to take off their clothes that were weighing them down.  They were struggling and screaming trying to get up.  I was running next to Trey and thinking about those other two people behind the sea stack. They were screaming for help.
Trey went into the ocean and helped them.  All he had on was his boxers and was running into the ocean.  I was convinced I was about to watch five people drown.  When the water started going back out, the two people behind the sea stack had climbed up the sea stack.  They looked like they had been in a washing machine.
Trey: I was able to get to the guy first who was closest.  We locked hands and I pulled him ashore.  He got on his hands and knees, looked behind him and said, "You've got to save my sister."   I couldn't see her at first, and then saw she wasn't even fighting anymore.  She was several hundred yards out in the ocean.  I couldn't stand there and watch her die, so I went out after her.  When I got to her she was face down and floating.  Her eyes were glassy, she had foam coming out of her mouth, and she was making strange noises.  Luckily she had on jeans with a leather belt, so I grabbed on her belt and pulled her through the water back towards the shore.
I was fifty yards from the beach as it was getting more shallow.  At that point I was having more trouble with the weight because she was unconscious.  A guy from search and rescue came towards us at that time.  His eyes were big and there was another surge coming.  That gave me an adrenaline rush.  We dragged her to the beach with the paramedics waiting.  They did CPR and a helicopter took her off to the hospital.  We saw later on the Seattle news an interview with their friend behind the sea stack.  They thanked us, "anonymous strangers".  We do know that she survived.
TCM: That's an amazing story.  I had no idea that the waves were that powerful on the West Coast after the tsunami.  Those folks are so lucky that you were there and had the courage to help them despite the obvious risk.  What do you like to do for fun while you're traveling?
Natalie: We're big mountain bikers.  Our world kind of revolves around that hobby.  We go to places because of the mountain biking and hiking.  Trey can mountain bike two to three days in a row before he needs to take a day or two off from riding.  His leg still needs more time to fully heal.
We are active and do something every day.  I'll run if Trey's not going to bike.  We'll usually run into other mountain bikers and they'll want to ride with us.  We plan to hang out and ride with them.  A lot of times we end up going off with some of the people that we've met throughout our travels.  We went from Tucson to Phoenix to Sedona because of people we met.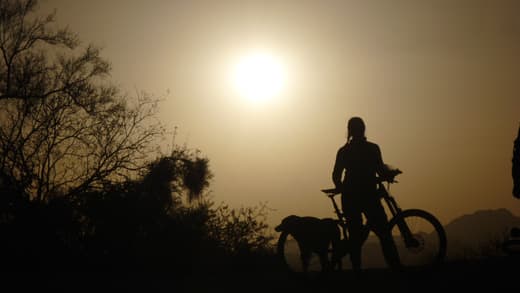 Above: Natty and her bike
Trey: It's a really cool thing to meet so many people and have so many cool friends.
TCM: That's what we love about traveling too.  What's next for you guys?
Trey: Personally, as a physical therapist, I treat the elderly.  I've been a physical therapist since 1996.  One of the things my patients tell me is to do it while you're young.  If you want to travel, don't wait.  Do it now.  Do it while you're healthy and physically capable.
I took their words to heart, especially after my wife died.  I needed to work hard to take my mind off her death, but I wanted to have money to travel and do it while I was young.  I encourage anyone thinking about it to go for it and don't wait.  So many of my patients have saved money their whole lives, worked really hard, and reached retirement.  They bought the RV and have a stroke or other health problems.  They never saw the dream of travel and freedom fulfilled.  I always think of my patients who have told me that over the years.
I'm very analytical.  I like to get into the details sometimes too much and I'm too focused.  Natalie is more the, "Quit messing around and let's do it type", like when she put our stuff on Craigslist and got this started.  That's why Natalie and I mesh so well together.
Natalie: We talked for three years about this trip.  I eventually sat him down and asked, "What do we need to do?" and, "How can I help you so we can do this?"  I wanted to turn in my resignation and get started.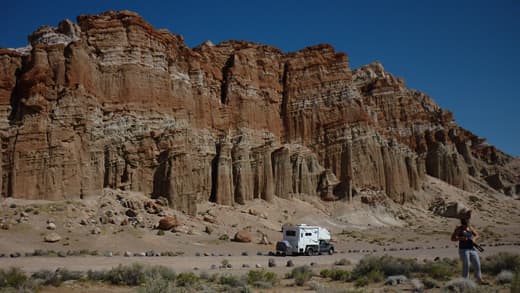 Above: Kernville, California
TCM: What's your advice for people just getting into truck camping?
Trey: If I had to give advice to someone who wanted to do truck camping part or full time, I would say that you have to give it a good few months.  Expect that it's going to be frustrating at times.  Expect that you are going to feel out of your element.  Know that things will improve and it will be a worthy journey.  That's why we decided to go another year.  Now we've worked out the kinks, and have started to feel more comfortable.  We know the intricacies of the camper, and it gets better with time.  We have thought about giving up and just settling down somewhere.
Natalie: Multiple times.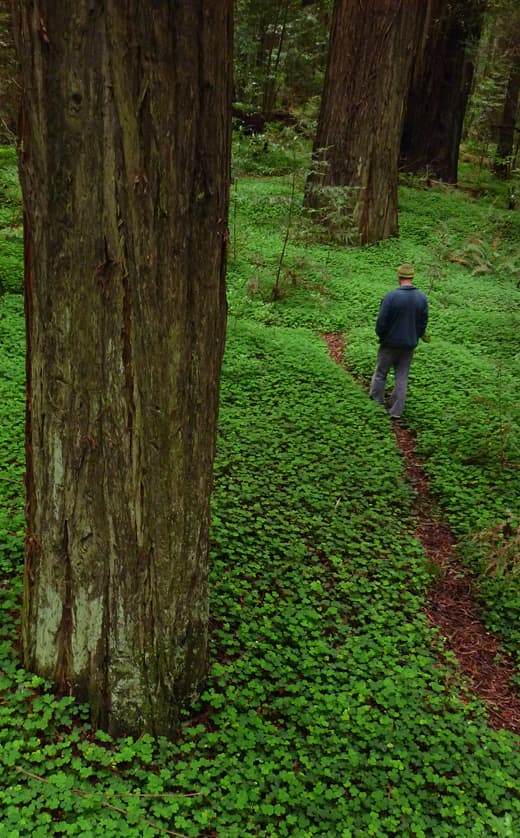 Above: Jedidiah Smith Redwoods in Northern California
Trey: I'm glad we didn't and we've stuck it out.  We are going to have great stories for the rest of our lives and so many great, new friends.
Natalie: Other things that stood out, were Trey breaking his leg and Joey's death after he got hit by a truck.  Those were eye openers as far as knowing this isn't a vacation.  It's a life choice.  Living on the road is not a vacation.  We would talk to a lot of friends in the beginning when we were having problems with the camper and they didn't want to hear it.  They thought we should be happy to be on vacation, but we quickly realized it wasn't.  We just moved into a truck camper, our small mansion on wheels.  This has been a challenge and not a glorious year.  People think it's just fun and easy, but life goes on, and things happen.
NATTY AND TREY'S TRUCK CAMPER RIG
Truck: 2011 Ford F-350, crew cab, dually, long bed, 4×4, diesel
Camper: 2011 Chalet TS116
Tie-downs and Turnbuckles: Torklift Fastguns
Suspension Enhancements: Firestone Ride Rite Airbags
Gear: Extender hitch for the bikes/towing, Thule bike rack, loads up to 4 bikes