Mitch: Having the camper has made the whole process easier.  Before I would pack up the truck with everything.  I would even wind up sleeping in the truck cab because the back of the pickup was full.
With the Phoenix Camper, I don't even have to bring a suitcase.  Under the cabover bed area there's storage for my clothes.  I always have a comfortable place to sleep, a full kitchen, and a bathroom.  These amenities save me a lot of time and money at tournaments.  I can camp close to the tournament, eat breakfast, lunch, and dinner in the camper, and stay focused.
Many of the bodies of water I fish are large.  I need to launch my boat at a different place each day for pre-fishing the tournaments.  Having the truck camper rig allows me to be flexible and camp where I need to; lake side or river side.  Being self-contained is also very important and allows me even greater flexibility.
The camper is my home on the road and it gives me peace of mind while I'm fishing.  Since the lakes are remote, there aren't hotels near them.  With the camper, nine times out of ten, I can park near the fishing site.  I don't have to wake up as early and, at the end of the day, I don't have to drive back to a hotel.  It's fantastic.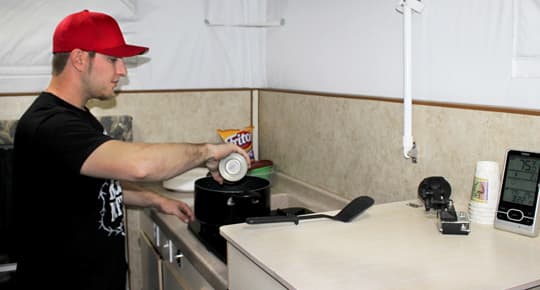 Above: Mitch cooking in his Phoenix Custom Camper
TCM: What kind of fuel economy are you experiencing?
Mitch: When the camper is fully loaded and I'm towing my boat, I average between 10.5 and 11.5 miles per gallon.
TCM: What are these fishing tournaments like?
Mitch: There are 150 to 200 boats per tournament.  That's about 150 professional fishermen and 150 co-anglers.  I get paired with amateurs each day.  So there's a combined total of 300 to 400 people at the tournaments plus the sponsors and people running it.
For each of the tournaments I participate in, I head out for a day or two of driving before I reach my final destination.  I pull over and sleep in the camper whenever I need to stop for some rest.  Once I'm at my final destination, I unload the camper and put it in a camping spot.  I typically stay there for seven to ten days, the first five to seven being pre-fishing the lake or river.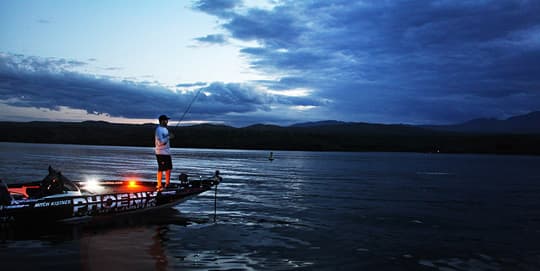 Above: Fishing on Saguaro Lake, Arizona
TCM: What is pre-fishing?
Mitch: Pre-fishing consists of scouting the body of water, finding what baits to throw, and what areas to fish.  My pre-fishing days consist of waking an hour or two before sunrise and heading out to the lake.  I spend ten to twelve hours pre-fishing.  By the time I return each evening, it is usually dark or close to dark.
After a long day of pre-fishing, having the amenities of home in my Phoenix Camper is priceless.  Almost as soon as I return I light the stove and cook dinner.  Then I'll check the weather for next day's pre-fishing and get some shut eye.   The night before the tournament, and after each day of competition, it is dark by the time I return to the camper.  Before I sleep, I'll have my coffee pot set and ready for the morning.
TCM: Sounds like you've got it down.  Do you go truck camping for fun, or do you use your truck camper strictly for fishing tournaments?
Mitch: I haven't used the rig for anything other than fishing, but I have used it to camp and fish on our local lakes here in Arizona.   It's hard for me to picture camping without a lake.  I will be taking the camper to Country Thunder, which is a country music festival an hour east of here.
A few times I've taken the truck and camper out for a one night fishing trip.  I can drive out the night before, go to sleep, wake up right there, go fishing, and drive home.  It's really nice to have that luxury.