With his Phoenix Custom Camper, Mitch Kistner has his sights set on making it to the Bassmaster Elite Series, one professional fishing tournament at a time.  Go Mitch!

In every competitive sport, it's critical to have your head in the game.  For some, this can pose a huge challenge as they are forced to travel to an unfamiliar setting, sleep in an unfamiliar hotel, and eat at unfamiliar restaurants.
Suddenly the preparations for competition fall to the wayside as considerations of proper rest and nutrition take precedence.  Something as stupid as a rowdy overnight party next door or a bad reaction to last night's dinner can throw everything.
Of course these factors have always been part of competition.  There are a fortunate few for which no external factors can disrupt their focus.  For the rest of us, controlling the quality and quantity of our comfort, sleep, and nutrition before a competitive event can mean the difference between performing at our peak, or pooping out prematurely.
Over the years, this seemingly unlikely subject has been raised several times in Truck Camper Magazine.  We've interviewed marathon runners, off-road bike racers, swim meet parents, Civil War artillery shooters, mountain climbers, and race car drivers.  All of them have said that having a truck camper was an important element to maintaining their competitive edge; a vital part of their strategy to win.
We met Mitch Kistner at the 2013 Overland Expo.  His winning attitude immediately impressed us, as did his determination to be successful at his chosen sport; professional bass fishing.  And it was no surprise that Mitch's custom Phoenix Camper is a critical part of his competitive game plan.  It's time to pack the rig, prepare the rods, and roll out to the next bass fishing tournament with Mitch Kistner.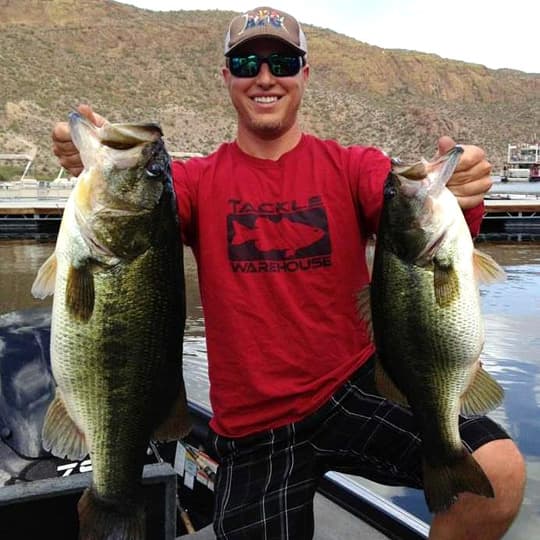 Above: The big one in this photo is the largest bass Mitch has ever caught, weighing in at 11 pounds, 2 ounces.  The photo was taken at Canyon Lake in Arizona
TCM: Have you always been a fisherman?
Mitch: I started fishing with my dad when I was two or three years old on Lake Wylie in South Dakota.  Even from that young age, I really enjoyed being outside and fishing.
When I was eight years old, my family moved to Arizona.  Around the same time, my Uncle Don also moved to Arizona.  He had a 17-foot aluminum Bass Tracker.
Any time he had a free day, Uncle Don asked if I would go fishing with him.  I remember waiting at 4:00am at the curb in the dark, excited about going fishing.  Then I would save my allowance to get fishing gear for our next trip.
TCM: When did the fishing become competitive?
Mitch: Uncle Don and I entered a few Wednesday night fishing tournaments together.  That's what got me into competitive fishing.
Then I went to high school and my fishing stopped for a bit as I focused on hockey and lost a little interest.  I regret that now.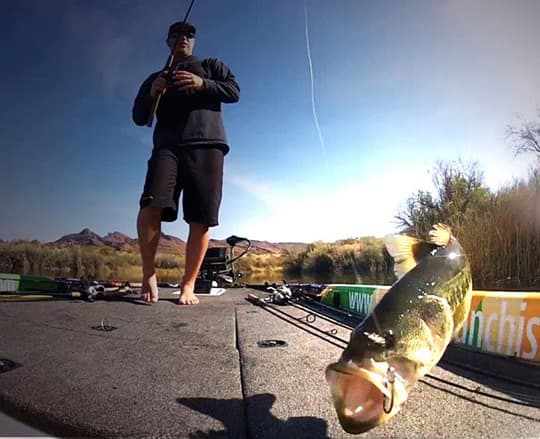 Above: Fishing at Lake Havasu, Arizona
TCM: What brought back the interest to fish competitively?
Mitch: After high school I attended Arizona State University.  One night I was watching the College Bass Fishing Tournament on television and decided to contact the Bassmaster Collegiate organization.  I asked them what I needed to do.