With his Phoenix Custom Camper, Mitch Kistner has his sights set on making it to the Bassmaster Elite Series, one professional fishing tournament at a time.  Go Mitch!

In every competitive sport, it's critical to have your head in the game.  For some, this can pose a huge challenge as they are forced to travel to an unfamiliar setting, sleep in an unfamiliar hotel, and eat at unfamiliar restaurants.
Suddenly the preparations for competition fall to the wayside as considerations of proper rest and nutrition take precedence.  Something as stupid as a rowdy overnight party next door or a bad reaction to last night's dinner can throw everything.
Of course these factors have always been part of competition.  There are a fortunate few for which no external factors can disrupt their focus.  For the rest of us, controlling the quality and quantity of our comfort, sleep, and nutrition before a competitive event can mean the difference between performing at our peak, or pooping out prematurely.
Over the years, this seemingly unlikely subject has been raised several times in Truck Camper Magazine.  We've interviewed marathon runners, off-road bike racers, swim meet parents, Civil War artillery shooters, mountain climbers, and race car drivers.  All of them have said that having a truck camper was an important element to maintaining their competitive edge; a vital part of their strategy to win.
We met Mitch Kistner at the 2013 Overland Expo.  His winning attitude immediately impressed us, as did his determination to be successful at his chosen sport; professional bass fishing.  And it was no surprise that Mitch's custom Phoenix Camper is a critical part of his competitive game plan.  It's time to pack the rig, prepare the rods, and roll out to the next bass fishing tournament with Mitch Kistner.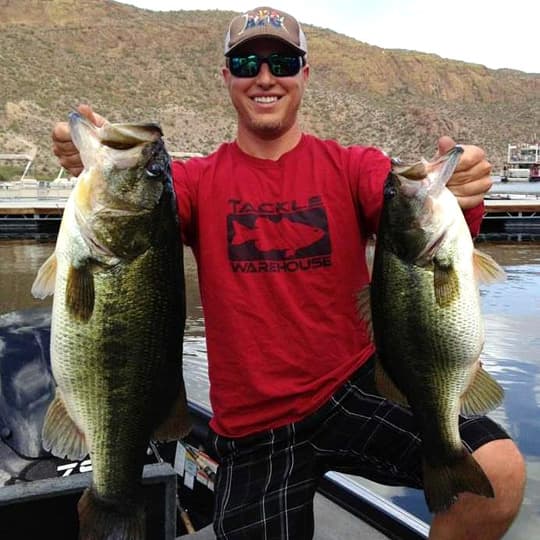 Above: The big one in this photo is the largest bass Mitch has ever caught, weighing in at 11 pounds, 2 ounces.  The photo was taken at Canyon Lake in Arizona
TCM: Have you always been a fisherman?
Mitch: I started fishing with my dad when I was two or three years old on Lake Wylie in South Dakota.  Even from that young age, I really enjoyed being outside and fishing.
When I was eight years old, my family moved to Arizona.  Around the same time, my Uncle Don also moved to Arizona.  He had a 17-foot aluminum Bass Tracker.
Any time he had a free day, Uncle Don asked if I would go fishing with him.  I remember waiting at 4:00am at the curb in the dark, excited about going fishing.  Then I would save my allowance to get fishing gear for our next trip.
TCM: When did the fishing become competitive?
Mitch: Uncle Don and I entered a few Wednesday night fishing tournaments together.  That's what got me into competitive fishing.
Then I went to high school and my fishing stopped for a bit as I focused on hockey and lost a little interest.  I regret that now.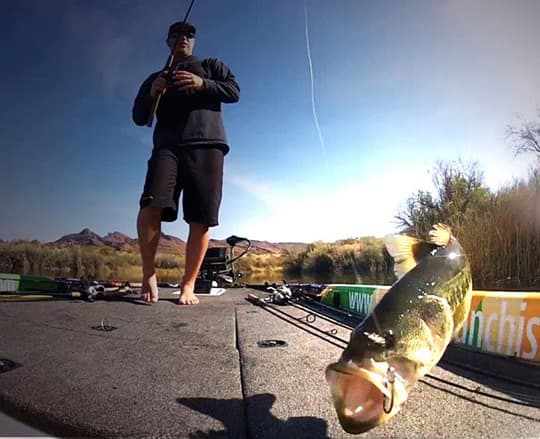 Above: Fishing at Lake Havasu, Arizona
TCM: What brought back the interest to fish competitively?
Mitch: After high school I attended Arizona State University.  One night I was watching the College Bass Fishing Tournament on television and decided to contact the Bassmaster Collegiate organization.  I asked them what I needed to do.
The following week I was on fishing forums about starting a club for Arizona State.  Three people were interested and, about four months later, we were participating in the our first fishing tournament in Arkansas.
TCM: Now that's initiative.  How did things progress from there?
Mitch: Through college I fished around the country in multiple tournaments.  At that point I knew I wanted to pursue fishing as a career and started figuring out how to do it.  Sponsorship is one way, but it's a hard sport to get sponsored.
I majored in Graphic Design at Arizona State, so I can present myself well and I understand marketing and business.  I entered my first professional tournament in 2009.  I was in the Bassmaster Central Opens the next year, and I'm still doing that now, along with some of the FLW Rayovac Series.
My goal is to be in the Bassmaster Elite Series, which is like the NFL of bass fishing.  I will keep trying for as long as I can afford to, or as long as it takes to get there.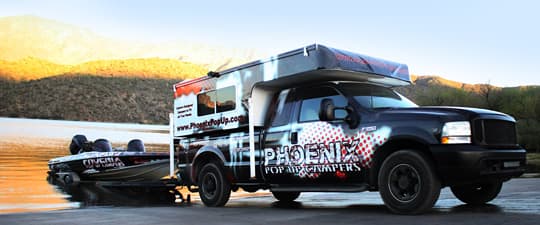 Above: Mitch's 1999 Ford F-250, 2013 Phoenix Custom Camper, and 2001 Triton TR-22 boat
TCM: When did your interest in fishing intersect with truck camping?
Mitch: One of the first memories I can remember is Dad taking me, my brother, and sister tent camping in the Black Hills of South Dakota.  I grew up in Aberdeen, South Dakota, so we would go camping in places around the state.
Five years ago, I bought a Ford F-150 and evolved from sleeping in a tent to sleeping in the bed of the truck for fishing trips.  I did that for a year.  Then I put a camping shell on top of that truck and built a platform with a memory foam mattress and storage underneath.   That was my makeshift camper for when I was fishing.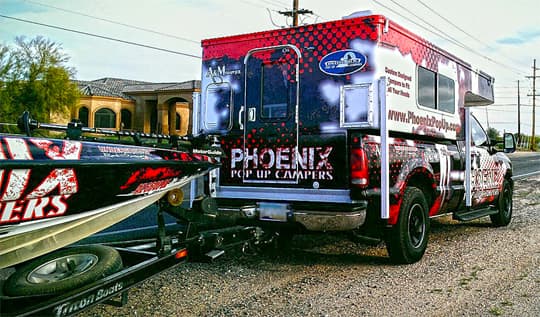 Above: Pulling over and taking a break is an advantage to having a truck camper
I wanted a pop-up truck camper because it would be light weight and offer good fuel economy.  That would be important as I often drive long distances to compete in tournaments.
During my research I started talking to Cari and Robby Rowe of Phoenix Campers.  From the beginning they were very helpful and interested in supporting my fishing career.  Not too long after that first contact, we started working on designing a custom Phoenix Camper.
Above: The inside of Mitch's camper (click photos to enlarge)
TCM: That must have been a huge step-up.
Mitch: It was a huge improvement; night and day compared to sleeping in a pickup shell.  Now I have all the amenities I could want including a propane refrigerator, stove top, and sink.  I also have plenty of storage, holding tank capacity for fresh water, and a bathroom with a toilet and shower.

Above: Mitch can keep the camper loaded or unload at his camping spot
TCM: How has having the Phoenix Camper changed your fishing tournaments?
Mitch: Having the camper has made the whole process easier.  Before I would pack up the truck with everything.  I would even wind up sleeping in the truck cab because the back of the pickup was full.
With the Phoenix Camper, I don't even have to bring a suitcase.  Under the cabover bed area there's storage for my clothes.  I always have a comfortable place to sleep, a full kitchen, and a bathroom.  These amenities save me a lot of time and money at tournaments.  I can camp close to the tournament, eat breakfast, lunch, and dinner in the camper, and stay focused.
Many of the bodies of water I fish are large.  I need to launch my boat at a different place each day for pre-fishing the tournaments.  Having the truck camper rig allows me to be flexible and camp where I need to; lake side or river side.  Being self-contained is also very important and allows me even greater flexibility.
The camper is my home on the road and it gives me peace of mind while I'm fishing.  Since the lakes are remote, there aren't hotels near them.  With the camper, nine times out of ten, I can park near the fishing site.  I don't have to wake up as early and, at the end of the day, I don't have to drive back to a hotel.  It's fantastic.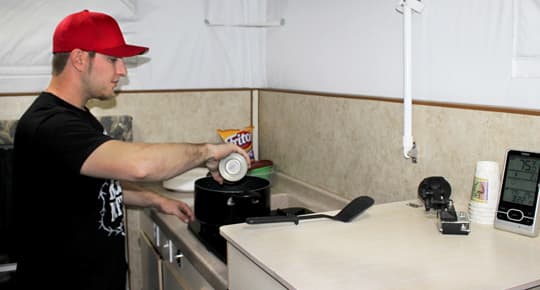 Above: Mitch cooking in his Phoenix Custom Camper
TCM: What kind of fuel economy are you experiencing?
Mitch: When the camper is fully loaded and I'm towing my boat, I average between 10.5 and 11.5 miles per gallon.
TCM: What are these fishing tournaments like?
Mitch: There are 150 to 200 boats per tournament.  That's about 150 professional fishermen and 150 co-anglers.  I get paired with amateurs each day.  So there's a combined total of 300 to 400 people at the tournaments plus the sponsors and people running it.
For each of the tournaments I participate in, I head out for a day or two of driving before I reach my final destination.  I pull over and sleep in the camper whenever I need to stop for some rest.  Once I'm at my final destination, I unload the camper and put it in a camping spot.  I typically stay there for seven to ten days, the first five to seven being pre-fishing the lake or river.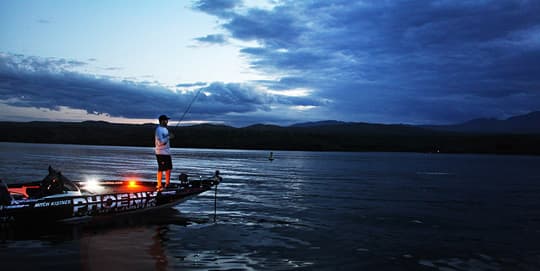 Above: Fishing on Saguaro Lake, Arizona
TCM: What is pre-fishing?
Mitch: Pre-fishing consists of scouting the body of water, finding what baits to throw, and what areas to fish.  My pre-fishing days consist of waking an hour or two before sunrise and heading out to the lake.  I spend ten to twelve hours pre-fishing.  By the time I return each evening, it is usually dark or close to dark.
After a long day of pre-fishing, having the amenities of home in my Phoenix Camper is priceless.  Almost as soon as I return I light the stove and cook dinner.  Then I'll check the weather for next day's pre-fishing and get some shut eye.   The night before the tournament, and after each day of competition, it is dark by the time I return to the camper.  Before I sleep, I'll have my coffee pot set and ready for the morning.
TCM: Sounds like you've got it down.  Do you go truck camping for fun, or do you use your truck camper strictly for fishing tournaments?
Mitch: I haven't used the rig for anything other than fishing, but I have used it to camp and fish on our local lakes here in Arizona.   It's hard for me to picture camping without a lake.  I will be taking the camper to Country Thunder, which is a country music festival an hour east of here.
A few times I've taken the truck and camper out for a one night fishing trip.  I can drive out the night before, go to sleep, wake up right there, go fishing, and drive home.  It's really nice to have that luxury.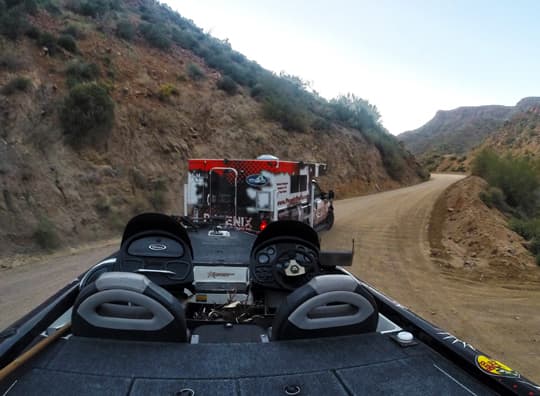 Above: Driving to Apache Lake in Arizona
TCM: What local lakes do you like to go to?
Mitch: My favorite Roosevelt Lake two hours east of Phoenix.  It a little far and remote, but it offers both shallow and deep fishing.  This allows me to practice different techniques.
Another place I enjoy visiting is Saguaro Lake, which is about forty-five minutes east of Phoenix.  It's a smaller lake, 1,300 acres maybe, and it has a some current and grass.  Saguaro Lake also happens to have a phenomenal fishery with tons of big fish.
Last summer my buddy, Sean, and I fished seven tournaments there, and won twice.  It was a a great summer and we really appreciate the lake.  We are looking forward to going back to Saguaro Lake this summer.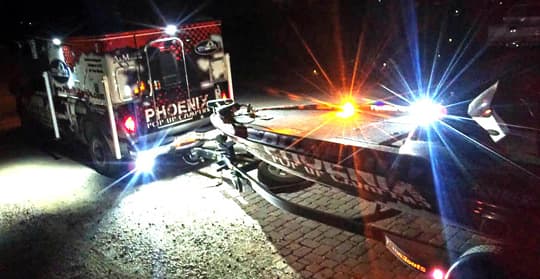 Above: The Rigid Industries exterior LED light set-up
TCM: Tell us about your Rigid Industries exterior LED light set-up.
Mitch: My day job is working for Rigid Industries LED lighting.  Naturally, I have a full compliment of Rigid Industries LED light products on my truck and camper.
I do a lot of work at night so quality LED lighting is a big deal.  I have a twenty inch E2 LED Light Bar in front which is great for dark roads and back alleys when getting to a lake.  If there's an animal in my path, I can see it right away.  Most of the lakes are remote so having extra light is very helpful.  The LED light bar gives me twice as much light as my truck high-beams, and that light is twice as wide.
I have another LED light system for back up lights, which consists of two SR-M Series diffused lights.  When I have to back up between two trees, I can completely see what's behind the rig.  The rear lights also illuminate the entire boat allowing me to prepare for the next day.
I have more LED lighting on the sides of the camper.  Side lighting is great for setting up the campsite.  Having all the LED lights is great for early mornings when I get up an hour or two before the sun or come home after dark.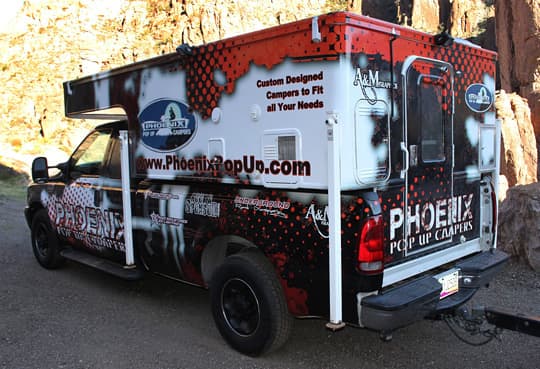 Above: Mitch got his Ford F-150 and Phoenix Custom Camper wrapped
TCM: Sounds like camping next to you is practically a close encounter when you throw those LEDs on.  Where did you get the wrap done?
Mitch: A&M Graphics designed and installed the wrap in Mesa, Arizona.  We got the both truck and camper wrapped.  I designed the boat wrap to compliment what A&M had done.  Once the design was done, it only took a couple days to get the wrap on the truck and camper.  It was a learning experience as A&M had never done a truck camper before.  It's a little bit of a challenge with the camper latches and doors.  Fortunately, it turned out well.
People always come up to ask me about fishing and my rig.  As a bonus, the wrap protects the fiberglass of the truck camper.  I really like how the rig looks.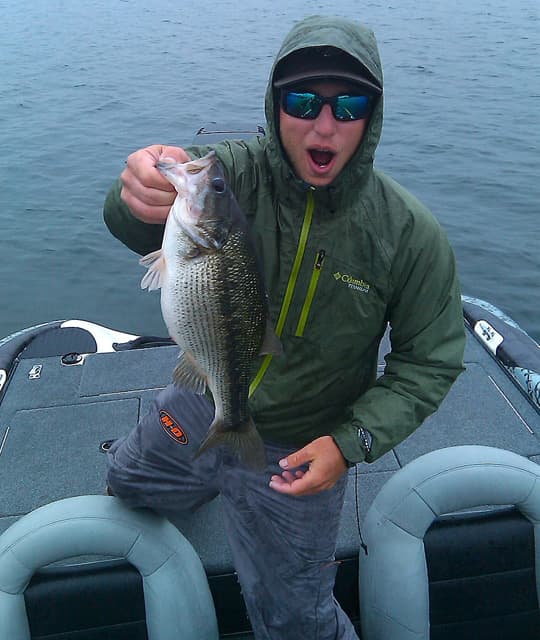 Above: Mitch fishing at Table Rock Lake, Missouri
TCM: What's next?
Mitch: In 2014, I will be fishing the 2014 FLW Rayovac Series. The first event was last month at Lake Havasu City.  The next two are in northern California.  I'm looking forward to those events.
Some people don't realize what's involved in professional fishing.  All they see is that I have a boat, a camper, and I fish.  While I'm certainly living my dream, it wouldn't work if I didn't also have a full-time, Monday through Friday job as a graphic designer.  I love camping and fishing on the weekends.  It will be this way until I can someday be a professional fisherman on the weekdays, too.
TCM: We're certainly rooting for you Mitch.  And I can't help but think you got a few more fans from the loyal readers of Truck Camper Magazine.  Good luck out there!
Mitch: Thank you.
Truck: 1999 Ford F-250, extended cab, long bed, single rear wheel, 4×2, gas
Camper: 2013 Phoenix Pop-Up PULSE SC, 8 foot
Tie-downs/Turnbuckles: Phoenix's Tie-downs
Suspension: N/A
Gear: Rigid Industries 20" E2 driving light bar, Rigid Industries SR-M back-up lights to the truck, three Rigid Industries D-Series diffused lights for aerial lighting, two Rigid Industries A series 200 lumen amber lights right and left looking down from the overcab
Boat: 2001 Triton TR-22, Mercury 250 hp, Pro XB engine