Above: Alaska Border, Top of the World Highway near Dawson City, Yukon
TCM: After all of the places you've visited, what places do you enjoy visiting again and again in your truck camper?
Mike: Mexico and Alaska are favorites.
Mexico offers amazing variety.  Most people who take RVs to Mexico go down the west coast to Mazatlán or Puerto Vallarta where the roads are good, the campgrounds have sites suitable for big rigs, and the weather and beaches are great.  But with smaller rigs it's also easy to visit more remote areas farther south along the coast, not to mention the Colonial interior, the Chiapas jungles and ruins, and the Yucatan.  Pick-up campers work really well for those places.  Mexico has some great roads, but tolls can be expensive in a bigger rig.  In a pick-up camper without dual rear wheels the tolls are the same as a car.
You can travel Alaska in a big rig.  The truth is that the Alaska Highway is in great shape and you don't have to drive on back roads.  But with a pickup camper you don't hesitate to drive those back roads, and you can have a real adventure visiting Prudhoe Bay, Inuvik, or McCarthy and Wrangell-St. Elias National Park.  It also won't break your budget to ride the ferry to see Southeast Alaska, Cordova, or Kodiak.
We like all of the places we write about and that's a good thing since several of our books are in their fourth or even fifth editions.  Even after visiting multiple times there's always lots to do.  We like to hike, drive off-road, go birding, kayak, and take photographs.  We like the outdoors, so we like places that are fairly remote, but we also like visiting the cities and that's easy to do with a camper if you have the right information.
TCM: Do you visit every place and campground that you write about in your books?

Mike: We do, but we don't necessarily spend the night every time we visit.  We talk to campground management, look at the facilities, and talk to people staying in them.  We do stay in a campground every night and after eighteen years we have stayed in most of the campgrounds at one time or another and we have a very good idea of the advantages and disadvantages of each place.
We also get huge amount of feedback from other RVers.  We go to major RV shows each year.  We have a booth and do talks about how to travel to the places we write about.  We'll have dozens of people visit the booth talking about places they've gone in Mexico, Alaska, the Southwest, and the Northwest.
Our Alaska and Mexico books feature all of the campgrounds in those areas.  With our Northwest and Southwest books, it's different.  We look at destinations we feel are most interesting to RVers, and the related campgrounds.  That selection process is one of the most important features of the books.  It keeps people unfamiliar with an area from wasting valuable time and fuel.
The Southwest is easy with the National Parks, plus the desert boondocking areas and snowbird roosts.  The Northwest is harder.  For instance, what are the good destinations in Eastern Oregon or in Central British Columbia?  There's great stuff out there that's not promoted.  People who use our books are often visitors from other regions, but many are residents who want to know what else is available near where they live.  Our books give locals new ideas for weekends and short trips.
RVers all have different backgrounds and interests.  Some are full timers, some are weekenders, and some people have kids and some do not.  When writing the books we have our diverse readers in mind, as there are so many different types of RVers.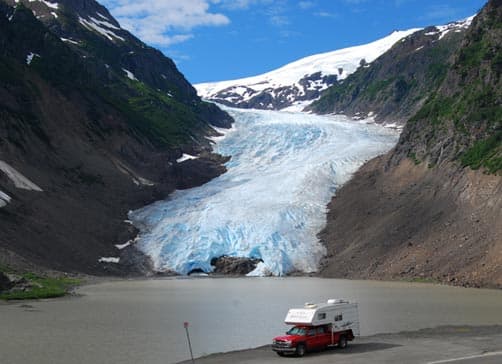 Above: Bear Glacier, British Columbia
TCM: You mentioned that you enjoy kayaking, backpacking, and other outdoor activities.  How do you find room to carry all the gear you need for those things?

Mike: Well, our truck has a crew cab so the back seat is what our RVing friends call basement storage.  In addition, we often flat tow a Jeep Wrangler.  The kayaks go on top of that and overnight tenting gear is in the back.  The Jeep works great for exploring rugged back-country roads and we enjoy a few weeks of tent camping each year.
TCM: Have you ever had a campground deny you access because you were in a truck camper?
Mike: You bet.  It happens.  Some of the long term, seasonal places have limits on heights and ages of rigs, or they say no truck campers.  Campground managers use restrictions for many reasons.  We find it's pretty easy to find alternatives, and our books help point those out.