Mike and Terri Church have published seven RV travel books including Mexico, Alaska, the Pacific Northwest, the Southwest, and Europe.  Guess what type of RV they have?

Imagine this; a husband and wife team traveling in a truck camper and writing about their adventures for a living.  Now who could possibly pull that off?
Fourteen years ago, Mike and Terri Church set out to travel the United States, Mexico, and Europe.  Somewhere along the way, they fell in love with the traveling lifestyle and decided to try to make it a living.  Their plans didn't initially go as they had hoped but, through hard work, determination, and an obvious talent for writing and publishing, Mike and Terri found success.
Today, seven books and many updated editions later, they live full-time in their Adventurer 90FWS spending their winters in Mexico and exploring the continental United States, Canada, and Alaska during the summer.  It's a dream come true.  It's also an incredible amount of effort to research, compile, write, and publish each book.  The Church's certainly earn their wonderful lifestyle and we, as fellow truck campers, benefit tremendously from their accomplishments.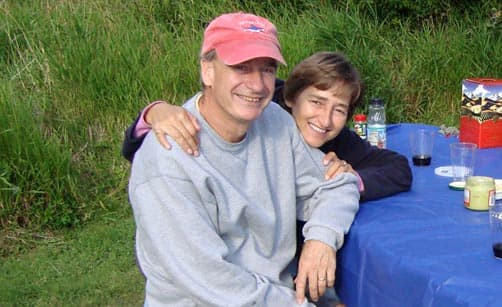 Above: Terri and Mike Church, Near Neah Bay, Washington
TCM: According to your website, you've been camping since the 1990's.  Have you always been traveling in a truck camper?
Mike: Yes, we've full-timed since 1992.  We started with a thirty-four foot Class A Fleetwood Bounder.  Then we traveled in Europe with a Volkswagen camper van.  When we came back from Europe, we realized that the Bounder was too big for our needs and we bought a Class B van.  It was a Ford  F150 van that had been converted by Xplorer for camping use.
We were in the van for four or five years.  Meanwhile, in Europe we had a small Class C Mercedes that was a very old converted delivery van.  When we came back to the States full-time, we decided to get a twenty-eight foot Bigfoot Class C.  We converted the back bedroom area into an office.
Since we average 25,000 miles each year we were wearing the Class C out so fast that we decided to get a pick-up camper for our frequent trips to Alaska and Mexico.  We bought an Adventurer 810WS that was one of Fraserway's rental units.  It had been used for three years when we bought it.  We had it on same pick-up we have now and used it for five years until we bought our current camper.  Incidentally, the Bigfoot hasn't had much use since we bought the pick-up camper.  We just enjoy traveling in the camper more.

TCM: That's an amazing number of different rigs.  What is your current camper?

Mike: We have an Adventurer 90FWS.  A couple years ago we were up at the Fraserway Snowbird show in Abbotsford, British Columbia, saw the 90FWS, liked the layout and interior, and bought it.  With 160,000 miles on our truck we may change it out within a few years, but the camper will probably be our home for quite a while.
TCM: With all of your different RV experiences, what brings you back to a truck camper?
Mike: We have found our truck campers to be considerably more convenient, economical, versatile, and fun to drive than any of the other RVs we've owned.  Truck campers also fit our lifestyle.  We often stay in a campgrounds for only one night, then move on to the next destination.  We seldom stay anywhere for more than two or three days so roadworthiness is a lot more important to us than a lot of interior room.
We spend a lot of time around people in big rigs and they often ask us how we can full-time in such a small camping vehicle.  Our theory is that any RV is a compromise.  If you're staying at a place for two or three months you may want a fifth wheel or a big coach, but if you're on the road you want the smallest possible rig.  A truck camper is the best compromise for us.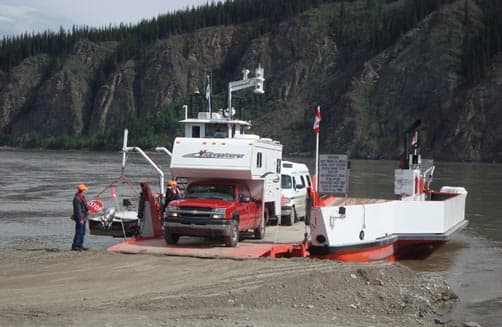 Above: Dawson City Ferry, Dawson City, Yukon Territory