We have boondocked off-road in Montana and Idaho.  Trenton grew up in Montana and knows the state.  Growing up I spent some time in Montana, so we were familiar with those places.  In Colorado and California we stayed in state parks or private parks.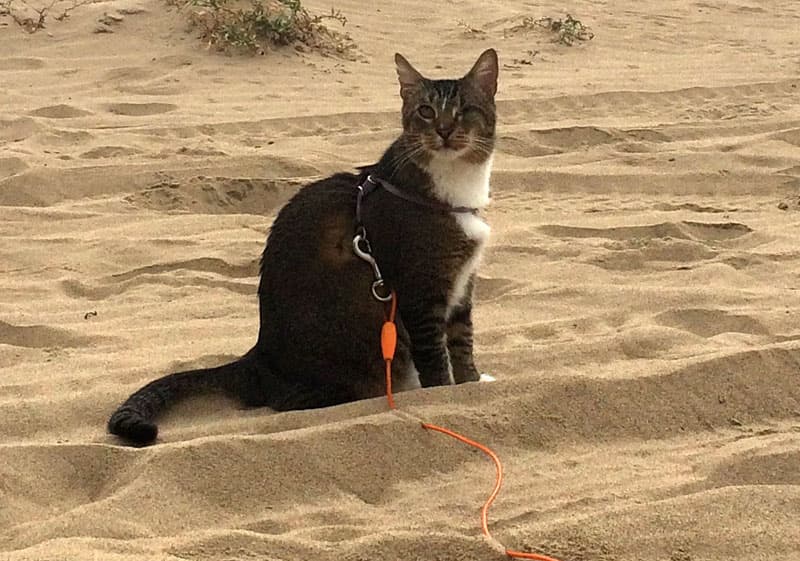 TCM: Tell us about truck camping with your cat.
Cheryl: We brought our one-eyed cat, Scrappers, with us.  He's been a good sport and is okay with being on a leash.  We've kept him inside anywhere there might be predators.  We almost lost him in Death Valley.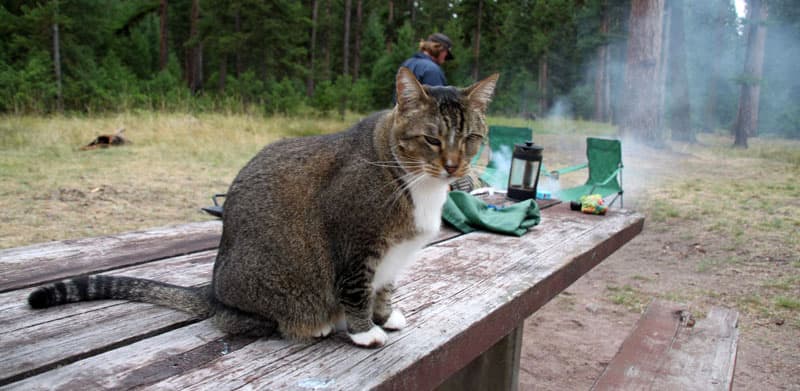 TCM: How did you almost lose Scrappers in Death Valley?
Cheryl: Trenton didn't close the door all the way that night.  Scrappers always sleeps in the dinette but, in the morning, he wasn't there.
We got out and he was nowhere to be found.  About an hour went by and we were more and more worried.  We walked around asking campers if they had seen a cat.  We got some strange looks.
Then, Trenton saw crows circling and dive bombing.  The crows were dive bombing Scrappers, and led us right to him.  He had gotten under a huge junkyard of RVs and washing machines.  We had to call the owner of junkyard to get our cat.  It was three stressful hours.
I've had Scrappers for ten years.  I tried to find a home for him in Hawaii.  He lost his eye and I couldn't give him to the pound.  He's a good traveler in the truck.  We'll get him set up in the camper and then I'll let him walk on the leash.  He goes to the bathroom outside and we have a tiny litter box in the camper for him at night.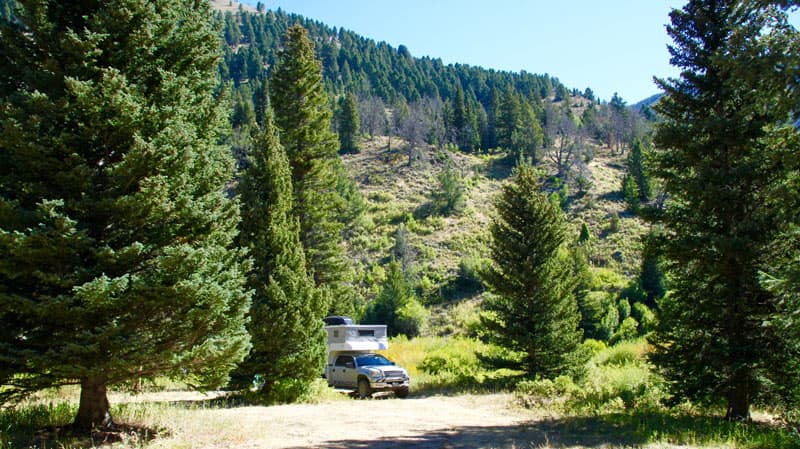 Above: East Fork Blacktail Road, Montana
TCM: Poor Scrappers!  He was clearly out of his element in Death Valley.  What are your truck camping plans for the future?
Cheryl: Hopefully we'll travel to Alaska starting in March of 2017.
Too many people wait until their 70-plus to finally retire and sit in their RV.  They are not able to go on hikes or mountain bike.  I figured that life is short, and to do this now.  We can always work.  We want to travel while we can still hike and bike.
Living on island away from friends and family, it was important for me to be back near Seattle.  My parents are getting older.  With the camper I have the opportunity to visit aunts, uncles, and old friends.  We've parked in the driveways of family and friends and saw Trenton's cousin in Nevada.  He hadn't seen his cousin in twenty years.  By the time we left, we were old friends.  It's fun to reconnect.
If you can make it happen, do it while you're still young.  Life is short.  Get out there and take the time.  Don't be afraid to take a chance.  You don't know what tomorrow brings.  It might be scary, but always stay positive and take a chance.
Cheryl and Trenton's Rig
Truck: 2004 Ford FX400, Short Bed, Crew Cab, 4×4, Gasoline, Short Bed, Single Rear Wheel
Camper: 2016 Phoenix Custom Camper
Tie-Downs and Turnbuckle Brand: Phoenix System
Suspension Products: Rear airbags
Gear: Swing away bicycle rack, mounts to receiver hitch