I also wanted my camper's interior to be modern.  With my feedback, Robby designed my camper with black Staron solid surface countertops, white cabinetry, and modern upholstery and fabrics.  The grey, silver, and black interior colors match the trucks exterior colors.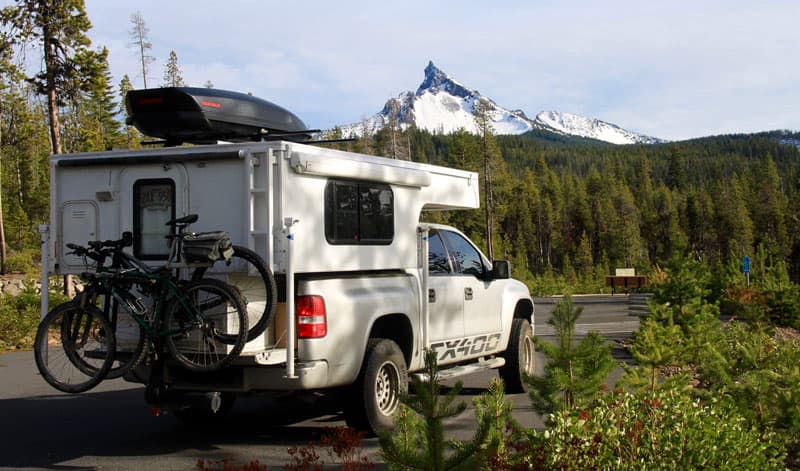 Above: The bike rack was designed by Robby Rowe at Phoenix Campers, Umpqua National Forest, Chemult, Oregon
Robby also designed my bicycle rack.  I was concerned about having a hard time mounting our bikes on the rig, or needing to remove the bikes to enter the camper.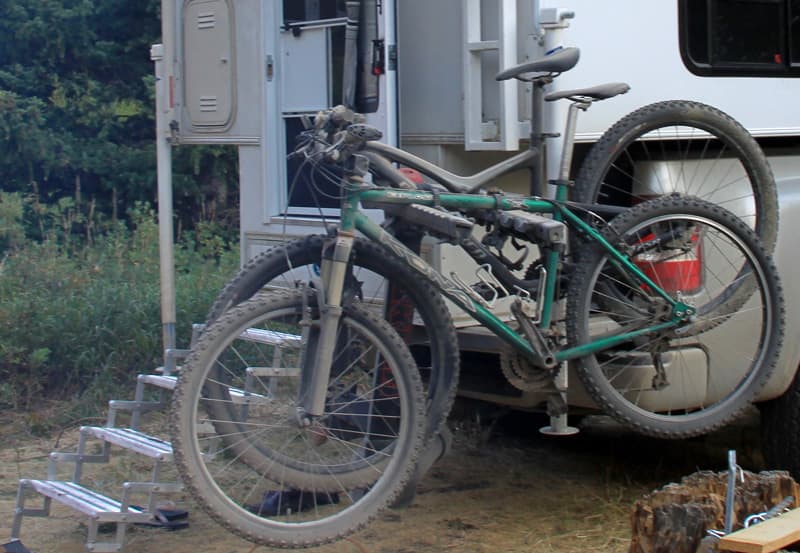 Above: Their swing-out bike rack makes getting into the camper easier
The Yakima rack Robby utilized makes mounting the bikes as simple as possible, and swings out so I don't need to take the bikes off to get into the camper.  The rack design also means we don't need to lock the bikes when we're at a campsite.  The Yakima rack has a lock, so they're always locked on.  It's a great feature.
We also asked for a front slider window.  We don't have an opening rear window on our truck but, if we did, we could crawl back and forth.  I plan on keeping the camper for awhile, so the next truck will have a slider window.
Finally, we asked for a solar panel system.  Since we want to camp off-the-grid, we don't need shore power.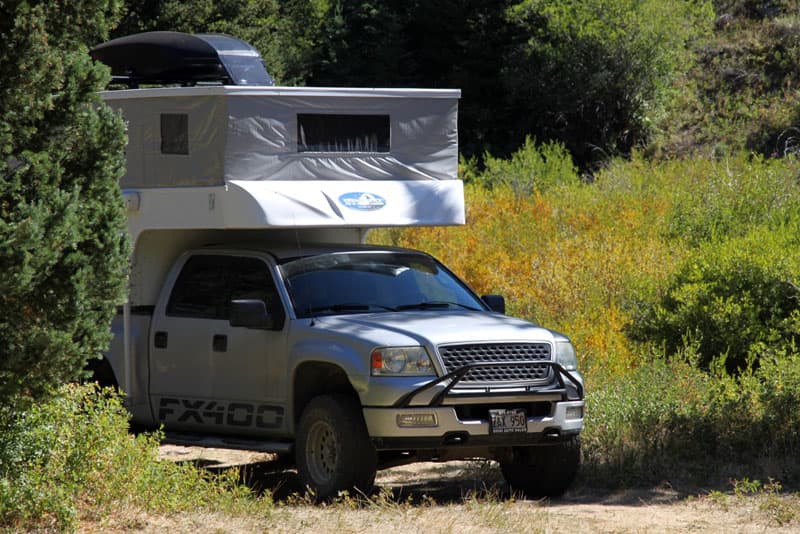 TCM: We are not familiar with the Ford FX400.  What is that?
Cheryl: It's a Ford F150 modified by Roll-A-Long with color-matched fiberglass fenders, leveling kit, and more aggressive wheels, tires, interior seats, and other treatments.  Unfortunately, Roll-A-Long is no longer in business.
We had a farm over in Hawaii and used the Ford FX400 for that.  We bought it used and it's been a great truck.  When we got the camper, we put on bigger tires to go off-road and added a rear airbag suspension system.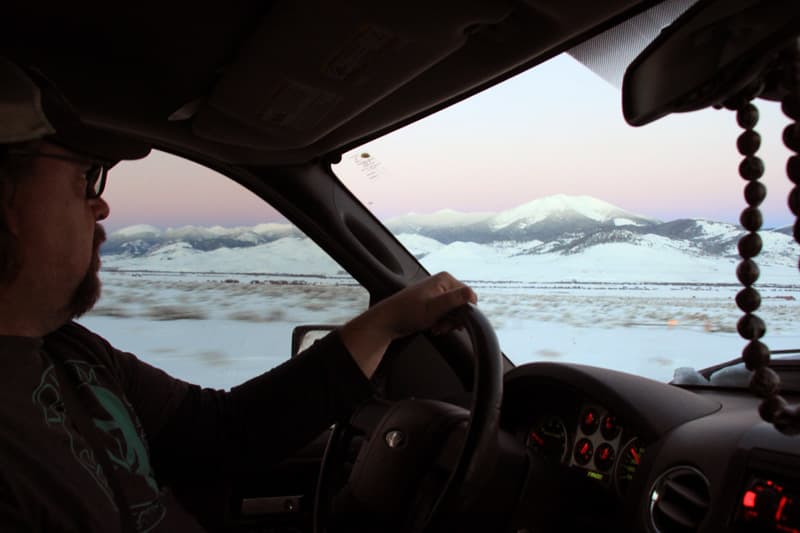 Above: Trenton and Cheryl are full-timing in their Phoenix Camper, Grasshopper Valley, Polaris, Montana
TCM: You mentioned that you sold nearly everything in Hawaii before coming to the mainland.  Are you now living full-time in your Phoenix Custom Camper?
Cheryl: Yes, I am living full time in my truck camper.  We are stopping for the next couple months in Polaris, Montana to stay at a family member's cabin and catch some ski time at Maverick Mountain.  We also want to soak in Elkhorn Hot Springs and play in the snow; something I haven't done in a very long time!  It was a huge leap to move here and live full-time in a truck camper, but just decided that it was time to do something new.
The real estate market in Hawaii was on the rebound, so I did well on the sale of my house.  I also sold all my furniture and put that money in the bank.
TCM: With your truck in Hawaii, and your new camper in Denver, how did you go about putting your rig together?
Cheryl: I shipped my truck to Seattle where my family lives, flew to Seattle, picked up my truck, and drove down to Denver to pick up the camper.