After twenty-five years in Hawaii, Cheryl Ambrozic dreamed of long distance travel.  After selling almost everything, she moved to the U.S. mainland and into a Phoenix Custom Camper – full-time.  Don't miss Scrappers!

If you woke up this morning and realized that you had a burning desire to live in Hawaii for a year, what would you do?  In your dreams you're hiking Hawai'i Volcanoes National Park, marveling at the Polynesian Cultural Center, and exploring the history of Pearl Harbor.  Oh, Hawaii!
Due to the total life disruption such a move would present, not to mention the extensive research and costs involved, most of us would say, "That sounds wonderful, but it's not going to happen".  Reality, we might tell ourselves, doesn't allow for such foolishness, or extravagance.
Naturally, you would be right.  Moving to Hawaii for a year would be very risky, expensive, and who knows what might go wrong.  But – if Hawaii truly was your dream – would it be something you later regretted?
Having met hundreds of people who have dared to chase their life dreams, the answer is almost certainly, "No!"  It's the things we dream of doing, and don't, that we end up regretting.  While I'm sure most of us aren't burning to live in Hawaii for a year, we understand the urge for a bigger life adventure, and rarely regret having followed through.
Which brings us to Cheryl Ambrozic.  At the age of twenty-five, Cheryl moved to Maui from Seattle.  Twenty-five years later, she found herself longing return to the U.S. mainland, drive long distances, and explore off-road destinations in a self-contained truck camper.
Summoning the courage, Cheryl sold her Maui home and almost all of her possessions, ordered a Phoenix Custom Camper sight unseen, shipped her truck to Seattle, flew over to pick it up, and then drove to Denver to get her camper.  Her plan; live full-time in the Phoenix, and look for a new place to settle.
And you thought a year in Hawaii was a big deal.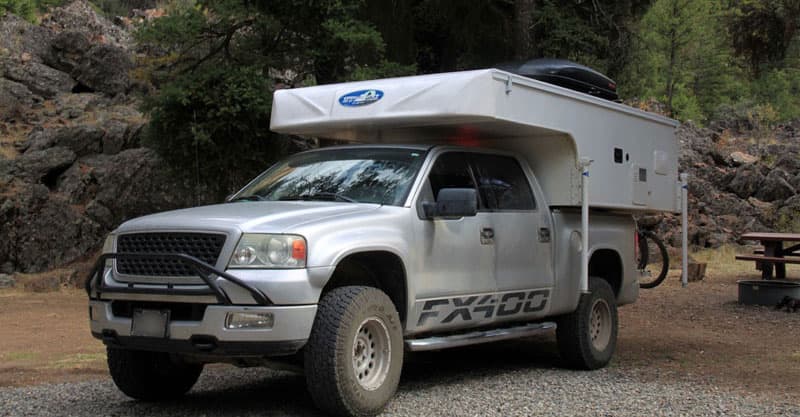 TCM: Tell us about your camping experiences and lifestyle over the years. Did you go tent camping or RVing when you were growing up?
Cheryl: Growing up in Seattle, my parents took us five kids camping around Washington, Idaho, and Montana.  They had a baby blue station wagon pulling a small camper.  It was so much fun and seeded my love for camping for the rest of my life.
When I was old enough, I camped by myself and with my college friends.  I always had a camping box in my car and was ready to go when time permitted and the weather was warm.

Above: Cheryl's 1993 Volkswagen Eurovan Weekender
At the age of twenty-five, I moved to Maui.  After a few years I bought 2001 Volkswagen Eurovan camper.  I sold it five years later and regretted it, so I looked for another Volkswagen Eurovan.  Then, I bought a 1993 Volkswagen Eurovan Weekender that didn't have a stove, refrigerator or the storage that the 2001 had, but it worked and allowed me to camp at in my favorite surf spots in east Maui.  I always loved tent camping, but I felt safer at night when I was snuggled inside my camper and not in a tent.
I lived on the south side of Maui on the dry side of the island.  Haleakalā National Park and some state campgrounds are on the east side.  I could take the Eurovan over to the east side where all the waterfalls and tropical areas are located.  That's where I fell in love with the idea of being self-contained.
TCM: We have readers in Hawaii, but have never heard of someone with a truck camper in Hawaii.  During your twenty-five years in Hawaii, did you ever see a truck camper?
Cheryl: Not in Maui. You hardly ever see an RV in Maui, and the ones you do see are old.
Maui has really narrow roads with sharp turns.  It's not conducive for an RV.  Also, getting RVs to Hawaii is hard.  There are no dealerships, they are not promoted, and they would be very expensive.  Just to ship a car to Hawaii is a couple thousand dollars.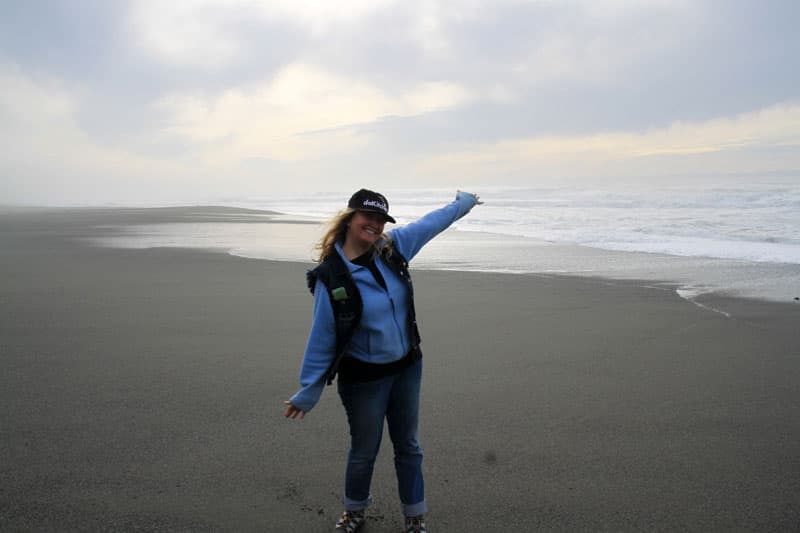 Above: Cheryl at Gold Bluff Campground in Redwoods National Park
TCM: Wow!  That's an eye opener.  Why did you want to leave Maui?  Other than the cost of living, Hawaii sounds like paradise.
Cheryl: I'm turning 50 this year, and I had been in Hawaii for 25 years.  Maui is 40 miles by 60 miles, so I have seen it all.  I really had the urge to discover new places and drive long distances.  I was dreaming about traveling.
I wanted to be able to go off-road and visit places away from the crowds and big RVs.  I didn't want the stress or hassle of pulling a camper.
I already had the four-wheel drive truck, so it was logical to go the truck camper route.  We wanted a durable and lightweight camper with low clearance for the backcountry and off-road.
We found Phoenix Custom Campers and liked that they were a small business with lots of history in building pop-up campers.  They allowed us to design the camper to fit our needs.  Our camper is 100-percent custom and exactly what we designed.  That capability is what caught our eye.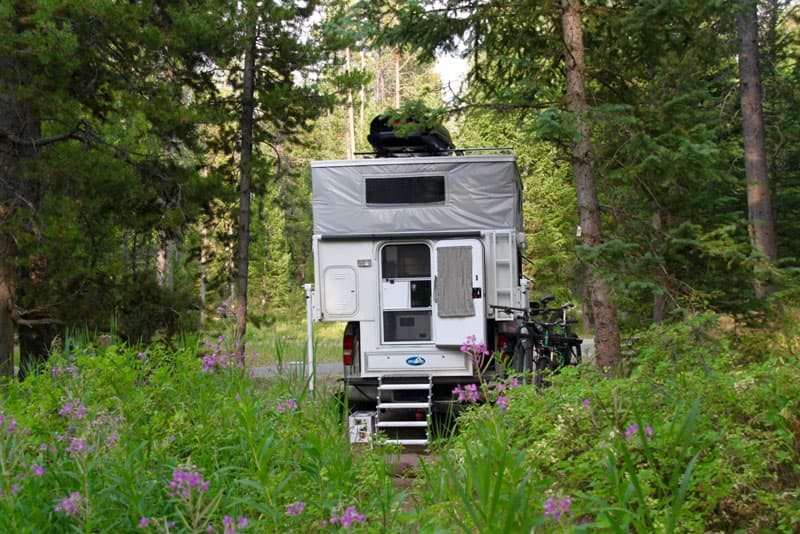 Above: Camping at Hebgen Lake in Montana
TCM: Since Phoenix Custom Campers sells factory direct from Denver, and you were in Maui, how did you proceed?
Cheryl: On their website they said that they would work with us, and that sounded perfect.  Robby Rowe, Co-Owner of Phoenix Custom Campers, told us that he would design what we wanted.  He was very receptive and gave us ideas.
TCM: We have talked to many Phoenix Custom Camper owners who rave about working with Robby and Cari Rowe during the design and build process.  What did you want in your Phoenix Custom Camper?
Cheryl: I was initially concerned about having enough storage, so I asked for a basement storage space under the main floor.  Before leaving Hawaii, I sold almost everything.  I wanted to make sure that I had enough storage in my camper for the stuff I kept.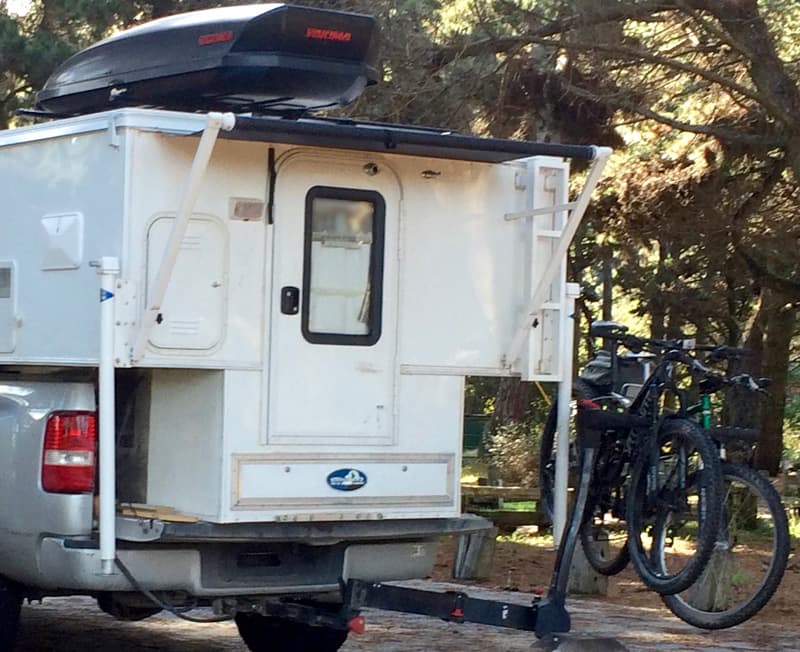 Above: The trap door that pulls out for easy to access exterior storage
Robby listened to my concerns and designed a storage area that runs the length of the camper.  To access the storage area, there's a trap door that pulls out.  It's very easy to access.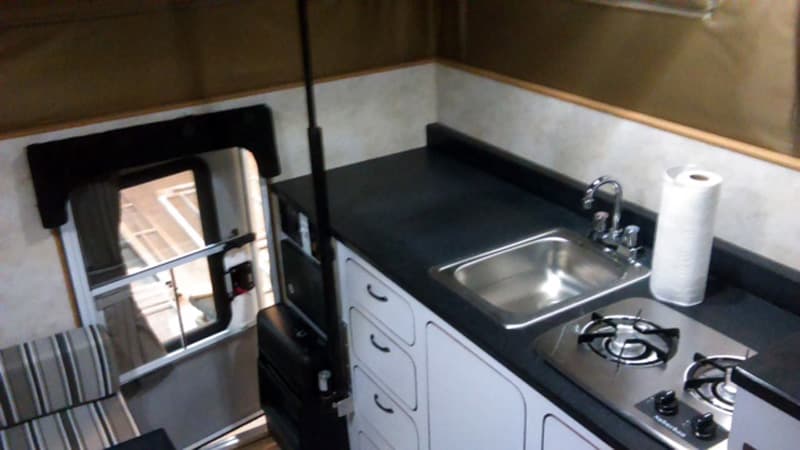 Above: Black Staron solid surface countertops and white cabinetry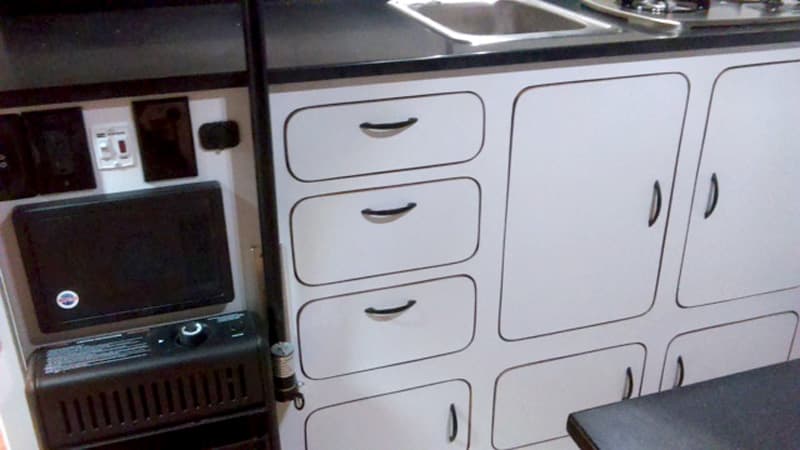 Above: Modern white cabinetry
I also wanted my camper's interior to be modern.  With my feedback, Robby designed my camper with black Staron solid surface countertops, white cabinetry, and modern upholstery and fabrics.  The grey, silver, and black interior colors match the trucks exterior colors.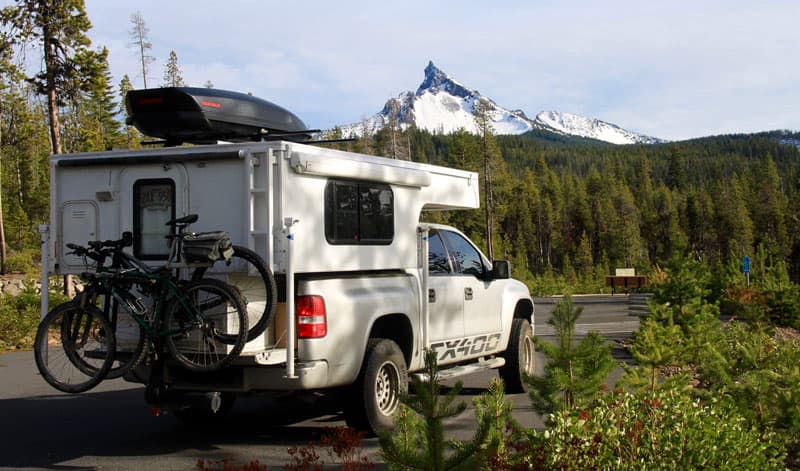 Above: The bike rack was designed by Robby Rowe at Phoenix Campers, Umpqua National Forest, Chemult, Oregon
Robby also designed my bicycle rack.  I was concerned about having a hard time mounting our bikes on the rig, or needing to remove the bikes to enter the camper.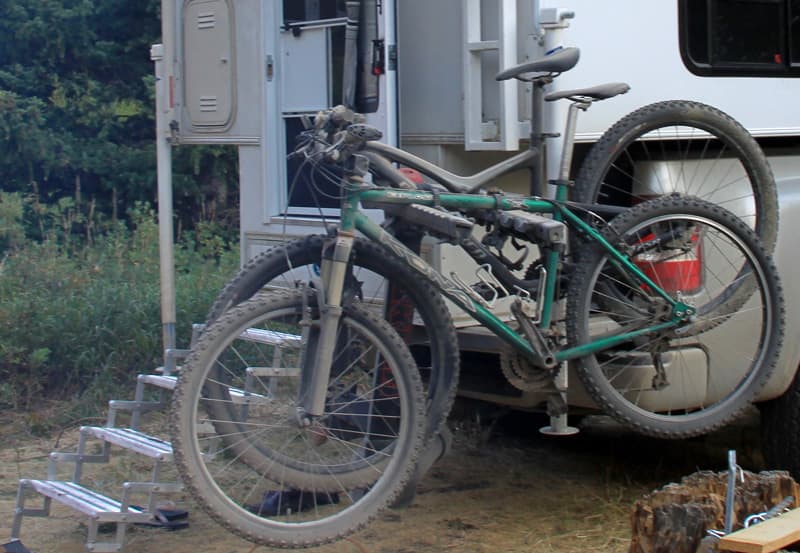 Above: Their swing-out bike rack makes getting into the camper easier
The Yakima rack Robby utilized makes mounting the bikes as simple as possible, and swings out so I don't need to take the bikes off to get into the camper.  The rack design also means we don't need to lock the bikes when we're at a campsite.  The Yakima rack has a lock, so they're always locked on.  It's a great feature.
We also asked for a front slider window.  We don't have an opening rear window on our truck but, if we did, we could crawl back and forth.  I plan on keeping the camper for awhile, so the next truck will have a slider window.
Finally, we asked for a solar panel system.  Since we want to camp off-the-grid, we don't need shore power.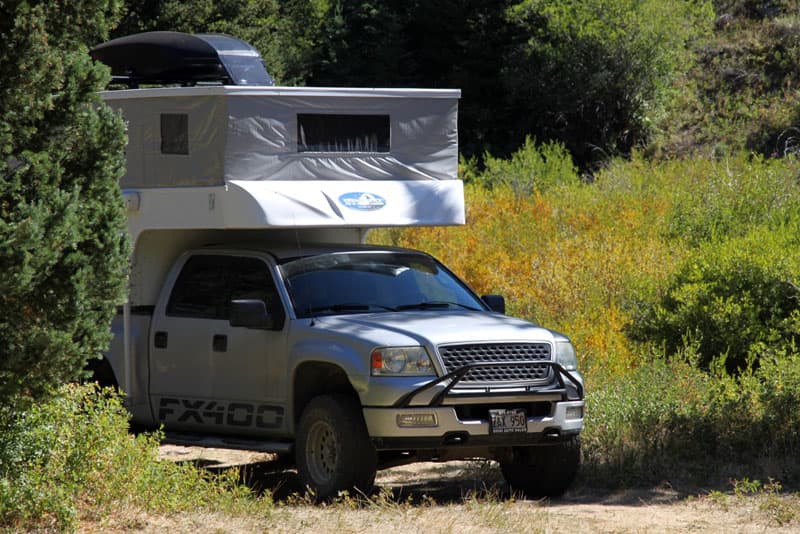 TCM: We are not familiar with the Ford FX400.  What is that?
Cheryl: It's a Ford F150 modified by Roll-A-Long with color-matched fiberglass fenders, leveling kit, and more aggressive wheels, tires, interior seats, and other treatments.  Unfortunately, Roll-A-Long is no longer in business.
We had a farm over in Hawaii and used the Ford FX400 for that.  We bought it used and it's been a great truck.  When we got the camper, we put on bigger tires to go off-road and added a rear airbag suspension system.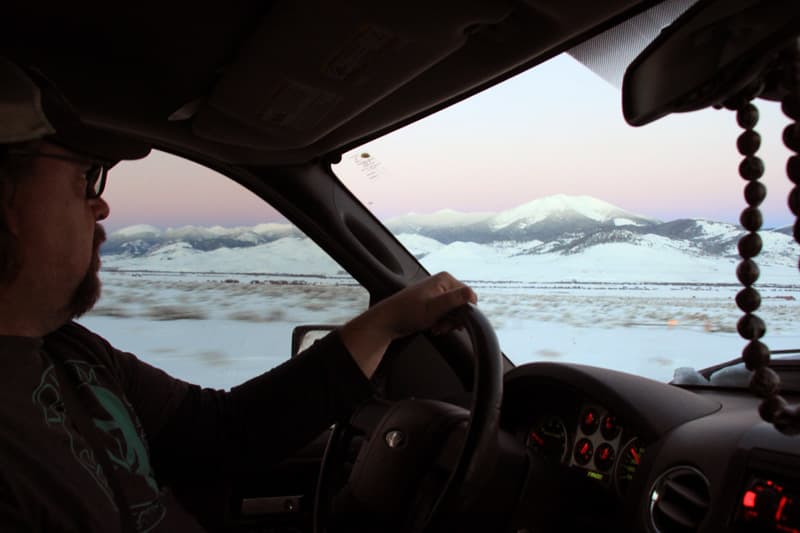 Above: Trenton and Cheryl are full-timing in their Phoenix Camper, Grasshopper Valley, Polaris, Montana
TCM: You mentioned that you sold nearly everything in Hawaii before coming to the mainland.  Are you now living full-time in your Phoenix Custom Camper?
Cheryl: Yes, I am living full time in my truck camper.  We are stopping for the next couple months in Polaris, Montana to stay at a family member's cabin and catch some ski time at Maverick Mountain.  We also want to soak in Elkhorn Hot Springs and play in the snow; something I haven't done in a very long time!  It was a huge leap to move here and live full-time in a truck camper, but just decided that it was time to do something new.
The real estate market in Hawaii was on the rebound, so I did well on the sale of my house.  I also sold all my furniture and put that money in the bank.
TCM: With your truck in Hawaii, and your new camper in Denver, how did you go about putting your rig together?
Cheryl: I shipped my truck to Seattle where my family lives, flew to Seattle, picked up my truck, and drove down to Denver to pick up the camper.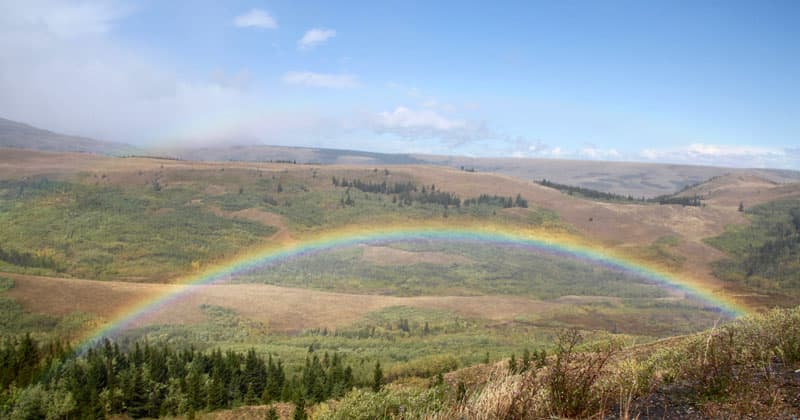 Above: Rainbow at Glacier National Park, Montana
TCM: That's impressive.  What have you done with the rig so far?
Cheryl: This winter Trenton and I went skiing in Montana.  In March we'll be off to Arizona and New Mexico.  Then, we'll hopefully head up to Alaska this summer.
The whole reason I'm doing this is to look for the next place where I'm going to land.  As I travel, I can see what I like and don't like.  I don't have to rent.  I'll probably do this for a year and then I might have a good idea of where I want go.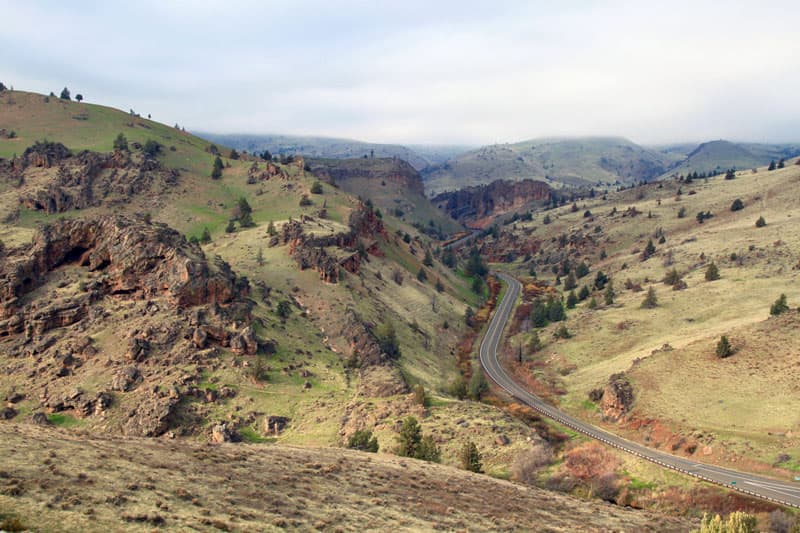 Above: Willamette National Forest, Central Oregon
I need to be near the water.  I grew up by the ocean in Seattle.  In Hawaii I was also near the ocean.  I need to at least be by a lake or something.
Trenton is a skier, so he wants to be near the hills.  So far we both like Sandpoint, Idaho.
Another reason we left Hawaii is that we miss our family.  We want to be able to get to them and not have to fly.  Sandpoint's location would be half way between my family in Seattle and Trenton's in Montana.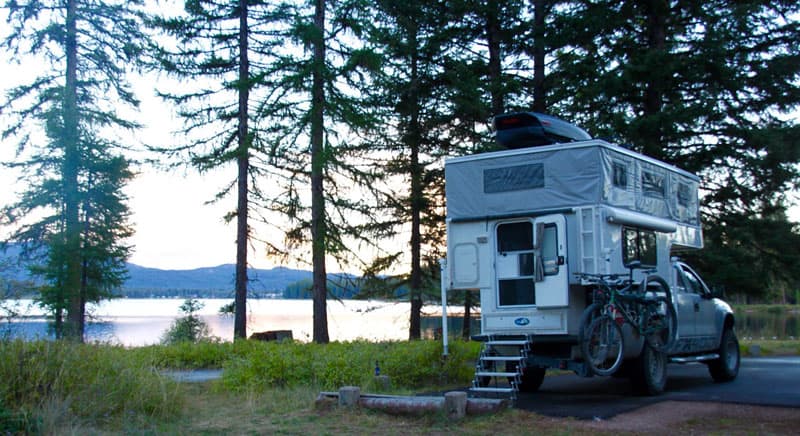 Above: Camping at Sealy Lake, Montana
We also like northern California and Ashland, Oregon.  I am a grant writer and want to be involved in rural communities and agriculture.  We don't have to go back to work right now, but I will need to continue when we find a place to settle.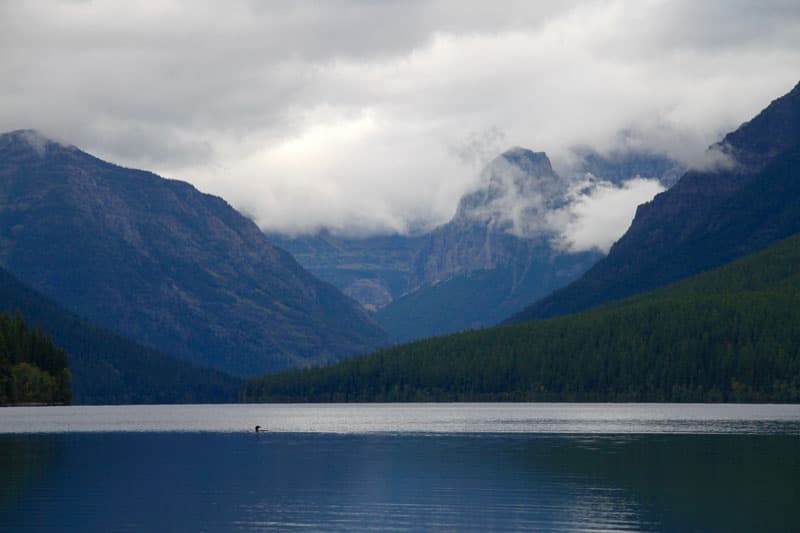 Above: Bowman Lake, Glacier National Park, Montana
TCM: What's it like to be on the road full-time?
Cheryl: It's so freeing.  We do have a budget, but we are really enjoying the freedom of not working and being on the road.
At first I felt like I was homeless and tried to not let the anxiety sneak in.  It's a little scary and little exciting at the same time, but it's also a once in a lifetime opportunity. Right now I'm physically able to do it.  Last year I broke my leg and came to the realization that I'm not getting any younger.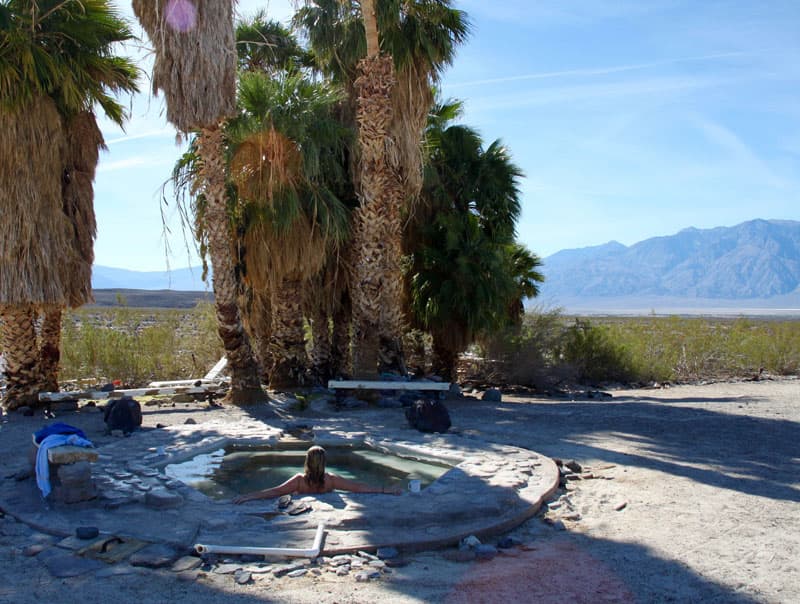 Above: Cheryl and Trenton enjoyed soaking in Saline Valley hot springs
TCM: None of us are.  What do you enjoy doing while truck camping?
Cheryl: We enjoy mountain biking, hiking, cooking good meals, and meeting new people along the way that direct you to cool places.  We also like fishing, exploring National Parks, photography, metal detecting, and soaking in hot springs.
We have a hot springs book of The West.  We look at state maps to find scenic byways and backroads.  Overall, we have no plans, which is kind of crazy.
We don't have to go back to our jobs, so we just go where we want.  We'll stay three to four days and then get an itch to get on the road and discover what's next.  I especially like the tips we've gotten from people.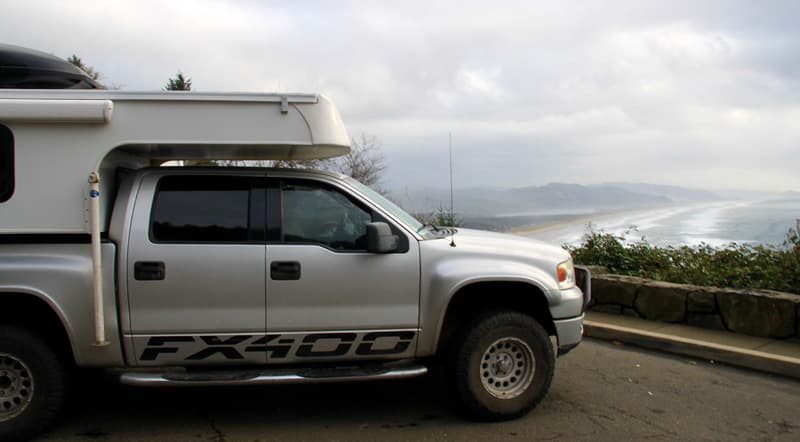 Above: Oswald West State Park, Oregon
TCM: We call that road magic.  What have been some of your favorite experiences so far?
Cheryl: In Colorado we went to places that not a lot of RVs can get to.  On the east side of Black Canyon of the Gunnison National Park there's a 16-percent grade down to the campground.  I was in the passenger's seat with white knuckles, but when we got there, there were seven camp spots.
Above: Dirt Road to Saline Valley Hot Springs, California
We also liked Saline Valley Hot Springs in Death Valley National Park.  There's a four-wheel drive road to get there, which is perfect for our truck camper rig.
There are also some great hot springs in Idaho.  Some of these are in areas that are not populated and don't attract many RVers.  It takes a little gumption to get to the hot springs because you are going on rough roads.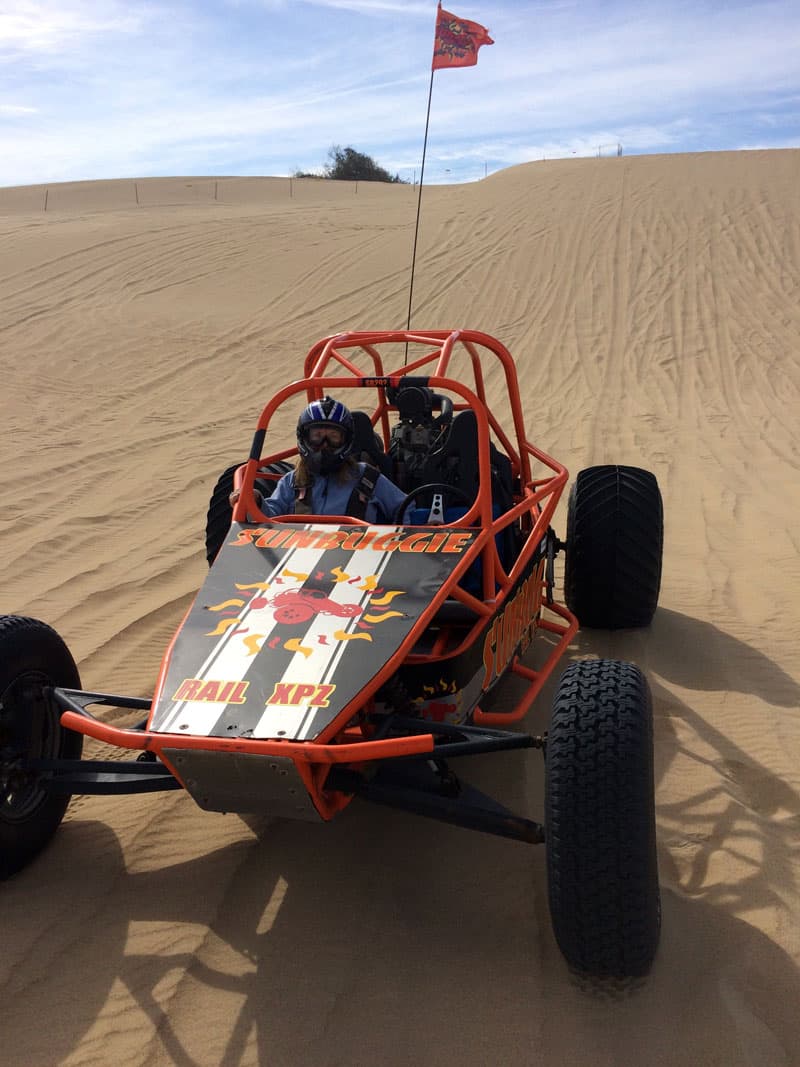 Above: Riding in a dune buggy on the Pismo Beach dunes
We have also enjoyed several California campgrounds; Gold Bluffs Beach Campground in Redwoods National Park, Oceano Dunes State Park, Pismo Beach, and Joshua Tree National Park.
We have met many new friends.  Everybody is interested in what we're doing.  They will first see our Hawaii license plate and then our unique camper.  We're not super young and not super old.  We tell people we sold everything and they can't believe it.  They just can't believe we're doing the opposite of the general population who want to move to Hawaii.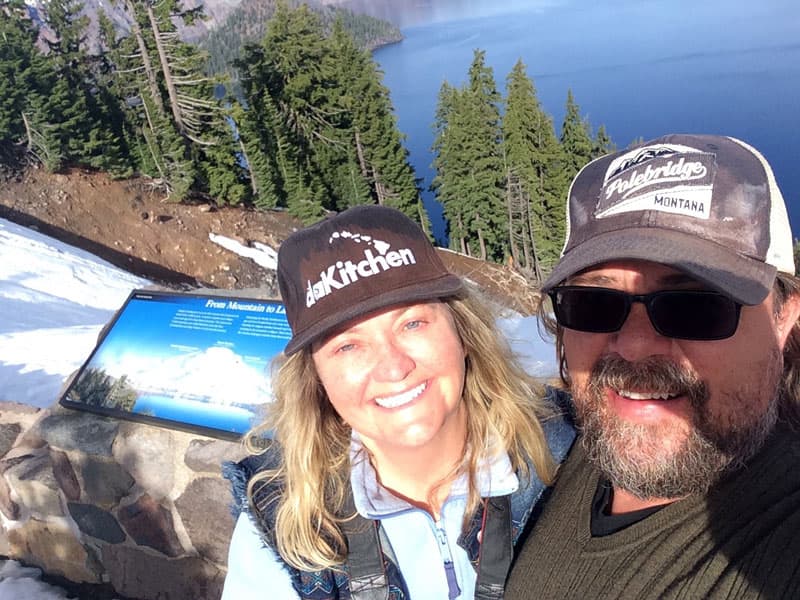 Above: Cheryl and Trenton at Crater Lake, Oregon
TCM: So you just wing it?  No reservations or planning?
Cheryl: That's right.  And we have been lucky to find something almost every night.  A couple of times at night we had to stay in hotels because we couldn't find a campground, but that's really the exception.
We have boondocked off-road in Montana and Idaho.  Trenton grew up in Montana and knows the state.  Growing up I spent some time in Montana, so we were familiar with those places.  In Colorado and California we stayed in state parks or private parks.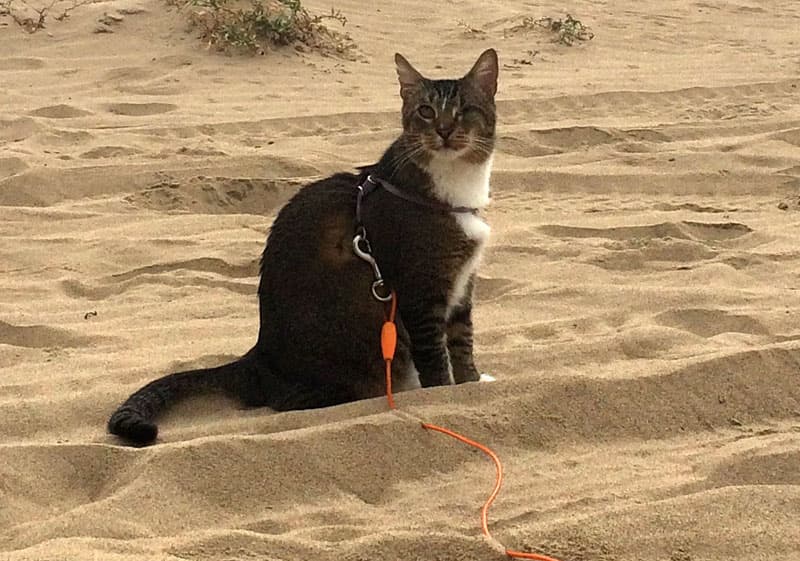 TCM: Tell us about truck camping with your cat.
Cheryl: We brought our one-eyed cat, Scrappers, with us.  He's been a good sport and is okay with being on a leash.  We've kept him inside anywhere there might be predators.  We almost lost him in Death Valley.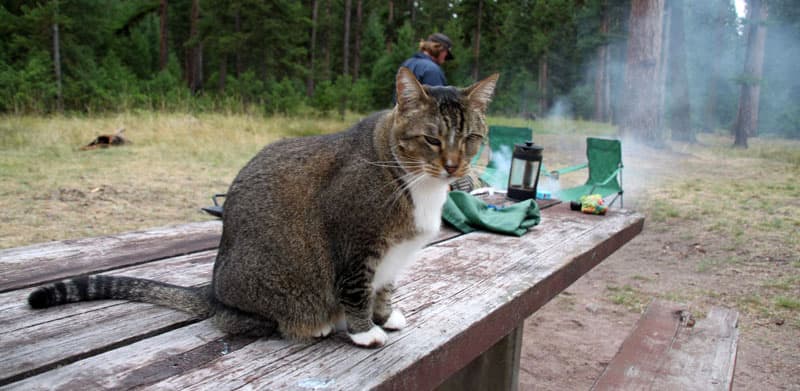 TCM: How did you almost lose Scrappers in Death Valley?
Cheryl: Trenton didn't close the door all the way that night.  Scrappers always sleeps in the dinette but, in the morning, he wasn't there.
We got out and he was nowhere to be found.  About an hour went by and we were more and more worried.  We walked around asking campers if they had seen a cat.  We got some strange looks.
Then, Trenton saw crows circling and dive bombing.  The crows were dive bombing Scrappers, and led us right to him.  He had gotten under a huge junkyard of RVs and washing machines.  We had to call the owner of junkyard to get our cat.  It was three stressful hours.
I've had Scrappers for ten years.  I tried to find a home for him in Hawaii.  He lost his eye and I couldn't give him to the pound.  He's a good traveler in the truck.  We'll get him set up in the camper and then I'll let him walk on the leash.  He goes to the bathroom outside and we have a tiny litter box in the camper for him at night.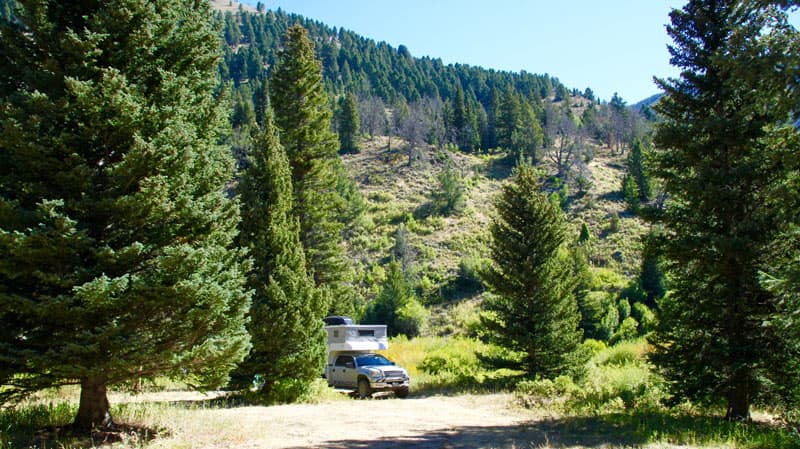 Above: East Fork Blacktail Road, Montana
TCM: Poor Scrappers!  He was clearly out of his element in Death Valley.  What are your truck camping plans for the future?
Cheryl: Hopefully we'll travel to Alaska starting in March of 2017.
Too many people wait until their 70-plus to finally retire and sit in their RV.  They are not able to go on hikes or mountain bike.  I figured that life is short, and to do this now.  We can always work.  We want to travel while we can still hike and bike.
Living on island away from friends and family, it was important for me to be back near Seattle.  My parents are getting older.  With the camper I have the opportunity to visit aunts, uncles, and old friends.  We've parked in the driveways of family and friends and saw Trenton's cousin in Nevada.  He hadn't seen his cousin in twenty years.  By the time we left, we were old friends.  It's fun to reconnect.
If you can make it happen, do it while you're still young.  Life is short.  Get out there and take the time.  Don't be afraid to take a chance.  You don't know what tomorrow brings.  It might be scary, but always stay positive and take a chance.
Cheryl and Trenton's Rig
Truck: 2004 Ford FX400, Short Bed, Crew Cab, 4×4, Gasoline, Short Bed, Single Rear Wheel
Camper: 2016 Phoenix Custom Camper
Tie-Downs and Turnbuckle Brand: Phoenix System
Suspension Products: Rear airbags
Gear: Swing away bicycle rack, mounts to receiver hitch