As part of an elite electrical restoration team, Jonathan Manikateri takes his Capri Camper into areas devastated by natural disasters and brings back the power.  Meet our new truck camping hero.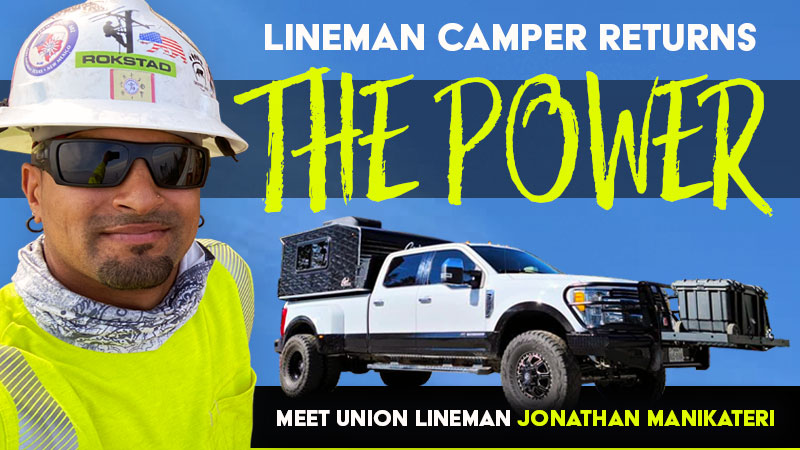 Most of us take electric power for granted.  We don't say, "I hope the lights work" when we flick a wall switch.  Nor are we particularly thankful when our televisions turn on.
It's only when the power goes out that we realize how dependent our lives are on electricity.  Flick!  Darkness.  Click!  Nothing.  Everything just stops.
The most common cause of long-term power outages are natural disasters.  Once everyone is accounted for, re-establishing electricity is always top on the priority list.  Without power, it's impossible to return to school, work and normalcy.
That's where Lineman, Jonathan Manikateri, and his fellow International Brotherhood of Electrical Workers come in.  After a devastating hurricane, forest fire or tornado, this elite journeymen electrical restoration team rushes in to dig holes, place poles, run lines and restore power.
Jonathan's 2017 Ford F-350 and 2020 Cowboy Cowboy are perfect tools for his heroic work and lifestyle.  In the wake of a natural disaster, roads and terrain can be rough, infrastructure damaged, and basic shelter and provisions destroyed.  His four-wheel drive truck and camper are practically built for these challenges.
As a side note, Jonathan may be the only person on earth who has taken his truck camper to Puerto Rico.  The trip brought him to his ancestral home town, right when they needed his expertise the most.  That's road magic on a scale we haven't encountered before.  Power indeed.
Get ready to add one more career to your first responder list to thank.  We just found ourselves a new truck camping hero!  Thank you, Jonathan Manikateri!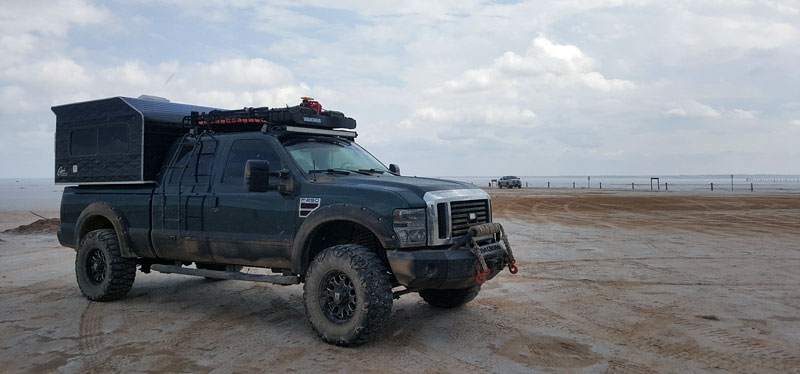 Above: Jonathan's first Capri Cowboy and F250
How you were first introduced to truck campers and camping?
I began my truck camper experience in 2016 when I bought a Capri Camper for my 2008 Ford F-250 short bed.  I was operating in an oil field as a Well Optimizer and had to stay on location for days at a time.  I wanted something small, compact and easy to deploy without the inconvenience of pulling a trailer.
A Capri Cowboy seems fairly minimal for spending days on location.  Why not something a little bigger and more fully featured?
Up until three years ago I was a rodeo cowboy riding saddle bronc.  That's when I met Tyson D'Acosta of Capri Campers and got my first Capri.
I like to live minimally.  When I am not using my Capri I live inside of a 45-foot travel trailer that has two stories and three bedrooms.  It's probably one of the biggest trailers you can find.  But, with my truck camper, I can get up and go when I want.
The Capri Cowboy is on my truck all the time.  It's low profile, so I do not need to worry about the weight of a cabover.  My camper is less than 1,000-pounds and I have it on a dually truck.  It doesn't impact my fuel economy at all.  It's been fantastic.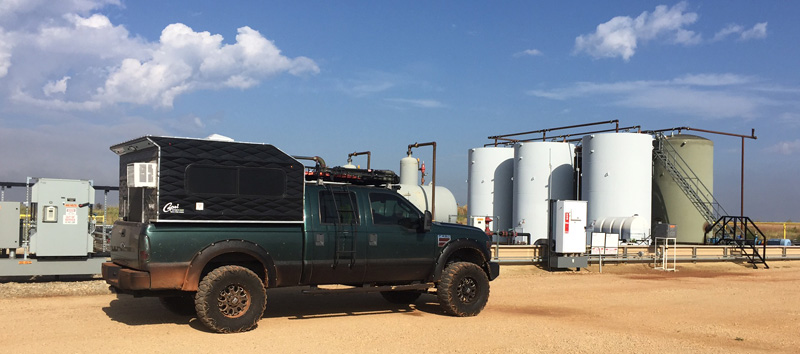 You mentioned your first Cowboy.  So you've had two Capri Cowboys?
Yes.  Capri built my first camper for my short bed truck.  I lived on the oil field and I needed a space to go to sleep, watch television, wake up, brush my teeth, keep my beer cold, and microwave my hot pockets.  My short bed Capri had comfort and convenience.
The lifestyle on the oil fields was driving off-road through creeks, up mountains, and down dirt roads.  My F-250 truck was built to that standard of off-roading and got me through the worst.
Then I bought a new Ford F-350 dually long bed.  The short bed Capri would not fit on a long bed truck, so I upgraded to a longer Capri with more options.  They hold their value well.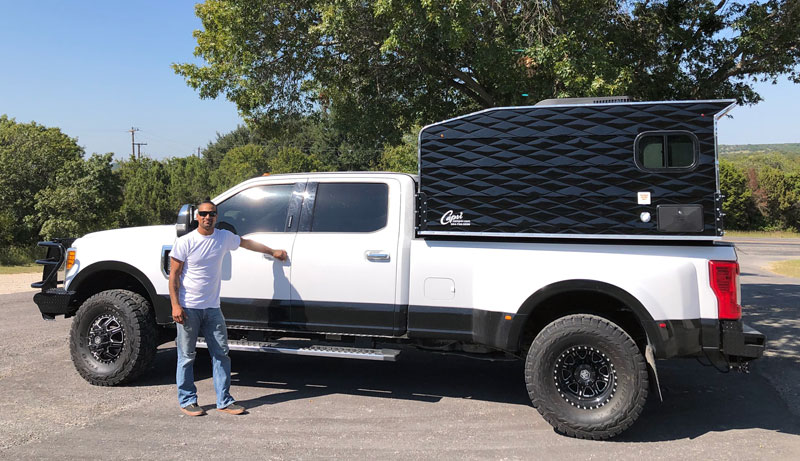 You have way more truck than you need for such a small camper.  Why do you have a dually?
The reason I had to get a new truck is because I blew up the F-250 towing my trailer.  The F-250 was a diesel and I was already on a second motor.  When that truck blew up, I decided it was time to upgrade.  I found this truck for $45,000 new at an auction in Minnesota.  I lucked out.
I have really enjoyed both Capri campers.  My first Capri and F-250 went with me everywhere.  I went coast-to-coast from Quinault, Washington to Mashpee, Massachusetts.  It even went with me to Puerto Rico for 11-months.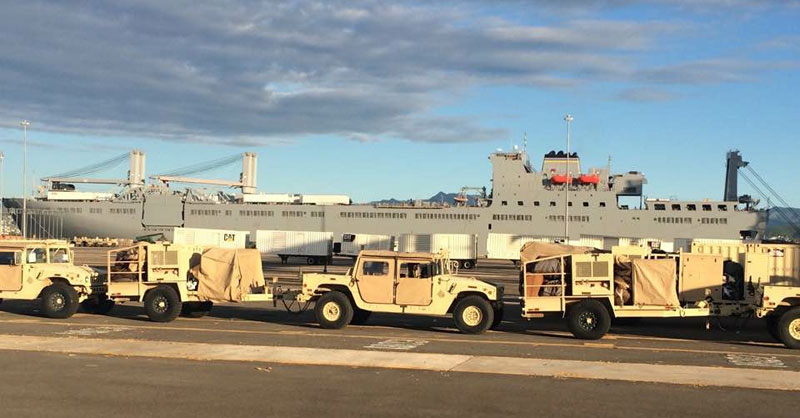 You took your camper to Puerto Rico?
In September of 2017, after Hurricane Maria hit, I was working as a lineman for Bird Electric, a storm power line company.  We responded to any storm; ice, hurricane or tornado.  I was part of their first response team.
I was already in Florida after Hurricane Irma.  Being with the storm company there were resources to get us anywhere.  My truck and camper were loaded on a military barge that also took the work bucket trucks and digger trucks to Puerto Rico.
They had no problem with me paying for myself to live there.  I did not want to live in a man camp.  All I needed was a generator and a bathroom.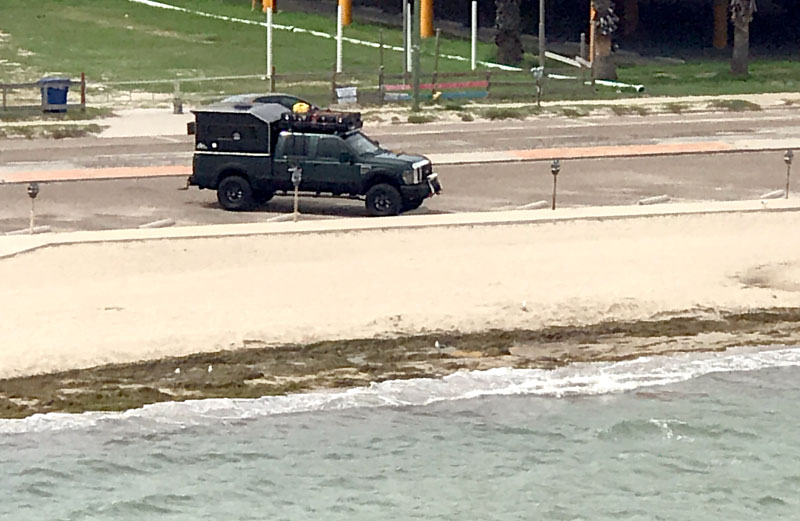 It took four days for my truck and camper to get there.  It had to be staged because the hurricane hit.  When I arrived there was no power and no contact there.  I flew in two weeks later.  We were not allowed to respond right away because we had to wait weeks for the resources to arrive.  When I showed up, it was very depressing there.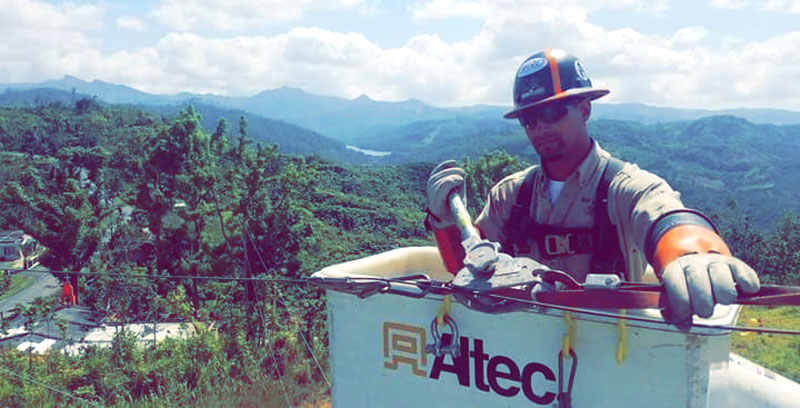 My family is from the Taino Indians in Puerto Rico.  There is a village there where they live.  It was divinity that we responded to Moca, Puerto Rico, which is the exact area where family is from.  It was an incredible feeling to be able to turn on my families' lights first.  For the universe to make that happen was amazing.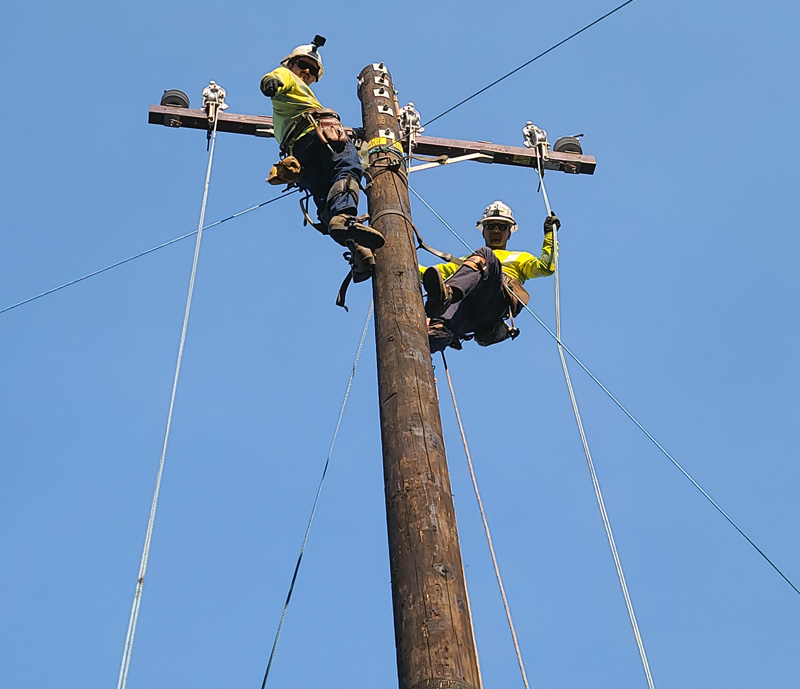 Above: Fixing an electrical pole with his friend, Cameron Miller
So you started as a lineman after working in the oil fields?
That's correct.  I worked in the oil fields until 2017, and then started my apprenticeship as a lineman.  An apprenticeship that usually takes four years, I got done in two years and a month.  I started as an apprentice in September of 2017 and took the test in January of 2020.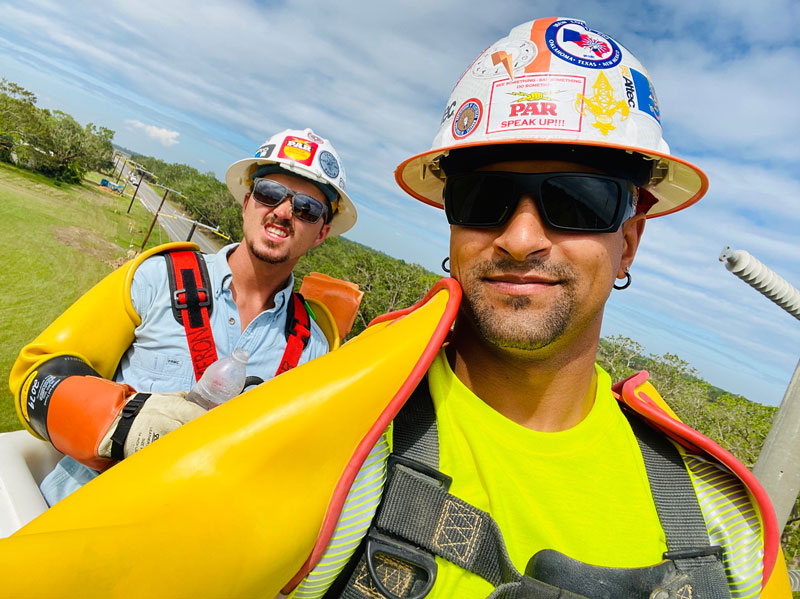 Above: After Hurricane Laura with his friend and colleague, Cameron Miller
I am a union lineman which means that I work for the International Brotherhood of Electrical Workers.  We are considered the top of the top of journeyman electrical restoration.  The storm calls come out of a local union hall.  They put out a certain number of resources they need; lineman, equipment operators, etc.
You can accept or decline the call.  If you accept, you get flown out.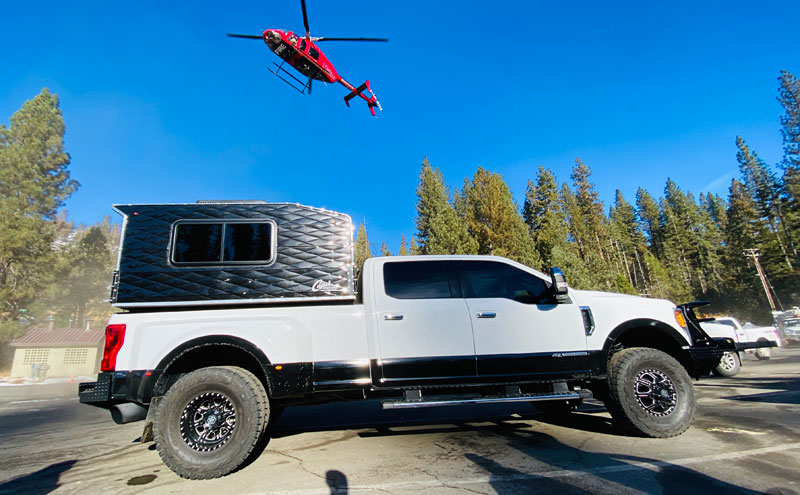 Above: Shaver Lake, California, The Man Lift Bell 407 Helicopter
What does a lineman do?
We dig the holes, set the poles, climb the poles, assemble the hardware, put new wiring in, and electrify the system.  That's the scope of my job.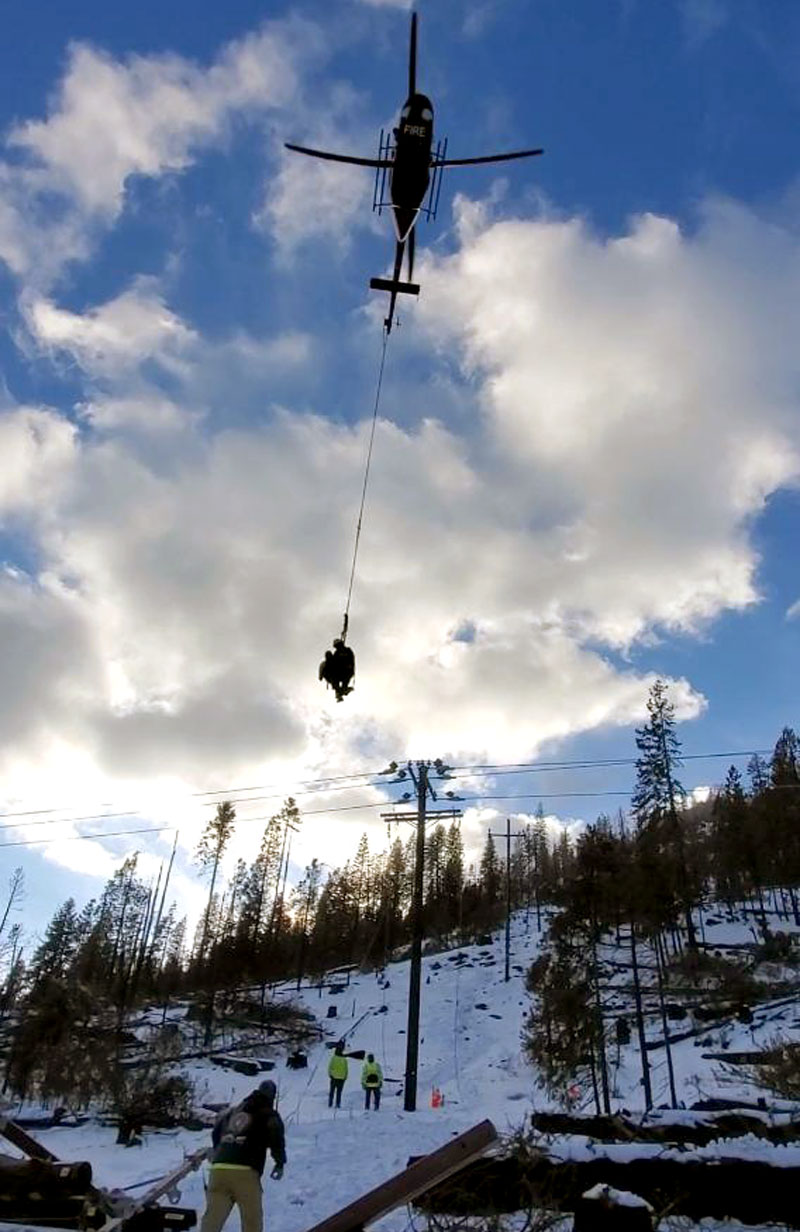 We climb the poles and assemble them manually.  Sometimes a helicopter will set the poles.  Jack hammers dig the holes.  The helicopter places a pole inside a hole.  Then, they pick me up and they take me to that location.  I climb the poles, assemble the cross bar, transformers or metering.  When they bring me the wire, I clip it in and electrify it.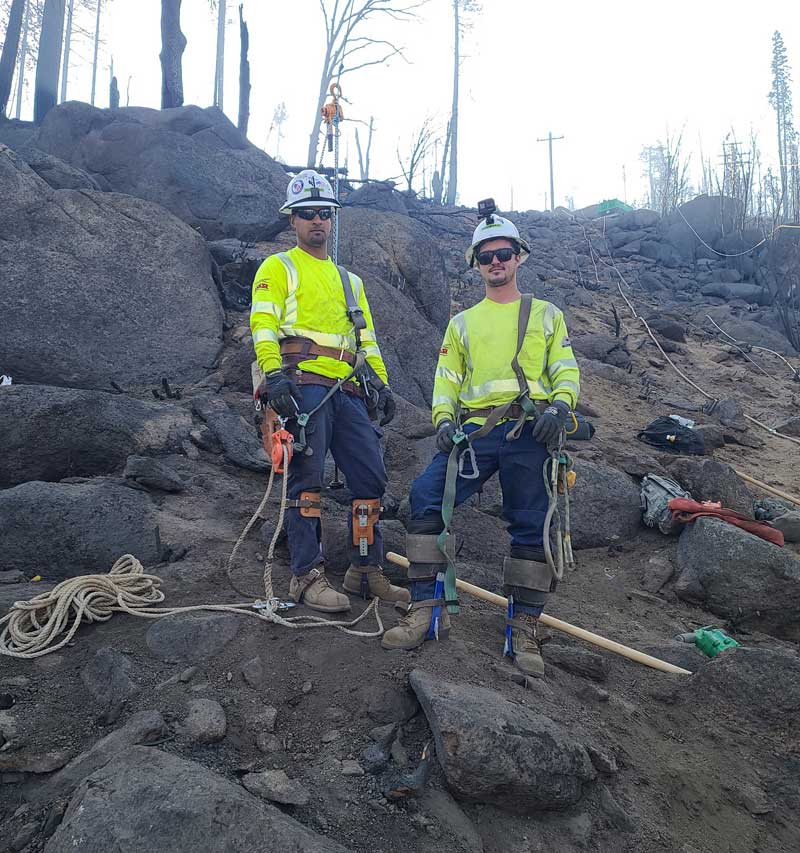 I was in Texas for Hurricane Harvey and in Florida for Hurricane Irma.  As soon as we were told the hurricanes were coming, we went and were staged even before the hurricanes hit.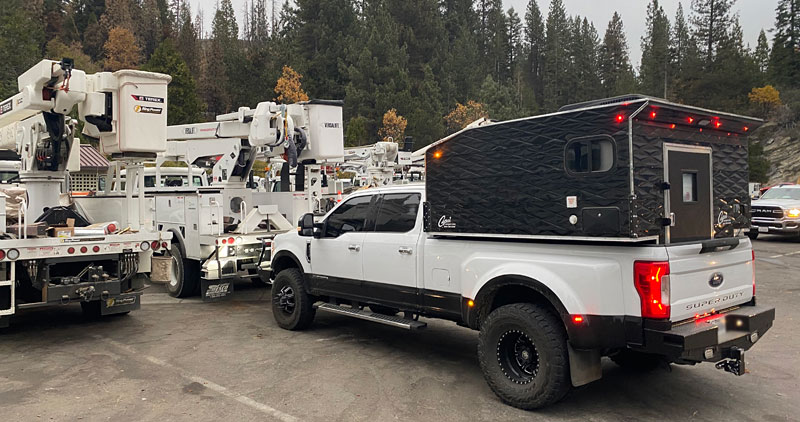 How did your truck and camper do during the hurricanes?
My truck is a 3500 dually, so it's heavy.  I'll park in between our bucket trucks.  I have not had any issues.  The camper has been sturdy.  I like having a smaller rig when I'm in those hazards.  I was in California coming down the mountain sliding on ice and dealing with the wind.  You'd think the camper would fall off the truck with all the disasters I've put it through, but it has done fine.
Above: California fires, air quality index well over 3,000 ppm
Do you only respond to hurricanes?
I helped after the California wildfires.  The poles, the lines, and all the towers were burnt and destroyed.  If not, they were tempered to a degree that they have to be destroyed and rebuilt.  My job was to reconstruct entire power system.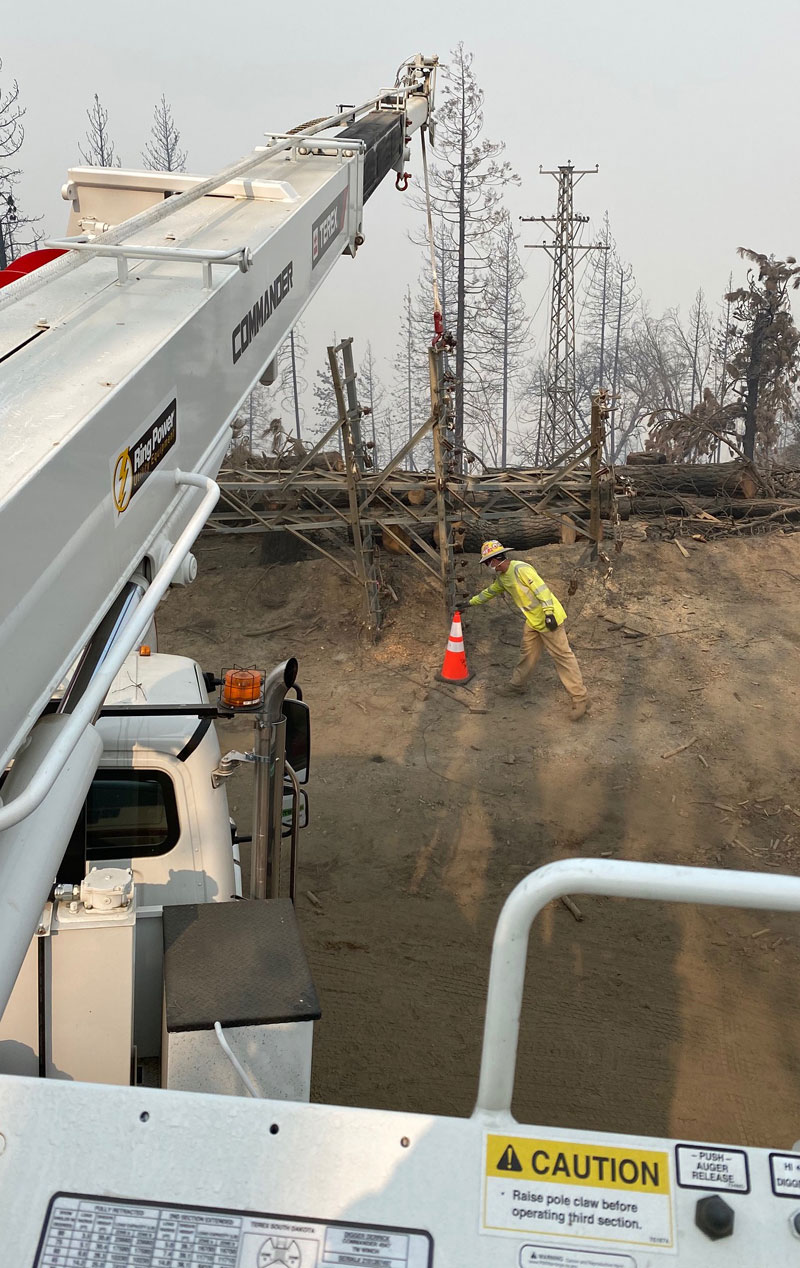 The photo above is from the Creek fire.  The fires leveled over 350,000 acres of mountain timber, and over 2000 power line structures.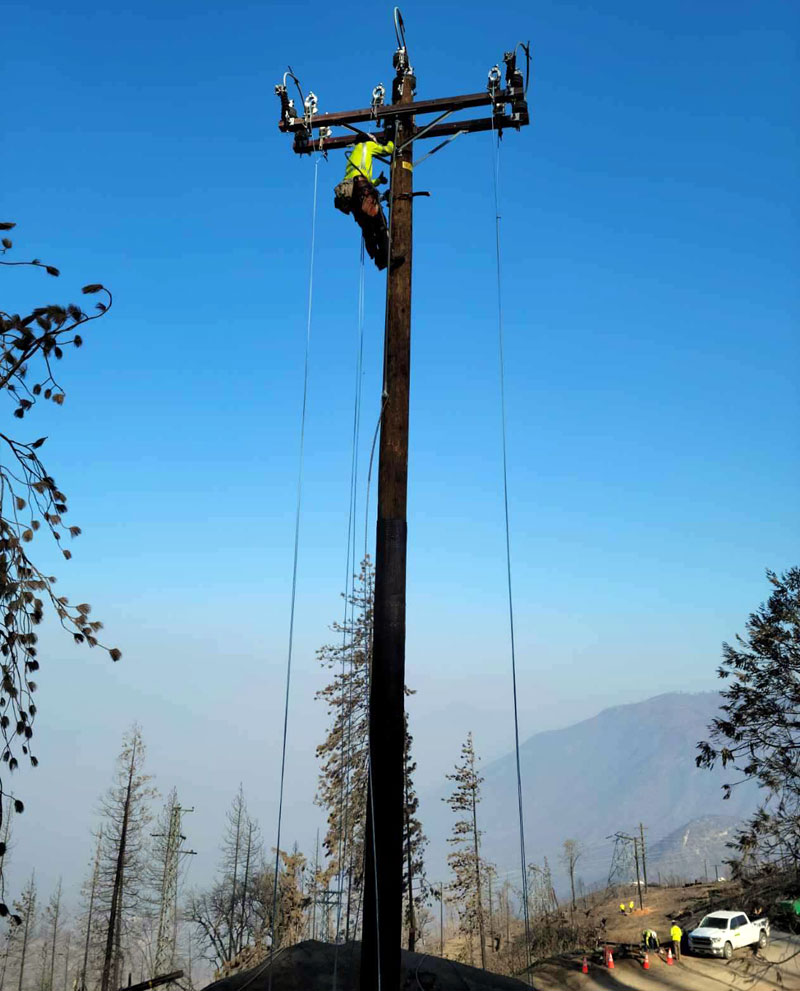 It was depressing to see the carnage and houses that were burnt to nothing.  It was scary that people had to go through this.  It's not a hurricane.  It's not in and out and gone.  The fires were still burning for months.  There was a chance that the dry kindling could spark and start a fire while we were here.  It was a mind game to get the job done.
The aftermath is hard.  Everything is gone.  Their house may be washed away or burnt or a tornado took it away.  It doesn't get to me anymore.  I am used to the fact that this is the job I chose.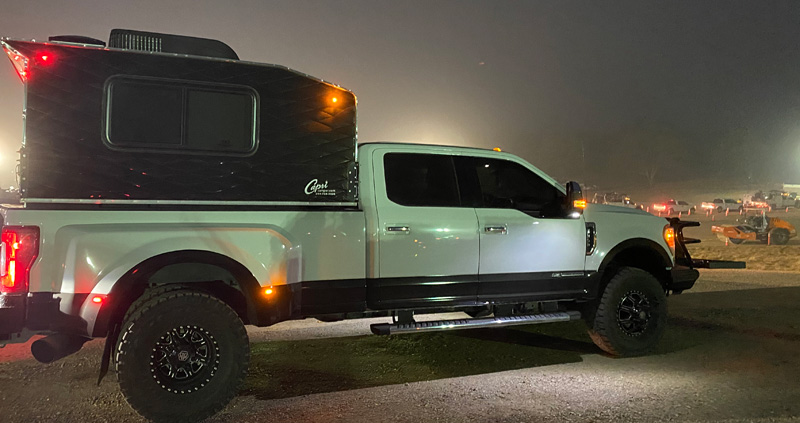 Above: Auberry, California
As a lineman, why not stay in one area?
It's always been my lifestyle to move around.  I was a military kid born in Kenai, Alaska.  I have never developed a sense of home or long-term friends my whole life, so it's easy for me to get up and go.
Just in the past four years I've lived in North Dakota, Oklahoma, Texas, Florida, Puerto Rico, and then back to North Dakota and Texas again.  Now I'm working in California.  I was also in Louisiana after Hurricane Laura.
Being a Native American and from nomadic people, it's in my DNA to move and find something new.  My body needs new scenery.  It needs a new area.  What's next, who knows?
I could be a utility lineman who works where I live.  There would be no danger and no storms.  But that doesn't really fit me.  What fits me is being a first responder.  I like seeing people's faces light up when the lights go on.  It sucks to not have power for two weeks or a month or even a year.  I get to fix that for them and it's awesome!
Above: Helicopter flown in to pick up tools
How often are you out in your camper for work?
We could be working on a job maintaining power lines and out of nowhere, we are sent across the world to a different natural disaster.  Hurricanes are more predictable, but sometimes there are mud slides or a tornado.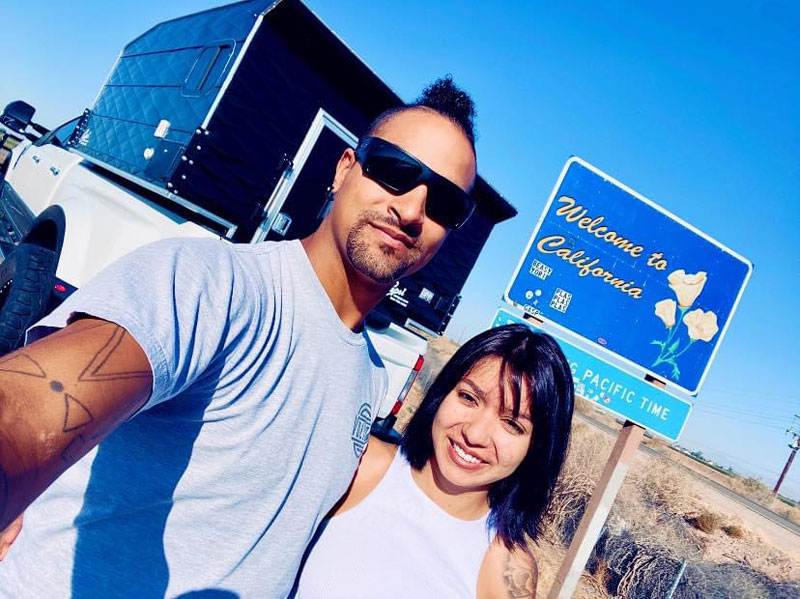 Above: Jon and Mercedes entering California to help out at the fires
What is the biggest challenge on the road?
The biggest challenge of being on the road is finding a place to park.  It's not that it's hard to find a campground.  But sometimes we stay at truck stops and other unfamiliar places.  We want to feel comfortable where we are staying.  Staying somewhere unfamiliar with the tailgate down and so much going on around us is strange.  We live in a scary world.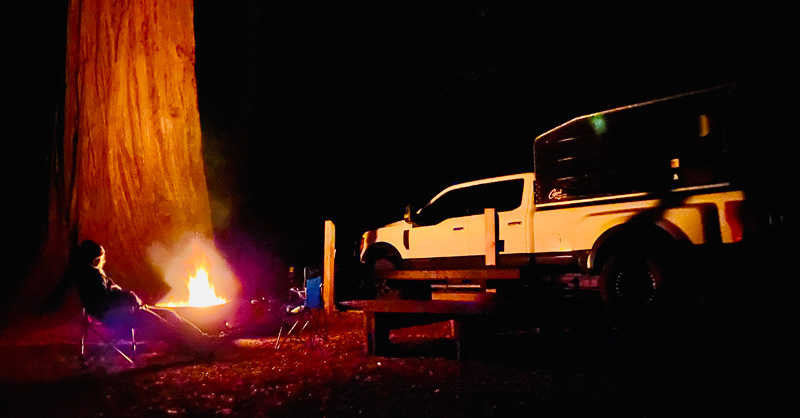 Above: Camping in the Ventana Wilderness of Los Padres National Forest
Do you use your camper when you are not using it for work?
Absolutely!  I'm an outdoorsman by blood.  Being Native American and growing up within tribal communities I have learned how to love and appreciate the elements outside.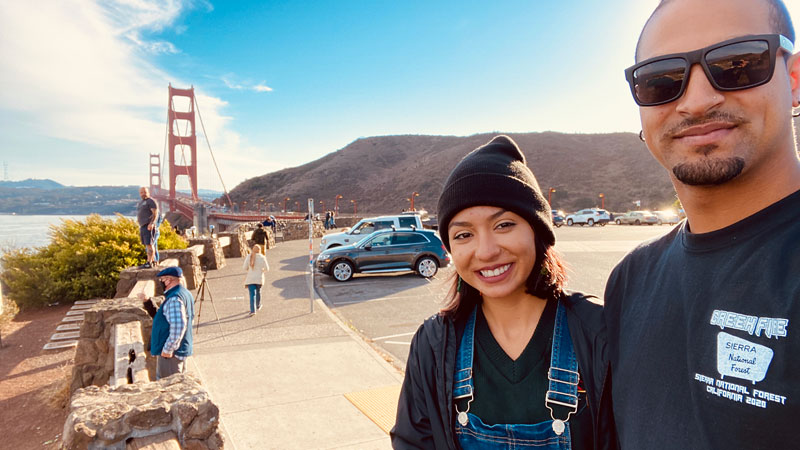 Above: Golden Gate Bridge, San Francisco, California
We camped in the Redwood Forest just north of San Francisco less than 50-yards form the beach.  We were in Big Sur National Forest just recently.  My first Capri went on the Salt Flats.  We go hunting, fishing, and four wheeling.  When I take days off work, we're outside.  Before we had our camper we had a Harley Davidson with a tent and went to crappy hotels on a 1,000 mile trip.  Outside is where we belong.
One last thing I'd like to share is that I participate in culture heavily.  I will always travel to pow-wows and ceremonies.  It has been amazing to have somewhere warm and comfortable to eat, sleep, and be at a function.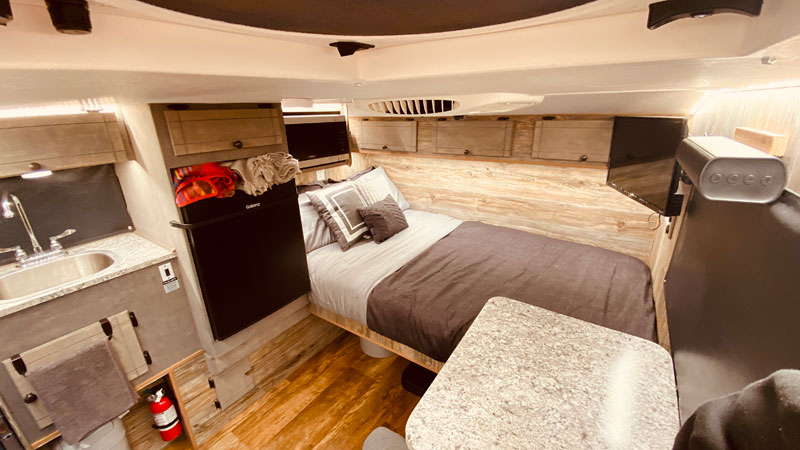 Above: Inside Jonathan's Capri
My truck camper is super comfortable.  I love having the comforts of home in a tiny space.  Working during natural disasters it's so nice to have a place to be warm, watch television, and hang out.  Everything we need to be comfortable is on the back of our truck.
Also, I've noticed that people are trying to live minimally the past few years.  They also want to see the world.  This is the way to go.
For more information about Capri Campers, visit their website at capricamper.com.  Click here for a free Capri Camper brochure.
Jonathan Manikateri's Rig
Truck: 2017 Ford F-350, dually, 6.7-liter diesel, 4×4, long bed
Camper: 2020 Capri Cowboy
Tie-Downs and Turnbuckles: Capri's turnbuckles
Suspension: Fox stabilizer front end