After surviving cancer, Karin LaPointe discovered truck camping and the open road. Today she's a new woman, hungry for adventure. Welcome to Ladies' Week 2011. … … … … … … … … … … … … … … … … ..


For all of the freedom we pride ourselves on having, we are often held hostage by our own habits and fears. It's easy to wake up, go through our usual routine, and then go to bed. Another day has been spent from our lifetime day bank, and there's often little, if anything, to distinguish this day from other days.
We all fall into this pattern. Some of us call it life. Others just don't know how to stop, or don't believe they can. But then, hopefully, then something happens to wake us up from our life coma. In this moment, we finally find the courage to go after our life long dreams.
After more than twenty years as a psychotherapist and focusing on other peoples' needs, for Karin LaPointe, surviving cancer was that moment-the wake up call. No more would she be satisfied with life as usual. She was going to change course and do whatever it took to live her life to the fullest. Her story is a testament to how important it is to seize these life opportunities and take brave steps forward, even if you're not brave.
We hope Karin's story inspires you as it did for us. Go Karin, go!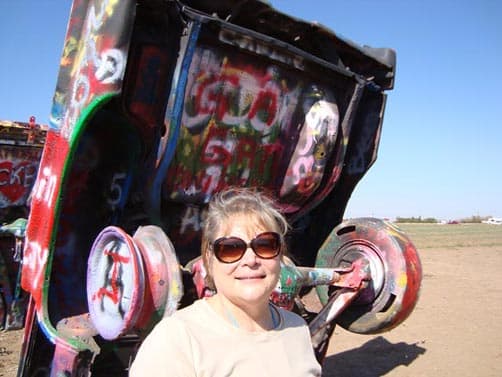 ABOVE: Karin LaPointe at Cadillac Row near Amarillo, Texas off the old Route 66
TCM: How did you get into truck camping?
Karin: I've been a cancer survivor for two years now. After my recovery, I was at a point in my life where I wanted to retire, but I didn't want to sit at home. I went to a life coach and she recommended the book, "The Coming of Aging" by Jean Deitch Shula. Jean writes about her adventures cross country in a Class C. I loved the book and said, "That's what I want to do". I wanted to get a RV rig and go. At that time, the most experience I had with camping was in Brownies. I was a camper virgin. But I didn't want to sit home and do nothing. I wanted to travel.
I Googled "RVing" and I looked at all the different types of RVs. Go RVing's website shows the different types of RVs. I saw the truck camper category and zeroed in on that. Then I found your magazine and it was very helpful. After I read your articles, truck campers felt like a good fit.
Then I met you and Gordon at the 2010 Springfield RV show that February. At the show, I talked to you and Bill Penney, Owner of Truck Camper Warehouse, about which truck camper would be right for me. Bill is a real cheerleader for truck camping. Throughout my decision making process, he encouraged me that I could take on the task. He usual line was "no sweat". He's right on target when I have a question and helped me to choose my Northstar at the show. Before signing the paperwork, I sat in my camper for over an hour. That was exciting.
After the show, I went truck shopping. As I looked at trucks on dealer lots, I called Bill and asked, "Will this truck handle my camper?". He helped me to learn what I needed to know. I think that's why my truck and camper work so well together.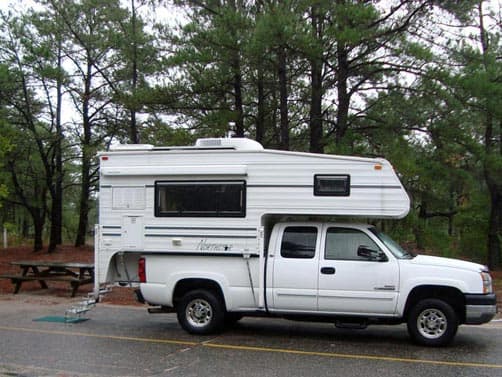 ABOVE: First day of Karin's trip, Henalopen State Park in Lewes, Maryland
TCM: How did you come to the conclusion that a truck camper the best vehicle for you?
Karin: I looked at Class As, Class Bs, and Class Cs, but they looked complicated. I felt overwhelmed. I had rented a Class C and that was fine, but I wiped out the door the first time I drove it. I thought I could maneuver a truck camper better.
I also wanted to be able to have additional transportation by separating the truck and camper. I would watch motorhome owners go by with a dingy behind them, but I didn't want to tow anything. That also ruled out trailers and fifth wheels.