Above: David's Photoshopped Mad Max truck camper
TCM: What's the Mad Max truck camper?
David: That was Photoshopped.  I am into Mad Max.  I had a cool picture from when we went on a trip to Lake Caddo.  It's the only natural lake in Texas and it has the largest cypress forest in the world.  I highly recommend you go there.
Right next to Lake Caddo there's an old abandoned ammunition plant from the World War II era.  The picture looks apocalyptic.  I had some fun in Photoshop to make that image.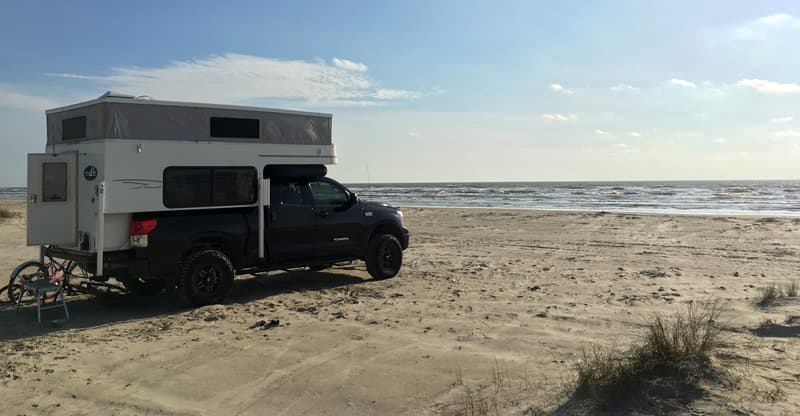 Above: Beach camping in Texas
TCM: Gordon enjoys using Photoshop to make the graphics for Truck Camper Magazine.  What are your truck camping plans for the future?
David: I want to go to Moab next for some mountain biking and off-roading.  I've wanted to do that for a long time.  I definitely want to do a west coast Redwood National Park trip.  I prefer boondocking as much as possible.  The kids like to go to the campsites, but I prefer going to the free camping scenic areas.

Above: Bandelier National Monument, New Mexico
TCM: Is there anything else that you'd like to share?
David: I couldn't be happier with my truck camper.  My job keeps me on the computer ten hours straight, and sometimes I don't get up for breaks.  The truck camper on the weekends helps me disconnect, which is definitely part of the reason I love truck camping.
Truck: 2012 Toyota Tundra, Extended Cab, 4×4, Gas, Single Rear Wheel, Short Bed
Camper: 2009 Phoenix Custom Camper, 8-foot model
Tie-Downs/Turnbuckles: Phoenix tie-downs, Happijac turnbuckles
Suspension: Pro Comp leveling kit, Bilstein shocks all around, Air Lift bags
Gear: Utility Trailer, PVC fishing pole storage