After seven years, David Jolly found the adventure vehicle of his dreams; a Toyota Tundra and Phoenix Custom Camper. At age 36 with two kids and a full-time job, David has managed 90,000 miles in two years. Go David, go.

Sheer will power seems to be the basic difference between a life lived fully, or not. While none of us are in complete control of our own destiny, it's how we react to unplanned events that determines whether we are thrown hopelessly off course, or adapt, refocus, and continue towards our ultimate life goals.
If that strikes a chord, you must be human. We all face challenges and make decisions to either push forward, or retreat. We also face life circumstances that can either limit our outlook, or become part of the answer. These are the decisions that define us, and turn life's challenges into opportunities.
One might assume that if you are 36 years old, have a full-time job, and two kids that you can't afford the time or expense of truck camping on a regular basis. If you said just that at a dinner party, most folks would nod and agree.
But what if you were burning with the desire for overland adventure and literally couldn't wait to share the experience with your children? What if you were patient and persistent as you pursued an affordable rig? And what if you were willing to learn the skills necessary to make all of this happen? Welding? Bring it on.
Meet David Jolly. After purchasing a Toyota Tundra and Phoenix Custom Camper two years ago, David has put over 90,000 miles on his truck camper rig, and traveled the wilderness of Texas, New Mexico, and Colorado. From his example, and their far reaching expeditions, David's kids are learning about much more than just travel.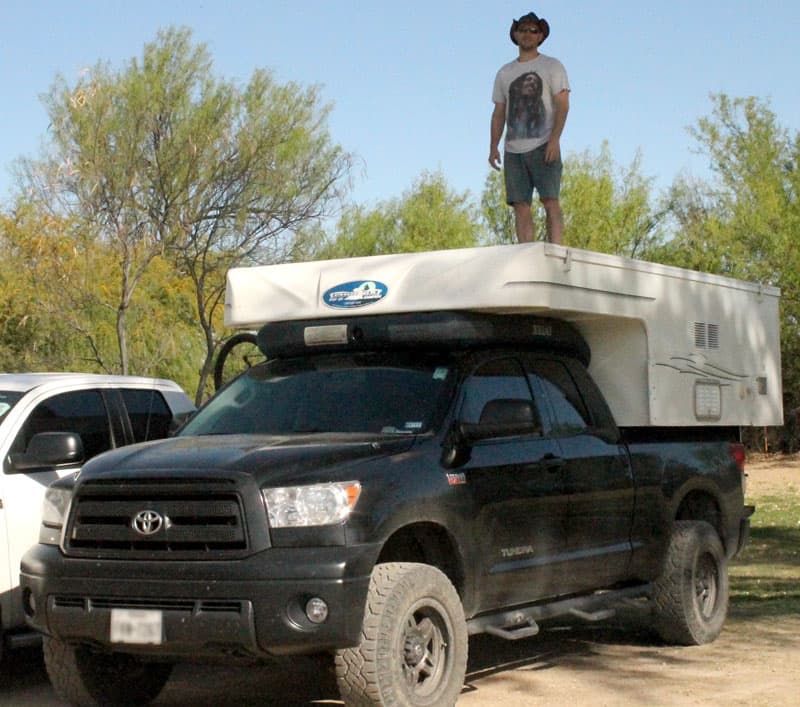 Above: David, his 2012 Toyota Tundra, and 2009 Phoenix Custom Camper
TCM: Where did you discover your passion for adventure travel?
David: I was stuffed into a late 1970s backpack kid carrier when my dad was dangling from a meat hook pulley crossing the roaring Rio Grande Gorge in New Mexico.  I was no more than nine months old, so I guess I've been into adventure travel most my life.
I grew up on the San Gabriel River outside Austin, Texas.  I've camped all up and down that river with the friends I grew up with.  My grandfather also had an RV and I'd go camping with him.  I can definitely say I have tried all types of camping; tent camping with and without sleeping mats, open air, truck beds, and one of my new favorite summer time camping styles, hammock camping.
One of my friend's parents had a 1984 Coleman Shenandoah pull-behind pop-up camper.  I routinely joined them on fishing trips to the coast of Texas and fell in love with campers.
Many years later, I ended up obtaining that 1984 Coleman for a case of beer.  It needed a bit more work than I wanted to do, so I sold it for $150.  I then found my Phoenix Custom Camper and my life of camping just went into overdrive.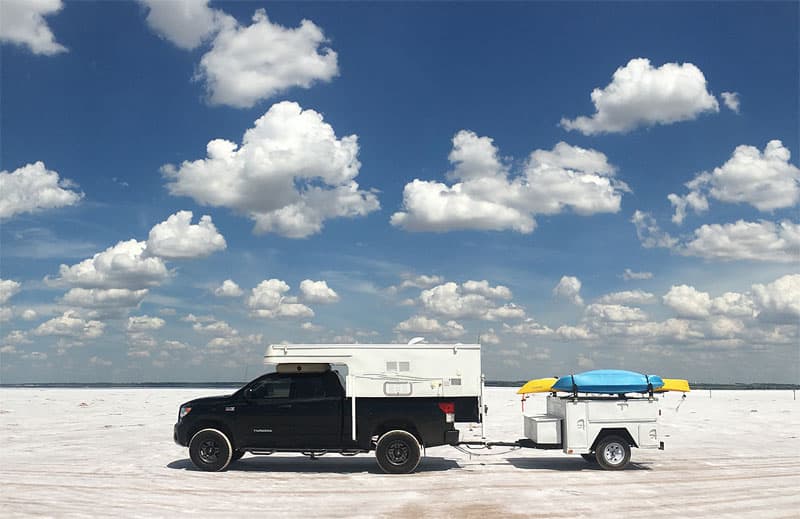 Above: The Great Salt Plains, Cherokee, Oklahoma
TCM: Tell us the story of how you were first introduced to truck campers.
David: I initially became interested in the VW Westfalia, Sportsmobile, Earthroamer, and the overland marketplace all together.  Once I found out how much the overland campers cost, there was no way I could afford them – especially as a single father of two.  Then I started researching truck campers and everything seemed possible.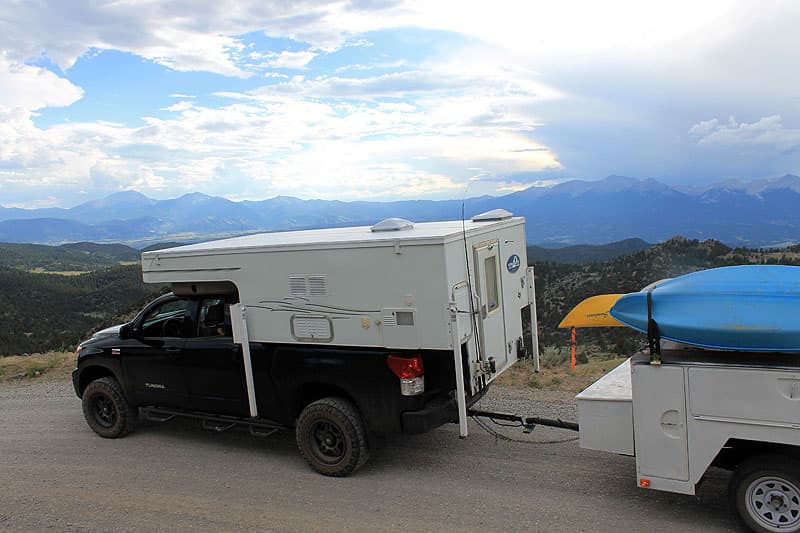 Luck eventually led me to my camper.  I had been searching for a Phoenix Custom Campers for about seven years.  Finally, I found one about two hours outside of Dallas for an amazing price.  It was like a dream come true.