After seven years, David Jolly found the adventure vehicle of his dreams; a Toyota Tundra and Phoenix Custom Camper. At age 36 with two kids and a full-time job, David has managed 90,000 miles in two years. Go David, go.

Sheer will power seems to be the basic difference between a life lived fully, or not. While none of us are in complete control of our own destiny, it's how we react to unplanned events that determines whether we are thrown hopelessly off course, or adapt, refocus, and continue towards our ultimate life goals.
If that strikes a chord, you must be human. We all face challenges and make decisions to either push forward, or retreat. We also face life circumstances that can either limit our outlook, or become part of the answer. These are the decisions that define us, and turn life's challenges into opportunities.
One might assume that if you are 36 years old, have a full-time job, and two kids that you can't afford the time or expense of truck camping on a regular basis. If you said just that at a dinner party, most folks would nod and agree.
But what if you were burning with the desire for overland adventure and literally couldn't wait to share the experience with your children? What if you were patient and persistent as you pursued an affordable rig? And what if you were willing to learn the skills necessary to make all of this happen? Welding? Bring it on.
Meet David Jolly. After purchasing a Toyota Tundra and Phoenix Custom Camper two years ago, David has put over 90,000 miles on his truck camper rig, and traveled the wilderness of Texas, New Mexico, and Colorado. From his example, and their far reaching expeditions, David's kids are learning about much more than just travel.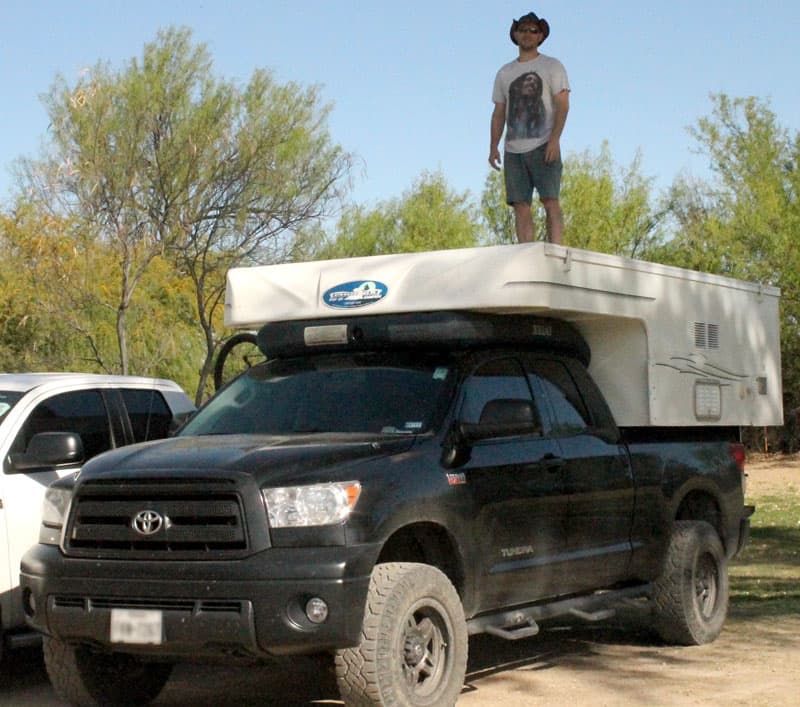 Above: David, his 2012 Toyota Tundra, and 2009 Phoenix Custom Camper
TCM: Where did you discover your passion for adventure travel?
David: I was stuffed into a late 1970s backpack kid carrier when my dad was dangling from a meat hook pulley crossing the roaring Rio Grande Gorge in New Mexico.  I was no more than nine months old, so I guess I've been into adventure travel most my life.
I grew up on the San Gabriel River outside Austin, Texas.  I've camped all up and down that river with the friends I grew up with.  My grandfather also had an RV and I'd go camping with him.  I can definitely say I have tried all types of camping; tent camping with and without sleeping mats, open air, truck beds, and one of my new favorite summer time camping styles, hammock camping.
One of my friend's parents had a 1984 Coleman Shenandoah pull-behind pop-up camper.  I routinely joined them on fishing trips to the coast of Texas and fell in love with campers.
Many years later, I ended up obtaining that 1984 Coleman for a case of beer.  It needed a bit more work than I wanted to do, so I sold it for $150.  I then found my Phoenix Custom Camper and my life of camping just went into overdrive.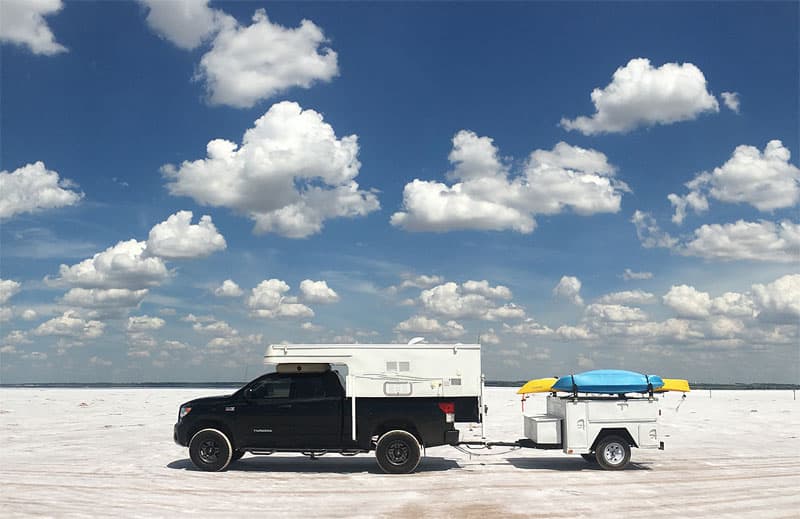 Above: The Great Salt Plains, Cherokee, Oklahoma
TCM: Tell us the story of how you were first introduced to truck campers.
David: I initially became interested in the VW Westfalia, Sportsmobile, Earthroamer, and the overland marketplace all together.  Once I found out how much the overland campers cost, there was no way I could afford them – especially as a single father of two.  Then I started researching truck campers and everything seemed possible.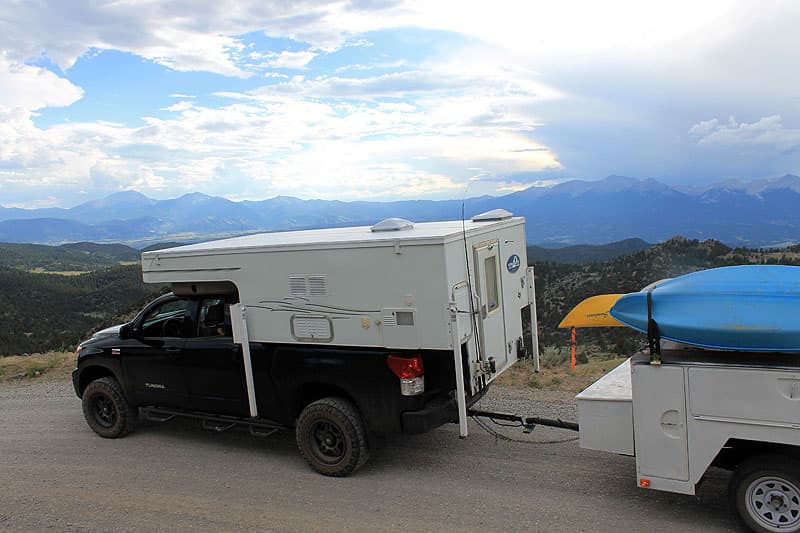 Luck eventually led me to my camper.  I had been searching for a Phoenix Custom Campers for about seven years.  Finally, I found one about two hours outside of Dallas for an amazing price.  It was like a dream come true.
My next truck camping adventure and escape is all I really think about.  I want to see the best sights possible.  I want to climb four-wheel paths and be at the top of the mountain.  My Phoenix Custom Camper has opened up so many opportunities.  It's my mobile adventure opportunity.  Now I can do it all.
TCM: As their name suggests, Phoenix Custom Campers are all custom ordered.  What did the original owner custom order for your Phoenix?
David: My Phoenix is a fairly straight forward pop-up camper.  It was built for a Ford F350 long bed dually.  That gave it extended jack brackets that accommodated my oversized tires.  That was the only significant customization.
My Phoenix Custom Camper was ordered with a toilet, a little bath with a shower, three-way refrigerator, three burner stove with a sink, and a very deep storage area under the cabover bed, which is an additional custom feature.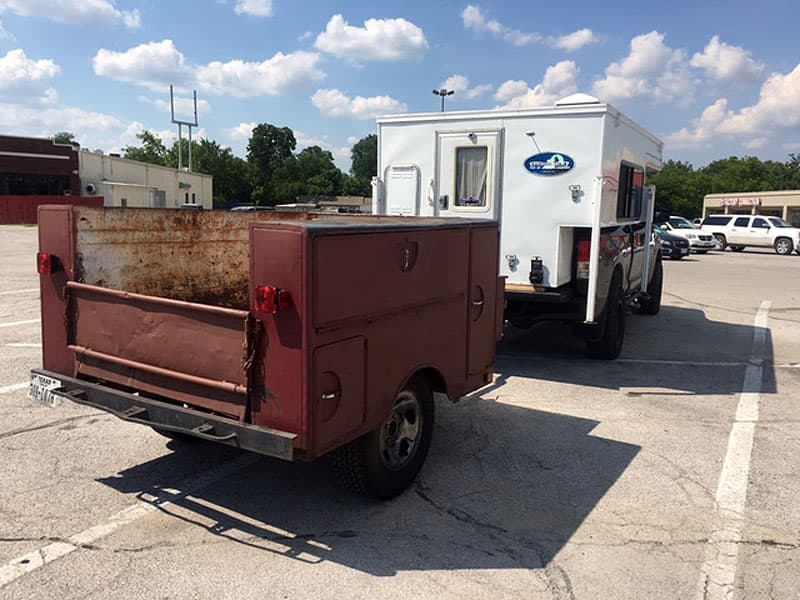 Above: The utility trailer before restoration
TCM: In your calendar winning photograph, you're towing a small trailer.  Tell us about what you tow, and why.
David: I took a trip to Lake Texoma with my girlfriend, the kids, and my dog.  We kayaked and biked, so I strapped three kayaks to the top of the camper and brought the bikes.  We had to load and unload all that stuff during that trip, which was a pain.
My solution was getting a truck bed that I would tow behind my truck.  I wanted to find a handmade trailer.  So I went to Craigslist and, for $200, found a rusted trailer from an old utility bed.  It is a 6×8 truck bed with lockable closed door storage.
I was able to install a van rack that goes on a utility bed to load the kayaks.  Because I have this utility trailer I don't have to drill into the roof of my camper.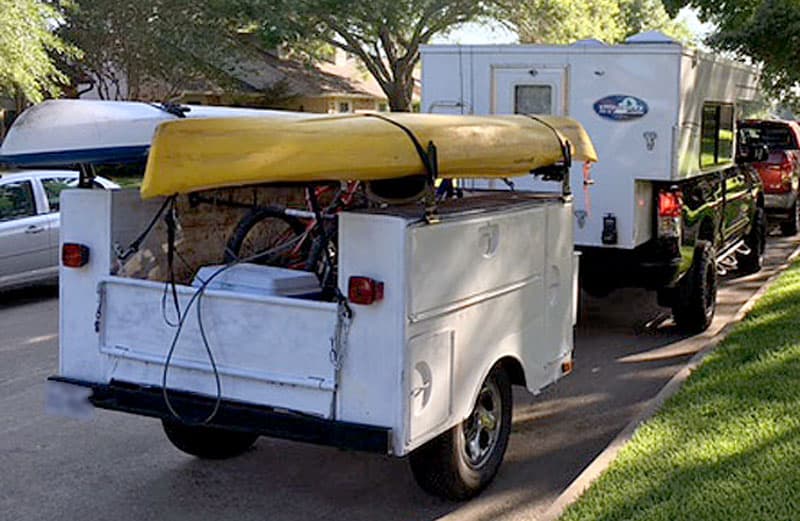 Above: The trailer can carry lots of equipment and supplies
Now I can carry my kayaks, bikes, and fishing poles, and nothing is in the camper.  Everything goes on that trailer for big trips.  It's so nice to pull up, unlatch the trailer, and leave it at the spot, or bring everything with me.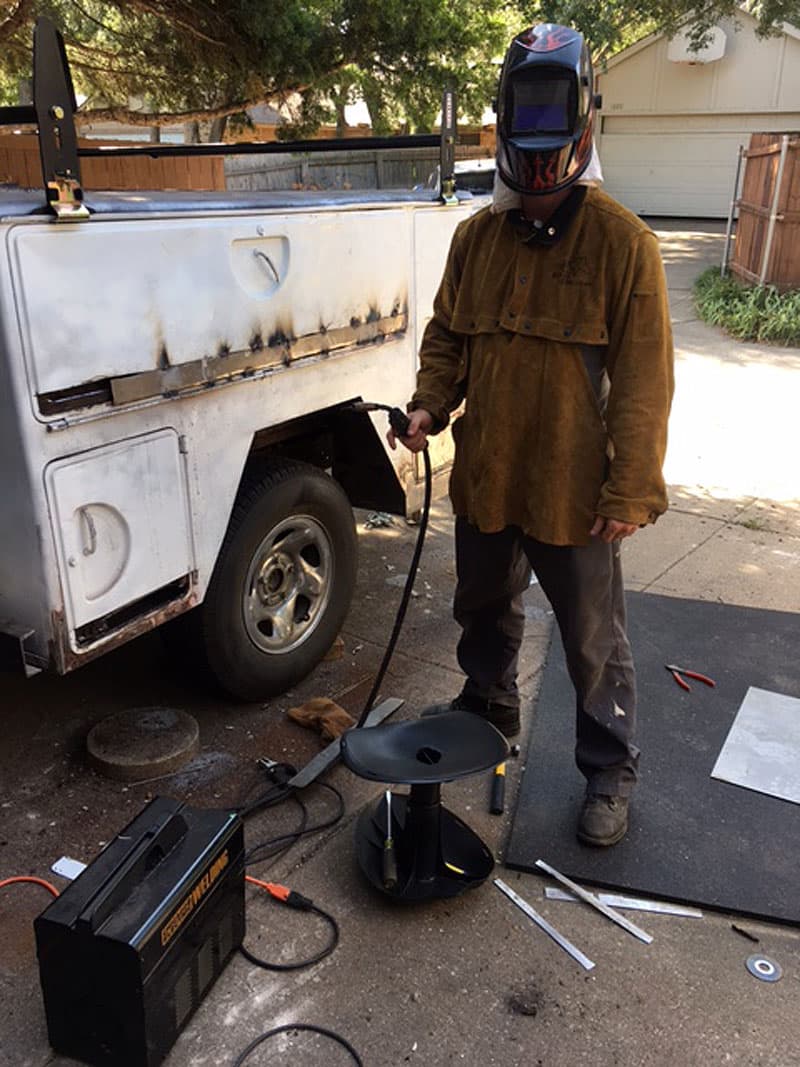 The trailer came to me in rough shape.  It looked like it was from a 1960s truck and the bottom was rusted out.  I figured I could weld it back together.  My neighbor had welding tools so I tried it out.  I have a new respect for welders.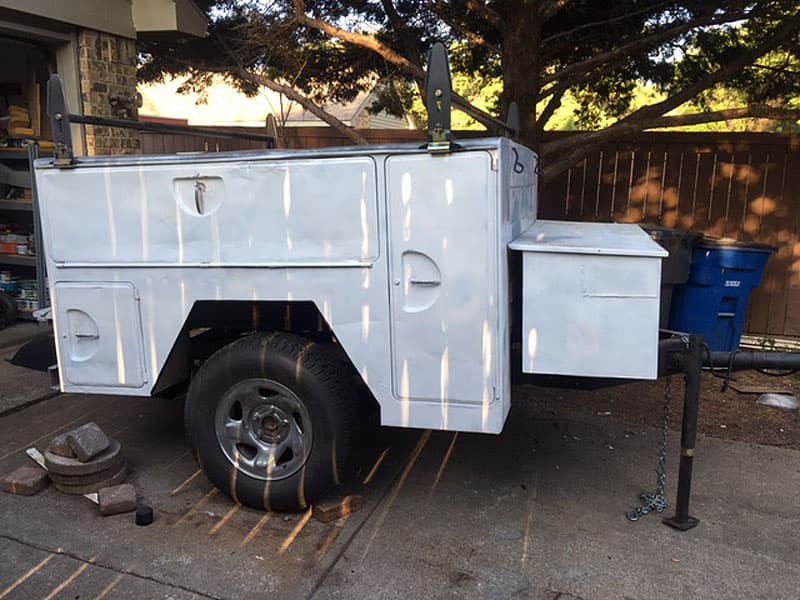 Working on the trailer was terrible experience, but it was also fun.  Twenty cans of white paint and it looks much better.
TCM: Do you always bring the trailer when you go truck camping?
David: I only use it for big trips when I'm bringing the bikes and kayaks.  I have tested towing my trailer on rough roads in Colorado, and it handled fine.
I did have one mishap when I first started using the trailer.  We were heading out to Colorado for a week long trip.  As we were leaving the grocery store, a trailer tire flew off and rolled down the road.  Fortunately no one was hurt, but I had to buy two new tires and an axle.
Luck was on my side because there happened to be a Tractor Supply store with trailer tires and axles nearby.  We camped that first night of our trip in a Tractor Supply parking lot.  After twelve hours and $450, we were off on our trip.  The trailer is still going to this day.

TCM: That was lucky.  Since you often have guests traveling with you, where does everyone sleep?  Phoenix Custom Campers are usually for two to three tops.
David: There is a queen-size bed in the cabover, and the dinette folds down into a twin and small bunk.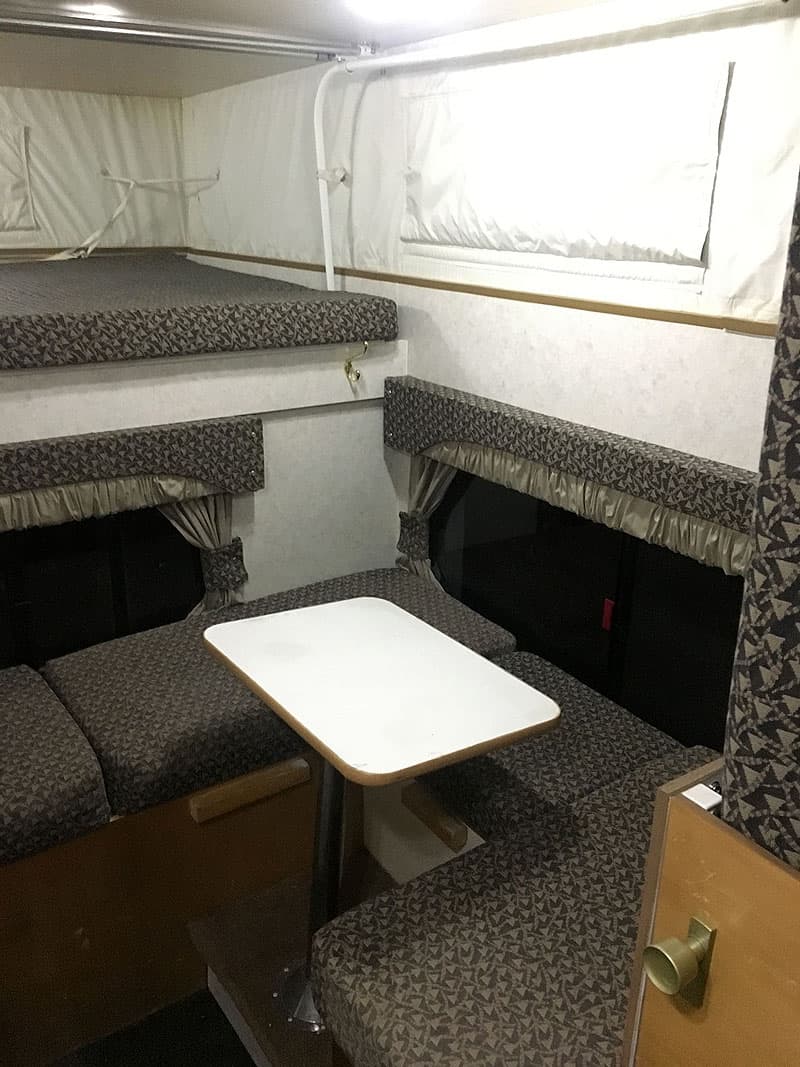 I have an idea about adding a roof top tent to the trailer.  That will be the kid camping area.  There are overland trailers out there with roof top tents.   That's one of my fabrication dreams for the future.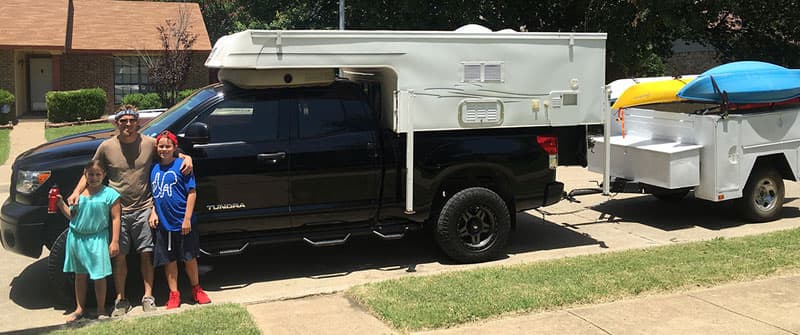 Above: David Jolly and his kids with their Phoenix Camper
TCM: In the information you sent us prior to your interview, you explained that you've put about 90,000 miles on your 2012 Tundra since buying it used two years ago.  At the young age of 36, with a full-time job, and two kids, how do you find the time for these trips?
David: I take a lot of weekend trips and I don't mind driving.  I can drive all night if I have to.  I have made several trips to New Mexico.  I have an aunt there.  We'll go skiing and we'll go camping there in the summer.
After the divorce, I share custody of my kids 50-50.  Whenever I have the kids, we go out.  Texas is so big and I know a lot of fun spots that I like to visit annually.  That adds the miles for sure.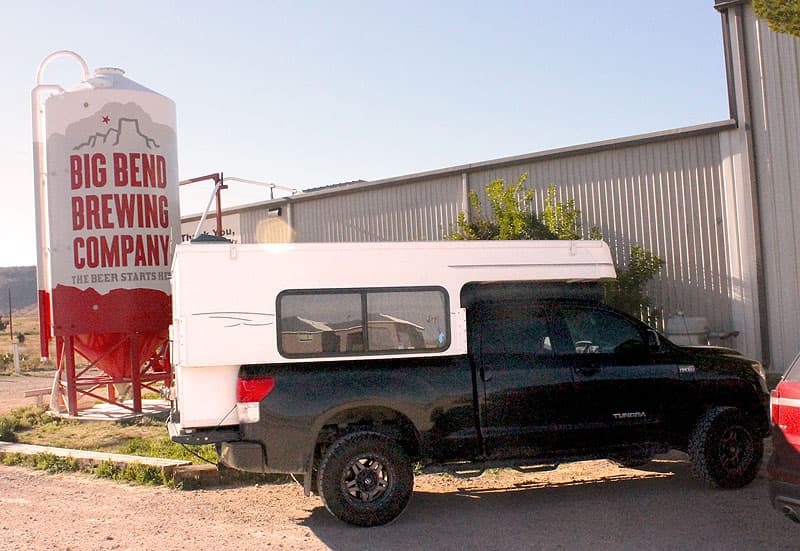 Above: Big Bend Brewing Company, Texas
TCM: So, where are some of your favorite places in Texas?
David: My top five Texas places are Caddo Lake, Frio River, Palo Duro Canyon, Port Aransas, and Big Bend National Park.
I highly recommend a trip to Big Bend National Park.  We went last spring.  On our way we boondocked in Marfa, Texas.  If you haven't heard of this place, look it up.
Head straight south to the border and drive River Road to the Big Bend entrance.  It's like a roller coaster.  We met with my friend and his wife who already had a campsite.  But, I later found an amazing spot to camp under the stars.
There are amazing hikes, amazing sights, Native American petroglyphs, rafting, off-roading, and an awesome hot springs.  I can't wait to do that trip again.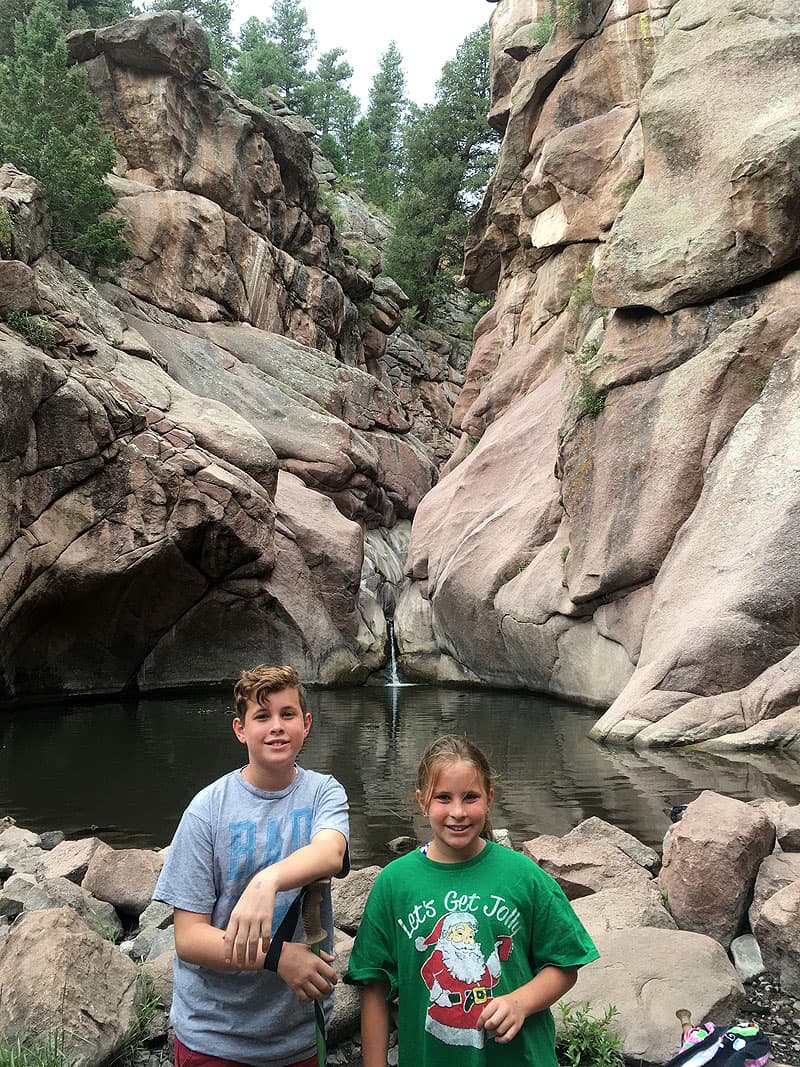 Above: David's kids at the waterfall and swimming hole in Paradise Cove, Guffey, Colorado
TCM: You told us that you went on a swimming hole search through Oklahoma, Kansas, Colorado, New Mexico, and Texas.  Where did that idea come from?
David: I came up with that idea on the Big Bend trip.  At that point I was thinking of summer vacation ideas.  There are quite a few swimming holes around Texas.
I added the swimming hole search to my Colorado trip itinerary.  We found them randomly on our way to Colorado and back.  We were jumping off cliffs, swimming, and having a great time.
There's a fun road magic story from the Colorado part of the trip.  We were trying to find the Paradise Cove swimming hole.  It's outside a town called Guffey.  We could not find it, so we stopped in town.
There was a classic saloon and, when we walked in, the music stopped.  We were freaked out, but we asked the people there about Paradise Cove.  A guy in back heard me talking.  We became buddies and we were able to pinpoint where the swimming hole was location.  There was a waterfall hidden away, after a mile hike.  It was a neat place to camp.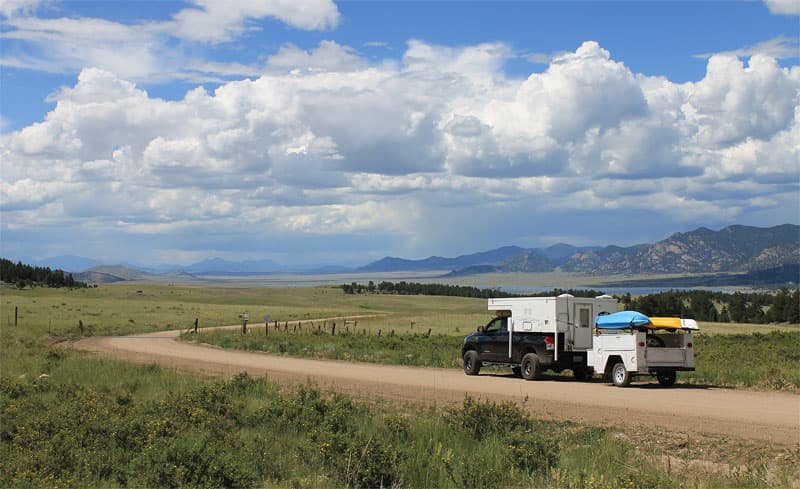 Above: TCM Calendar photo from Eleven Mile Reservoir, Guffey, Colorado
After we found out about Paradise Cove, we were heading toward Pikes Peak, which was one of the most scenic roads possible.  I headed down a dirt road for eighteen miles in Guffey, Colorado.  That was where the calendar contest winning photograph was taken.  My kids were actually asleep in the truck when I took the picture.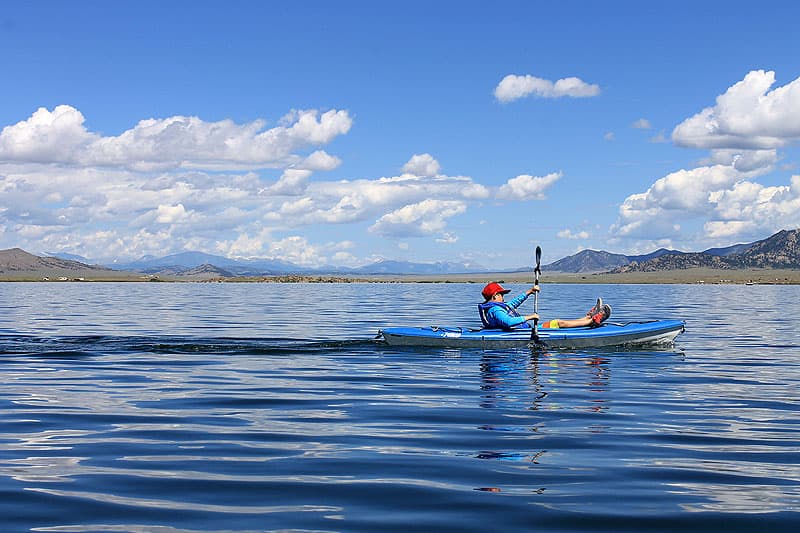 Above: Rylan kayaking past a beautiful background on Eleven Mile Reservoir near Guffey, Colorado
My first big trip with the Phoenix was a ten day unplanned journey through every corner of New Mexico with a good buddy of mine.  Mountain biking was the main adventure idea.  It was a great experience and I met loads of fellow truck camper owners.  That made me feel even better about my new found love.  They were such nice and interesting people.
It was an awesome trip.  My friend used to live there so he knew of a lot of secret places that most tourists wouldn't even know about.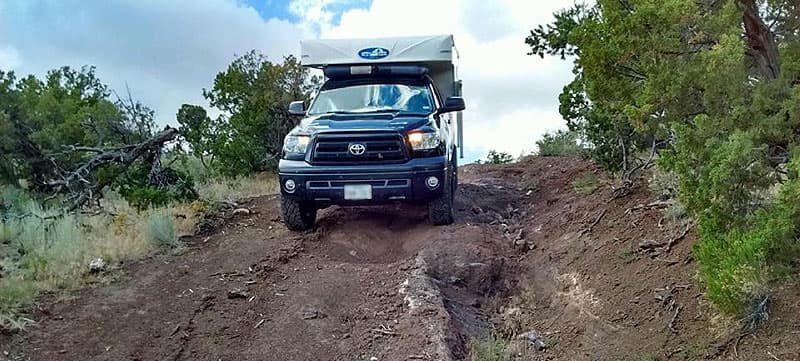 Above: Twin Hills, New Mexico
TCM: Secret places in New Mexico. Where did you go?
David: Outside Santa Fe there's a small mountain called Twin Hills.  It is mainly used for hunting, but you can four-wheel drive there, too.  One of the shots for the contest was at the top of that hill.  We camped up there, and you can see Santa Fe.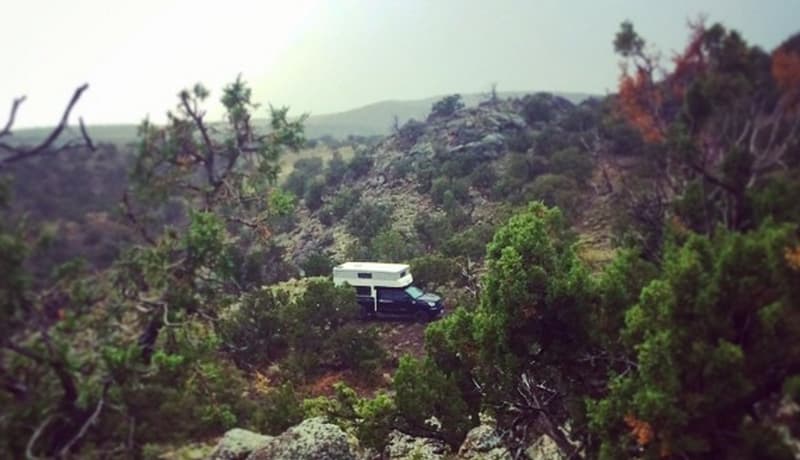 Above: Camping at the top of Twin Hills, Santa Fe, New Mexico
Next to the hill is a giant volcano vent; a forty foot diameter hole that goes down to straight nothing.  We put a GoPro on a fishing line and it went down 140 feet.  It's not well known and it was a very cool experience.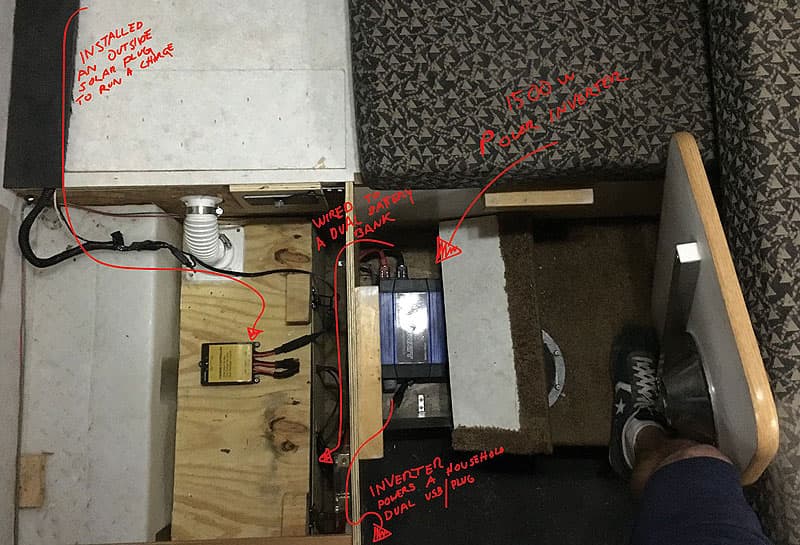 Above: He installed a 1500-watt power inverter and an external plug solar charger
TCM: Have you made any modifications to your camper since you bought it?
David: Yes.  I installed dual batteries with a 1500-watt power inverter and an external plug solar charger.  I added flip-down ladders and LED lights all around.
I custom cut a thick rubber mat for the flooring and custom made a double battery box that vents outside.  I installed an outside solar plug which is wired to the batteries so I can solar charge them.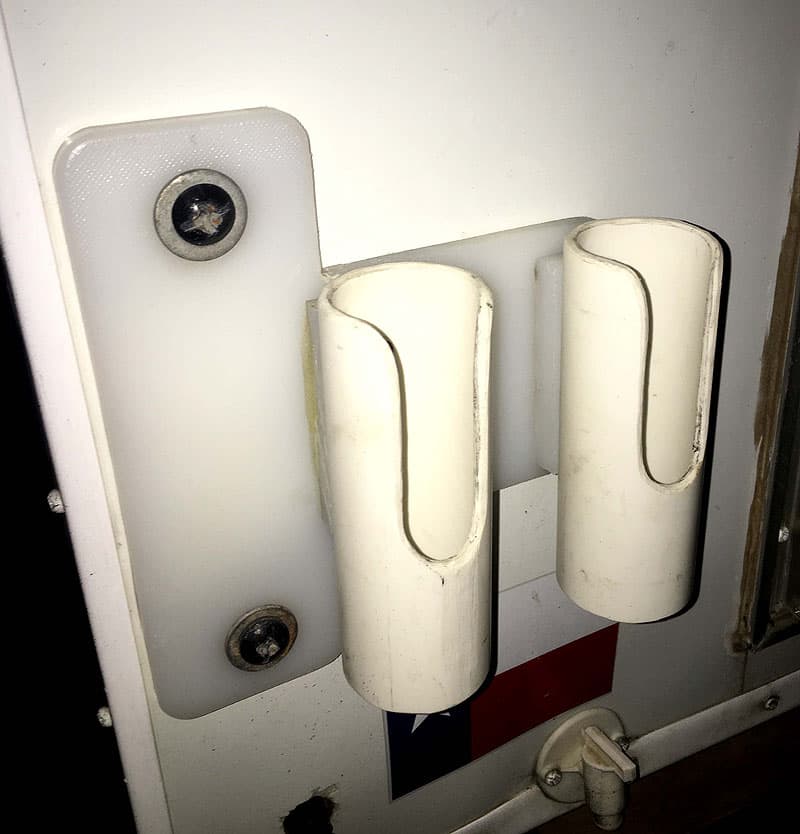 Above: David's PVC fishing pole holders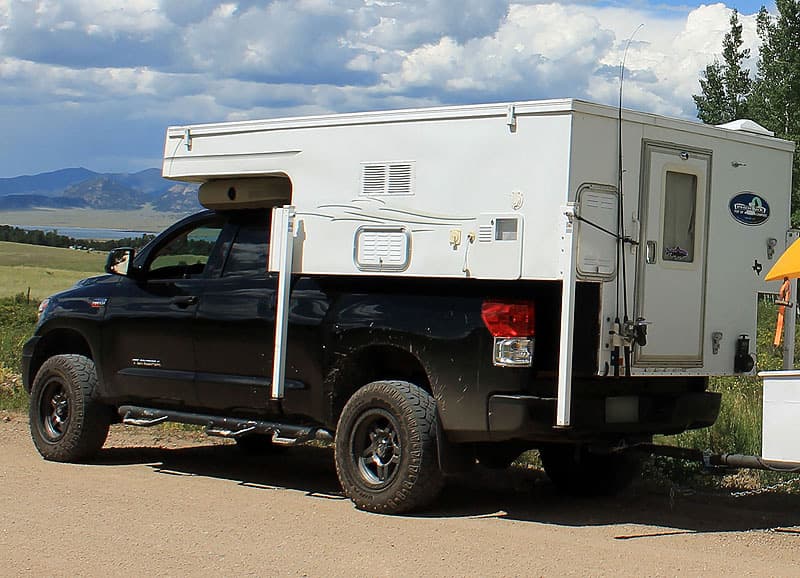 Above: David's fishing pole holders mounted on his Phoenix Custom Camper
I also made a fishing pole holder from PVC and added a white cutting board to the trailer.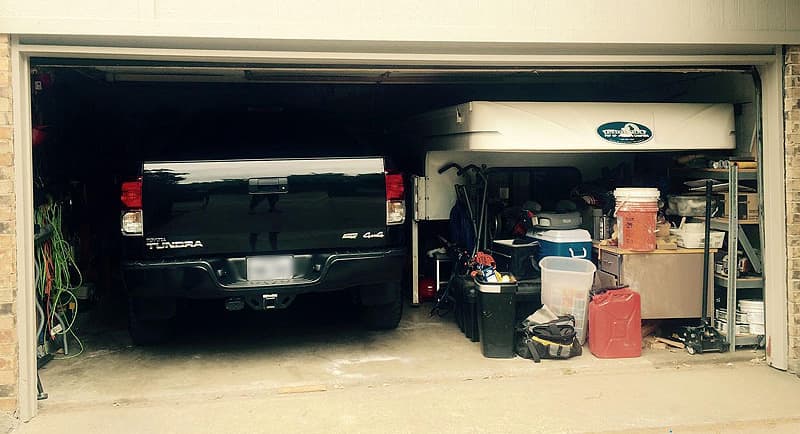 Above: David's rig can fit in his garage
TCM: A lot of folks will envy that your truck camper fits into your garage.  Is it on a dolly?
David: I did initially store the camper in the garage, but it took two hours to load, and created a scary situation with my slanted driveway.  I did like that the camper was dry and safe in the garage, but I had to winch it into the garage with a 5,000 pound winch and bracket.  It wasn't worth it.
Recently I started putting the camper on the side of house under a car port.  I don't like the camper being outside, but I can load it on and off in 15 minutes.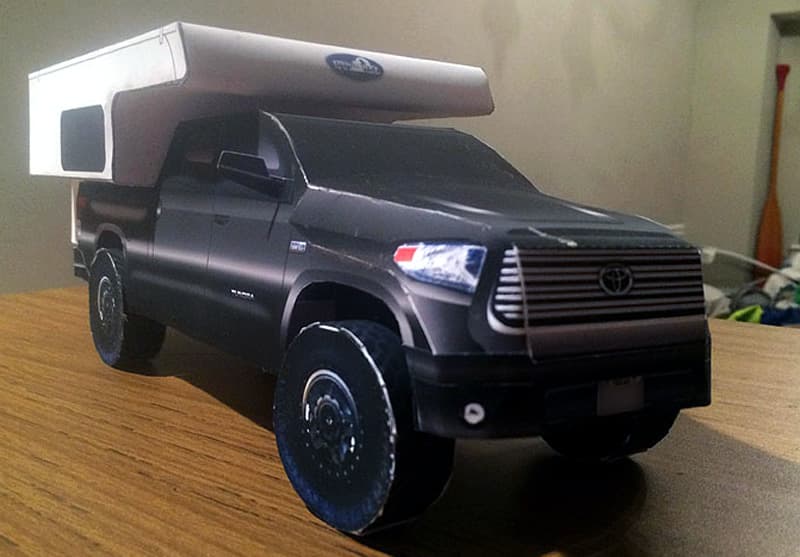 TCM: I see from your pictures that you make miniature truck camper models.
David: (laughs) I came across a paper model for my truck online.  I get bored sometimes, so I printed it out, and made own mini-camper.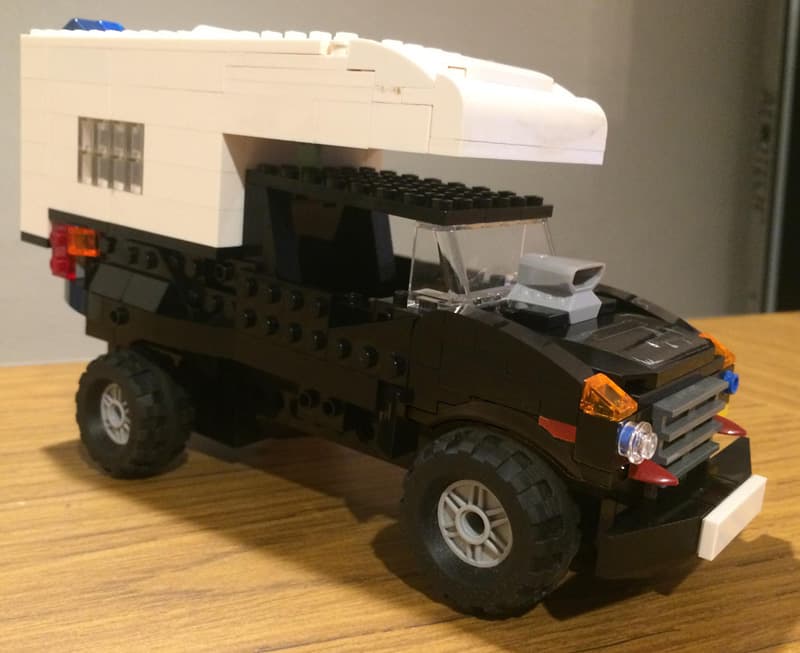 My son and I also built one out of Legos.  We make mini-campers for fun.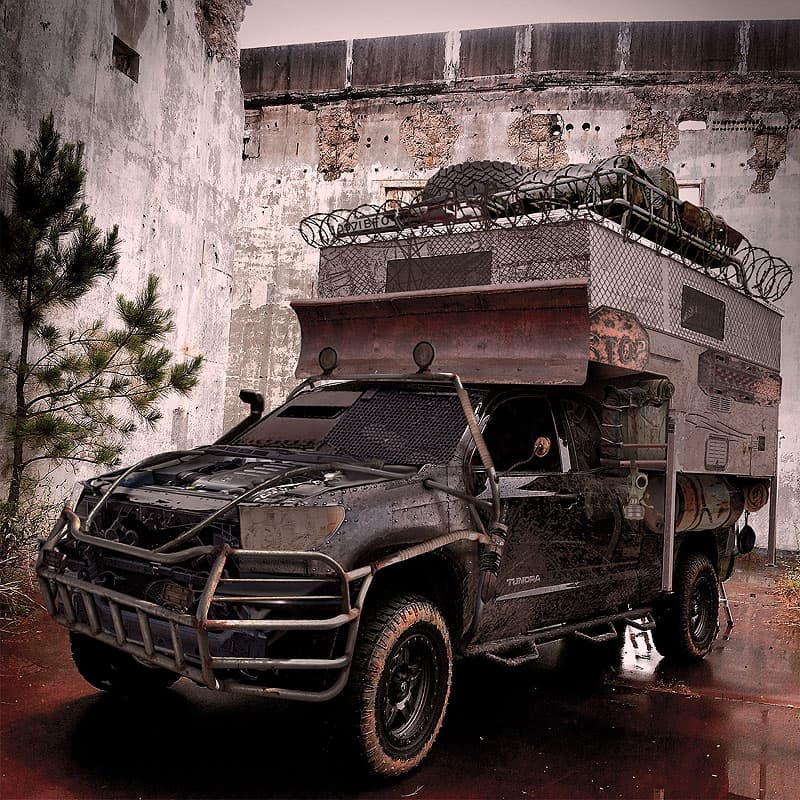 Above: David's Photoshopped Mad Max truck camper
TCM: What's the Mad Max truck camper?
David: That was Photoshopped.  I am into Mad Max.  I had a cool picture from when we went on a trip to Lake Caddo.  It's the only natural lake in Texas and it has the largest cypress forest in the world.  I highly recommend you go there.
Right next to Lake Caddo there's an old abandoned ammunition plant from the World War II era.  The picture looks apocalyptic.  I had some fun in Photoshop to make that image.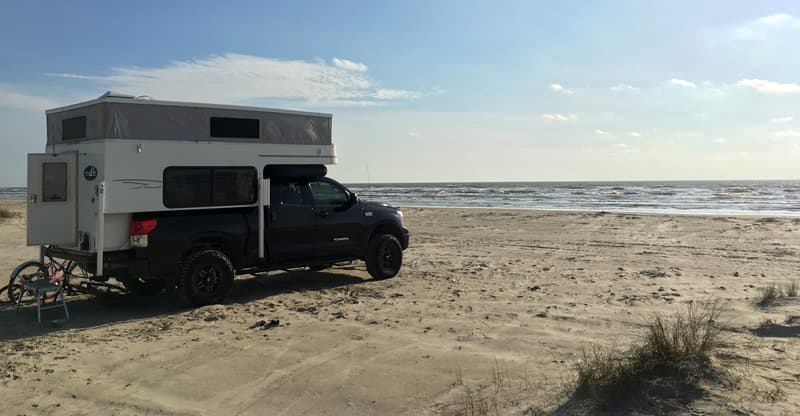 Above: Beach camping in Texas
TCM: Gordon enjoys using Photoshop to make the graphics for Truck Camper Magazine.  What are your truck camping plans for the future?
David: I want to go to Moab next for some mountain biking and off-roading.  I've wanted to do that for a long time.  I definitely want to do a west coast Redwood National Park trip.  I prefer boondocking as much as possible.  The kids like to go to the campsites, but I prefer going to the free camping scenic areas.

Above: Bandelier National Monument, New Mexico
TCM: Is there anything else that you'd like to share?
David: I couldn't be happier with my truck camper.  My job keeps me on the computer ten hours straight, and sometimes I don't get up for breaks.  The truck camper on the weekends helps me disconnect, which is definitely part of the reason I love truck camping.
Truck: 2012 Toyota Tundra, Extended Cab, 4×4, Gas, Single Rear Wheel, Short Bed
Camper: 2009 Phoenix Custom Camper, 8-foot model
Tie-Downs/Turnbuckles: Phoenix tie-downs, Happijac turnbuckles
Suspension: Pro Comp leveling kit, Bilstein shocks all around, Air Lift bags
Gear: Utility Trailer, PVC fishing pole storage