Hipcamp's Founder and CEO, Alyssa Ravasio, is on a mission to get more of us outside more often on lands previously inaccessible to the public. Ready for your next outdoor adventure? It's time to get hip.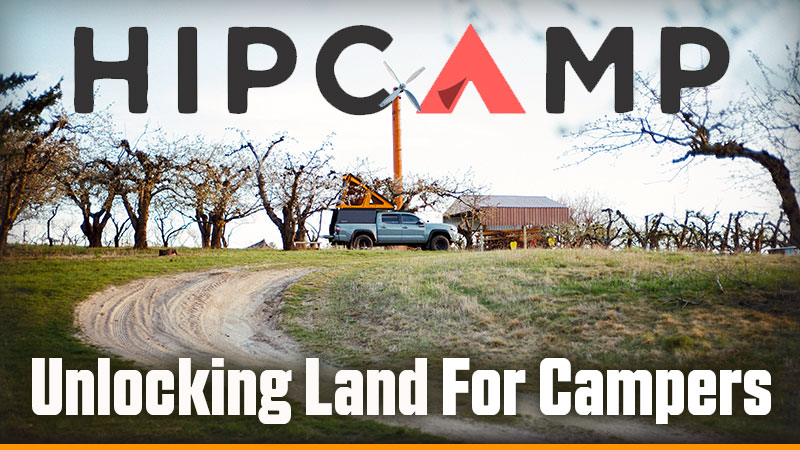 One of the most frustrating experiences we've had while truck camping is campsite reservation systems that are either archaically difficult or booked solid months or even years in advance. Couple that with the mind-boggling fact that many of these coveted campsites and campgrounds are surrounded by acre upon acre of private open land. If only there was a way to open this land to RV camping for the public.
As it turns out, this is a major part of what Hipcamp is all about. With a combination of old-school ingenuity and modern technology, Hipcamp researches where people want to camp and connects them with the camping opportunities in those locations. If there aren't enough camping opportunities in a given area, Hipcamp literally works to create new camping possibilities by contacting landowners and presenting a simple business opportunity; let RVers pay to camp on your property.
As their Crunchbase tagline states, Hipcamp, "unlocks access to private land for camping and outdoor recreation." If that idea doesn't quicken your pulse a little, you're either exceptionally lucky with your overnight camping spots or not camping enough.
The amazing personal story behind Hipcamp's origin explains its mission. Founder, Alyssa Ravasio, experienced firsthand the trials of campground discovery and reservations, only to then realize she missed her most coveted opportunity once she finally arrived on site. And in that disappointing experience, she had an idea that would change the future of camping.
To learn more about Hipcamp works, we contacted Alyssa Ravasio, Founder and CEO of Hipcamp.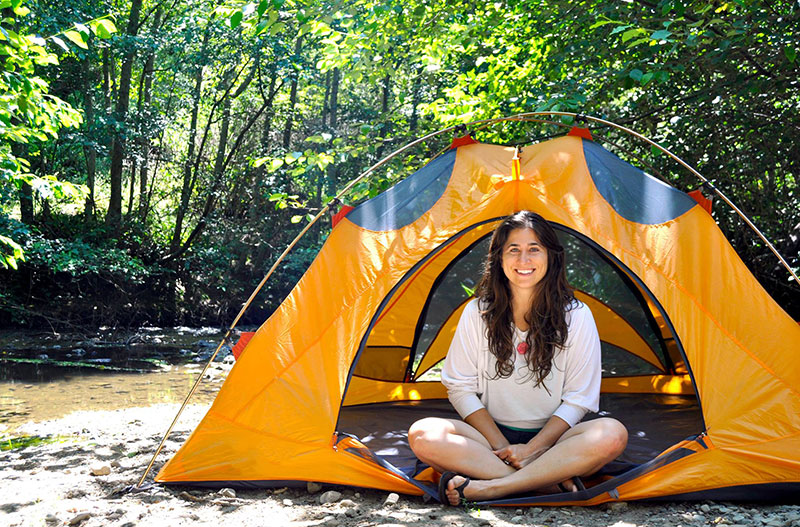 Above: Alyssa Ravasio, Founder and CEO of Hipcamp
Looking back, does it feel like your early years led to Hipcamp, or was Hipcamp something of a surprise turn in your life?
I feel fortunate because my family moved to California for the outdoors. They appreciated natural beauty and how accessible nature was here. I never appreciated how much work it was for my parents to find and book campsites. Still, it was easier twenty years ago than it is today.
When I got older, I went to book a campsite for myself. I was a good student, but – even with my research techniques – I had failed to discover the most important thing about the campsite I'd found; there was surfing and beautiful waves. Without my surfboard, I felt left out.
I was driving back home when I had the idea for Hipcamp. From research to arriving, I hadn't learned the most important thing about the campground. The internet would be good at fixing that problem, and it was a problem that I felt uniquely positioned to answer. You could say Hipcamp started with a wave.
I feel clearer and healthier being outside. Through Hipcamp, I want more people to experience that feeling. Hipcamp was developed to make it simple to get outside.
"I feel clearer and healthier being outside. Through Hipcamp, I want more people to experience that feeling."
It seems like Hipcamp is more of a personal mission than a business.
It's definitely a mission. I think that is why we are able to recruit and hire such amazing people. The most talented people want to work on something important that they believe in. That leads to a world they want to live in.
The way we balance the mission and business is through thoughtful design. Our big goal this year is not a revenue goal – it's a night's outside goal. We focus the whole company on that metric; Are we getting more people outside? Does that goal leave opportunities on the table to make more money? Maybe, but we have a clear focus on the impact we want to have.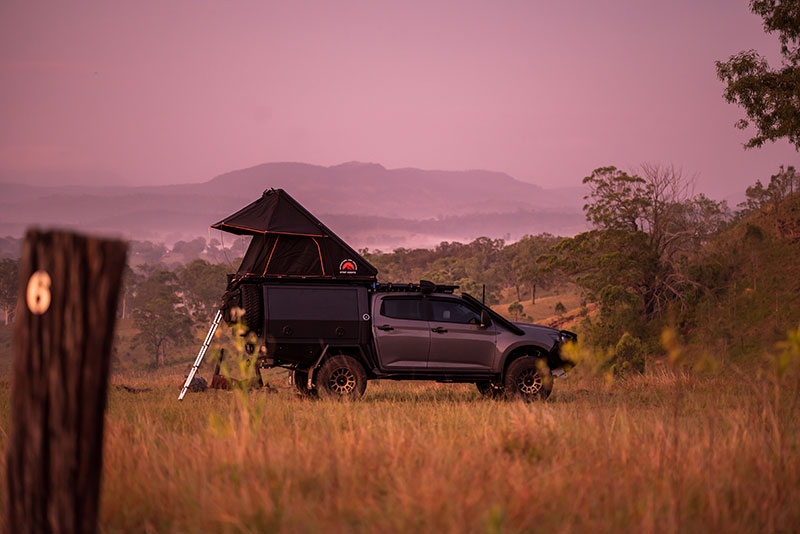 Until recently, we were unaware that Hipcamp offered opportunities to RVers. When did Hipcamp get into RVing?
About three years ago we heard loud and clear that there wasn't enough clarity about which places could accommodate RVs on the Hipcamp website. That's when we put a lot of work into that area.
I bought a camper van to feel the pain and awesomeness of RV ownership. For example, I learned about access to campsites and what a pull-through site is. Through that work and experience, we developed a better product for RV enthusiasts. Our website and app now include RV-specific filters to help people find the perfect site for their needs.
For people who need more accessible commercial campgrounds, we have started bringing on commercial inventory too. That's our biggest category now with 1,400-percent growth over the past three years. It was definitely not the original idea of Hipcamp, but it's actually a perfect fit.
"Our website and app now include RV-specific filters to help people find the perfect site for their needs."
There are a few big ways. I have a full-time researcher who spends all day looking for opportunities and talking to people. We're also adding commercial campgrounds with high-quality inventory and Property Management Systems. That's a big initiative.
We're also reaching out to more land owners. We look at our data and we can see where people like to camp. If we see lots of people searching where places are booked, we reach out to potential Hosts who have private land in that area. They can sign-up with Hipcamp and offer anything from self-contained dry camping to sites with full hookups.
We've made a huge investment in structured and accurate data from our Hosts and customer reviews. We want to help people know what they are getting into. People love the idea of privacy and special extras like horseback riding or a farm-to-table dinner. We want to make sure people have the amenities they need for a good camping experience.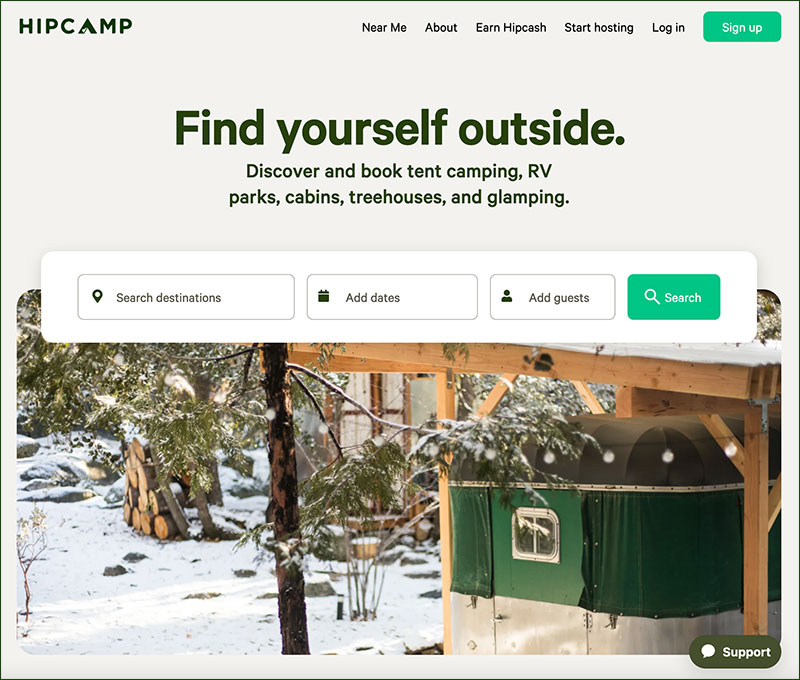 Above: The Hipcamp homepage presents a search feature by destination and date
How does someone sort the Hipcamp camping opportunities to find the ones that cater to RVs?
They can use the RV filter on our website and app. There are additional filters for water, electricity, and sewer. Put in your needs upfront and you don't have to waste time getting super excited to find out that a site doesn't fit your requirements. The RV filter is the way to go.
How many RV sites are currently on Hipcamp?
We have hundreds of thousands of sites for RVs. There are places with a single site so you get a lot of privacy. It could be a winery that has a beautiful setting that's just for you.
You can get sites with access to water, which is something we see searched for frequently in our data. It may be that you want to camp on the Florida coast or at a swimming hole in Texas or a river in California. We find that people like private sites with access to water. Private waterfalls are also accessible on the platform.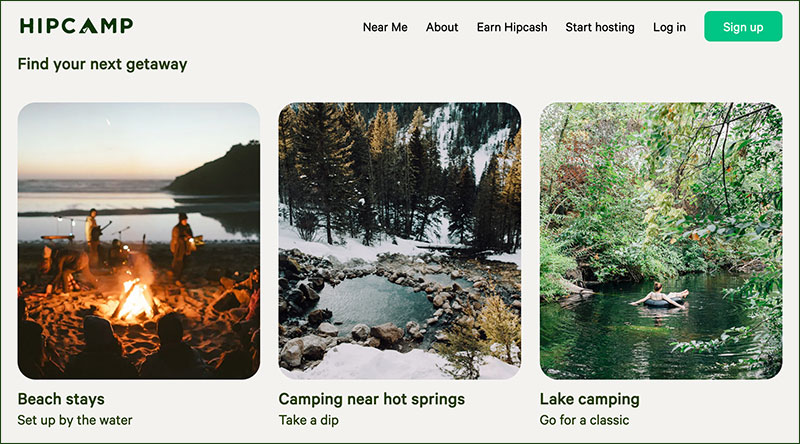 Campgrounds are on our filters as well. For people who spend a lot of time on the road, it may make sense to be in a wild site and then go to a campground for a few days to get your needs met.
Hipcamp has a varied amount of inventory. Diversity is strength. Personally, I like anything on the river. I am a big river person.
Geographically, where are these opportunities?
All over the United States and Canada. Australia is a fast-growing market for us. It's not the most accessible to those who live in the United States, but there are companies that rent RVs and vans there. As of this past year, we are also in the United Kingdom. One of our team members is camping in Baja right now, so we even have Hipcamps in Baja.
Are these strictly overnight opportunities, or can RVers opt to stay for longer?
We definitely have people stay up to 29 nights. A lot of Hosts have discounts for longer stays. My favorite type of camping is staying at the same campsite for a week or two. You get to know the area.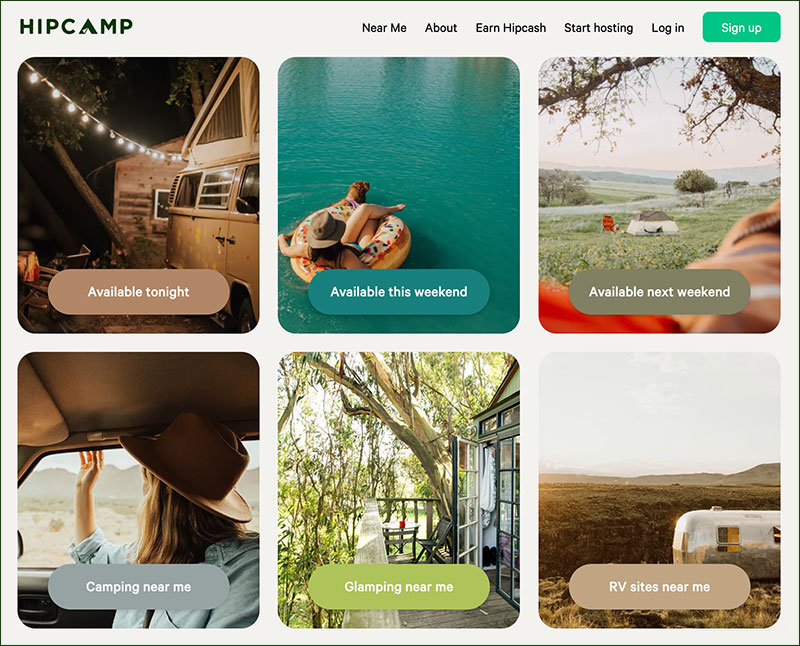 Above: Spontaneous and near sponteneous Hipcamp opportunities are listed
Truck camper owners often enjoy being spontaneous with their travel plans. Do Hipcamp reservations need to be made far in advance, or can they be made on short notice?
You can use our app's "Book Tonight" button to find stays immediately available. The whole company is built around being able to support spontaneity. I also don't like to plan things out. That doesn't seem fun to me.
That being said, our most popular sites do get booked a few months out. As a company, we do everything we can to not run out of sites in key areas. We try to add places in areas that get booked out to support people who want to be spontaneous. If there is a specific place you want to camp, you should book a few months out, but there are a lot of places you could go tonight.
I like stress-testing our system. Last year I waited until the Saturday of Memorial Day weekend and looked at our website to see where I could camp. I found a good spot an hour and a half from San Francisco. That gets back to our mission of having the outdoors feel accessible.
Why would someone go to a commercial campground through Hipcamp and not directly book with the campground?
A few good reasons to book through Hipcamp are that the cost is the same for you and you can book your entire trip in one place. We have a great app that makes it super easy to book while you are on the go. It has in between spots and it has offline access if you lose service. You can see the directions and the address.
Another reason to book through us is the Hipcamp community. Through our app, you can see reviews and photos of the different locations. That provides a very important perspective. Campground websites might say they are the best, but Hipcamp gives you the ability to learn from others. We combine that with easy bookability at the same rate offered by the campgrounds.
Another reason is that Hipcamp is the only place you can see all the options across the board; public, private, and commercial. On one map you can look at all your options.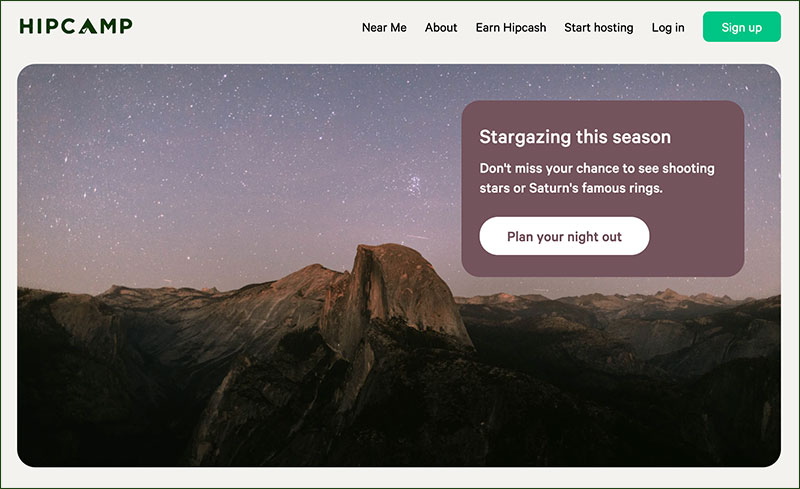 Above: Hipcamp offers theme specific camping opportunities, including stargazing
How does your team ensure that you're bringing on the right outdoor stay opportunities? Is there a screening process?
In any country where we're operating, we have a local team. That's important. There are a lot of 'in-person on the ground' things that we do. We also have a stringent question-and-answer process with prospective outdoor stay opportunities and two different teams review the data.
Our Hipcamp support team works with any outdoor stay opportunity that joins. The support team does a good job of making sure the opportunities are good fits. We have a set of Host standards around our core values. Every day there are Hosts that can't join because they do not meet our standards. We do this for community safety and for our brand.
Are there any restrictions to the kinds of RVs allowed to use the Hipcamp platform? For example, do RVs need to be self-contained?
There are restrictions for specific destinations, but no platform-wide Hipcamp restriction. By using our filters, you can make sure that the place you want to go supports your RV type and needs. You can read about access so you know what you are driving into. For example, some places require travel on a dirt road. As far as being self-contained, we don't have a requirement, but you always need to properly dispose of waste and water.
Are there other Hipcamp rules or a code of conduct to be aware of?
Yes. Our Hipcamper standards are on our website. People need to be respectful, leave it better than they found it, and follow fire safety rules. Last year we had webinars about fire safety. That's a huge deal, especially in the West. We want to build a respectful community of people who are excited to get outside and value being out in the world. We are also aware of how we market ourselves. You will never see us coordinating with an alcohol company. That's not how we want to reach people.
My favorite thing about Hipcamp is the type of people who come through our platform. They are friendly and respectful. There's inclusivity and people leave the land better than they found it. The Hosts feel the difference in how people show up. We have a community of really good people.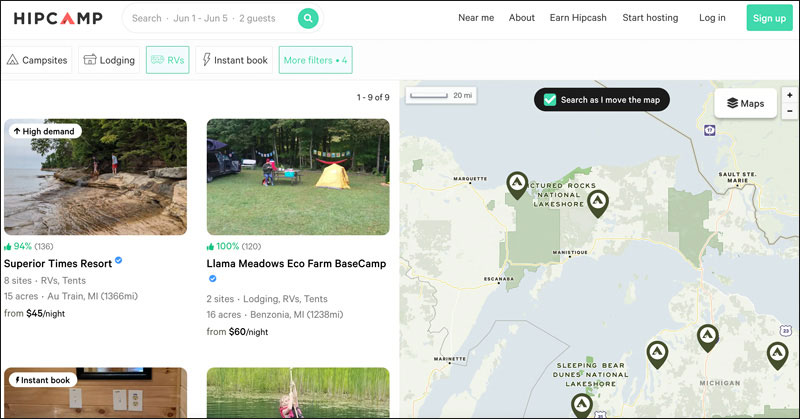 Above: A screencap of Hipcamp opportunities in the Upper Peninsula of Michigan
What is the fee structure of Hipcamp? Is there a membership fee? Is there an overnight stay fee?
There is no membership fee. It's free to join Hipcamp. The Hosts set their own price. You pay an overnight fee that can vary by the day of the week. The average price to camp is $40 per night, but stays start around $10 to $15 per night. There is a good range. By using our RV filters, you can sort by cost.
We take a percentage of the bookings. When you book a commercial campsite through Hipcamp, the campsite has a simple commission agreement with Hipcamp. Hipcamp is effectively marketing for the campgrounds. We also make a commission when we book sites for private land owners.
Is there any expectation of a purchase or gifts when you stay at a Hipcamp location?
No. That's not part of the Hipcamp culture. In fact, some people get little presents from the Hosts, like eggs from the farm they are visiting. That's the nice part of paying a fee. Once you've paid, you're good.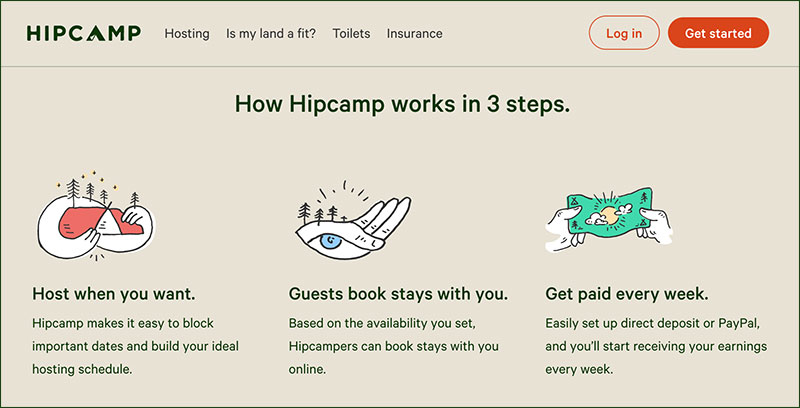 A fair number of our readers have land that they could potentially rent to travelers on Hipcamp. How could they participate in the Hipcamp program?
It's definitely a great opportunity. If you want to sign up as a Host, go to Hipcamp.com/Host. It takes under an hour to get your listing set up. We have a great team to help you. There's $1 million in liability insurance and it's easy to join.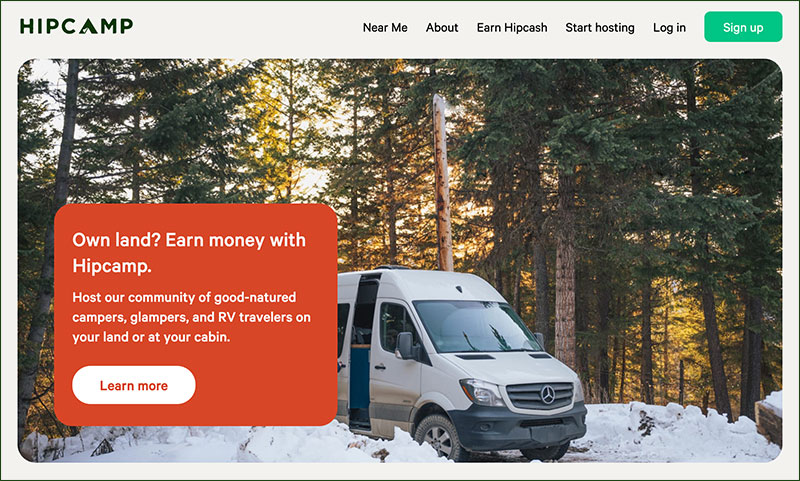 A lot of our Hosts start by inviting self-contained RVs. Over time, with the money they've made, they might build an outside shower, a covered kitchen area, or electrical hookups.
We love the idea that you grant $1,000 in HipCash to every employee to use for lodging and offer a bonus to anyone who uses it all. Has that been a successful program for Hipcamp?
I work really hard to make sure people who work at Hipcamp get outside. I also want our people to meet our Hosts. I want them to understand the community. It humanizes what we do.
We also do hackathons where our team works on what they do for a week. The ideas often come from getting outside and having conversations with Hipcamp Hosts and campers. It's important to be familiar with the community and system. It also creates team culture and motivation.
I was on a farm once and people were unloading from a car. They were from the city and looked dazed. It was a beautiful spring day. He started crying because it was so beautiful. I will carry that with me forever. That's why we do what we do.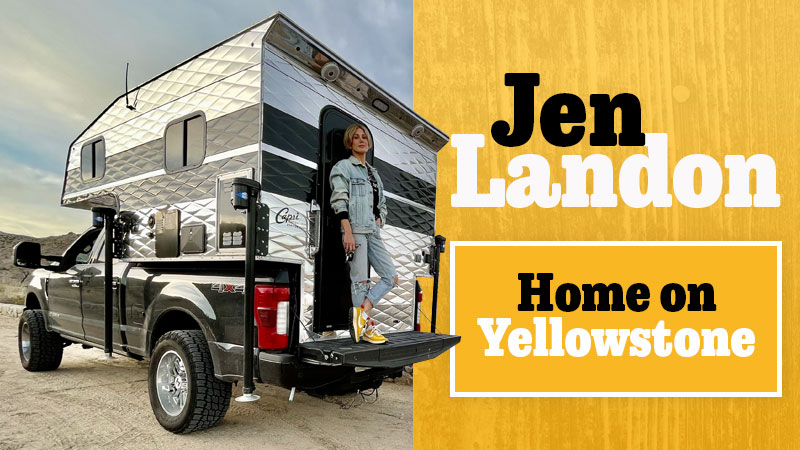 Were you surprised that Jen Landon from Yellowstone has used Hipcamp?
That was very fun for me. I am a big Yellowstone fan. That was a cool moment to help connect those dots. We also have investors who are fans of the show. That was a nice moment. Jen is smart and cool and on to something.
I like that people feel safe at Hipcamp locations. They get to know their Hosts ahead of time and know if it's a female Host. That is something special.
I am glad Jen is finding camping. With her work, it is important that she has space and time. We know there are quite a few famous people who use Hipcamp. There is a benefit and hardship to being recognizable. Finding 1,000 private acres is special.
"I want the global community to be connected to the land. The power of the outdoors and people connected to nature is important to me."
Where do you see Hipcamp in five years?
Oh my. I think the most important thing is that I am in this at the end of the day for cultural change. I can decide in the morning to be under the stars that night. It's not stressful or expensive or complicated. Making an impulse decision to get out in the wild is something my employees can act on. In five more years, far more people will be involved.
Let me back up. Hipcamp started with just public land. The idea was that we'd have state parks and national parks in one place. That's when we learned everything was booked up, and it's how we learned that we needed to seek out private land. It was the only other place to send people.
In five years, I would like the East to have more access to nature and expand around the world. I'm very excited about camping in Japan, Italy, and Ecuador. I want the global community to be connected to the land. The power of the outdoors and people connected to nature is important to me.
Looking at a five-year timeline is to look at what we've done. We have unlocked almost 5 million acres of private land for recreation and helped more than 7 million people get outside. Over time I would love to open up more land for other types of activities including mountain biking or a week-long stay to learn how to grow herbs. Connecting people to land is what we're interested in doing.
We offer a cool camping solution for truck campers. I invite your community to try some Hipcamps, and to share what's working and not working. We love feedback!