Melanie White, Marketing Manager for Hellwig Products, takes her family out truck camping for the first time in a Ford and Lance Camper rig.

It's certainly no secret that we hound the industry to go truck camping.  While industry leaders often work with and around truck campers and truck camper related products all day, they seldom have the opportunity to get in a camper and go camping.
When it gets right down to it, most industry leaders are just too busy to take a week or weekend and go camping.  We also can't blame them for not wanting to be around the products they work with all week long on during their time off.  Sometimes Angela and I even have this reaction.
Melanie White, Marketing Manager for Hellwig Products, is fourth-generation in the Hellwig Products company.  Naturally, Melanie grew up around the business and remembers wonderful RVing adventures with her family growing up.  Unfortunately, none of those trips were in a truck camper.  As we are well known to do, we strongly encouraged her to seek out a truck camping opportunity, and go anywhere, camp anywhere.
To our delight, Melanie connected with Ford Trucks and Lance Campers to assemble a brand new project rig in late 2011.  As almost complete truck camping newbies, her family was excited and a bit anxious about their first scheduled trip, the 2012 Overland Expo in Flagstaff, Arizona.  Before the trip, Melanie, her husband Justin, and son Jensen set out for Yosemite National Park for a shakedown cruise.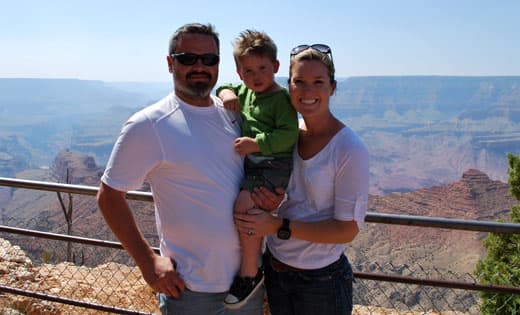 Above: Justin, Jensen, and Melanie White at the Grand Canyon, Arizona
TCM: Tell us about how you decided to go truck camping as a family.
Melanie: This past year we took on a Ford Super Duty as a project vehicle and took the opportunity to work with Lance Campers in nearby Lancaster, California.  Originally, the Ford Super Duty and Lance Camper rig was a cross-promotion, but it wound up being much more for my family.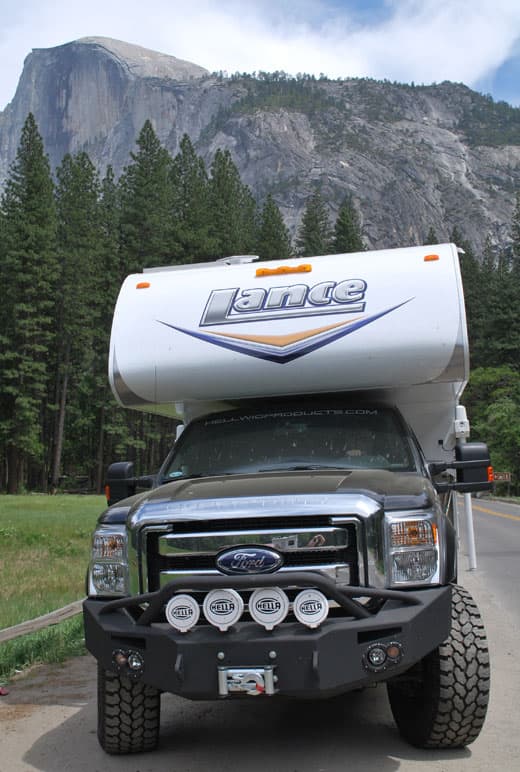 We were scheduled to debut the Ford and Lance rig at the 2012 Overland Expo in Flagstaff, Arizona last May.  Before that trip, we tested out the rig on a dry camping run to Yosemite National Park.  We knew we would be dry camping at the Overland Expo so we made sure to try dry camping on this first trip.  We wanted to make sure we could handle that.

Justin: We go up to Yosemite every spring in our toy hauler to catch the peak run off.  We were scheduled to do the Arizona trip in the Lance, but we needed to do a shakedown cruise.
My dad had a smaller truck camper, so I was a little familiar with the way things worked.  We packed the camper and got familiar with how to use everything.  The buttons do different things in every RV, so we had to get familiar with the Lance.
The trip was awesome.  It was two days and worked out perfectly.  The camper was ten times easier than the toy hauler to get into those tight campsites.  Yosemite has lots of trees and narrow roads.  It's vastly better in the camper.
Melanie: As truck camper newbies, going into the Yosemite tunnel right before you get into the valley was a little nerve racking.  We were concerned about the height of the rig.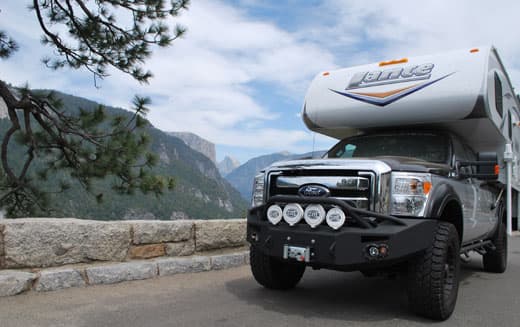 Justin: I measured the camper before we took off because I knew we were going through that tunnel.  The tunnel says you have to be 14'6 feet high or under.  Even though I knew we were under that, I was crouching down as we drove in.  We made it just fine.
TCM: Did you learn anything on that shakedown cruise that you wanted to change for the trip out to Arizona?