Melanie White, Marketing Manager for Hellwig Products, takes her family out truck camping for the first time in a Ford and Lance Camper rig.

It's certainly no secret that we hound the industry to go truck camping.  While industry leaders often work with and around truck campers and truck camper related products all day, they seldom have the opportunity to get in a camper and go camping.
When it gets right down to it, most industry leaders are just too busy to take a week or weekend and go camping.  We also can't blame them for not wanting to be around the products they work with all week long on during their time off.  Sometimes Angela and I even have this reaction.
Melanie White, Marketing Manager for Hellwig Products, is fourth-generation in the Hellwig Products company.  Naturally, Melanie grew up around the business and remembers wonderful RVing adventures with her family growing up.  Unfortunately, none of those trips were in a truck camper.  As we are well known to do, we strongly encouraged her to seek out a truck camping opportunity, and go anywhere, camp anywhere.
To our delight, Melanie connected with Ford Trucks and Lance Campers to assemble a brand new project rig in late 2011.  As almost complete truck camping newbies, her family was excited and a bit anxious about their first scheduled trip, the 2012 Overland Expo in Flagstaff, Arizona.  Before the trip, Melanie, her husband Justin, and son Jensen set out for Yosemite National Park for a shakedown cruise.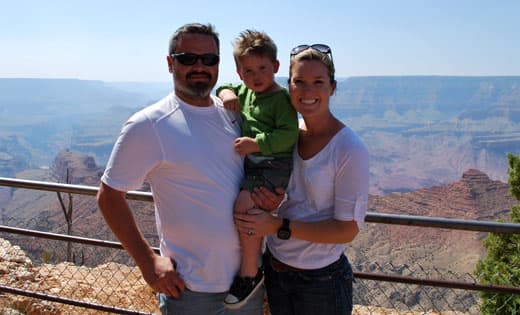 Above: Justin, Jensen, and Melanie White at the Grand Canyon, Arizona
TCM: Tell us about how you decided to go truck camping as a family.
Melanie: This past year we took on a Ford Super Duty as a project vehicle and took the opportunity to work with Lance Campers in nearby Lancaster, California.  Originally, the Ford Super Duty and Lance Camper rig was a cross-promotion, but it wound up being much more for my family.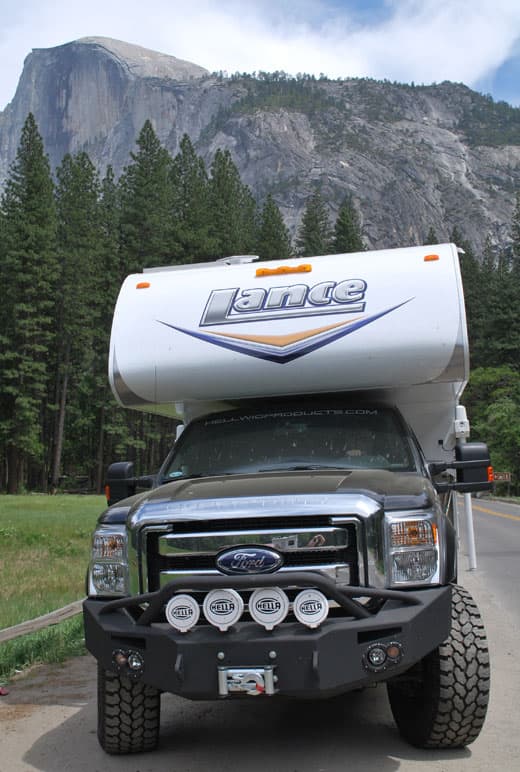 We were scheduled to debut the Ford and Lance rig at the 2012 Overland Expo in Flagstaff, Arizona last May.  Before that trip, we tested out the rig on a dry camping run to Yosemite National Park.  We knew we would be dry camping at the Overland Expo so we made sure to try dry camping on this first trip.  We wanted to make sure we could handle that.

Justin: We go up to Yosemite every spring in our toy hauler to catch the peak run off.  We were scheduled to do the Arizona trip in the Lance, but we needed to do a shakedown cruise.
My dad had a smaller truck camper, so I was a little familiar with the way things worked.  We packed the camper and got familiar with how to use everything.  The buttons do different things in every RV, so we had to get familiar with the Lance.
The trip was awesome.  It was two days and worked out perfectly.  The camper was ten times easier than the toy hauler to get into those tight campsites.  Yosemite has lots of trees and narrow roads.  It's vastly better in the camper.
Melanie: As truck camper newbies, going into the Yosemite tunnel right before you get into the valley was a little nerve racking.  We were concerned about the height of the rig.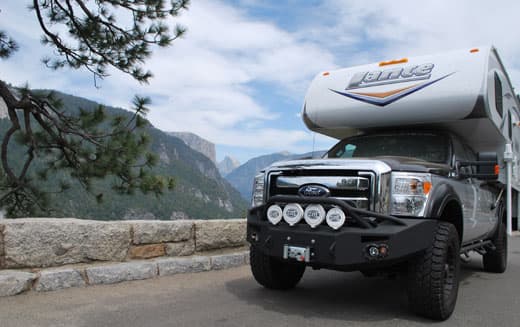 Justin: I measured the camper before we took off because I knew we were going through that tunnel.  The tunnel says you have to be 14'6 feet high or under.  Even though I knew we were under that, I was crouching down as we drove in.  We made it just fine.
TCM: Did you learn anything on that shakedown cruise that you wanted to change for the trip out to Arizona?
Justin: Yes.  On the way home, I made a list of things I wanted on our Arizona trip.  For example, we needed to take along blocks for the jacks and a little shovel.
After the Yosemite trip, I was comfortable driving the rig.  Anytime you're taking your family into the unknown, you want to be prepared.  If it was just me, breaking down or whatever is not a big deal, but with my family I'm more apprehensive.  I double and triple check things.  You don't want to be going across the desert with a young kid, and not be prepared.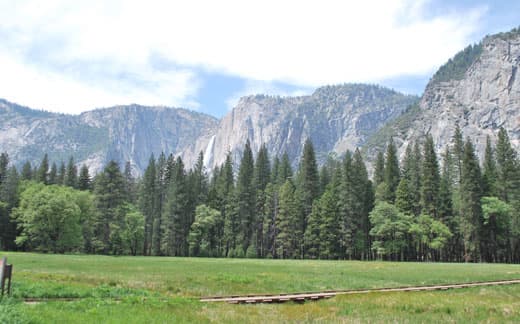 TCM: What kinds of Hellwig modifications are made on the Ford Super Duty?
Melanie: It has our suspension parts on it including Hellwig air suspension, and our front and rear Big Wig sway bars.  Those upgrades help make the rig feel more stable.
At one point before the trip, I had to drive the rig from the shop to our home to pack it.  I was a nervous Nelly driving it, but it turned out great.  After that drive I was comfortable with the whole set up.
TCM: Do both of you drive the truck camper rig?
Justin: I drove the truck camper when we were together.  I'm the worst passenger.  I stomp the floor like it's the brake pedal.  We would never have been married as long if she drove.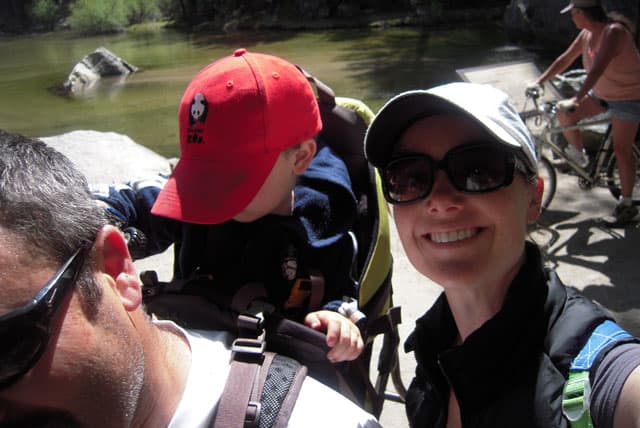 TCM: What kinds of things did you enjoy doing while out truck camping?
Justin: We have a backpack for our son, Jensen, and enjoy taking him on hikes.  We went up the Mirror Lake trail.  Part of it is closed from a huge rockfall, but we went seven miles.  We also did a couple of other hikes.  Jensen used to be a little better because he would look around and go with us wherever we went.  Now he wants, "that stick" and, "that rock" and gets distracted.
Melanie: There are so many rocks in Yosemite.  He thinks rocks are amazing and there was one rock after another.  He was fascinated.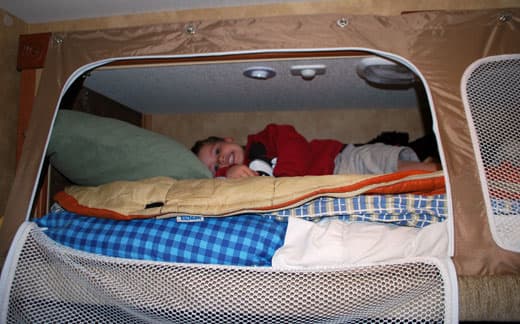 TCM: How did it work out with all three of you in the truck camper?
Melanie: It was great!  I was a little nervous about us all being in the same space after being used to the trailer, but the Lance Camper really worked out well.  We used dinette bunk bed for Jensen.  It's perfect for his size.  We call it his tent bed.
Justin: I like the fold away bunk bed.  You can also zip him in so he won't fall out.
Melanie: He had a blast in it, too.  He thought this massive truck and camper was a monster truck and got really excited.  The first trip out to Yosemite got him excited about the 'tamper'.
Justin: As a family, we've driven up to Seattle and gone all over the West Coast.  We travel a lot with Melanie's job.  Jensen as been all over, so we were really comfortable.  He's a trooper and fully on board.
 
TCM: Did you experience any unforeseen challenges?
Melanie: There were things we didn't think about.   We didn't bring a water hose.  We had spent five days at Overland Expo dry camping.  By the time the Expo was done, we were full and empty.  From there we went to the Grand Canyon.  One of us used the restroom in the camper and used the last of the fresh water.  We were there and could dump, but forgot a fresh water hose.  So having a new rig you have to remember everything.  One thing we loved was that we never had to charge the battery.
Justin: The solar display on top of the rig was amazing!  We never used our generator. With the solar we can monitor the progress of the charge.  By late morning the batteries were often at full charge.  We are RVers, so we know to turn off lights, but we ran the fan on the heater and the battery levels didn't get low.  I was impressed.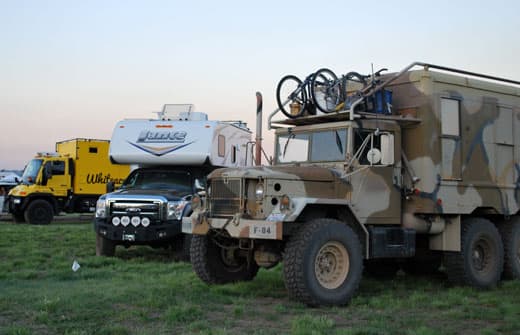 TCM: Tell us about your experience at the 2012 Overland Expo.
Justin: I planned the route so we would take dirt roads to the Expo.  We drove on twenty to thirty miles of dirt roads.  We had an adventure.  Once we arrived we were dry camping.  We set up in the presentation area for feature vehicles.  The truck and camper were our display, and our residence.
It worked out well.  I wish I had a dual sport bike to putt around in so that I had freedom to get around.  During the event, we could basically go as far as we could walk.
Melanie: We did the Overland Expo for a few nights, and then went on two nights in the Grand Canyon.
Justin: Before we went to the Grand Canyon, we went down through Sedona on a dirt adventure road.  Sedona was amazing!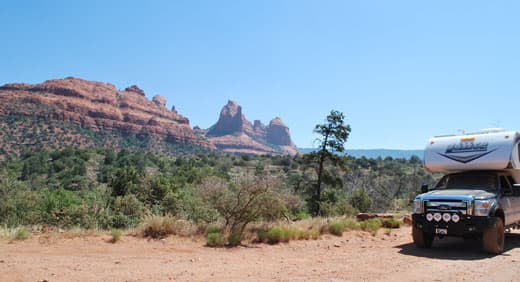 Melanie: Sedona is incredible with beautiful red rocks.
Justin: After the Expo, we went to the Grand Canyon.  We didn't have to say a second night, but it was awesome.  We got our chairs out and had hamburgers.  I was really happy we went to the Grand Canyon because I had never been there before.
TCM: Do you have any future adventures planned with your truck camper.
Melanie: It was a really good experience.  I love that we could just pull over because we wanted a picture.  When we have our full trailer, we can't do that sort of stuff.  With the camper, we have a lot more options.  We can get into normal parking lots.
With a truck camper you do have to be smarter about how you camp and pack.  Honestly Lance is so smart about their cabinets and they way they've set up their camper designs.  The storage was great.
Justin: Lance is very intelligent with their designs.  You can tell they camp in their products.  They have nice compartments with lots of storage.  I do like my toy hauler because I like hauling bikes and my dirt bike buddies can sleep on the toy hauler floor.  But, for the ease and being self contained, I prefer the truck camper.
Melanie: We could go anywhere and do anything during that trip.  In the next couple of weeks, we are headed to Monterey.  Jensen is almost three and I want to take him to the aquarium there and stay at the Marina Dunes Campground.
It was such a great opportunity to have this experience and try something new.  Using a truck camper forced us out of comfort zone, and made us appreciate what we love about RVing.  Truck campers are definitely a great way to visit our national parks.
Justin: We have done the trip to Seattle from central California.  I would like to take the camper up the coast to the Olympic mountains, and not be concerned on the amount of miles.  That's where the truck camper would be great.