Pete and Linda Clark have assembled an ultimate truck camper and horse trailer combination including a Ram 5500 and Northern Lite 10-2 EX.  That's 325 horsepower up front, 2 horses in the back, and thousands of miles and trails to explore.

About 20 years ago cable television providers branched out into high-speed internet and voice over internet (VOIP) home phone service.  With a bundled offer, you could eliminate your home phone bill, get high-speed internet, and enjoy cable television all for one monthly price.
Unfortunately, there was a catch.  The bundled teaser offer expired after a year.  Then the cost would escalate up to 100-percent, or more.  You were also forced to accept cable television, internet, and phone service even if you didn't have or want a land line, or didn't want all those cable channels.
Equestrian enthusiasts have encountered their own bundled opportunities with horse trailers and even motorhomes that combine RV-style living quarters with horse accommodations.  With an all-in-one RV and horse trailer, you could eliminate a dedicated horse trailer and gain RV living quarters.  No more expensive hotels.
Unfortunately, there's a catch.  By bundling the RV and horse trailer, you lose the flexibility of using the RV separately from the horse quarters.  That severely limits where you can go and camp.  You were also forced to camp in the same location as the horses.  This further limits your camping possibilities.
With years of experience towing horses and camping, Pete and Linda Clark went in a different direction.  To maintain the ultimate versatility, they purchased a Class 5 Ram 5500 with a flatbed, a Northern Lite 10-2 EX truck camper, and a traditional pull behind horse trailer.  With this combination, they can tow their horses to distant trails, or unhook the horse trailer and have an extremely capable truck camper rig.
Equally important, they can unload the camper and use the flatbed truck on their farm for hauling hay and grain, and moving around supplies and equipment.  Don't try that with a motorhome.
With 325 horsepower up front, and two horses in the back, the Clarks have been on some incredible horse trail riding adventures across the United States.  Just wait until you hear about some of their favorite places.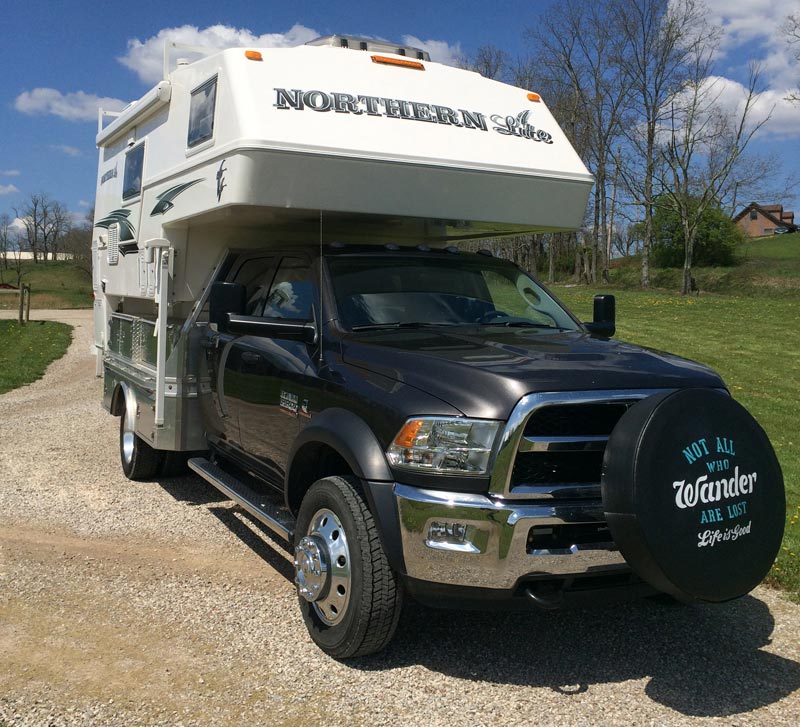 Above: Linda and Pete's 2017 Ram 5500 and 2017 Northern Lite 10-2 EX CDSE 
TCM: How did you guys first get into truck camping?
Linda: We bought our first truck camper in 1970. It was an 8-foot Sun Way. Pete was riding Professional Moto Cross so we traveled the eastern United States with the camper and bike in tow.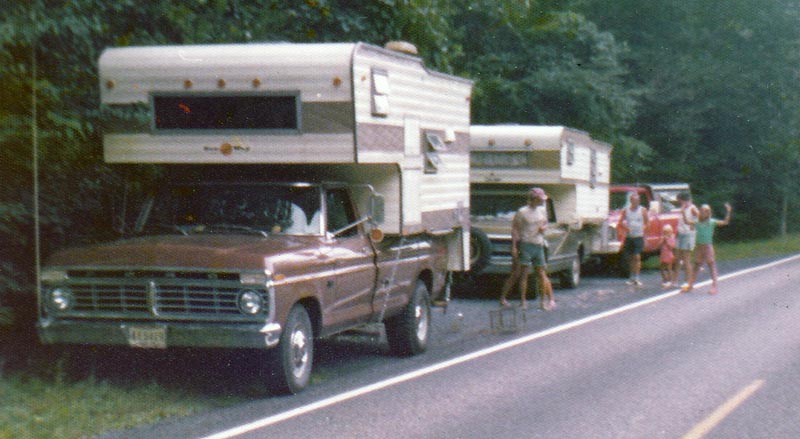 Above: Their 1975 Sun Way Camper (left)
In the early 1970s, we visited friends who went truck camping on the banks of the Ohio River. We had two small girls who loved playing and swimming in the river. We both had full-time jobs and found the riverbank to be very relaxing and fun.
We are now on our fifth truck camper. After the Sun Way we had a SunLite, two Snowriver slide-outs models, and now the Northern Lite 10-2 EX CDSE.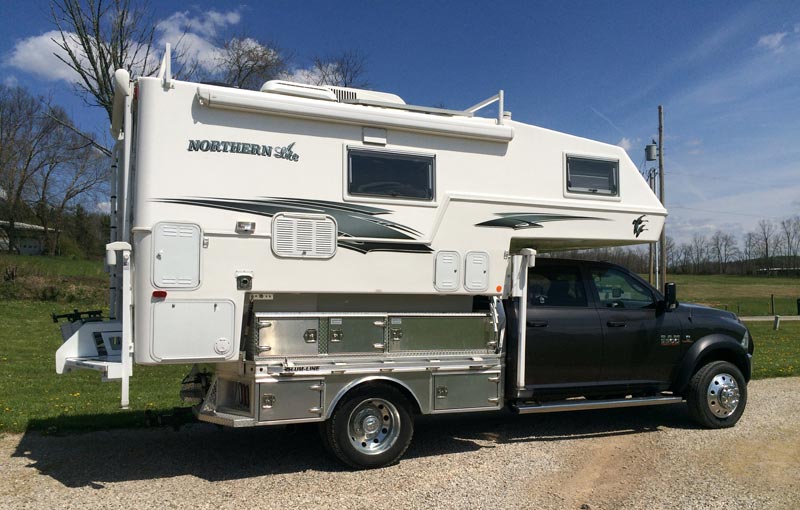 TCM: You went from two slide-out campers to a non-slide Northern Lite. Do you miss having the floor space of a slide-out floor plan?
Linda: No, we don't miss a slide at all. We picked Northern Lite for the high quality construction, lower maintenance, and positive reviews.