Pete and Linda Clark have assembled an ultimate truck camper and horse trailer combination including a Ram 5500 and Northern Lite 10-2 EX.  That's 325 horsepower up front, 2 horses in the back, and thousands of miles and trails to explore.

About 20 years ago cable television providers branched out into high-speed internet and voice over internet (VOIP) home phone service.  With a bundled offer, you could eliminate your home phone bill, get high-speed internet, and enjoy cable television all for one monthly price.
Unfortunately, there was a catch.  The bundled teaser offer expired after a year.  Then the cost would escalate up to 100-percent, or more.  You were also forced to accept cable television, internet, and phone service even if you didn't have or want a land line, or didn't want all those cable channels.
Equestrian enthusiasts have encountered their own bundled opportunities with horse trailers and even motorhomes that combine RV-style living quarters with horse accommodations.  With an all-in-one RV and horse trailer, you could eliminate a dedicated horse trailer and gain RV living quarters.  No more expensive hotels.
Unfortunately, there's a catch.  By bundling the RV and horse trailer, you lose the flexibility of using the RV separately from the horse quarters.  That severely limits where you can go and camp.  You were also forced to camp in the same location as the horses.  This further limits your camping possibilities.
With years of experience towing horses and camping, Pete and Linda Clark went in a different direction.  To maintain the ultimate versatility, they purchased a Class 5 Ram 5500 with a flatbed, a Northern Lite 10-2 EX truck camper, and a traditional pull behind horse trailer.  With this combination, they can tow their horses to distant trails, or unhook the horse trailer and have an extremely capable truck camper rig.
Equally important, they can unload the camper and use the flatbed truck on their farm for hauling hay and grain, and moving around supplies and equipment.  Don't try that with a motorhome.
With 325 horsepower up front, and two horses in the back, the Clarks have been on some incredible horse trail riding adventures across the United States.  Just wait until you hear about some of their favorite places.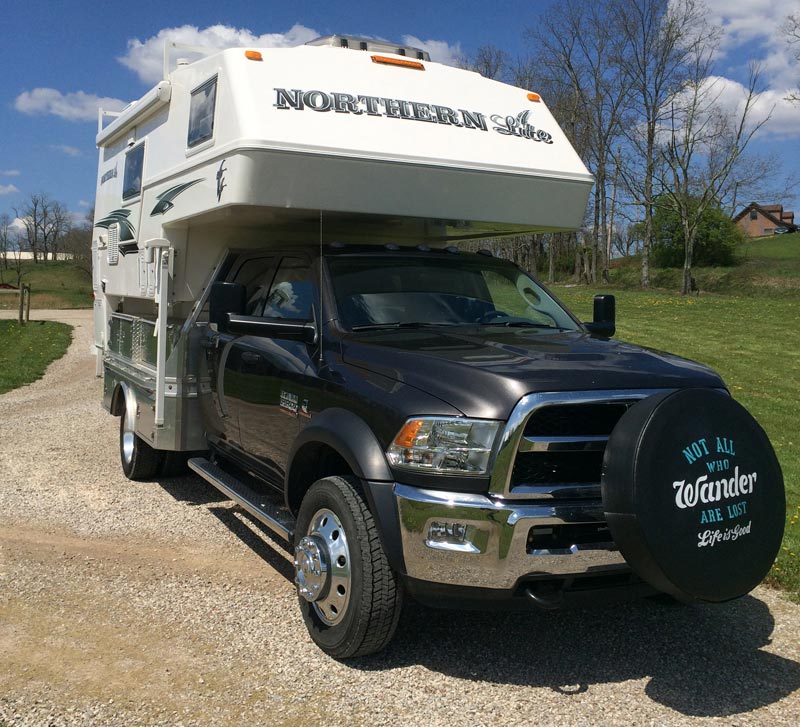 Above: Linda and Pete's 2017 Ram 5500 and 2017 Northern Lite 10-2 EX CDSE 
TCM: How did you guys first get into truck camping?
Linda: We bought our first truck camper in 1970. It was an 8-foot Sun Way. Pete was riding Professional Moto Cross so we traveled the eastern United States with the camper and bike in tow.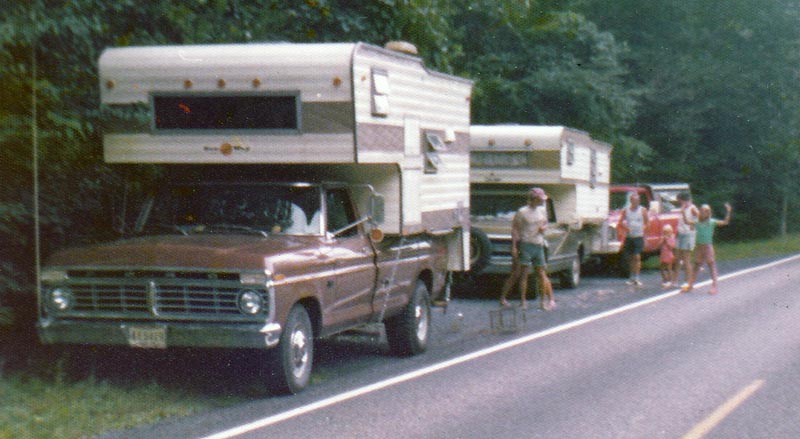 Above: Their 1975 Sun Way Camper (left)
In the early 1970s, we visited friends who went truck camping on the banks of the Ohio River. We had two small girls who loved playing and swimming in the river. We both had full-time jobs and found the riverbank to be very relaxing and fun.
We are now on our fifth truck camper. After the Sun Way we had a SunLite, two Snowriver slide-outs models, and now the Northern Lite 10-2 EX CDSE.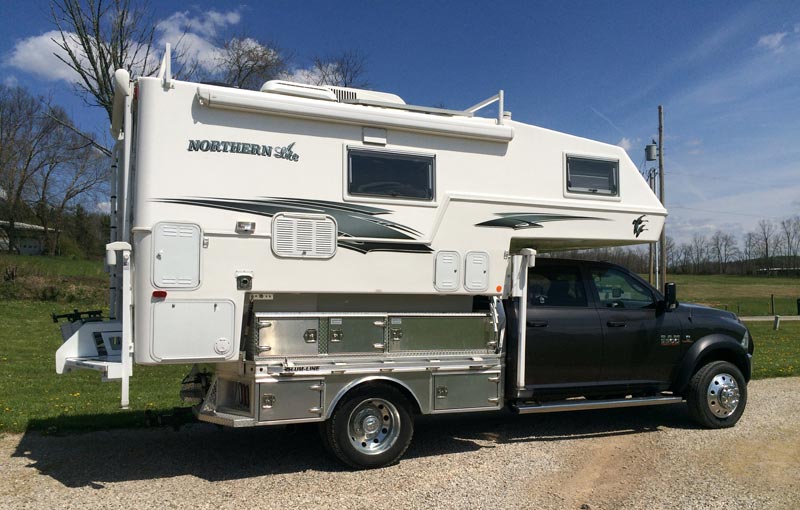 TCM: You went from two slide-out campers to a non-slide Northern Lite. Do you miss having the floor space of a slide-out floor plan?
Linda: No, we don't miss a slide at all. We picked Northern Lite for the high quality construction, lower maintenance, and positive reviews.
I like that we no longer have to put out a slide. I can open the entry door, grab something from the refrigerator, or go to the bathroom. I don't think there's much less room from our slide out campers. We have more room than we need.
Pete: I wanted the quality of Northern Lite. The design and fiberglass structure of the Northern Lite means less maintenance. That is what sold me.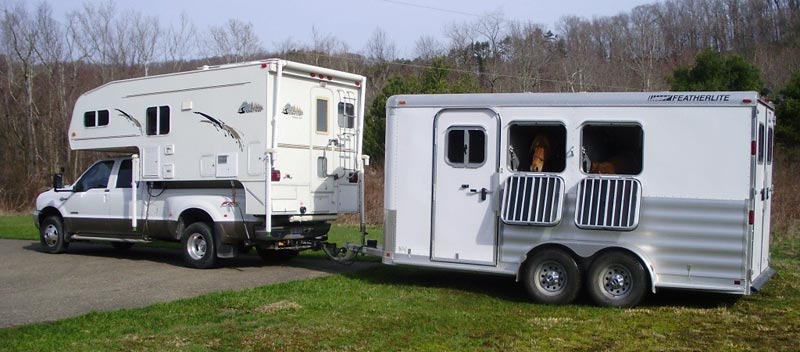 Our first two campers were made before slide-outs had ever been designed or built. I was impressed by Bob Mehrer, the owner of Snowriver.
TCM: Bob was an amazing guy who truly cared about quality, quality control, and his customers. You matched the 2017 Northern Lite 10-2 EX CDSE to a 2017 Ram 5500. That's a lot of truck for a camper that weighs about 4,300 pounds loaded and wet with 500 pounds of food and cargo.
Pete: Over the course of our five truck campers, we have owned seven or eight trucks. Prior to this rig, I had never owned a truck that I didn't need to modify so it could haul the camper the way it should.
We purposely bought the 2017 Ram 5500 as a cab and chassis.   As a cab and chassis, the Ram 5500 does not come with a bed.  With 8,165 pounds of payload, the 5500 should haul anything we will need. It also has dual 35 gallon fuel tanks.
We actually bought the truck before we bought the Northern Lite. We first used it with our 2008 Snowriver. When I bought the 5500, I knew we would have enough GVWR and payload capacity no matter what camper we buy in the future – no suspension modifications necessary.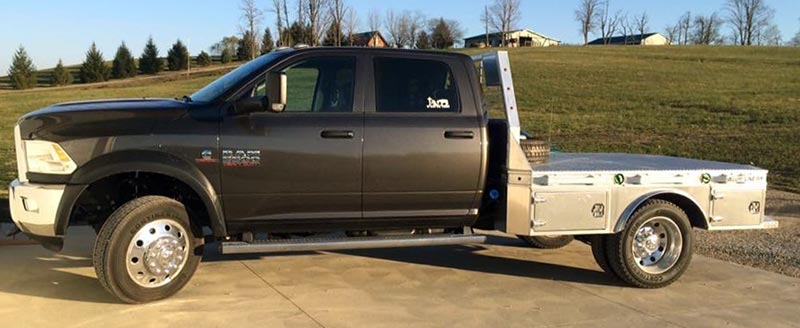 TCM: You definitely accomplished that mission. Why did you decide to install a flatbed on the Ram?
Pete: We live on a farm, so a flatbed truck is really handy hauling hay and grain, doing fence repair, and moving equipment.
The Northern Lite was designed for a pickup truck bed. With a huge open area and no bedrails, a flatbed presents a challenge for loading and unloading alignment. That led us to go with a removable box arrangement on top of the flatbed. It works great.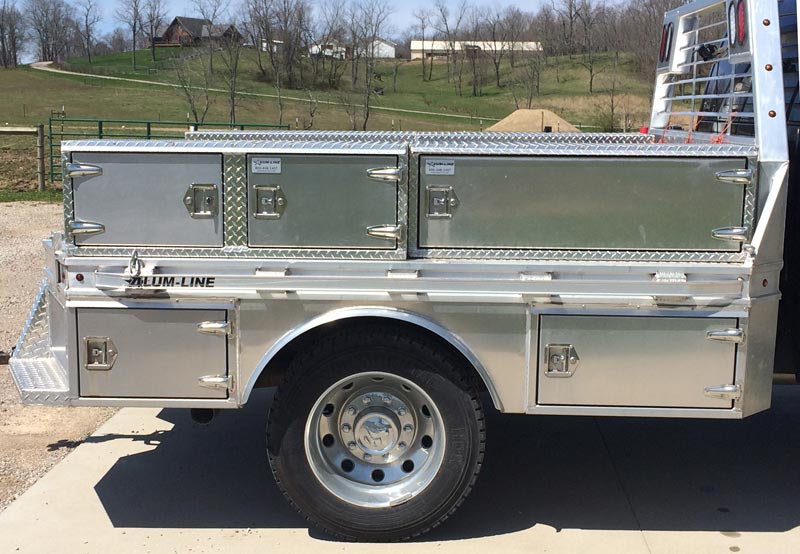 TCM: What do you mean by a "removable box arrangement"?
Pete: The tool boxes on the flatbed sides and beneath the camper wings are removable. There are six bolts in each tool box allowing you to take them off at any time. We haven't had to do that yet. Alum-Line gave me the option for the boxes to be permanently or temporarily mounted.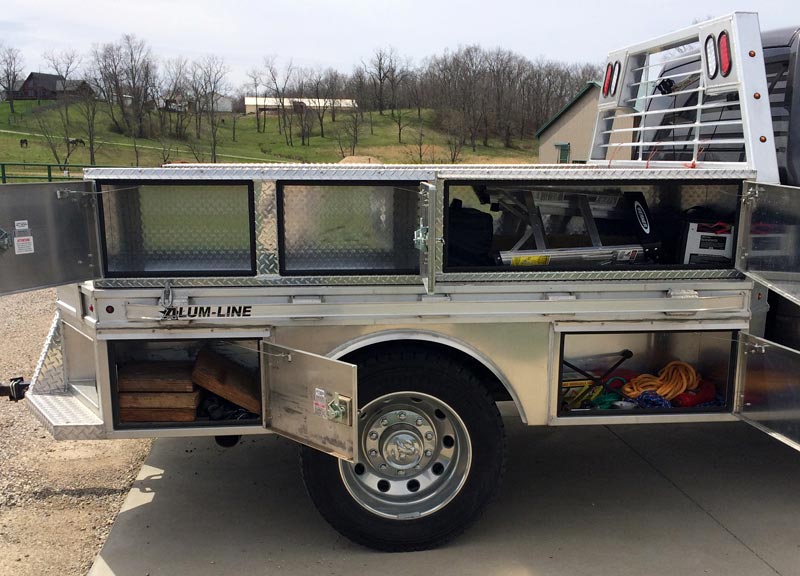 It took eight hours for the flatbed to be installed. I pre-measured everything to make sure the boxes would fit. Then they shipped me the boxes.
Linda: Pete also customized the flatbed to accommodate Northern Lite's tie-down points.
TCM: Did customizing the flatbed involve welding?
Pete: Yes, it did. I am a welder by trade, so welding wasn't a problem. I have worked in construction and maintenance all my life. It was just getting the camper on and figuring out the best way I could make it all work.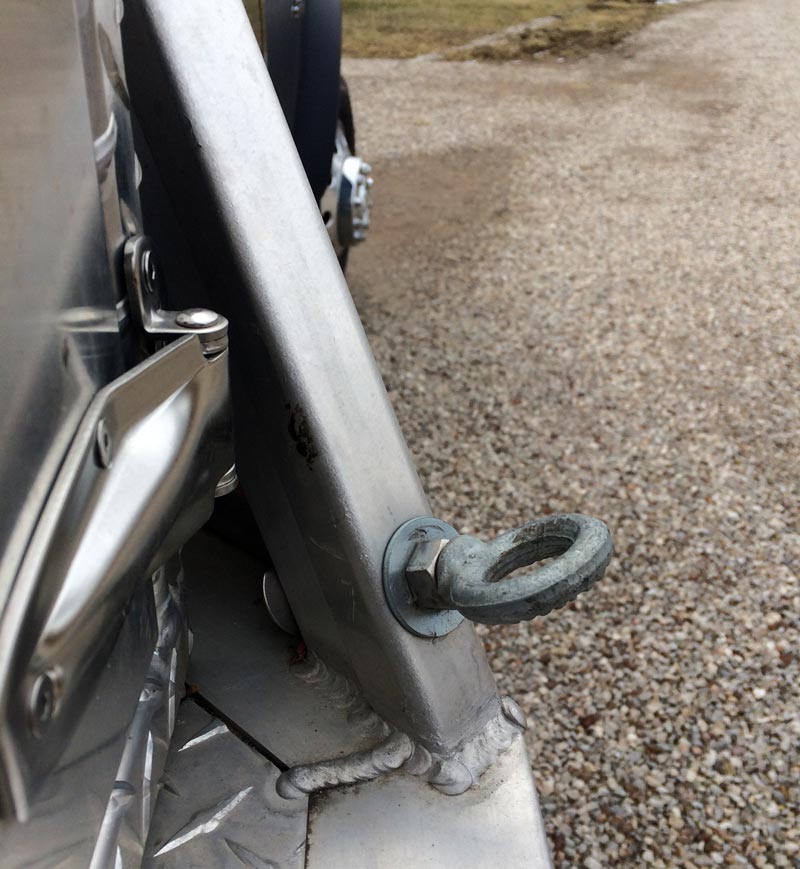 I had to move the rear two boxes out toward the edge of truck bed an inch and a half. That allowed the rear tie-downs to be in correct alignment for the Northern Lite.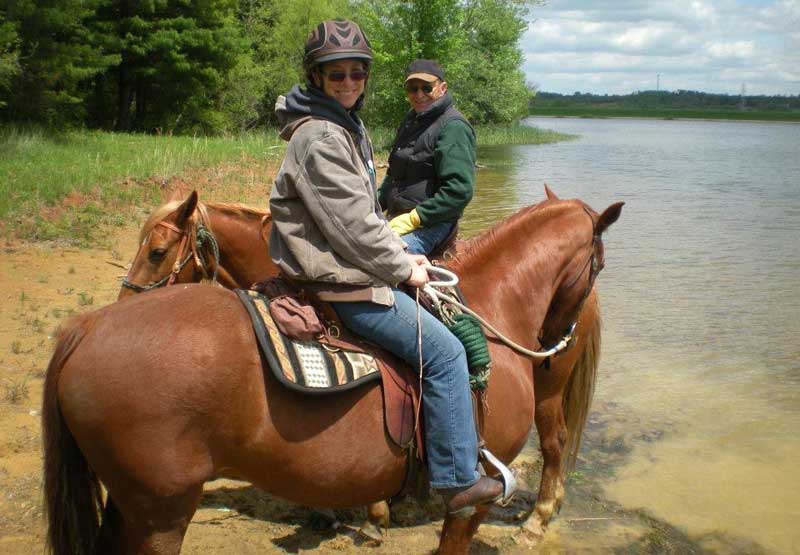 TCM: Tell us about how you got into trail riding.
Linda: We have been breeding and selling Missouri Fox Trotting horses for over 30 years.
Pete: We've become hardened trail riders. That's all we have ever done with our horses. We have sold horses in eighteen states and Canada. People are looking for Missouri Fox Trotters and we are blessed to provide them to a lot of people.
Missouri Fox Trotters are noted for their ability to cover rough ground at a fairly rapid pace. They're a smooth gaited horse breed that has a wonderful disposition. You put that together with people who want to go out and enjoy themselves, and you've got a good combination.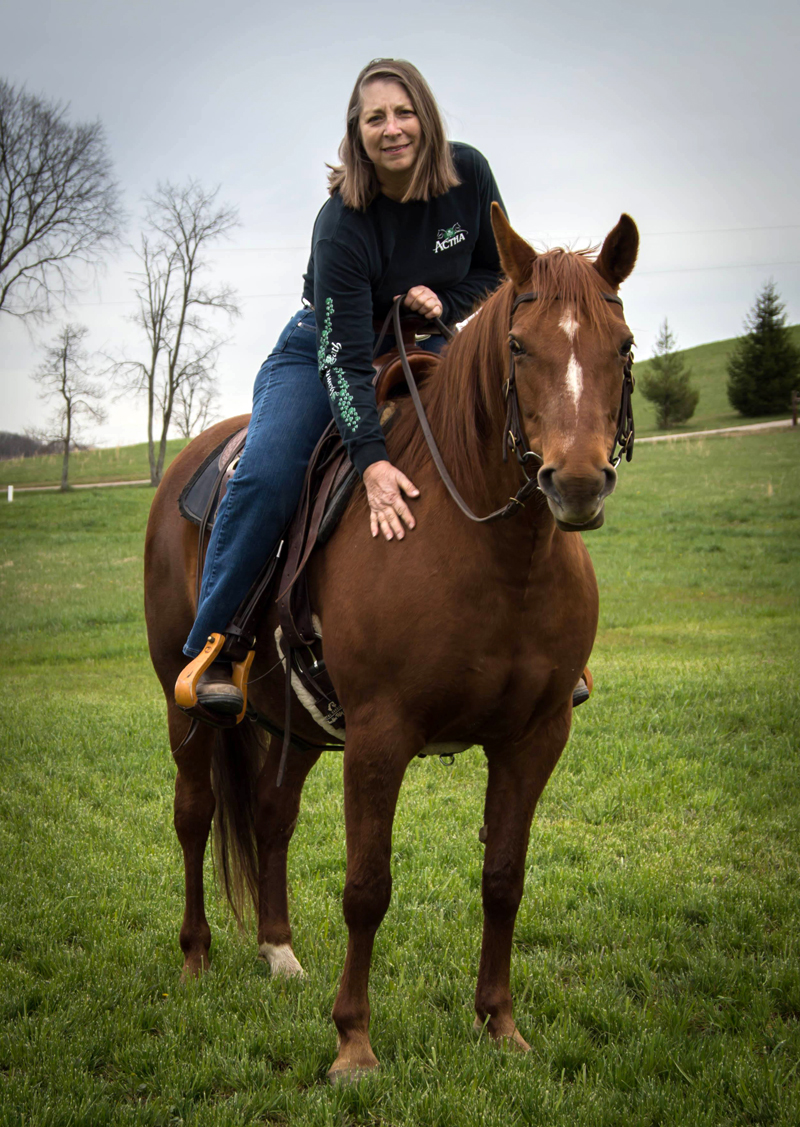 TCM: When you trail ride, how many horses do you typically bring along?
Linda: Right now we have four horses and bring two each time. We used to take different three-year-olds on different training trips. Now we have just a couple of trail horses that we take.
TCM: You have taken your horses cross-country. How do they handle the longer trips?
Linda: It may take a couple of travel days to get to our destination. When we stop for fuel, we check the horses and offer them water. In the trailer, they have hay to eat.
They might be in the trailer for eight hours at a time. At night, we find rodeo grounds and fairgrounds to unload the horses at night. We've never had a horse get injured or sore while traveling.
We're retired now and don't have to make long trips so quickly, so we break up our travel schedule. It's easier on the horses.
TCM: Horses and horse trailers can be extremely heavy. Do you need anything special for this demanding tow situation?
Linda: We buy quality trailers with good suspension. We also have a 36-inch Torklift SuperHitch extension. We are safe and our horses are well taken care of.
TCM: Do you have tips for fellow truck campers who want to tow horses?
Linda: Take it slow. Start at local parks with horse trails and then go farther and farther away from home with your horses. We all know all the issues that can happen on the interstate. It's a risk with or without horses.
Pete: My advice is to talk with someone who has done this type of traveling with horses. That's the way we learned. Each time you take a trip, you learn something.
Each time you get on a new horse, it is a new experience, even for people like us who have done it many times. It's an animal, so it will surprise you every time. Just be aware of that. There are a lot of ranches and riding stables that you can go to for more horse experience.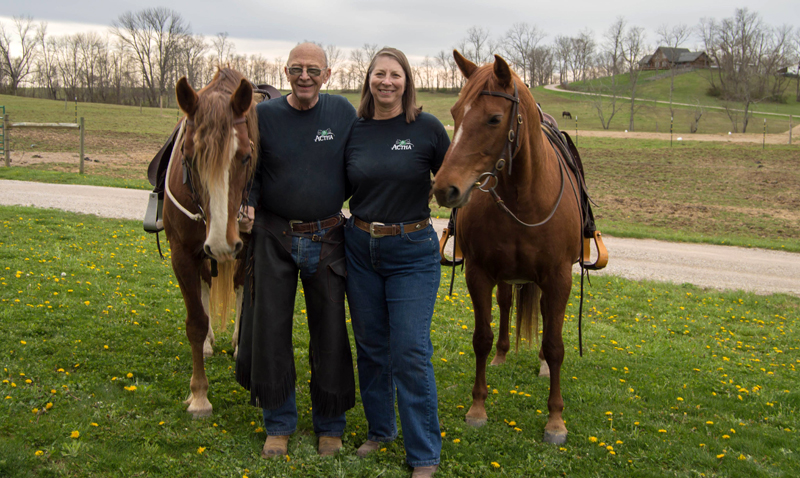 TCM: How do you decide where to trail ride?
Pete: The forest service and national park service have always been able to help us design a two day or even a two week trip into the backcountry. The services can also provide maps and explanations about trails and their difficulties. They are very helpful.
Linda: Over the years we've ridden our horses in the Smoky Mountains, the Virginia Highlands, Yellowstone National Park, the Bob Marshall Wilderness in Montana, and various trails in Indiana, Pennsylvania, Kentucky, West Virginia, Missouri and Kansas.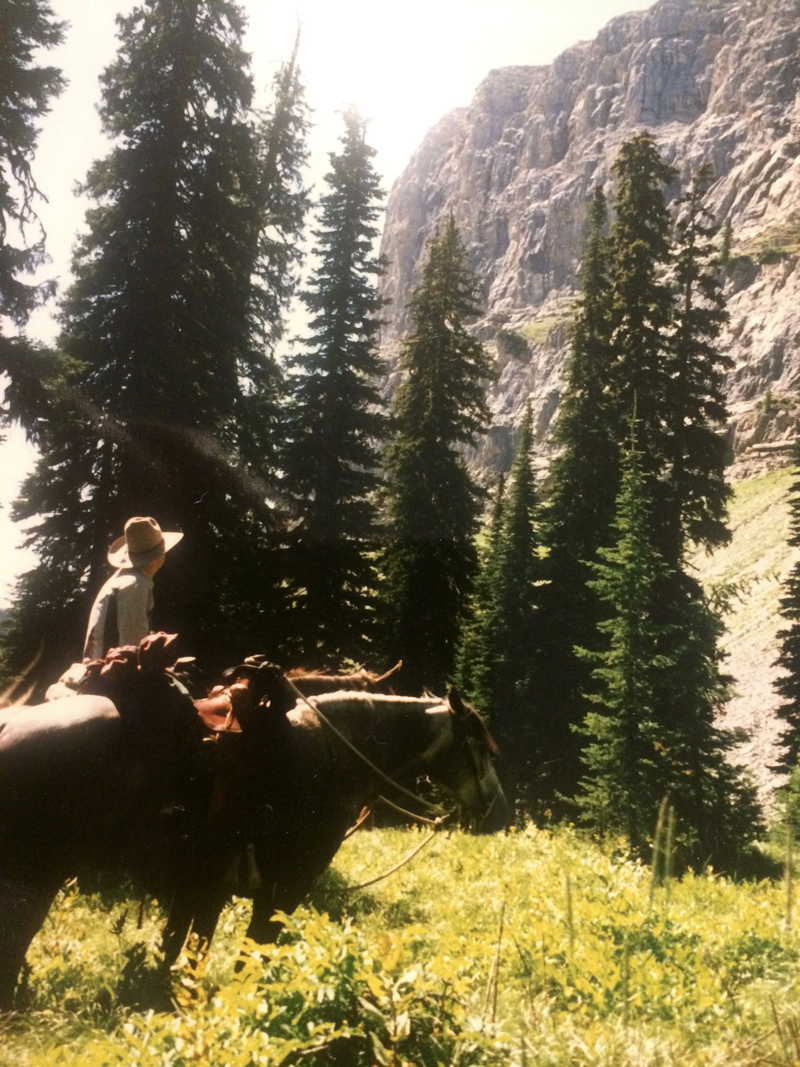 Pete: We typically don't investigate trails before we ride them. Typically there are trails that are easy and don't take a skilled or accomplished horse, but there are also areas within that park or forest that are very challenging. When we ride seasoned horses, we are able to look for challenging rides.
We also challenge our horses with different terrains, climates, and altitudes. Training a horse for two weeks in the mountains for four to twelve hours a day gives him/her a lot of exposure to different experiences and really helps him/her to become a good horse.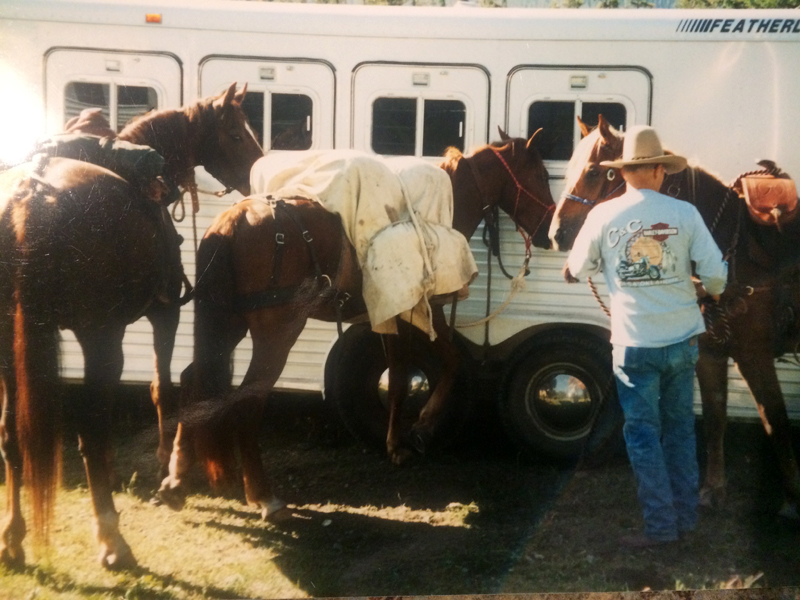 TCM: Where do you go truck camping when you have the horses in tow?
Pete: The majority of state parks have horse camps. Some of them have hookups and others have dry camping areas for horses. As I mentioned before, we also stay at fairgrounds and rodeo grounds.
There are also horse hotels where you can spend a night and put your horse in a stall or a turn-out lot. We can stay in our camper and then be on our way the next morning. There's a whole directory nationwide for horse hotels.
Linda: The horse hotel near Saint Louis, Missouri (off I-70) is $20 a night per horse. They let us camp in our truck camper for free and we can even hook up to water. On Interstate 70 people are coming from the east and west coasts, so it gets busy every night. You have to get a reservation if you want to stay there.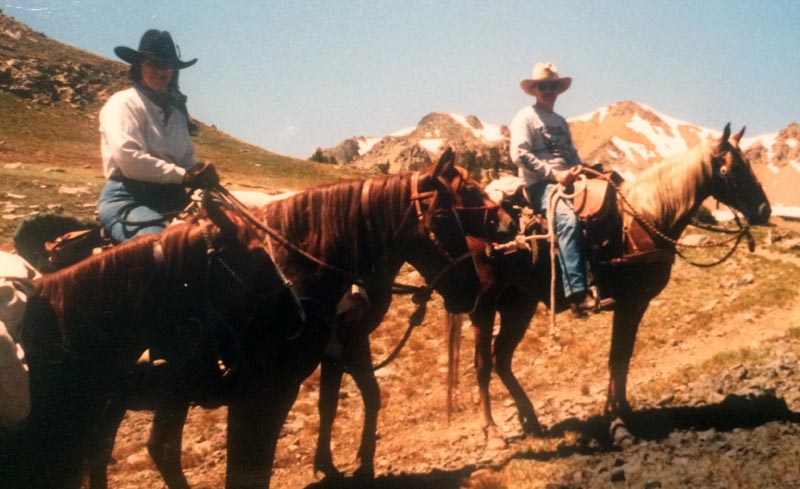 TCM: Are there any places you've been with your truck camper and horses that you would recommend to other truck camper and/or horse riding enthusiasts?
Pete: The Bob Marshall Wilderness in Montana. There's a section called the Great Wall where there's a bluff that runs for 30 miles. It is full of mountain goats. There are places where the bluff is 1,200-feet high. We saw mountain goats there every day.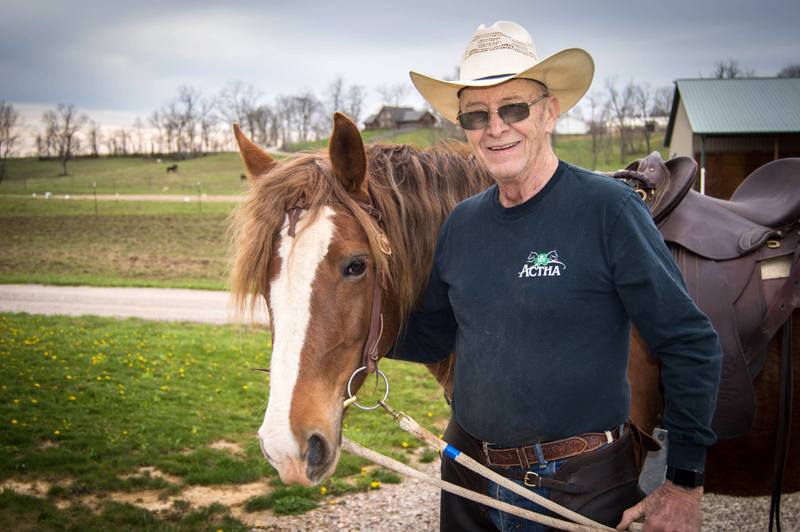 TCM: We have never seen mountain goats in the wild. That would be amazing. What happens when you encounter wildlife while riding a horse?
Linda: We have to be cautious of bears. Luckily we have never seen any on a trail, which is fine with me. We have seen bears in the distance and usually they aren't interested in us. We put bear bells on their saddles. We also carry bear spray. Thankfully we have never needed to use it.
Pete: More harmful than bears and snakes are the narrow and steep trails. There may be a trail that is 30-inches wide and on one side there may be a 1,500 foot drop. If you lost a horse it would be a bad day.
Linda: Sometimes we'll dismount and lead the horse. You want a well trained horse that can take situations in stride.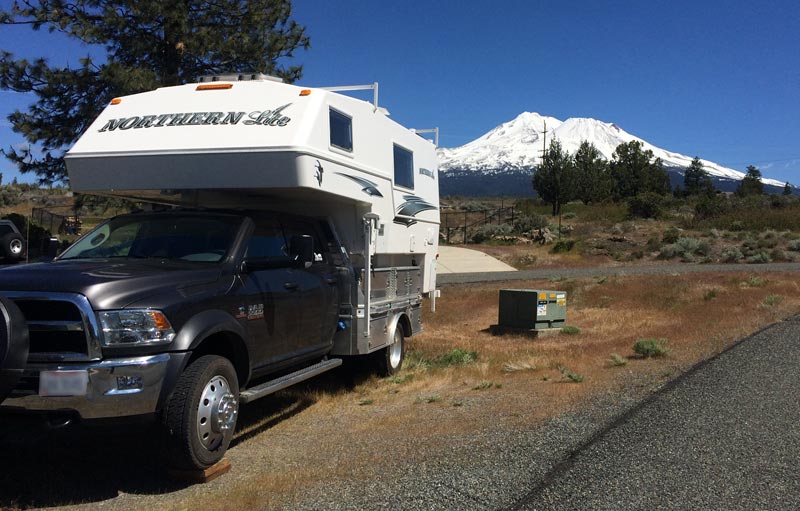 TCM: What's a typical truck camping adventure like for you?
Pete: Most of our trips are three to four days long. In the spring and fall, we have been known to disappear for a couple of weeks.
Linda: Our longest trip to was to Alaska and the Yukon Territory for five weeks, and we could have stayed longer. We've never given ourselves the luxury of that much time.
We have 13,000 miles on our truck and we got it in November of 2016. We have family nearby who take care of our farm when we travel. We also have a granddaughter living with us while she is attending medical school. She also barn sits when we go on trips.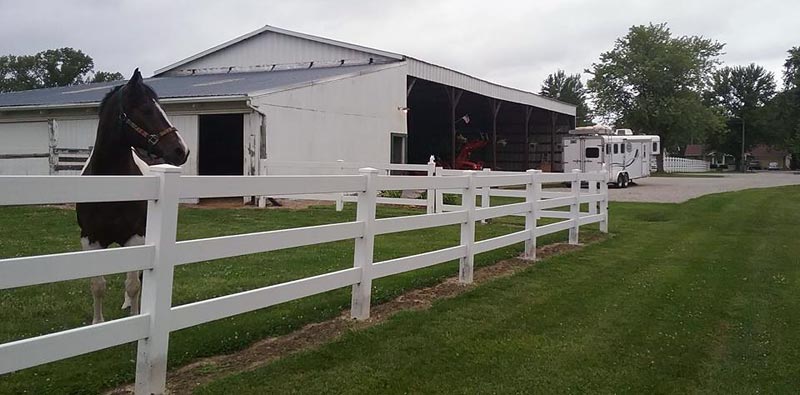 TCM: What do you feel are the advantages of a truck camper over a living quarters horse trailer?
Linda: The real advantage of a truck camper is flexibility. We also enjoy traveling without the horses and trailer. We don't want to haul a horse trailer to go to Alaska or California.
Pete: We've had both horse trailers and truck camper set-ups. One of our horse trailers had built-in living quarters. We put almost 500,000 miles on that truck and horse trailer combination. The reason why we now have a truck camper is because it can go places a conventional truck and gooseneck trailer can't go.
We have taken our five grandkids (three from California, and two from Ohio) cross-country visiting National Parks, museums and all the neat stuff this beautiful country has to offer.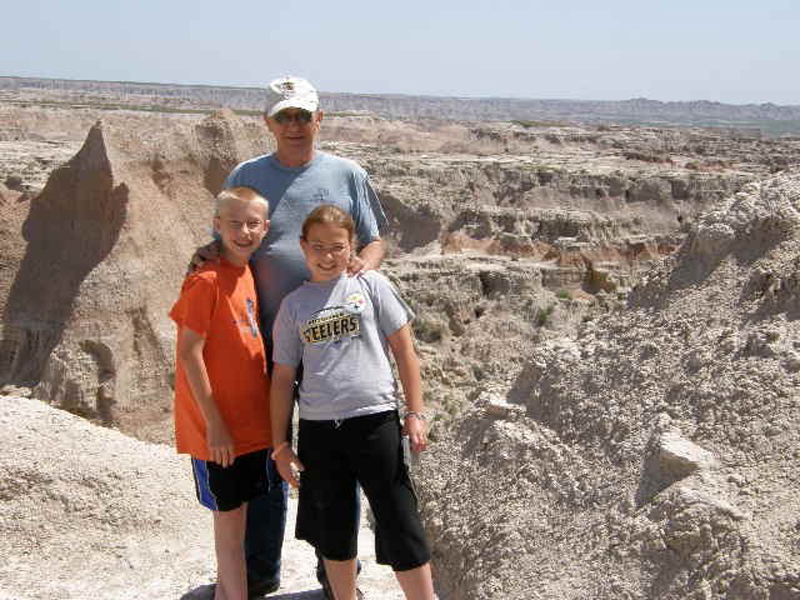 TCM: Those are some very lucky grandkids. Tell us about traveling with them.
Pete: Our two daughters were pretty much raised every summer in our truck camper going somewhere. Both of them continue to mention how much they enjoyed going camping. When the grandkids got to the age they could travel easily, they started to join us.
We have gone on some fun trips with them, but now our grandkids are getting older. The youngest two will be seniors in high school this year. All of them talk about going with grandma and grandpa cross-country in the truck camper.
Linda: We have five grandkids, and the most we've had on one trip was three. They are all about the same age. We made up the dinette bed for the girls. When my grandson joined us, we set up an air mattress on the floor. We had to be careful not to step on him when we got up to use the bathroom.
Mostly we were outside the camper. I don't remember one rainy day where we had to stay in the camper all day, but I do remember the mosquitoes at Crater Lake that kept us inside.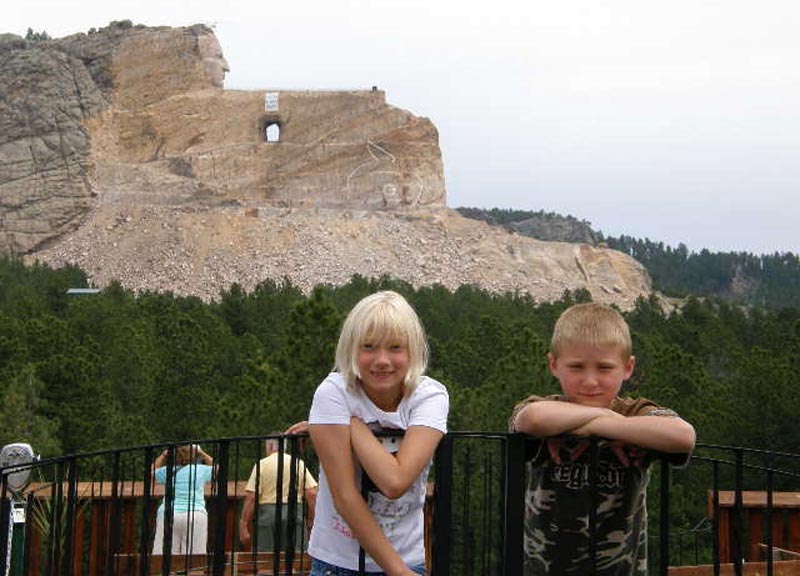 TCM: Where have you gone with your Northern Lite since picking it up last May?
Pete: Our granddaughter graduated from Chico State in California last June. We went out to see her graduate.
Staying in our Northern Lite takes stress away from the people we are visiting. We haven't stayed in a hotel room for years.
After the graduation we went to Bishop Mule Days in southern California. It is the largest mule show in America.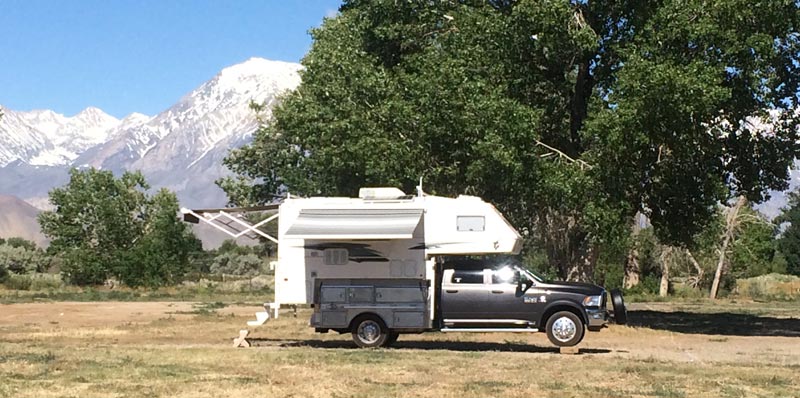 Linda: After that we wandered through Nevada on the Loneliest Road in America. It's official name is US Route 50, which happens to run past our house in Ohio. We have driven Route 50 all the way across the country.
We've also traveled down to the Kentucky Horse Park in Lexington and to northern Ohio to trail ride. There are actually 1,650 miles of horse trails here in Ohio. We are trying to ride all of them.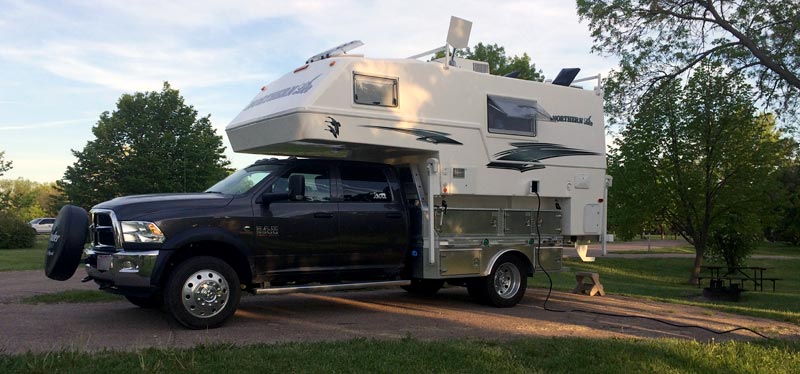 TCM: What's next for your truck camping lifestyle?
Linda: We are heading to the Canadian Northwest Territories this August. We will be returning to California next spring to attend our twin grandchildren's (boy/girl) high school graduations. When you're working, you plan trips based on your precious vacation days and how you can you go the furthest. Now that we're retired, we are able to plan more long distance trips.
Linda and Pete's Rig
Truck: 2017 Ram 5500, crew, 4×4, dual rear wheel, diesel, long bed
Camper: 2017 Northern Lite 10-2 EX CDSE
Tie-Downs and Turnbuckles: Custom Tie-downs with Torklift Fastguns
Suspension: None needed