How cold can you go?  Here's how Jennifer Keeler and her family push their personal winter dry camping limits to experience their favorite ski resorts of the northwest.  Don't miss her bonus tips on truck camping in Alaska.

One of the most compelling uses of a truck camper is as a base camp for outdoor hobbies.  For example, many folks use their truck camper rigs as a way to tow their boats for boating, fishing, and other water sports.  Others tow ATVs and other off-road vehicles to tackle trails, sand dunes, and for hunting adventures.
These outdoor recreations – and many more – take advantage of a truck camper rig's unique four-wheel drive and towing versatility, but truck campers have many more tricks up their rear skirts.
For starters, most truck campers are designed with three and even four-season insulation and are 100-percent self-contained with exceptional battery, propane, and holding tank capacities.  Off-road and off-grid boondocking in the dead of winter while towing an ATV?  Yeah, truck campers can do that.
While that thought has you dreaming of distant destinations far from the reaches of fellow man, what about somewhere a little more popular and populated?  What if you took full advantage of a truck campers four-season insulation, four-wheel drive reach, and self-contained capability and took it to say – a ski resort, in January?
Now what if we told you we were dry camping, in sub-freezing temperatures, with snow in the immediate forecast?  Oh, and did I mention we're taking a pop-up truck camper?
Bundle up buttercup!
Jennifer Keeler is about to remind us of one of the most overlooked and best outdoor hobby base camp uses for a truck camper; a ski house, to go.  Jennifer's family has explored the wealth of Washington ski resorts within reach of her Seattle home, and the ski resorts of Oregon.  They also share their experience keeping warm overnight in a pop-up in deep snow, and how they manage dry camping with only one battery and no solar.
As a bonus, Jennifer shares her story of truck camping in Alaska.  Her biggest tip; make sure to leave plenty of time for Kluane National Park.  Get your bucket lists out now.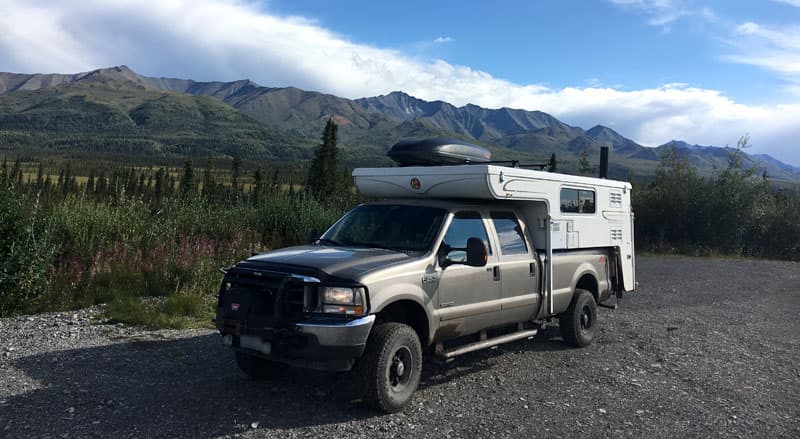 Above: Jennifer's  2004 Ford F350 and 2010 Hallmark Cuchara
TCM: Tell us about your camping experiences and lifestyle over the years.
Jennifer: Through hiking and short backpacking trips, my grandparents instilled a love of the wild in me.  This translated into longer and bigger backpacking trips as I grew up.
As I got older, the need for comfort and convenience became a factor.  When we decided we were a skiing family, we saw the benefit of having a truck camper for weekend stays at our local resort in Stevens Pass, Washington.
We had admired campers from afar, but really started taking the vision seriously when we saw a Tiger Provan camping overnight in a ski lot.  We loved it, but it was way beyond our budget.
Then some friends of ours bought a brand new truck and camper.  This opened our eyes to the possibility of a separate truck and camper set up, and increased our options for affordability.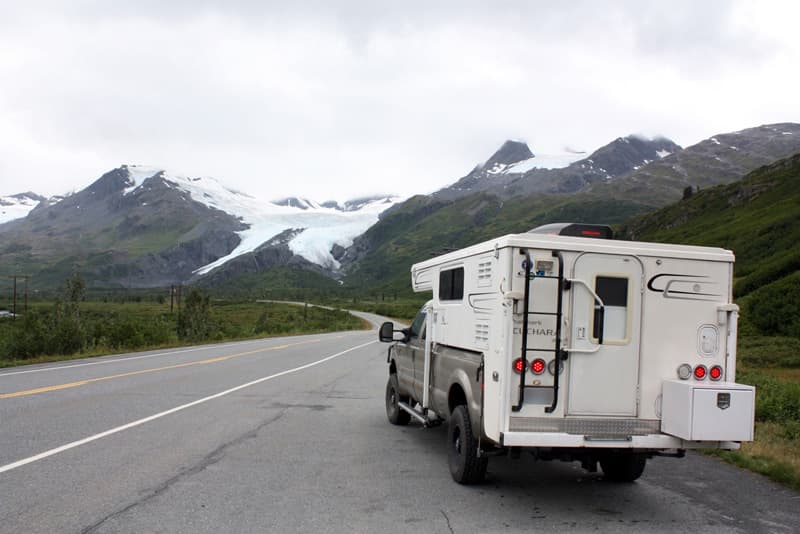 Above: Worthington Glacier on the way to catch the ferry in Valdez, Alaska
TCM: How did you go about assembling your rig?
Jennifer: I spent the better half of a year scouring Craigslist and eBay for used trucks and campers.  I found a great deal on a diesel truck in great condition, and it had 200,000 miles on it.  After purchasing the truck, we got new tires, new shocks, and did a little engine work.  Now it's as good as new.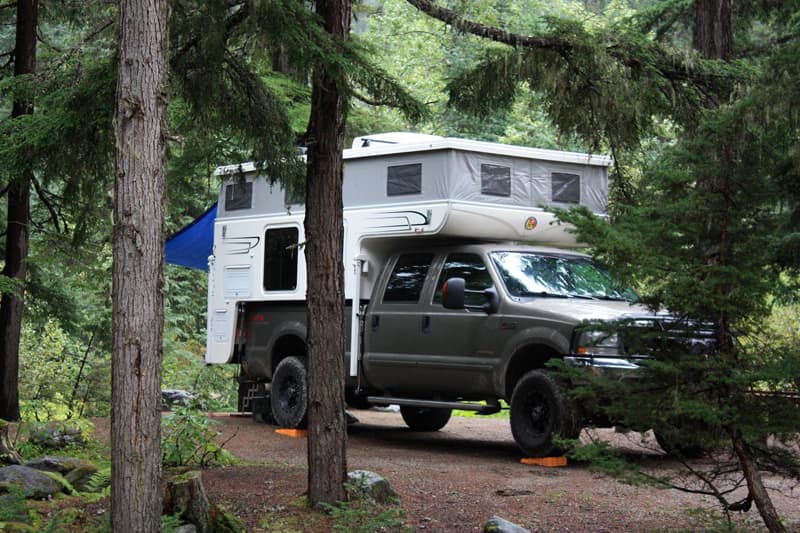 Above: Their Cuchara in Glacier National Park
We were uncomfortable with the top-heavy sensation of a hard sided camper and started to look for all-weather pop-ups.  We decided on a Hallmark Cuchara XL because they had full toilet and enough room for our dog and son to join us.
The Cuchara XL is much lighter than hard sided campers, has an insulated and weatherproof soft sides, uses hydraulic lifts to raise the top, and features the most appealing layout and design for us.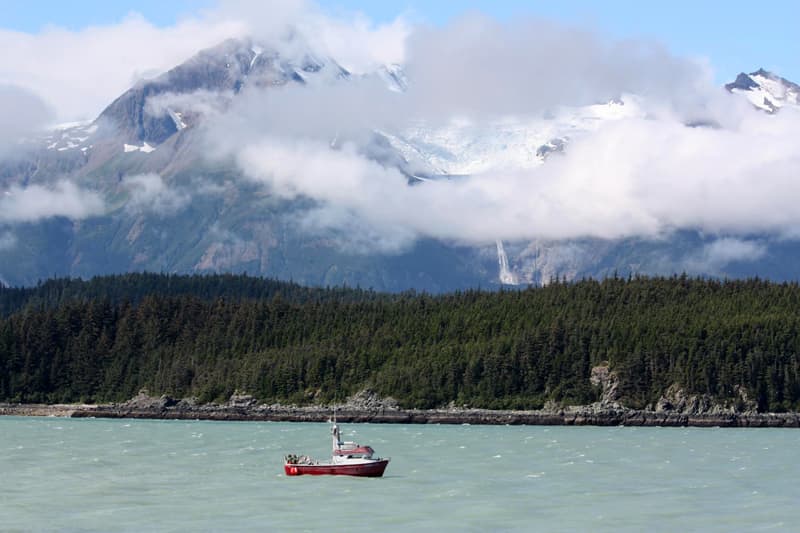 Above: Scenery along the Alaska Marine Highway
TCM: Before we talk about skiing, please tell us about your trip to Alaska.
Jennifer: I started with an idea for a route and used the AllStays app to research possible campgrounds.  I knew how many hours we wanted to drive each day, and planned where to go accordingly.
We also made Alaska Marine Highway reservations.  In hindsight, that dictated the speed of our trip and sped us past places we wanted to explore and stay.  For example, we drove past an area of Wrangell St-Elias Park we wanted to see because of the ferry schedule.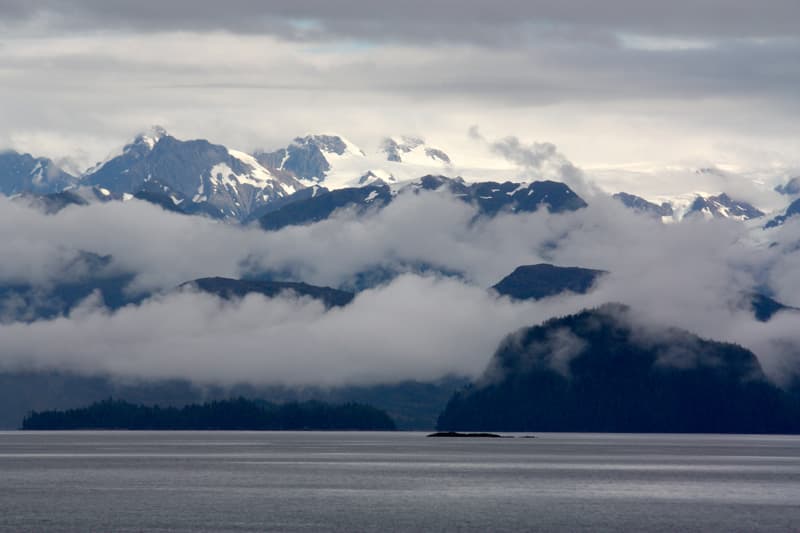 Above: The Alaska Marine Highway, Valdez to Kenai
The ferry ride was beautiful.  Looking back, I might have not made ferry reservations and attempted to catch the ferry ride at the last minute.  That would be risky, but it sure seemed like that was possible.
It's best to have campground reservations for the weekends in the more popular destinations.  In Kenai we made sure to have reservations for Friday and Saturday.  We also rented a hunter's cabin for a couple nights with no running water or electricity.
When we were in Denali National Park, we made reservations about a month in advance.  The hard thing was that we wanted to go to the Teklanika River campground which is the furthest in the park, but they were full for the time we were there.  They require you to stay for three days and not drive your vehicle, but mid-week they had a lot of availability.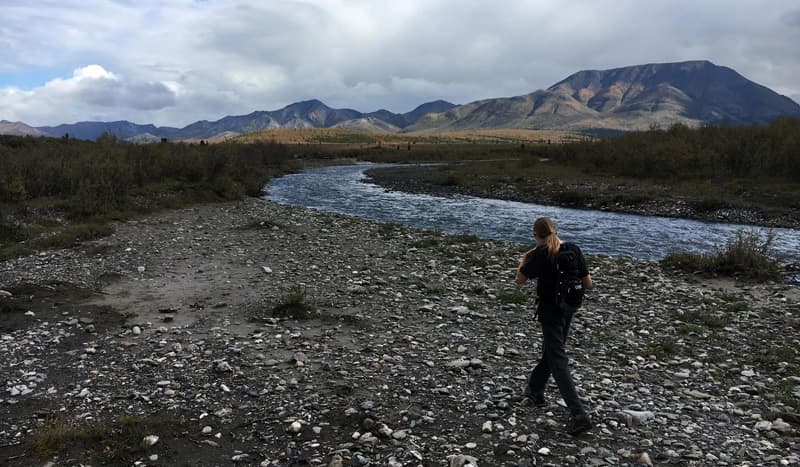 Above: Walking along Jenny Creek at Savage River Campground, Alaska
I would highly recommend staying in Denali National Park.  The first campground at the entrance is busy but they have good facilities like laundry and an ice cream shop.  We stayed at the next RV accessible campground, Savage River at mile 14, which was smaller and more peaceful.
Outside of the touristy places in Alaska, we had no problem getting camping sites, especially if we got there before 4:00pm.  There are so many available places to stay in Alaska and Canada.  We never worried about it.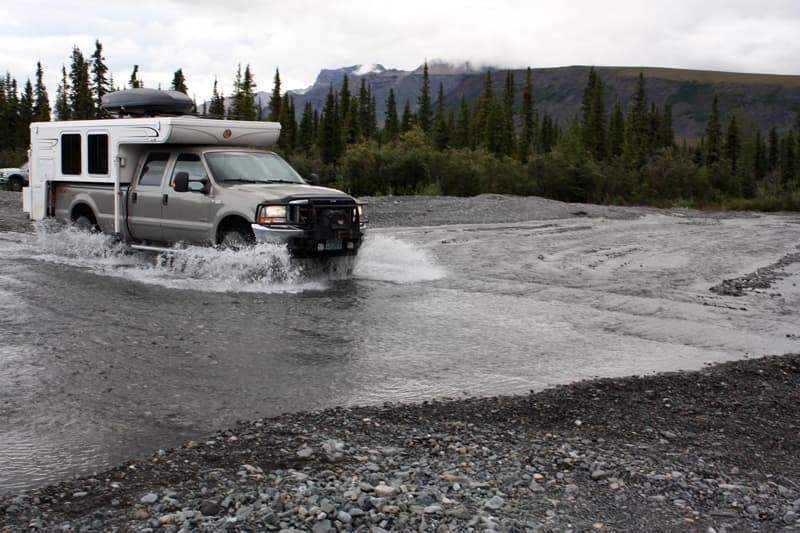 Above: River Crossing on Nabesna Road, Wrangell-St Elias Park, Alaska
TCM: Five weeks up and back to Alaska sounds very quick.  How did you do with such a quick schedule?
Jennifer: We mapped out our route on Google maps and charted our daily distances and itinerary.  Then we put that information on an Excel spreadsheet with the stuff we wanted to do each day with two possible campsite recommendations per night.  We stuck to that itinerary 80-percent of the time, but never committed to it.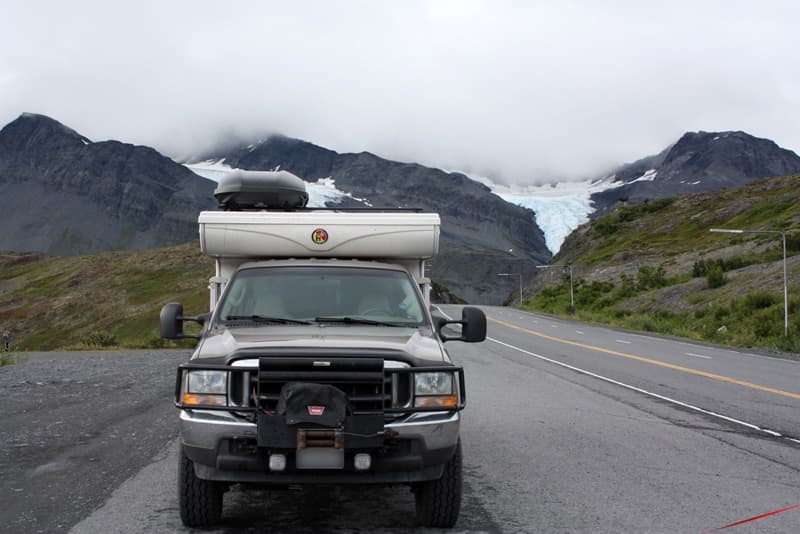 Above: Road into Valdez, Alaska
We knew we had one week to get from Haines to Valdez.  We had hoped to go in the north and south parts of Wrangell-St. Elias National Park.  However, if we had attempted that, we would have been in the truck more than we wanted to be.  We didn't go to the south part, and stayed an extra day in north part.  That was the only thing we eliminated from our original itinerary.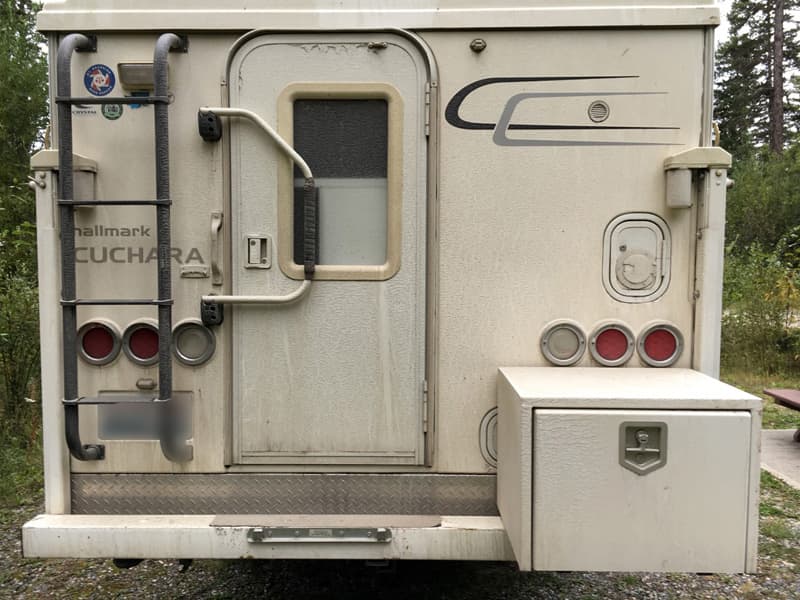 Above: Mucho Lake, British Columbia dirt
Looking back, we now know which places we would skip and which ones we would go back and stay more time.  It would have been nice to have another month.  We only stayed a day in Haines, and really didn't get to explore the area.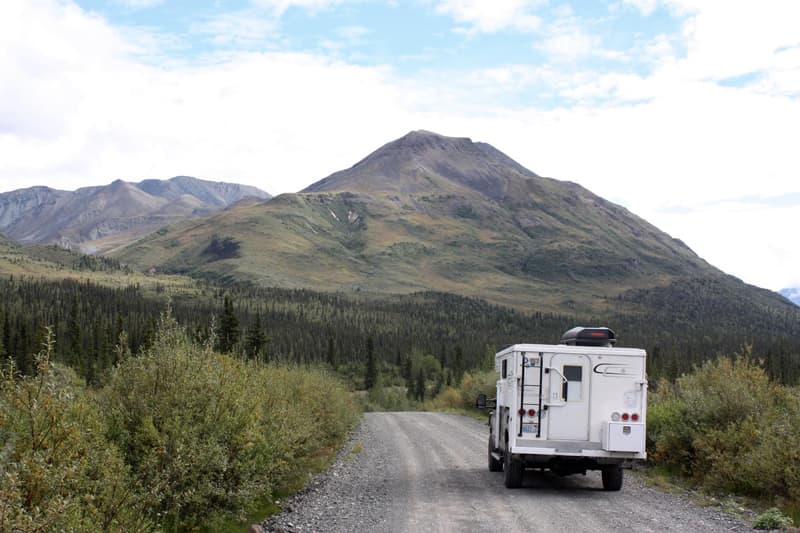 Above: Driving into Wrangell-St. Elias National Park, milepost 28, Alaska
TCM: Which places would you go back and spend more time?
Jennifer: Don't miss Wrangell-St. Elias National Park.  It was particularly enjoyable for its natural beauty, isolation, and hiking.
Above: Camping on Nabesna Road, Wrangell St. Elias Park, Alaska
It's worth the trip to the north side.  It's remote and breathtaking.  It was really, really beautiful.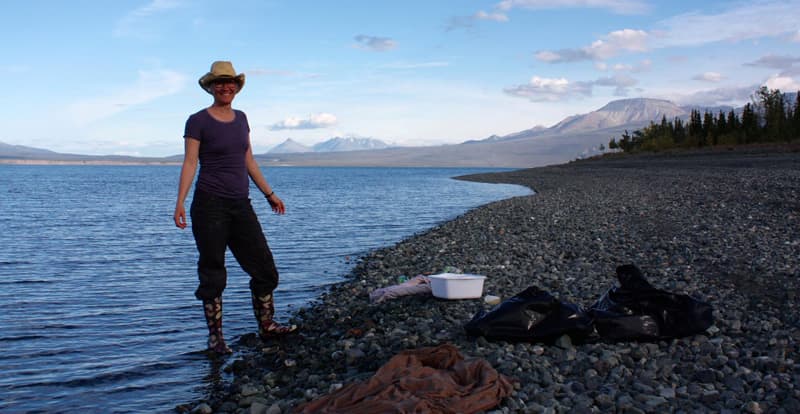 Above: Jennifer at Kluane Lake in the Yukon
I'd also spend more time in Kluane National Park in the Yukon.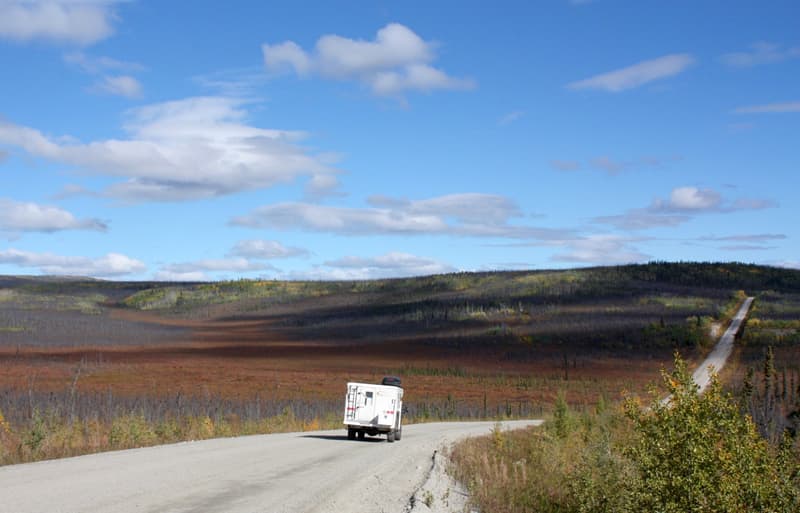 Above: Top of the World Highway from Tok to Chicken, Alaska
We also enjoyed traveling and camping along the Top of the World Highway.  That was some of the most remote and awe inspiring wilderness we've ever experienced.  It's definitely a four-wheel drive highway.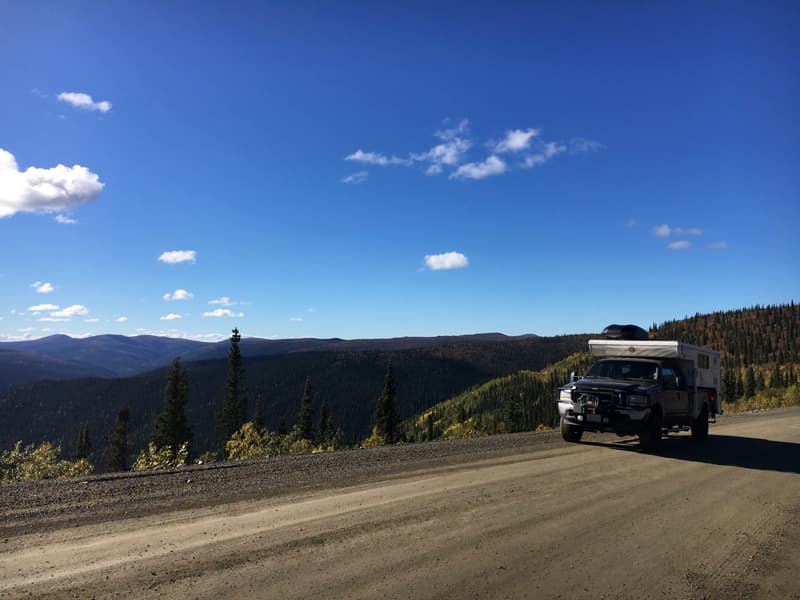 Above: Top of the World Highway from Chicken, Alaska to Dawson, Yukon
On our way home from Denali, instead of taking the Denali Highway, we went north.  Next time, we will take the Denali Highway.  We were there the opening weekend of hunting season and we heard that there was a lot of traffic with hunters, so we didn't go.
The Alcan highway was not a very nice drive.  I would probably skip that.  There were a lot of logging trucks and, in my opinion, not much scenery past Liard River Hot Springs.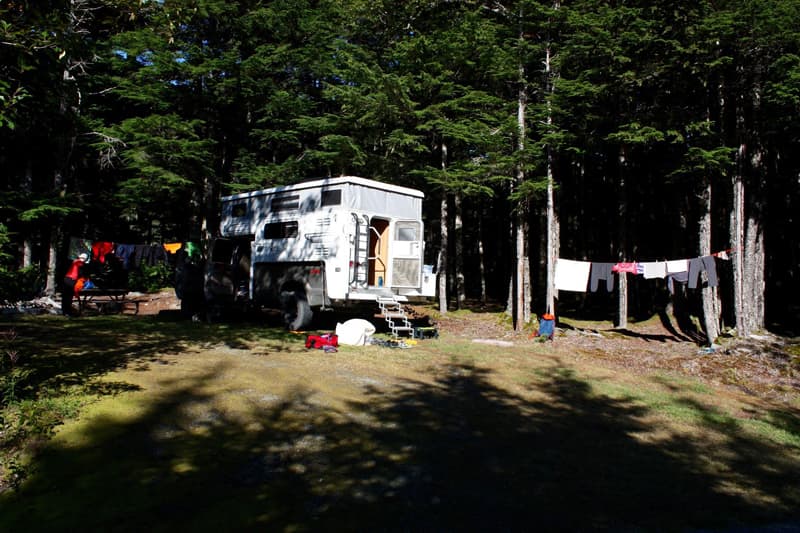 Above: Camping in Haines, Alaska
TCM: You said in your email, "I could write an entire article on camping etiquette after our trip to Alaska".  Could you elaborate?
Jennifer: Noise was an issue at the Alaskan campgrounds.  We were in the beautiful wilderness and people were running their generators and playing loud music at all hours.
Dogs were another issue.  We have a dog and she stays near us at the campsite.  Other folks let their dogs run around, go to the bathroom, and didn't clean up their mess.
People also left behind a lot of garbage and tossed bottles in the fire pits.  There was no concept of leaving a campsite without a trace.  In general there seemed to be a lot of disrespect for nature and fellow campers.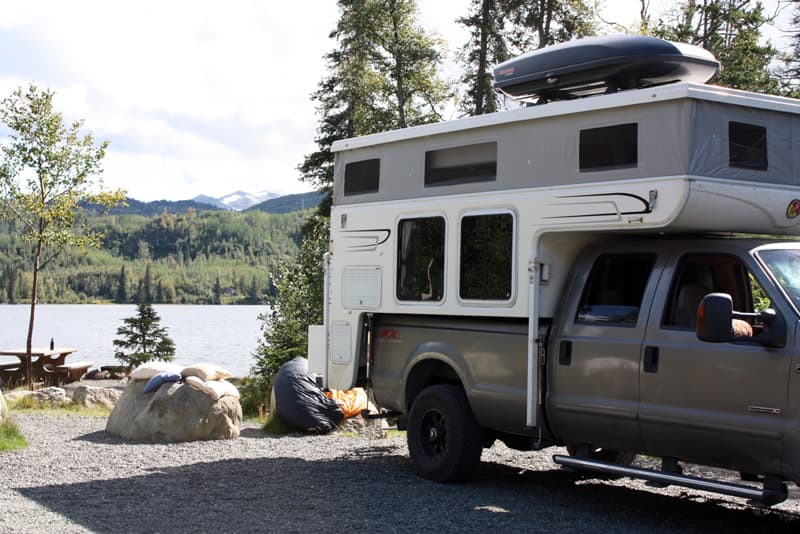 Above: Upper Ohmer Lake, Kenai Peninsula, Alaska
TCM: Unfortunately, those problems aren't exclusive to Alaska campgrounds.  How much do you dry camp?
Jennifer: We dry camp often and have camped up to six days off-the-grid.  We have a generator, but never needed to use it.  We enjoy the long daylight hours during the summer, and minimize our power usage.  There's no reason why we couldn't dry camp longer, but we like to see lots of different sites and are still tied to a traditional working schedule.
In the winter, we love to go skiing with our camper.  We go to Stevens Pass, Washington where they offer plug-ins and rig-only parking.  Many resorts in the Pacific Northwest offer plug-in lots for campers or a dry camping area.  We tour around several ski resorts the winter, staying two to three days at a time while enjoying the slopes.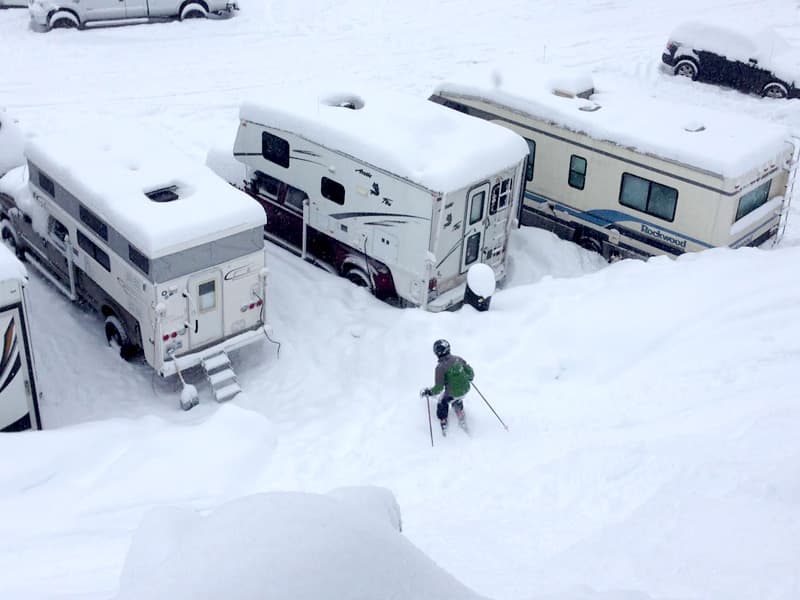 Above: Steven's Pass, skiing right to the door of their camper
TCM: That sounds like fun.  Tell us about camping at the ski resorts.
Jennifer: I love Steven's Pass because we can go skiing off the mountain and end up right at the door of our camper.  We have our meals in our camper and take our dog out during our breaks.
They charge $40 a night to plug in, but it's a huge convenience factor.  We get our son from school on Friday, and stay through the weekend.  There's something special about being right on the mountain when it's snowing hard.
Crystal and Stevens both offer power, which is nice when we want to run the space heater to keep extra toasty, and not use a lot of propane.
Stevens is our home resort.  We have passes for Stevens and were able to ski over twenty days this past year, even with our full-time jobs.  Stevens can be quite the party scene, but it's totally worth weathering the all-nighters for fresh tracks in the morning.  Having the camper at our disposal is key.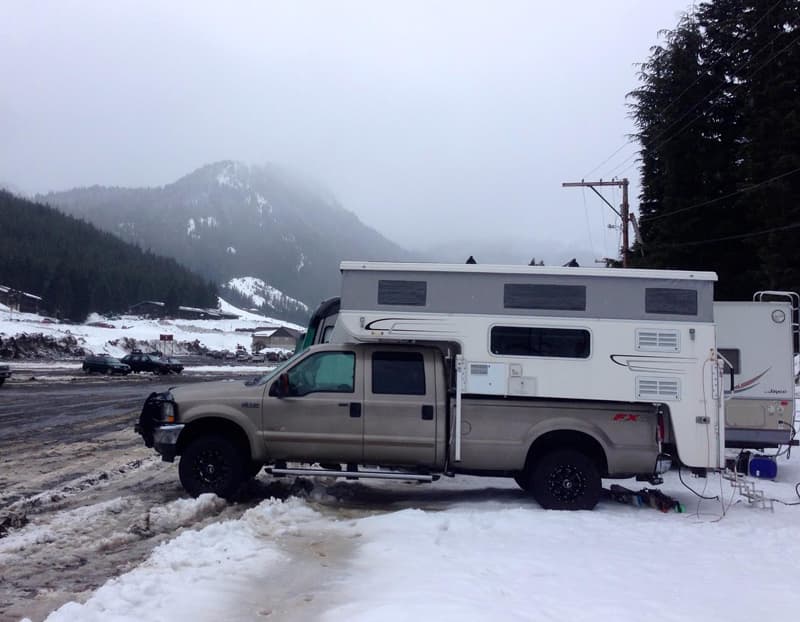 Above: Crystal Mountain, Washington ski resort
Crystal also has dry camping.  You just pay extra for being plugged-in.  Crystal is similar to Stevens, but you take a shuttle to get to the ski area.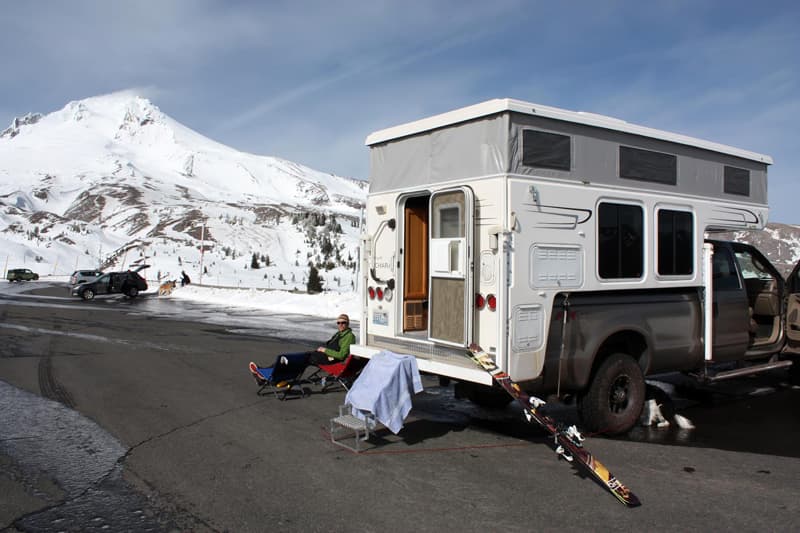 Above: Apres Ski in Mount Bachelor, Oregon
We have also stayed at Apres Ski in Mount Bachelor, Oregon for three nights.  Mount Bachelor is awesome!  You camp in the parking lot for $20 a night.  There are no plug-ins, but nearly front row parking, beautiful sunsets, and 24-hour bathroom and shower access.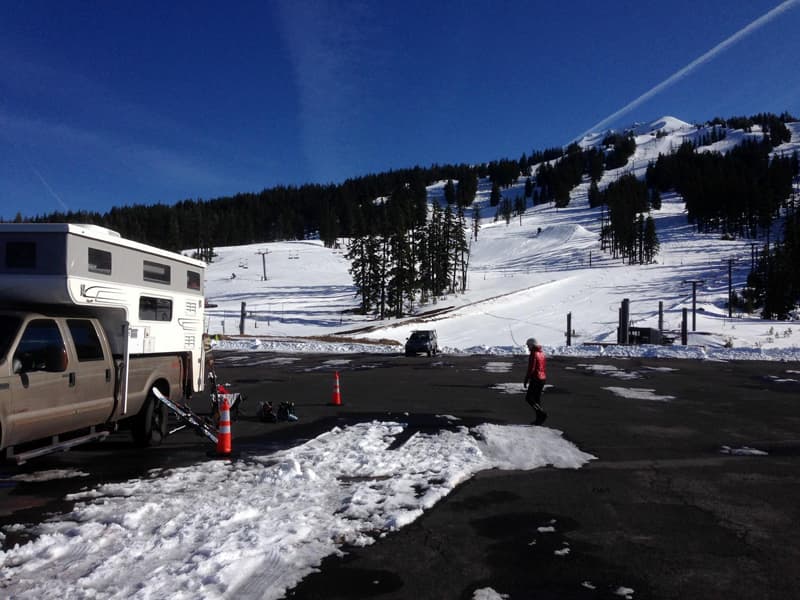 Above: You can stay at Mt Bachelor near the slopes for $20 a night
At Mount Baker you can camp for free, but there are zero services, so you need to be self-contained and bring a generator.  Most ski areas don't have services, but it varies from resort to resort.  You have to check into the lodging and parking for each resort.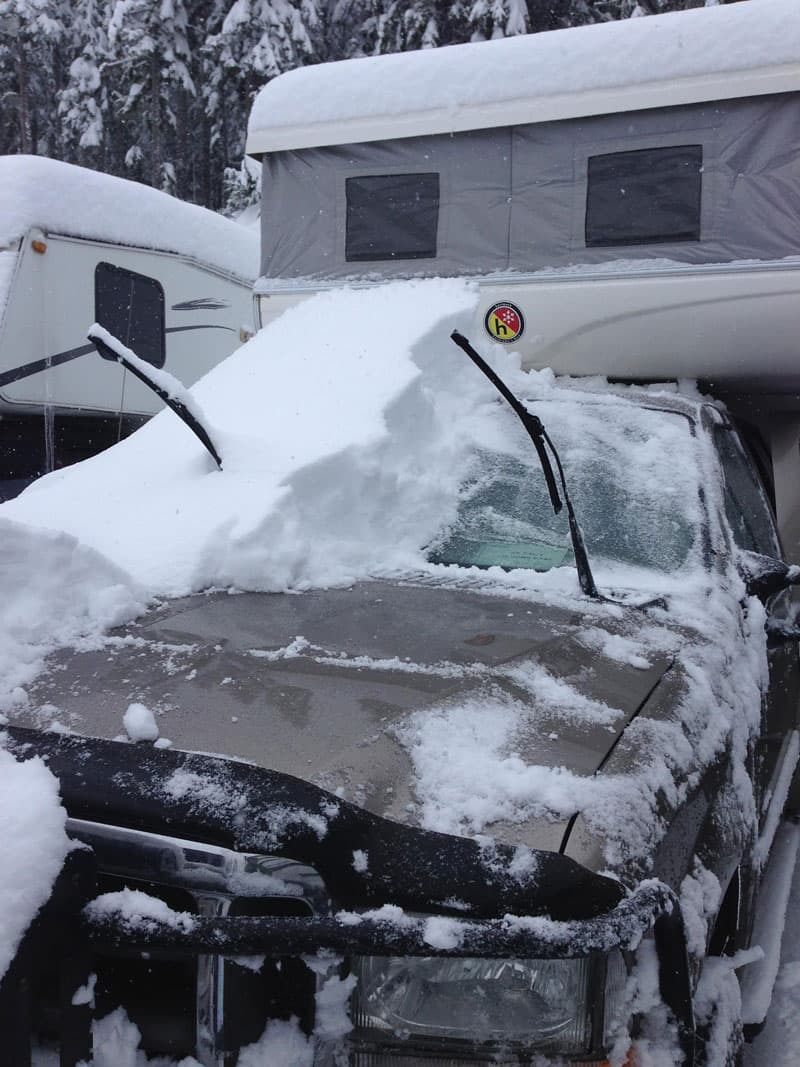 TCM: What are the camping area conditions like at these ski resorts?
Jennifer: In most of these resorts they pack you in like sardines.  You're three to four feet from your neighbor, so it's tight quarters.  With three people, a fourteen year old Border Collie, and ski gear in the camper, we feel packed in.  We sometimes bring an additional car, which helps with storing gear.  We make it work.
TCM: What is it like to dry camp in your Hallmark pop-up with the cold weather and snow?
Jennifer: When we're dry camping at the ski resorts, we keep the camper kind of cold at night at 55 degrees.  We sleep in our down sleeping bags and put the dog in a fleece on her padded bed.  It does get cool, but it's not intolerable.
We have a furnace heater that runs on propane, so we make sure we have a full tank of propane before we go.  At night we use our LED lights and only have two to three on at a time.  We also read in bed with headlamps, so we're not using lights.
We don't have solar and we only have one battery.  We can start the truck or hook up the generator if we need more power.  We have never run into a problem.  We can comfortably dry camp for three days at the ski resorts.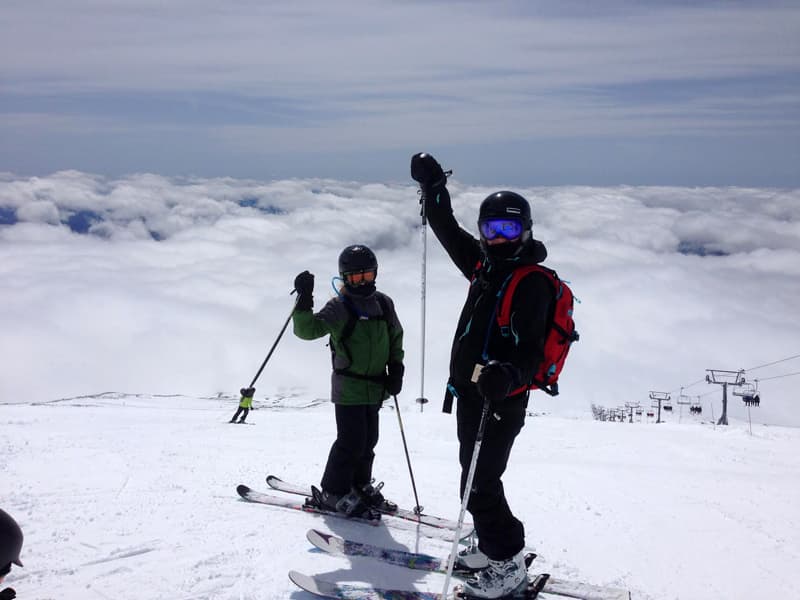 Above: Skiing on Mount Hood, Timberline, Oregon
TCM: That's impressive with one battery and no solar.  Have you made any modifications to your camper to improve the cold weather camping experience?
Jennifer: Yes, we have.  Recently we upgraded our insulation, lined the base of our camper with foam board, and resealed the windows to keep things warmer on those cold nights.
Our biggest challenge with winter camping is having all that gear in a tight space and not having too much condensation.  To address the condensation, we keep the vent open at night.  That helps a lot.
The thing about Hallmark campers is that they are four season campers with an insulated soft side.  The insulated soft side is thick.  If we open the insulated window panel to the clear plastic window, the camper cools down super fast.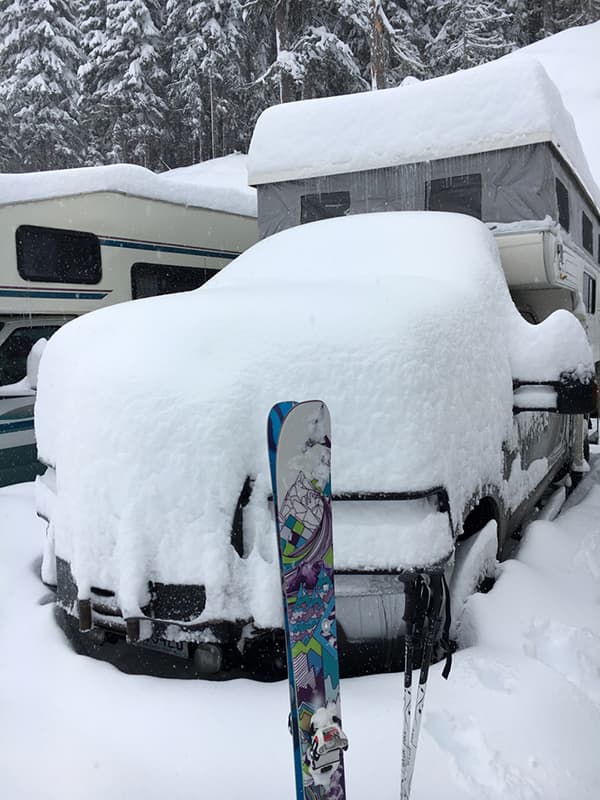 Above: Two feet of snow on the camper, Stevens Pass, Washington
TCM: How about snow on the roof?  Is that ever an issue?
Jennifer: We don't worry about the weight of the snow on roof.  Our roof lifts and lowers on hydraulics.  On Hallmark's website they show that they lifted a roof with an ATV on top of it, so we know there's no issue with the weight of the snow.
We keep the vent open when the heat is on, so we have to remember to close it.   We remove the snow off before we start driving again.  We have a broom to push the snow off so we're not creating a hazard as we drive down the highway.
TCM: What ski equipment do you bring with you, and where do you store it?
Jennifer: Skiing weekends add an additional level of inconvenience with juggling all of our gear.  We bring skis, poles, boots, and outdoor wear.
We keep our ski clothes inside.  That way, when we put them on in morning, they're warm.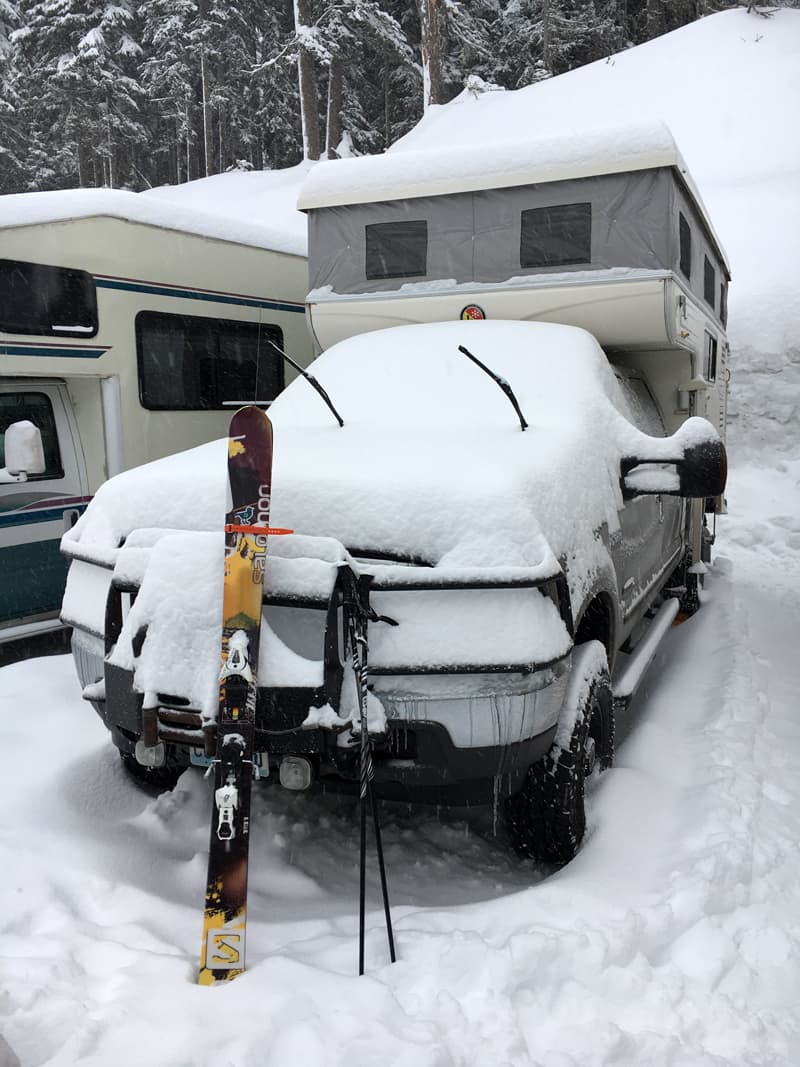 Above: Ski gear stays outside the camper while they're at the resorts
The skis and poles are next to the steps of the camper, so we just go down the steps and they're there.  That's a norm at the resorts.  If we don't want the skis to get icy, we put them in the back of our crew cab truck.  When we're driving, our skis and poles are on the floor of the camper.
Inside our camper we put three hooks in our bathroom and four hooks on the side of the dinette.  They are dual prong, so we can hang our wet coats after skiing.
We have a glove rack and make a glove tree to get propped up.  That's by the heater.
TCM: Have you made any other modifications to your Hallmark to better fit your needs?
Jennifer: We put on some hard board 1/2-inch insulation on the bottom and sides of the camper bed, built a custom silverware container, and set up a iPhone friendly music system.  Otherwise we haven't had to do much.  Hallmark's set up was fantastic!
I really like the Cuchara.  We can get up in the middle of night and use the bathroom in the camper.  We don't have to go to an outhouse in parking lot in 15-degree weather.  During the day, the lodge is right there, so we can also use that bathroom.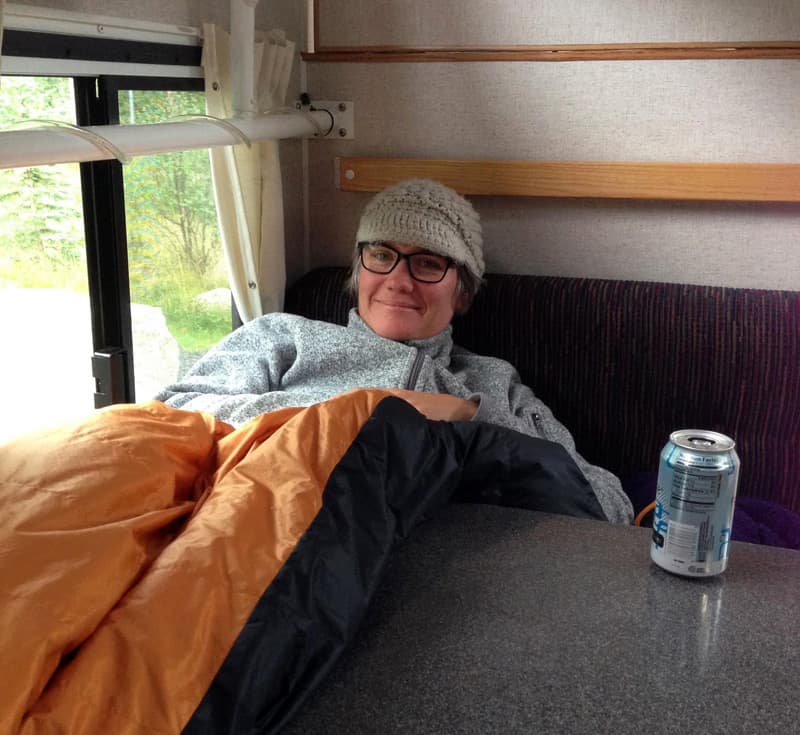 Above: Jennifer bundled up in the camper
TCM: That sure beats 15-degree moonlight bathroom runs.  What are your truck camping plans for the future?
Jennifer: This summer I hope to take my son on a three-week drive to visit my family in Michigan and make a round trip from Seattle.
We would also like to visit the southwest during the late spring, but we continue to juggle school and work schedules.  Finding time off is tricky.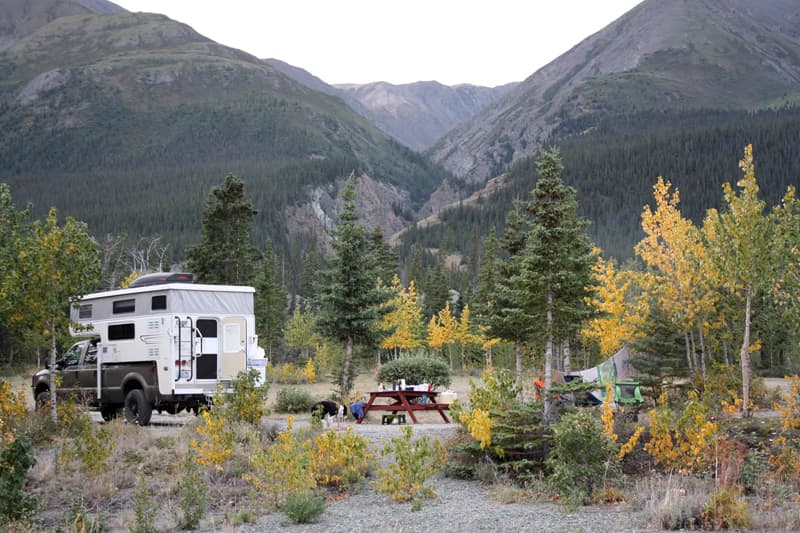 Above: Cottonwood Park, Kluane National Park in the Yukon – great facilities
I'd love to head back to Kluane National Park in the Yukon.  We drove too fast through that park.  The massive fjords and mountains were breathtaking.  We'd love to stay there and hike the park more.
TCM: From your description, we have added Kluane National Park to our bucket list.  I bet a few others have now done the same.  Is there anything else you'd like to add about your truck camping lifestyle?
Jennifer: With the Hallmark rig, I'm not dependent on my husband to go anywhere.  With ten weeks off per year, I have more flexibility than he does.  I want to be able to go on trips with my son regardless of whether he can get the time off.  Having a pop-up with so much efficiency and a low profile makes me very confident when traveling independently.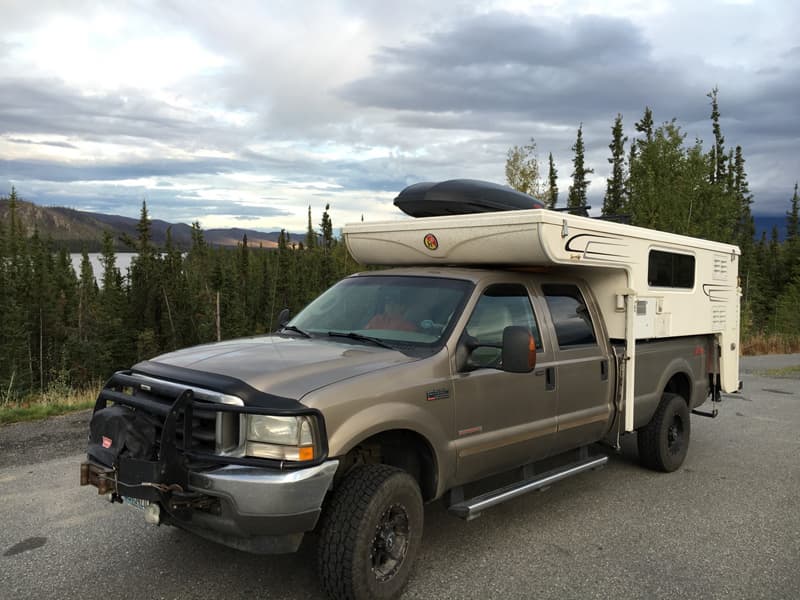 Above: Overlooking The Mighty Yukon in British Columbia
TCM: Do you feel safe traveling with your son?
Jennifer: Yes, I feel very safe driving and traveling with my son and dog, and have never had a moment where I was concerned about my safety.
Being in a camper and having my own bathroom has brought an added level of both physical and mental comfort for our adventures.  I also like the hydraulics of Hallmark's roof.  There is a switch in the camper for the roof to go up.  And it's easy to empty the tanks.
We were initially concerned about getting a truck camper because we don't have a driveway, but we didn't want that to stop us.  We keep our camper in front of our house.  We told all the neighbors that we would reposition the camper on the street if they needed us to.   It's not a huge camper, so it's not sticking out too much.  We always have it mounted on our truck.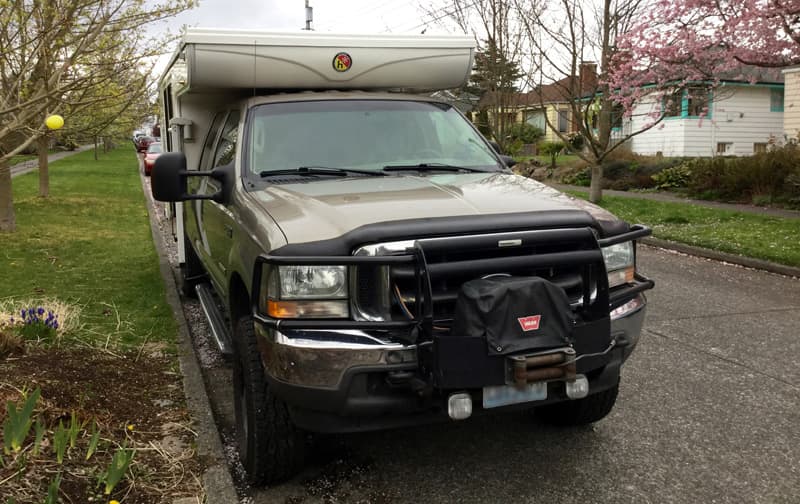 Above: Their camper can be parked on the street in front of their house
The fact that we live in the city of Seattle and have a truck camper is the best of both worlds.  I want to let people know that they can live in the city and have a truck camper.  I was nervous and losing sleep in the beginning, but now I don't think about it.
Having a truck camper has been a life changer for us.  I love nature and wanted to get out in it.  We didn't want to rent cabins or hotels.  This is really opened up our life and has given us access to beautiful places.
My husband's mom got early onset Alzheimer's the first year she retired.  She never took the time to travel.  If it is hereditary, we want to do what we love and spend time together as family right now.  Life is short and we might not have the time we plan for.
Jennifer Keeler's Rig
Truck: 2004 Ford F-350, Crew Cab, 4×4, Diesel, Single Rear Wheel, Long Bed
Camper: 2010 Hallmark Cuchara XL
Tie-Downs/Turnbuckles: Torklift Fastguns
Suspension: N/A
Gear: Yakima roof rack and gear box