How cold can you go?  Here's how Jennifer Keeler and her family push their personal winter dry camping limits to experience their favorite ski resorts of the northwest.  Don't miss her bonus tips on truck camping in Alaska.

One of the most compelling uses of a truck camper is as a base camp for outdoor hobbies.  For example, many folks use their truck camper rigs as a way to tow their boats for boating, fishing, and other water sports.  Others tow ATVs and other off-road vehicles to tackle trails, sand dunes, and for hunting adventures.
These outdoor recreations – and many more – take advantage of a truck camper rig's unique four-wheel drive and towing versatility, but truck campers have many more tricks up their rear skirts.
For starters, most truck campers are designed with three and even four-season insulation and are 100-percent self-contained with exceptional battery, propane, and holding tank capacities.  Off-road and off-grid boondocking in the dead of winter while towing an ATV?  Yeah, truck campers can do that.
While that thought has you dreaming of distant destinations far from the reaches of fellow man, what about somewhere a little more popular and populated?  What if you took full advantage of a truck campers four-season insulation, four-wheel drive reach, and self-contained capability and took it to say – a ski resort, in January?
Now what if we told you we were dry camping, in sub-freezing temperatures, with snow in the immediate forecast?  Oh, and did I mention we're taking a pop-up truck camper?
Bundle up buttercup!
Jennifer Keeler is about to remind us of one of the most overlooked and best outdoor hobby base camp uses for a truck camper; a ski house, to go.  Jennifer's family has explored the wealth of Washington ski resorts within reach of her Seattle home, and the ski resorts of Oregon.  They also share their experience keeping warm overnight in a pop-up in deep snow, and how they manage dry camping with only one battery and no solar.
As a bonus, Jennifer shares her story of truck camping in Alaska.  Her biggest tip; make sure to leave plenty of time for Kluane National Park.  Get your bucket lists out now.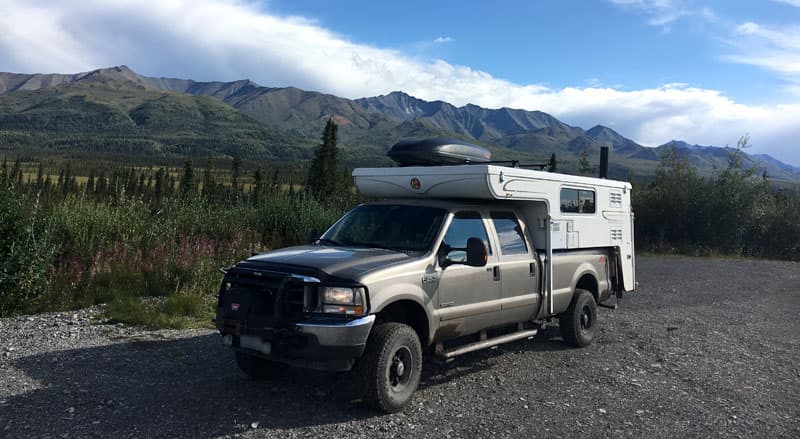 Above: Jennifer's  2004 Ford F350 and 2010 Hallmark Cuchara
TCM: Tell us about your camping experiences and lifestyle over the years.
Jennifer: Through hiking and short backpacking trips, my grandparents instilled a love of the wild in me.  This translated into longer and bigger backpacking trips as I grew up.
As I got older, the need for comfort and convenience became a factor.  When we decided we were a skiing family, we saw the benefit of having a truck camper for weekend stays at our local resort in Stevens Pass, Washington.
We had admired campers from afar, but really started taking the vision seriously when we saw a Tiger Provan camping overnight in a ski lot.  We loved it, but it was way beyond our budget.
Then some friends of ours bought a brand new truck and camper.  This opened our eyes to the possibility of a separate truck and camper set up, and increased our options for affordability.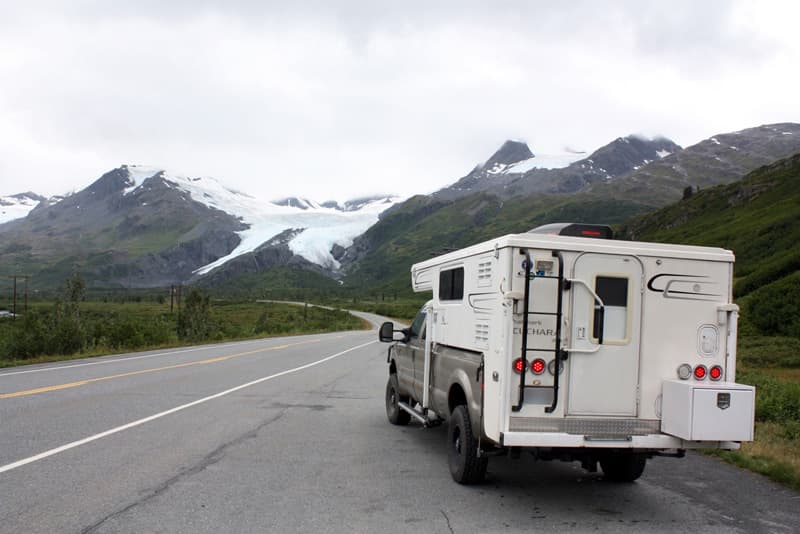 Above: Worthington Glacier on the way to catch the ferry in Valdez, Alaska
TCM: How did you go about assembling your rig?