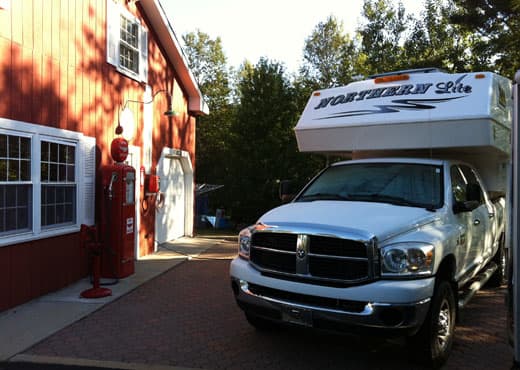 Above: Guy's rig parked in a friend's driveway.
TCM: Is there anything I haven't asked you that you'd like to add to your interview?
Guy: I would like to say thank you to all the people who helped me to discover truck camping.  Gordon and Angela, Chuck, Mike and Cathie, Anne and Joe, Pat and Don, Kim and Bruce, Jim and Cathy, Jay and Rob, Geraldine, Paula and Gerry and the many others that I befriended at the truck camper rallies and jamborees.  In particular, I want to thank Mario who was the first person who led me to discover the truck camping universe.
Beyond truck camping, there are women and men who work extremely hard in order to promote truck campers or organize rallies and jamborees.  Thank you to all.
GUY DALPHOND'S TRUCK CAMPER RIG
Truck: 2007 Dodge Ram 2500 HD, single rear wheel, short bed, 4×4, diesel
Camper:2010 Northern Lite 8-11 Queen Classic Special Edition
Tie-downs and Turnbuckles: Torklift
Suspension Enhancements: Firestone Airbags, one more leaf spring
Gear: For winter, I added autonomous heating not using the battery, a fan to improve air circulation and a generator