Mobile office by day, stealthy hotel room by night, Guy Dalphond's Northern Lite is an essential tool for his consulting business.  It's also a social seeking party machine.

One of our all-time favorite business authors is Seth Godin.  Among his many celebrated concepts is the idea of offering a "Free Prize Inside", a free product benefit that directly appeals to the end consumer.  We all know this classic marketing ploy from the cheap toys food companies would stuff into kids cereal boxes throughout the 1960's and 1970's.
The "Free Prize Inside" concept occurred to me when we were working the Springfield RV Show last month.  In our attempt to explain the many benefits of truck camping, we would mention the incredible rallies and jamborees and how much fun they are.  We would talk about how easy it is to pull into a service station, restaurant, or main street shopping area.  We would go on and on mercilessly about how much more relaxed truck camping can be because we're only about the size of a UPS truck and can go anywhere a pickup truck can go.
None of these qualities can be seen when you look at a truck camper at a RV show.  You can't "see" how amazing our truck camping community is when you're looking at a truck camper.  You can't "see" the relaxed freedom of the truck camping lifestyle.  These "Free Prizes" are something you only get when you buy the camper.  But unlike the cheap toys I always found at the bottom of my Captain Crunch box, these "free prizes" are amazing.
Speaking of amazing, Guy Dalphond may be the most enthusiastic truck camper we've ever met.  As a French Canadian, Guy learned to speak English so he could better understand and engage our truck camping community.  Long before he knew about our "free prizes" he bought a truck and camper and jumped into the lifestyle.  We met Guy at the 2010 Mid Atlantic soon after he had bought his Northern Lite.  He was as excited as a kid digging into a box of Lucky Charms for a secret decoder ring.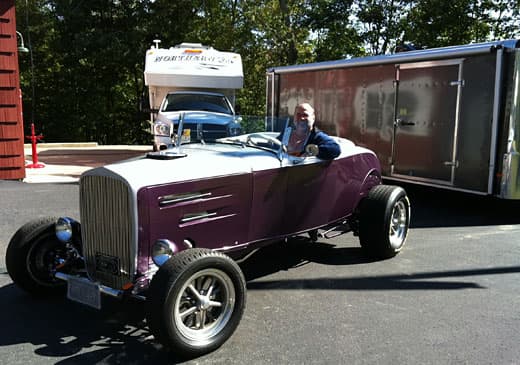 Above: Guy in a friend's roadster.  He joked that he almost traded for his camper.
TCM: How did you get into camping and truck camping?
Guy: I have been camping for a long time.  In fact, my parents first introduced me to camping under a tent.  Later we upgraded to a trailer.  I had such memorable experiences camping with my parents and that really helped my interest for camping.
Later on I traveled by bicycle in Canada and New England.  Even then I would practice bicycle camping.  Following that, I traded in pedals for a motor, and continued my travels on motorcycle, but still I was camping.  From motorcycle, I transferred to a sailboat, which is a similar environment to a RV.
My family grew and two children filled our everyday life.  So it was a return to camping under a tent.  From the tent, we migrated to a fifth wheel in order to accommodate our growing kids.  We then spent many summers in Quebec and discovered, once again, the states of Maine, Pennsylvania, South Carolina, and Florida.
The children still came with us on camping trips, but not as often.  Then we adjusted our traveling to be more flexible as we visited friends, boondocked, and also used our RV as an office.  After analyzing different options we decided on a truck camper.
TCM: Tell us about using your truck camper as an office.
Guy: My work forces me to travel frequently throughout Quebec, all year long, whatever the season.  We already had a fifth wheel and our truck.  We decided to buy a truck camper first and foremost as an office on wheels.  Before buying it, I met with truck camper owners who really praised the benefits of owning a truck camper.  Then we acquired the truck camper.  Two years later we sold our fifth wheel.  From then on, the truck camper has had two purposes, work and leisure.
Above: Guy's Northern Lite parked in regular parking spaces or parallel parked on the side of the road.
TCM: How did the truck camper replace the fifth wheel as your RV of choice?
Guy: Our truck camper is always ready and it takes only a few minutes to leave for a short trip.  We can go places that were impossible of access with the fifth wheel.  We can easily visit our friends and family members and park in their driveways.  We can also simply park in a regular parking space.
On some occasions, we have used our camper as a secondary house when a member of the family was ill.  Furthermore, the truck camper is easier to drive for both my spouse and myself.  Upkeep is also easier and we spend more time camping than washing or maintaining the camper.
As an mobile office, there are also many advantages to the truck camper.  I live in my mobile office, so I can manage my time more efficiently with my travels and I avoid traffic jams.  I can sleep and eat in the same place, and spend more time with my customers instead of being on the road.  All my customers are impressed by the comfort of my truck camper.