After coaching Dain Blanton and Eric Fonoimoana to win gold at the 2000 Olympic Summer Games, there's no mountain high enough for Greg Vernovage.

In the 1984 cult-classic sci-fi action-adventure movie Buckaroo Banzai, the main character is something of an extreme jack of all trades.  In the first half-hour of the film, we learn that Banzai is an ace neurosurgeon, renown particle physicist, crack test pilot, famous rock star, and a celebrated comic book hero.  The movie is completely ridiculous and a lot of fun, if you like that sort of thing.
After seeing Buckaroo Banzai in my impressionable years, I have come to think of someone who has one too many extraordinary talents as a Buckaroo Banzai.  Beyond a doubt, the subject of this story is a Buckaroo Banzai if I've ever heard of one.
Meet Greg Vernovage.  In 2000, Greg coached Dain Blanton and Eric Fonoimoana to win gold in men's beach volleyball at the 2000 Summer Olympics in Sydney, Australia.  After the Olympics, Greg became a professional mountain guide with International Mountain Guides and has ascended Mount Rainier, Denali, the Himalayas, Kilimanjaro, and Mount Everest.  Most impressively, Greg lives full time in his Lance truck camper.
A gold metal winning, world-class mountain climbing, full-time truck camper guy?  One person can be that cool?  Pinch me, this is too much.
Like I said, Greg is a real life Buckaroo Banzai.  He probably can sing, play guitar, and fly helicopters, but I don't want to know.  What I do want to know is, how did Greg wind up living full time in a truck camper?  And why do we have a picture of him holding a Torklift International flag on top of Mount Everest?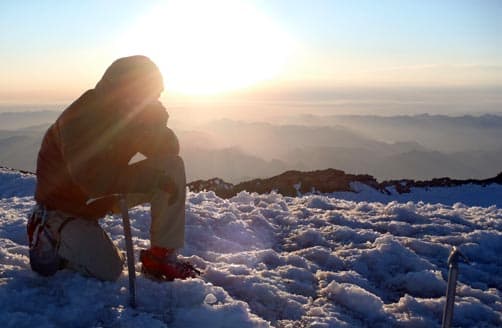 Above: Greg on Mt. Rainier's Summit
TCM: How did you, as a mountain climber and guide, get into truck camping?
Greg: I got into truck camping when I started moving around a lot with mountain guiding.  I was in the Eastern Sierras and Washington State.  With all of the moving around, it did not make sense to rent an apartment that I would rarely be at.  Even though my truck camper set-up is pretty big, I can drive through cities and maneuver well in tighter places.  The truck camper also allows me to tow a trailer with my motorcycle.
TCM: The name of your rig is Big Blue.  Where did the name come from?
Greg: Oh yeah!  "Me and Big Blue" is what is on the driver side door of my rig.  I bought my set up from this great guy in California.  He did photography up and down the West Coast.  He had "Me and Big Blue" on the truck and said that the truck had been good to him, so it was logical that I carry on the tradition.
He liked what I do for a living and we connected.  I enjoyed talking with him and told him that I would keep "Me and Big Blue" on the truck.  It is funny, people roll up next to me on the roads and as they drive by I can sometimes read their lips as they say, "Me and Big Blue."  Then they look up and see me inside.  I usually give them a smile and wave.  Most people are pretty cool and wave back.  I have owned Big Blue just over six years.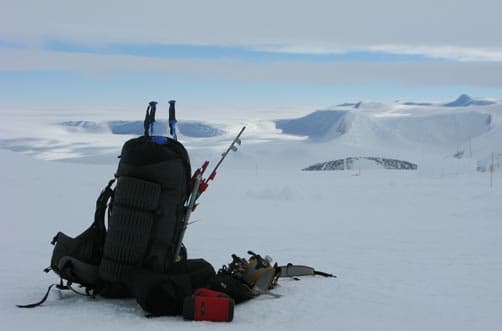 Above: Greg's climbing pack with his gear
TCM: When you're not climbing mountains, you live full time in your truck camper.  How does that work for you?
Greg: I live in my truck camper any time I am not living in a tent.  My truck camper is my inner sanctum.  I can go inside after a climb and I am home.  It is great after all the times of the year when I am on the side of a mountain in a tent.
I have a Dodge 3500 with a Lance slide-in camper.  It's sweet.  It really is home.  I get off the mountain and get to go inside and have a bed and all of the other comforts of home.  There's nothing like getting off the mountain and having a place to get together with my friends.
TCM: What is your favorite place to camp?