After coaching Dain Blanton and Eric Fonoimoana to win gold at the 2000 Olympic Summer Games, there's no mountain high enough for Greg Vernovage.

In the 1984 cult-classic sci-fi action-adventure movie Buckaroo Banzai, the main character is something of an extreme jack of all trades.  In the first half-hour of the film, we learn that Banzai is an ace neurosurgeon, renown particle physicist, crack test pilot, famous rock star, and a celebrated comic book hero.  The movie is completely ridiculous and a lot of fun, if you like that sort of thing.
After seeing Buckaroo Banzai in my impressionable years, I have come to think of someone who has one too many extraordinary talents as a Buckaroo Banzai.  Beyond a doubt, the subject of this story is a Buckaroo Banzai if I've ever heard of one.
Meet Greg Vernovage.  In 2000, Greg coached Dain Blanton and Eric Fonoimoana to win gold in men's beach volleyball at the 2000 Summer Olympics in Sydney, Australia.  After the Olympics, Greg became a professional mountain guide with International Mountain Guides and has ascended Mount Rainier, Denali, the Himalayas, Kilimanjaro, and Mount Everest.  Most impressively, Greg lives full time in his Lance truck camper.
A gold metal winning, world-class mountain climbing, full-time truck camper guy?  One person can be that cool?  Pinch me, this is too much.
Like I said, Greg is a real life Buckaroo Banzai.  He probably can sing, play guitar, and fly helicopters, but I don't want to know.  What I do want to know is, how did Greg wind up living full time in a truck camper?  And why do we have a picture of him holding a Torklift International flag on top of Mount Everest?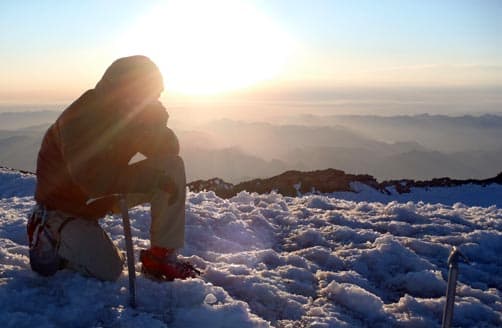 Above: Greg on Mt. Rainier's Summit
TCM: How did you, as a mountain climber and guide, get into truck camping?
Greg: I got into truck camping when I started moving around a lot with mountain guiding.  I was in the Eastern Sierras and Washington State.  With all of the moving around, it did not make sense to rent an apartment that I would rarely be at.  Even though my truck camper set-up is pretty big, I can drive through cities and maneuver well in tighter places.  The truck camper also allows me to tow a trailer with my motorcycle.
TCM: The name of your rig is Big Blue.  Where did the name come from?
Greg: Oh yeah!  "Me and Big Blue" is what is on the driver side door of my rig.  I bought my set up from this great guy in California.  He did photography up and down the West Coast.  He had "Me and Big Blue" on the truck and said that the truck had been good to him, so it was logical that I carry on the tradition.
He liked what I do for a living and we connected.  I enjoyed talking with him and told him that I would keep "Me and Big Blue" on the truck.  It is funny, people roll up next to me on the roads and as they drive by I can sometimes read their lips as they say, "Me and Big Blue."  Then they look up and see me inside.  I usually give them a smile and wave.  Most people are pretty cool and wave back.  I have owned Big Blue just over six years.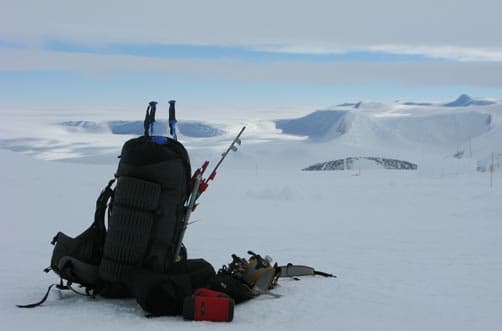 Above: Greg's climbing pack with his gear
TCM: When you're not climbing mountains, you live full time in your truck camper.  How does that work for you?
Greg: I live in my truck camper any time I am not living in a tent.  My truck camper is my inner sanctum.  I can go inside after a climb and I am home.  It is great after all the times of the year when I am on the side of a mountain in a tent.
I have a Dodge 3500 with a Lance slide-in camper.  It's sweet.  It really is home.  I get off the mountain and get to go inside and have a bed and all of the other comforts of home.  There's nothing like getting off the mountain and having a place to get together with my friends.
TCM: What is your favorite place to camp?
Greg: I am different than most truck campers.  I like to stay in those spots with all of the hook-ups.  If I can find wireless internet, I get to catch up with a lot.  Some day I am going to get one of those fancy satellite dish internet set-ups for the camper.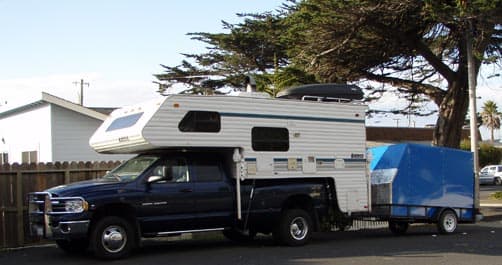 TCM: In your pictures we see that you tow a trailer behind your truck camper.  You mentioned your motorcycle.  What else do you keep in your trailer?
Greg: The trailer was originally an open trailer, but I needed to keep things a little safer since I'm gone quite a bit.  I built the shell to house climbing gear and my motorcycle.  I have the motorcycle in the trailer because fuel is not cheap and the motorcycle gets about fifty-five miles per gallon.
TCM: That sure beats a truck.  Since you camp near mountains, many of the places you stay must get to be pretty cold.  How do you keep warm in your camper?
Greg: Staying warm and dry in the camper is always a challenge.  I have three different heating sources.  The propane furnace in the camper, a sweet portable electric heater, and an emergency small Coleman propane heater.
There are some places that I pull up and it can be really cold.  I'm not sure that this camper was designed for that much cold but hey, it works.  With the snow and rain, keeping the dampness out is also a challenge, I use the damp rid packs and do my best to keep the inside warm and vented.
TCM: Tell us about traveling with your truck camper in the back country as you make your way to and around the mountains you climb.
Greg: First and foremost, I am always looking for the escape route.  When I am headed into the back country or in the hills and woods, I need to make sure I can get out.  I have driven through high streams, over trees, and some not-so-level dirt roads that might have been paths.
The big snow and ice is a great challenge.  When we get a new snowfall in the mountains, I want to get out there.  I just trust the four-wheel drive on the truck and I think I have enough weight in the back.  Sometimes I get into a situation and just start thinking, don't tip over on me here!
TCM: That sounds rather intense.  Speaking of intense, how did you get involved with climbing?
Greg: I have been climbing for about fifteen years.  I got involved in climbing while still playing volleyball.  I needed to stay in shape for playing and started climbing.
Later, as a volleyball coach, I needed to challenge myself to an equal level as the players.  Those guys are talented and I needed to be able to do something comparable to what I would ask of them.  I was not as physically gifted as they are on the court, so I challenged myself in the mountains.
I have had so many memorable climbs and experiences.  All of my best and most memorable experiences come from being with and around the other climbers.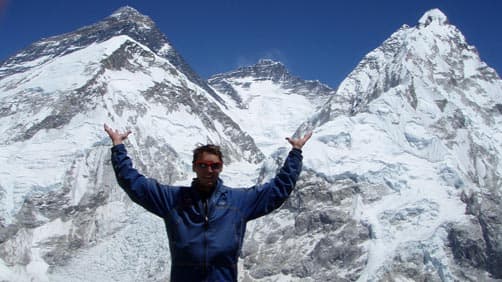 Above: Greg Vernovage on Mt. Everest
TCM: Tell us about your climbing Mount Everest.  That has to be an incredible experience.
Greg: Everest is an amazing place to climb.  Nowhere else on earth that is that high above sea level.  It also takes everything you have, physically, mentally, and emotionally.  Everyone should want to climb Everest someday.  You cannot go higher on this planet.

TCM: What are some of the other memorable mountains you've climbed?
Greg: Mount McKinley in Alaska is the highest point in North America and is on United States soil.  I love the remoteness and I am patriotic.  It is gorgeous.  I had the opportunity to summit on the fourth of July last year.  That was pretty cool.
I have climbed all over the world, a number of times in each place.  I have done a lot of climbing and look forward to doing a lot more.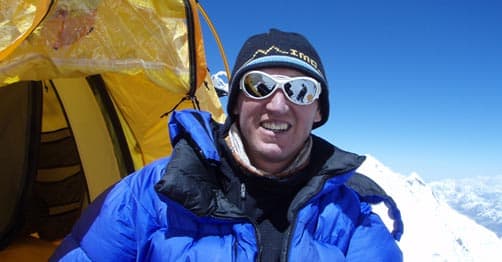 Above: The Lhotse climb
TCM: What has been your most trying or dangerous climb?
Greg: Climbing is dangerous by nature.  My job with International Mountain Guides is to minimize the danger, but I cannot eliminate the risk.
All climbs present different challenges, even the same climb from year to year can present different challenges.  It is a constant problem solving puzzle.
As far as my most trying climb, I would have to say Lhotse.  Lhotse is the fourth tallest mountain in the world.  I was given the opportunity to climb Lhotse in 2009.  There is not a ton of information about the route and, with the extreme altitude, I needed to find a safe route while managing people and altitude.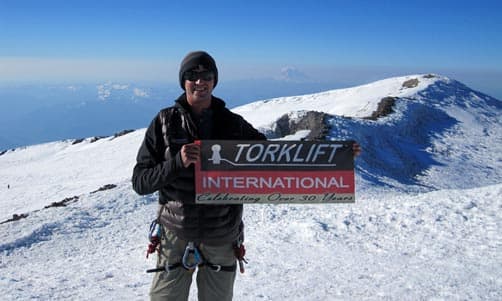 TCM: Why are you holding a Torklift International flag on the top of Mt. Everest?
Greg: I heard about Torklift while searching for new, faster, and safer equipment.   I needed new tie-downs and wanted Torklift Fastguns.  I got in touch with the team at Torklift and their office is right around the corner from Mount Rainier.
Luck was with me and I had an opportunity to meet Jack Kay, Principal of Torklift International.  Hey, I am a pretty good judge of character and Jack is a great guy to talk to.
While I was there, we put the Fastguns on my rig.  Since then I've put my rig through every terrain imaginable.  I cannot say enough about my Fastguns.  They are fast.  It cuts down the time when taking the camper on and off enormously.  There is no rusting and they are easy to fit.  They take a lot of thought out of securing the camper to Big Blue.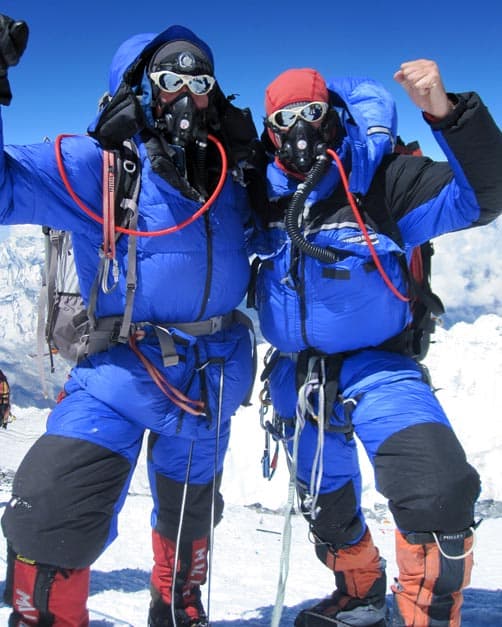 TCM: What are you thinking about when you reach a mountain peak?
Greg: When I reach the summit, peak, or high point of the climb, I am thinking of getting the team down safely.  I do take a brief moment to myself and look around, doing my best to take in the view.  We do not get too much time on the summit.  Most of the time, I take a deep breath and soak what I can inside.  Mountain tops are special places.
TCM: Tell us about your next climb.
Greg: I am going to continue to climb as long as I can.  Next spring I will climb Everest again and I don't need to tell you that I would love to drive Big Blue into Basecamp.  Keep your eyes open for Big Blue we are always looking for the next big adventure.
GREG VERNOVAGE'S TRUCK CAMPER RIG
Truck: 2003 Dodge 3500, extra cab, dually, long bed, 4X4, diesel
Camper: 1998 Lance
Tie-downs and Turnbuckles: Torklift Fastguns
Suspension Enhancements: Air bags with Torklift anti-sway kits
Gear: Extension Tow package for trailer with motorcycle, SuperHitch, SuperTruss extension