Full-time truck camper and traveling foodie, Rhonda Delameter, shares her secrets to cooking gourmet meals with minimal space, minimal ingredients, and minimal time.  Did we mention she's traveling through South America?

I didn't grow up as a foodie.  Life in small town Minnesota was basic meat and potatoes, rarely varying.  My mom, a picky eater, cooked because it was necessary, not out of the love of good food.
My entire life changed up when my family moved to the west coast.  Oregon offered so many new delicacies; fruits and vegetables I had never before discovered, and every fresh fish imaginable.  Ethnic restaurants on every corner offered up a cornucopia of taste sensations.  My taste buds soared and my palette improved.
Even in that discovery stage, it was never fancy food that drew my interest.  I was fascinated by the small mom and pop restaurants, the food cart scene, the seemingly simple meals that offered up flavor perfection.
Food Meets Travel
When Jim and I married and started traveling the world, we actively sought out street food, hole-in-the wall restaurants, and local restaurants that rarely saw westerners.  Back at home, I would attempt to recreate the food we had eaten, focusing on making them work at camp.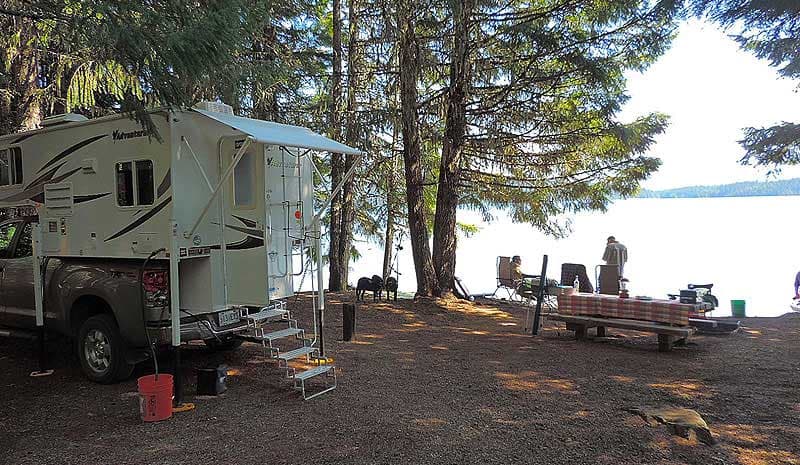 After several years of perfecting our art, I am thrilled to say that, while our life is now on the road in our truck camper, delicious food is always on the menu.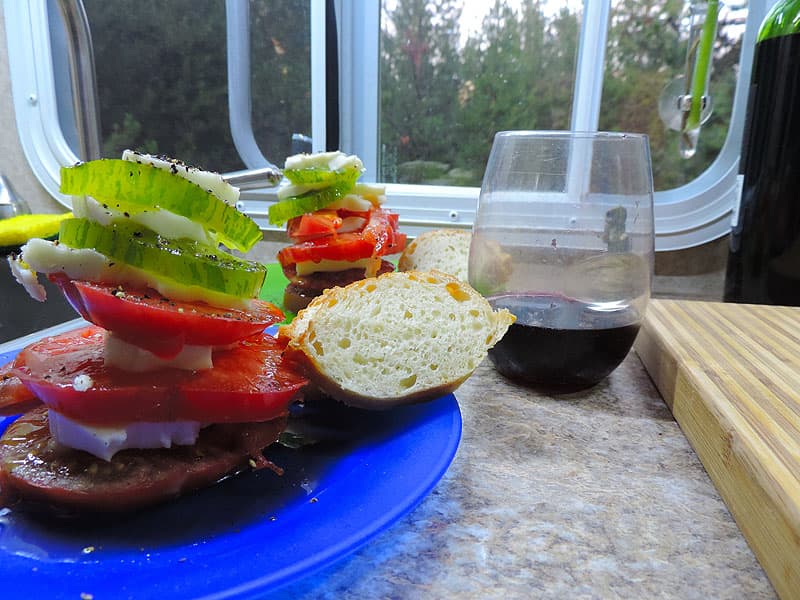 Above: Heirloom tomato mozzarella stack
Chicken enchiladas?  Check.  Dutch oven pizza?  Check.  Homemade bread?  Check.  Hungry for an Asian noodle bowl?  Check.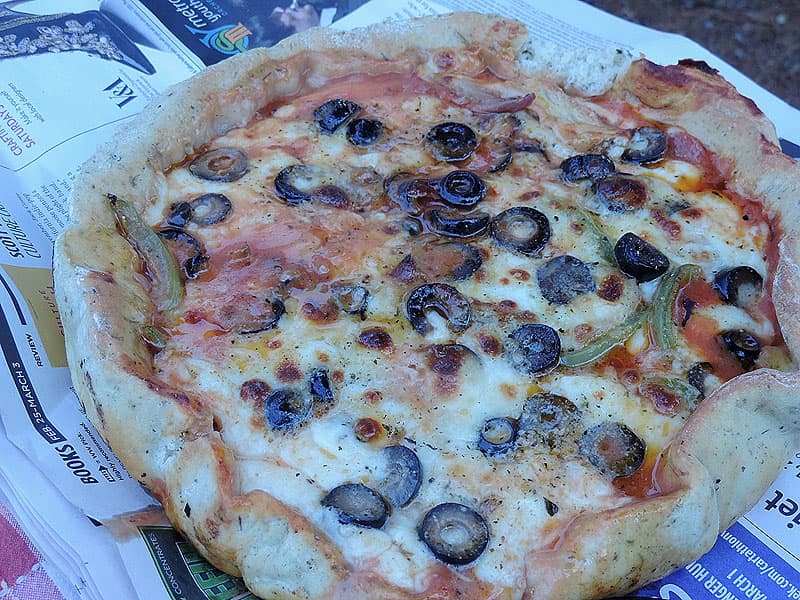 Above: Dutch oven pizza is possible while camping
What about a perfect cheeseburger and sweet potato pan fries?  All of these are not only possible on the road, but are probably on our menu for the week!
Finding the Perfect Camper for Cooking
In our search for the perfect truck camper, one huge consideration was the kitchen set-up and counter space.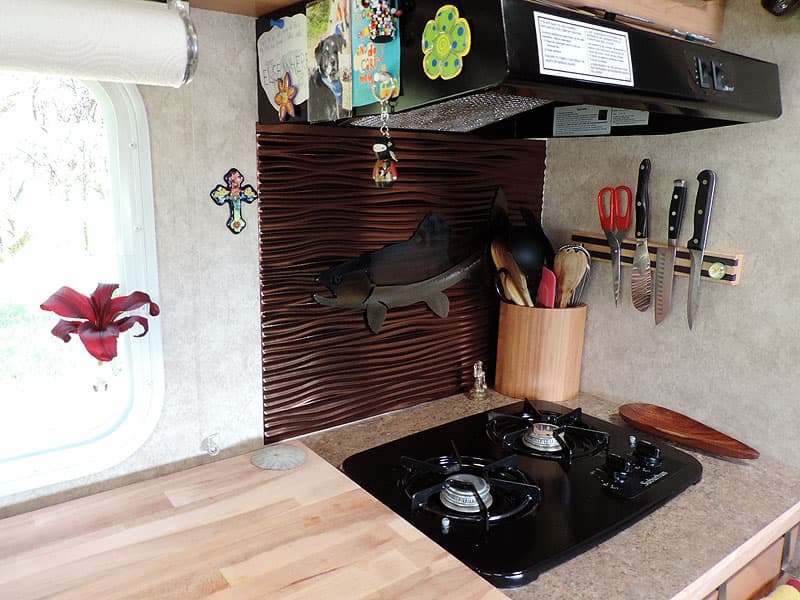 Above: The counter space in the Adventurer 80SK
We willingly gave up the bathroom we could have had in an another Adventurer model and opted for the Adventurer 80SK with its massive (by truck camper standards) amount of counter space.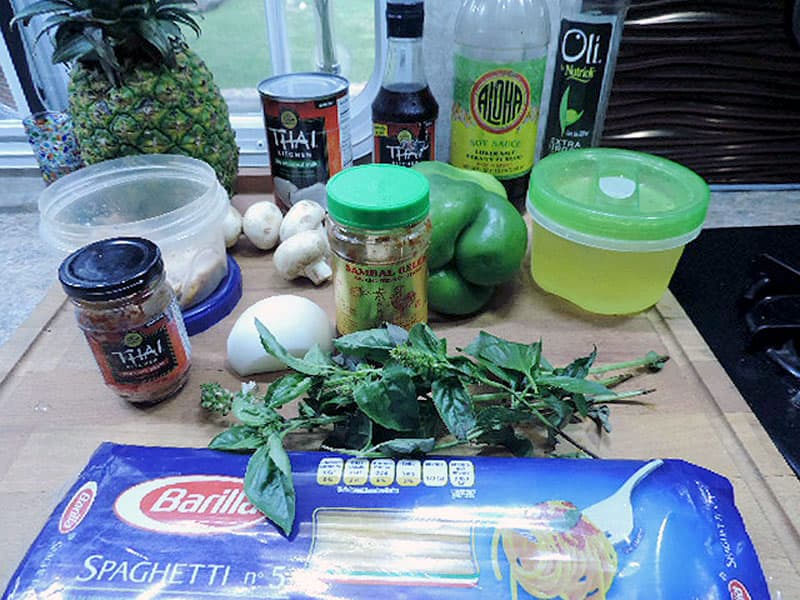 Above: Preparing Thai Red Curry pasta in a non-slide truck camper
As we moved from strictly backpackers, to car campers, to truck camper owners, our cooking style and taste buds have changed as well.  The days of a weekend of beef jerky and canned cheese whiz morphed into garden burgers and pasta salad.  Now, as truck camper owners, we have truly stepped up our camp cooking game.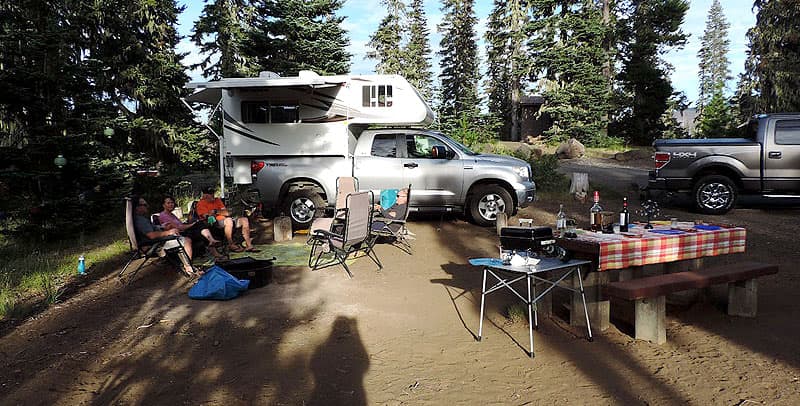 The most important thing I've learned about cooking in my travels is that fancy is not always the best.  In fact, the ability to take basic but quality ingredients, and create something remarkable, is the goal I continue to aspire to.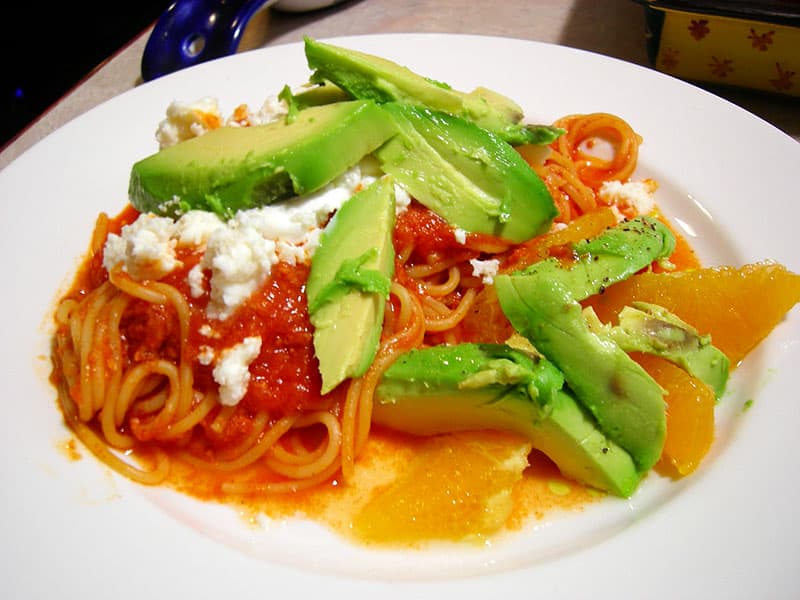 Above: Rhonda's Mexican spaghetti dish
Camp cooking is not about a lot of fancy gadgets.  Camp cooking is about a passion for creating amazing food.
Three Cooking Methods While Camping
In our Adventurer 80SK we don't have a microwave or an oven.  What we do have is everything I consider essential for making nearly any dish.
For most of our day to day cooking, we use our two-burner propane stovetop.  Our previous camper had a three-burner stove and I admit to being concerned about moving down to just two.
However, while a few dishes such as eggs benedict, for instance, require a little bit more finessing in the order of preparation than before, I have found that two burners is plenty.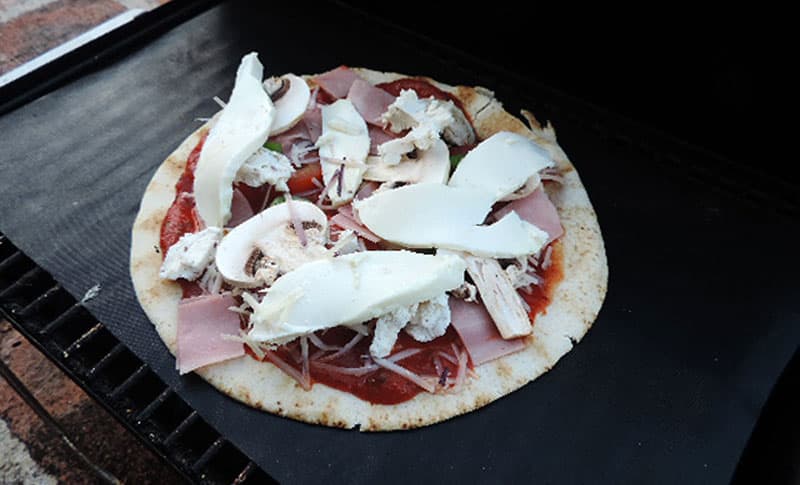 Above: Making BBQ tortilla flatbread pizza on the Weber propane barbecue
We also have a Weber propane barbecue.  Used in combination with our amazing nonstick and reusable barbecue grill mats, we use our barbecue for everything from burgers, to grilled fish, to stuffed chicken, to asparagus.  We even occasionally do bacon and eggs for breakfast on the barbecue.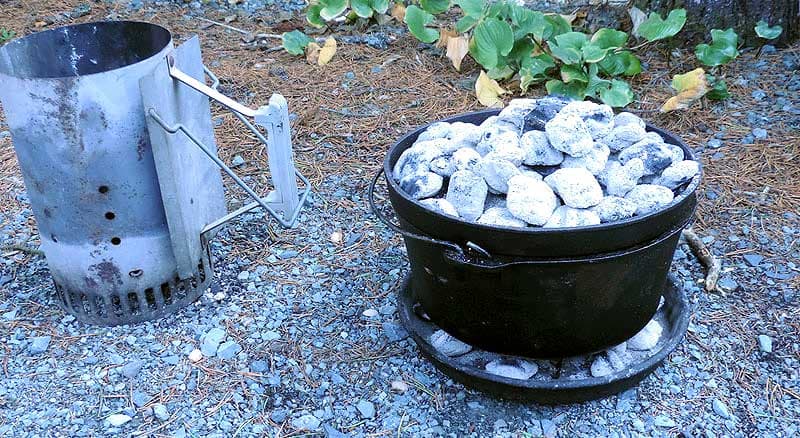 Above: Using their Dutch Oven to cook gourmet camping meals
Finally, we have a Dutch oven.  Previously we had lamented the inability to bake bread, chicken enchiladas, or roast chicken at camp.  No longer.  The Dutch oven changed our camper cooking world.
While many truck campers do have ovens, some of our friends have found them to be a bit persnickety, and have multiple hot spots.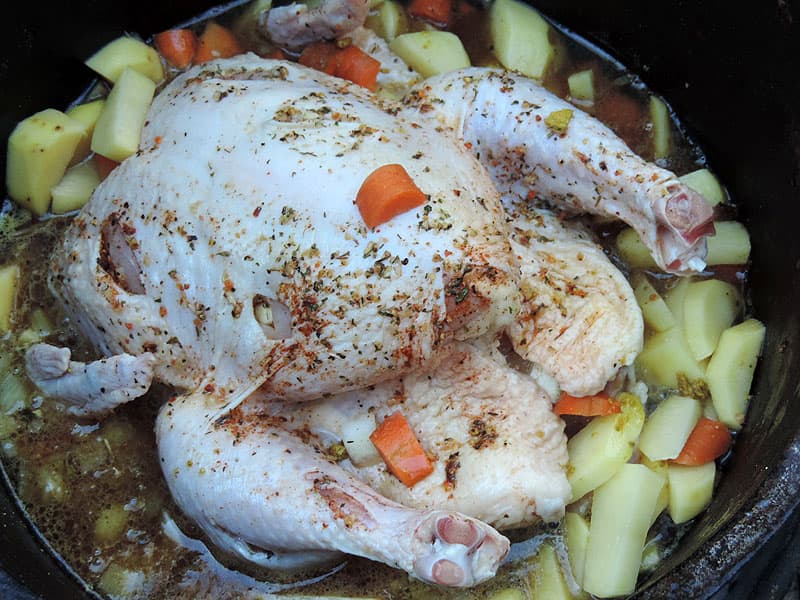 Above: Dutch oven roast chicken
Not so with our Dutch oven.  While it can be a bit of a time consuming process to get the briquettes hot and ready before the cooking begins, it is so worth it to sit down to a roast chicken with veggies, an oozy pizza, or a loaf of freshly baked bread.
House Cooking Versus Truck Camper Cooking
There are a couple of big differences between cooking in a house and camp cooking in our truck camper.  Time is the biggest factor.  Everything simply takes longer.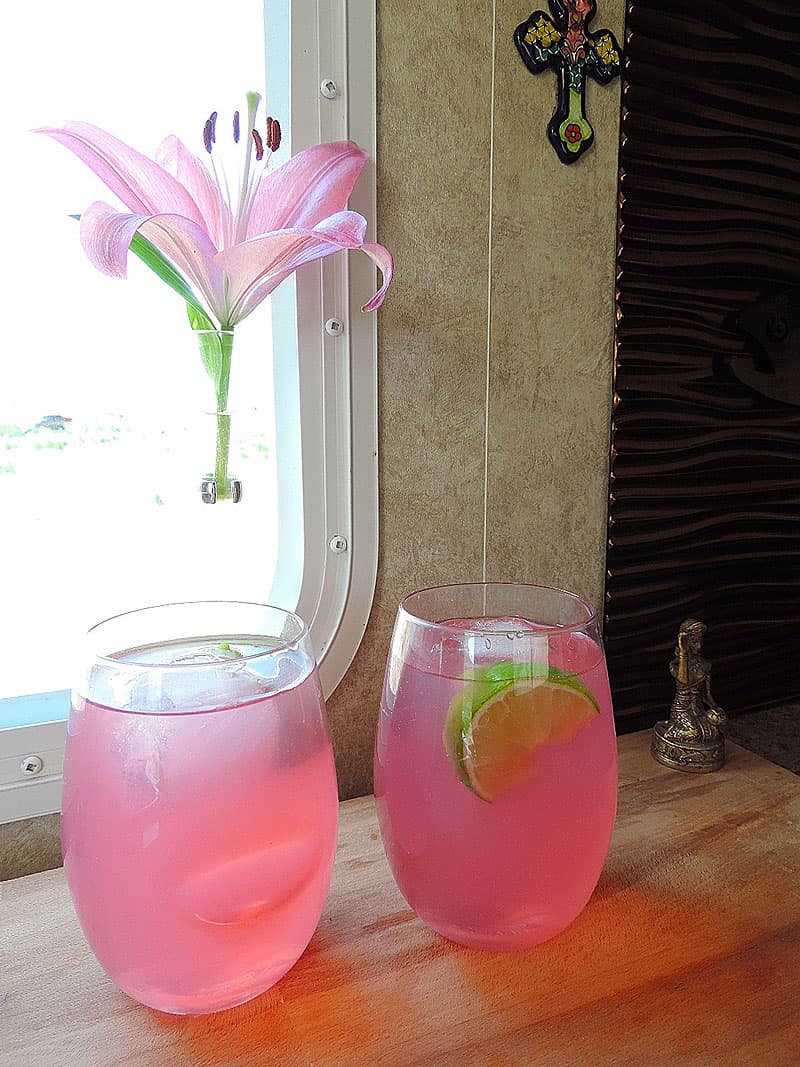 However, when camping, how often are you really in a hurry?  Pour another drink, sit down with a friend or a good book, throw in a fishing line and problem solved.
Another difference is that, most likely, you simply will not have all of your residential kitchen stuff.  I considered this an excuse to step up my game.
No food processor means honing your knife skills to learn how to finely mince produce.  A small refrigerator means buying or bringing only what you need for your trip.  No blender means learning to love the words, "shaken, not stirred".
Space is always a consideration in the truck camping world.  It is impossible to have cupboards and cupboards of gadgets.  Thus, it's essential to be extremely organized, with each item on-board serving a purpose.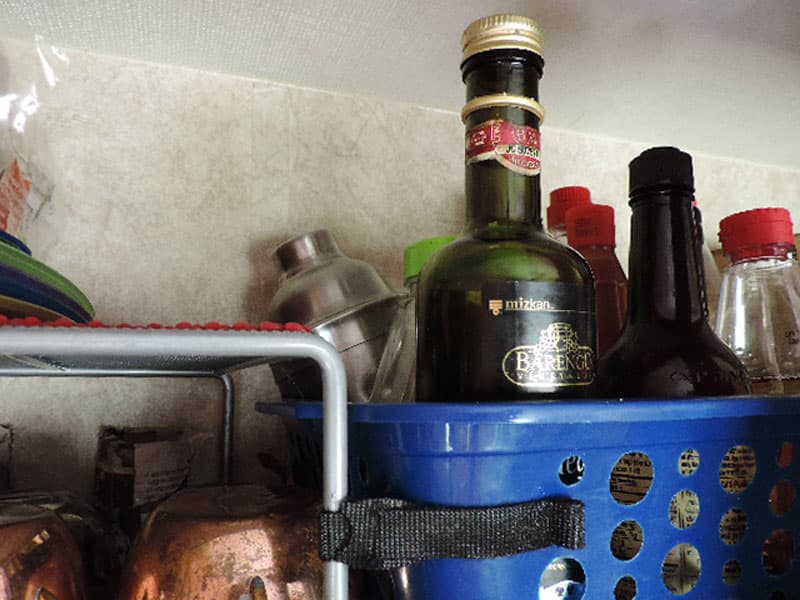 For the pantry part of my camper kitchen, I am a huge fan of using plastic bins to keep all of those vinegars, olive oils, and other items standing up and together.  Another plastic bin holds flour, baking soda, and other baking goods.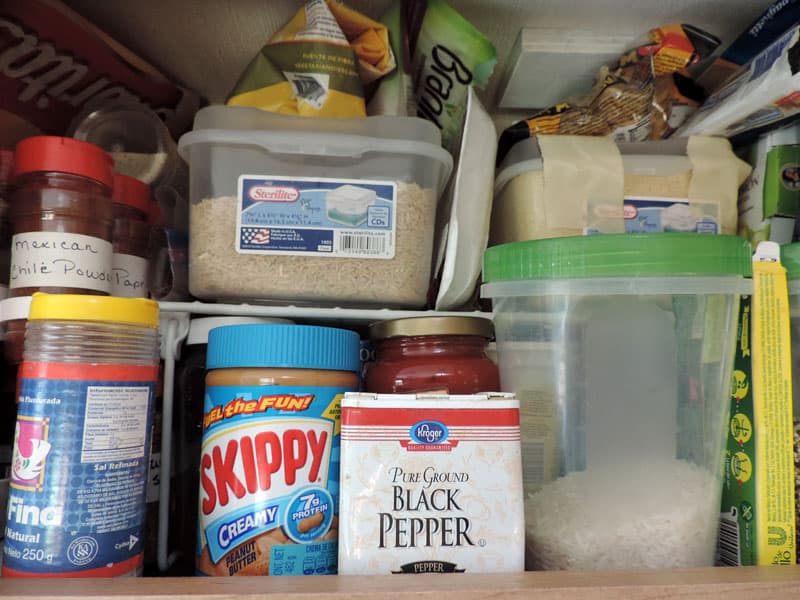 Lightweight metal shelves allow for double level stacking of cans, pasta, and other pantry foods.  Screw-top plastic containers make neat work for rice, quinoa, and other small goods.  Spices, essential for any cook, store nicely in the middle, firmly in place.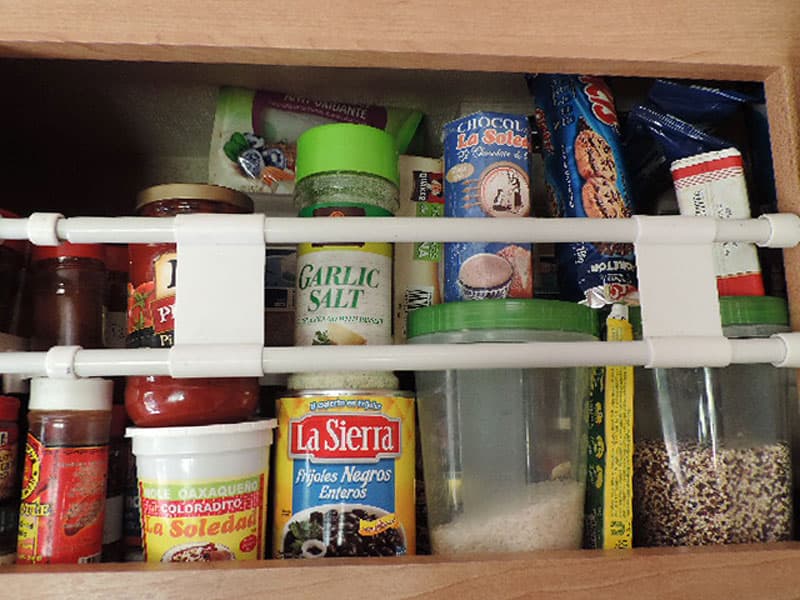 For travel days, we have found the RV refrigerator bars fantastic.  Rather than use them in the refrigerator, we place them in the pantry area of the cupboards to keep everything from shifting too much en route.
The Essential Truck Camper Kitchen
During our days of weekend camping from home, I worked hard at paring my truck camper kitchen down to the bare essentials, while not leaving out anything I might need.
Pots and pans, along with good knives, are an essential for everyone.  We try to limit waste and use good quality plastic plates, bowls, and glassware rather than tossing or burning paper plates.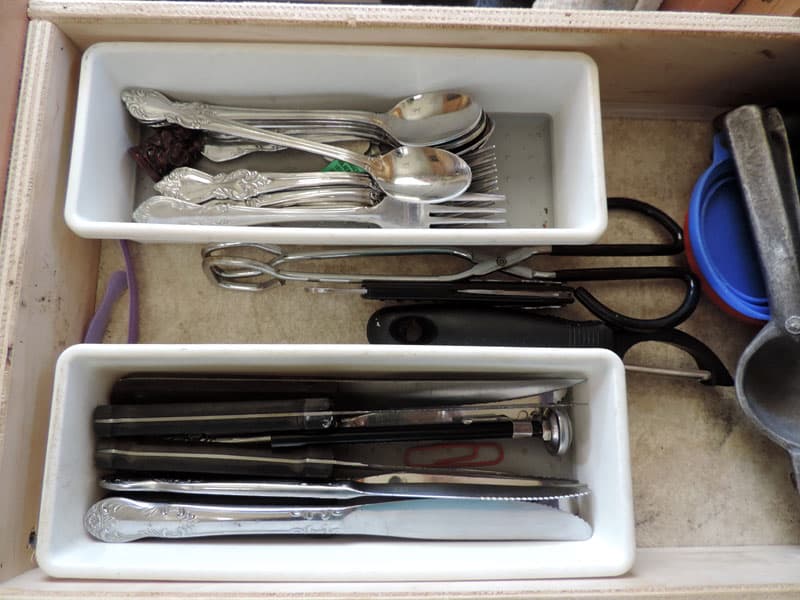 When we moved into our Adventurer full-time, I had to look even further at what I would truly need long-term.  In the past I didn't bring a potato masher, for instance, because I simply didn't make mashed potatoes for a weekend away at camp.
Now I might just be craving mashed potatoes one of these days, so guess what?  My second drawer of kitchen utensils has that masher.  I have always needed a cheese grater, a lime juicer, a corkscrew, bottle opener, measuring cups and spoons, and the like.
Added to this list are some items we don't use often such as metal skewers for the barbecue, pizza cutter, and three different whisks.  Don't judge!  One is for the smoothest sauce imaginable, one is for the most amazing whipped eggs, and a traditional coated one for nonstick pans.
Then there is the coffee portion of our cupboard, an essential for us.  We bring a hand cranked coffee grinder, metal French press, coffee travelers, and a couple of Starbucks ceramic mugs from home.
In general, life in a truck camper is about the non-breakable, but sometimes it's lovely to just enjoy a nice cup of coffee or tea in a ceramic cup.
Tank Capacities and Conservation
My cooking continues to adapt with our agenda.  Back in the gorgeous Pacific Northwest, our camping most often centered on state parks and typical campgrounds.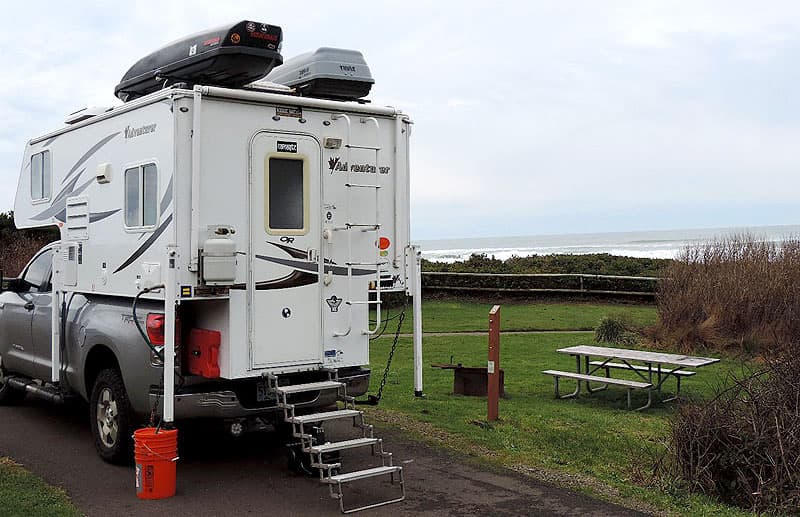 These campgrounds offered water, sometimes electricity, and good facilities.
Now out on the road full-time, we often boondock without hookups.  When dry camping, conservation is the key.  We have made quite a few conservation-minded modifications to our Adventurer, including adding solar panels and changing out the light bulbs to LED.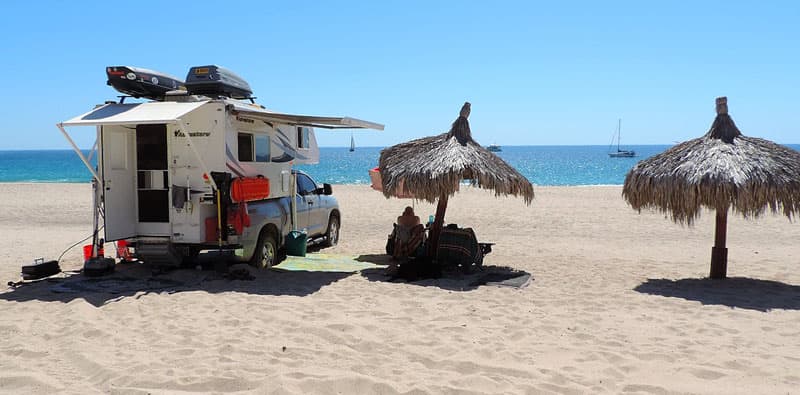 Above: Gourmet cooking is possible while dry camping
To supplement our camper's minimal fresh tank capacity, we carry a seven gallon jerry can of fresh water.  By conserving water, we can go nearly a week before needing a refill.  Since we are often dry camping on a beach, we use sea water for washing dishes much of the time.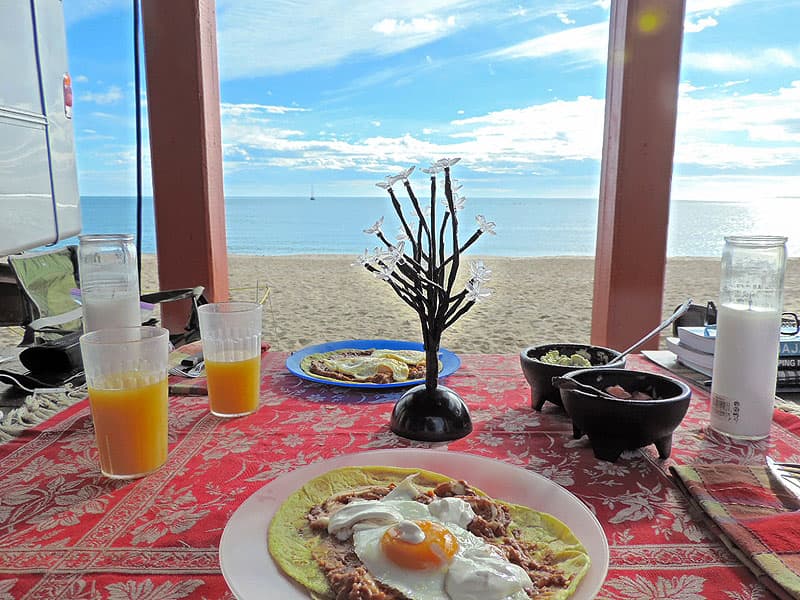 Above: Huevos rancheros breakfast overlooking the beach in San Felipe, Baja
Certainly, conservation plays into truck camper cooking.  By planning ahead and having meals that require less clean-up, we're able to spend a lovely week on a deserted beach or mountaintop.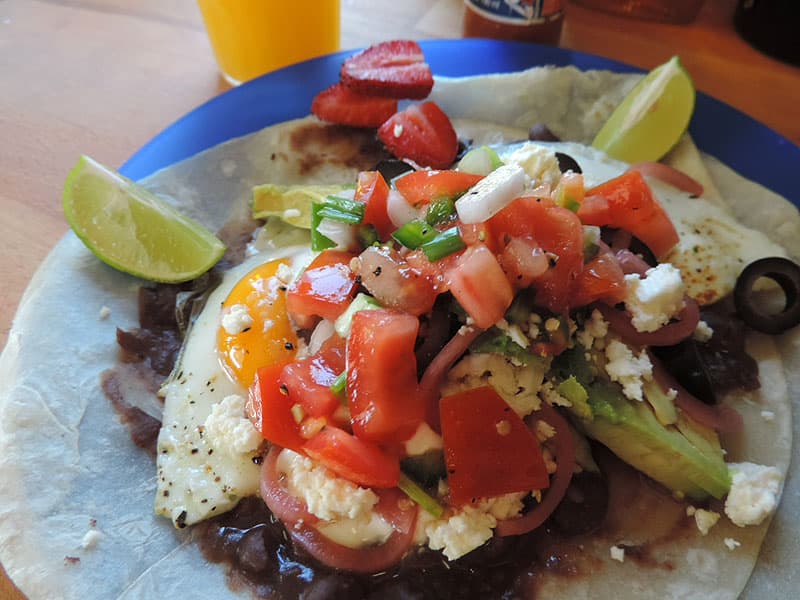 Above: Close-up of the huevos rancheros with toppings
Planning and preparation are key.
Make A Menu and Shop Accordingly
Life on the road requires a more free-flowing manner of eating.  If we are near a large market, I try to shop for dinner for five days.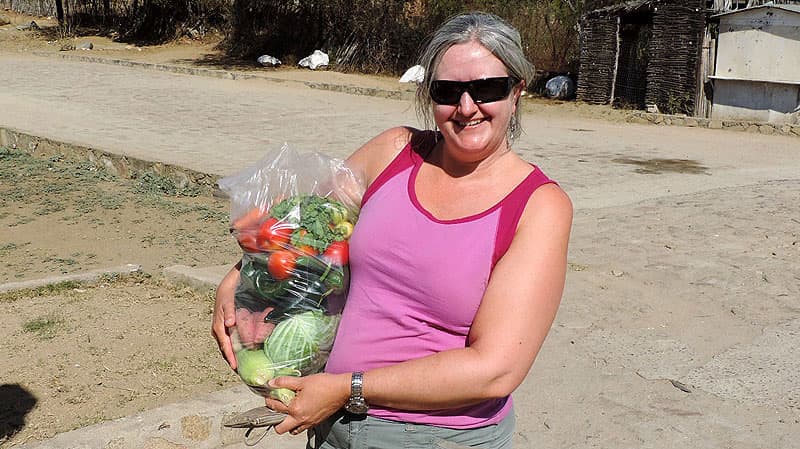 Luckily, unlike the United States, Mexico thrives on a more market day lifestyle and it is easy to get the basics on nearly any street corner, or even from vendors hovering around topes.
An additional challenge for us now is changing our wants into needs.  In the United States, we could eat pretty much anything we wanted, whenever we wanted it.
Our days now consist more of seeing what is available, and then planning our meals around those ingredients.  That said, any large town or ex-pat community will offer a tantalizing display of options.  And I certainly can't complain about being at camp and having mangoes literally drop from the tree in front of us.
Favorite Go-To Meals On The Road
Here are some of our favorite go-to meals.  I have included a simple one pot pasta for those travel days and late arrivals at camp, an amazing Dutch oven dish, a multi-process dinner for wowing your camp mates, and a chicken verde I just came up with for the first time last week.  The chicken verde will knock your socks off with its simplicity and amazing flavor.
Now get out there and get cooking!
Simple Pasta Sauce Dinner In Minutes:
This dish could not be easier, and takes mere minutes to cook.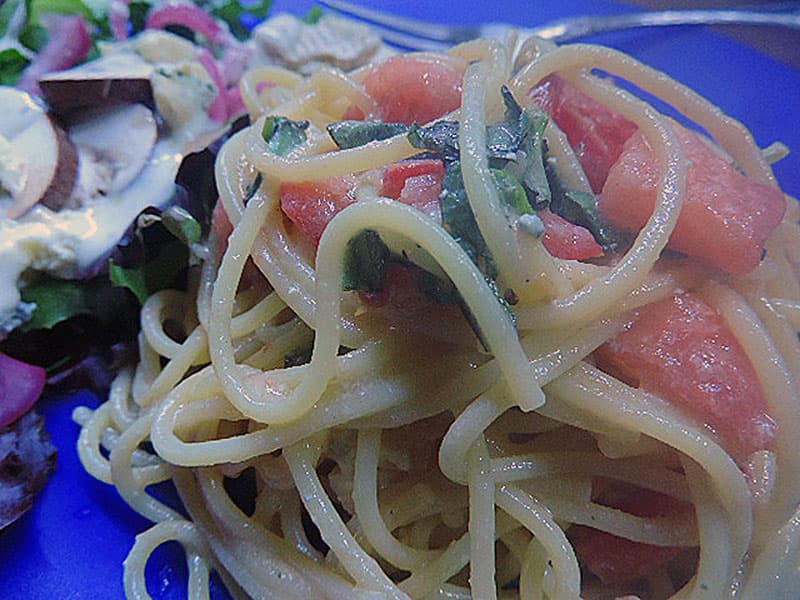 2-3 ripe tomatoes
Wedge of brie or cambazola cheese
Pasta
Fresh basil
Good quality olive oil, salt and pepper
Start off with boiling water in a pan.  Drop in your choice of noodles.  I prefer spaghetti or fettuccini for the dish, but any pasta you have on hand will work.
While the pasta is cooking, dice the tomatoes and throw them in a bowl.  Roughly chop a wedge of brie – or cambazola for an extra bite – and toss into the bowl with the tomatoes.  Drizzle with olive oil and season with salt and pepper and toss to combine. Maybe add a sprinkle of garlic salt.
When pasta is done cooking, drain and add immediately to the tomato-cheese mixture.  Slice some fresh basil and throw on top of everything.  Then toss it all together.
The tantalizing aroma of the basil will touch your nose first, as the cheese melts in to the tomato-pasta mix.  Add a side salad, and possibly some garlic bread, and an incredibly fresh tasting dinner is served in record time.
Dutch Oven Spaghetti Lasagna:
This is the perfect dish for a cool evening around the campfire.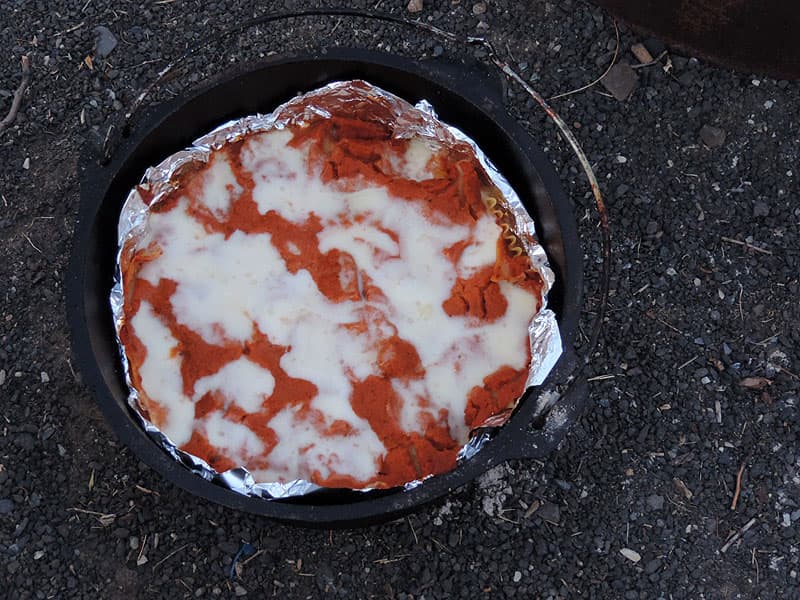 1 Pound Italian sausage
Penne or shell pasta
1 cube cream cheese
1 cup sour cream
1 cup cheese – mozzarella, cheddar, whatever you prefer
Seasoning – Italian spices, salt, pepper, garlic salt
Canned or homemade marinara sauce
On your cook stove or stove top, brown 1 pound of Italian Sausage.  While browning, season with Italian seasonings, garlic salt and pepper.  Set aside.
Boil water for pasta and cook penne or pasta shells until al dente.  Drain.
While cooking the pasta and sausage, add cream cheese and sour cream to a bowl and mix well.  This is easiest to do if they are at room temperature.
Outside, get your briquettes going.  This is easiest to do with a chimney, but you can do in the fire pit or barbecue otherwise.
Line your Dutch oven with parchment paper.  Add a small ladle of marinara.  Add half of your drained noodles.  Layer with half of the cream cheese-sour cream mixture and half of the sausage. Add more marinara on top and continue for an additional layer.  Cover final layer with sauce and your choice of cheese.
Set your Dutch oven over 8 white hot coals.  Add 15 or 16 white hot coals on top of the lid.  Bake for approximately 30 minutes, or until the cheese is melted and it is heated through.
Fish Taco Night Taken to the Extreme:
Tacos. Everyone has had them right? What makes this meal extraordinary, and well beyond worthy of company, is the beer battered crust on the fish, and the multiple accompaniments.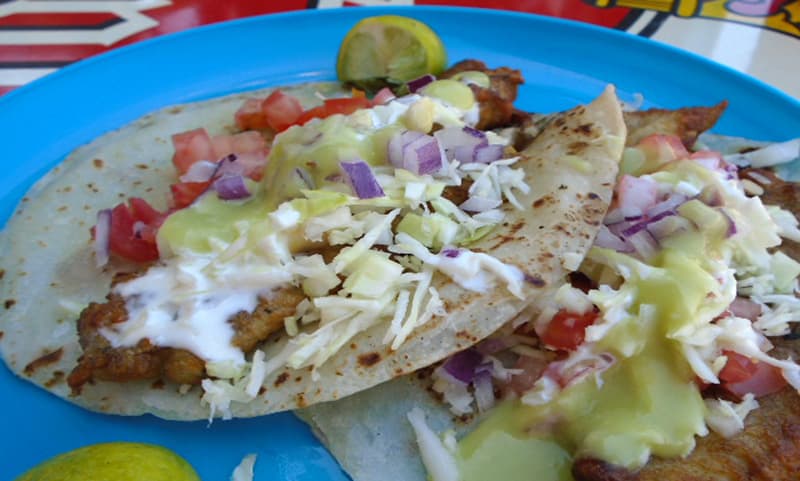 1 pound fresh fish. Sea bass, red snapper, or similar
1 (12 ounce) beer
1 cup flour
½ tsp baking powder
2 tbsp. cornstarch
1 tsp salt & 1 tsp sugar
1 tsp mustard
1 tsp or more hot sauce
Peanut oil for frying
Extra flour for dipping
Mix all ingredients except fish in a bowl and whisk well.  You want the consistency to be in between pancake batter and a sauce.
Cut the fish into even pieces.  Dip in flour, then dip into batter.  On your cooktop or camp barbecue, heat peanut oil in a heavy skillet (cast iron works great but any will do) until it is lightly sizzling (you can test the oil by sprinkling a small amount of water on the oil.  If it sizzles up, it's ready).
Place batter coated fish into the oil in batches, turning regularly, until cooked through, and golden brown.  The first couple of batches may require you playing with the heat of the oil a bit, and turning it up or down as needed.  Drain on a paper towel covered plate.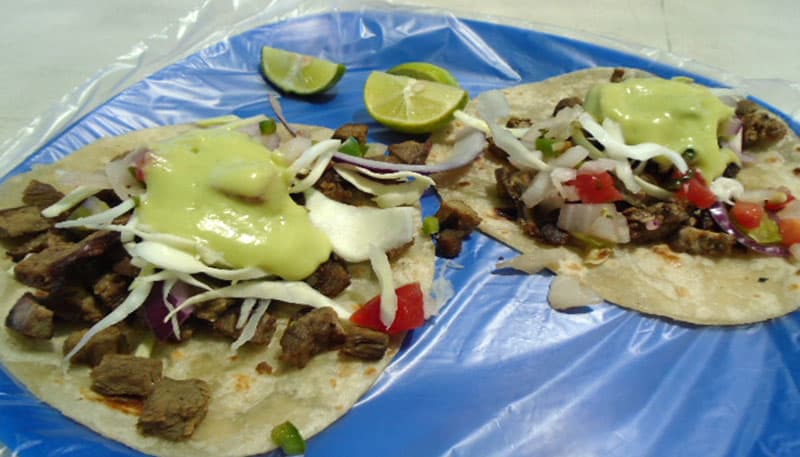 Above: Rhonda's beef tacos
If fish isn't your favorite, you can easily change to chicken or beef.  For an amazing beef taco, simply marinate a flank steak with your favorite marinade for several hours.  Grill just until medium and let rest.  Slice against the grain and serve with warm tortillas and the same sides as listed below.
Chicken breasts can also easily be marinated, grilled, and made into delectable tacos!
Now for the all-important side dishes:
Pickled Red Onions
Lime Crema
Mexican Coleslaw
Salsa Fresca
Guacamole
Pickled Red Onions
Thinly slice a red onion, pulling apart rings.  In a small bowl or plastic container with a lid – I always have some of these in my fridge! In addition to being essential for fish tacos, they are amazing on a salad – add ½ cup red vinegar and ½ cup apple cider vinegar with 2 tbsp. of sugar.
Stir or toss to combine.  Add red onion rings, cover, and shake to combine. You can eat these the day made, but they are truly best after a few days, giving them time to pickle.
Lime Crema
Combine 1 cup sour cream (no light stuff please!) with the zest of one lime, and the juice of 1 or 2 limes, depending upon the amount of juice.  I like to add a touch of hot sauce to liven it up a bit more but that is a matter of preference.
Mexican Coleslaw
Chop a half to one whole head of green cabbage, depending upon the quantity you wish to make.  Chop finely and add to a bowl.  Finely dice a seeded jalapeno and add to the bowl.  Add mayonnaise and vinegar in relatively equal parts until you get the consistency you are looking for.  Now add the juice of 2 limes, along with salt and pepper to taste.
Salsa Fresca
Salsa Fresca is my go-to.  A quick and easy dice of a few veggies and you have a delicious salsa to go with tortilla chips or alongside any Mexican dish.
Dice 2-3 large tomatoes and add to a bowl.  Dice one large, preferably sweet, onion, and add to same bowl.  Finely dice one (or two if you like it hot) seeded jalapenos.  Toss those right in.
Now the lime juice.  Don't be shy, a good salsa Fresca is fragrant with lime.  I generally use 2-3 limes.  Toss this all together, salt and pepper to taste, and add a generous amount of finely chopped cilantro.
Guacamole
The guacamole recipe comes after the salsa Fresca recipe because, for truly fantastic guacamole, you need a salsa Fresca base.
For a good bowl of guacamole to feed a crowd, I start with 4-6 perfectly ripe avocados.  I have found the easiest way to deal with avocados is to slice them in half.  Remove the pit from one half.
With a knife, score deeply the avocado all over, cutting down to the skin, but not puncturing it.  Keep working that knife, until the avocado is quite mashed up, even within the half skin.
Next take a spoon and scoop it out into a bowl.  Continue with the rest of the avocados.  Next, take a few good scoops of the salsa Fresca, and add it to the avocado.  Mix well.  Taste, and add more salt, pepper, and lime juice as needed.
When I'm really feeling frisky, I make homemade flour tortillas in a skillet.  Since I suspect very few folks will be attempting this, I'll leave that recipe out.  Just make sure to provide good quality corn and flour tortillas.
In addition, I always put out sour cream and a bowl of chopped black olives, not authentic, but I like them!
A Chicken Verde Recipe to Embrace
I am sure a similar recipe exists somewhere.  I don't know, as I simply made this up at camp a couple of weeks ago with what we had on hand, and what sounded tasty.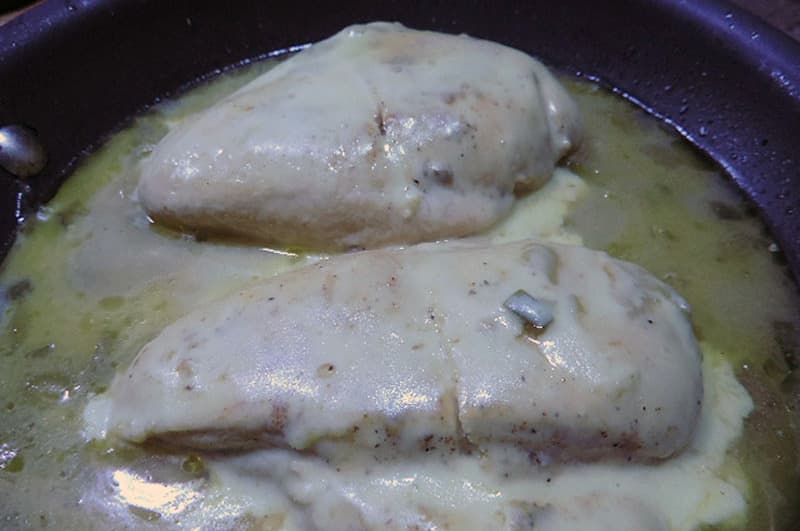 This one-dish wonder turned out to be one of the best things we have eaten recently, and will go on our revolving list of favorites!
2-4 boneless chicken breasts, depending on how many you are feeding
Fresh tomatillos – 6-8 large, 10-12 small, husked and rinsed
Large fresh jalapeno
Small onion
Sliced cheese – Monterey jack, Pepper Jack, Cheddar. Anything works
Chicken broth and beer
In a large skillet, heat up a couple of tablespoons of olive oil.  Meanwhile, finely chop the tomatillos, jalapeno, and onion.  Toss into the skillet and sauté until just starting to soften.  Add ½ c beer and ½ chicken broth.  Bring to a simmer.
Season the chicken with garlic salt, pepper, and chipotle.  Add to the simmering sauce.  Cover the pan.  Cook at a simmer until chicken is nearly done, turning once.
This timing will depend on the thickness of the chicken but should be between 20-30 minutes.  When chicken is almost fully cooked, add the sliced cheese on top.  Cover again and put on low until the cheese is melted.
Serve with refried beans and warm tortillas.
Have Fun
My best cooking advice for truck campers is simple; organize your space, plan ahead, and have fun.  The truck camper life is about weekends and good times with friends, wherever they may occur.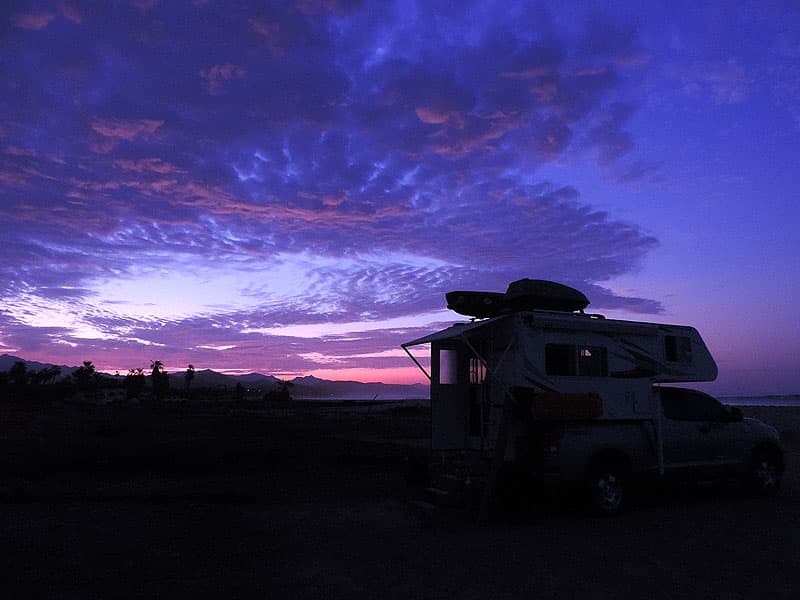 Hopefully you will join me in discovering the joy of camp cooking in your truck camper.  A truck camper is the ultimate comfortable getaway vehicle, and offer all you need for exploring nature.
To read more about Rhonda's adventures, visit her website at thenextbigadventure.net.